The Best Things To Do In The Peak District with Kids Over A Weekend
If you're thinking of visiting the Peak District with kids, we can wholeheartedly say do it! We had the most amazing weekend in the oldest of the UK's national parks and one of the most scenic places in the country.
Jane Austen, one of England's finest writers, famously wrote in her romantic novel, Pride and Prejudice that is set in the Peak District – 'there is no finer county in England than Derbyshire'.
To date, we haven't seen a great deal of the UK other than spending a lot of time in Suffolk with the kids because we have focused more on international travel.
We wanted to find somewhere within a couple of hours drive from London and the Peak District seemed perfect with so many things to do in the Peak District with kids.
This post contains affiliate links. If you click on one and book or buy something, we may earn a small commission but this is at no extra cost to you.
Tips for visiting the Peak District with kids
Just quickly, before we get into our Peak District with kids weekend itinerary, we wanted to let you know about the two essential items we packed for our family trip to the Peak District.
The Peak District is predominantly an outdoor destination and you should have good shoes for walking and waterproofs (assuming you are visiting in the summer). If you are visiting in the winter, you will need to be much more prepared!
Packable waterproof jackets
All of the things to do in the Peak District with kids that we recommend to do over a weekend in the summer are outdoors.
As the weather can be unpredictable even in the summer, we recommend taking lightweight waterproof jackets.
We use TOG24 packaway jackets for the whole family and LOVE them. They come everywhere with us. You can find the best deals on their website.
There are currently 8 colours in the TOG24 Craven Women's Waterproof Packaway Jacket.
There are currently 12 colours in the TOG24 Craven Men's Waterproof Packaway Jacket.
There are currently 7 colours inTOG24 Craven Kid's Waterproof Packaway Jacket.
Sturdy walking shoes
Our kids wear the Keen Kid's Targhee hiking shoe and we wear the Merrell Moab (straight out of the box wearable – no breaking in needed!).
See here for the Men's Moab and here for the women's.
Day 1 driving to the Peak District with kids from London
Our weekend started when we picked the kids up after school on a Friday. We live close to London and the drive to Ashbourne was pretty easy – straight up the M1 most of the way.
In normal traffic, it should take about 2 hours making it a great weekend destination from London.
Accommodation in the Peak District with kids
When it came to the accommodation, we wanted somewhere with a pool because, well, who doesn't want a pool when you're travelling with kids?!
We came across Landal Sandybrook near Ashbourne which sounded like a cheaper version of Center Parcs.  We couldn't have been more pleased with the accommodation.
When we got there we checked in quickly and went to the lodge to unload the car. One of the great things about Landal Sandybrook is that you have parking spaces outside your lodge which makes coming and going and unpacking and packing easier!
We were sharing with one other family of 4 so we chose a 4 bed lodge with 2 bathrooms and there was plenty of space.
After unpacking we went off for a swim.  They have a small pool with a depth of about 60cm and a larger pool.  Another great thing about Sandybrook is that it never felt very busy, even though most of the lodges were occupied. The pool area was completely empty at 6 pm.
It was a beautiful evening with a gorgeous midsummer light and so, not knowing whether the nice weather would continue over the weekend, we decided to head to Dovedale Stepping Stones. From Sandybrook it took us about 12 minutes to get to the car park.
If you are heading to the stepping stones it is about another 600m on foot. It took us 15 minutes with the kids stopping to look in the River Dove that runs alongside the path.
Having taken a last-minute decision to visit the stepping stones, we were totally unprepared. The boys were in flip flops and we didn't have jumpers so we didn't climb up the Thorpe Cloud.
Instead, we just walked up a little way and were treated to views of the surrounding vale bathed in the gorgeous early evening sun.
We promised that we would return the next morning for a proper adventure so the boys were happy to soak up the last of the day's sun while debating who would get to the top of the hill first the next day.
We noticed that there were a few people still at the top of Thorpe Cloud but there was nobody around the Stepping Stones so it seems 8 pm is a good time to go if you want to get pictures without people in them.
Day 2 in the Peak District with kids
On Saturday we woke up to a beautiful sunny day so after breakfast, we set off for Dovedale again because, as you know, we had promised the kids and kids never forget!
The Peak District has some fabulous family walks and one of the best is the Dovedale Stepping Stones and Thorpe Cloud.
Dovedale Stepping Stones
We parked in the car park which is a flat £3 charge for the whole day. Take cash with you (preferably coins) because there is no machine, just an attendant taking money from you as you drive in. We got there at about 9.30 am and it was relatively empty.
We were able to get across the Dovedale stepping stones without having to wait and the kids crossed a few times. We would definitely recommend coming to Dovedale if you are visiting the Peak District with kids.
We then set off for our climb up to the top of Thorpe Cloud.
Thorpe Cloud
Our boys were 6 and 4 and I would say it was a relatively easy climb for them. In fact, they were quicker than us and for them, it was a race to the top. It's one of the best Peak District walks with kids.
We sat at the top and enjoyed the views with a snack. The hills were such a brilliant green and the skies were the bluest blue.
We set off back down and decided to have one more go over the stepping stones but by the time we reached them (11am), there were tour groups galore and we had to wait 10 minutes to cross! We would definitely recommend getting there early.
If you just want to see the stepping stones, the round trip from the car park is about 1.5km. If you want to climb up Thorpe Cloud too, the loop is about 3km.
We got back to the car at 11.30 and needed to think of getting lunch. We hadn't planned anything and phone signal was sporadic at best around Dovedale so we would recommend that you plan where to go in advance.
If it is a nice day you could consider taking a picnic to eat at the top of Thorpe Cloud which we would have loved to have done if we had been more organised. However, in between signal lapses, we managed to find a good review of The George pub in Alstonefield so we headed there, about 10 minutes away.
Alstonefield for lunch in the Peak District with kids
Alstonefield is a tiny little village with a few hikers passing through but not much else. There is a little village green and the boys had a game of football while we waited for the pub to open at 12.
It was a picture perfect setting and because it was such a lovely day, we grabbed a table outside.
The inside looked tiny and the tables were all booked so it's probably best to book in advance just in case the weather is not the best.
The food was made from locally sourced seasonal produce and the kids' menu was small but well-executed. The meals were all delicious though and hit the spot after the morning hike.
Thor's Cave
After lunch we set off for Thor's cave. It is one of the most iconic landmarks in the Peak District and a must-see if you are in the area.
We drove all the way down to the bottom of the valley along a very narrow road with a steep incline which made passing oncoming cars a bit tricky.
There were great views of the cave from the road though. At the bottom of the valley there was a tiny little car park which luckily had space.
In hindsight, it might have been better parking in Wetton and taking a different walking route to the cave.
From our parking spot there was a tarmac path for about 800m which would have been great for the kids to scoot along had we brought them – but then the path goes off and up to the caves. This is where it gets a little trickier.
The kids had reached their limit from the morning exertions so we let them play in the dry riverbed with our friends and Ed and I went to check out the caves quickly.
I think that the kids would have been fine with the walk up to the caves if they had not been so tired, but it is quite steep in parts and had it recently rained, it would probably be slippery and muddy.
There are also parts which are quite narrow with a few steps to climb.
The cave itself is a large limestone cavern with lovely views over the Manifold Valley. It is not huge but I think our boys would have loved to explore it.
If we go back, we will visit first thing in the morning when they are full of energy and there are not so many people.
We set off back to our accommodation as we had promised that the boys could explore the site and have a swim. They ended up playing in the playground and then having a game of football.
We had the place completely to ourselves and with the weather being so lovely, we sat down at the picnic tables and treated ourselves to some drinks and nibbles in the sun while the kids played.
We rounded off the day with a last swim and then back to the lodge for their tea. It wasn't long before they were tucked up in bed, completely exhausted from all the physical exertions of the day!
Day 3 in the Peak District with kids
On Sunday we decided to go on a bike ride rather than a walk and headed to Carsington Water which was about 15 minutes away.  It's a large reservoir offering almost every water sport from their water sports centre.
There is also a really easy bike track which is good for little ones just starting to learn to ride a bike (or an 8 mile circuit of the reservoir), a play area with different sections for different ages, a caf130 and a visitor centre.
The kids hopped on and off their bikes (a lot) so it took the whole morning to get around the reservoir!
They even had a wildlife centre where, if your children are quiet enough, you might actually spot some wildlife.
From there we went to Ashbourne to check out their annual festival. We grabbed some street food which was quick and easy (always a winner when the kids are starting to get hangry!) and sat and watched street performers.
It was a really fun and relaxing way to spend the afternoon after having done so much walking, swimming and biking.
After watching a couple of acts it was time to head back to Sandybrook to pack the car up ready to make our way home,  but not before having a final swim, a game of minigolf and a woodland walk as the boys wanted to make sure we had tried out all of the facilities.
We didn't tell them about the archery and the zorbing otherwise we would never have been able to leave!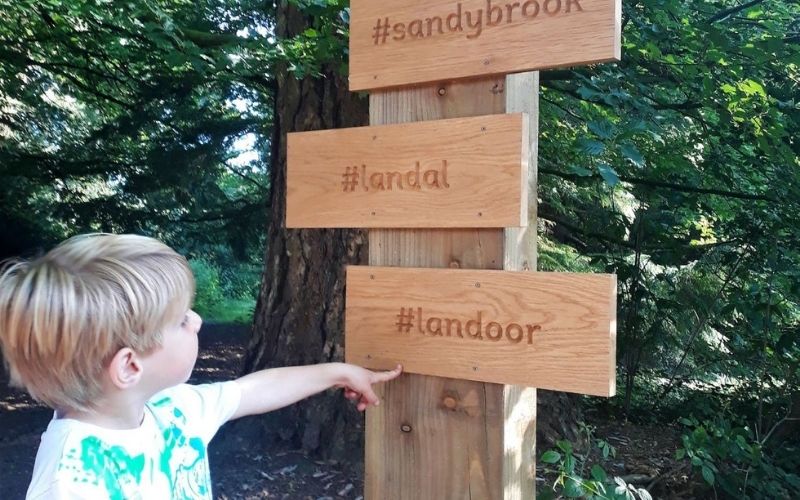 One final check of the lodge and we set off via Anayas in nearby Ashbourne for an Indian meal before our drive home.
We are now completely smitten with the Peak District. It is a lovely place to visit with kids because of the many family-friendly trails and the scenery is so beautiful. If you want to have fun in the great outdoors with children of all ages, we definitely recommend you visit.
We' ll definitely be back but next time with our VW Camper Van to take on some more of the walks the Peak District – like the fun-looking Chee Dale stepping stone walk.
And we also heard a few people mention the Tissington Trail. It is a 13-mile former railway line that has been converted into a biking/running/walking track through the Peak District National Park. We didn't have time for it during our weekend break so we will have to return.