The 25+ Best Things To Do In Aldeburgh And The Local Area
Aldeburgh, Suffolk is a quaint little Victorian seaside town in Suffolk. It is the perfect place to base yourself if you're looking for a UK beach staycation destination because there are so many great things to do in Aldeburgh and the surrounding area.
Aldeburgh has been a seaside escape since the Victorian times but it is really the famous composer Benjamin Britten who put Aldeburgh on the map when he moved there in the 1940s.
He founded the Aldeburgh Festival which takes place in Aldeburgh every June bringing world-renowned artists to this otherwise quiet part of Suffolk.
Nowadays, Aldeburgh is a popular seaside resort – although using the word 'resort' to describe it is stretching it a bit.
There is no 'traditional' British seaside entertainment in the form of arcades. There is no pier. If you want that, you can head along the coast a few miles to Southwold.
Don't be expecting Blackpool there either. As with the rest of Suffolk, all of the Suffolk coastal towns are understated.
If you have planned your trip to Aldeburgh and are now wondering what to do in Aldeburgh, we have a fantastic list of the best things to do in Aldeburgh and the surrounding area to make sure you don't miss a thing during your Suffolk holidays.
Have you booked your Suffolk accommodation? Make sure top read our recommendations for beautiful Suffolk Coast holiday rentals and unusual Suffolk holiday cottages.
Visiting Aldeburgh at Christmas? Check out our guide on the Christmas events in Suffolk this year. Visiting Aldeburgh during the October Half Term? Check out our things to do in Suffolk at Halloween post.
This post contains affiliate links. If you should buy something using one of them, we may earn a small commission but this is at no extra cost to you.
Where is Aldeburgh?
Aldeburgh is located on the Suffolk coast on a stretch that has been designated an Area of Outstanding Natural Beauty.
It is around 2 hours from London and can just about be done on a day trip from London, although it would be best explored by car because there is no train station in Aldeburgh.
If you are travelling from London to Aldeburgh by train, the nearest train station to Aldeburgh is Saxmundham. Trains depart from London Liverpool Street on the Greater Anglia line and take around 2 hours 30 minutes.
Before visiting Suffolk, you might want to grab a copy of the Rough Guide to Suffolk & Norfolk  which is the most comprehensive and up to date guide out there. We also love this Suffolk pub walks guide.
What are the best things to do in Aldeburgh?
1. Go to the beach
if you're here on holiday during the summer months, one of the best things to do in Aldeburgh is to visit Aldeburgh beach.
It is one of the best beaches in Suffolk and among the best beaches in the UK and is the reason that most people visit Aldeburgh. It is a shingle beach backed with beautiful and colourful Victorian houses.
Aldeburgh was once home to a thriving fishing industry and although these days the industry is not thriving, it is still a working beach with six boats going out daily for the catch of the day.
If you get there in the early morning or are lucky enough to have seafront accommodation, you can watch the fishermen bring in their catch.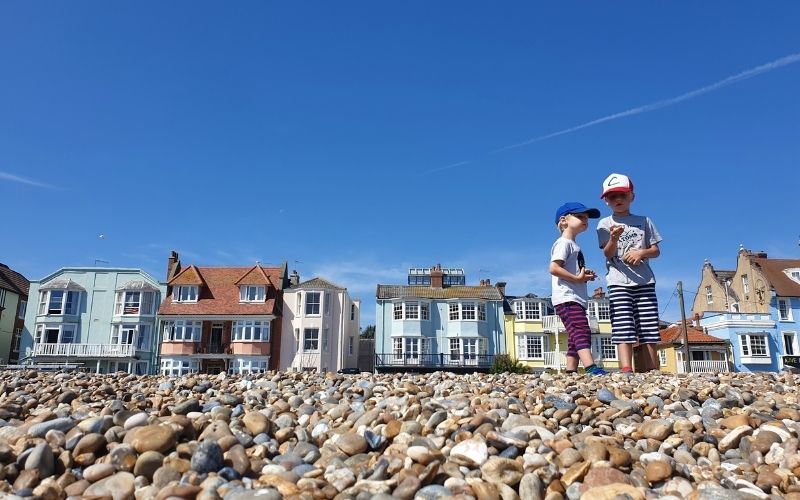 2. Visit the Red House
Once the home of Benjamin Britten, The Red House is now home to the Britten Pears foundation and is open to the public between March to October.
You can go and learn about the famous Suffolk composer and take a look around the house and gardens which have been preserved to show how Benjamin Britten lived.
It is located a little out of the centre of Aldeburgh. You can walk there in about 30 minutes or you can drive there in around 5 minutes along the Leiston Road.
3. View the Martello Tower
If you walk south from the high street seemingly to the very end of Aldeburgh along the narrow stretch of beach backed by the River Alde, you will see the striking Martello Tower looking like a giant sandcastle.
The Tower was built in the beginning of the 19th century and is one of  29 built along the east coast of England to help in the defence against attacks from Napoleon.
Nowadays, owned by the Landmark Trust, it is used as holiday accommodation and is one of the quirkiest places to stay in Suffolk.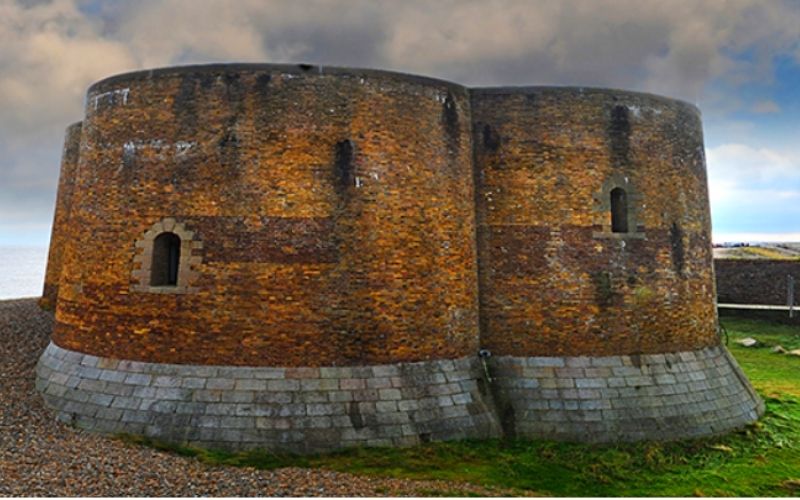 4. View the Scallop on Aldeburgh Beach
The Scallop on Aldeburgh Beach is a striking 4 metre high steel sculpture by Suffolk artist, Maggi Hambling.
It is a scallop shell inscribed with the words 'I hear those voices that will not be drowned' from Benjamin Britten's opera, Peter Grimes.
If you can catch it at sunrise or sunset, you will be rewarded with the beautiful light glinting off the shining structure. If you are visiting with kids, they will no doubt just want to climb on it.
It is located around 500 metres from the centre of Aldeburgh. If you don't want to walk that far from the centre of Aldeburgh (you will pass it as you walk along the coastal path from Aldeburgh to Thorpeness), there is a pay and display car park right next to it.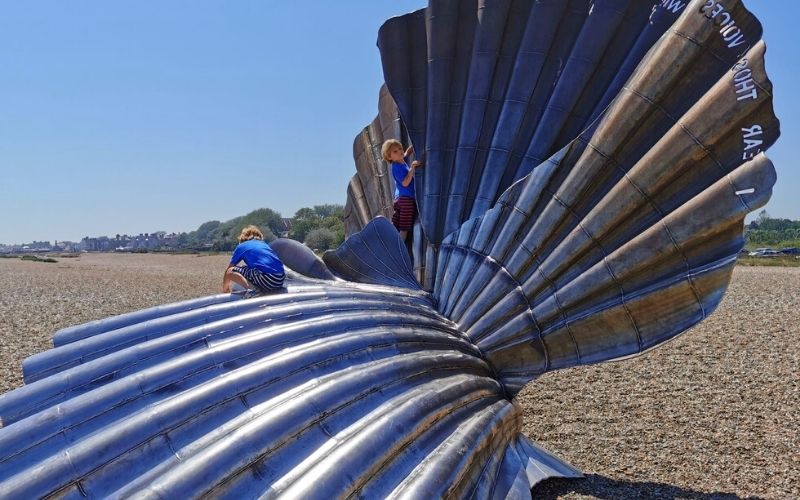 5. Visit Aldeburgh Museum
The Moot Hall in Aldeburgh is a striking timber framed red brick building in the centre of Aldeburgh, next to the boating lake.
Built in around 1550, it fell into disrepair in the 19th century but a decision was taken to restore it, even adding two chimneys modelled on the kitchen chimneys at Hampton Court Palace.
It now houses the Aldeburgh Museum and its interesting collection of artefacts from Roman times up to the world wars.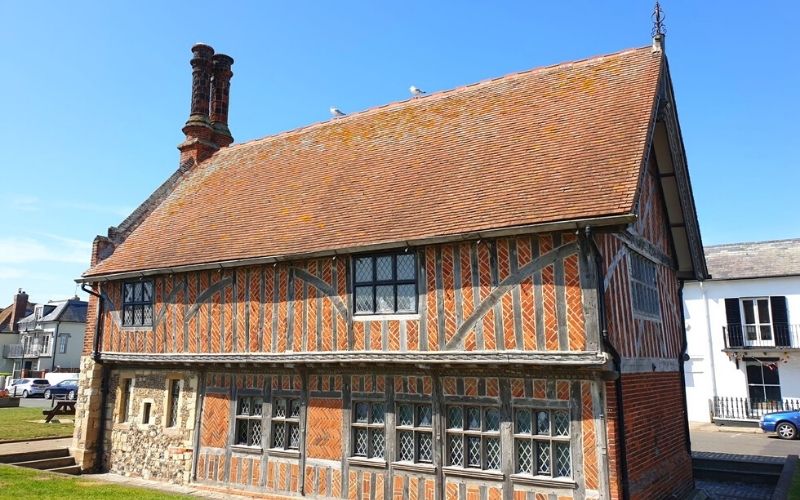 6. Eat Fish & Chips on the beach
There are several places where you can buy fish & chips in Aldeburgh. During the height of summer, don't be surprised to find long queues forming outside of Aldeburgh Fish & Chips.
They sell some of the best fish & chips in the country. Take them to the beach to eat, but watch out for the greedy seagulls!
If you are self-catering in Aldeburgh, make sure to also check out the weathered fishermen's huts on the Aldeburgh seafront where you will find freshly caught fish.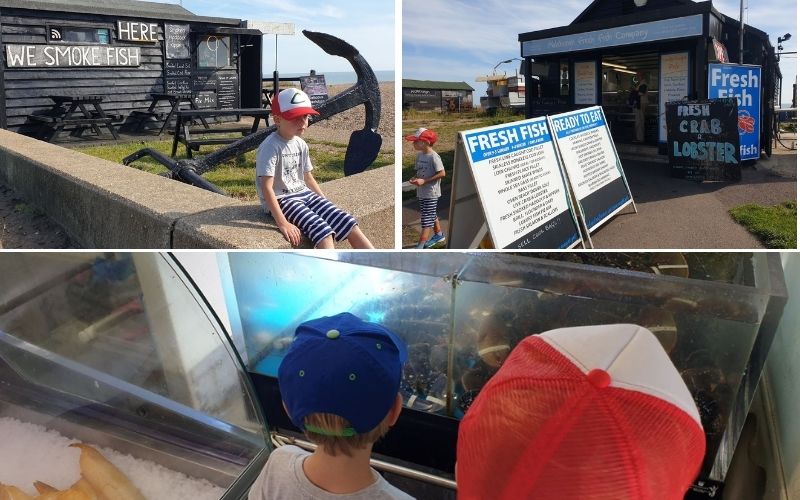 7. Sail a boat on Aldeburgh boating pond
One of our favourite things to do in Aldeburgh with kids is to take our sailing boats to the boating pond.
If you don't have sailing boats, you can just come along and watch others or there is a little shop in the nearby LifeBoat Station where you can buy your own.
Our boys also love watching the remote control boats.
If you are relying on the power of the wind, just be warned that the boats may end up stranded in the middle if the wind dies down.  You may be there longer than expected waiting for it to drift to the edge!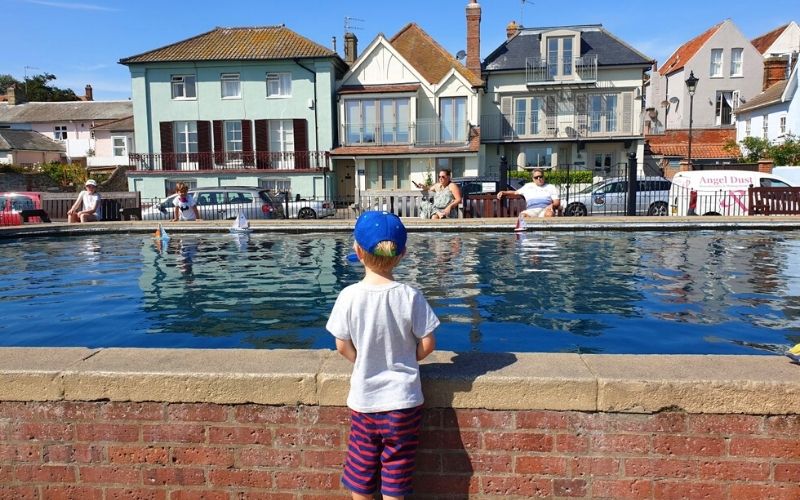 8. Catch a movie at Aldeburgh Cinema
Being a seaside town, the best time to visit Aldeburgh is during the summer months but if you happen to be visiting Aldeburgh off-season or when the weather is bad, one of the best places to visit in Aldeburgh is Aldeburgh Cinema.
Built in 1919, the cinema is one of the oldest cinemas in the UK with a beautiful Art Deco interior. It hasn't changed much if at all from when I first went as a child to watch E.T. in 1982! Check here for Aldeburgh Cinema listings.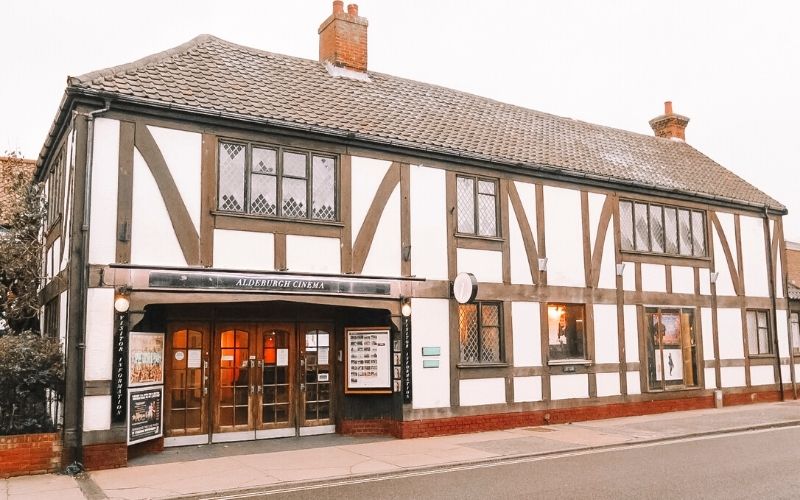 9. Wander the shops and streets
The shops in Aldeburgh are all in keeping with the local area. There are artisan bakeries, ice cream parlours and delicatessens.
Even the clothes shops blend in well with the likes of Joules and Jack Wills keeping traditional store fronts.
Many of the houses are painted in pastel colours and the narrow back streets just back from the seafront are delightful.
10. Take a stroll to Thorpeness
Thorpeness is the neighbouring village to Aldeburgh and is connected by a 2 mile coastal path. It is a nice, flat path running alongside the beach and is one of the easiest Aldeburgh walks you can do.
The beach at Thorpeness is much like the beach at Aldeburgh, but less busy. There are also a few lovely places to eat in Thorpeness or you can grab a takeway and eat on the beach.
Thorpeness is an impossibly cute little holiday village with beautiful wooden holiday homes.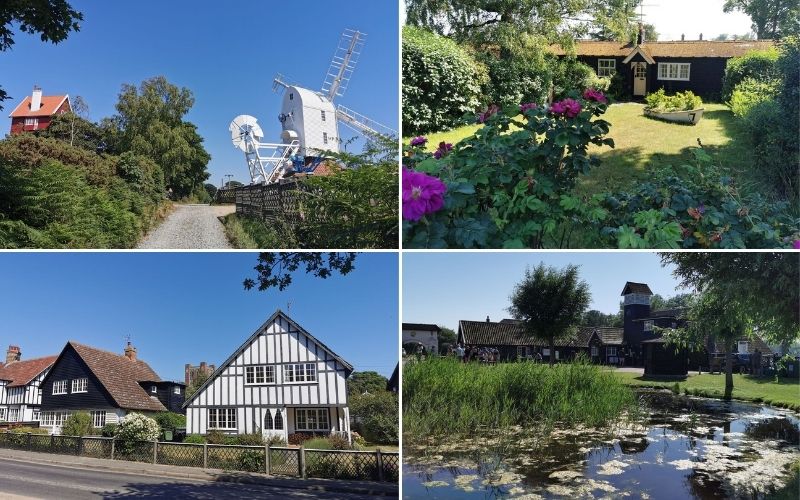 11. Go boating in Thorpeness
If you are taking a stroll to Thorpeness, you may as well make a day of it and visit the Thorpeness boating lake.
One of the best things to do in Suffolk with kids on a sunny day is to take a boat out on Thorpeness Meare, visiting Peter Pan themed islands as you go.
You'll also get great views of the famous House in the Clouds, one of the most unique places to stay near Aldeburgh.
There is a wonderful tea room on the Meare serving a huge range of ice creams and other treats to enjoy after your morning of exercise.
12. Have a game of boules
If you are just looking for something relaxing to do during a warm summer's day, you could grab an ice cream and sit and watch a game of boules just beside the Moot Hall.
Better yet, grab yourself a set of boules and have a game yourself!
13. Enjoy a performance at the Aldeburgh Festival
The Aldeburgh Festival is a an English arts festival that takes place during the month of June at nearby Snape Maltings.
International artists are invited to take part in this world-renowned festival with musical concerts and events.
During the month of August, you can visit Snape Maltings for the equally famous Snape Proms. The calendar is filled with daily performances from artists around the world, from well-known opera singers to child-friendly comedians.
Snape Maltings is set in an area of outstanding natural beauty and if you have time before or after taking in a show, you can take a walk around the local area or even take a boat trip along the River Alde.
Things to do near Aldeburgh
As well as there being lots of great things to do in Aldeburgh, there is plenty to see and do in the surrounding area too. Here are just a few ideas if you have more time in Suffolk.
Visit Southwold – Southwold is just up the coast with a pier, the Adnams Brewery, colourful beach huts and a working lighthouse.
Go fruit picking at Friday Street –  the shop at Friday Street also has a lovely selection of locally sourced produce.
Visit Framlingham – one of the prettiest market towns in England and home to Framlingham Castle, one of the most impressive castles in England.
Visit Sutton Hoo – the Anglo Saxon burial ground at Sutton Hoo is one of the most important archaeological discoveries in the country.
Grab a bite to eat at Orford – discover where the foodies head to in Suffolk and visit Orford Castle while you're there.
Go crabbing at Walberswick – formely home to the British crabbing competition, Walberswick is a lovely place to visit. Grab a bucket and bait from the ice cream van and have a go at crabbing. Also take a walk around the nature reserve and have a bite to eat at The Anchor.
Visit Dunwich Heath – a beautiful National Trust owned area of heathland rich with local wildlife in Dunwich and some fabulous Dunwich walks.
Visit RSPB Minsmere – one of the best places in the country for bird watching
Canoeing on the River Alde – Take a canoe or paddle board out on the River Alde and explore this beautiful area from the water.
Take a forest walk –  Visit Tunstall, Rendlesham or Dunwich Forest for some beautiful forest walks.
Visit Leiston Abbey – Discover the monastic remains of Leiston Abbey.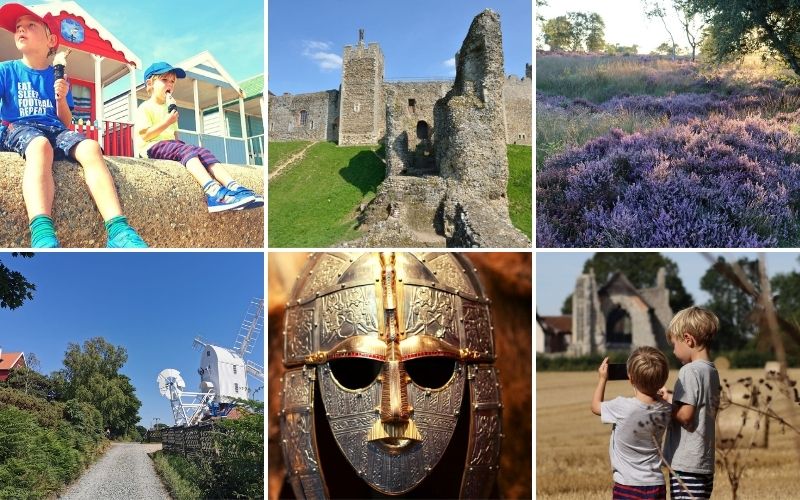 Where to eat in Aldeburgh
Suffolk is dubbed the foodie county and so there are certainly plenty of lovely places to eat in Aldeburgh.
We have already mentioned that one of the best things to do in Aldeburgh is to grab yourself some fish & chips to eat on the beach, but if that doesn't appeal to you, here are some of the best restaurants in Aldeburgh..
The Lighthouse – for upmarket dining without breaking the budget. This is our favourite of the Aldeburgh restaurants
Regatta Restaurant – a seafood restaurant
Seafood and Grill – at the Brudenell Hotel
You should also check out our guide to family-friendly pubs in Suffolk if you want to enjoy great local produce in a beautiful beer garden in the sun.
Where to stay in Aldeburgh
As you can see, there are plenty of things to do in Aldeburgh and the surrounding area so it is worth spending a little time here.
Being one of the most popular tourist spots in Suffolk, there are thankfully also plenty of places to stay in Aldeburgh.
Hotels in Aldeburgh
There are some beautiful old hotels in Aldeburgh with the two most popular being:
Self-catering accommodation in Aldeburgh
There are some beautiful self-catering options in Aldeburgh on the seafront like the Lobster Pot or the Seahorse
One of the best Suffolk holiday accommodation booking sites with some beautiful cottages on their sites is Plum Guide.
You can also try on Booking.com as you may find something similar with a flexible cancellation policy.
Remember also the quirky accommodation mentioned in this post – The House in the Clouds and The Martello Tower.
Campsites near Aldeburgh
There isn't a very large selection of campsites near Aldeburgh, but there are some great Suffolk campsites, some of which are not too far from Aldeburgh.
New to camping with young children? We have some helpful tips for camping with toddlers. We also have a guide to campervan essentials if you are new to campervanning.
Map of things to do in Aldeburgh and surrounding area
Click here for a map of the things to do in Aldeburgh.