A Complete Olpro Cocoon Breeze Review By Flashpacking Family
AD | As ambassadors for Olpro, we were gifted the Olpro Cocoon Breeze for the purpose of testing it and providing an honest Olpro Cocoon Breeze Review.
This post contains affiliate links. If you purchase something through one, we may earn a small commission but this is at no extra cost to you.
As Olpro Ambassadors, we can we can also pass on a 10% Olpro discount code to our readers. Please use : FLASHPACKING10.
You can take a look at what Olpro has to offer here: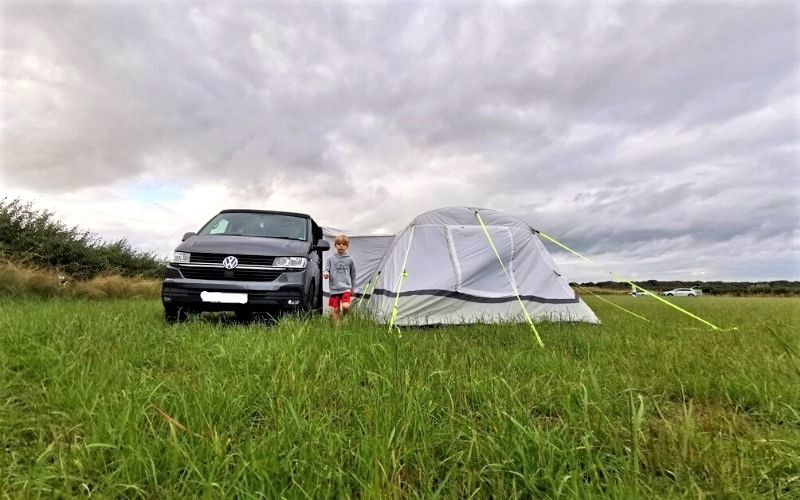 Before we start detailing the pros and cons of this particular Olpro awning in our Olpro Cocoon Breeze review, we thought we'd give our thoughts on drive away awnings in general.
Is an awning necessary when campervanning with kids?
If you have found this post, the chances are that you have already done your research on whether or not you need an awning and you are just looking at Olpro Cocoon Breeze awning reviews.
But if you are not quite sure whether or not you need a drive away awning, we have a separate post on drive away awnings in general, including all the pros and cons that you need to consider.
When we started out on our campervanning with kids journey, we didn't have an awning. We soon realised that we needed the extra space that an awning provides.
In brief, life in a campervan with kids can be very cramped. No matter how organised you are with your storage, it really is helpful to have the extra space to unload some of your campervan essentials, especially if you are camping in the UK in inclement weather!
They are ideal if you are pitching up on a campsite for a few days or more and if you need to reserve your pitch while off exploring for the day. They are not ideal if you are going be be moving on every day or you are wild camping.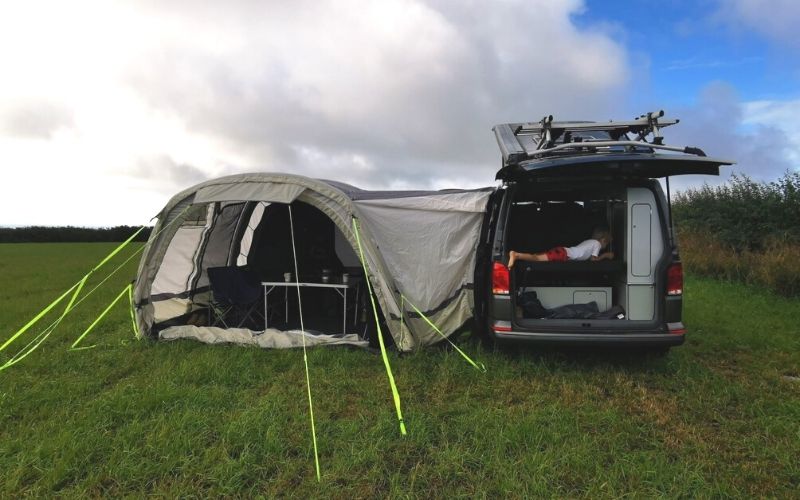 Who are we and how do we use our awnings?
And again – before we get into our Olpro Cocoon Breeze review, we wanted to quickly give a little background on our family and our camping style.
This way, you can get a better idea of who is reviewing the Olpro Cocoon Breeze campervan awning and how we used it.
We are a family of four with two young boys (8 & 6) and we tested out this Olpro airbeam awning with our Volkswagen T6 Transporter.
Since we bought our VW campervan, we have been on lots of weekend camping trips in the UK, a 2 week trip to Scotland and a 6 week trip to France. See our favourite family campsites in France if you are looking for inspiration!
We are very active and like to explore the local area so we are often off-site for the day and like to leave as much as we can in the awning to lighten the load.
We have found that the Olpro Cocoon Breeze is ideal for certain camping trips but not so great for others.
Here is our Olpro Cocoon Breeze Review…
When the awning was first delivered, we were a little intimidated by the size and weight of the package. See below for more detailed product dimensions.
We had been used to using a much smaller poled awning which was more compact and lightweight. It was just to store our car seats and luggage during the night and bedding during the day.
We are minimalistic when it comes to camping so we wondered whether we really needed an awning of this size.
The first time we tested out the awning was during a hot weekend in the UK and we didn't spend much time in it so we didn't really see the benefit of it.
The second time we tested it out, we encountered one of the big storms of the summer – Storm Evert – and this is what convinced us that we needed it!
The Olpro Cocoon inflatable campervan awning really comes into its own if you are camping in wet weather. On wet weather camping days, it is just miserable to be cooped up in the campervan. With the Cocoon Breeze, there is just so much space.
We said that we would give an honest Olpro Cocoon Breeze review so here are the pros as well as the cons…
Olpro Cocoon Breeze pros
After the first time putting up the awning (which is never easy whichever awning you have!), we found it pretty quick and easy. If you follow their easy four step instructions, it will be even quicker – although we haven't hit their suggested 15-minutes pitch time yet!
The Olpro Cocoon Breeze footprint is huge! We didn't think we needed this much space but a very wet and windy weekend in the UK changed our minds.
We don't usually sleep in the awning but on a very windy campsite, we had to put the pop up roof of the campervan down because it was swaying too much. Having the separate bedrooms in the awning (there is a detachable insert that creates 2 bedrooms) was perfect as we could pop the kids in there and still have our own space in the evening. The boys also liked to zip themselves into the bedroom areas and have their own little den. We can see this space will also be invaluable when the kids are older and don't want to sleep in the van with us!
We liked the sewn in ground sheet. You can make it really cosy with the dedicated Olpro Cocoon Breeze carpet knowing that the rain or dew won't find any gaps. Any dampness we experienced was due to condensation which – because it is a polyester material – was to be expected.
It took an absolute battering during a very windy weekend perched on top of a cliff in Dorset and just popped back into place. (Check for the 3 additional storm beam poles. We didn't use them at first and during a calm day, it was fine but you will need them in bad weather. These will help with keeping the structure solid).
We did not experience any leaks during the bad weather.
There is a hook for hanging a light which seems to be overlooked in other models.
Olpro Cocoon Breeze cons
It takes two people to carry – or one strong person. If I (mum) were camping with the kids on my own, I would not have been able to put this up myself.
It takes up a lot of space in the campervan.
We would have liked for the bedrooms to be blacked out.
We found that the tent pegs were quite flimsy if you encounter hard ground. We would recommend getting some stronger hard ground pegs.
You need to buy a separate awning extension if you want a porch area to shelter from the rain when cooking.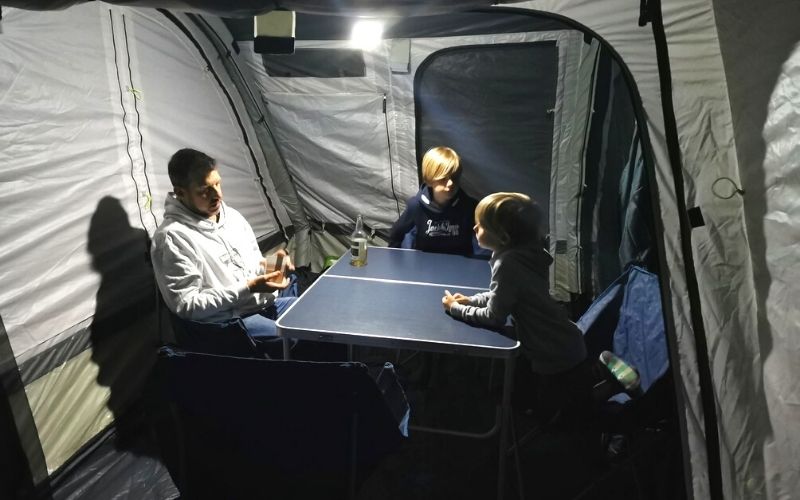 Olpro Cocoon Breeze dimensions
These are the standard dimensions taken from the Olpro website:
Height: 210cm (82.7")
Length: 455cm (179.1")
Width: 350cm (137.8")
The packed dimensions are:
Packed dimensions (cm): 82cm x 43cm x 43cm (32.3" x 16.9" x 16.9")
Weight : 30kg
It will fit all campervans with a height of between 190cm and 250cm.
Olpro Cocoon Breeze product information
The Olpro Cocoon awning comes in four different colours:
There is a hand pump included to pump up the airbeam poles.
There is a 5-berth bedroom detachable inner tent.
There is a sewn in groundsheet.
Tips for putting up the Cocoon Breeze
The instructions explaining how to put up the Olpro Cocoon Breeze are included with the awning and we have linked to them above, but here are some quick tips to help with setting up the awning.
Lay the awning out flat.
Peg out the groundsheet at all four corners.
Make sure the valves are screwed into the beams with caps off before you start pumping up the air poles.
Inflate the airbeams. Just a few pumps is sufficient before they are solid.
When lining up the van to attach the awning, make sure it is far enough away so that the tunnel connection is taught. This will avoid reservoirs of rainwater collecting!
Top tip for detaching the van is to put a marker behind the back wheels so that when you return, it is easier to line up and re-attach the awning.
It has a 6mm awning beading which is important to know when selecting the correct awning connector kit. We have a Reimo rail and we bought a Vango connector kit which works perfectly.
Our final thoughts on the Olpro Cocoon Breeze
Overall, this is a fantastic product. You need to think about your own camping style and how you would use the awning. For us, it is a no brainer to take it on weekend or longer trips in the UK when there is always the chance of the odd rainy day or two!
As we mentioned before, it wouldn't be ideal if you are campsite-hopping and it is definitely a no for wild camping.
We didn't put this under the pros section but we love the fluorescent guy ropes. The kids have been known to trip on other less conspicuous guy ropes in the past but you can't miss these ones! The colour really pops, especially at twilight.
We didn't have the Olpro Cocoon Breeze extension this summer but can see that it would really come in handy if you want to cook under cover when it is raining.
As it was, we loved the versatility of being able to fully close the front windows for privacy. We could open the privacy screens when we wanted a view but it was raining or we could completely open the front up.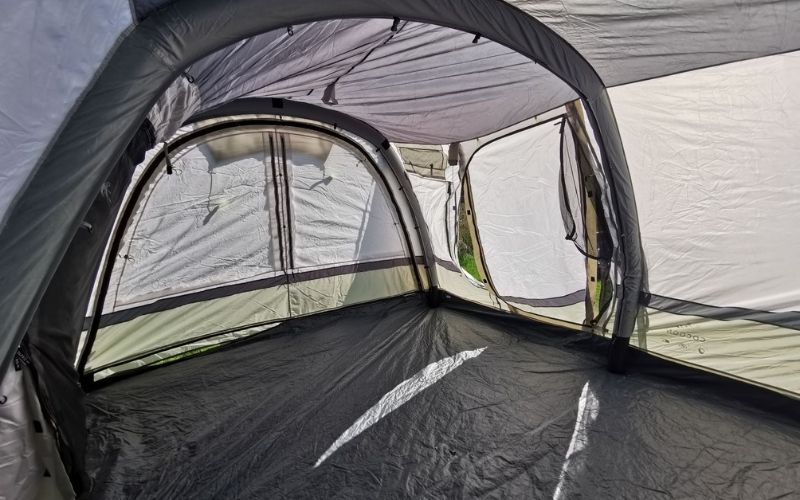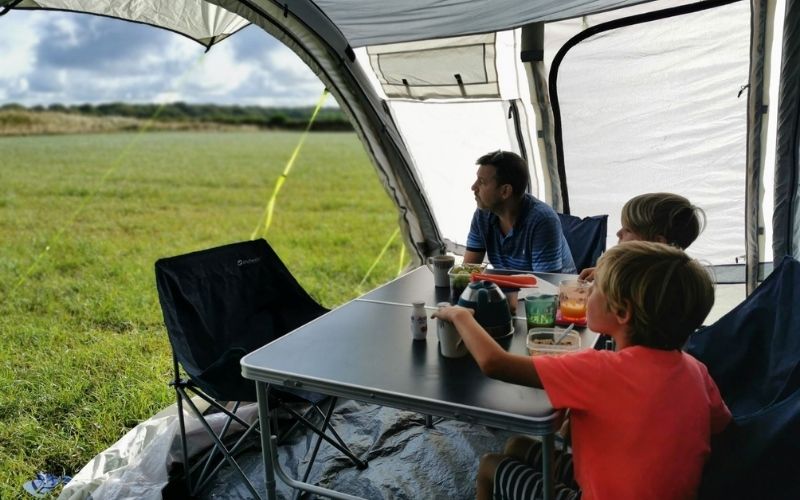 If there is anything you would like to ask us that we haven't covered in our Olpro Cocoon Breeze review, please comment below and we will get back to you.
You might also like to know Olpro also make a fantastic melamine crockery set.
You might also like…
If you are looking for campsite recommendations in the UK, we have coastal campsites and campsites with ensuite facilities and our favourite campsites in France for families.
New to camping entirely? Check out our top tips for first time campers.