30+ First Time Camping Tips For Beginners To Have A Successful Trip
Spring is here, summer is just around the corner and maybe you're thinking about giving camping a go for the first time.
If you are needing some camping tips for beginners, you are in the right place!
Camping has grown hugely in popularity over the last couple of years with many first time campers giving it a go.
But as with anything new you try, going camping for the first time can mean a steep learning curve.
We've been there. That overwhelming feeling that there is just so much to know and so much kit to buy. Asking yourself 'what do I need for first time camping?'
Whilst we are by no means the most seasoned pros and are the first ones to call off a camping trip if a storm is looming, we can certainly help with first time camping tips!
Camping with kids for the first time? Check out our tips for camping with kids!
This post contains affiliate links. If you click on one and book or buy something, we may earn a small commission but this is at no extra cost to you.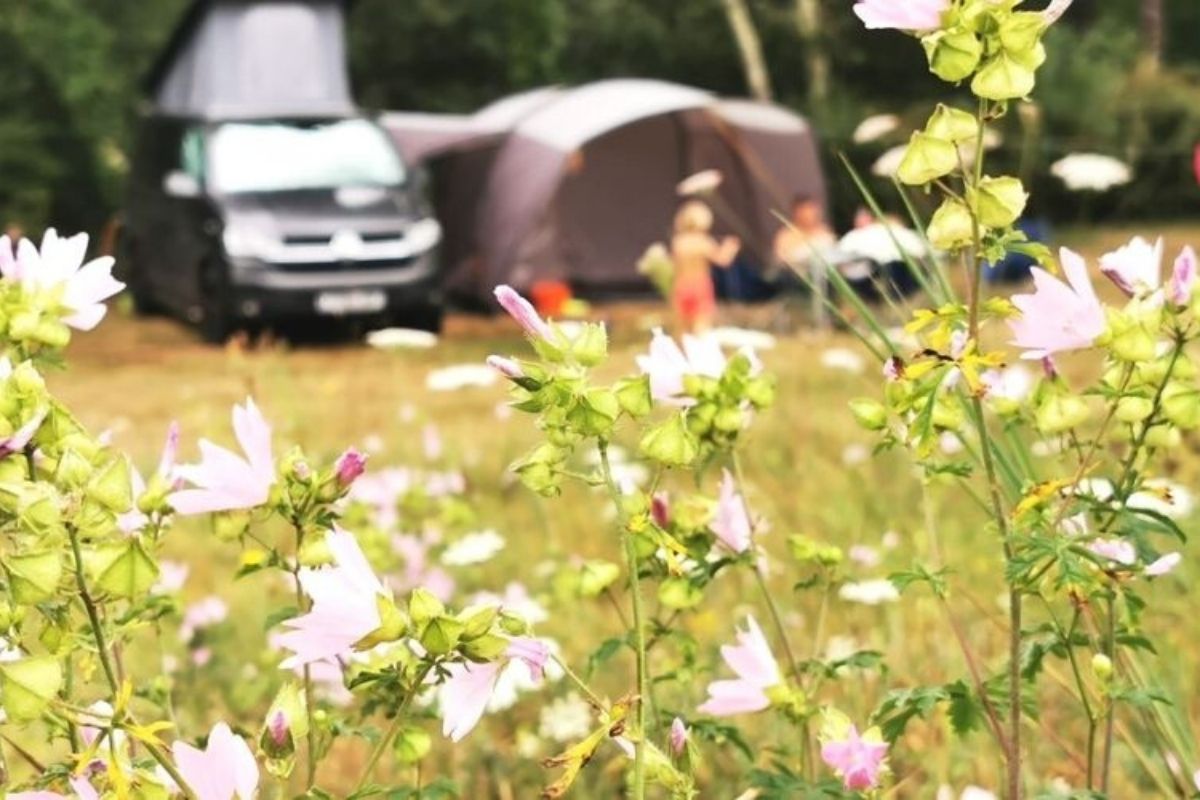 These are our best camping tips for beginners
These are the best tips for first time campers and will genuinely make your first camping trip easier.
Borrow your equipment
While the idea of camping might sound fun, the reality is that it is not for everyone. A big mistake people make is buying all of the gear and then realising that they just don't enjoy camping.
If you have friends who have been camping, ask if you can borrow their camping gear. Get a feel for whether the camping lifestyle is for you before you commit to buying your camping equipment.
Another tip would be to go with experienced campers on your first trip to show you the ropes.
Once you are ready to buy your camping gear, be organised about what you absolutely need.
Want to know our favourite tent recommendation? We use the Quechua 4 person black out air tent by Decathlon.
It is great quality, easy to put up, has 2 separate bedrooms and a lounge are and it blacks out. It is also very reasonable compared to other brands. Check prices here on the Decathlon website and read our full review of the Air Seconds 4.2 Fresh & Black tent.
Want something super easy and cheap? Decathlon make a 3 person pop-up tent that you can put up in minutes.
We have a list of camping first time essentials which is aimed at campervan owners but will also help if you are tent camping. You can start with the essential items and add to your list with each new camping trip you make.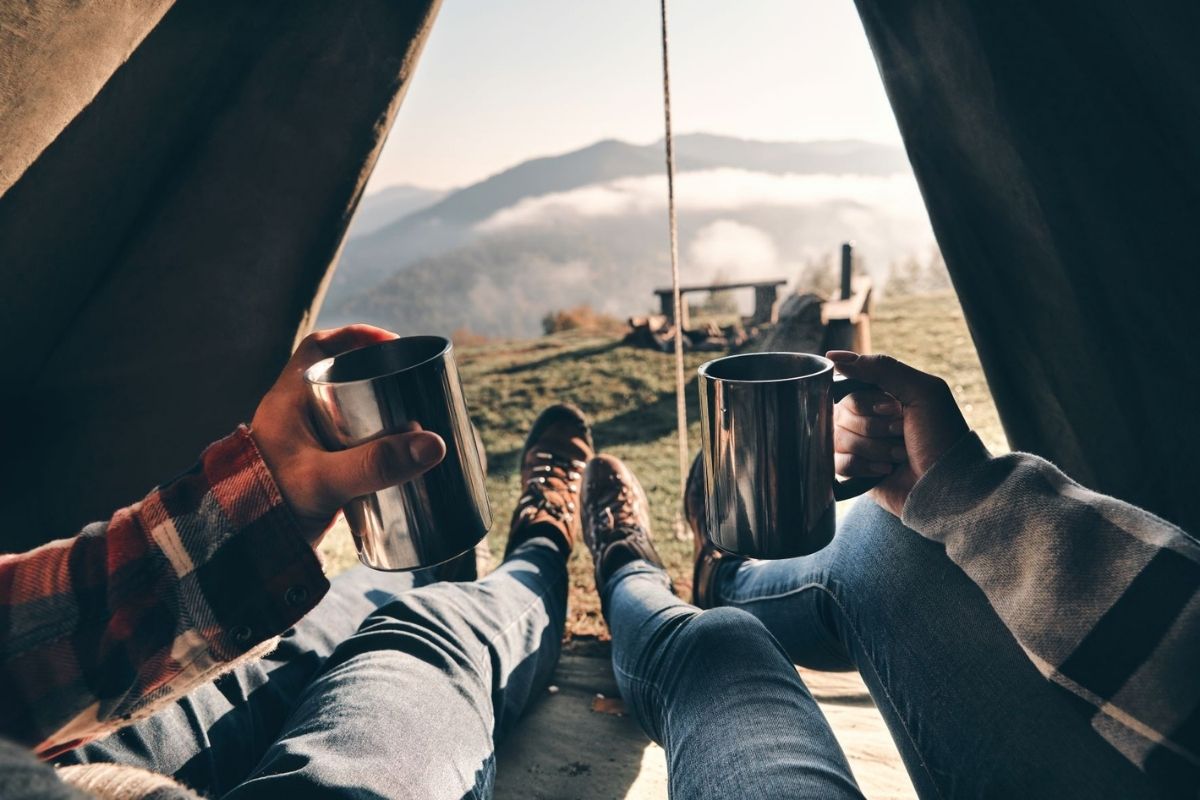 Make a checklist
Make a checklist of all the things you'll need. If, whilst you are away, you realise that you missed something off the list, add it whilst fresh in your mind. That way, you won't forget next time.
Take a first aid kit
It isn't unknown for small injuries to occur when setting up camp so make sure you have a first aid kit with you.
Check the weather forecast
We're not saying that you should cancel your camping trip at the first sign of rain. Let's face it – if you decided not to go camping in the rain in the UK, you might never go camping!
Checking the weather forecast ahead of your trip will just help you be more prepared if it does rain.
One of our camping tips in the rain is to pack layers and good waterproofs.
TOG24 are our all time favourite lightweight packable waterproof jackets. We cannot recommend them enough!
There are currently 8 colours in the TOG24 Craven Women's Waterproof Packaway Jacket.
There are currently 12 colours in the TOG24 Craven Men's Waterproof Packaway Jacket.
There are currently 7 colours inTOG24 Craven Kid's Waterproof Packaway Jacket.
You can read our full review of the TOG24 packable jackets here.
If you're warm and dry, you can cope with (almost) anything the weather throws at you. See our next tip..
Now – camping in the rain is one thing. Camping in a storm is a whole other thing.
If the weather is looking really bad, you might want to reconsider your trip. As disappointing as postponing a trip may be, there is nothing fun about trying to weather a bad storm.
The chances are, your beginner camping tips and tricks might not be quite enough to help your tent survive the night.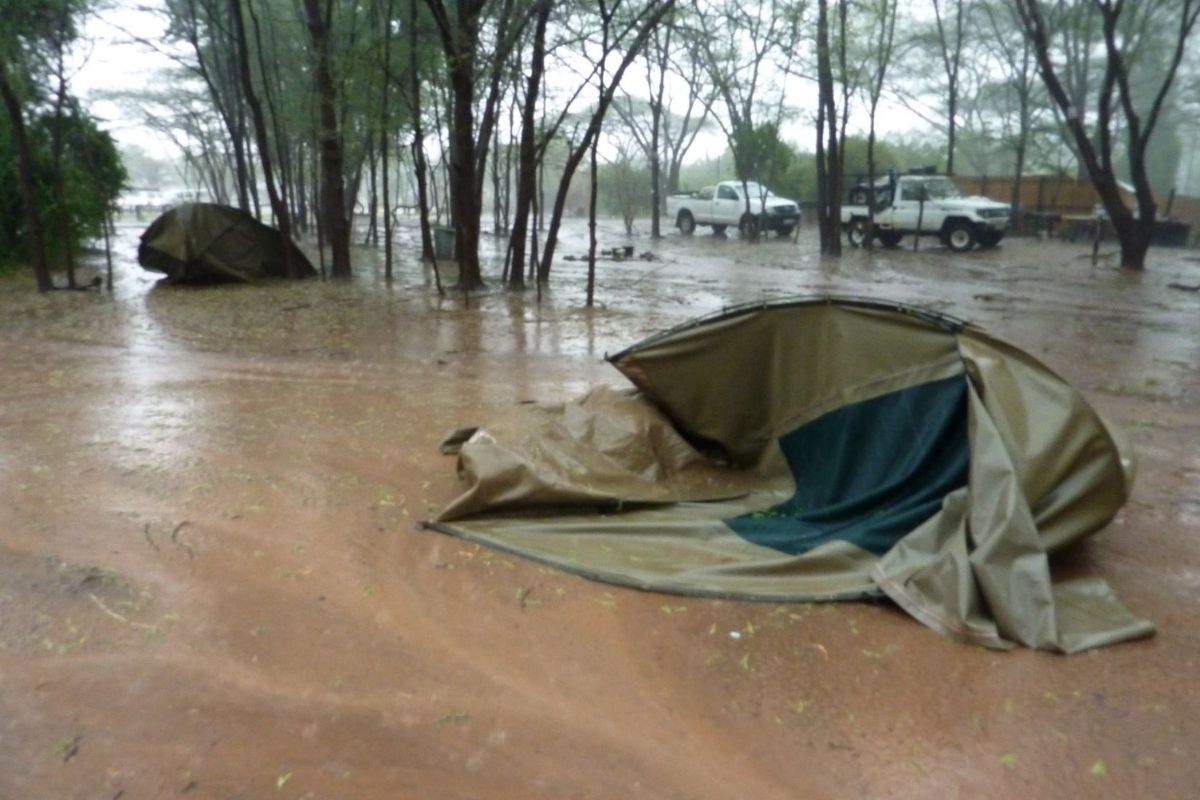 Have a trial run in your garden
Unpack, pitch, take down and repack your tent in the garden or local park before you go. Make a note of how it is folded so you can put it back in the bag. Sometimes it is harder than it looks!
Try camping overnight in your garden. This will give you a good indication of what it will be like camping for real.
Stay close to home on your first trip
Pick a campsite near to home so if you need anything extra or have forgotten anything you don't have to travel far to get it.
Another reason for doing this is that you can just pack up and head home in the event it doesn't go to plan for any reason.
Our first camping trip with the kids was in my parents garden!
Tips for setting up camp
When you first arrive at your campsite, there are a few helpful tips you should bear in mind to make your first night a success…
Leave plenty of daylight time to set up. Setting up may take longer than you think the first time and it gets harder the darker it gets!
One of the best camping tips we can give you is to find a level pitch. We found out the hard way. It is very hard to sleep on a slope!
Don't pitch your tent under trees: falling branches, dripping water, bird poo, tree sap and leaf litter can all be a problem.
If rain is forecast, don't pitch your tent in a dip or a valley. You may find rain water running through your tent!
Find out where the sun rises and sets. Choose the direction of your set up depending on whether you prefer the warmth of the sun during breakfast or if you would like to sit out longer in the evening.
Have a flask of tea (or wine or beer!) and some sandwiches to hand so you have something whilst setting up and avoid that hangry feeling!
Remember that campers are generally a friendly bunch so ask for help if you are unsure about anything.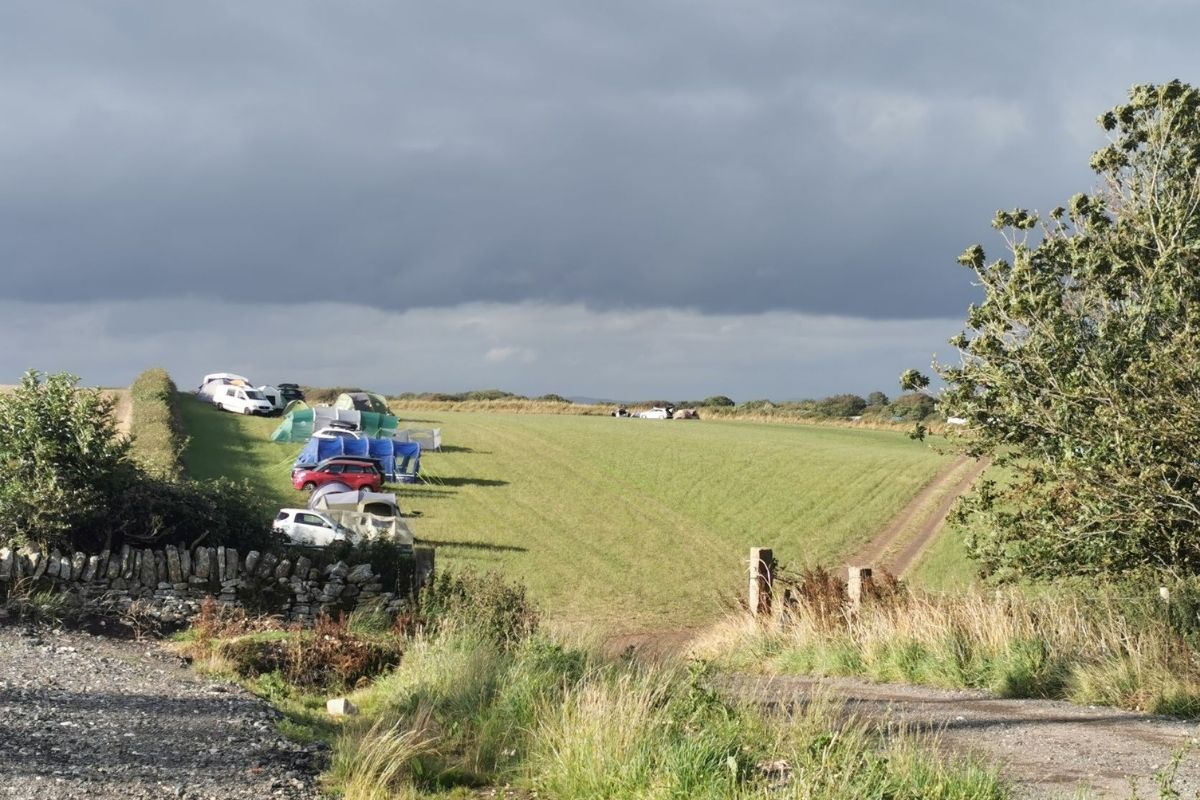 Get organised
Pack your car carefully so it is easy to find stuff when you arrive. Make sure to pack your tent poles if you don't have an air tent!
There aren't as many storage places in a tent so you need to be organised or it can quickly become a mess. We like to use storage tubs in different sizes to store stuff. The Gorilla tubs work well for us.
Keep a box with all of the small essential items that you may need to get your hands on quickly. This may be for things like spare batteries, midge coils, gorilla tape, sanitizer, a few pegs, first aid kit, matches etc.
Have a mini place at night to put a torch/mallet/coat /phone in case you need to pop out at night.
Keep your pitch tidy. Nothing upsets other campers like rubbish everywhere.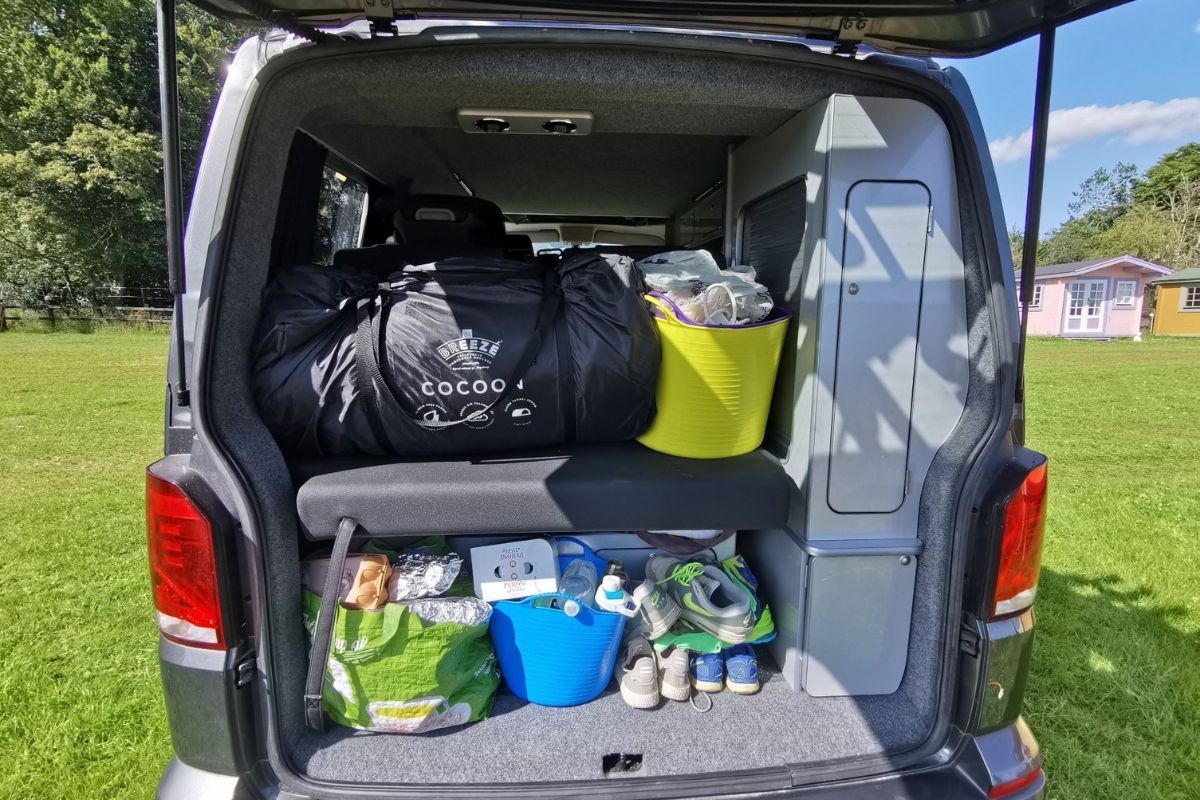 Tips for camp cooking
The best advice we can give is to plan meals before you go. Check out some of these simple camping recipes for inspiration.
You can even take pre-prepared meals with you if you don't want to spend time cooking while you are away. If you freeze one of the meals, it will act an an ice block in your cool box. Same applies to milk.
Two (plastic) bottles of milk – 1 fresh and 1 frozen. The frozen one will keep the other one fresh and, by the time you need it, it will have defrosted.
Take a large water container with dispenser tap to save so many trips to the water tap.
Tips for keeping warm camping
This is kind of related to checking the weather forecast but you need to be prepared for how cold it can get at night. Even during the summer you can feel quite cold at night.
Buy a good quality sleeping bag.
Always take a hot water bottle for cold nights.
Put blankets under you as well as over you at night (or better yet, an insulated sleeping mat).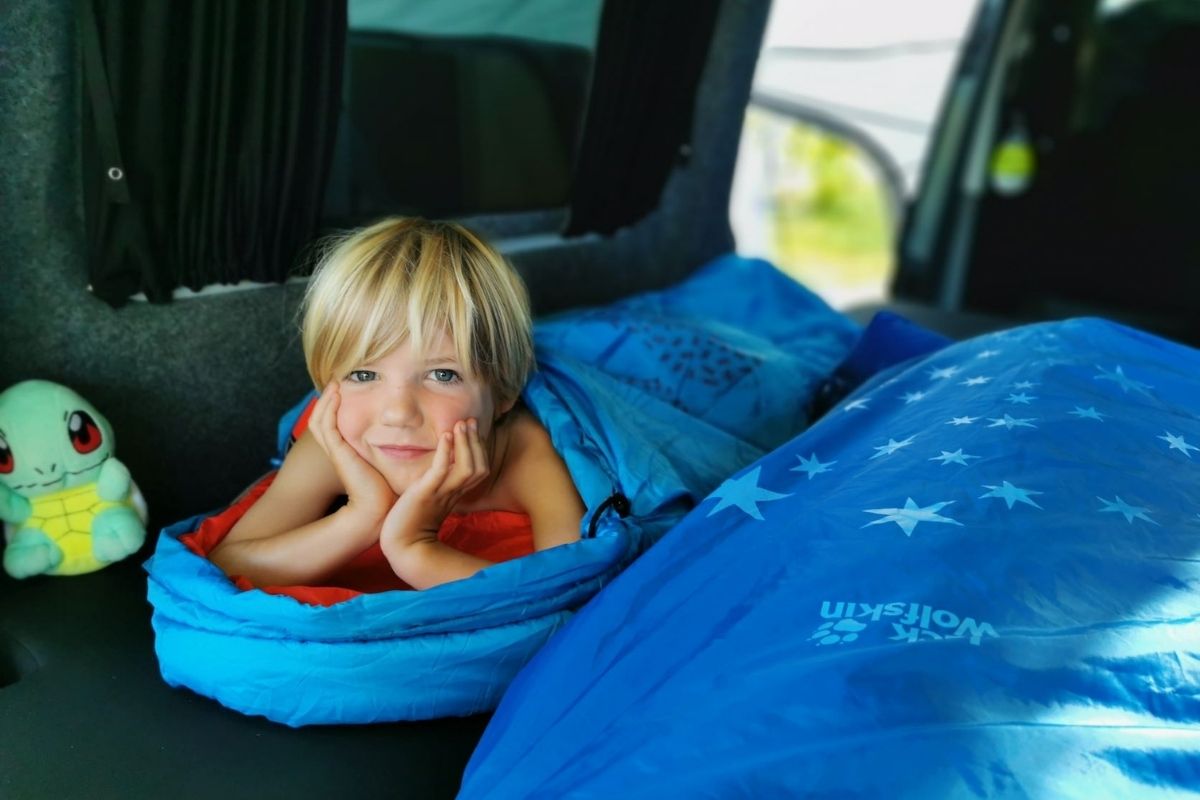 First time camping tips for families
All of the above tips for camping apply to camping with kids but we have some other tips for first time family camping that may come in handy.
We often get asked – how do you make camping easier with young kids? You should take a look at our post on camping tips with toddlers but one of the best family camping tips we can give you is to get the kids involved.
If you get the kids involved in setting up camp, you won't be distracted by them running around and wondering where they are. They will learn all about setting up camp which will be helpful for future trips.
We give them little jobs like filling up water bottles or setting out the table and chairs.
And if you find yourselves camping in the rain with kids, pack some travel games for the kids. They don't take up much space and will come in very handy if you experience bad weather and are confined to the tent!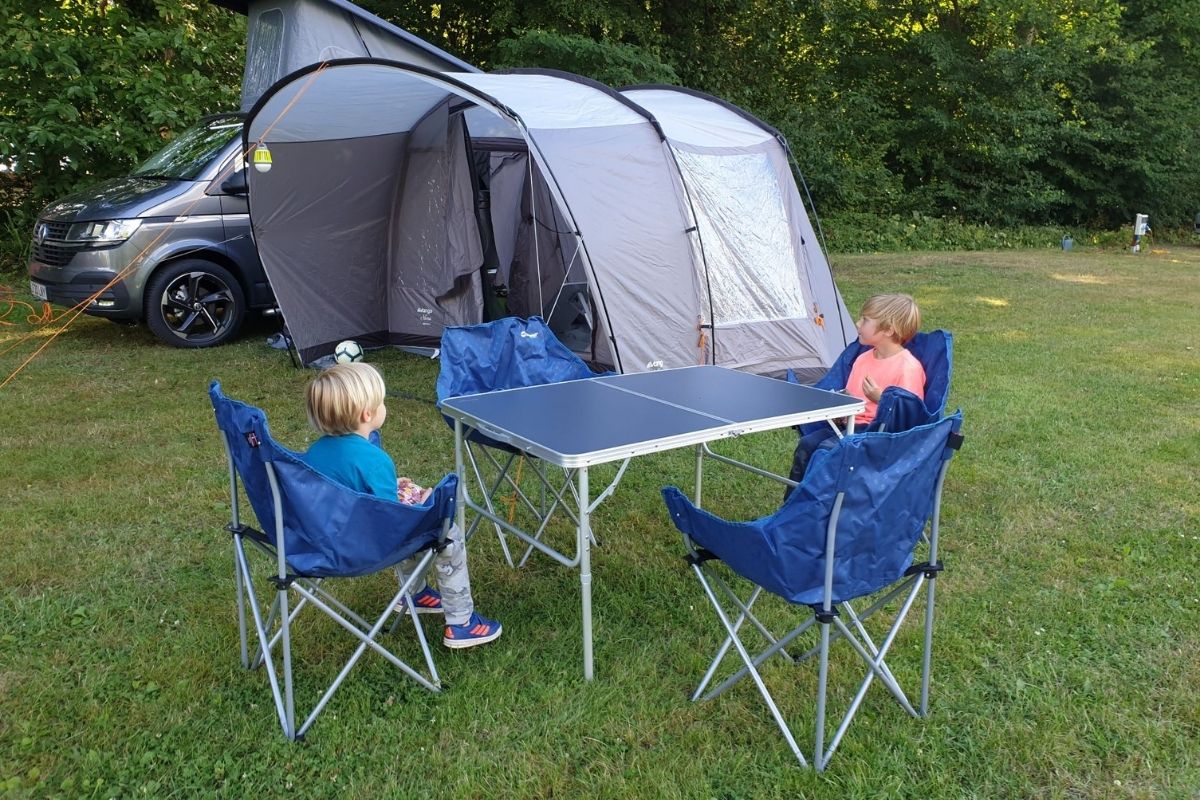 Best tips for camping in France
France is an amazing country for camping and we highly recommend heading there once you have found your feet.
If you are heading over to France and in need of some campsite recommendations, here are some lovely family-friendly campsites in France which also includes French camping tips.
We also have some tips for campervanning with kids as well as lots of other van life inspired posts.
If you aren't so sure about using the shared facilities on campsites, you should check out these campsites with individual facilities. And finally, if you like the sound of waking up next to the sea, check out these lovely UK coastal campsites.
Do you have any first time camping tips you would like to share? Get in touch. We would love to hear from you!