30+ Charming Things To Do In Southwold And The Local Area
Southwold is a quaint little seaside town on the Suffolk coast and although it might be small, there are still plenty of absolutely charming things to do in Southwold whether you are visiting in the summer or winter.
Southwold often tops the charts for best British seaside resort with its understated British seaside elegance and can really offer visitors a truly memorable UK holiday by the sea.
It is exactly this understated elegance and subtle reminders of times gone by that makes all the things to do in Southwold seem so charming.
Growing up in Suffolk, I would spend long summers on the Suffolk coast well before it became a popular beach escape from London. I go back with my family every summer and we always spend a day or two in Southwold.
These are some of my favourite things to do in Southwold and the surrounding area. There is such a large mix of Southwold days out from museums to mazes and Suffolk eateries to surfing.
There is bound to be something for you to enjoy on your Southwold holidays.
Southwold really is one of the loveliest places to visit in Suffolk.
So if you are wondering what to do in Southwold this year, this is the only guide to Southwold you will need!
This post contains affiliate links. If you book something through one, we may earn a small commission but this is at no extra cost to you.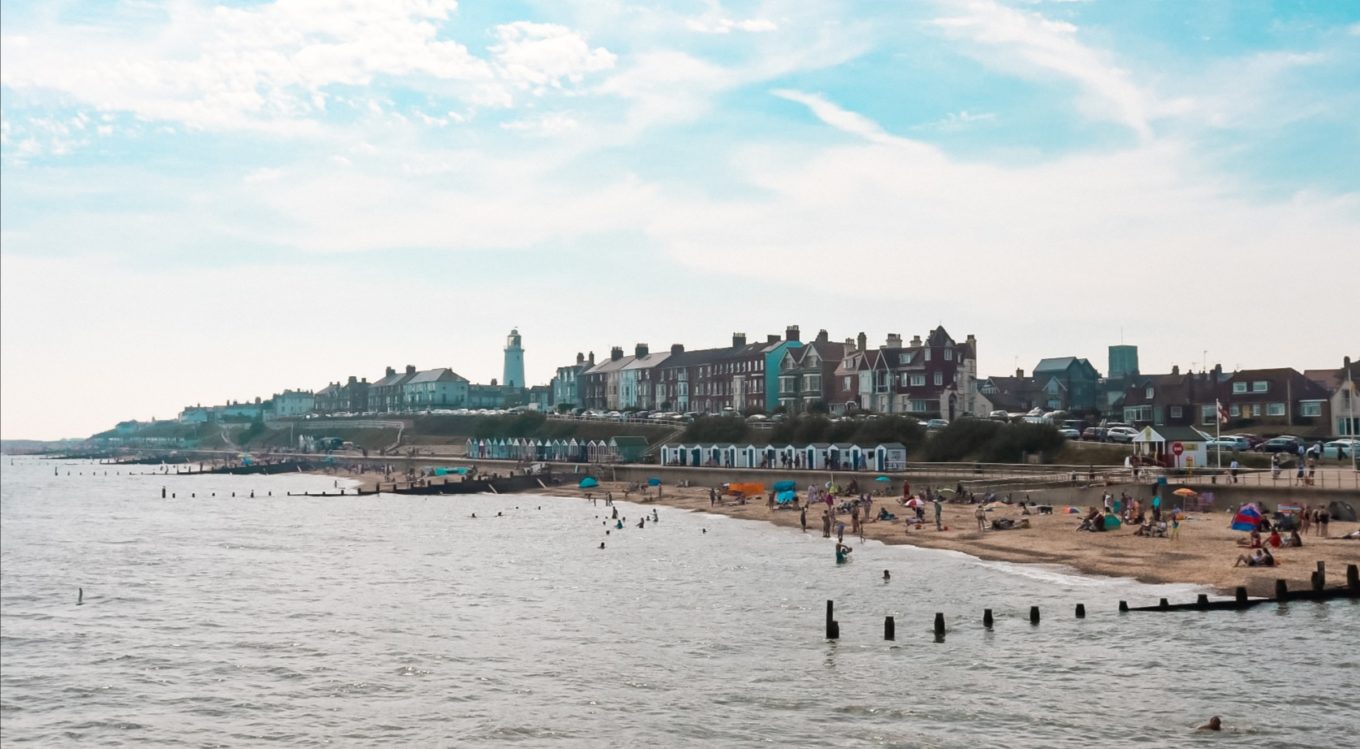 Where is Southwold?
Southwold lies on the Suffolk coast, just north of its slightly more famous neighbour, Aldeburgh. It is a little over 2 hours from London to Southwold by car.
It can be done on a day trip from London by train but it would be a long day out. From London Liverpool Street you can take a Greater Anglia service through to Darsham which is the nearest train station to Southwold.
The London to Darsham train takes about 2 hours 30 minutes. There is no London to Southwold train.
From Darsham you can take a taxi for the remaining 10 miles to Southwold. It would be best to book one in advance. It is a tiny station pretty much in the middle of nowhere.
If you are visiting Southwold for more than just a day, you really do need a car to make the most of your time here.
Before visiting Suffolk, you might want to grab a copy of the Rough Guide to Suffolk & Norfolk  which is the most comprehensive and up to date guide out there. We also love this Suffolk pub walks guide.
So what are the best things to do in Southwold?
Having lived in Suffolk for most of my life, I've explored a lot of this area and can safely say that these are the best things to do in Southwold.
I've recommended them to friends and family who all adore the timeless qualities of a Southwold holiday (and Suffolk in general) and come back year after year.
1. Visit Southwold Beach
It is probably safe to assume that the number one reason people visit Southwold is for the beach.
Granted, it is not the prettiest beach if you compare it to secluded Cornish coves with their crystal clear water, but it has oodles of vintage seaside charm about it which people love.
Southwold beach has won a seaside award, meeting high standards for cleanliness and facilities. On top of that, it is as cutesy as a traditional British seaside resort can get.
The beach is a mix of shingle and sand – mostly shingle – and is backed by beautiful colourful beach huts. It is one of our favourite beaches in Suffolk.
Head north along the beach towards Dunwich and you will come across sand dunes (and more sand).
Visiting the beach should be top of your list of things to do in Southwold.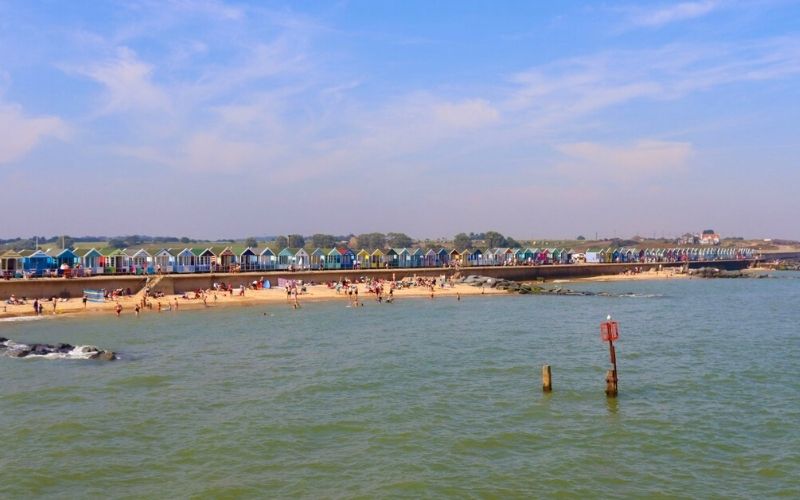 2. Check out the colourful Southwold beach huts
The Southwold beach huts line the Southwold beachfront either side of the pier. They really are very pretty and are understandably extremely sought after.
If you can't find the £150,000 you would need to buy one, you can look into Southwold beach huts for rent instead!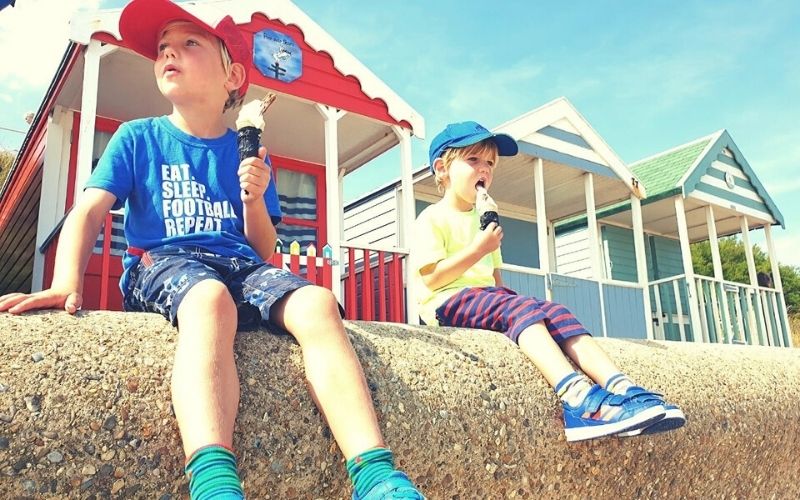 3. Explore Southwold Pier
Southwold Pier was built in is one of the oldest piers in the country and . There is the obligatory amusement arcade as you enter the pier, but then there are some really quite unique things to see on Southwold Pier.
Take a stroll along the pier to the end and you will pass a row of wobbly mirrors. Our kids loved looking at their distorted reflections in the wacky wall of mirrors.  According to them, it is the most fun of the Southwold things to do.
There is also a water-powered clock and the slightly bizarre Under the Pier where you can see a bunch of weird and wonderful interactive mechanical creations.
4. Visit Southwold lighthouse
The lighthouse in Southwold, built in 1890, is a working lighthouse. During the summer months you can take a tour of the lighthouse but this must be booked in advance with the Visitor Centre.
Don't miss the canons on Gun Hill infront of the lighthouse where you'll see several canons reportedly taken from the Scots at the Battle of Culloden.
5. Take a tour of the Adnams Brewery
Adnams Brewery is one of the most famous breweries in the country with their flagship drink being Ghost Ship.
These days, they make everything from beer to wine and spirits. We are quite partial to the Adnams Gin which is an award winner.
On the brewery 1.5 hour tour you will learn about the beer making process with a tasting at the end.
If you wondering what to do in Southwold when it rains, this is probably your best bet – although note that no under 18s are allowed on the Adnams brewery tour.
If you don't get a chance to take a brewery tour, you will be able to sample the produce at one of the many Adnams pubs in Suffolk.
6. Visit the Adnams Southwold Shop
If you don't make it to the Adnams Brewery, you can stop in quickly at the Adnams Shop in Southwold.
As well as being able to buy your favourite Adnams beverages, there is a selection of Adnams branded clothing and then all sorts of tempting accessories for the kitchen.
There is a little café at the back and a gorgeous courtyard area. You can even eat in a former copper brewing vessel.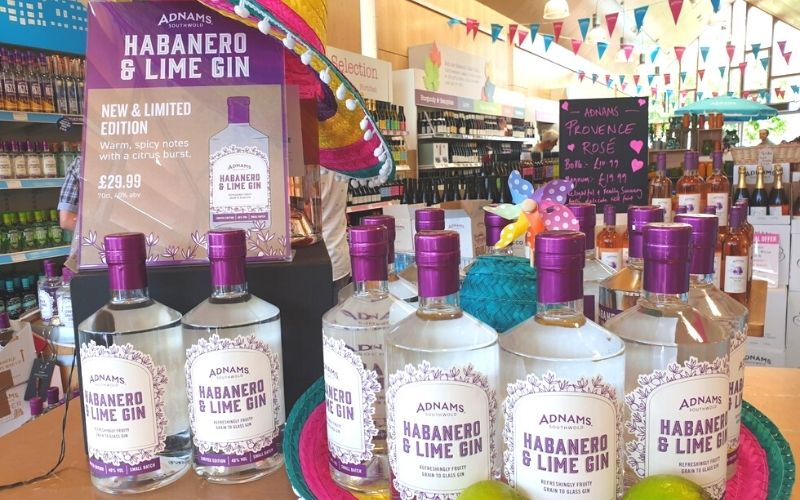 7. Take a horse drawn carriage ride
Southwold is easy to visit on foot but if you feel like a break or would like to see a different side to Southwold, try a horse and cart ride.
In the summer months you can take a horse drawn carriage ride around the streets and sights of Southwold. The enormous shire horses are a magnificent sight.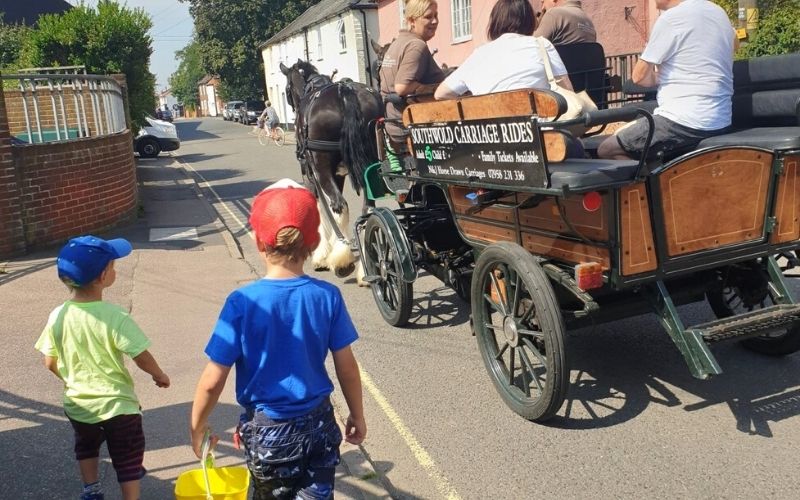 8. Get lost in Southwold Maize maze
If you are visiting Suffolk with kids in the summer – you have to check out the maize maze, Southwold's best attraction for kids.
As well as enormous and quite challenging maize mazes, they have large bouncy cushions and play areas, including climbing frames, dressing up and ride on tractors.
There is a small café and lots of picnic tables. It's a fun family day out in Southwold.
Want to find a maize maze near you? Here is a list of 45 maize mazes in the UK!
If you're visiting Southwold in the October Half Term, Southwold Maize Maze is also one of the best places to go pumpkin picking in Suffolk.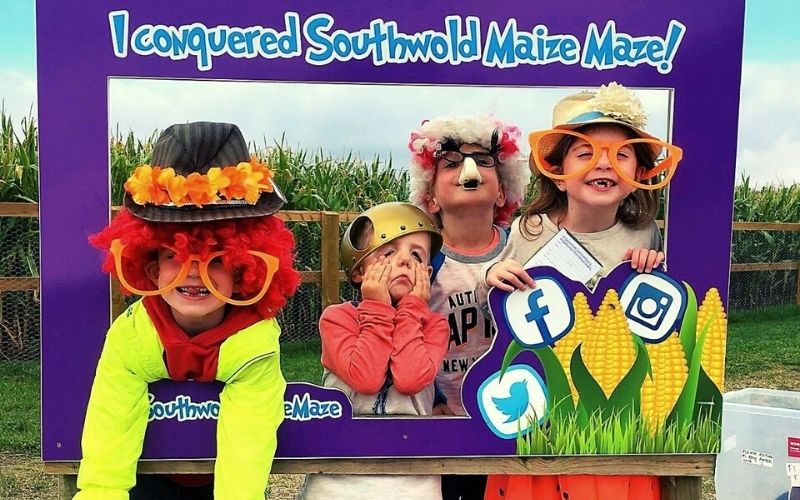 9. Explore the side streets of Southwold
Southwold is really quite a small town and it is easy to get around on foot. Take a walking tour down the side streets and explore the cute and colourful fishermen's cottages that line the streets.
Church Street is one of our favourite streets in Southwold.
10. take the ferry from Southwold to Walberswick
From Southwold you can take the Walberswick Ferry across the River Blyth to Walberswick.
Here, you'll find a quaint little village built around a village green, a couple of great pubs, a beautiful nature reserve, a sandy beach and an enormous car park.
If you are visiting outside of peak holiday season, you might be wondering why there is a need for such a large car park. If you are visiting in the summer, you will see why.
Walberswick is famous for crabbing. They used to hold a British crabbing competition there. These days you will see hundreds of families with their crabbing gear trying to catch a crab or two.
These crabs are not for eating though and need to be released when you are done.
You can buy crabbing equipment from the local village shop or there is sometimes an ice cream van selling crabbing gear in the car park.
And a couple more things to do in Southwold..
Things to do near Southwold
Suffolk is ideal for a UK staycation. As well as the many lovely quiet beaches, there is so much to see and do.
We have a post containing over 100 things to do in Suffolk if you're looking for more ideas and see below for some of the highlights near Southwold.
Latitude Festival – if you are visiting Southwold around the third weekend in July and you love music festivals, you should check out nearby Latitude Festival.
Go fruit picking at Friday Street –  the shop at Friday Street also has a lovely selection of locally sourced produce.
Go boating in Thorpeness – hire boats on Thorpeness Meare and explore Peter Pan themed islands.
Visit Framlingham – one of the prettiest market towns in England and home to Framlingham Castle, one of the most impressive castles in England.
Visit Sutton Hoo – the Anglo Saxon burial ground at Sutton Hoo is one of the most important archaeological discoveries in the country.
Grab a bite to eat at Orford – discover where the foodies head to in Suffolk and visit Orford Castle while you're there.
Visit Dunwich Heath – a beautiful National Trust owned area of heathland rich with local wildlife in Dunwich. Check out our guide to 5 stunning Dunwich walks.
Visit RSPB Minsmere – one of the best places in the country for bird watching.
Canoeing on the River Alde – Take a canoe or paddle board out on the River Alde and explore this beautiful area from the water.
Take a forest walk –  Visit Tunstall, Rendlesham or Dunwich Forest for some beautiful forest walks.
Visit Leiston Abbey – Discover the monastic remains of Leiston Abbey.
Visit a vineyard: vist Valley Farm Vineyards, one of the best vineyards in Suffolk.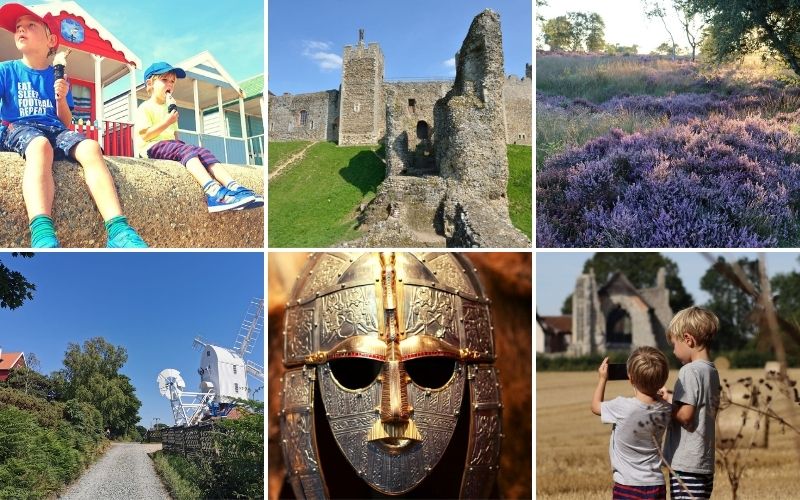 Where to eat in Southwold
Having sampled a few Southwold restaurants over the years and loving most of them, it was hard to whittle it down to the best restaurants in Southwold – but here goes..
Little Fish and Chip Shop – THE place for Southwold fish and chips.
Sole Bay Fish Company – Southwold Harbour fish shack and sister restaurant to the Little Fish and Chip Shop.
The Lord Nelson – popular seafront pub with great fish and chips.
Coasters – locally sourced, fresh food.
The Sail Loft – wagyu burgers and street food. We recently had a superb meal here.
The one thing I would say about eating out in Southwold is that you MUST book ahead during the summer months.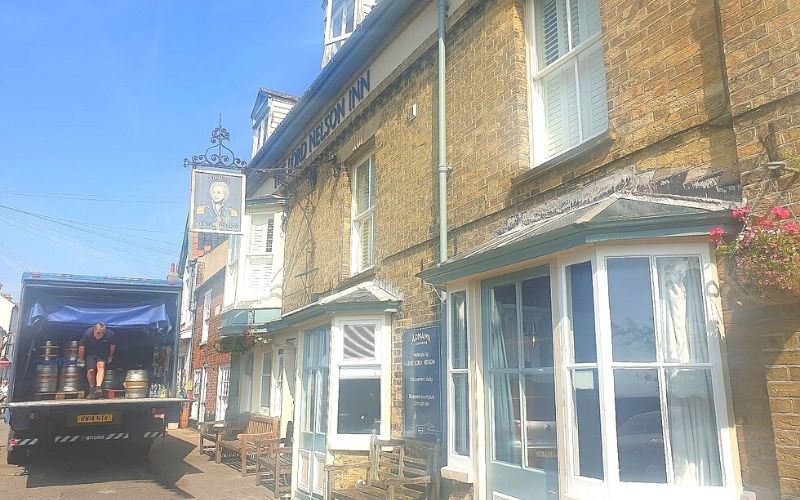 Where to stay in Southwold
There is a wide choice of Southwold holiday accommodation so we've broken it up into types of accommodation so there is something to suit everyone.
Hotels in Southwold
Holiday lets in Southwold
There are lots of Southwold cottages to choose from but for something a little different, try The Old Fishermen's Cottage.
One of the best Suffolk holiday accommodation booking sites with some beautiful Suffolk holiday cottages on their sites is Plum Guide.
You can also try on Booking.com as you may find something similar with a flexible cancellation policy.
Camping near Southwold
There is just one campsite in Southwold, Southwold Camping, so if it is full, you will need to look a little further afield. The next closest sites are The Jubilee Camping and Caravaning Club and Little Wren Glamping (if you fancy a spot of glamping near Southwold).
Here are a few more Suffolk campsites that might interest you. If you're new to camping or campervanning, we have a campervan essentials packing list and if you're camping with younger children, make sure to check out these helpful camping with toddlers tips.
Map of things to do in Southwold
Visiting Southwold at Christmas? Check out our guide on things to do in Suffolk at Christmas. Visiting Southwold during the October Half Term? Check out our things to do in Suffolk at Halloween post.