Chessington Review: Complete Guide To Chessington World Of Adventures Resort 2023
Looking for a thorough Chessington review to help you decide whether it is worth visiting? Maybe you want to know what is the best age for Chessington? Or maybe you want to get Chessington money saving tips?
We recently visited Chessington World of Adventures Resort with our 9 and 10 year old boys and thought we would answer as many of your questions as we could to help you plan your visit.
Chessington was recently named Britain's best theme park in 2023 –  but is Chessington any good really?
This is our experience of Chessington. All thoughts are our own and we give the good, the bad and the ugly!
If you'd like to follow more UK and international family travel content, make sure to follow us on Instagram!
This post contains affiliate links. If you click on one and book or buy something, we may earn a small commission but this is at no extra cost to you.
By the way, if you are interested in Legoland, you might also want to take a look at our guide to visiting Legoland Windsor with kids.
We've also visited some of the other Merlin attractions in London. Here are our reviews:
Madame Tussauds – tickets available on their site here.
Shrek's Adventure – tickets available on their site here.
London Eye – tickets available on their site here.
London Dungeons – tickets available on their site here.
Our complete Chessington review warts and all!
I have to admit, I wasn't really looking forward to visiting Chessington World of Adventures Resort.
The older I get, the less inclined I am to set foot on a rollercoaster and I don't like crowds.
But over the summer holidays the kids had seen numerous adverts for Chessington World of Adventures Resort and really wanted to go.
We ended up booking a family day out to Chessington as an end of the summer holidays treat.
Spoiler alert! We had a great day out and I might have even done a few of the rides twice. But having been (and made some mistakes), there are a few things I would do differently when we go again.
Here is our Chessington review to help you get the best deals and to plan your visit so that you have the best time.
Make sure you don't miss our Top Tips for visiting Chessington at the end of the post.
This Chessington review contains all the practical information for visiting as well as the best tips for visiting Chessington World of Adventures.
Our review of Chessington World of Adventures Resort covers parking, best time to go, ticket savings, ride tips and also food and drink advice.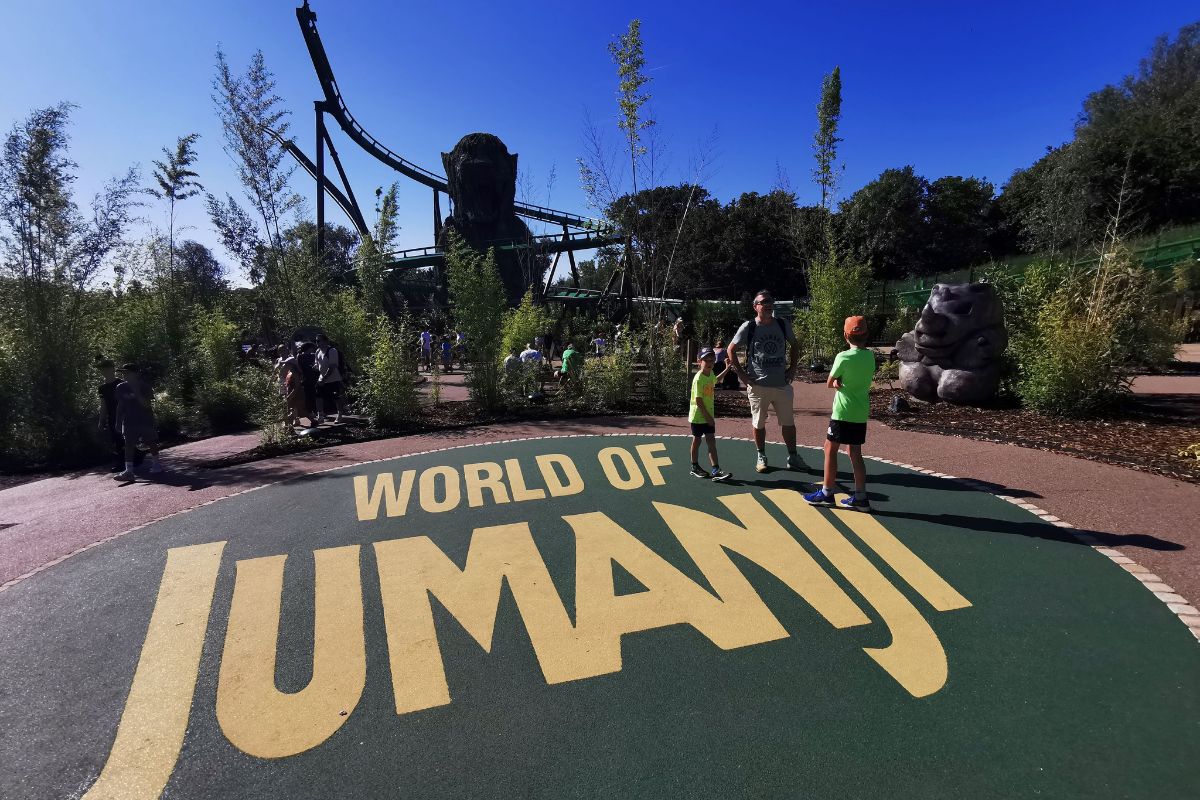 Where is Chessington World of Adventures?
Chessington World of Adventures Resort is located in Surrey. The address for Chessington World of Adventures Resort is Chessington, Surrey, KT9 2NE.
Chessington is one of our top days out from London for families as it is easily accessible by train or car. See more info below.
If you are staying in the area and looking for other things to do, here are some things to do near Chessington.
Richmond Park
Hobbledown Adventure Farm Park and Zoo
Hampton Court Palace
RHS Wisely
Getting to Chessington
Getting to Chessington by car
If you are coming to Chessington by car, it is located just two miles from the M25 (take either junction 9 or 10). Use postcode KT9 2NE.
The easiest way to get to Chessington is by car and there is loads of parking at Chessington. There are lots of huge grassy fields named after animals (you need to remember where you park). They are about a 5-10 minute walk to the main entrance.
Standard parking tickets are £6 or £8 during the weekends and school holidays. You can buy your parking tickets here.
One of the disadvantages of coming by car, however, is the queue to get out at the end of the day! You can get around this though by paying £15.00 which allows you to park at the Lodge Gate coach entrance. You can buy your parking tickets here.
Recently the ULEZ area was expanded and Chessington now falls within it so please check whether your car is ULEZ compliant.
Getting to Chessington by train
There are regular South Western Railway services from Waterloo, Clapham Junction and Wimbledon to Chessington South and it takes around 35 minutes. The park is approximately 10 minutes walk from the station.
Chessington South station is located within Zone 6 of the London Travel zones and accepts Oyster cards.
At the time of writing there were no free shuttle buses from the station to Chessington.
Getting to Chessington by bus
Chessington is served by a regular bus service. Take the 465 or 71 bus from Kingston to Chessington, or the 467 bus from Epsom to Chessington.
Arrival at Chessington
However you decide to get to Chessington, make sure to arrive as close to opening time as possible.
Chessington opens at 10am every day and closes at 5pm unless it is the school holidays when it closes at 7pm.
On arrival at Chessington, you will have your bags searched. Take note of what you are not permitted to bring into the park.
Chessington tickets
You can buy your tickets in advance on the Chessington website.
Here are the ticket options on their site.
Standard day ticket bought in advance (from £33 per person). See here.
Stay overnight with park entry (from £50 per person). See here.
Please note if you require assistance (either you can't stand for long periods of time due to a physical disability or a learning/emotional impairment, you can apply for a 'Ride Access Pass' – BUT this must be completed at least 7 days prior to your visit. See here for more details.
You can also buy tickets for Chessington on the gate but they are almost double the price in some cases.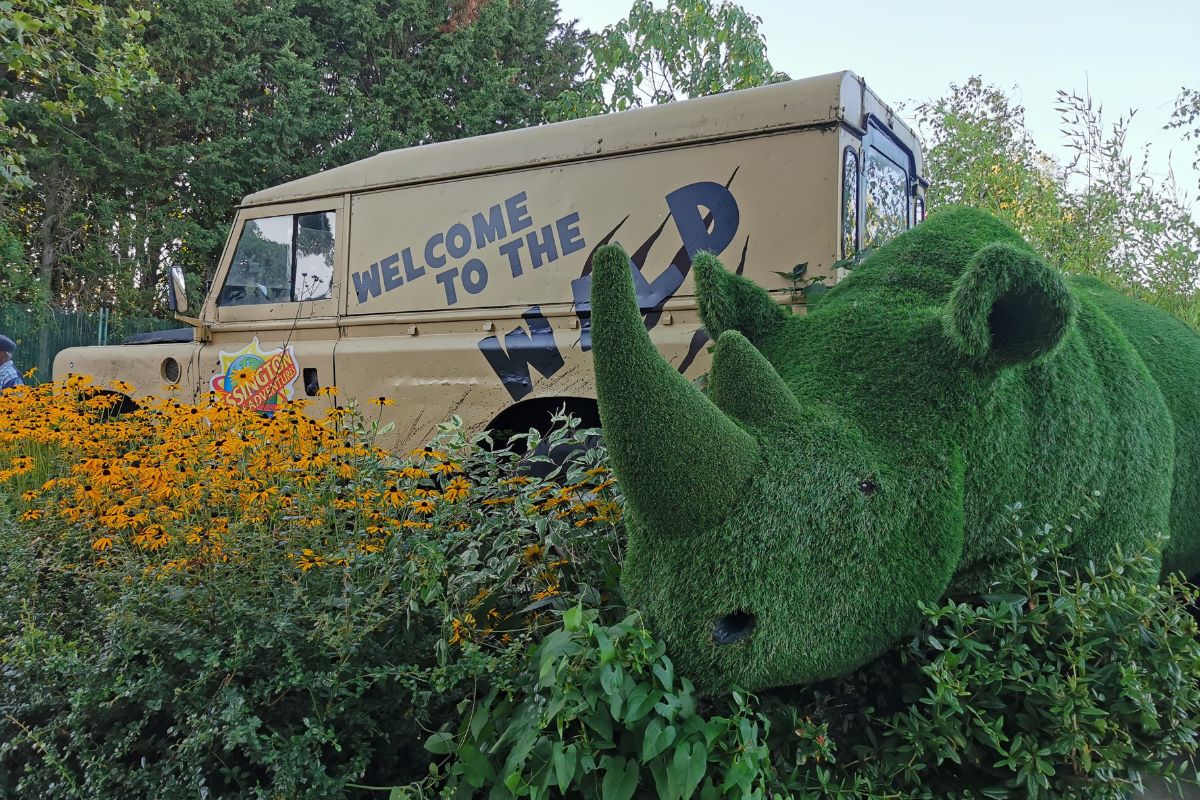 Chessington ticket offers
Annual pass
If you live nearby and think that you'll visit Chessington more than once, you should consider an annual Chessington Pass.  Prices start from £49.00 per person.
If you like a theme park, why not consider the Merlin Annual Pass?
With this pass, you'll also get access to nearby Thorpe Park and Legoland Windsor , Alton Towers, Warwick Castle and more!
They start from £99 per person. some of the perks include a discount on park food and beverage, discounts on friends & family tickets and discounts on hotel stays. More information on the passes can be found on their website.
Kelloggs vouchers
You sometimes see vouchers on Kelloggs cereal boxes for the Merlin attractions. You could take a look at the Kelloggs 241 Chessington deal or  free adult deal.
More information can be found on the Chessington website on how to redeem the codes.
Personally, I don't feel this is a great saving (especially if you are visiting off peak) and is a bit misleading. You are getting the saving on the FULL PRICE TICKET (£64pp).
If you book in advance directly with Chessington, ticket prices start from £33.00 anyway.
Tesco Clubcard
Another way to save money is to convert your Tesco Clubcard points into vouchers to spend at Chessington World of Adventures Resort.  You can find more information on this deal on the Chessington website.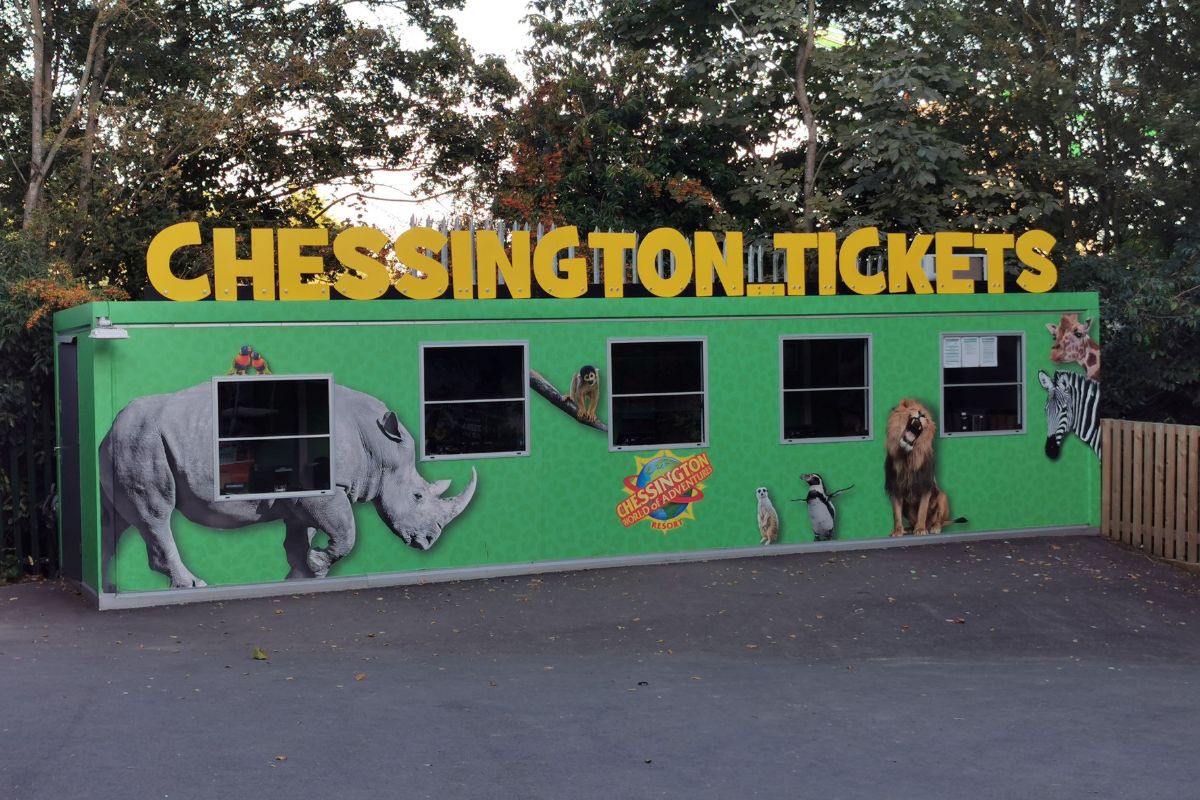 Plan your visit to Chessington World of Adventures Resort
So now you have your tickets, it's time to get planning.
How long do you need at Chessington? All day (and more)!
Is one day enough at Chessington? Make sure to see our advice for how long to spend at Chessington below under the Chessington rides section.
Download the Chessington app
The first thing you should do is download the Chessington app. You can download the Chessington app here.
This app will be your friend throughout the day. There is FREE Wi-Fi at Chessington.
You can save your tickets and passes to your app for easy access.
In the app you will get a view of:
Live queue times for rides and attractions
Information on all of the rides
Step-by-step directions
Resort information
You can reserve a ride on the new Mandrill Mayhem using a virtual queueing system on Reserve and Ride. You need to register (for FREE) before 9.45am..
Our advice here is to make sure that your phone is fully charged. Maybe even bring a portable charger like this with you (Anker is a great brand).
You do not want your phone to die, especially if you are using Reserve & Ride. Not to mention all of the lost photo ops.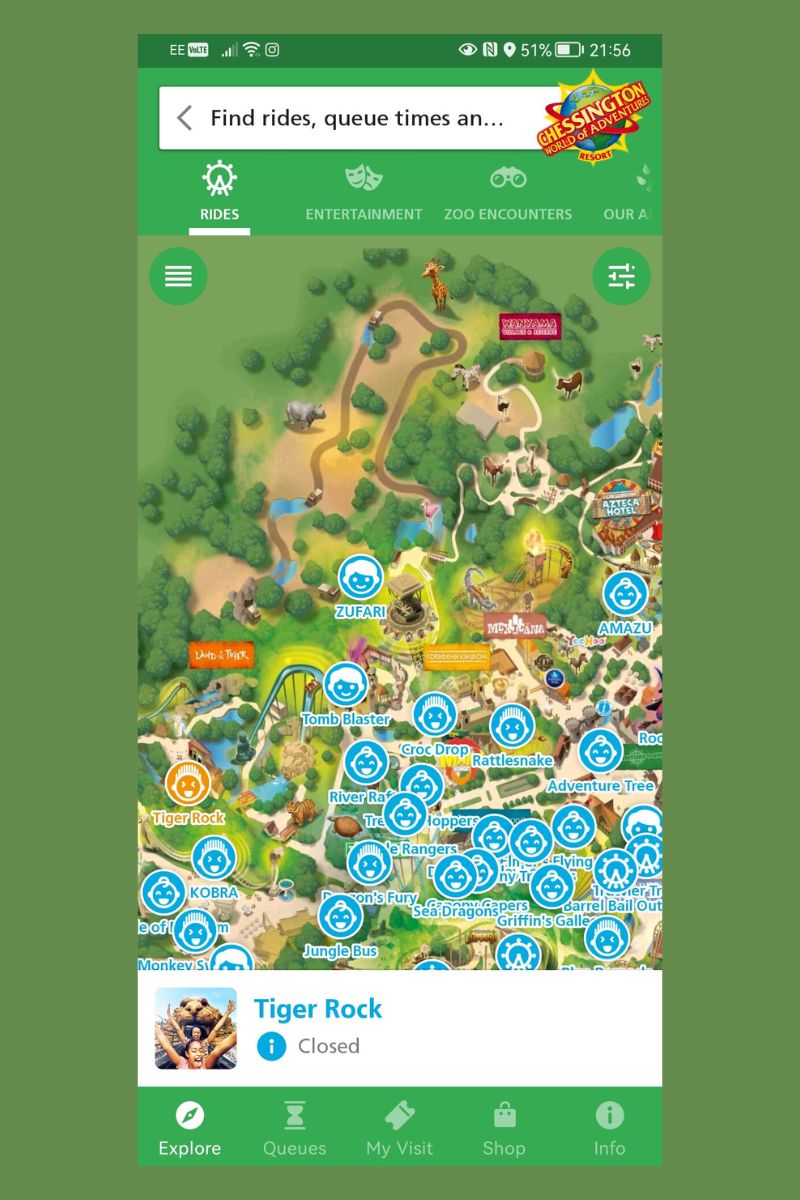 Rides at Chessington
A question we get asked is 'What age is best for Chessington?'.
There are over 40 rides and attractions for all ages but which rides you can do comes down mostly to height as opposed to age.
1.2m seems to be the tipping point. If you are 1.2m or over you will be able to do almost all of the rides at the park (except Rattlesnake which you need to be 1.4m for).
Some of them require you to be accompanied by an adult if you are 1.3m and below.
The best rides at Chessington? That is totally a personal choice.
The most popular rides based on wait times while we were there, however, seemed to be Mandrill Mayhem, Dragon Fury and Vampire.
These also happened to be our favourite rides.
You can see information on all of the rides at attractions at Chessington here.
Other things to do at Chessington
There are shows throughout the day on the main stage.
Chessington is also more than just a theme park with rides and attractions. At the zoo you can do a whole load of VIP animal experiences.
Zoo and SEA Life at Chessington
There is actually a surprising number of unusual animals in the zoo.
We hadn't expected to see such variety. I'll be honest though and say that we don't really like to see animals in captivity so we didn't spend much time in the zoo.
We understand places like Chessington who run animal conservation programmes are doing good, but much prefer to see animals in the wild.
We have had lots of animal adventures all over the world and love an African safari. We understand that not everyone can do this, however, so the safari experience (Zufari) at Chessington is a good chance to see these incredible animals.
You can find out more about the zoo and sea life here including their VIP animal experiences.
If you want to do all the rides at Chessington and properly see the zoo, you will really need to spend 2 days at Chessington.
And if you want to find out about our African adventures, including how to arrange a budget safari, click on our African family travel section.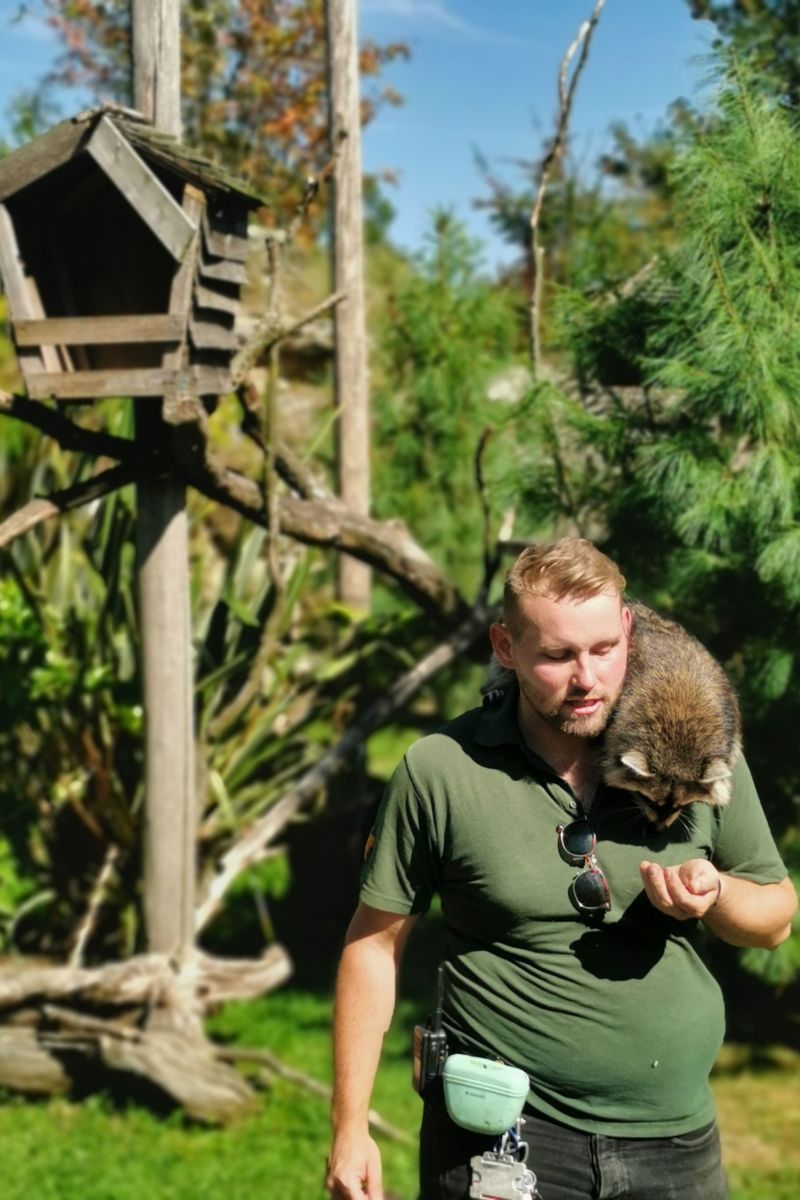 Map of Chessington
Once you have an idea of the rides you want to do, take a look at the Chessington map to get your bearings and find out where they are. You can view it here.
The theme park is pretty huge. Once you know which rides you would like to try, you can form a plan.
Bear in mind this plan might go out of the window depending on the queue times for rides!
Visiting Chessington with young kids
There are plenty of rides for young children at Chessington (see details above).
One more thing to note about taking young kids to Chessington is that there are buggies for hire in case you don't want to take your own pram.
It costs £10 for a single and £15 for a double.
These are great to save little legs from the miles and miles of walking. You need to hire them as early in the day as possible as they are popular.
Note that you cannot take any prams or buggies into the ride queues.
You can find more details on the buggies here.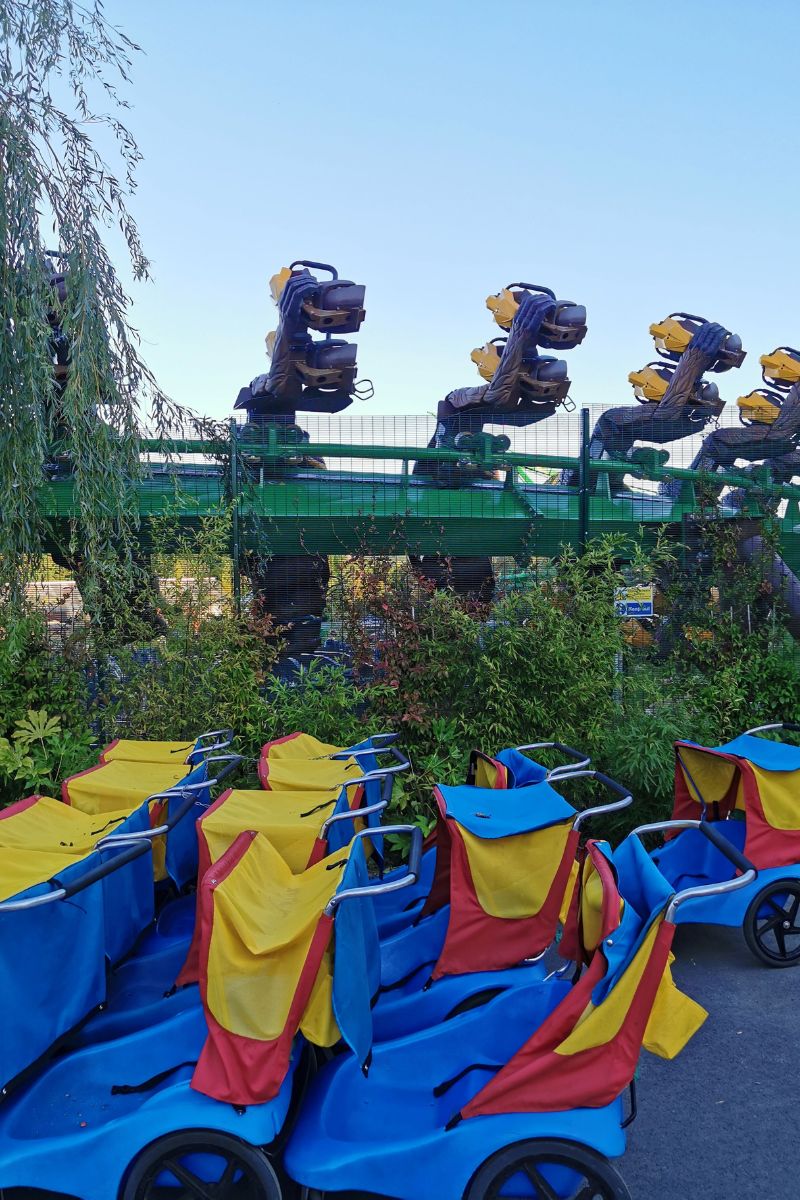 Reserve & Ride at Chessington World of Adventures
Is Reserve and Ride worth it?
The main question people seem to have is 'is Reserve and Ride at Chessington worth it?'.
Our only answer is yes, if you can afford it, it is most definitely worth it.
The minute we got into the park and headed for our first ride, the wait time was 90 minutes.
With Reserve and Ride we were in within 5 minutes.
There are different levels available.
Yes, it is expensive. But the actual entry tickets to Chessington are not that expensive when you consider that it is a full day out.
For us it was totally worth it. We were there during the school holidays and it was a hot day.
Some queue times reached 90 minutes. There is no way we would queue that long.
Having said that, there were times when it was so busy that even Reserve & Ride didn't work. There was a message to say 'ride full' and that it was not currently bookable.
See our advice below on what to do if this happens.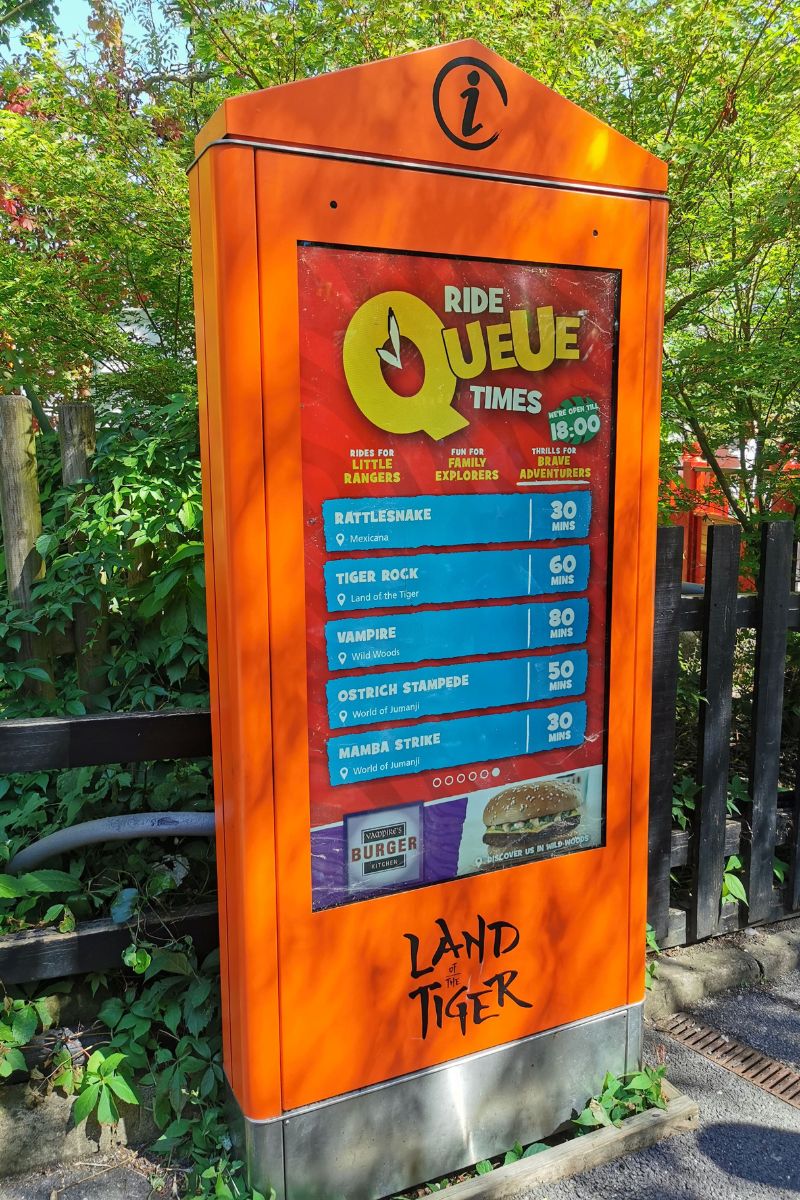 How to use Reserve and Ride
You download the Chessington app and log in. You can purchase the Reserve & Ride there and once purchased, you can start using it.
We added it on the day.
You click on the ride you want to do and wait for the QR code to download. Wait times for the rides will vary depending on how busy they are.
Sometimes there was no R&R queue. The longest we waited was 15 minutes for Dragon Fury.
You can't join the queue before you get your QR code but your code is valid for 30 minutes once downloaded so you can book rides in advance.
Mandrill Mayhem was different. In the morning we got straight on but at 3.30pm we had to join a virtual queue which was 2 hours long.
Through the afternoon we received updates on the expected wait time. It ended up being about 1 hour 30 minutes until we got our QR code and once we had it, we were straight on.
What to do if the rides are showing FULL and not bookable?
This happened to us a couple of times in the afternoon.
You have to keep checking the app as the waiting time changes ALL THE TIME.
One minute a ride was full and not bookable. 5 minutes later it was bookable with a 5 minute wait. Keep checking!
Best time to visit Chessington
The best time to visit Chessington if you want to avoid the crowds is during the week and outside of school holidays.
Failing that, Christmas and Halloween at Chessington are special times.
Christmas at Chessington
There is so much going on at Chessington at Christmas including meeting Father Christmas in his Grotto. See here for more places to visit Santa if you are looking for ideas and take a look at a Winter's Tale here.
See also what's going on at Merlin attractions this Christmas.
Halloween at Chessington
Take a look at what's on at Chessington at Halloween (Howl'o'ween).
See also what's going on at Merlin attractions this Halloween.
If it happens to be Halloween when you are visiting, you might want to know where to pick pumpkins in Surrey.
See also our guide to things to do with kids at Halloween in London.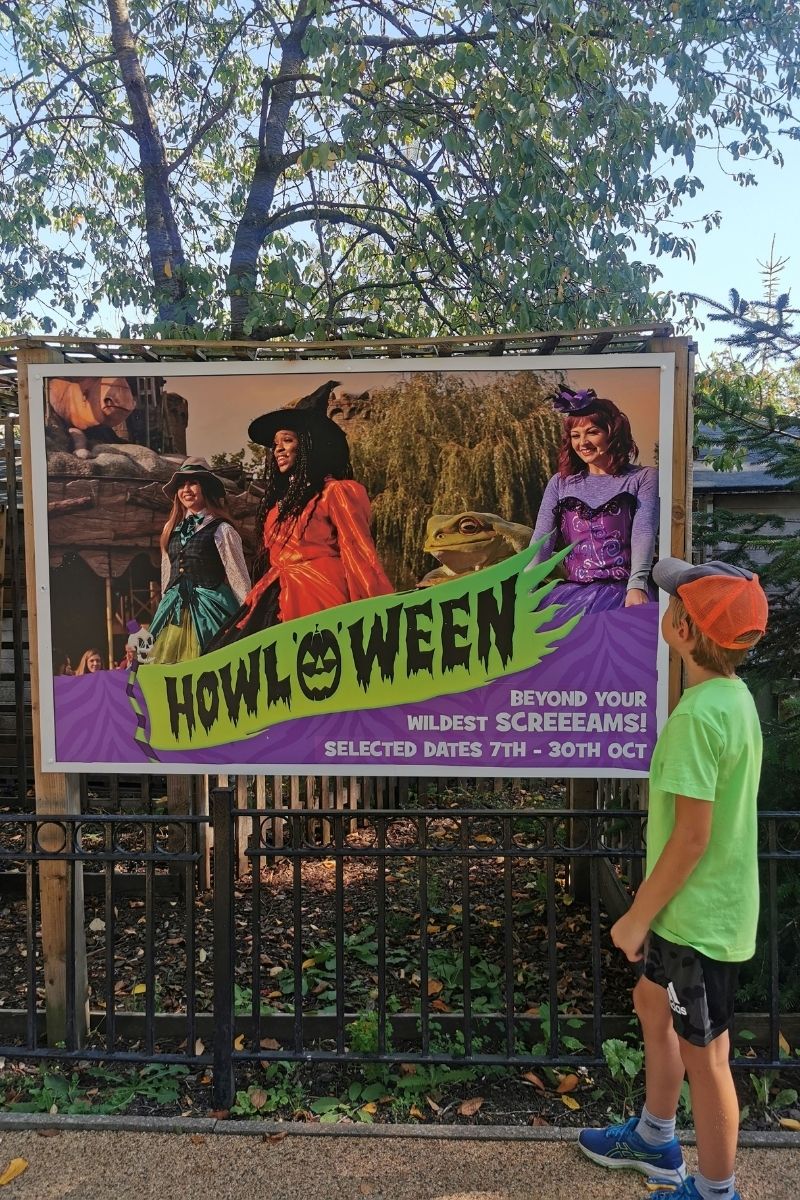 Best time of day to visit Chessington
To get the most out of your visit, you really should aim to get there as early as possible.
Even with the Reserve & Ride Ultimate – you can find yourself waiting longer for rides in the afternoon.
Early morning queue times are much quicker.
If you can, why not stay overnight and take advantage of early park access?
Overnight stays start from £50.00 per person.
Chessington accommodation
Speaking of accommodation, here are the options within the park that allow early access to the park.
Enjoy themed rooms at the Azteca & Safari Resort hotels or rough it in style at Explorer Glamping.
If the Chessington hotels don't work for you, these are the partner hotels under 15 miles from Chessington:
Or you can stay in London and check out these family-friendly hotels in London.
Eating at Chessington
There are lots of food outlets at Chessington. It is worth having an idea of what you might want to eat and locate where the restaurant / food stall is before you need it.
Here is a list of the main eateries.
We have to say that our lunch choice was not the best. We had tired and hungry children. We walked to the opposite side of the park to visit Zafari Bar & Grill only to find it shut. There was no mention of this on the app or website.
We ended up in the Smokehouse BBQ & Bar. The food was average at best. We looked at a few other restaurants and they looked much the same.
The good news is that there are a few street food huts dotted around the park and their food was actually really good.
If you are not into very average food with lacklustre service, keep an eye out for :
Asian rice pot stall in Wild Asia (Katsu curry and rice pots etc).
Smash It & Bun in Wild Asia (Burgers and fries).
Indian street food near the Rainforest area.
There are also lots of ice cream and dessert places.
Drinking at Chessington
It was 28 degrees when we visited and we needed a lot of water. We always carry a refillable water bottle with us like this but it didn't last long.
You can get a free cup of water from the food and beverage outlets or buy bottled water.
Alternatively, one of our best purchases was a Chessington branded refillable cup.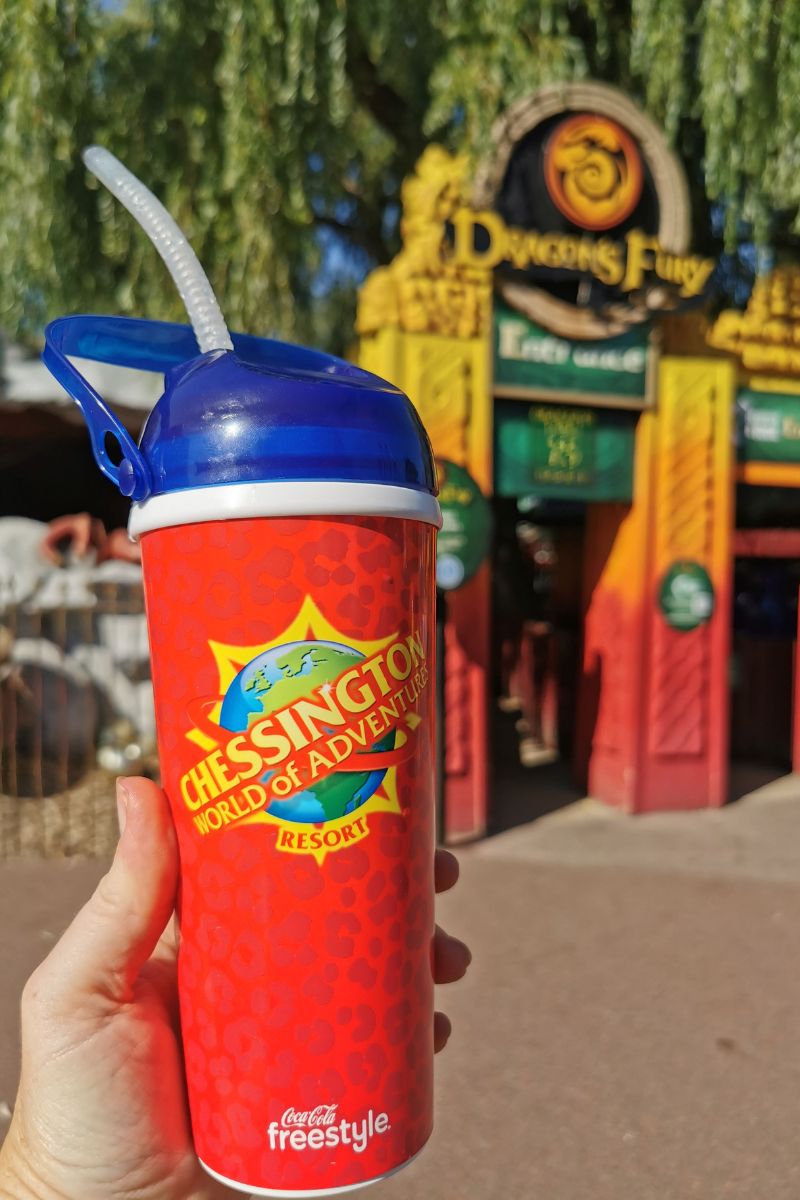 We're not massively into fizzy drinks but we filled it a few times at the refill stations (all flavours were tried!) and also filled it with water at the food outlets.
If you are getting one (£15.00 per cup), you only need one per family / group.
You can buy alcohol at Chessington (available from Smokehouse Bar & Grill, Adventure Point Pizza Pasta, Zafari Bar & Grill and Temple Bar).
But I just can't see how you'd want to drink and go on the rides. The thought of alcohol after a ride made me feel ill!
Summary of top tips for visiting Chessington
Download the Chessington app before you go and add your tickets
Get there at opening time
Do as many of the popular rides in the early morning as you can and save the zoo for the afternoon.
Dress the kids in bright colours to help you to spot them in amongst the crowd.
Wear comfortable shoes. We did 18,000 steps. Also, try not to wear flip flops. Lots of people's flip flops went flying off the rides!
Make sure your phone is fully charged to access the app / Ride & Reserve site.
If you want to keep your valuables safe, consider a money belt. Some of the rides require you to store everything loose. You could put your keys and money/credit cards in a money belt under your shirt. The other alternative is putting your belongings in a locker (payable).
Sometimes the Reserve & Ride entrances were not obvious and we joined the main queue for the rides. Make sure you are in the right queue!
If you're waiting for some of your group at the toilets by the main entrance, look up for the best view of people screaming on Dragon Fury. Our kids loved this!
We hope you found our Chessington review helpful. If you have any questions, please feel free to leave a comment which we will answer or you can email us.