An Epic 7 Day Luxor Itinerary For Families
If you think that Luxor is just full of boring temples and wouldn't be of interest to kids, think again. It is one big open air museum that they will love!
We took our kids when they were 9 and 7 years old and they got so much out of the trip. It is fun but also incredibly educational – with a few water slides thrown in.
Our eldest absolutely loves Egyptian history. In fact, he loves all myths and has set up his own website – MythologyMaster. This was all prompted by a visit to Luxor! It's a work in progress but we love that our travels have inspired him to do this.
Our 7-day Luxor itinerary for families includes a mix of the incredible archaeological sites in Luxor, recommendations on where to stay and eat, some downtime by the pool, and even a dip in the Red Sea.
If you are looking for somewhere to go during February or October Half Term holidays, Luxor really is a great choice. With a flight time of under 5 hours and a very small time difference (no jetlag), it is perfect for a 7 day holiday.
This is a long post as it is VERY detailed. We've aimed to give you every step of our amazing trip to Luxor with kids so that you can take from it as much or as little as you want to tailor your own family itinerary for Luxor.
You can, of course, base yourselves in Hurghada and take a day trip to Luxor – but we wouldn't recommend this. We'll explain why below.
This post contains affiliate links. If you click on one and book or buy something, we may earn a small commission but this is at no extra cost to you.

Our 7 day Luxor itinerary for families looked something like this..
Day 1 – Travel to Hurghada
Day 2 – Hurghada
Day 3 – Hurghada to Luxor
Day 4 – Luxor
Day 5 – Luxor
Day 6 – Luxor
Day 7 – Luxor to Hurghada and home
We've given a day by day breakdown of our family-friendly Luxor itinerary below but first here are a few things you need to know about family travel in Egypt.
Things to know about travelling to Egypt with kids
See here for our basic tips on visiting Egypt with kids and below for a bit more information.
Egypt visas
Keep an eye on the government website to check for up to date requirements.
When we travelled to Egypt in 2022, we needed a visa to enter. You can apply for this online before you go to save queuing at the airport.
We applied through the official government website and paid $25 per person but it did not process in time so we arrived at Hurghada Airport with no visa.
We had to queue to get our visa and they just asked us to pay another $25 (there is an ATM in the arrivals hall). We found this particularly annoying because they didn't ask for any information at all, whereas the online visa took around 45 minutes to complete for our family of 4.
Health declaration form
We also had to complete a health declaration form on arrival which was given to us by our airline upon landing. This caused a bit of a delay in getting off the plane.
There were some people who had completed their forms before travel and we can only assume that they downloaded this form but we do not know whether this form was accepted or not.
You should also check an official source for the up to date Covid requirements for visiting Egypt. As they are subject to change, we won't confirm what you need here.
At the time of our visit, we just needed to provide proof of vaccination. Unvaccinated kids under 12 were not subject to any requirements. Requirements change all the time so please take a look on your own government's website for up to date travel requirements to Egypt.
Safety in Egypt
We found travelling in Egypt with kids was perfectly safe, but we are aware that there have been security problems for tourists in the past.
Always check on the government website for advice before you travel and make sure you have comprehensive travel insurance in place.
We hired our own car and drove from Hurghada to Luxor If you are unsure in any way about independent travel to Egypt, you can always book onto a tour.
The problems we encountered were not so much about safety but rather about being hassled constantly.
Other things to note under this section:
take a travel first aid kit with you.
there are mosquitoes. We weren't bothered too much by mosquitoes when we visited but we can imagine that they would get worse with the warmer weather.
try to avoid salads and cut up fruit etc. if you are not sure of the hygiene standards of a restaurant. Only drink bottled water. We didn't have any issues and will give details of the restaurants we recommend throughout the post.
Scams in Egypt
We didn't encounter any scams as such but we were constantly being hassled to take a taxi or a caleche (horse and cart). People will try to sell you souvenirs. This is very standard in Egypt. We've also encountered it when travelling to Morocco with kids.
You need to be firm with a 'la, shukran' – which means no thank you in Arabic. It's always worthwhile learning a few words, like hello in the language of the country you are visiting.
This is not to say that there aren't scams on tourists. You just need to be vigilant.
Egypt travel guide
We always travel with a travel guide. We can't always rely on getting free WIFI when travelling, so a guide book is handy to have.
We usually find the Rough Guides are more accurate than Lonely Planet – but note that the most recent Rough Guide to Egypt was published in 2013 whereas Lonely Planet has a 2021 version.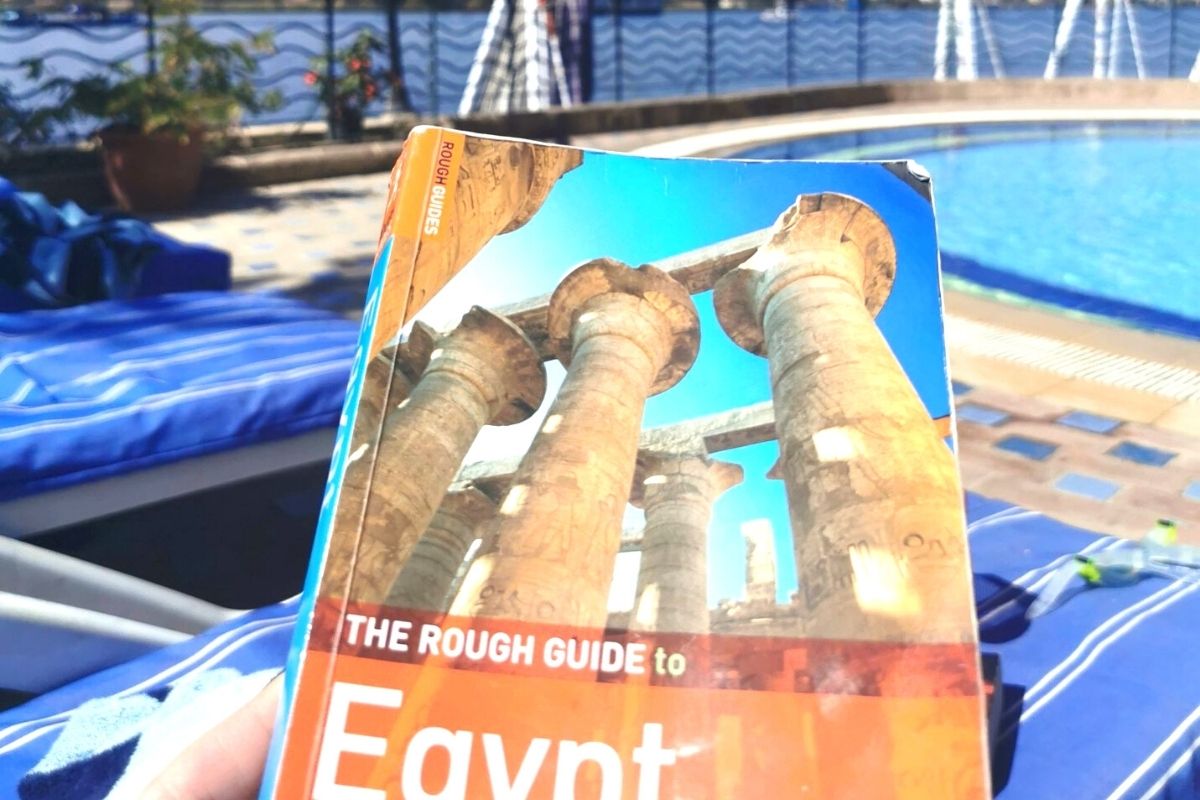 Day 1 (Flight to Hurghada)
Day 1 of our 7 day Luxor trip was our travel day. We had stayed overnight at Gatwick at the Premier Inn right beside the North Terminal so that we wouldn't have such an early start.
Our flight departed at 8.45 am and landed at 4 pm (there is a 2 hour time difference).
We flew with TUI from London Gatwick. The flight time was just under 5 hours and whilst this is not a long haul flight, we didn't realise there are NO SCREENS ON TUI FLIGHTS.
Our eldest son usually brings his Samsung Galaxy tablet and our youngest has an Amazon tablet. This one time we decided against bringing them because thought there would be screens on the plane and that our Luxor itinerary was pretty packed and they wouldn't need them. Head in hands moment!
We had to rely on good old fashioned entertainment on the plane. Thankfully we had packed some of the kids' favourite travel games and they had their books. If your kids are around 8 / 9 – take a look at the Rick Riordan Kane Chronicles series set in Egypt!
We landed in Hurghada a little after 5pm after a slight delay in Gatwick and then had to deal with the visa issue (see above in the Egypt visa section if you didn't already) – another head in hands moment.
Luckily, we saved some time by only having hand luggage (see end of post for what we packed).
Car rental at Hurghada Airport
We decided to rent a car during our 7 day Luxor holiday to give us more flexibility for getting to Luxor and visiting the sites independently. You do need to consider whether renting a car is right for you because driving in Egypt is not a walk in the park by any means.
We picked up the car with no problems. We hired it through Avis / Budget Car Rental on Rentalcars because they have a good selection of rental companies and usually have a very flexible cancellation policy. We paid about £160 for 7 days.
Note that most car rental companies will not offer unlimited mileage. We had 150km per day which, over 7 days added up and was more than enough to get to Luxor and back.
We also have a separate annual excess policy with icarhireinsurance. This will cover the excess on a rental policy so that you don't need to take out more expensive, additional insurance with the rental company. **But make sure you check the fine print of the policy as it may not be suitable for some countries**
We ended up driving in the dark to the hotel which we do not recommend if you can avoid it, but having the directions on Google Maps downloaded already helped. It was a 15 minute drive so it wasn't too bad.
There are plenty of taxis at Hurghada Airport or you can arrange a private transfer in advance like this one if you do not want to rent a car or take a taxi.
Hotel in Hurghada
We booked a 2 night stay at the Jungle Aqua Park. It is an all inclusive hotel in Hurghada with a fantastic water park (with something for all ages – see below).
Our room was modern with a separator between the bedrooms and a balcony, tea and coffee making facilities and a fridge. Water bottles were delivered to our room daily.
The food was actually pretty good for an all-inclusive hotel. There were several different restaurants serving food from around the world. You really could have anything you wanted.
For the kids this mostly meant spaghetti bolognese and pizza but we managed to tempt them with freshly made kofta and Egyptian breads too.
There was entertainment for the kids during the day and evening but we really went for the waterpark so we can't comment on the entertainment.
The complex is enormous with so many pools to choose from (see photo above). Each set of apartments has their own pool which wasn't heated but the main pools near reception were heated. The pools in the waterpark were somewhat heated.
If you are visiting in February like us, you may want to stick to the main pool or the waterpark.
We stayed in block 26 which meant that we were right next to the waterpark. This meant that we were a 5 minute walk from the main restaurants which was fine as it meant we were away from the noise too.
Day 2 (Enjoying the waterpark at the Jungle Aqua Park Hotel)
Day 2 of our Luxor itinerary for families was all about enjoying some down time at the waterpark.
It opens at 10 am and then closes from 12pm – 2pm. It opens again from 2pm – 5pm.
Other things to know about Jungle Aqua Park Hurghada
There is a shuttle bus to the beach which runs every 30 minutes from 9am to 5pm.
Beach towels are provided. You get a beach towel card at check in which you exchange for towels. There is a charge of EGP 90 (£4.50) in case of a lost towel.
There is a doctor in the hotel and an onsite pharmacy.
Day 3 (Driving from Hurghada to Luxor)
We spent the morning in the waterpark and then checked out of the hotel around 12pm.
The drive from Hurghada to Luxor took a little under 4 hours. There were 5 police checkpoints on the way. I will be writing a post on what you need to know about hiring a car and driving from Hurghada to Luxor so watch this space.
We had planned to stop at Dendara Temple near Qena on the way. It is one of the best preserved temples in Egypt with an incredible astrological ceiling, but we decided against it because we didn't want to be arriving in Luxor in the dark.
We drove down the west bank of the Nile from Qena to Luxor because we were staying on the west bank that evening. We decided to stay on the west bank for 2 nights and the east bank for 2 nights rather than staying in the centre of Luxor for the whole time.
Staying on the west bank makes visiting the Valley of the Kings so much easier. If you stay on the east bank, you have to first negotiate crossing the Nile because the Valley of the Kings is located on the west bank.
You will also see two very different sides of Luxor by staying in the two locations. You will enjoy the beautiful sunrise when staying on the west and a beautiful sunset staying on the east.
We stayed at the El Gezira Garden Hotel on the west bank which was a fairly small, mid-range family-run hotel.
It had a heated pool and was perfect for a little down time after getting up early to see the sights. It is so beautiful with a light, bright, blue and white courtyard covered with bougainvillea and the management were so friendly.
They have family rooms (2 bedrooms, 2 bathrooms and a lounge area) and a little terrace. We were given room 101 for the first night which is right next to reception. DO NOT TAKE THIS ROOM.
It was noisy and we constantly had a smell of smoke from the all night receptionist and the door out to the balcony from the kids room did not lock. We changed to 105 the next day which was perfect.
There are a number of restaurants on the west bank (in the El Gezira district). We chose to eat at the Nile Valley Restaurant which is a rooftop restaurant overlooking the Nile. The food was good – not amazing.
Our eldest is quite fussy with his food but declared that his burger was amazing. I really enjoyed the kofta.
There are also some more very simple restaurants/cafés directly on the banks of the Nile which are great for a quick drink.
Day 4 (Valley of the Kings and Felucca)
We had a 5.30 am start to get to the Valley of the Kings for opening time at 6am.
The sun was just coming up on the opposite side of the Nile and it was so pretty. We then passed some hot air balloons taking off which were spectacular! I'm so glad we saw that.
Arriving at the Valley of the Kings, there was a huge, empty car park. We were the first ones there. It still amazes me that in this day and age, you can have such a popular tourist site to yourselves if you just get up early.
We heard that it will also be relatively quiet if you are there closer to closing time too.
We bought our tickets and headed inside to start looking around. I have written a guide to visiting the Valley of the Kings as there are some important things you need to know before you visit. Please do take a read as it will hopefully make your visit more successful.
We were in the Valley of the Kings for around 2 hours and were done by 8am – just as the tour buses were arriving.
We arrived back at our hotel and had breakfast and then enjoyed some time by the pool.
We had a quick lunch at one of the small cafés by the Nile and then back for some more downtime and maybe a little snooze!
The previous day we had arranged a Felucca ride with Momo (Mohammed) who works for the travel agency next to the Café la Plage. It was booked for 4.30 pm as we wanted to be out for sunset so we agreed one hour for $25.
We massively overpaid but we didn't want to go around haggling and Captain Hassan was well regarded by our hotel and spoke excellent English so we were happy.
We went to El Masala Hotel rooftop restaurant when we got back. You can't miss it. It's the one with the bright blue lights at night.
Service was incredibly slow and the food was ok. Nothing to write home about.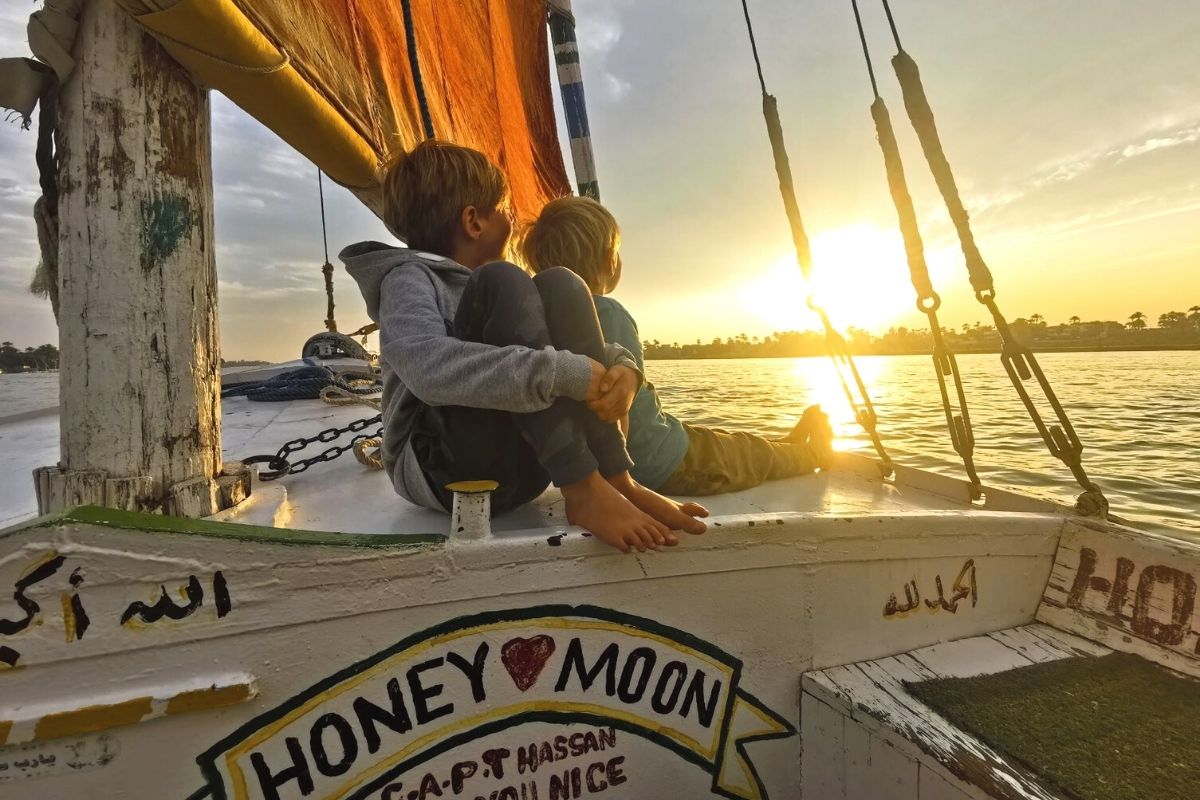 Day 5 (Luxor east bank museums)
We checked out of our hotel and transferred over to the east bank. This involved driving south and across the bridge and back up the east bank which took about 45 minutes.
We were too early to check in so we drove straight into the centre of Luxor and stopped at Sofra restaurant to make a booking for that evening. You can try calling them or get your hotel to make a booking, but going in person is better.
We then then parked close to Luxor Temple and visited the Mummification Museum. I have more details on our visit in our post on the things to do in Luxor with kids.
It was small but quite fascinating and at times, a bit graphic!
We headed up to the Luxor Museum but got there just as it was closing. Check museum opening times in Luxor because they tend to close for a few hours over lunch.
We headed back to check in to our hotel and grab a late lunch. The food at the hotel was amazing and we'd recommend going there even if you aren't staying because there aren't a huge number of good restaurants in Luxor.
We stayed at the Steigenberger Nile Palace which we highly recommend. We had booked a Nile view standard room but were upgraded to a family room which was perfect. There was a small balcony but this didn't bother us.
It is a convention hotel so there could be functions taking place, particularly if you are staying at the weekend. There was a wedding while we stayed which was quite loud until midnight but they did offer to put guests in rooms away from the noise if you wanted.
We loved lying by the pool watching the life on the Nile and of course, sunset was really special.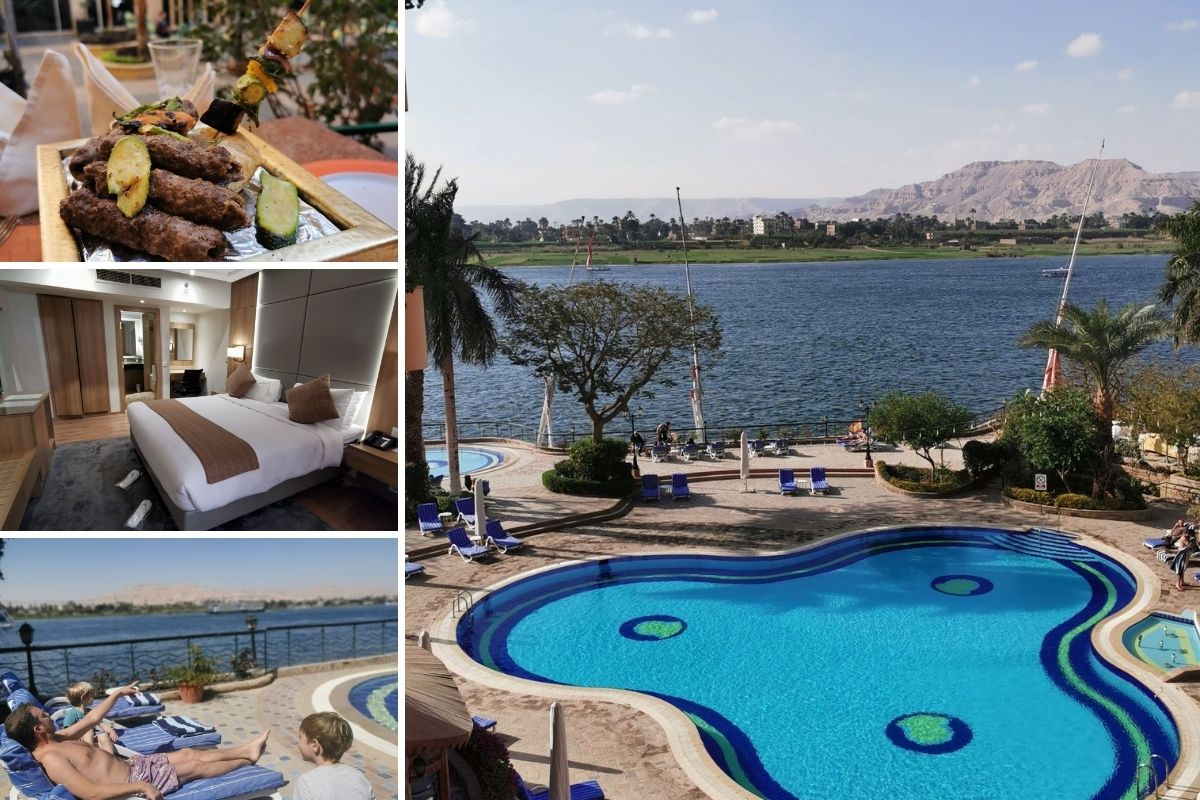 In the late afternoon we set out to visit the Sofitel Winter Palace. This is the Grand Dame of the Luxor hotels. We went for a look around and grabbed a quick cocktail before dinner.
If you want to get a drink there, you need to be relatively smart. They so no lounge wear and dinner jackets are required, but quite frankly, a tip can get by that rule.
It is just around the corner from Sofra but we were talked into getting a caleche. The kids loved the experience. We weren't impressed at the constant pushing to pick us up after dinner and take us to the market.
Dinner was just amazing. Sofra has to be the best restaurant in town but the prices do not reflect this at all. It was all so reasonable and the traditional Egyptian food was absolutely delicious.
We had our own room so it felt like a private dining experience. We were really tempted to do their Felucca trip with dinner included the next day!
Day 6 (Karnak Temple and Luxor Museum)
We had another early start for Karnak Temple. It is opens at 6am (closing at 5pm) and again, we recommend getting there early.
Getting there early not only avoids the crowds, but there is such a beautiful light. We don't know what the crowds will be like around sunset but you would get a similar light at sunset.
The massive columns of the Hypostyle Hall take on a beautiful pinky tinge.
If you are visiting without a guide, you will probably cover the site in around 90 minutes. We decided against a guide and instead relied on our guide book.
This is a place where the kids can roam, especially if you get there before the crowds. They probably won't be so interested in the temple itself and the history, more the fact that it was a great place to play hide and seek!
From Karnak Temple you can head back into town along the Avenue of the Sphinxes, a 2.7km path lined with 1300 Sphinxes – but we were tired from an early start and wanted to see the Avenue lit up at night instead.
Entrance should be included in the price of your Karnak or Luxor Temple ticket – but it was a little unclear!
We went back to the hotel for breakfast and then spent most of the day by the pool. We finally set out before sunset for a quick visit to the Luxor Museum.
It isn't huge but has some excellent quality of statues of Sekhmet, Amenhotep III and Tuthemosis III. There are also lots of mummies and other well-preserved artefacts on display. We spent around 90 minutes there.
After the museum we went for sunset drinks and dinner at the Nefertiti Hotel.
Their rooftop restaurant (Al Sahaby Lane) looks out over Luxor Temple and is the perfect sundowner spot. The food is really good too.
It is a little hard to find (down a small alley that leads into the Souk) but people will direct you as it is well known. Then they will ask you to come and look at their stall as part of the deal!
We decided against doing the Avenue of the Sphinxes because we had a good view from the restaurant and the Temple was still quite busy (at 8pm) and it would have taken us a while to get tickets.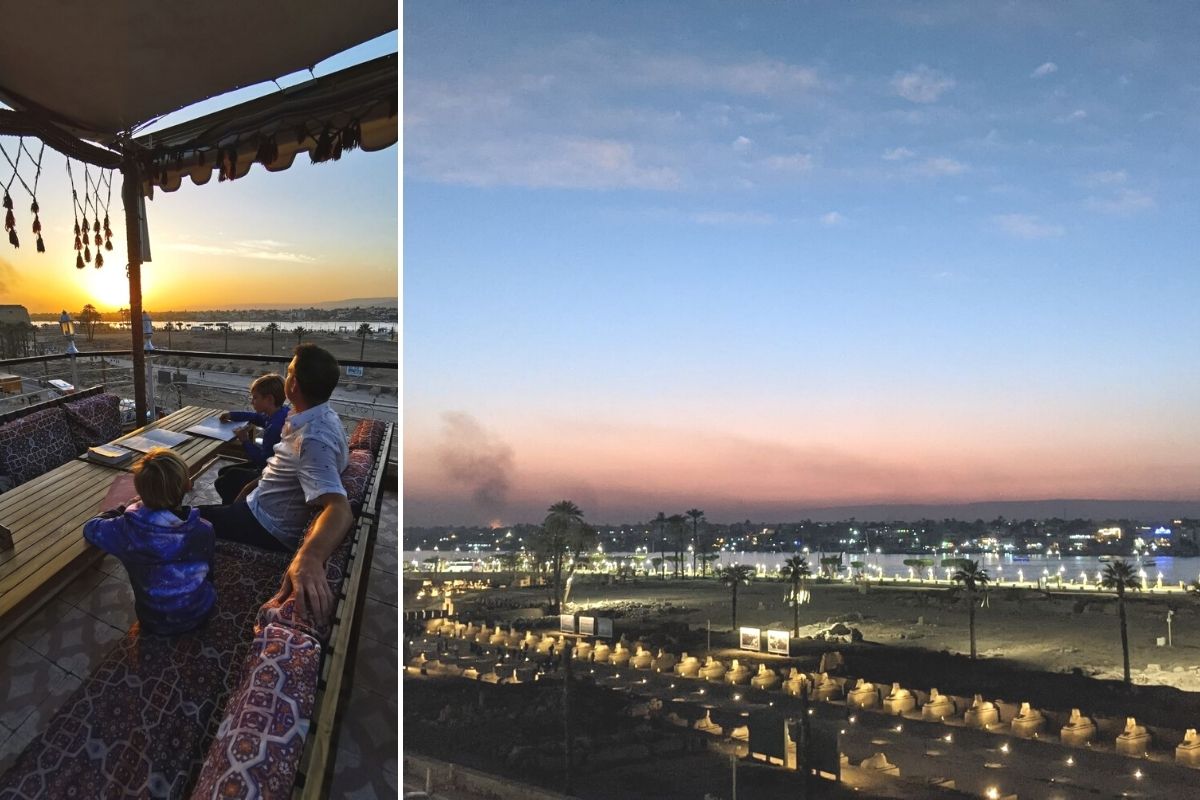 Day 7 (Drive from Luxor to Hurghada)
We set off from Luxor after breakfast. This time we drove up the east bank of the Nile.
The road seemed to be in much better condition and the journey was a lot smoother with no police checkpoints. The scenery also seem a bit more interesting on the way back.
When we arrived in Hurghada, we had a few hours before we had to be at the airport so we decided to find a beach club so that we could have a swim in the Red Sea.
We chose Sailor's Beach Club in Sahl Hasheesh which is about 20 minutes south of the airport. We had to pay EGP 600 (£30) to get in and use the beach and it was lovely while we were there but we had a bad experience upon leaving.
They said that because there was hardly anyone there, they would waive the beach entrance fee and that we could come in if we bought food and drinks.
When we came to leave, they denied offering us free entrance and tried to get us to pay. We stood our ground and eventually they agreed but it really left us feeling cross about it all.
There are lots of resort towns along the coast around Hurghada. El Gouna, Soma Bay, Makadi Bay are just a few that you could try.
Hurghada to Luxor day trips
We completely understand that navigating Egypt independently can be daunting. If you are thinking about taking an organised tour, we would urge you to consider at least an overnight stay in Luxor.
There is so much to see and do in Luxor and a day trip will not give you enough time to see it. You will also be subject to their timetable, arriving with the rest of the tour buses. The day is very long for kids with a 4 hour transfer each way on the bus.
Here is a private 2 day tour to Luxor.
What to pack for a Luxor holiday with kids
I will end up writing a more detailed post on this but for now, here are some tips for packing for a 7 day Luxor holiday for families..
We travelled to Egypt in February when the weather was pleasant during the day (around 22 degrees) but at night and early morning it was around 10 degrees.
You will need to adapt your own Egypt packing list depending on when you go.
We travelled with hand luggage only as it was a short trip and we didn't want to pay extra for hold luggage. TUI gave a rather generous hand luggage allowance of 10kg max weight and 50 x 40 x 20 bag dimension.
We have a bunch of these lightweight Tripp Tote bags which are the perfect size and incredibly hard wearing. Guess who uses the Cath Kidston one :)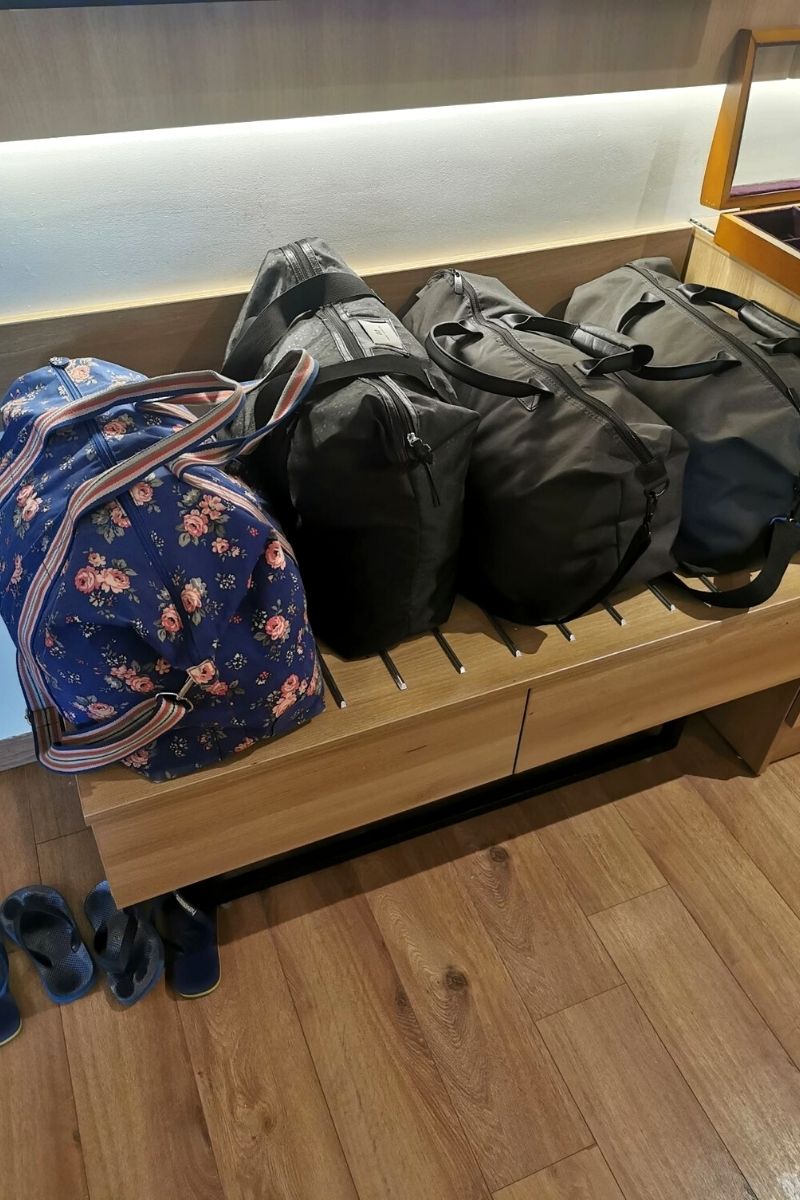 The great thing about totes is that they can squash under the seat in front if need be.
If you are flying with Easyjet, hand luggage allowance is a lot less generous.
We used packing cubes to compress the clothes. You might also find these holiday packing tips helpful.
We needed layers so that we could wrap up warm when visiting the sites in the early morning and remove them when the sun started heating up.
Fleece layers are excellent because they are lightweight and easy to wash and dry if you need to.
We didn't need to take our own towels with us because each hotel we stayed in provided them.
For ladies, I'd recommend putting in a couple of lightweight, baggy trousers and long sleeve tops for temple visits.
If there is anything else you would really like to know about our 7 day Luxor itinerary for families, please do let us know. I feel like this was one big data dump but I might have missed something obvious!