The Best Things To Do In Skye For Families In 2023
The Isle of Skye is a magical place where fairies play and dinosaurs roamed so how could you not want to visit Skye with kids?
There are lots of amazing things to do in Skye for families and we have listed the very best family activities in Skye that everyone will enjoy.
Skye is an outdoor lover's paradise. We were actually amazed how the Isle of Skye reminded us of Iceland. We spent 5 days in the Isle of Skye during our Scotland trip and that wasn't enough to see and do everything we wanted to.
We were travelling in our VW Campervan which seems to be the thing to do these days judging by the number of campervans and motorhomes we encountered.
**If you are thinking of exploring the Isle of Skye with kids in a campervan, take a look at our campervan essentials packing list and if you haven't been in a campervan with kids before, take a look at our tips for campervanning with kids.**
Want more ideas on where to visit in Scotland? Take a look at this 7-day family-friendly Scotland itinerary.
This post contains affiliate links. If you click on one and book or buy something, we may earn a small commission.
Tips for visiting the Isle of Skye with kids
Driving on the Isle of Skye
The roads on Skye are great – for the  most part. We didn't have any issues but some roads were very narrow and required some reversing uphill.
If you want to explore Skye but aren't keen on driving along the backroads, you could look into an Isle of Sky Day Tour and let someone else do the driving.
Skye is great for outdoor enthusiasts so we recommend taking some essential outdoor gear.
Hiking boots
For the kids we love Keen hiking boots. Ed and I both have the Merrell Moab hiking boots. We bought them just before the trip and didn't have time to wear them in but they were just fine. They are billed as great 'out of the box boots'.
Coats
Our lightweight TOG24 packable waterproof jackets came in handy during the summer. We each have one. See here for the men's, women's and kid's jackets on Amazon. Or sometimes you can find great deals on the TOG24 website.
TOG24 are our all time favourite lightweight packable waterproof jackets. We cannot recommend them enough!
There are currently 8 colours in the TOG24 Craven Women's Waterproof Packaway Jacket.
There are currently 12 colours in the TOG24 Craven Men's Waterproof Packaway Jacket.
There are currently 7 colours inTOG24 Craven Kid's Waterproof Packaway Jacket.
You can read our full review of the TOG24 packable jackets here.
If you are looking for something more substantial, we recommend the North Face Evolve II jacket for women or the Men's Thermoball Triclimate jacket.
Midge repellant
Midges weren't as much of a problem for us on Skye as they were in other parts of Scotland but they were still there. We used Smidge and Avon Skin So Soft and although we got bitten a bit, we escaped relatively unscathed.
Here are the best things to do in Skye for families
Whilst we did most of the top things to do in Skye for families, we didn't do everything because we also spent time getting off the beaten track.
Even if you are visiting the Isle of Skye in the summer months, you can still get away from the crowds.
What should you not miss on the Isle of Skye? Here are our top recommendations..
An Corran (Dinosaur Beach)
Let's start with An Corran beach, or as my kids call it, dinosaur footprints beach. We have two dinosaur loving boys so we usually seek out dinosaur parks and dinosaur museums so we couldn't not visit dinosaur beach!
An Corran beach is located about 35 minutes out of Portree on the east coast – somewhere between the Quiraing and Kilt Rock so you are bound to be passing it at some point during your trip.
You will need to check the tide times for visiting if you are going specifically to find the footprints because they can be covered at high tide.
There is also an amazing beach there with clear, calm waters and lots of sand as well as rockpools so plan to make a day of it if you have time.
Make sure to read our guide to visiting dinosaur footprints beach to find out everything you need to know.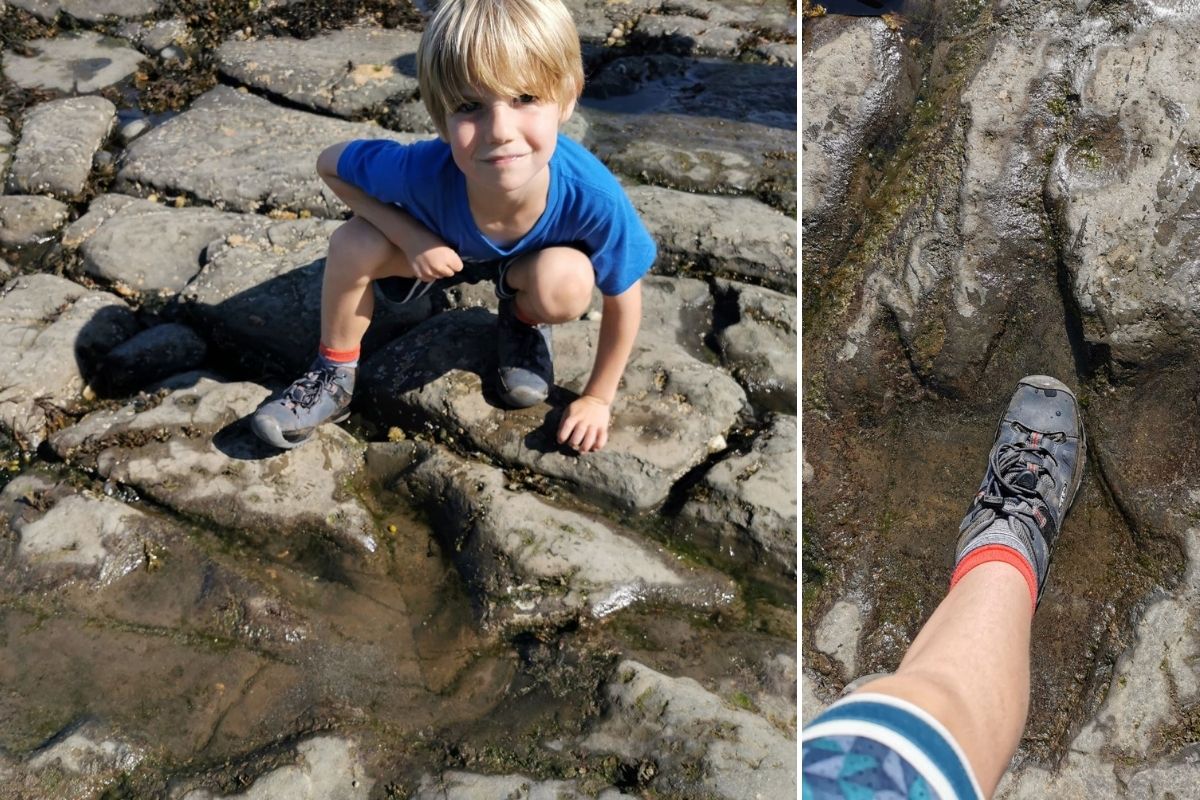 Dunvegan Castle and Gardens
High up on your list of things to see and do in Skye should be Dunvegan Castle and Gardens. Dating back to the 1200s, it is the only Scottish Highlands castle to have been occupied by the same family for over 800 years.
Guided tours are available but you can also walk around the castle and gardens at your own pace (guide books available). The kids were tasked with finding keys that were hiding in every room in the castle and they received a small prize for their efforts.
The grounds were particularly impressive with a walled garden, water garden and rose garden among the 5 acres.
You can also take seal trips from the castle if you haven't managed to do one anywhere else. You can get a lovely view back of the castle if you carry on along the road towards Coral Beach (read our notes on that below). Another lovely view of the castle can be seen from the Rhododendron gardens.
Note that the castle closes during the winter months and opens in April.
You can find out more about Dunvegan Castle & Gardens here.
Hike the Old Man of Storr
The Old Man of Storr is one of the most iconic sights on the Isle of Skye and can be seen for miles around. It is located around 10 minutes from Portree.
Legend has it that Old Man of Storr was a giant whose thumb was left sticking out of the ground when he was buried and which is what created the striking landscape.
The Old Man of Storr hike is a very family-friendly walk at just under 4km for the round trip. It can be steep in places and there are lots of stone steps to navigate, but if you take your time, you will be rewarded with some fantastic views over to the Isles of Raasay and Rona.
The route is easy to follow. There will no doubt be other people hiking up so there is very little chance of getting lost.
We took a little detour to go and skim stones on a small body of water and were the only ones there. Sometimes it is good to take the road (or path) less travelled.
There is a fairly decent sized (paid) car park at the Old Man of Storr as well as parking bays along the roadside, but it quickly gets very busy.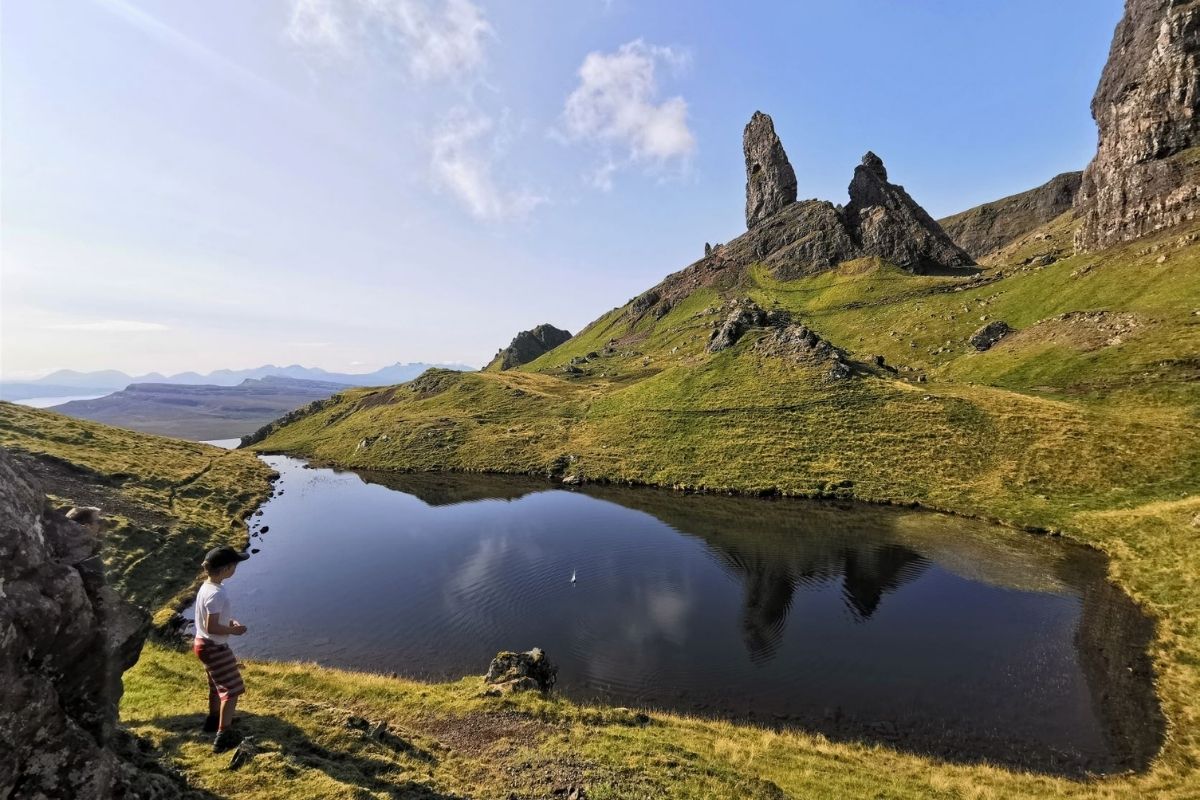 Walk the Quiraing
The whole of the Trotternish Ridge on the Isle of Skye was formed by a series of landslips. The Quiraing is just a small part of it but arguably it is the most stunning.
Much like the Old Man of Storr hike, it is not overly long at about 7km to complete the loop but it can be challenging in parts. Sometimes the pathway has a pretty sheer drop to one side.
If you don't have time for a hike, it is well worth the drive there to get the view. Be prepared for steep and winding roads which can be tricky to navigate in larger vehicles.
There is a small car park and parking along the side of the road (paid).
The Quiraing are about 20 miles to the north of Portree.
Visit the Fairy Glen
There's no denying that there is something magical about the Fairy Glen on the Isle of Skye.  There are no fairy myths linked to the Fairy Glen as such but it is such an unusual place that it could only have been created by fairies right?!
For this reason, this is one of the top things to do when visiting the Isle of Skye with children.
It should only take you a little over 20 minutes from Portree on a decent road. At Uig, you turn off onto a narrow and winding road for about 1 km.
There is a little car park (paid) which filled up quite quickly. We were the first ones there at 9 am and were leaving around 10 am. If the car park is full, you can park in Uig and walk which takes around 30 minutes.
While there, make sure you climb up Castle Ewen (a basalt rock formation that resembles a fort) to get a great view – although smaller kids may find this a challenge.
One tip – as lovely as the stone circle looks – please don't be tempted to move any of the stones you see to add to the circle. There is no charge to visit the Fairy Glen (other than parking).
You can read more about visiting the Skye Fairy Glen here.
Visit the Fairy Pools
The Skye Fairy Pools – not to be confused with the Fairy Glen – are beautiful and perfect for visiting on a warm, summer's day. They are located at the foot of the Black Cuillins and the water is a beautiful crystal blue.
There is a catch. I believe I read somewhere that the Fairy Pools in the Isle of Skye are the most visited tourist attraction on the island. They aren't wrong – especially going by the number of visitors we encountered.
I have to admit that we gave up. It was just too busy with a stream of people taking the 2.4 km walk from the car park towards the pools.
Our advice would be to head there first thing in the morning. Also, make sure you have some beach shoe type shoes with you like these ones which have grips and you don't mind getting wet.
Going down that single track road in our VW campervan with cars parked all the way down one side, was a challenge.
Be prepared to reverse uphill if you are between passing spots. There is a car park but it is not very large and so everyone just parks (and some not very well) on the verges.
Here's the lovely picture we would have liked to have taken ourselves!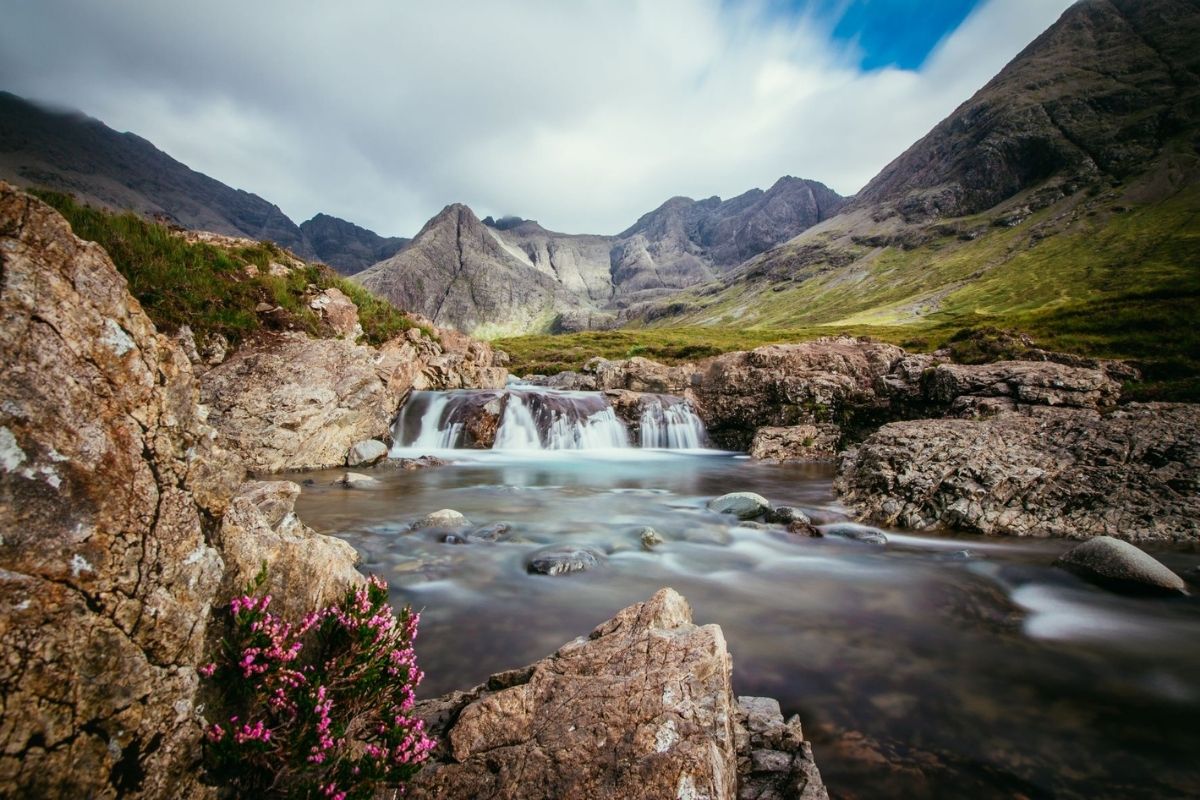 Take a boat trip
We decided to get a different perspective of Skye and take a boat trip. Sea Skye Tours provided the perfect solution.
We opted for the Maidens Wildlife Explorer as it was a good length (2 hours) for the kids and a fast boat! The trip took us out past Neist Point to get great views of the Magnificent Maidens and the small isles.
It certainly lived up to its name with a huge range of wildlife spottings. The animals we saw on our Skye boat trip included:
Sea Eagles
Seals
Cormorant
Jellyfish
Dolphins
The trips run from April to October. You should bring layers and a waterproof coat as you can still get cold even at the height of summer. We went out on a particularly dull day in August and it was chilly.
Killer Whales are occasionally seen off Neist Point but we didn't spot them. Even if you don't see the killer whales, there is so much wildlife to spot and the scenery is epic so you won't be disappointed.
Our kids were the only kids on the boat so they got to drive the boat at speed which they loved. Everyone can enjoy the boat trip and is one of the most interesting things to do in Skye for families.
The boat trips depart from Carbost which is just under 20 miles from Portree on the west coast of Skye. Get there a little early because you will need to get your life jacket (and the kids' life jackets) on.
Make sure to visit a toilet before you get to the harbour because there aren't any there. The closest public toilets are just opposite the Talisker Distillery (and you need change to get in – I think it was 20p or 50p!)
Kilt Rock and Mealt Falls
Kilt Rock and Mealt Falls are either on the way to or coming from the Quiraing so it is worth a quick stop here. There is a large (free) car park and it is a very short walk to the viewing platform.
The 60m high cliffs (named Kilt Rock because they resemble a the pleated shape of a kilt) are formed of basalt rocks and Mealt Falls plunge down into the sea.
When we visited, we were lucky enough to catch the performance of a local bagpiper which was very atmospheric.
Before or after visiting the falls, you can also pop in to the Staffin Dinosaur Museum which is almost just across the road from the entrance to the falls.
Visit the Isle of Skye beaches
Skye has a number of lovely beaches but our favourite beach was, of course, An Corran beach mentioned above.
We also loved Glenbrittle beach. There was a decent sized free car park and parking on the verges on the way to the beach.
We parked the van, had chilly run around on the beach (mostly stony so be sure to pick up some beach shoes before you go) and came back to the van for a warming soup.
We took a drive up to Coral Beach on someone's recommendation as it was meant to be the best beach on Skye with white sand and turquoise water.
Unfortunately, everyone else had the same idea. It took 30 minutes to drive from Dunvegan Castle to the car park on a single track road.
The car park was full and people were struggling to find enough space to turn around and head home. If it is not too busy when you visit, just be prepared for a 1km walk from the car park to the beach.
Portree
If you aren't staying in Portree, you should still pay it a visit. There aren't lots of things to do in Portree with kids, but you can certainly appreciate the view the colourful houses in the harbour from the viewpoint.
Take the A855 out of town towards The Old Man of Storr and the viewpoint is just on the bend of Bosville Terrace.
You can also grab some fish and chips (from Fish & Chips on Quay Street) and sit down by the harbour to eat them.
You'll probably notice that there aren't many things to do in Skye in the rain listed. We did have a bit of rain but we still got out and about (in the right clothing).
You could look at going swimming in Portree at Arainn Fhinn but other than that, we didn't need to come up with things to do on Skye in the rain because we had beautiful sunny weather most of the time.
If you're based in Portree, you can easily go on a scenic Isle of Skye tour. See here for an Isle of Skye day tour (although note it is not suitable for children under 6).
Get off the beaten track
OK, this may not be one of the official 'things to do in Skye with kids' and during the summer months you may not think it is possible to get away from the crowds – but it is!
The scenery in Skye is just stunning, and you don't have to go to the top tourist sites to appreciate it. We stopped off in random places and were rewarded with having the place to ourselves (or sharing it with sheep).
The southwest of the island is far less visited than the north and is just as beautiful.
This little stream with a mini waterfall was just past the Rha Waterfalls on the road that cuts across from Idrigil to the Quiraing.
We also took the route less travelled while climbing up The Old Man of Storr on a busy day and had the place completely to ourselves.
so, these are our recommendations of things to do in Skye for families. Do you have any other family activities on the Isle of Skye to add? Let us know!
Where to stay on the Isle of Skye with kids
There are lots of Isle of Skye accommodation choices but not so many of the hotels are suitable for families as they don't have family rooms.
There are, however, lots of self-catering cottages and some great campsites.
Accommodation can get really booked up during peak season though so you need to book well in advance.
Portree
Luxury – Beautiful 3 bedroom quayside apartment.
Mid range – Tianavaig View Apartments (try to get the top floor).
Budget – Portree Youth Hostel has a quadruple room with private bathroom.
For other accommodation options – take a look at Booking.com.
As we were visiting the Isle of Skye by campervan, we stayed at a campsite after our stay in an apartment in Portree. We chose Kinloch Campsite and it was absolutely stunning. Try to book early and ask for a pitch on the water's edge.
There was no restaurant on-site but just outside the gates was a food van selling the most delicious street food. The lobster tacos are a must!
Where to eat on the Isle of Skye
There are some fantastic restaurants on the Isle of Skye but not all of them are child friendly. If we were to go back again without the kids, we would definitely be looking at the Three Chimneys!
Some great options are:
Edinbane Lodge (Edinbane) – serving delicious tasting menus. They don't have family rooms as such if you want to stay there, but they can accommodate a family of 4 in a room by adding a sofa bed.
The Old School Restaurant (Dunvegan) – serving traditional local produce with a kids menu.
Edinbane Inn (Edinbane) – good quality food with a great kids menu.
Three Chimneys  (Colbost) – high end restaurant. This is best for lunch if eating with children because dinner is more formal. They don't have a children's menu but can adapt dishes to make them more suitable for kids.
At Kinloch Campsite (see accommodation section above) we had the most delicious street food from the van parked outside the campsite gates.
How to get to the Isle of Skye
You have two options for visiting the Isle of Skye. You can take a ferry or cross a bridge. We did both.
The views on the ferry crossing from Armadale on the Isle of Skye to Mallaig were stunning. It was a quick 30 minute crossing.
Our arrival coincided with the Jacobite Steam Train (the Hogwarts Express) just departing from Mallaig station. You can find more details and book ferry tickets here.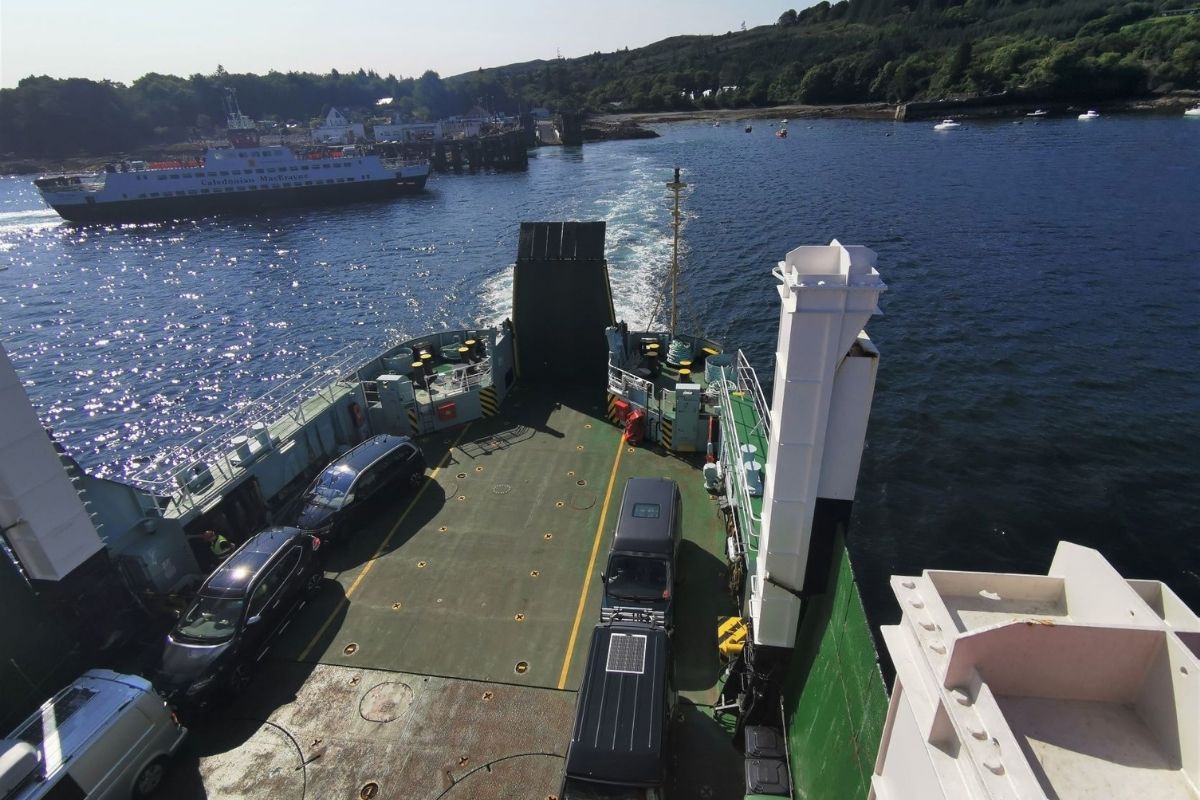 If you're coming across the bridge, you'll no doubt be driving along the A87. This road passes right by Eilean Donan – one of the most famous castles in Scotland.
If you have time, it is well worth a stop – at least to get some photos. Ours just didn't do it justice so here is someone else's!
We had a fabulous time in Skye and hope that this post will help you with your planning.
If you have any other suggestions of things to do in Skye for families, please let us know.