The 6 Best Lavender Fields In The UK 2021 & Where To Find Them
Visiting Lavender fields in the UK  has become hugely popular in recent years. Having visited the famous Provence lavender fields a few years ago, I wasn't sure that the UK lavender fields would really compare. I couldn't pass up the opportunity to find out though when I discovered that there were some lavender fields near me.
Thankfully they did not disappoint and I can highly recommend visiting a UK lavender field (in season!). Whether you're looking for the perfect photo opportunity or to cut some lavender for your home, these 6 lavender farms are the best you will find in the UK.
When is the best time to visit the lavender fields in the UK?
Lavender in the UK will usually bloom between mid-June and mid-August but each farm will have a slightly different schedule. Of course, the weather will play a factor too. During a typical British summer, the lavender should be at its best from the beginning of July to mid-July.
You should check with each farm before you go and ask how the lavender is looking, especially if you want to capture that perfect photo.
Where are the best lavender fields in the UK?
If you're looking to enjoy a lovely day out on a lavender farm in England, these are the best lavender fields in the UK. There is a good spread of them across the country so hopefully you will have a lavender farm near you.
These lavender farms are the most established and in addition to their lovely lavender fields, most of them have extra facilities like playgrounds for the kids and cafés so that you can really make a day of it.
Whether you're visiting the UK from further afield or on a UK staycation, visiting a UK lavender farm should be on your list of things to do in the UK in the summer.
Hitchin Lavender
These lavender fields in Hertfordshire are our closest lavender fields. We visit every year to get some lavender cuttings and to take the obligatory lavender photos. Hitchin lavender farm has 30 acres of lavender fields set on a working farm in the Chiltern Hills.
Location: Cadwell Farm, Ickleford, Hitchin, Herts, SG5 3UA. Located about 2 miles north of Hitchin.
Opening hours: Opens May 2020 from 10 am – 5 pm daily with late opening until 9 pm on Tuesdays and Fridays.
Entry price: Adults: £10 and children aged 5 – 14: £5. Ticket price includes cuttings.
Facilities: Gift shop, tea room, free parking and play areas for the kids. They also have a sunflower field. If you are visiting in the autumn, you can also go pumpkin picking.
Cotswold Lavender
Cotswold lavender is located just 2 miles south of the beautiful Cotswold town of Broadway. The lavender farm is a working farm and on days when the lavender is being harvested, you can watch the harvest and the distillery in action.
Location: Hill Barn Farm, Snowshil, Broadway, Worcestershire, WR12 7JY
Opening hours: Open 10th June – 5th August 10 am – 5 pm.
Entry price: Adult: £5 and Children 5 – 15 years: £2.50
Facilities: Gift shop and tea room
Norfolk Lavender
Norfolk Lavender has nearly 100 acres of lavender. If you're in the area, make sure to check out some of the best beaches in Norfolk (which are also some of the best beaches in the UK).
Location: Caley Mill, Lynn Road, Heacham, PE31 7JE.
Opening hours: Monday to Sunday 9 am – 5 pm.
Entry price: The main site is free to visit. The animal garden is Adult: £5.50 and Child: £4.50
Facilities: Gift shops, tea room, play areas, animal garden, plant nursery
Yorkshire Lavender
Yorkshire Lavender is located 14 miles north-east of York. These lavender fields in Yorkshire have beautiful views over the Vale of York.
Location: Terrington, York, YO60 6PB.
Opening hours: Opens 21st March – 27th September 2020 from 10 am – 5 pm.
Entry price: Free admission to the shop, plant nursery and tea room. From 16th May – 31st August there is a charge to visit the gardens. Adults: £4.50 and Children 3 – 16: £3
Facilities: They have a beautiful Lavender Maze, a Lavender Garden, a gift shop selling their own lavender products, a tea room and a play area.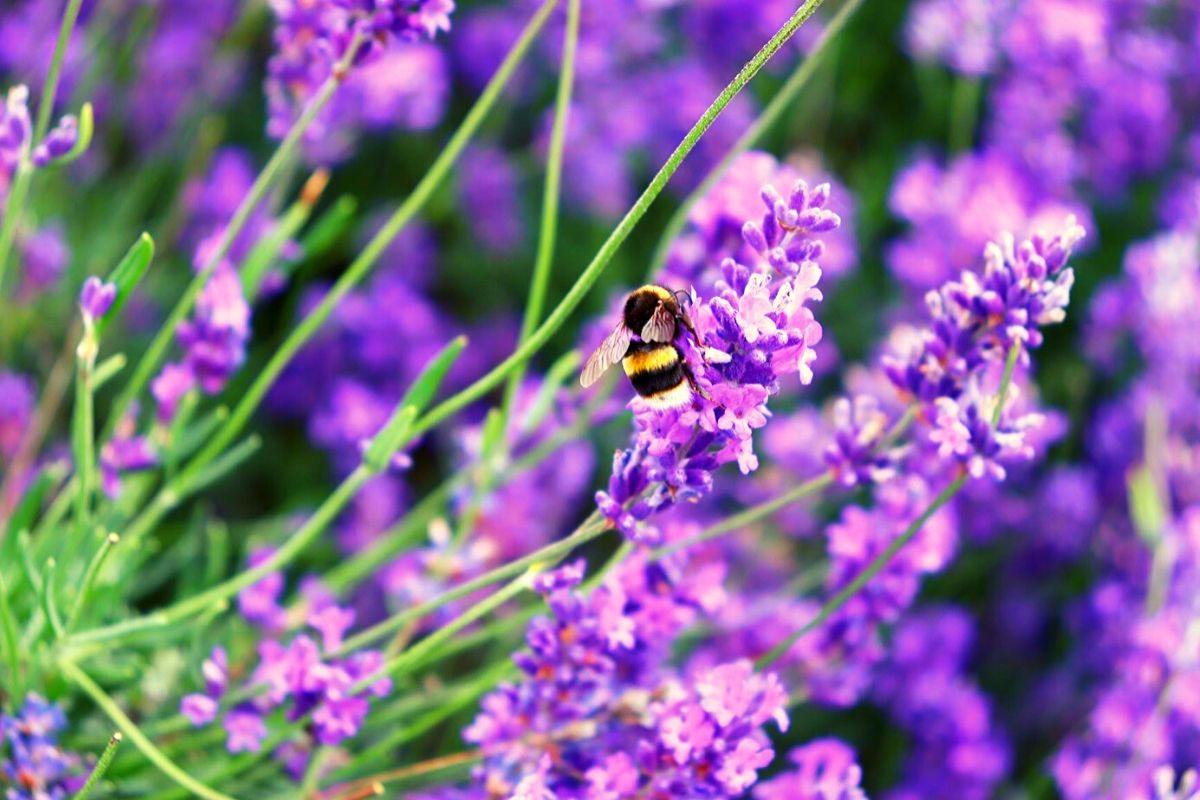 Castle Farm
Castle Farm is a small lavender farm in Kent on a working farm. The Castle Farm lavender fields can only be visited during July on a guided tour. The shop is open to the public. It is one of the best places to visit in Kent to see lavender.
While you are in the area, you might like to visit one of the many magnificent castles in Kent.
Location: Redmans Lane, Sevenoaks, TN14 7UB.
Opening hours: Lavender season is from late June until the end of July but the shop is open Monday to Saturday 9 am – 5 pm and Sundays and Bank Holidays 10 am – 5 pm.
Entry price: Tours last around 1 hour 15 minutes. Weekday tours can be booked online. Adult: £8.50, children 5 – 14 years old: £4.25. This includes a glass of apple juice. Weekend tours are booked on arrival. Adult: £7.50, children 5 – 14 years old: £3.75.
Facilities: There is a gift shop but no café (although there is a coffee cart during the summer months).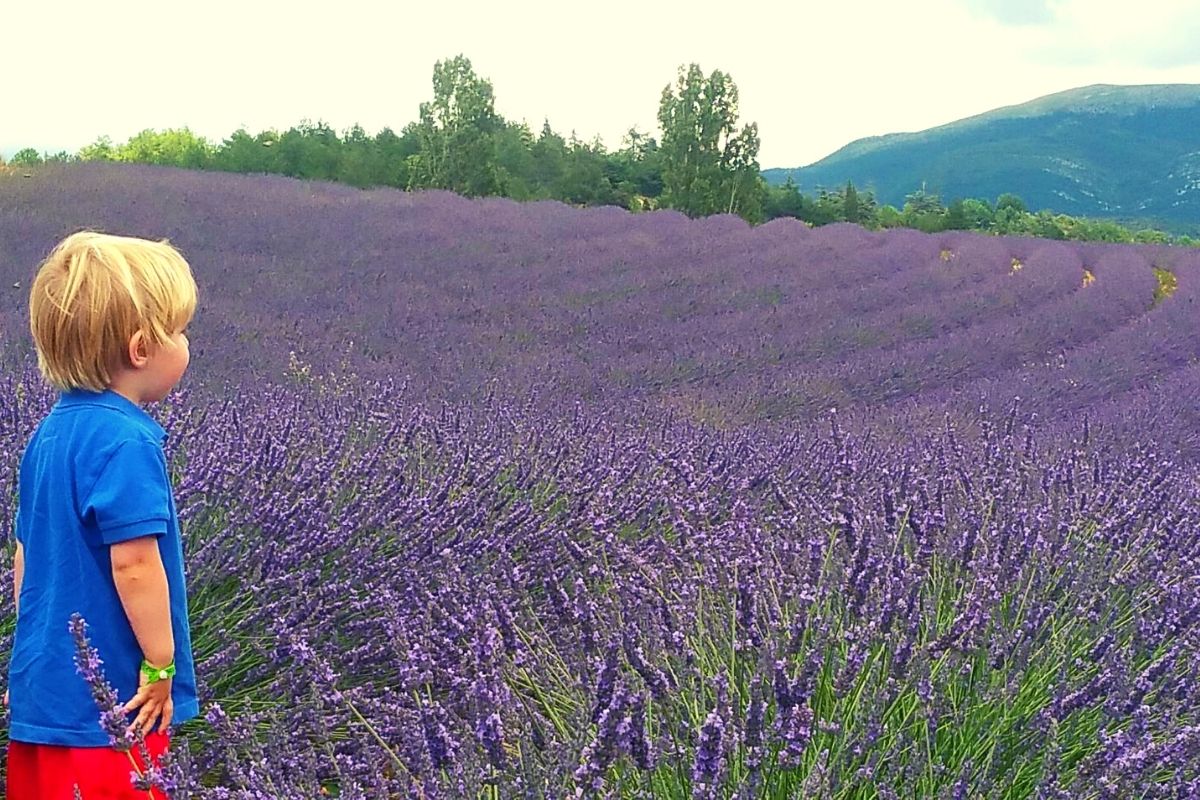 Mayfield Lavender
Mayfield Lavender Fields in Surrey are about 15 miles from central London. They're the closest lavender fields to London. There's a lot going on at Mayfield Lavender and it's an Instagrammer's dream with an old British red phone box in the middle of a lavender field. There is a charge for professional photography and no picnics are allowed.
Location: 1 Carshalton Road, Banstead, SM7 3JA.
Opening hours: 1st August – 31st August from 9 am – 6 pm 7 days a week.
Entry price: Adult £4, Children under 16 free
Facilities: Gift shop, tea room, tractor rides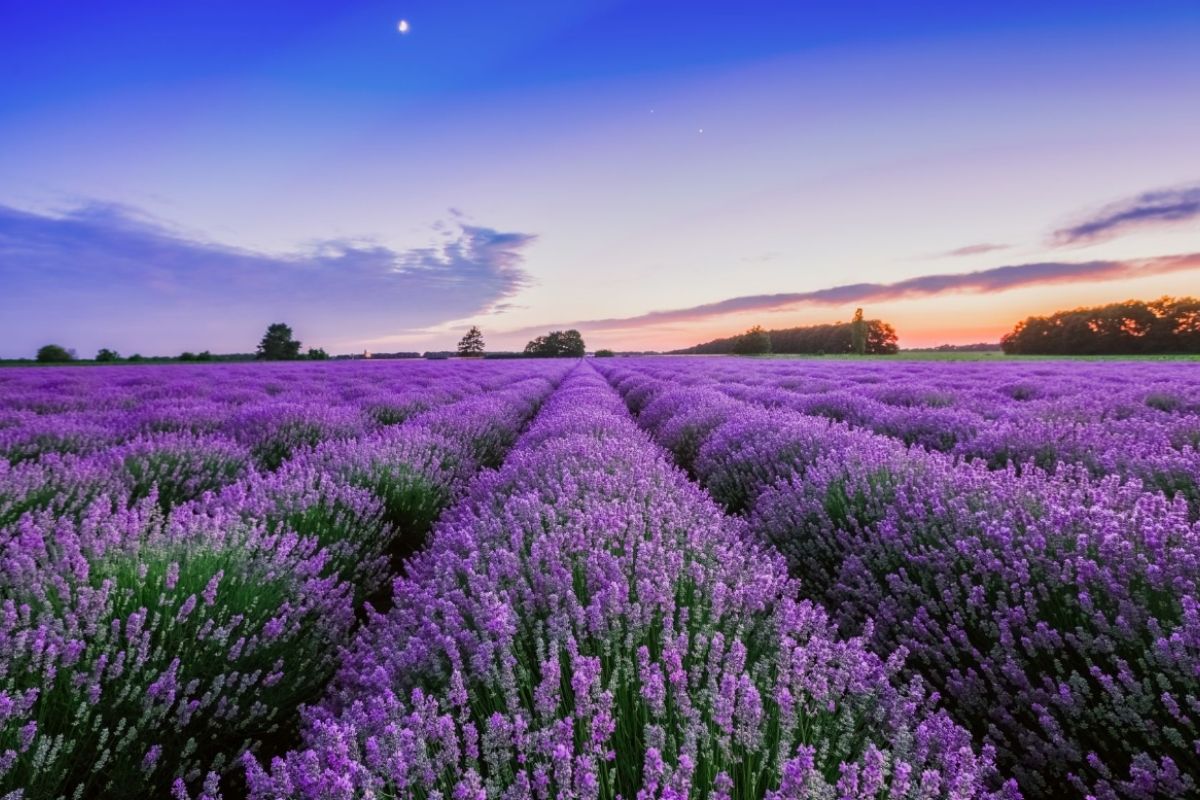 Tips for visiting lavender fields in the UK
As we've mentioned already, lavender fields in the UK have become very popular. During peak season, there will be thousands of visitors, usually vying for the perfect lavender photo spot. If you can, we recommend arriving early and preferably during the week.
Bees love lavender as much as I do. They are generally not interested in you, but there are a lot of them and if disturbed, they will sting. It's a good idea to keep an eye on little ones if they're picking lavender.
The lavender fields above are on working farms and ground can be uneven. We recommend dressing appropriately and wearing sensible shoes.
If you like visiting lavender fields, you might also like the best bluebell woods in the UK!
Map of the UK lavender fields
If you found this post helpful, why not bookmark it, share it with friends or pin it for later?
https://flashpackingfamily.com/wp-content/uploads/2021/04/Views-from-Dunstable-Downs-over-the-surrounding-counties.jpg
500
800
Jacs
https://flashpackingfamily.com/wp-content/uploads/2021/02/logo-grad-300x136.png
Jacs
2021-04-13 11:15:29
2021-04-13 11:15:59
Exploring The Stunning NT Dunstable Downs in Bedfordshire
https://flashpackingfamily.com/wp-content/uploads/2021/03/Woolacombe-beach-in-North-Devon.jpg
500
800
Jacs
https://flashpackingfamily.com/wp-content/uploads/2021/02/logo-grad-300x136.png
Jacs
2021-03-29 13:29:35
2021-04-10 16:03:24
55+ Stunning UK Coastal Campsites You Don't Want To Miss
https://flashpackingfamily.com/wp-content/uploads/2021/03/Hertfordshire-walks-for-families.jpg
500
800
Jacs
https://flashpackingfamily.com/wp-content/uploads/2021/02/logo-grad-300x136.png
Jacs
2021-03-23 19:41:20
2021-04-13 11:19:35
8 Fun and Easy Hertfordshire Walks For Families
https://flashpackingfamily.com/wp-content/uploads/2021/03/Blenheim-Palace-Christmas-lights.jpg
500
800
Jacs
https://flashpackingfamily.com/wp-content/uploads/2021/02/logo-grad-300x136.png
Jacs
2021-03-16 17:44:56
2021-03-18 19:12:04
The Magical Blenheim Palace Christmas Lights 2021
https://flashpackingfamily.com/wp-content/uploads/2021/03/Southwold-Beach-backed-by-colourful-beach-huts.jpg
500
800
Jacs
https://flashpackingfamily.com/wp-content/uploads/2021/02/logo-grad-300x136.png
Jacs
2021-03-11 11:14:48
2021-03-12 09:02:01
30+ Charming Things To Do In Southwold And The Local Area
https://flashpackingfamily.com/wp-content/uploads/2021/03/Colourful-Victorian-houses-on-Aldeburgh-seafront.jpg
500
800
Jacs
https://flashpackingfamily.com/wp-content/uploads/2021/02/logo-grad-300x136.png
Jacs
2021-03-10 13:52:08
2021-03-12 09:03:40
The 25+ Best Things To Do In Aldeburgh And The Local Area
https://flashpackingfamily.com/wp-content/uploads/2021/03/Daffodils-along-a-tree-lined-avenue-in-Spring.jpg
500
800
Jacs
https://flashpackingfamily.com/wp-content/uploads/2021/02/logo-grad-300x136.png
Jacs
2021-03-08 14:49:44
2021-04-13 12:18:55
25 Fun Outdoor Activities For Kids In Spring They Will Love