Discover Dunwich: A Complete Guide To England's Lost City
I don't know why I haven't written about Dunwich before now. Maybe I secretly wanted to keep it a secret. The truth is, Dunwich is one of my most favourite places in the UK but unbelievably, it is still relatively undiscovered.
It is a little gem on the Suffolk Coast and if you are looking to escape the crowds and enjoy the British countryside at its best, it could be the place for you.
Growing up in nearby Framlingham (famous for Framlingham Castle and Ed Sheeran) and having holiday accommodation in Dunwich, I have spent a lot of time there. I never grow tired of it and now it is also one of the kid's favourite places.
This is a local's guide to the best things to do in Dunwich including recommendations on where to stay and where to eat.
This post contains affiliate links. If you should book something through one, we may earn a small commission but this is at no extra cost to you.
Dunwich History
Dunwich is a tiny little village on the Suffolk Coast. Blink and you'll miss it. But it wasn't always this way.
It has a fascinating history and despite being barely a village now, it used to be the capital of the Kingdom of the East Angles (in Anglo Saxon times).
Up until the 13th century, it was a thriving international port and one of the largest towns in England.
In 1286, a great storm struck the coast of East Anglia and then another one in 1287. The coastal erosion suffered due to the storms was huge.
During the 14th century there were a succession of similar storms and the end came in 1362 when an enormous storm tide swept across the British Isles and wiped out what was still remaining of Dunwich.
There were originally 8 churches in the city but all that remains today of the once great city are the ruins of the 13th century Fransiscan Friary that you can see sitting on top of the cliff on the outskirts of the village.
There is a legend that during certain tides at midnight, the bells of the lost churches can be heard.
I've spent many a night walking back along the beach from the Ship Inn to our Dunwich campsite and have yet to hear them, but I will always keep an ear out for them!
If you want to learn more about what happened to Dunwich and its fascinating history, we would recommend popping into the Dunwich Museum.
Where is Dunwich?
Dunwich lies between the more well-known Suffolk coastal towns of Aldeburgh and Southwold. It is located in an Area of Outstanding Natural Beauty.
It is also right next door to Westleton Nature Reserve and the world famous RSPB Minsmere which is home to some of the rarest wildlife in the country.
If you are driving from London to Dunwich, it should take you just under 3 hours (along the A12 almost all the way). Just beware, if you are visiting on the same weekend as the Latitude Festival, it can take three times as long!
You could even visit Dunwich on a day trip from London by train if you are looking for a day out at a beach near London.
The nearest station to Dunwich is Darsham which you can reach by taking the Greater Anglia service from London Liverpool Street.
From Darsham to Dunwich it is about 10 minutes in a taxi – but taxis are few and far between so we would recommend booking one in advance.
But Dunwich is really best visited over a weekend or longer to really make the most of it. See details below for Dunwich accommodation opptions.
Things to do in Dunwich
For such a small place, it really packs a punch with things to do. Just don't come expecting traditional British seaside entertainment.
It is a haven for nature enthusiasts.  It is ideal for people looking to completely escape and relax and enjoy nature.
I affectionately refer to Suffolk as sunny Suffolk. Whilst this is not always true, being a coastal area means that the Dunwich weather is very variable and if you wake up with rain, the chances are this will pass.
Having said that, be prepared for all weathers. Everything is outdoors, but there are some ways to escape the rain if you are unlucky with the weather.
National Trust Dunwich Heath and Beach
Dunwich Heath and Beach is a lovely place to come for family-friendly walks in the heathland or along the beach. There is so much wildlife to spot and there are family-friendly events through the year.
At Easter, they usually run an Easter Egg trail which is one of our favourite outdoor activities for kids in Spring in Dunwich.
There is a lot of parking at Dunwich Heath, but it can still get very busy in the summer months so it is best to come early. Parking costs £6 for the day (free to NT members).
If you like visiting National Trust properties, we highly recommend getting an annual National Trust membership. Just a couple of visits can cover the cost of the pass.
Dunwich Heath walks
There are a number of beautiful Dunwich walks but the Dunwich Heath gorse walk is really spectacular and takes you through the best of the gorse and heather on a manageable 2 mile loop.
If you are looking for a longer walk, you can try the 5-mile loop taking you down as far as Dunwich Beach and back.
Make sure to check the National Trust website for details on visiting. They may not be able to hand out paper copies of their popular family trails and nature walks so you need to print them before your visit.
Changing colours of the heath. Vibrant yellow in the Spring when the gorse bushes burst into flower. Fun fact – did you know that gorse smells of palm trees?! Dont get too close to smell it because it is spikey!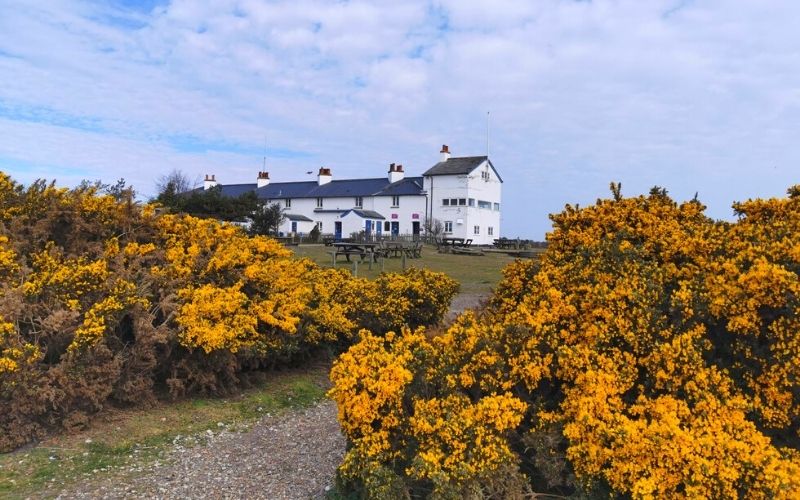 In the summer, the heath is awash with purple which is just beautiful, especially during the golden hour.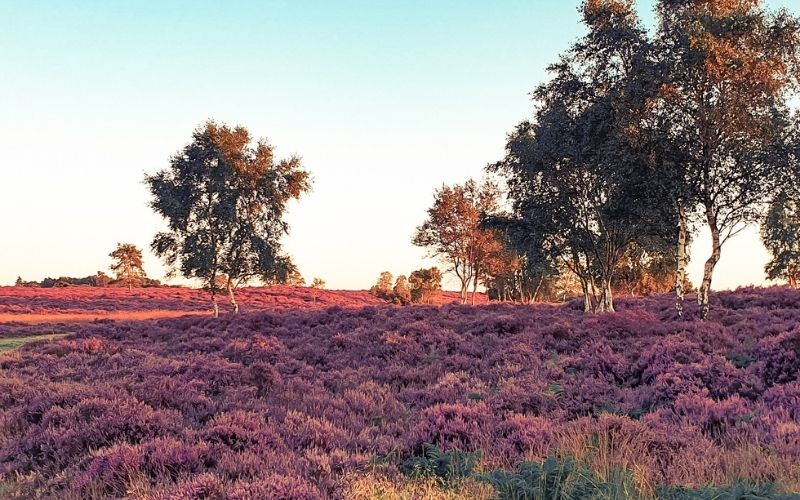 Dunwich Beach
Dunwich Beach is just a little further north up the coast from Dunwich Heath and Beach. The beach at Dunwich is one of the quietest beaches in Suffolk, especially if you walk a little way from the car park.
I would class it as one of the best beaches in the UK because it is totally unspoiled. You can walk for miles and not see a soul on some days.
The beach is a shingle beach backed with sandy cliffs along some of it that give way to low lying marshland.
There is a large tea room serving some of the best fish & chips around (see below for more dining options). You can eat in, out or grab a take away to eat on the beach.
There is an enormous car park here. It is free but a donation is welcomed.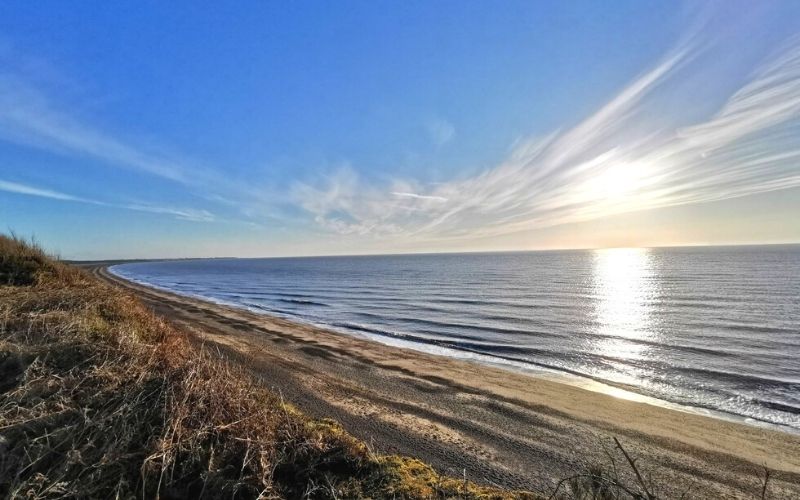 Dunwich Forest
Dunwich Forest is an area of broadleaf woodland mixed with conifers with numerous walking paths managed by Forestry England.
We love visiting at any time of year but one of our favourite times is during the Spring when the Rhododendrons in the forest are in full bloom. It is a truly magnificent sight.
If you are looking for things to do in Suffolk with kids on a rainy day, you should think about a forest walk. The tree canopy can be great protection against the rain meaning you can still enjoy the beautiful outdoors.
If you are looking for a safe place to go cycling with kids, take a look at neighbouring Westleton Heath National Nature Reserve. Cycling and horseriding is permitted (on a temporary basis) on certain paths. See here for a map.
RSPB Minsmere
Minsmere Nature Reserve is home to some of the rarest bird life in the country and is, of course, very popular with birdwatchers but it is also a great place to come for a nature walk.
There are also some fun and family-friendly events and activities throughout the year. Make sure to drop in to the Discovery Centre to see what is going on.
They have some great activities for kids in their Wild Zone and Wild Wood Adventure Area.
Ticket prices: Adults – £9.00 and children over 5 – £5.00.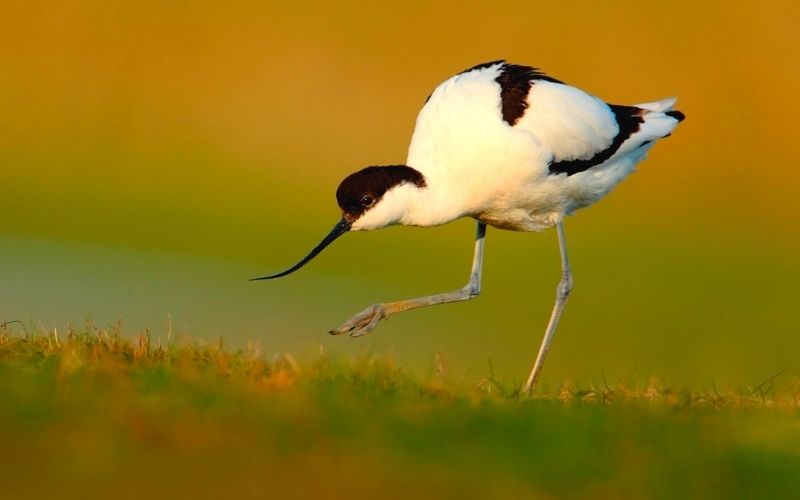 Things to do near Dunwich
Southwold – make sure to check our things to do in Southwold guide.
Walberswick – spend a morning crabbing in the crabbing capital of the UK and then take the Walberswick to Southwold Ferry for a spot of lunch at the Sole Bay Fish Company. See our detailed guide to Walberswick for more ideas.
Aldeburgh – make sure to check our things to do in Aldeburgh guide.
Thorpeness – make sure to check our things to do in Thorpeness guide.
Framlingham – one of the prettiest market towns in England and home to Framlingham Castle, one of the most impressive castles in England
Latitude – this family-friendly festival held around the third weekend in July is just a stone's throw from Dunwich.
Snape Maltings – during the summer this is the place to visit for your cultural fix with world class artists performing at the Snape Proms.
Orford – Orford has made a name for itself as a foodie destination in Suffolk with places like Pump Street Bakery, Butley Orford Oysterage (currently closed) and the Crown and Castle. Don't miss Orford Castle.
Visiting Dunwich at Christmas? Check out our things to do in Suffolk at Christmas guide.
Visiting Dunwich during the October Half Term? Check out our things to do in Suffolk at Halloween post.
Read more: We have lots more ideas for things to do in Suffolk.
Places to eat in Dunwich
Looking for pubs in Dunwich? Well, there is just the one but it is a good one.
The Ship Inn Dunwich is our go to place for a great meal. They have a lovely menu with locally sourced food. There is a large beer garden at the back which was being rennovated during our last visit. There is talk of installing a children's play area in the garden too. Watch this space.
Other places to eat in Dunwich
The Flora Tea Rooms for Dunwich fish and chips.
Dingle Hill Tea Rooms for a light lunch and fresh baked goodies.
The 12 Lost Churches Dunwich for a restaurant meal (and a great Sunday roast) or a light meal while watching the kids play in the playground.
National Trust Coastguard Cottages Tea Room – the NT Dunwich Heath and Beach café serves freshly made light snacks.
Places to eat near Dunwich
With Suffolk being named the foodie county, you will be spoiled for choice. Some of our favourite restaurants near Dunwich are:
The White Hart – Blythburgh
Sole Bay Fish Company – Southwold Harbour
The Westleton Crown – Westleton
The Anchor – Walberswick
The Lighthouse – Aldeburgh
The Unruly Pig – Bromeswell
The Dolphin – Thorpeness
Read more: we also have a list of our favourite family-friendly pubs on the Suffolk Coast (with great play areas).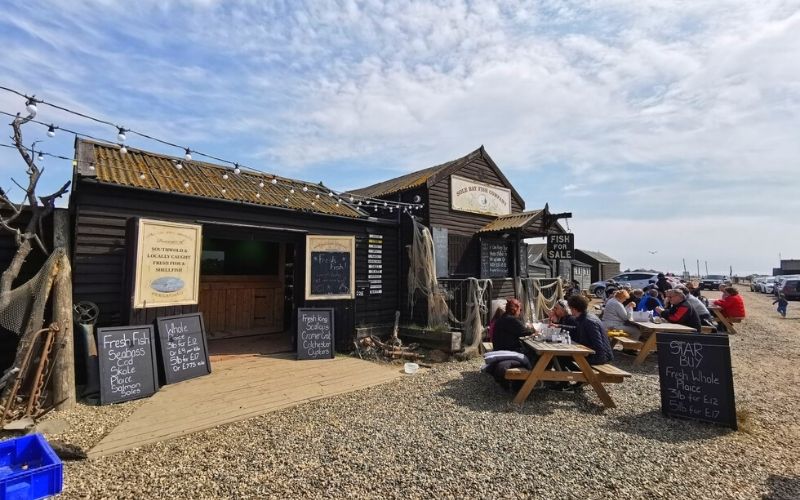 Places to stay in Dunwich
Hotels in Dunwich
In short, there are no hotels. The closest you will come to a hotel is the The Ship Dunwich which has cute little rooms including a family room.
If you can't find any rooms at the Ship, we can also recommend the Westleton Crown. They must be doing something right because this is where the Duke and Duchess of Cambridge chose to stay when they attended a friend's wedding nearby.
Whilst we have not stayed here, we have enjoyed many a meal here and can highly recommend it for the food.
Dunwich holiday cottages
There are some beautiful self-catering cottages at Dingle Marsh Barns.
Suffolk Secrets is also a great website to check for Suffolk holiday cottages.
The National Trust Coastguard Cottages are in a fantastic location.
We also have a post on the most unusual places to stay in Suffolk.
Dunwich camping
Cliff House Holiday Park is a campsite and caravan park and is one of the best coastal campsites in the UK. It has traditional camping pitches as well as lodges and self-catering accommodation.
We were walking past recently and it looks like they have completely renovated their children's play area. They also have a very good onsite restaurant.
There is only one Dunwich campsite but you can have a look here for campsites near Dunwich –  family-friendly campsites in Suffolk.
Glamping
Lantern and Larks for upscale glamping in Sweffling – about 11 miles from Dunwich
Tips for visiting Dunwich
As all of the activities are outdoors, be prepared for all weather. In the summer, we pack a lightweight packable waterproof in our backpack just in case. TOG24 Craven is our go to jacket for the whole family as they can pack down into a tiny case.
Dunwich (and the surrounding area) is best explored by car as public transport options are really limited but make sure to bring your bikes to really help you appreciate the area. Read more: Why Frog Bikes are the best bikes for kids.
Just be aware that phone signal can be patchy here.
Public transport options are very limited in and around the Suffolk coastal area so it is best to have your own car to explore.
Map of things to do in Dunwich
Click here for the map of things to do in Dunwich and the surrounding area.