The Complete Durdle Door Beach Guide For Visiting In 2022
Durdle Door is one of those places that is on most people's UK bucket list, mainly because it is one of the most photographed places in the UK.
We love a good beach in the UK and we love photogenic spots so we decided to check out Durdle Door beach on a camping trip to Dorset.
I have to say that even though we have visited lots of incredible places around the world on our travels, we were still blown away by the sheer beauty of Durdle Door.
Our guide to visiting Durdle Door beach aims to give you everything you need to know to help you get the most out of your visit to this incredible place.
This post contains affiliate links. If you click on one and book or buy something, we may earn a small commission but this is at no extra cost to you.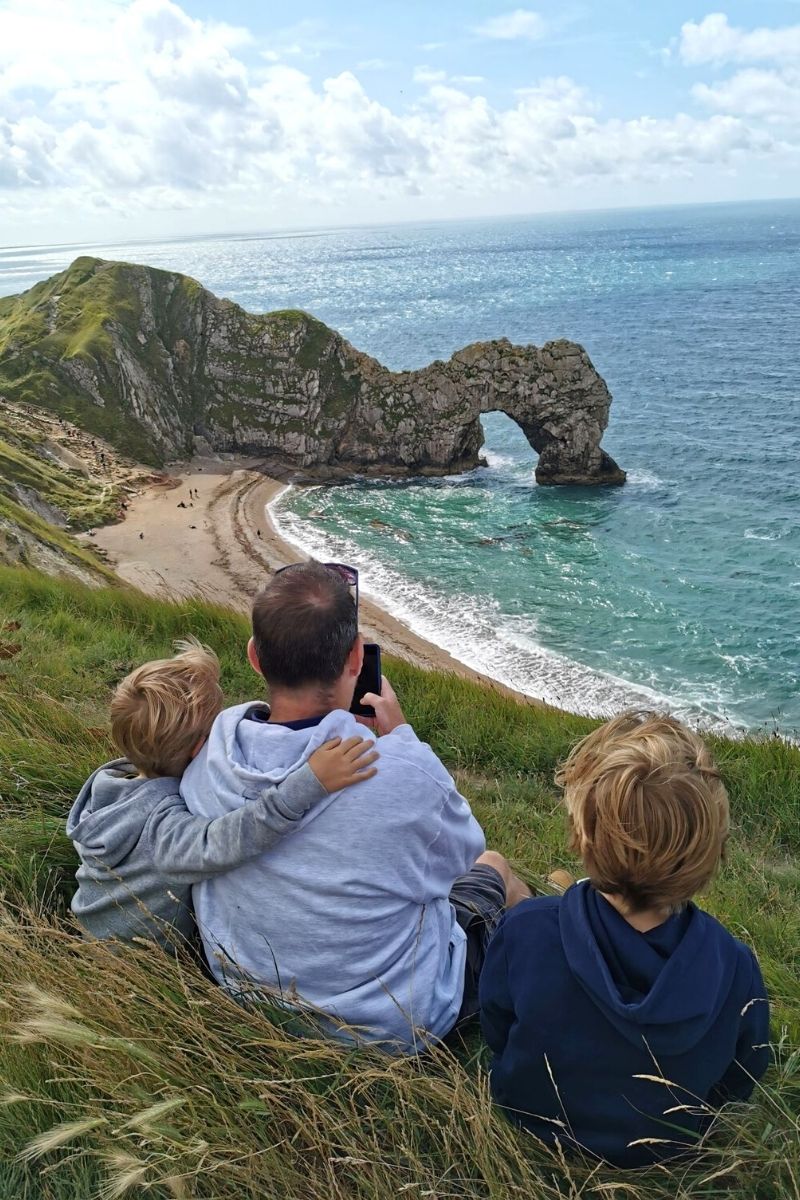 What is Durdle Door?
Durdle Door is possibly the most famous stone arch in the world. It was created around 10,000 years ago where the sea pierced the limestone and formed the arch.
This part of the Jurassic Coast (Dorset and East Devon Coast) is England's only Natural World Heritage Site after being awarded the status by UNESCO in December 2001.
Either side of Durdle Door are two fabulous beaches, Durdle Door beach and Man 'O' War beach.
Durdle Door is such a big tourist attraction that it draws thousands of visitors, particularly in the summer months.
People come mostly to view the arch but if you have more time, you can head down to the beach or even take a short walk along the coastal path to Lulworth Cove.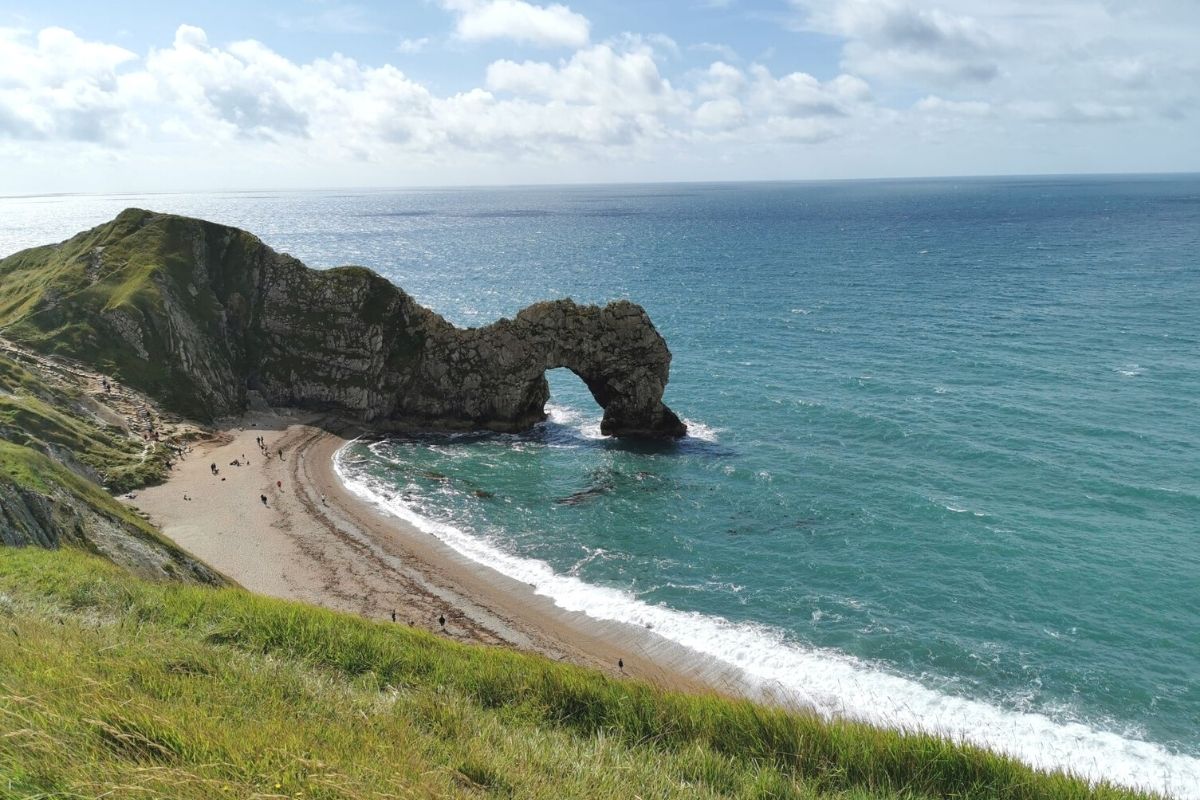 Where is Durdle Door beach?
Durdle Door beach is located on the south coast of England in Dorset between the popular coastal towns of Weymouth and Bournemouth.
How to get to Durdle Door beach
By car: Durdle Door is located in the village of West Lulworth.
If you are approaching on the A352 from the west, head south on Water Lane towards Winfrith Newburgh. If you are approaching from the east, take the the B3071 from Wool.
You access Durdle Door via Durdle Door Holiday Park. Keep going along the road past the holiday park until you reach the car park. This is the end of the road.
The address for Durdle Door is: South West Coast Path, Dorchester, Wareham, Dorset, BH20 5PU.
By Train: The nearest railway station is Wool (on the London Waterloo to Weymouth line on SouthWestern Railway).
From Wool Station, you can take bus numbers 15, 30, X55 and X54 to West Lulworth for Lulworth Cove or you can take a taxi.
People ask whether you can reach London to Durdle Door by train. You can, but it wouldn't be one of our recommended day trips from London by train. The connections aren't great and it would take you the best part of a day to do the return trip.
By Bus: There are 4 bus services to West Lulworth for Lulworth Cove and Durdle Door (numbers 15, 30, X55 and X54).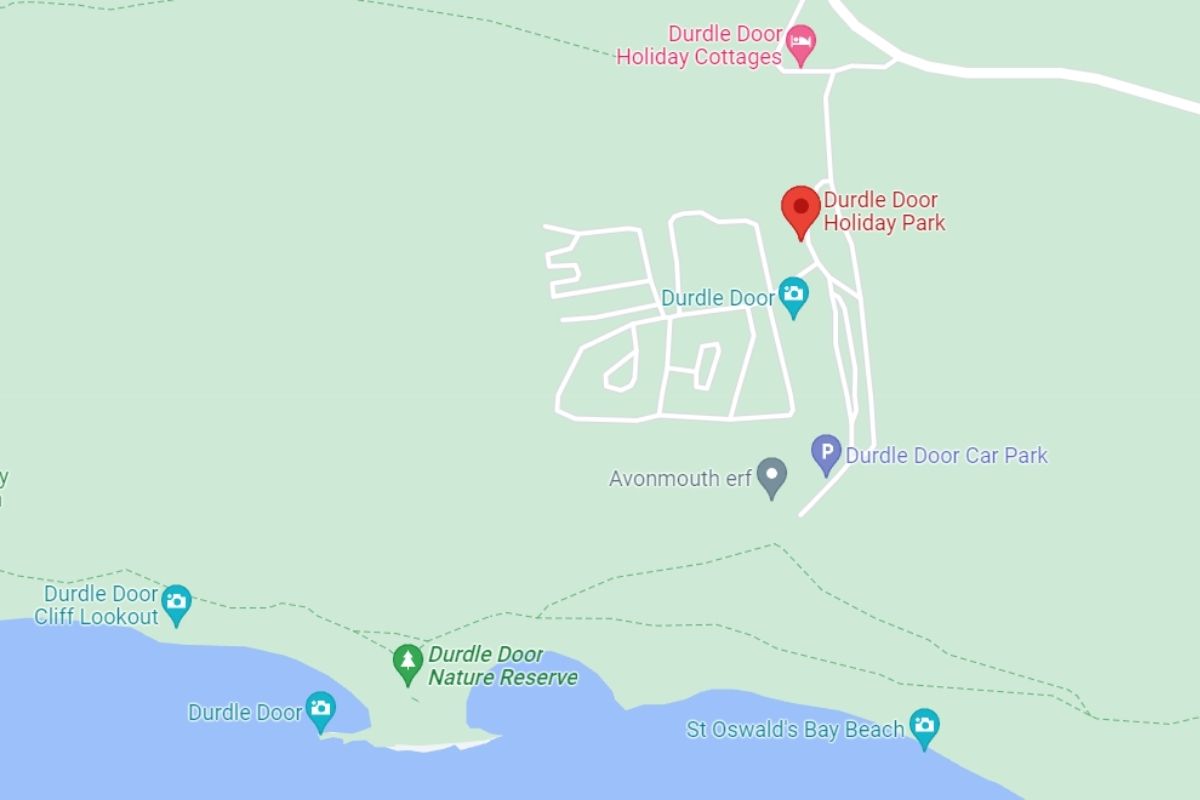 Parking at Durdle Door beach
There is a decent sized car park at Durdle Door beach but even when we arrived at 9.30 am, it was busy. If you want to visit during the peak summer season, you will need to arrive early.
It is around 900m from the car park at Durdle Door to Durdle Door beach.
Is it better to park at Durdle Door or Lulworth Cove?
There is also a large car park at Lulworth Cove if you can't find parking at Durdle Door or if you want to do the reverse Lulworth Cove to Durdle Door walk.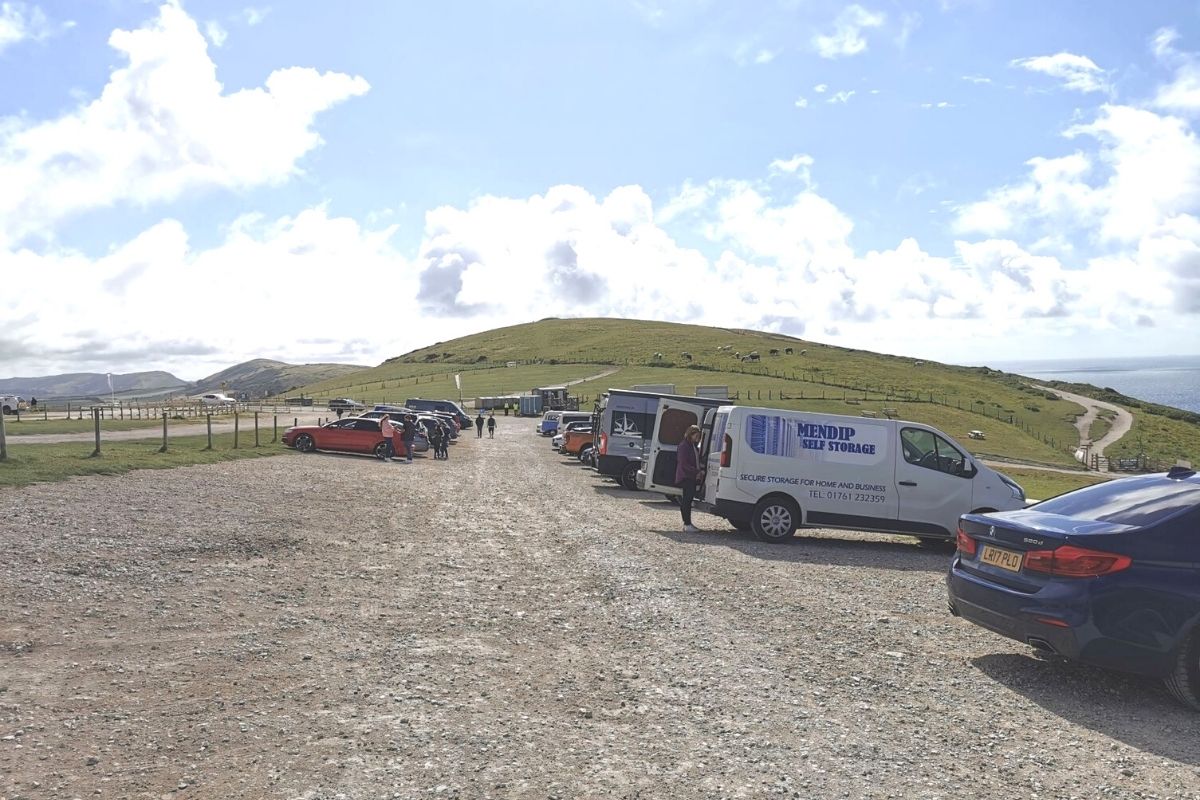 Durdle Door beach parking fees
The Durdle Door beach car park fees in 2022 are:
Car up to 4 hours: £5.00
Car all day: £10.00
Motorbikes: £1.00
Large campervans: £15.00
We parked our short wheel base VW campervan and after checking with the parking attendant, we paid the price for a car.
For the most up to date prices, make sure to check on the Lulworth Estate website.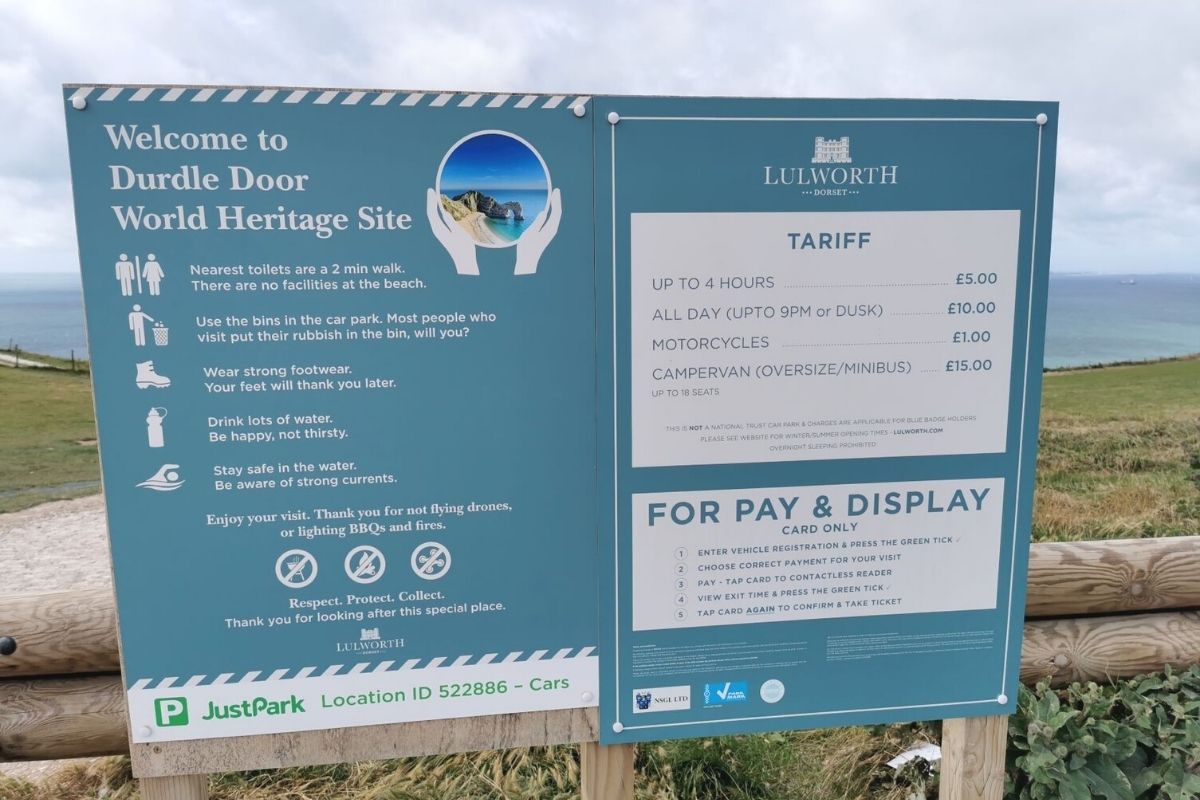 Are there any facilities at Durdle Door beach?
There are no facilities at the beach except for the car park. During the summer months you will find a snack kiosk. You can access public toilets at Durdle Door Holiday Park which is a couple of minutes walk from the car park.
If you are going to be spending the day on the beach at Durdle Door, we recommend bringing everything you need with you.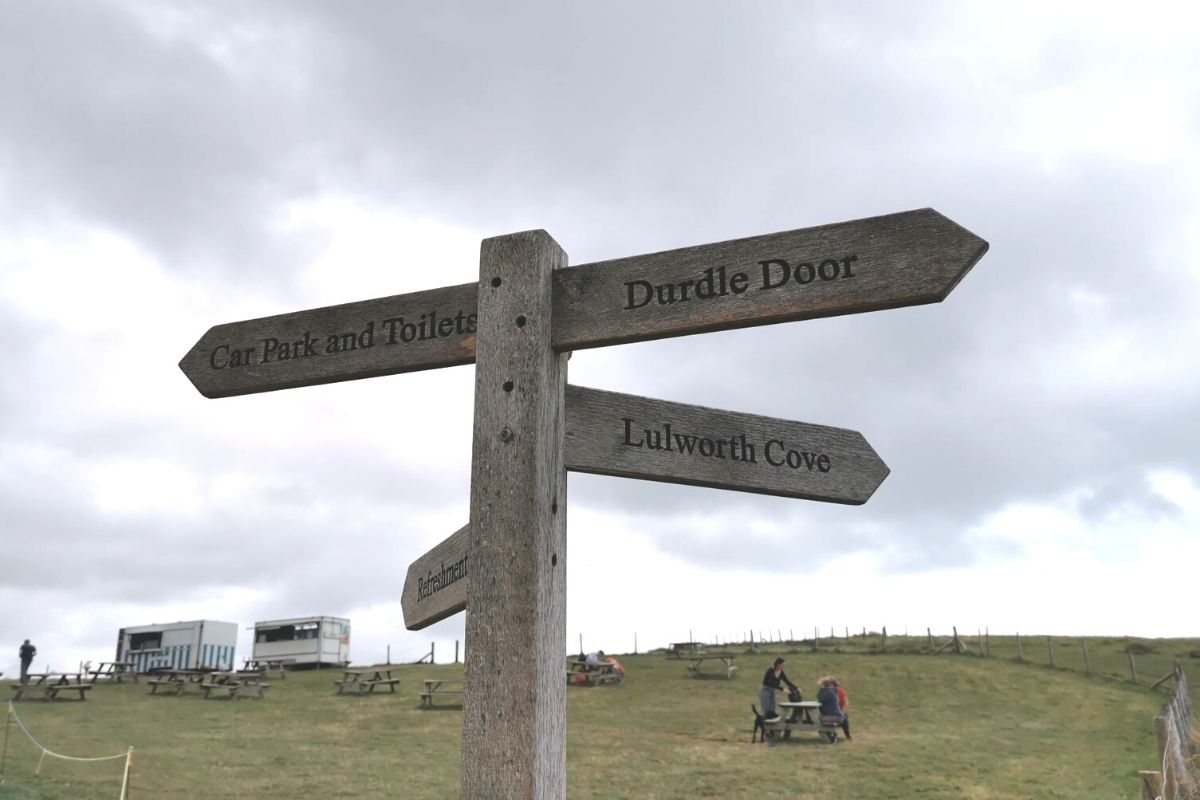 Do you need a ticket for Durdle Door beach?
Access to Durdle Door beach is free of charge. You just need to pay the parking fee if you are arriving by car.
How to get down to the beach at Durdle Door
From the car park you take the South West Coast Path down and west following the cliff top.
The path down is a little steep at the very beginning from the car park and with the loose shingle, it can be a bit slippery. Even though you may be going to the beach, we would suggest wearing good walking shoes to get down there.
We wear our hiking boots whenever we go on coastal walks as you never know what the terrain will be like.
For the kids we swear by Keen Targhee hiking boots and we use Merrell Moab boots (for men and women) which are great for beginner hikers as they don't need to be worn in.
In places along the cliff top above Durdle Door beach, the path goes quite close to the edge and there is no barrier so please keep little ones close.
Take a moment to sit and enjoy the view from the top over Durdle Door. It is truly beautiful.
There are steps down to Durdle Door beach which unfortunately makes it inaccessible for wheelchairs.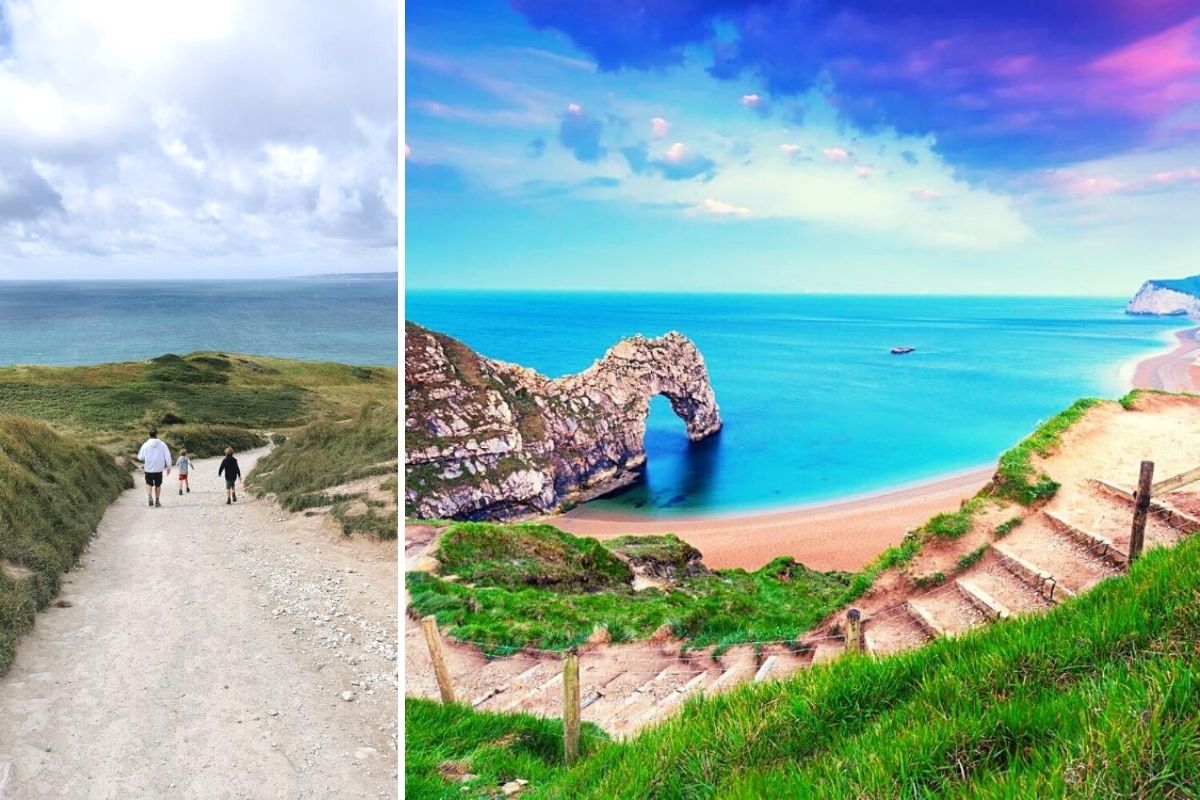 Where are the best views of Durdle Door?
Durdle Door is best viewed from above on the South West Coast Path. You need to walk a little way west along the path from the steps down to the beach for the best views back.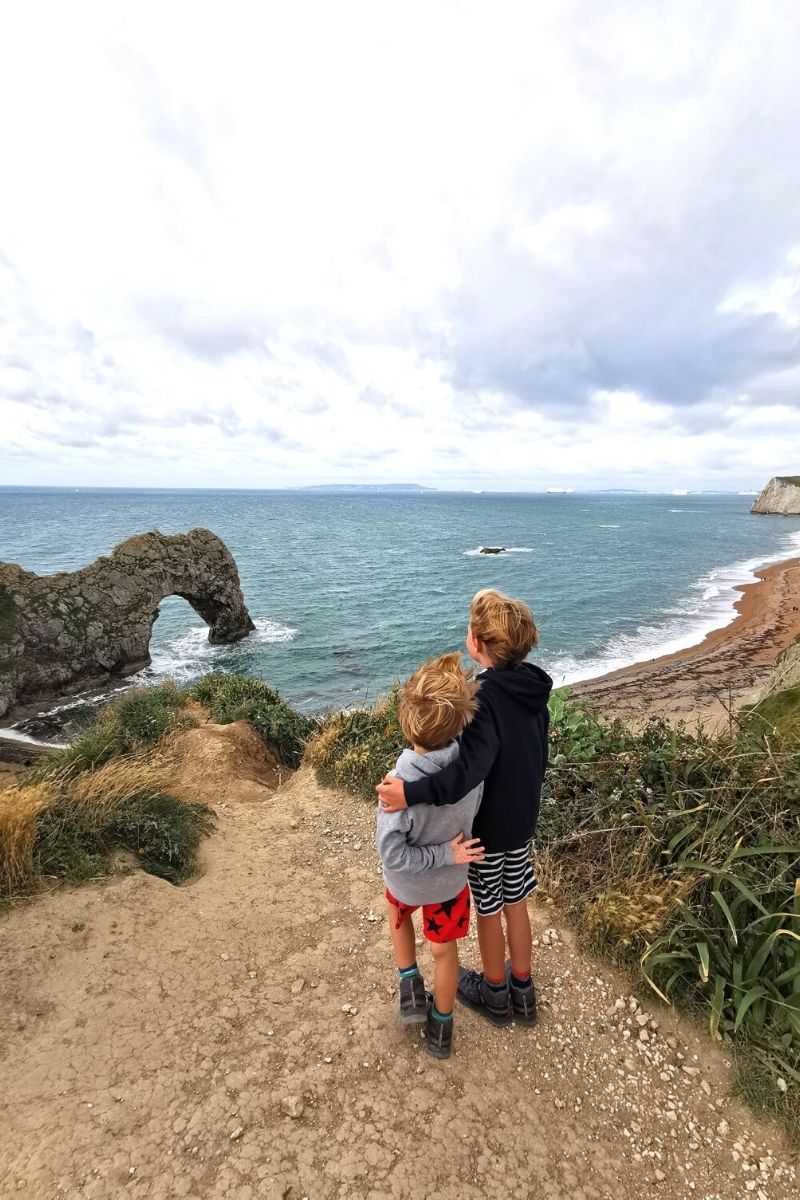 What is there to do at Durdle Door?
The main things to do in Durdle Door are to visit Durdle Door beach or go for a walk.
Swimming at Durdle Door beach
Durdle Door beach is incredibly inviting, especially when viewed from above. The limestone arch surrounded by turquoise blue water is stunning.
Durdle Door beach is a mix of shingle and sand and is back by high, limestone cliffs. There are various caves that have been carved out of the limestone cliffs by the sea but you must not enter them as cliff falls are common.
You can get down to the beach at Durdle Door by taking a set of steps. I believe there are around 90 steps in total. The beach is not wheelchair accessible.
There are no lifeguards at Durdle Door beach and although the water is fairly calm due to the shape of the cove, the sea bed shelves away and becomes suddenly deep in places so care should be taken when swimming. There is also an undertow that you need to be aware of.
Next door Man'O' War beach is actually better for swimming. It is also accessed by a set of fairly steep but well maintained steps.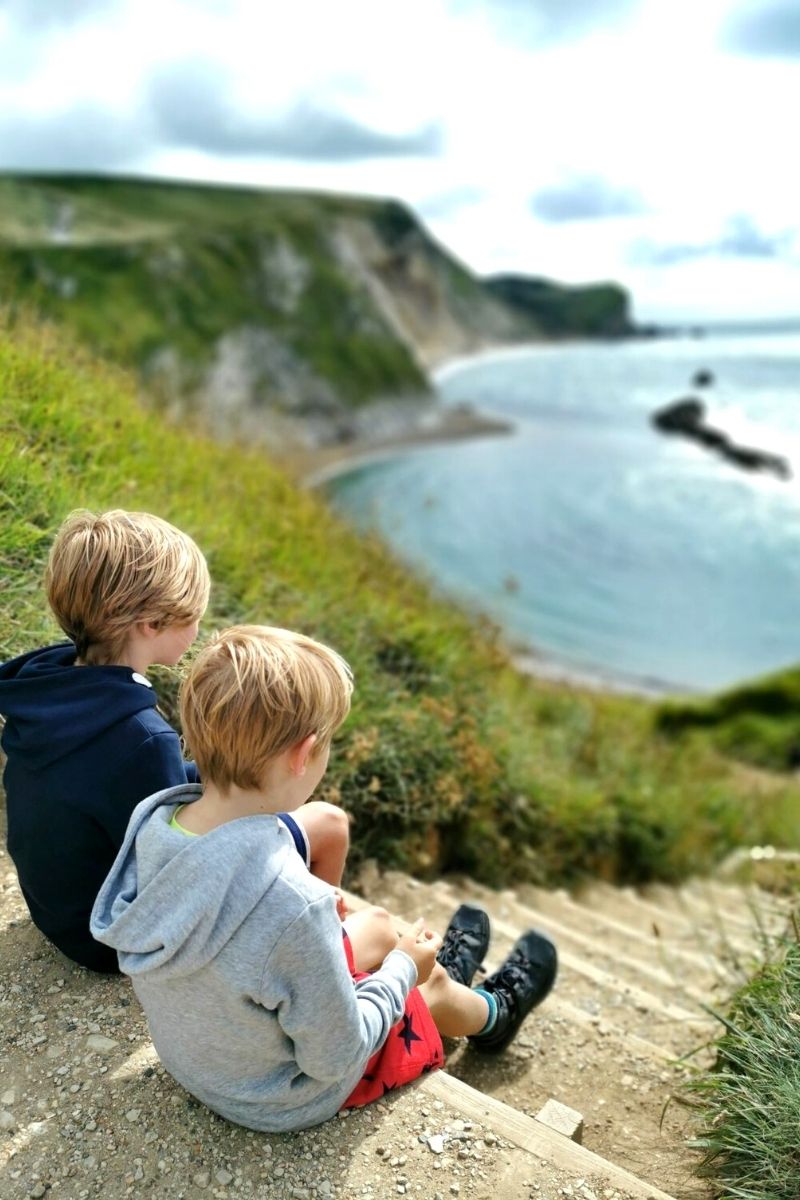 Searching for fossils at Durdle Door beach
Being part of the Jurassic Coast, fossils such as ammonites and belemnites are regularly found here so it is a great beach for fossil hunting.
On that note, another great beach for fossil hunting is the dinosaur footprint beach on the Isle of Skye.
If you don't find any here, you can pop into the Visitor Centre in Lulworth Cove and try your luck there!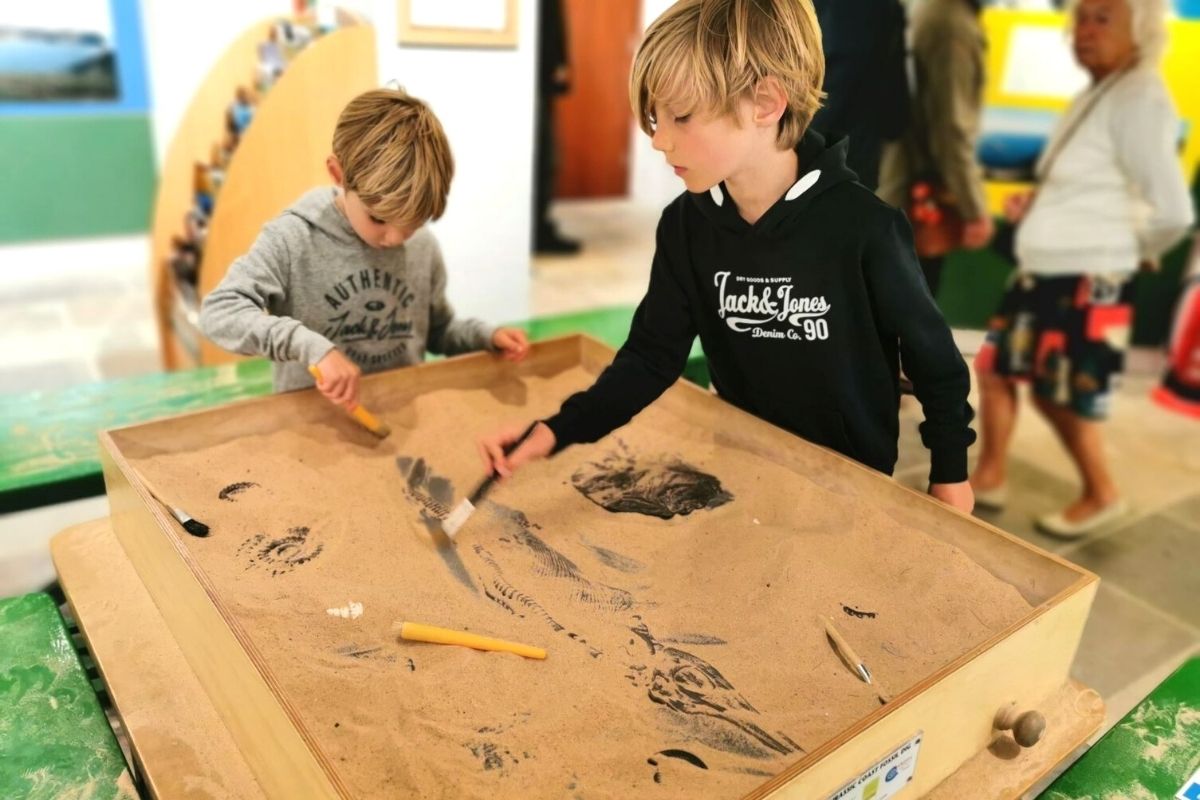 Take the Durdle Door to Lulworth Cove walk
If you are looking for a fairly easy and scenic coastal walk, you can't get much better than the Durdle Door to Lulworth Cove walk.
There is a 1.2 mile coastal path that connects the two beaches. You can head to Lulworth Cove for lunch and walk back if you feel energetic or you can take the bus back.
This is an excellent UK walk for families, with the added incentive of looking for dinosaurs or getting an ice cream when you reach Lulworth Cove.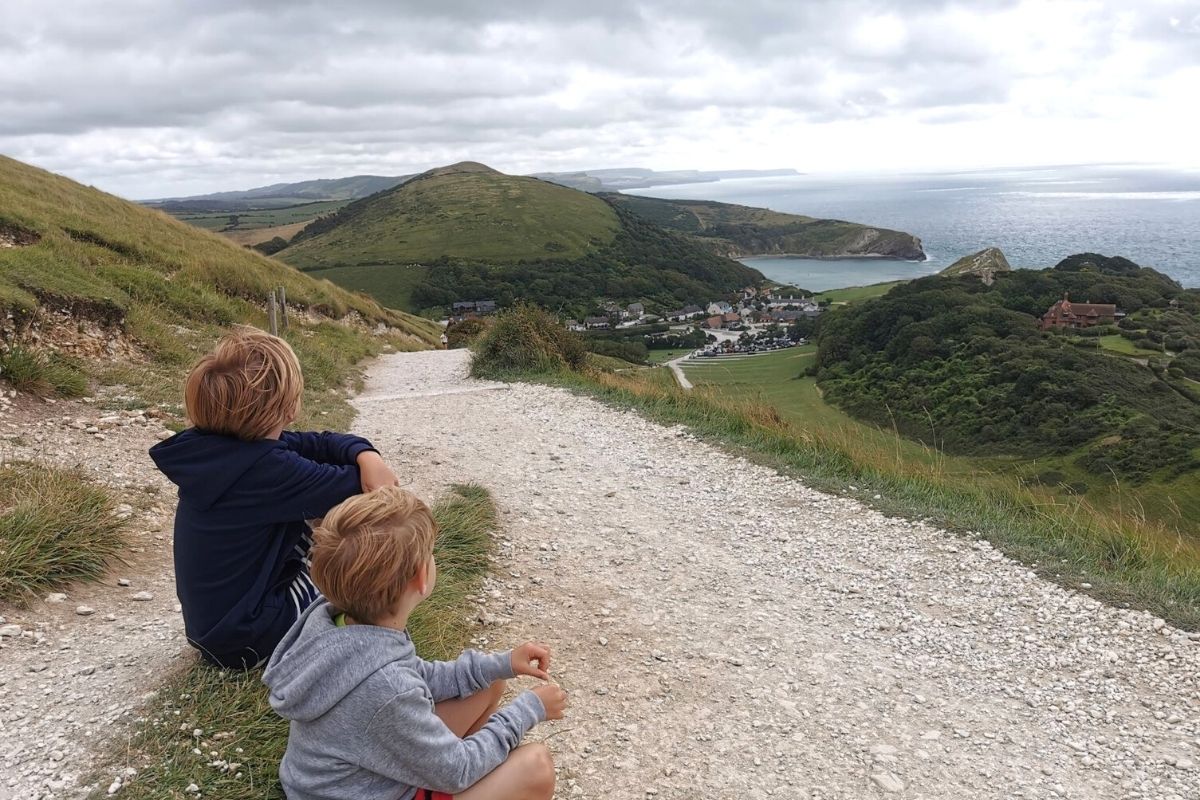 Is Durdle Door beach dog friendly?
Yes, Durdle Door beach is dog friendly and dogs are allowed off the leash.
Places to stay near Durdle Door
If you would like to spend a bit more time exploring the area, there are plenty of Durdle Door accommodation options.
Durdle Door hotels
There aren't any hotels right by Durdle Door. The closest hotels to Durdle Door would be in Lulworth Cove and West Lulworth.
Lulworth Cove is a lovely place to stay to access Durdle Door via the coastal path and has a number of restaurants to choose from.
Lulworth Lodge is just 1 minute walk to the beach.
Lulworth Cove Inn is a 3 minute walk to the beach.
Durdle Door camping
Durdle Door Holiday Park is a great option if you are looking for a coastal campsite. They have a huge range of accommodation from lodges to camping pitches. This is the closest accommodation to Durdle Door.
Durdle Door holiday homes
Hambury House is a lovely 4 bedroom house in West Lulworth and less than a mile from the beach.