BeWILDerwood Review: An Enchanting Day Out in Norfolk
If only there had been a BeWILDerwood when I was growing up. The End.
Well, yes, that would have been nice but actually, the great thing about BeWILDerwood Norfolk is that it's a fabulous day out for adults as well as kids. I can honestly say that I enjoyed it as much as the kids and it has to be one of the best family days out in the UK.
Just look at this map. How enchanting does it look?!
Whether you are visiting Norfolk on a UK staycation or live nearby and are visiting for the first time, this is one of the most complete BeWILDerwood reviews and will help you plan your day out.
Information has been updated following our visit again in 2022.
Visiting Norfolk at Christmas? We have a complete guide to the Christmas events in Norfolk this year.
**This post contains affiliate links. If you click on one and book something, we may earn a small commission but at no extra cost to you **
The most complete BeWILDerwood review
So what is BeWILDerwood all about?
I'll be honest and say I hadn't heard about BeWILDerwood until my sister, based in Norwich, raved about it to me one day. Living so close, they had an annual pass and really got their money's worth. We decided to tag along one day and see what all the hype was about.
The BeWILDerwood concept is based on the books by children's author Tom Blofeld. You can read about the adventures of magical characters in an enchanted forest.
The BeWILDerwood Books
BeWILDerwood transports you into the magic land of the book characters. There are Twiggles and Boggles, Swampy and Crocklebog (to name just a few) and treetop adventures galore.
So let's get to the ins and outs of visiting BeWILDerwood with kids. I have to be careful not to give you any spoilers but at the same time, I want to try to convey how magical this place is.
Where is BeWILDerwood?
Firstly, we should say that there are now 2 BeWILDerwood sites in the UK. The original one opened near Norwich in 2007 and BeWILDerwood Cheshire opened in Spring 2020.
BeWILDerwood Norfolk
You'll find BeWILDerwood about 10 miles northeast of Norwich and about 2.5 to 3 hours from London. If you're going by car, there's plenty of free parking.
BeWILDerwood Prices
The ticket prices are based on height and are as follows:
Under 92cm: Free
92cm – 105 cm: £19.50
Over 105 cm: £21.50
Over 65 yrs: £13.50
Carers: Free
Buying your tickets online in advance is advised because you may not be able to purchase tickets on the gate.
The tickets may seem quite expensive, but you will have a whole day out and everything is included in your ticket once you're inside (except for food and gift shop items).
As well as all of the climbing structures, you'll be able to have your face painted, build dens and listen to stories in a theatre-like setting (and more).
If you're not sure of the kids' height, there is a little measuring station where you can check. If you've bought in advance and it turns out that the kids are shorter than you thought, you can ask for a refund at the ticket desk.
BeWILDerwood opening times
They are generally open every day from 10 am to 5.30 pm from the beginning of April to the end of August. It also opens up over February and October half terms and weekends in March and September.
Eating at BeWILDerwood
There are 3 cafés dotted around the park.
Snack Shack
Cosy Cabin
Munch Bar
They serve a selection of hot and cold foods and although it is a little pricey, it is decent quality. We had a delicious jumbo sausage roll and chips and some sandwiches. We brought our own waterbottles with us which we could refill.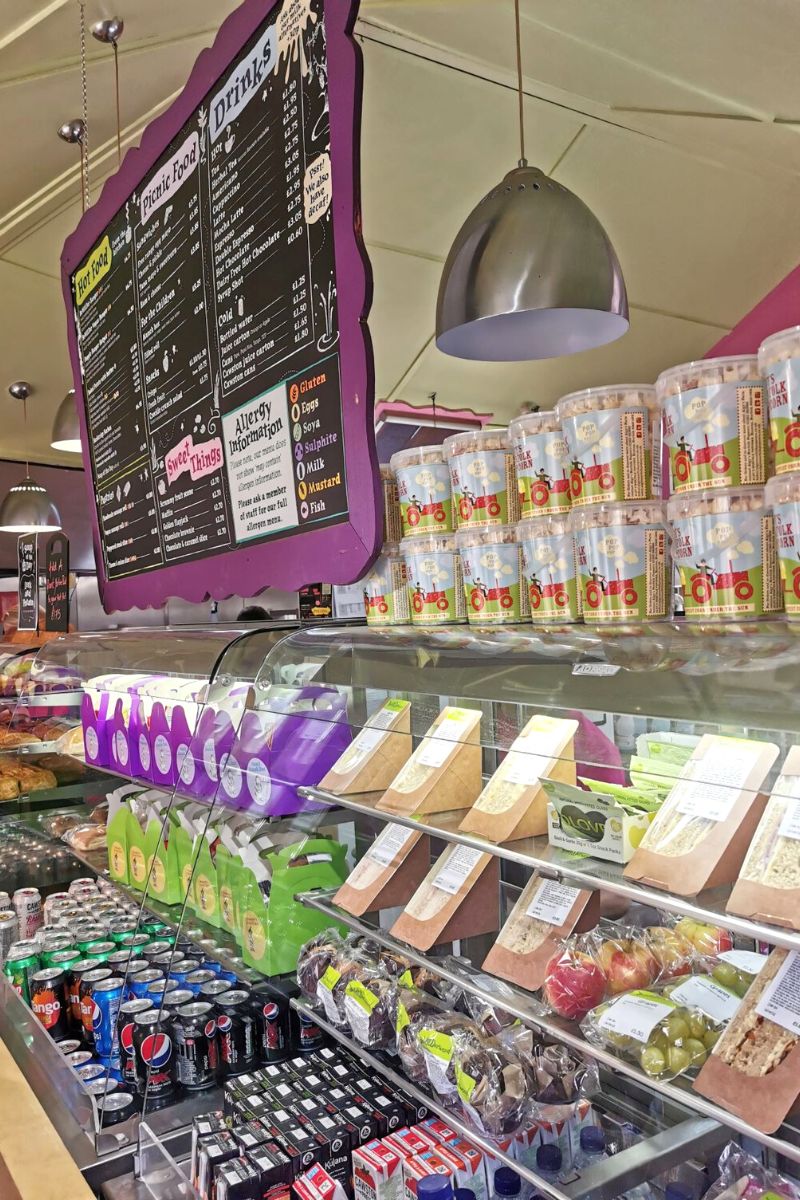 Let's face it, it's not a cheap day out so if you don't want to spend more on food, you can bring your own picnic. Something to bear in mind however, is that you will need to carry it around with you because it's a bit of a mission to get back to the car to fetch it.
In these situations, we find it handy to have an insulated backpack that is easy to carry around and keeps your hands free.
Our BeWILDerwood experience
We first visited in 2015 when the children were 7, 5, 4 and 2.. I'll start by saying that the hype from our Norfolk cousins was immense which is never normally a good thing.
Thankfully, this is probably one of the few instances when something actually lives up to the hype.
We arrived just before 10 am and there was plenty of parking. We hadn't bought tickets in advance and thankfully there wasn't much of a queue, even though it was the school summer holidays. We went straight to the boat terminal and had about a 20-minute wait.
Our second visit was in 2022 and tickets had to be bought online in advance. 
Getting into BeWILDerwood
There are two ways to reach the main part of the park. The first option is by a pink electric boat which we highly recommend doing first because it builds up the excitement enormously (with some fun surprises along the way)!
The excitement levels had reached fever pitch by the time we arrived at the Scaaaary Lake and it was a great start to the day.
The second option is to walk along a walkway (The Treacherous Trail) through marshland spotting Twiggles' and Boggles' homes. It's just as lovely but we really feel it's best to do the boat trip first and walk back.
Planning your day
Once into the adventure area, take a look at the map and see where you want to go first. We let the kids have a look at the map and decide what they wanted to do first.
Thankfully, they all chose the same thing – the interconnected treehouses (Sky Maze).
There are playgrounds galore, high rope structures, treehouses, larges slides and mazes.
The reason the ticket price is determined by height is that some of the play areas are not suitable for small children.
There are still plenty of things for smaller children to do though. The larger kids can do everything, including the Sky Maze and The Slippery Slopes (huge slides). The various activities are colour coded on the map (blue for little ones, orange for bigger ones).
Storytelling Stage
If the kids need a little downtime, head to the Storytelling Stage where characters from the books act out interactive stories. Check times on your programme in the morning so you don't miss them.
Our tips for visiting
Wear sensible shoes and take outdoor gear. It's all set in the forest so the temperature will be cooler, even on a warm day. The tree canopy offers quite a bit of cover, but it's still all outdoors. It's actually a great place to go on a really warm day because it offers some respite from the sun with all of the shade.
Get there early if you want to do the boat ride first. A large queue forms quite quickly because this is the most popular way to start the day.
Take your own picnic if you want to save some money. There are plenty of places to sit and eat.
Take a look at their events page. They sometimes have some special events taking place around school holidays. It's a lovely place to visit in Norfolk at Halloween.
Places to stay near BeWILDerwood
Hotels near BeWILDerwood
There are a few places to stay near BeWILDerwood, but as it is quite out of the way, there isn't a great deal around. In the near vicinity is
Hotel Wroxham – (2 miles)
The Norfolk Mead Hotel (4.5 miles)
Sprowston Manor Hotel – (6.5 miles)
If you're basing yourself on the north Norfolk coast, we can recommend Caley Hall Hotel in Old Hunstanton and The Blakeney Hotel in Blakeney, both of which are a short distance from lots of great things to do in Norfolk.
Glamping and Camping near BeWILDerwood
If you're visiting in the summer months, why not carry on with the outdoor theme and stay at one of the campsites near Bewilderwood? If you don't have your own tent, these two options have a glamping option too.
Amber's Bell Tent Camping – (0.5 miles) Glamping
Hickling Campsite – (8 miles) Camping and Glamping
Wardley Hill Campsite – (24 miles) Camping and Glamping
Other things to do in Norfolk