The Best Things To Do In Norfolk With Kids 2023
Norfolk is one of my favourite counties in the UK. With endless sandy beaches, historic towns, the unique man-made Norfolk Broads and mystical adventure play parks, there are so many things to do in Norfolk with kids.
I grew up in Suffolk and so I frequently visited the attractions in Norfolk for kids. Some of them are still going strong (Pleasurewood Hills I'm looking at you!).
By the way, I also have a post on what to do with kids in Suffolk and a general visitor's guide to Suffolk.
Quite frankly, I don't know why it's taken me so long to write a post about visiting Norfolk with kids.
So many people have asked 'is Norfolk good for kids?'.
That's a big fat yes. We love it! There are so many family-friendly activities in Norfolk that you'll keep wanting to return.
This is our list of family days out in Norfolk and only includes the very best things to do in Norfolk for kids.
This post contains affiliate links. If you click on one and book or buy something, we may earn a small commission but this is at no extra cost to you.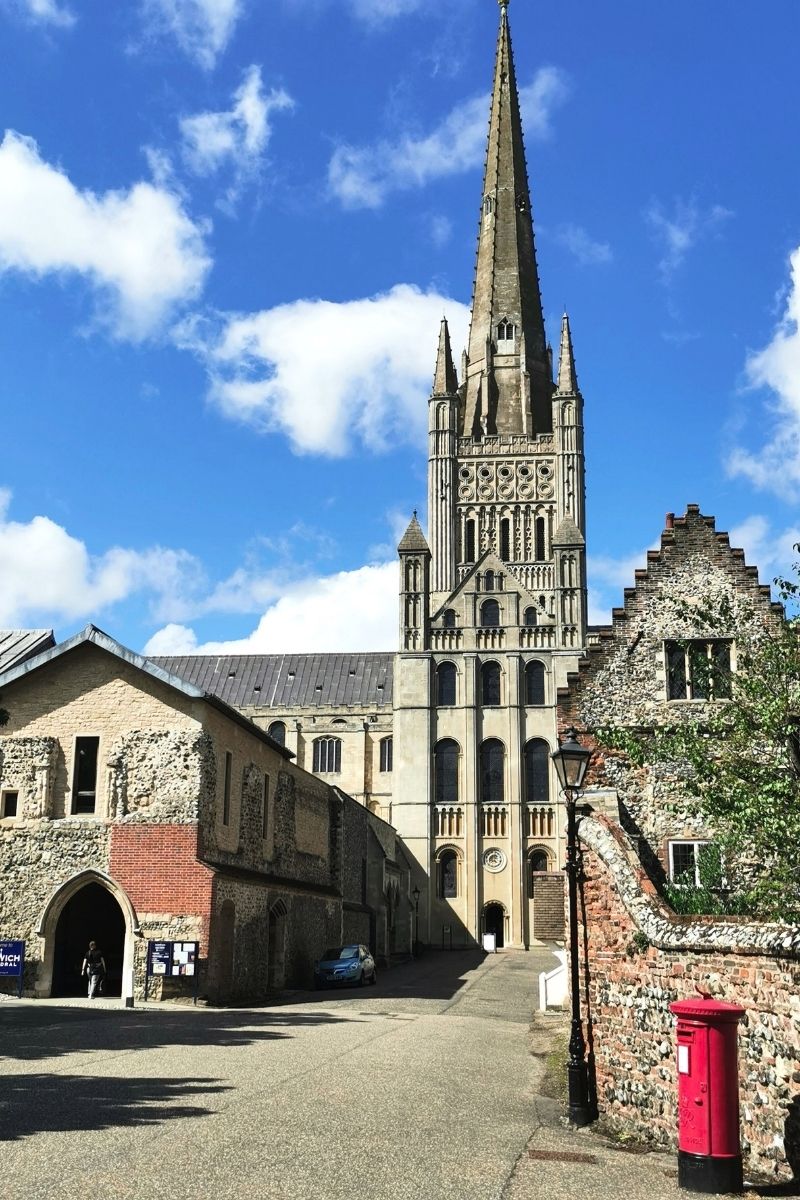 Fun facts about Norfolk
Norfolk is the 5th largest county in England.
Norfolk has 100 miles of coastline stretching from Hopton on Sea to the Wash.
Birthplace of Admiral Nelson – born in Burnham Thorpe.
Home to the only man made national park in the UK – The Norfolk Broads.
Home to the largest seal colony in the UK.
Home to the Royal residence – Sandringham Estate.
These are the best things to do in Norfolk with kids
We'll start with things to do with kids in Norwich first as you will most likely pay it a visit during your stay in Norfolk.
I already mentioned that Norwich is the county capital of Norfolk. Norwich is a lovely city. It has been going from strength to strength over the years.
Whilst other UK towns and cities have suffered decline, Norwich is booming and today it is a thriving market town.
There is so much history packed into this relatively small city, including 31 churches (although down from 57 in medieval times).
Did you know that Norwich is one of the top ten cities in Europe for its number of churches? Read more about the churches in Norwich here.
Some of them have been given a new lease of life and are really worth visiting.
It is said that Norwich had a church for every week of the year and a pub for every day of the year.
I found this map of Norwich (from the Norwich Museum) fascinating.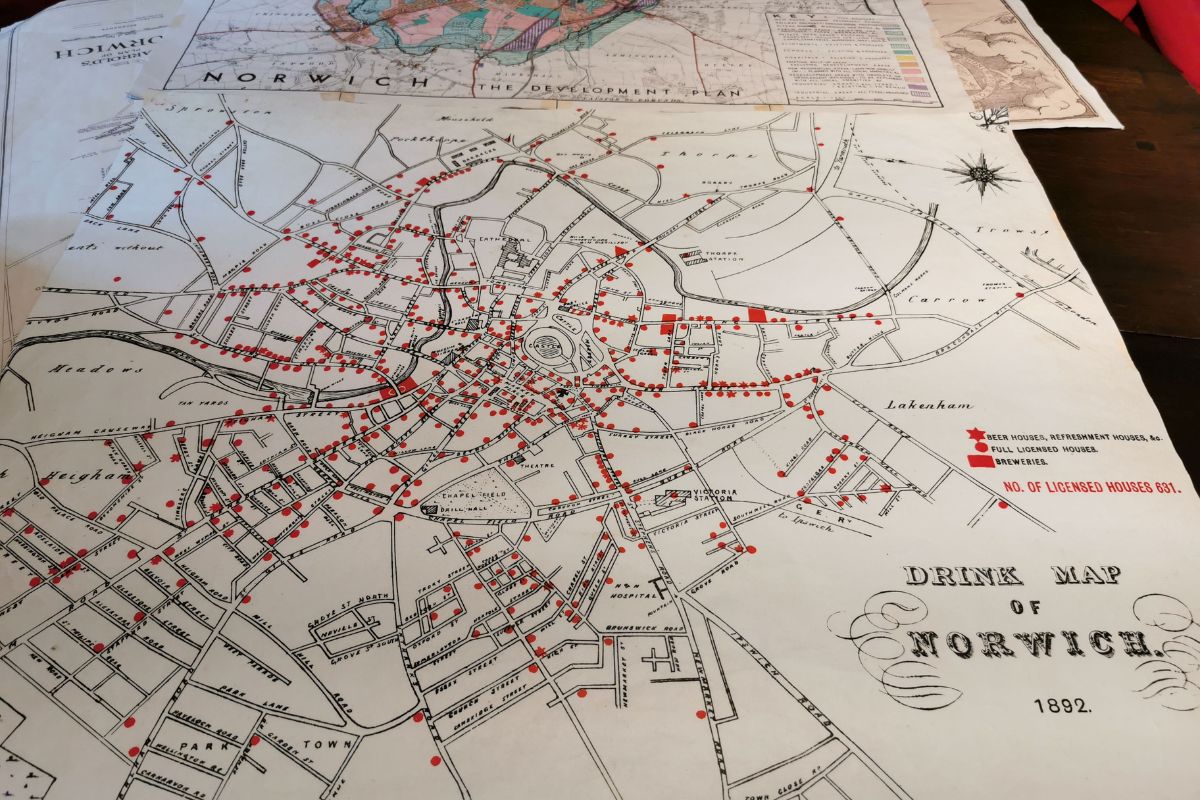 I love that Norfolk's county capital, Norwich, has become a foodie town. So as well as all of the fun things to see and do in Norfolk with kids, the adults can grab some tasty food along the way too.
Norwich has been undergoing a regeneration with lots of trendy bars and restaurants moving into the Norwich Lanes.
If you happen to be needing a restaurant in Norwich, we can highly recommend Haggle (Lebanese food which the kids love) and L'Hexagone (French bistro).
You can visit Norwich on a day trip from London. It takes just under 2 hours on the train.
Here are some of our favourite things to do in Norwich with kids.
Norwich Castle
Norwich Castle is a great place to visit with kids.
There are lots of family friendly activities including a trail with questions to answer after finding the clues around the castle.
There is so much to see there. There is a large natural history section which includes many species native to Norfolk.
The main part of the castle was closed for renovations during our visit but there was still plenty to do. We got a free ticket to visit the Museum of Norwich as an apology and we're so glad we did as we might have missed it otherwise. See below.
Norwich Castle is perfect if you're looking for rainy day activities in Norfolk with kids.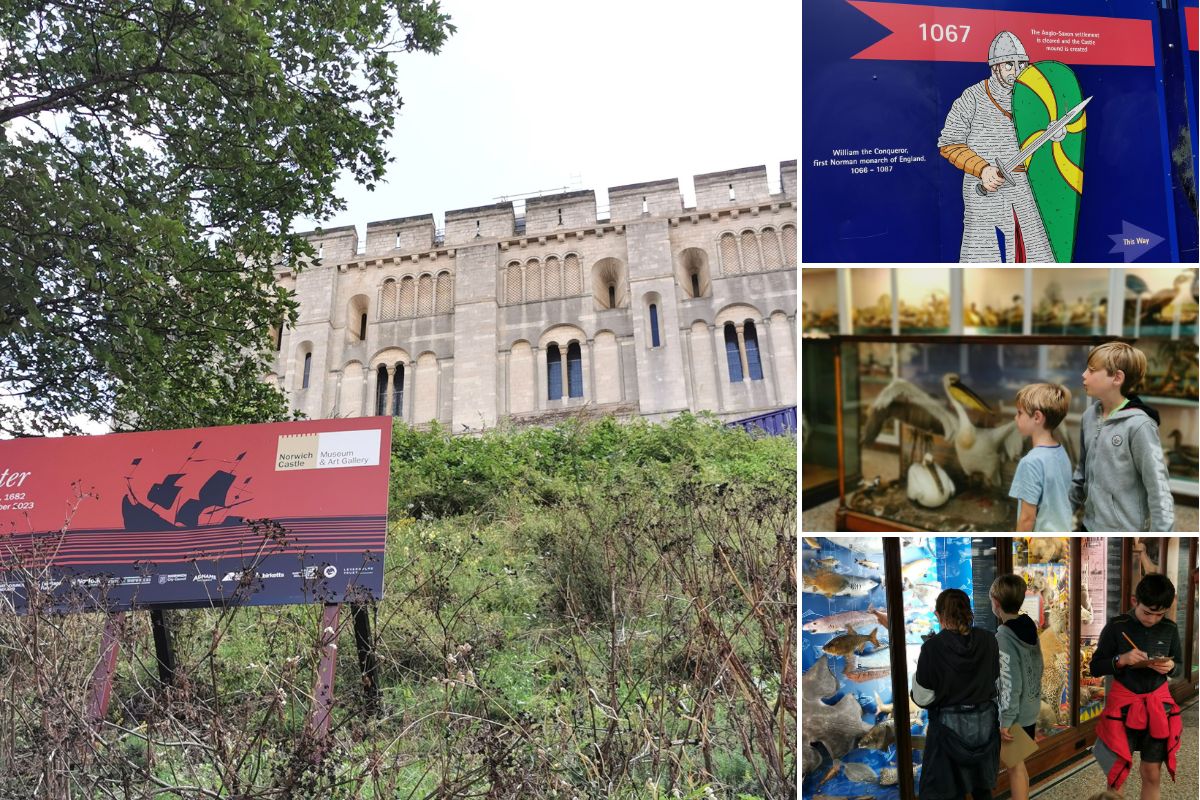 Museum of Norwich
Sticking with Norwich, you should defintely keep Museum of Norwich up your sleeve if you encounter another rainy day.
It is worth visiting anyway regardless of the weather. It tells the fascintating story of Norwich over the years from its industrial hey day when it was the fabric trading centre of the UK.
We absolutely loved their early 20th century pharmacy with all of its lotions and potions in original bottles.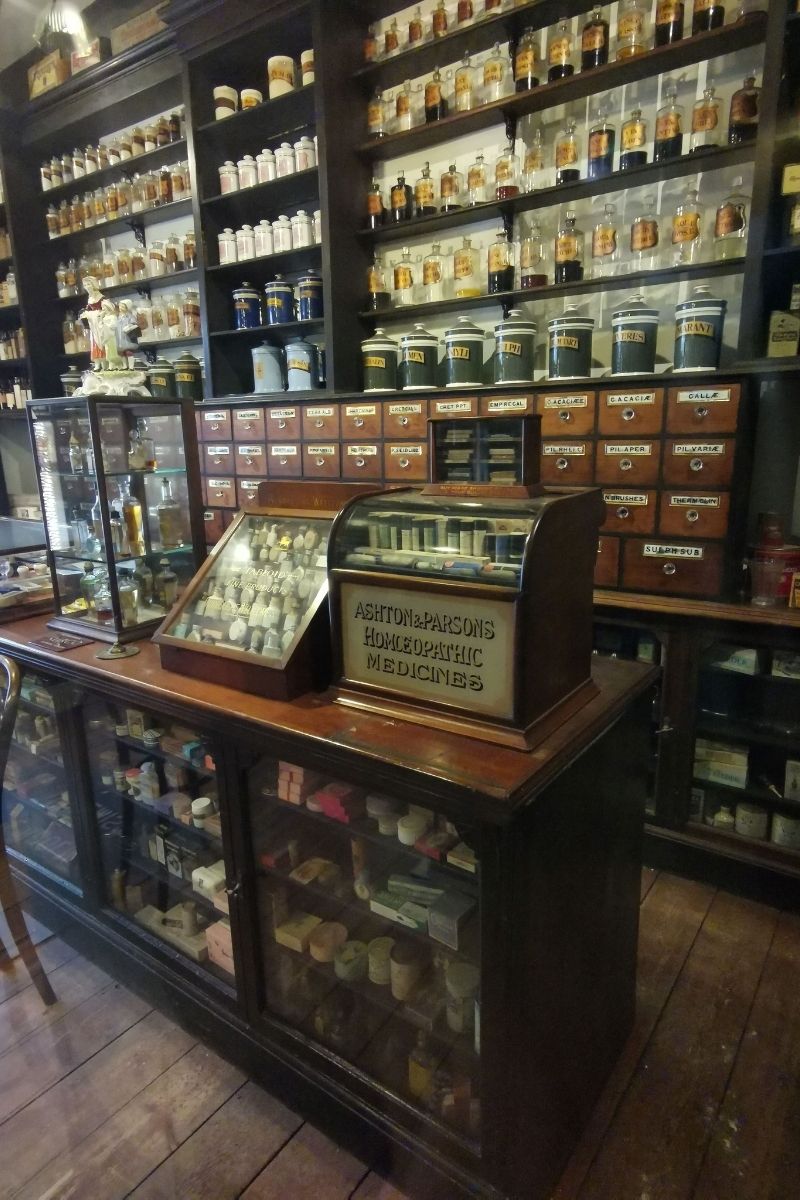 Norwich Market
Norwich Market is the largest and oldest open air market in the country. These days it is buzzing with people enjoying tasty treats from all around the world.
We enjoyed tasty tapas from Spain, noodles from Singapore, delicious dosas from India and sumptuous dumplings from China.
The kids will LOVE the variety of food choices and no doubt will want to grab something from And Eat It, including their famous Brookie (cross between a cookie and a brownie).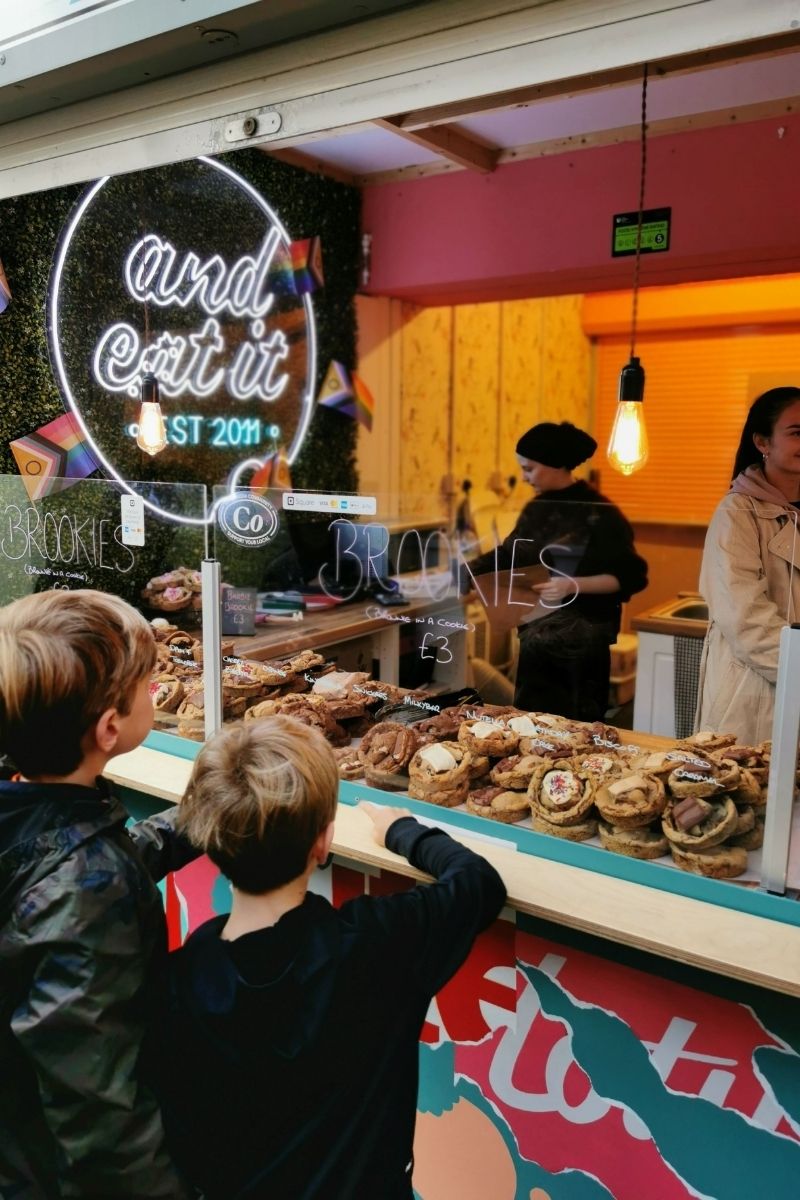 Paddleboarding
Norwich is located next to a network of waterways with the River Wensum running right through the city.
There are also lots of tributaries running to the Norfolk Broads so you can even get on your paddleboard in the middle of the city and head out into the countryside.
There are quite a few places to hire a paddleboard in Norwich of you don't have your own.
The Rivergarden in Thorpe St Andrew or The Red Lion Bishopgate were just a couple that we came across.
This is one of the most fun things to do in Norfolk with children when the weather is good.
If you have your own paddleboard, even better. It's one of our favourite free things to do in Norfolk with kids.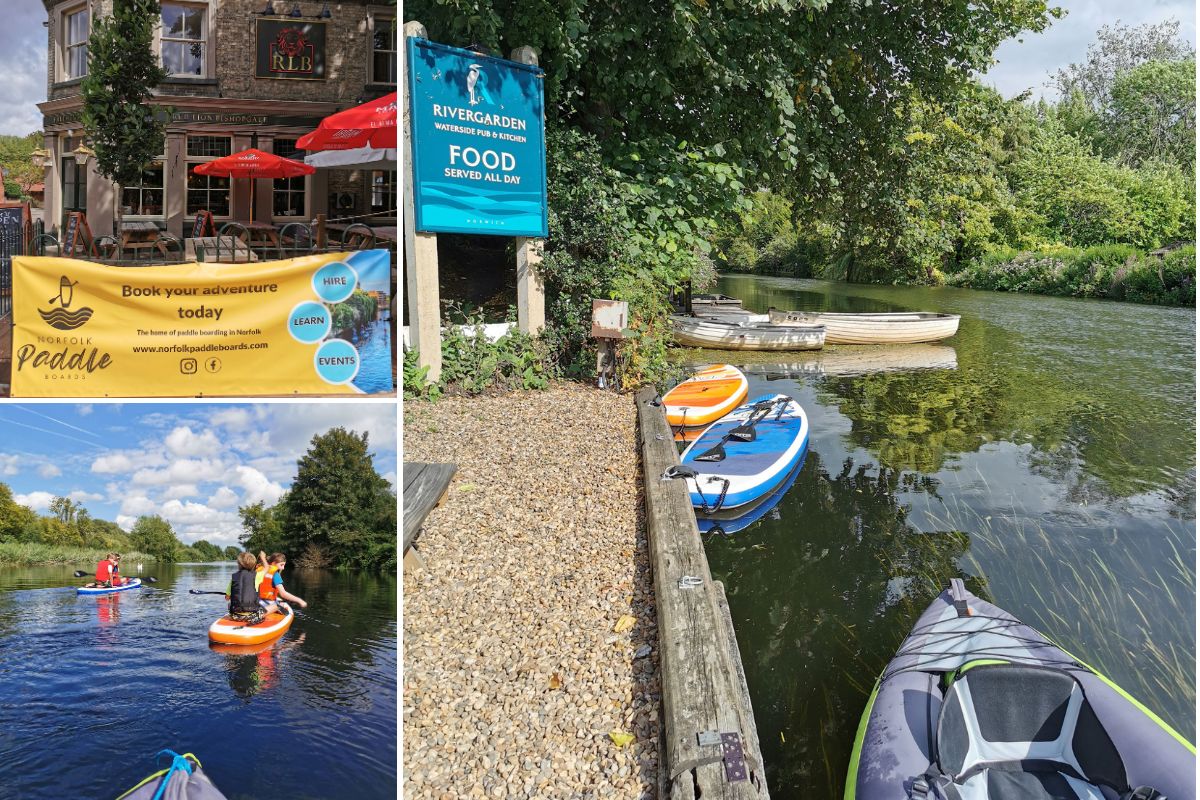 Indoor markets
Visiting an indoor market is a great idea if you're looking for indoor things to do in Norfolk.
There are actually lots of indoor markets in Norwich but one that we loved is St Gregory's Antiques and Collectibles.
It is an Aladdins Cave of treasures, including old toys and books.
This is definitely an alternative use for one of the many churches in Norwich.
See also this guide to markets in Norfolk or our guide to Christmas markets in Norfolk.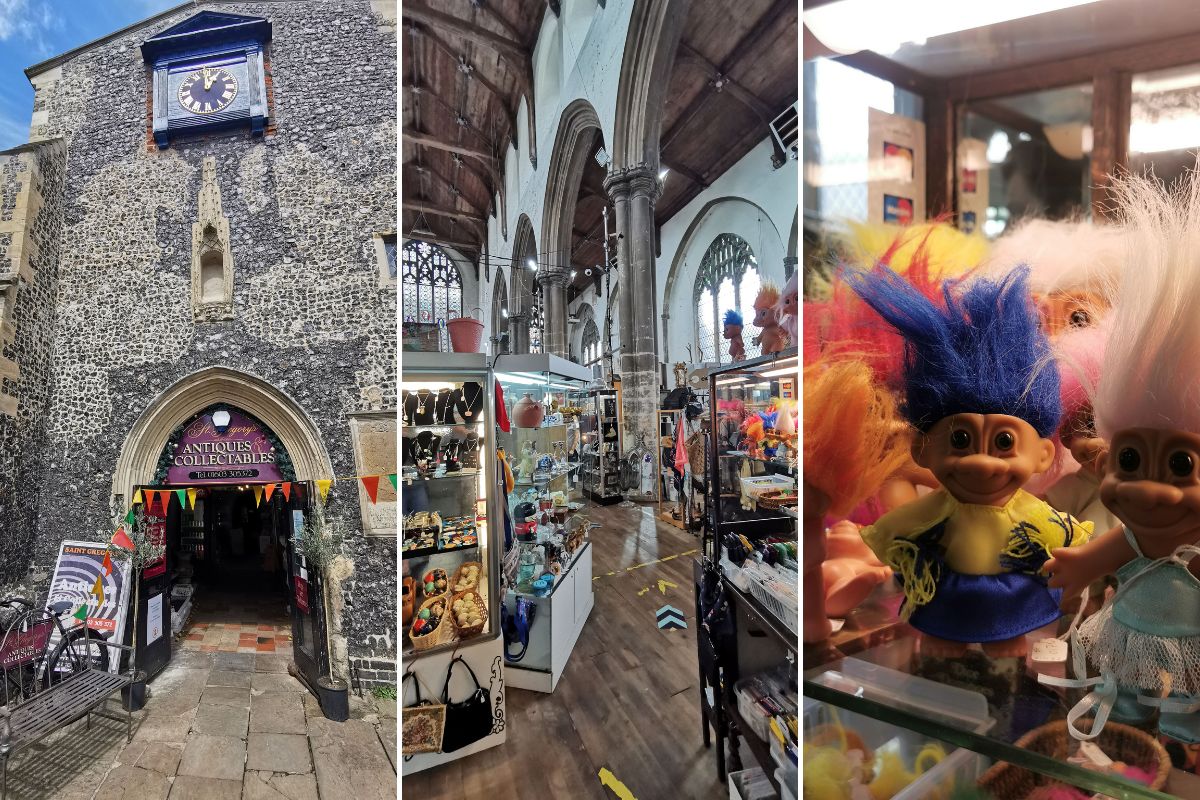 Other things to do with kids in Norfolk
BeWILDerwood
We have visited BeWILDerwood a few times now with the kids at different ages and have loved it every time.
I'm not going to write too much about it here because we have written a detailed review of BeWILDerwood. I'll just say it is one of the most fun things to do in Norfolk with kids.
In fact, as well as being one of the top attractions for kids in Norfolk, it is one of the top attractions in the whole of the UK.
So you really do need to visit! Just make sure to visit when it's not raining as it is all outdoor based and not a great place to visit on a rainy day in Norfolk.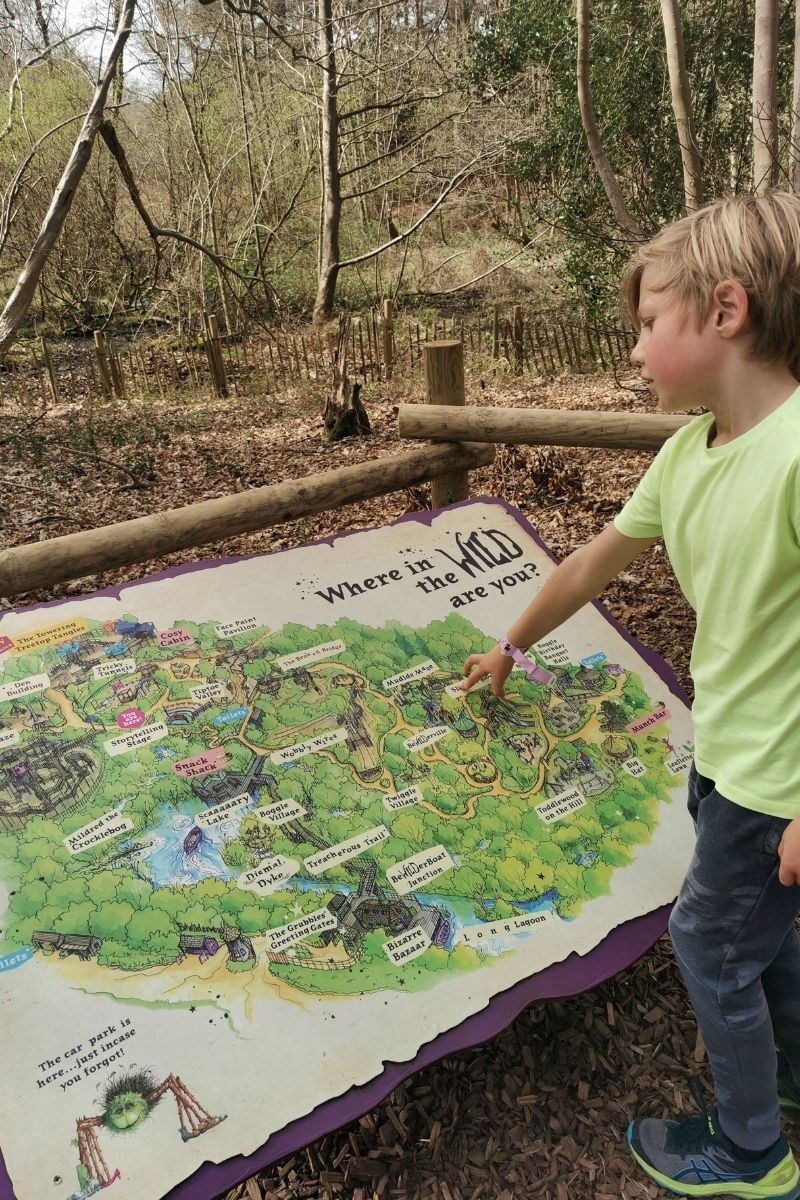 Roarr! Dinosaur Adventure
Roarr! Dinosaur Adventure is one of the top things to do in Norfolk with kids who love dinosaurs.
In fact, it is one of the best dinosaur days out in the UK!
As well as the many dinosaurs there are adventure rides, indoor play and a splash pad for summer visits.
They also have special events through the year. We love Halloween at Roarr!
See here for more Halloween days out in Norfolk.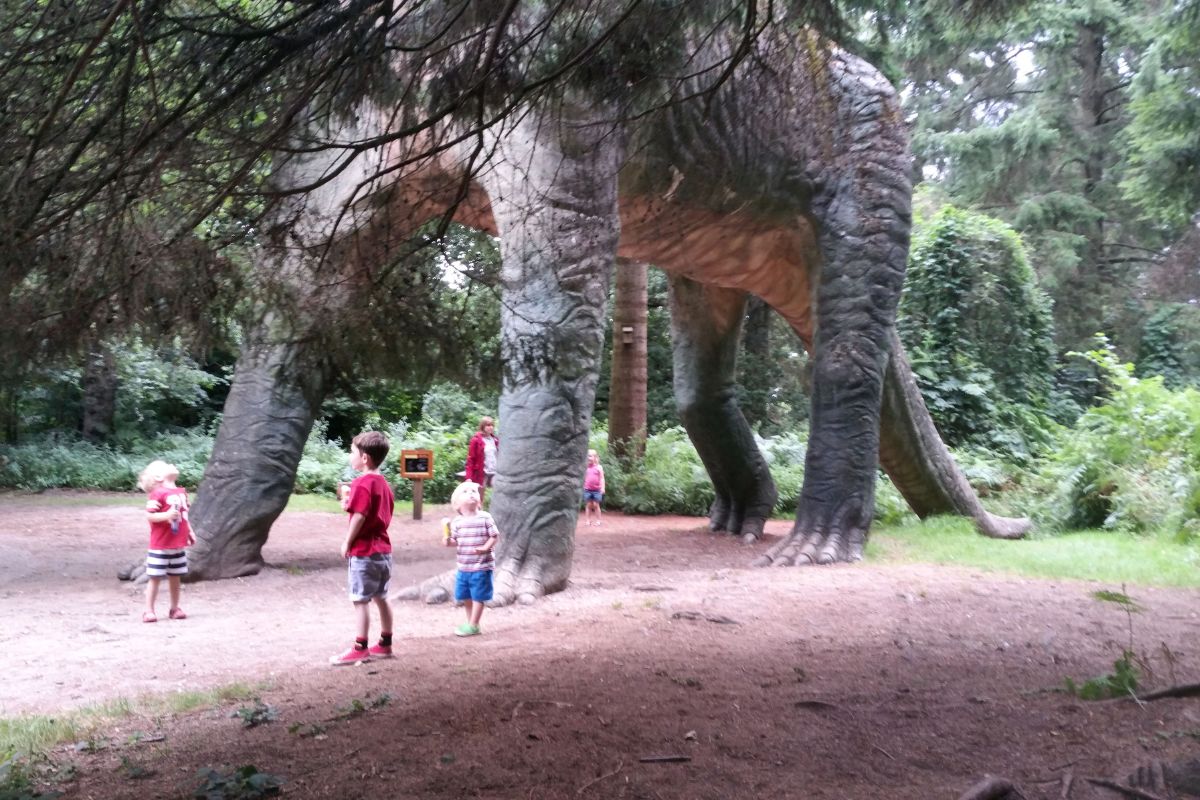 Norfolk beaches
Whether you are visiting Norfolk in the summer or winter, you will want to head to one of the many beautiful beaches in Norfolk.
Along the 100 mile stretch of coastline you'll find lots of very different beaches.
From the huge expanses of sand at Holkham to colourful beach huts at Wells-next-the-sea. From fossil finding at Hunstanton Beach to the thrills of Great Yarmouth Pleasure Beach.
We love the beaches in Norfolk – even in the winter. There's nothing better than a bracing walk along a beautiful beach (as long as you are wrapped up warm)!
Perfect days out with kids Norfolk for our would be a walk along the beach followed by a warm and cosy pub lunch by an open fire.
We highly recommend The Victoria at Holkham Beach for this.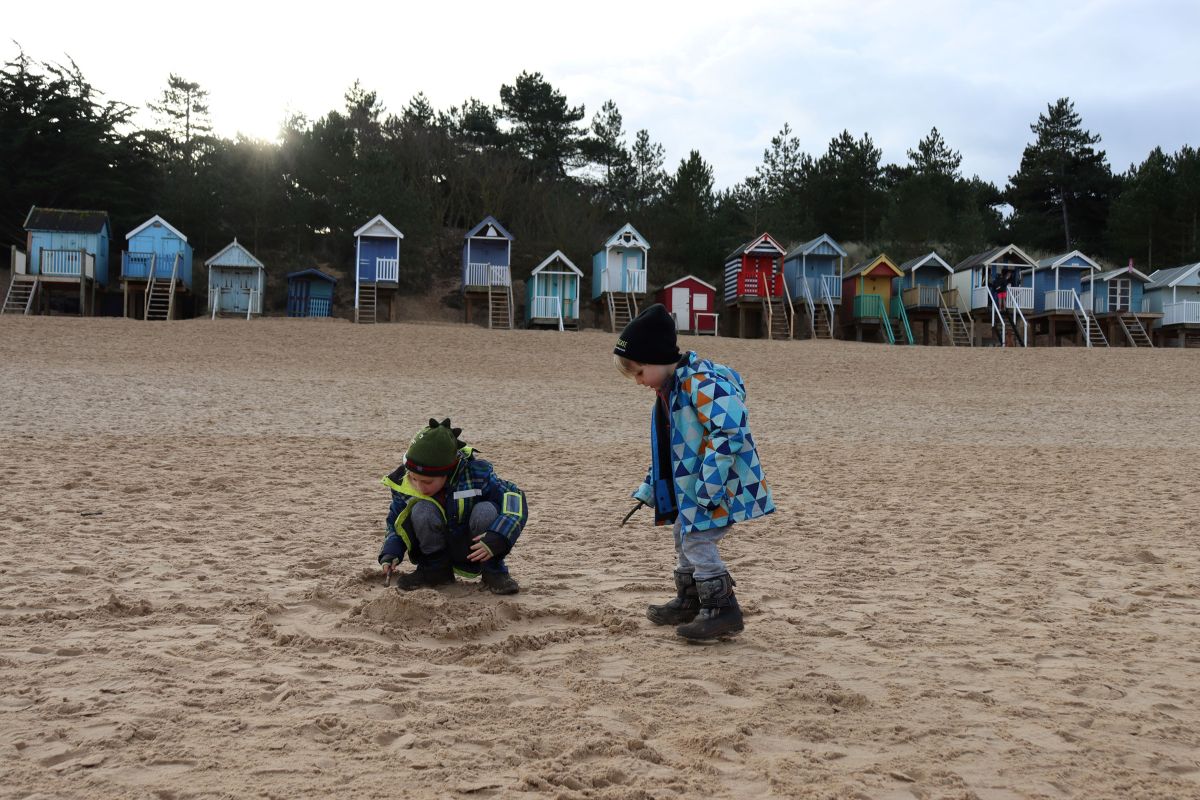 Norfolk Broads
If you're wondering where can I take my kids in half term in Norfolk – why not try a boat trip on the Norfolk Broads?
We once hired a boat for a week and spent a lovely time slowly travelling the waterways and stopping off at pubs along the way.
You can also hire boats for day trips. See Broads Tours for more details.
The Norfolk Broads are also great for other watersports such as paddleboarding of kayaking.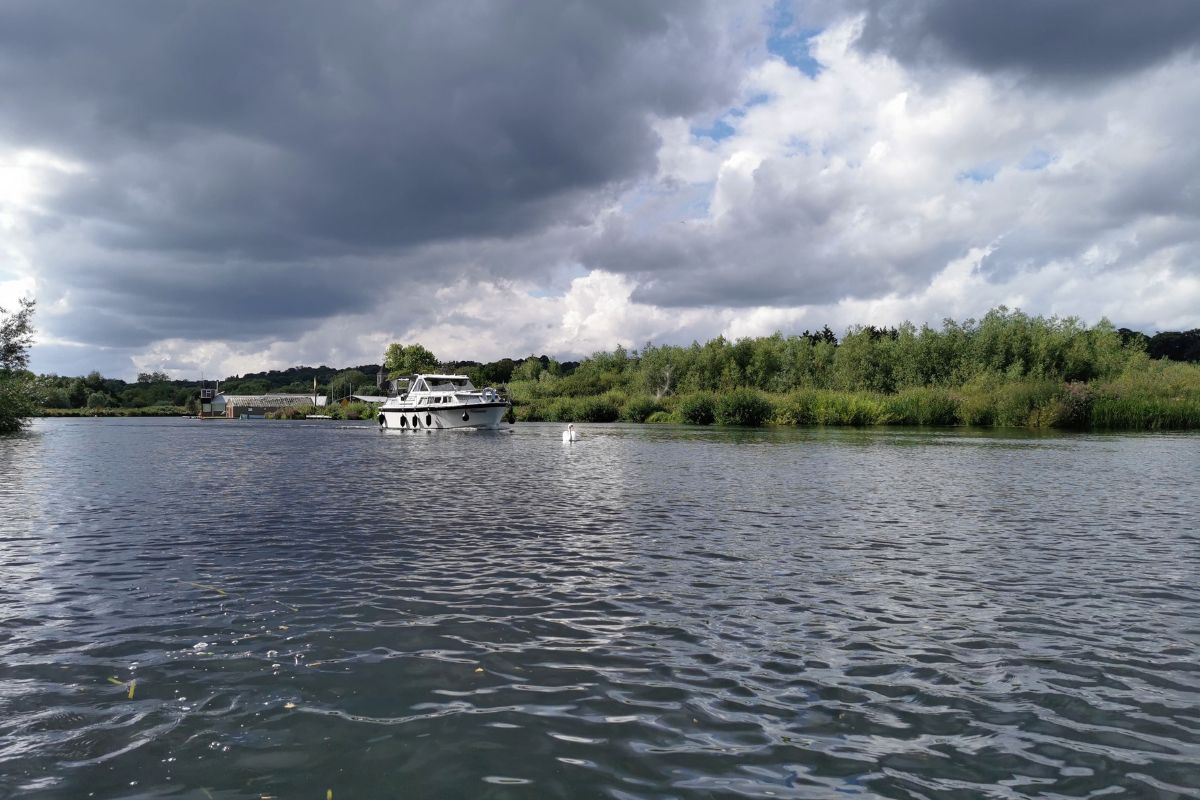 Great Yarmouth Pleasure Beach
Great Yarmouth Pleasure Beach offers fun for the whole family. There are lots of rides to choose from but their traditional wooden rollercoaster is undoubtedly the star attraction at Great Yarmouth Pleasure Beach.
Opening in 1932, it is one of only two wooden rollercoasters still standing in the UK.
Our kids have been many times over the years and are showing no signs of getting bored.
You might also like Pleasurewood Hills Theme Park which is just on the Norfolk – Suffolk border. It is packed with good old fashioned theme park fun. The rides are more aimed at younger kids.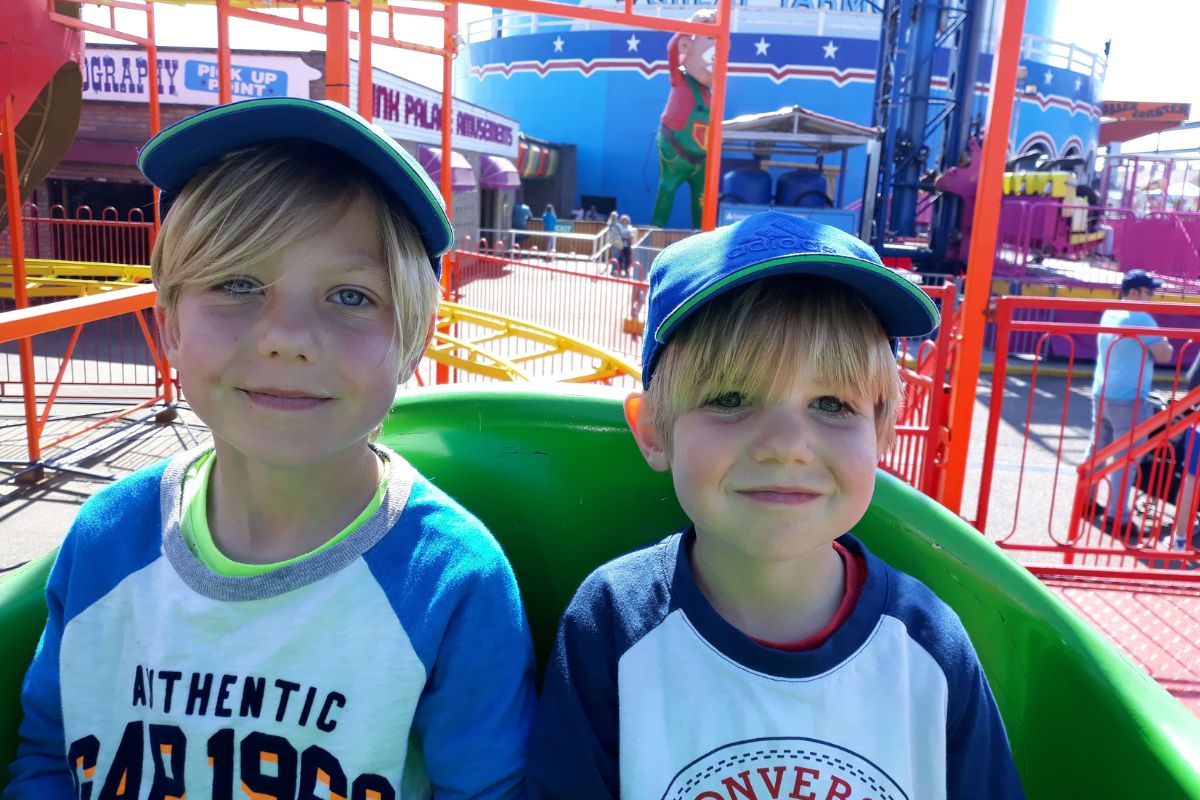 Hippodrome circus
Also in Great Yarmouth is the Hippodrome Circus where you can enjoy good old fashioned circus fun.
And if you're visiting Norfolk at Christmas with kids, the Hippodrome puts on a fabulous Christmas show.
See here for a whole load of Christmas events taking place in Norfolk this year.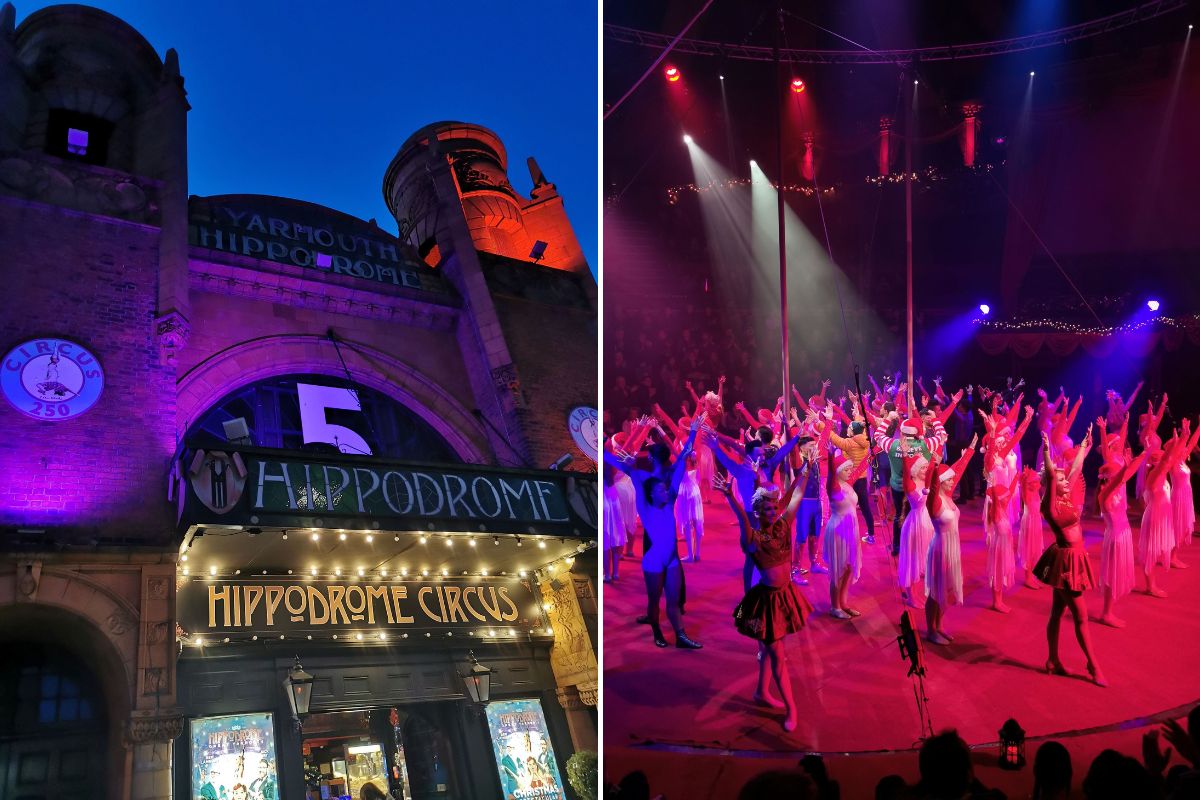 Norfolk Seal Colony
Blakeney Point is home to the largest grey seal colony in the UK. But there are other places to see seals in Norfolk.
The main places to see seals in Norfolk are:
Blakeney Point
Horsey Gap
Winterton Beach
Waxham Beach
You can spot the seals by hiking along the coastline from Winterton-on-Sea to Horsey Gap but the best way to see the seals is by boat.
This causes them the least disturbance. You can take boat trips from Blakeney harbour and Morston quay. These trips last around one hour.
The best companies to take a boat trip with is Beans Boats and Bishops Boats. Make sure to book in advance.
Best time to see the seals in Norfolk? This depends on what type of seal you want to see. Also bear in mind pupping seasons.
Grey Seals have their pups between November to February.
Common Seals have their pups between June to August.
While you're in the area, head to Horsey Windpump run by the National Trust and climb to the top for the views.
SeaLife
Sticking with sea life, you can have a fun and educational day out at the SeaLife centres in either Great Yarmouth or Hunstanton.
See here for more information on SeaLife Great Yarmouth. Kids will love the immersive VR experience, ocean tunnel, rockpool experience and sleepovers!
See here for more information on SeaLife Hunstanton. If you can't get to see the seals on the Norfolk coast, you can see them here and learn about their seal rescue programme.
These SeaLife centres are good to have in your back pocket for things to do in Norfolk when it rains.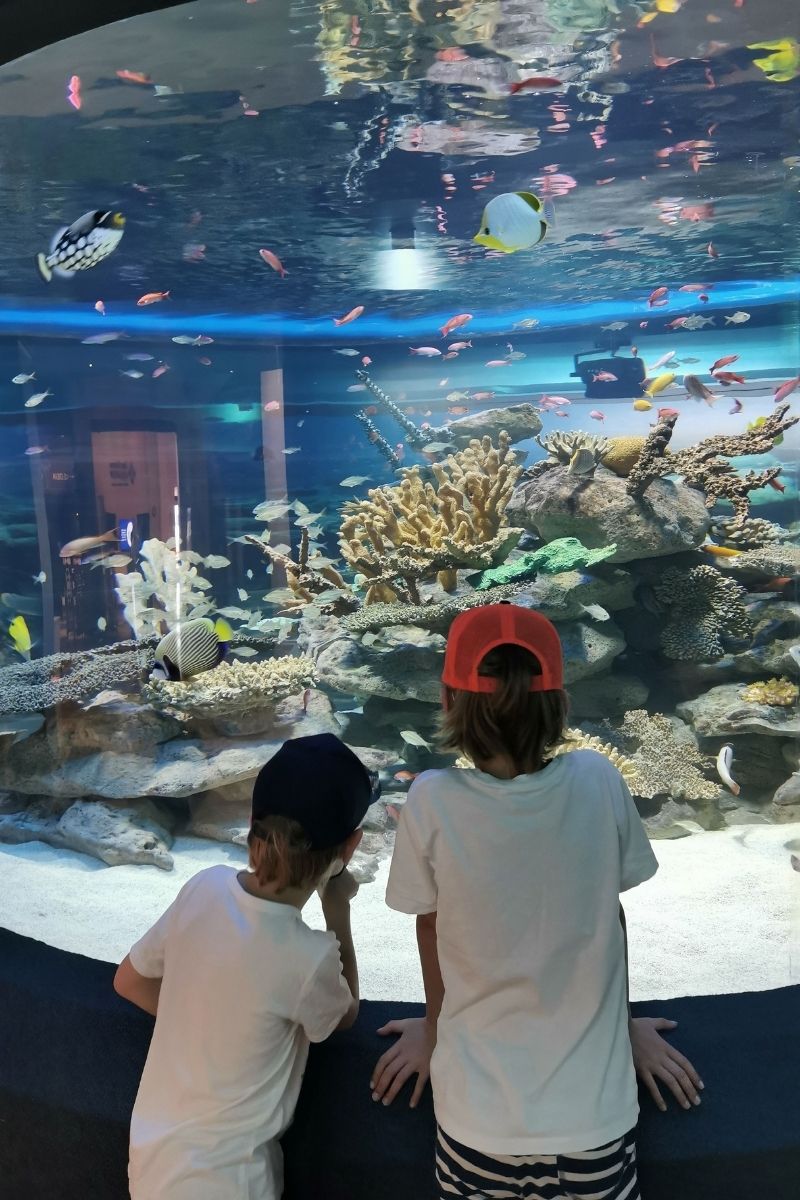 Norfolk Lavender
Norfolk Lavender is one of the best places to see lavender in the UK. It may not sound like fun for kids but they also have an animal garden and play park.
Norfolk Lavender is just down the road from Hunstanton so you could pop in for a visit before or after your day at the beach.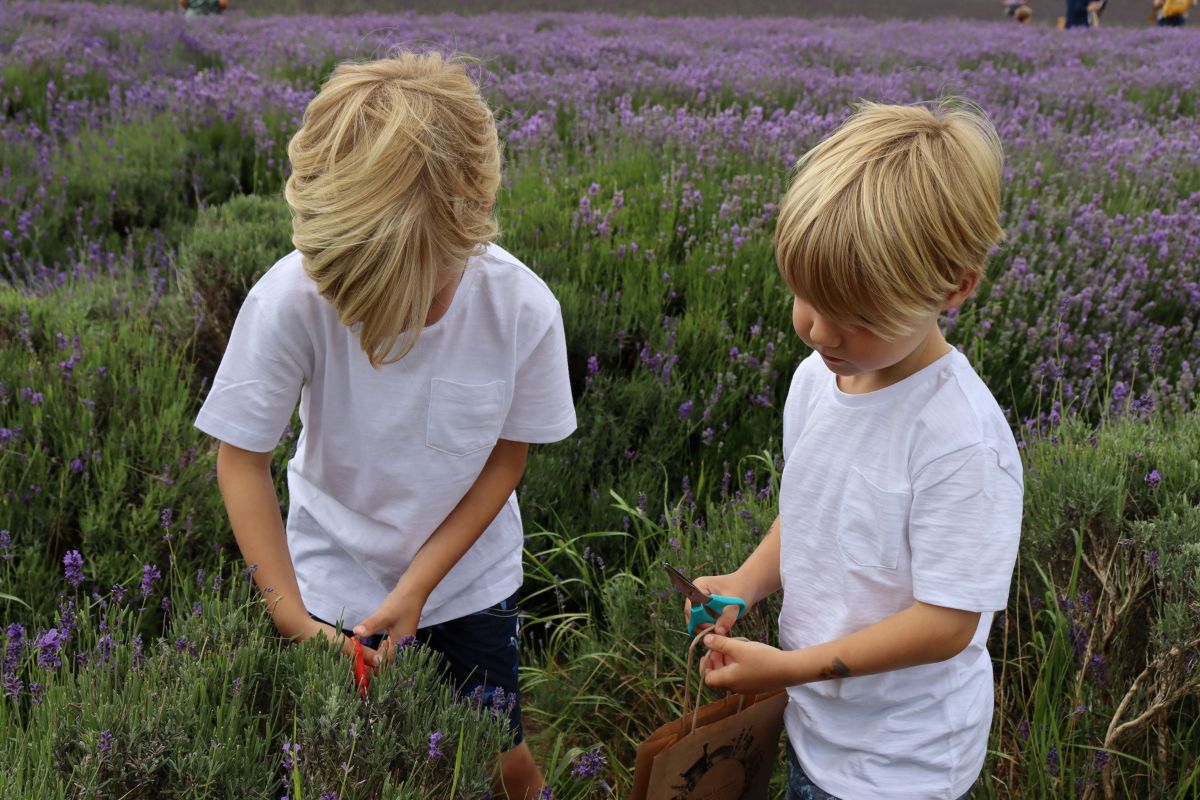 Whitlingham Adventure
If you're into water sports then you need to visit Whitlingham Adventure.
Alternatively, there are lots of land based activities there and it is a great place for a walk or a bike ride.
Blickling Estate
Blickling Estate is a beautiful Norfolk National Trust property.
The house is a beautiful Jacobean mansion with sprawling grounds. If you're visiting in late spring, you will encounter their stunning bluebell wood.
Around Christmastime, the estate transforms into a winter wonderland. It is one of the best places to see Christmas lights in Norfolk.
If you haven't got your National Trust membership, we highly recommend getting a family one. Especially when visiting Norfolk.
The other Norfolk NT properties worth visiting are: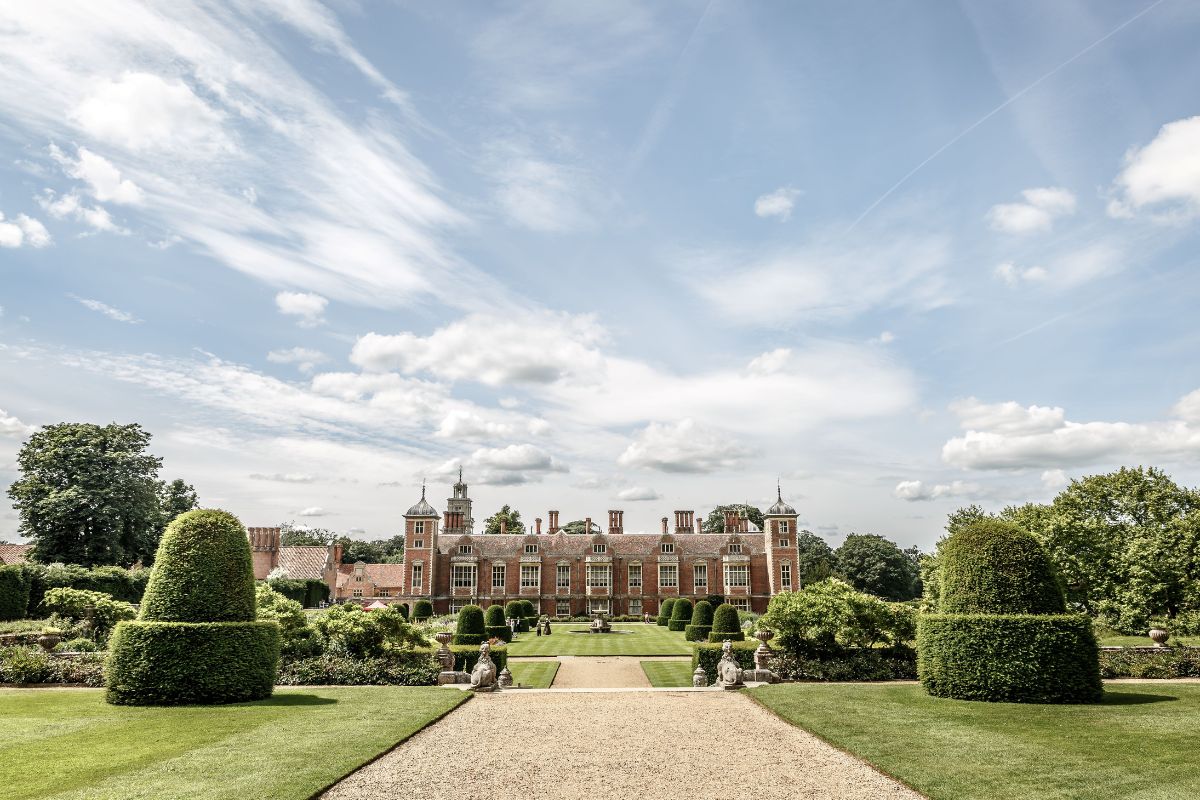 Holkham Hall
At Holkham you will find Holkham Hall & Estate. As well as visisting the beautiful hall and walled gardens, there is a high ropes course, a woodland play area, boat hire and more.
Sandringham Estate
Despite being a Royal residence, Sandringham Estate is open to the public and is a lovely place to take the kids in Norfolk.
There are beautiful walks in the grounds and a play area as well as a variety of places to eat.
Watch out for their seasonal event at Christmas (Luminate) which is hugely popular.
Norwich City Football Club tour
Football fans visiting Norfolk may want to take a look around the Canaries home turf with a Norwich City FC stadium tour.
We haven't actually done this tour but suspect that it would be very similar to our tour of Chelsea Football Stadium.
Norfolk Snowsports Club
Norfolk even has its own ski run. OK, it's an artificial ski slope but the Norfolk Snowsports Club is a great place to try out a variety of winter sports including snowboarding, skiing and tubing.
Norfolk Treasure Trails
We love trying out these treasure trails in the cities we visit. They are a great way to get to know the place you are visiting as they are packed full of facts. They're also a very inexpensive day out with kids.
See here for all of the Treasure Trails in Norfolk.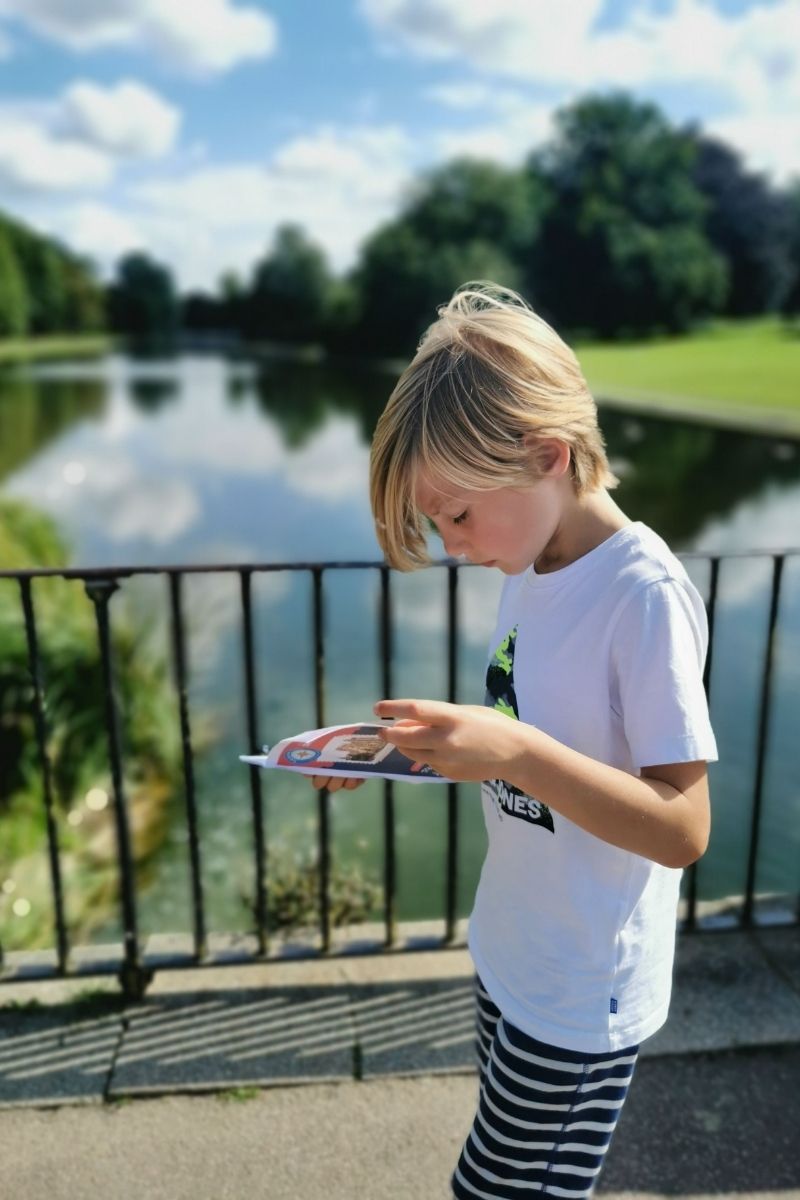 Wroxham Barns
Wroxham Barns is a great place to visit with kids in Norfolk.
They can offer a full day out for the family, including jumping pillows, go-karts, mini golf, truck ride and more. Then there are the animals on the Junior Farm to visit.
At Halloween and Christmas they have fun events, including a popular Santa's Grotto.
Steam Trains in Norfolk
There are a number of great steam train experiences for the train enthusiasts in your family.
Each of them run specials through the year including Santa Trains at Christmas. Mid Norfolk Railway also runs the popular Polar Express train ride experience.
See also – Wells and Walsingham Light Railway which is the smallest light railway open to the public.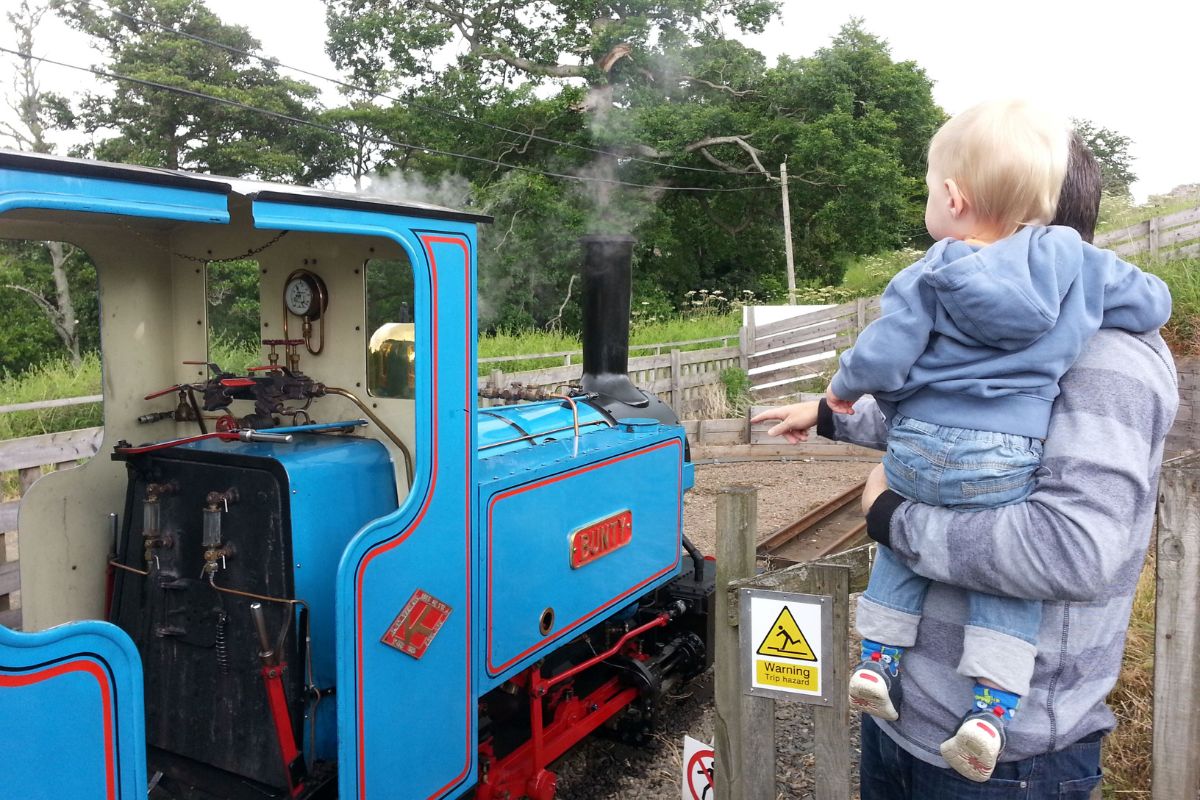 Thursford
On the topic of steam trains, Thursford offers an interesting day out at their steam engine museum. But Christmas is when it all kicks off.
Thursford is one of the best places to visit in Norfolk at Christmas with its Enchanted Journey of Light, its Christmas Spectacular and Santa's Magical journey.
Looking for more places to see Santa? See here for the best Santa's Grottos in the country.
High Lodge in Thetford Forest
There are so many activities on offer at High Lodge in Thetford Forest that it is best to just direct you to their website to see what's going on.
In brief, there's:
Go Ape
Forest Bathing
Archery
Adventure Golf
Playground
They also have a Gruffalo trail.
It's one of our favourite places to visit with kids in Norfolk. You can also stay there in their Forest Holidays accommodation.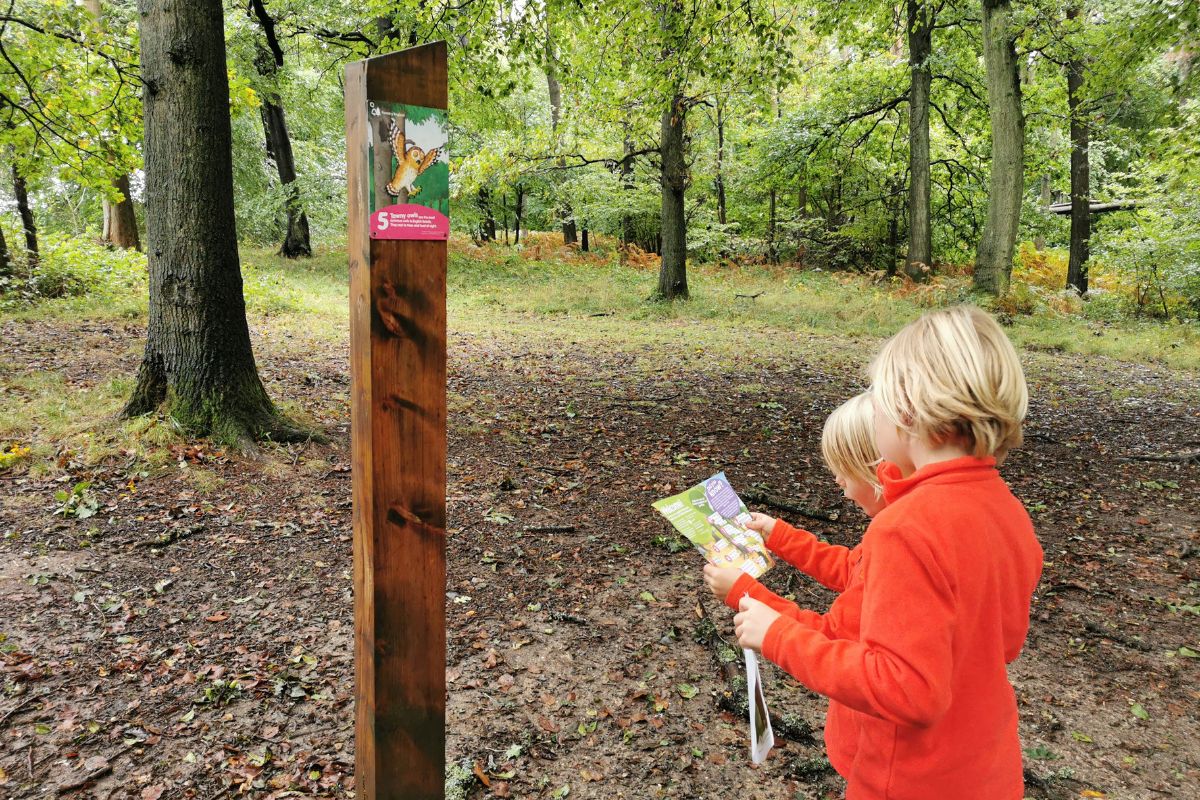 Places to stay in Norfolk with kids
If you're looking for lovely family holiday accommodation in Norfolk, we recommend Forest Holidays. They offer a similar holiday to Center Parcs.
West Lexham Treehouses – see also our guide to treehouse holidays with kids.
Wroxham Barns Camping – how about trying family camping at Wroxham Barns? New to camping? Take a look at our guide to camping with kids!
We hope that you have enjoyed our guide to visiting Norfolk with kids. If you have any suggestions for more things to do in Norfolk with kids, please drop us a line and let us know.