North Wales With Kids: The Perfect 2-Day Itinerary For Families
If you've ever wondered about visiting North Wales with kids, we would say do it!
Following investments into destinations such as Zip World, including Zip World Fforest, Velocity & Titan ziplines, and also in Adventure Parc Snowdonia, North Wales has earned itself the title of the Adventure Capital of Europe.
Of course, Wales also has some stunning beaches, the highest mountain in Wales and England and more historic castles per square mile than any other country in Europe.
Combine it all together and you have the perfect family holiday destination with something for everyone.
We were invited by Visit Wales to try out some of the fun activities for families in North Wales and report back on our findings.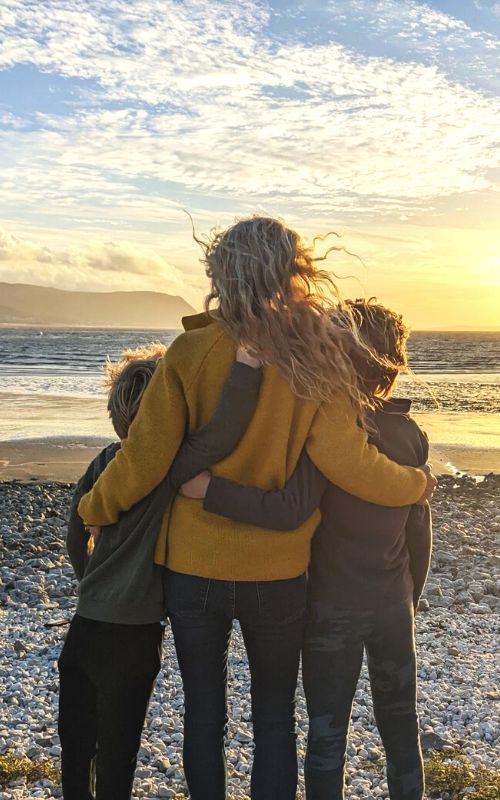 If you've been following our adventures on our family travel blog or on Instagram for a while now, you'll know that we love adventurous travel.
I wouldn't go as far as saying that we are adrenaline junkies, but we love trying adventurous activities. Wales has been on our radar for a long time and North Wales, in particular, is perfect for adventure lovers.
We had the most fun, action-packed 2 days in North Wales with kids and want to share our itinerary with you.
Our 2-day North Wales with kids itinerary assumes that:
We drove from North London and it took us around 4 hours to reach North Wales.
We visited at the end of September so it was off-peak (therefore no crowds or queues).
We didn't have time to squeeze in a Zip Line but if you are an adrenaline junkie, you might want to check out Velocity 2 at Zip World Penrhyn Quarry – billed as the fastest zip line in the world and the longest zip line in Europe!
We are an active family and like to pack in as much as we can. If this seems like too much, you can adjust this 2-day family-friendly North Wales itinerary to suit.
So, here's what we did with a weekend in North Wales with kids and what we think in general of family holidays in North Wales in the autumn…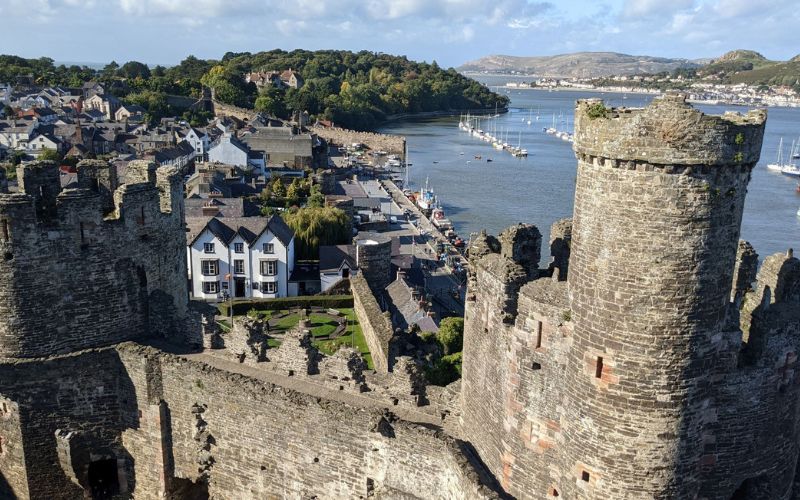 2 days in North Wales with kids – Day 1
We arrived in North Wales on a Friday night at the end of September. We checked into the Hilton Garden Inn Snowdonia.
This hotel is right next door to the Snowdonia Adventure Parc (1 minute walk) and no more than 45 minutes from any of our activities.
We will give more details on the hotel at the end of the post.
After a hearty breakfast at the Hilton Garden Inn Snowdonia, we walked over to Adrenaline Indoors at Adventure Parc Snowdonia.
Adventure Parc Snowdonia
There is so much going on at the multi-award winning Adventure Parc Snowdonia. It is famous for its inland surfing and other watersports but they also have loads of indoor activities.
We tackled the family-friendly Ninja Assault Course. The best way to describe it is that it is like soft play for adults.
Things you need to know about the Ninja Assault Course.
It is suitable for age 5+.
You need to wear a long sleeved top, trousers and trainers.
No jewellery or items in pockets.
Some of the more adventurous slides and jumps are for age 10+.
The session lasts 1 hour (arrive 30 minutes before your session to check in and have safety briefing).
There is a café and a viewing gallery upstairs if you are not taking part.
For more information on the Ninja Assault Course – see their website. It's really one of the best days out with kids in North Wales.
Address: Adventure Parc Snowdonia, Conwy Rd, Dolgarrog, Conwy, LL32 8QE.
Ticket price: £23.00 per person or £60 for a family of 4.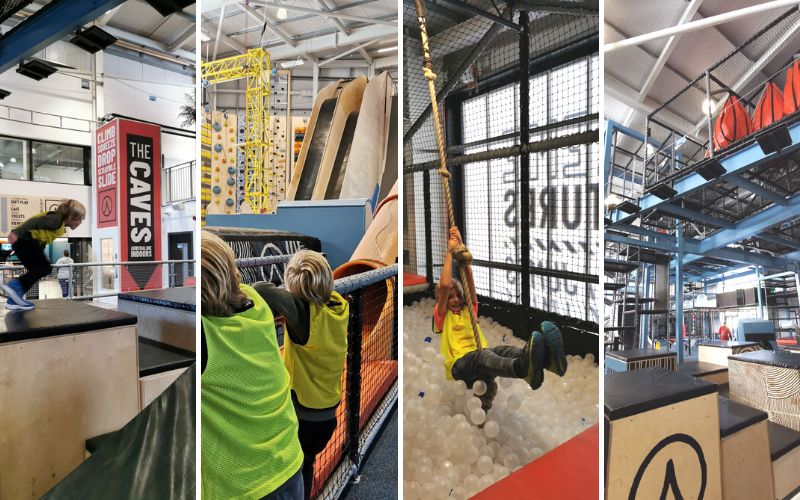 National Trust Bodnant Garden
After a much needed rest and lunch at Zephyr's Bar & Grill at the Hilton Garden Inn Snowdonia, we set off to visit the gardens at Bodnant Garden – a National Trust property.
It was only an 11-minute drive from the hotel and was on the way to Conwy Castle so we thought it was worth a quick stop. We were so glad we popped in because they are some of the most beautiful gardens we have ever visited.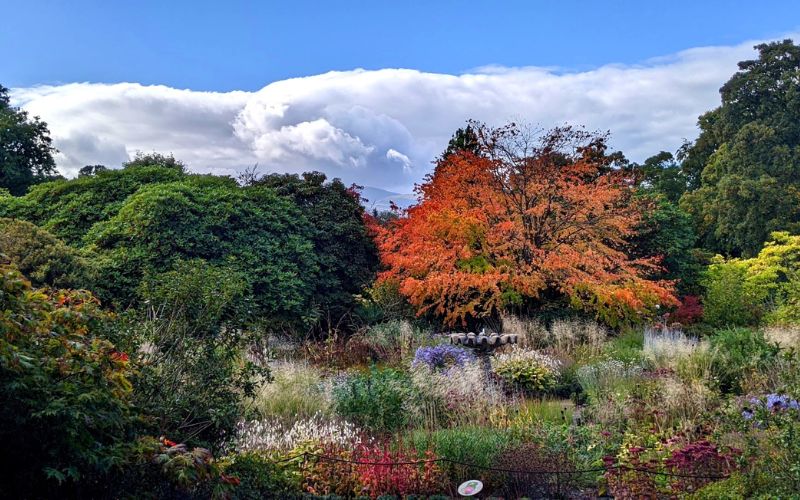 Here are a few pictures because it's hard to describe in words just how lovely it is, especially with the autumnal colours just emerging.
If you are visiting North Wales with kids in the autumn and are bringing your dog, this is somewhere you can visit because they allow dogs between 1st October and 31st March.
You could spend a full day here and if you have an NT membership, it is a great option if you're looking for free days out in North Wales with kids.
Address: Bodnant Garden, Tal-y-Cafn, near Colwyn Bay, Conwy, LL28 5RE.
Ticket price: It costs £14.00 per adult and £7.00 per child or £35.00 per family. We visited for free with our National Trust membership.
Conwy Castle
From Bodnant Gardens we headed north to Conwy Castle. It was just a 10-minute drive from the gardens.
Conwy Castle is a World Heritage Site and one of the best examples of 13th century defence structures. It was built by Edward I between 1283 and 1287. If you like castles, you can read more about Welsh castles here.
We spent around 60 minutes visiting Conwy Castle. Most of this time was spent climbing up and down the various turrets. There are some incredible views over the River Conwy from the top of the towers, but be warned, it can get quite windy up there!
You can read more about Conwy Castle here.
Address: Conwy Castle, Rose Hill St, Conwy, LL32 8AY.
Ticket price: It costs £11.00 per adult and £7.80 per child (5 – 17) or £36.60 per family. Our top tip for visiting Conwy Castle is that you are entitled to half price entry if you have an English Heritage membership.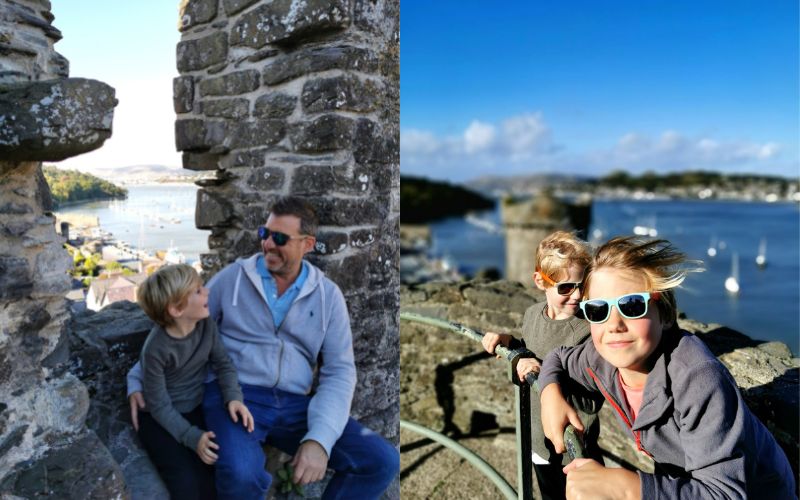 We also had time to pop in to the Smallest House in Great Britain. The visit literally took 1 minute! There is one tiny room downstairs and a tiny bedroom upstairs. The last resident was a 6ft 3 fisherman!
This is probably one of the more unusual things to do in North Wales with kids.
Address: Smallest House in Great Britain, Lower Gate Street, Conwy, Conwy, LL32 8BE.
Ticket price: It costs £1.50 for adults and £1 for children under 16. There is no need to book.
Llandudno
The sun was shining so we squeezed a quick visit to Llandudno in at the last minute. We had promised the kids an ice cream and ice creams always taste better at the beach.
Llandudno is a Victorian seaside gem with a pier and a seafront lined with beautiful Victorian houses and hotels.
There is also a cable car and the Great Orme Tramway but we didn't have time to visit these.
After an ice cream we headed to West Shore Beach just as the sun was setting and enjoyed the most spectacular sunset.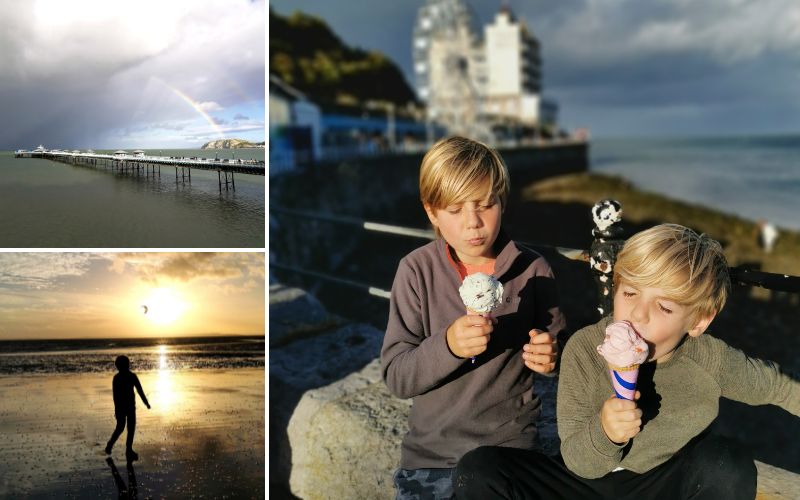 Dinner
We enjoyed a lovely dinner at Groes Inn, the oldest licensed pub in Wales. It was only a 7-minute drive from Conwy and an 8-minute drive from the hotel.
As well as having some wonderfully fresh and tasty food, it was cosy and friendly. It also has stunning panoramic views of Conwy from the garden terrace.
Visiting on a Sunday? It looks like they serve the most amazing Sunday roasts!
Address: The Groes Inn, Llanrwst Road, Conwy, North Wales, LL32 8TN.
2 days in North Wales with kids – Day 2
After an early breakfast at the hotel, we packed up and checked out.
We headed straight for the beautiful town of Betws-y-Coed which is considered to be one of the most beautiful villages in Wales.
We stopped for a few pictures of the Pont-y-Pair Bridge (built around 1500) but didn't have time for much more because we had a 10am booking for the Snowdon Mountain Railway.
Snowdon Mountain Railway
If you are visiting North Wales with kids and want to experience some epic views but don't want to drag the kids on a hike, you'll be pleased to know that there is a train that goes most of the way up Snowdon.
The Snowdon Mountain Railway is one of the most scenic railway journeys in the world and is a must if you don't want to or can't hike up Snowdon.
At the time of visiting and writing this blog post, the train was only going 3/4 of the way up to the summit and stopping at Clogwyn Station. Snowdon Summit's Visitor Centre, Hafod Eryri, is closed until 2023.
This was fine for us though because we got amazing views on the way up to Clogwyn and just as we stopped, the clouds descended so we wouldn't have been able to see a thing at the top anyway.
The journey time to Clogwyn Station is 45 minutes. Once there, you get 30 minutes to walk around and take photos. You can even pretend to the hikers you pass that you have hiked up without breaking a sweat :) The journey down is 45 minutes so the whole experience will take about 2 hours.
If you feel like you should really hike at least part of the route, you could just hike the last part from Clogwyn or you could buy a one-way ticket and hike down.
The walk is one of the most family-friendly walks in the UK and the views are just stunning.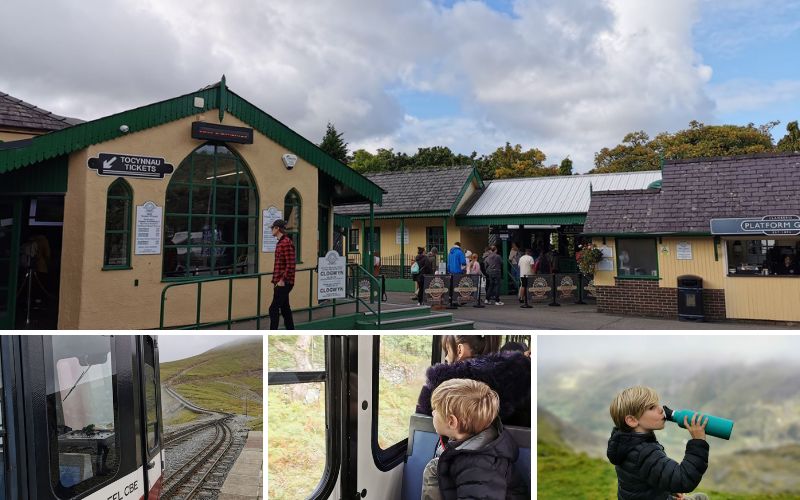 Our tips for taking the Snowdon Mountain Railway are:
There is a large car park opposite the railway station and another one next to the Trading Post just around the corner.
You need to arrive no later than 10 minutes before departure to pick up your tickets.
The weather can change quickly so be prepared and take a warm, waterproof coat for your 30 minutes at the top.
We had a flask of hot chocolate with us which we filled up at breakfast at the Hilton Garden Inn Snowdonia.
Swap sides with your fellow carriage passengers on the way down for a different view.
The railway closes for winter on 30th October.
Address: Snowdon Mountain Railway, Llanberis, Gwynedd, LL55 4TT.
Ticket price: Adult single/return – £25/35. Child (3-15 yrs) single/ return – £15/25.
By the way – if you want to stay in this area, Forest Holidays has a great site in Beddgelert. It is one of our recommendations for cheaper alternatives to Center Parcs.
Zip World Fforest
We finished our Snowdon Mountain Railway experience at about 12pm and from there drove straight to Zip World Fforest.
The drive takes around 30 minutes – unless you stop for some views along the Pen y Pass (which are stunning by the way).
Our booked time slot for the Fforest Coaster was 2.30pm but we arrived closer to 12.45pm. We should have had lunch first but as soon as the kids saw what we were doing, there was no way they were interested in lunch!
We went to the check-in area and asked if we could move to an earlier slot. The great thing about visiting North Wales in the autumn (off-peak) is that there were fewer crowds visiting. It was, therefore, no problem to change our time slot.
The Fforest Coaster is part of Zip World Fforest and is hands down one of the most fun activities for kids in North Wales.
We absolutely loved it.
It is like a rollercoaster combined with a bobsleigh that whizzes through the forest at up to 25mph. The only Alpine coaster of its kind in the UK.
Genuinely, we loved it!
Your ticket entitles you to 3 rides and how long this takes will depend on the queues. One of the great things about visiting North Wales with kids in the autumn is that there were no long queues.
We experienced this at all of the family days out in North Wales.
Things you need to know about the Fforest Coaster.
There is 1km of track. You reach up to 25kmph and it takes about 6 minutes to complete.
You need to be 1m or over to ride on it.
It is suitable for age 3+.
Kids under 9 need to be accompanied by an adult (and the adult must be the driver).
There is a bag store just before you get on the ride but it is not monitored.
You can ask for your video wrist band to be scanned at the beginning of each ride and the footage will be captured. You can then buy it for £8 afterwards if you like it.
Other activities at Zip World are:
Skyride
The Plummet
Tree Hoppers
Treetop Nets
Zip Safari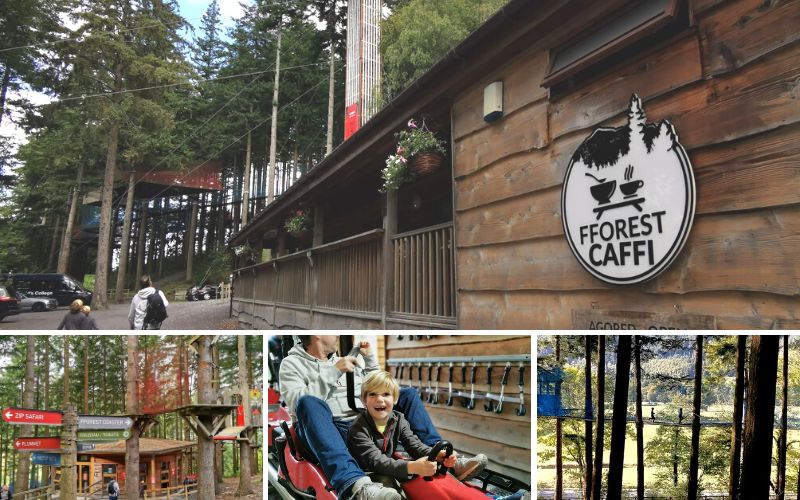 We were having so much fun at Zip World Fforest that we stayed for lunch and tried another activity.
The Fforest Caffi has a great selection of hot and cold foods. I was pleasantly surprised at the high quality of the locally sourced food.
You can sit outside on their terrace and watch people drop from 'The Plummet' as you eat or head inside for a cosy meal.
After lunch the kids had a go on the Treetop Nets. The only way I can describe this activity is as a network of trampolines strung between the treetops.
There are also tree houses and slides dotted around the network. The boys had an amazing time burning off what little energy they had left. This worked out perfectly because they then slept for a couple of hours on the way home.
I noticed that they were running a Halloween event at Zip World Fforest in case you were looking for a Halloween themed break during the October half term. Check out Ffear Fforest for more info.
Note: If you are looking for the fastest zip line in the world (Velocity 2), this is located at Zip World Penrhyn Quarry.
Address: Zip World Fforest, Betws-y-Coed, LL24 0HX.
Ticket price: (for the Fforest Coaster) – £22.00 per person or £33.00 for an adult and under 9 sharing.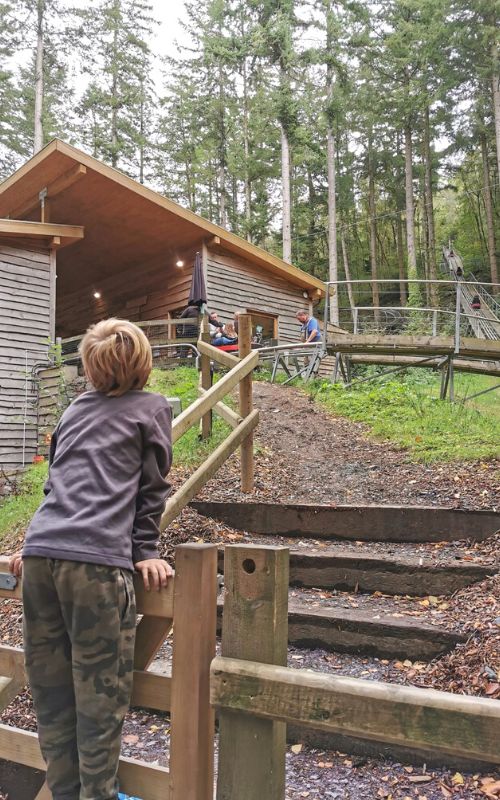 Accommodation for a 2-day visit to North Wales with kids
As mentioned briefly above, we stayed at the Hilton Garden Inn Snowdonia (with breakfast included).
We had a family room which was small but functional. One thing to note is that the family rooms are for 4 people – but the sofa bed for the kids is quite small.
I asked about this and they said that the family rooms are suitable for children up to around age 10. If you have older kids, you might want to ask about inter-connecting rooms.
The room was perfect for our needs though and we didn't spend any time in it because there was so much to do during our family-friendly North Wales itinerary.
The great thing about this hotel is that it is no more than 45 minutes from any of the activities we did.
1 minute walk to Adventure Parc Snowdonia
11 minutes to Bodnant Garden
15 minutes to Conwy
25 minutes to Llandudno
8 minutes to The Groes Inn
20 minutes to Betws-y-Coed
45 minutes to Snowdon Mountain Railway
20 minutes to Zip World Fforest
Another great option would be Forest Holidays at Beddgelert.
If you fancy something a bit different, try Living Room treehouses just south of Snowdonia National Park. See our guide to tree house accommodation for families.
Things you need to pack for this 2-day North Wales itinerary with kids
As most of the adventures are based outdoors, you need to be prepared for the weather.
We always pack a packable jacket which we can carry in our day bag because they pack down small. We also had warmer jackets with us in case of cooler weather which you can experience in autumn.
Waterproof hiking boots are essential as there is nothing worse than soggy feet, even if you aren't hiking.
So that is our 2-day North Wales with kids itinerary.
As you can see, we manged to fit a lot into our weekend with North Wales with kids but there was so much more still to do!
Our final thoughts on visiting North Wales with kids in the autumn? We thought it was incredible. The fact that there were no queues anywhere made it all so much easier for us and we were able to fit a lot more in than we expected.
Drop us a comment if you have any questions about a family holiday to North Wales!