The Best Dock And Bay Towel Review For 2023: All FAQs Answered
Looking for an honest Dock and Bay towel review? We purchased our own Dock and Bay towels back in 2016 and they are still going strong.
Our Dock and Bay towel review covers the positives and the negatives of these microfiber travel towels. It also answers the questions we get asked the most – 'are Dock and Bay towels any good?' and  'are Dock and Bay towels worth it?'
As a family that travels a lot for work to various destinations, we have really put our Dock and Bay towels through their paces.
We don't often stay in hotels that provide pool towels for their guests so we take our towels on every trip.
This post contains affiliate links. If you click on one and buy something, we may earn a small commission at no extra cost to you.
Dock and Bay towel review
Dock and Bay quick dry towels are made from polyester and polyamide and their main advantages over traditional towels are that they are:
lightweight – we often travel with hand luggage only so these towels are invaluable.
absorbent – almost as absorbent as your most fluffy bath towel.
dry quickly – if it is a hot, sunny day – they dry in a matter of minutes.
sand resistant – this is a huge plus if you have kids!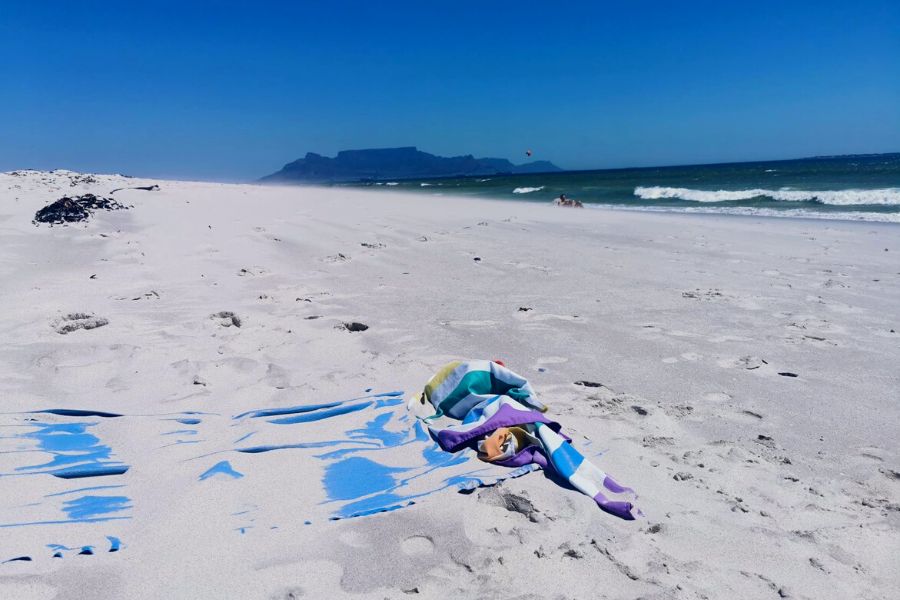 Most microfibre towels can claim to have the same advantages but in addition to the above, these are the things we also love about the Dock and Bay towels that other Dock and Bay towel reviews may not cover..
They come in handy matching sacks that keep the towels compact and also look cute.
There are now over 40 styles to choose from.
The colours don't run
They don't age
Since the start of 2021, all Dock and Bay towels are made from 100% recycled materials and their packaging is biodegradeable.
They are easy to pack if, especially if you are using packing cubes. If you are good at Tetris, you will be great at packing with packing cubes!
We often get asked about our tips for packing light and high up on the list is making sure you have some travel towels.
Traditional towels for a family of four take up too much space in our luggage. Our Dock and Bay towels are one of our favourite family travel items.
You can get an idea of how small they pack down in the photo below.
We even pop them into our daybags when visiting a city as you never know.. If there's a splash park or a play fountain, our kids are in it!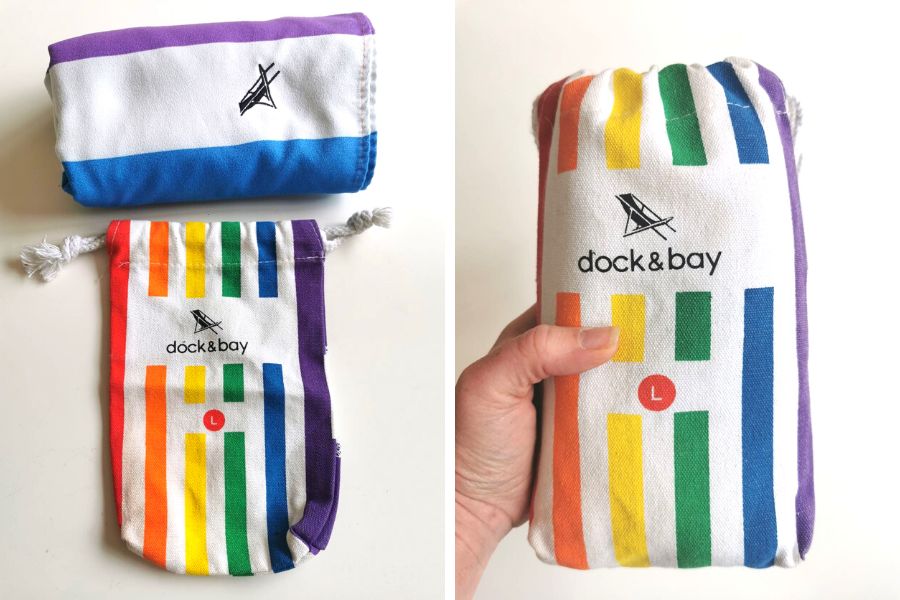 Are Dock and Bay towels better than other microfiber towels?
Are Dock and Bay towels good? Yes. Are they better than other microfiber towels? We think so.
For years we used travel towels from Lifeventure but they tended not to dry that quickly and actually, during a rainy season in Sri Lanka, they got a bit mouldy because they just wouldn't dry.
In the picture below you can see a Lifeventure towel compared to a Dock and Bay microfiber towel. You can see how the Lifeventure towel looks more coarse.
The Dock and Bay towel is smoother which is the reason it is more sand-resistant. And how dull does the Lifeventure towel look?!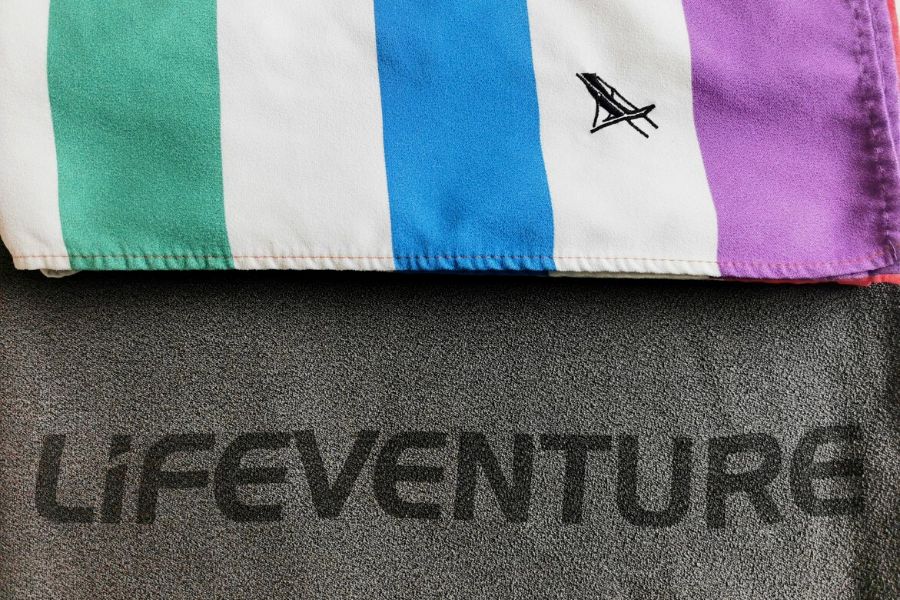 Are Dock and Bay towels worth it?
Dock and Bay towels have never let us down. We have had them for 6 years now and they are still going strong. They look as good now as they did when we first bought them.
We were initially worried about washing the cabana style towel and the colours running. But as you can see from the photo above comparing to the Lifeventure towel, there is no colour run.
When you travel with kids, there's no escaping the sand. Our kids love the beach but hate the sand getting everywhere so these are ideal.
You can give them a quick shake and dry yourself without getting covered in sand. You also don't end up bringing half the beach back with you.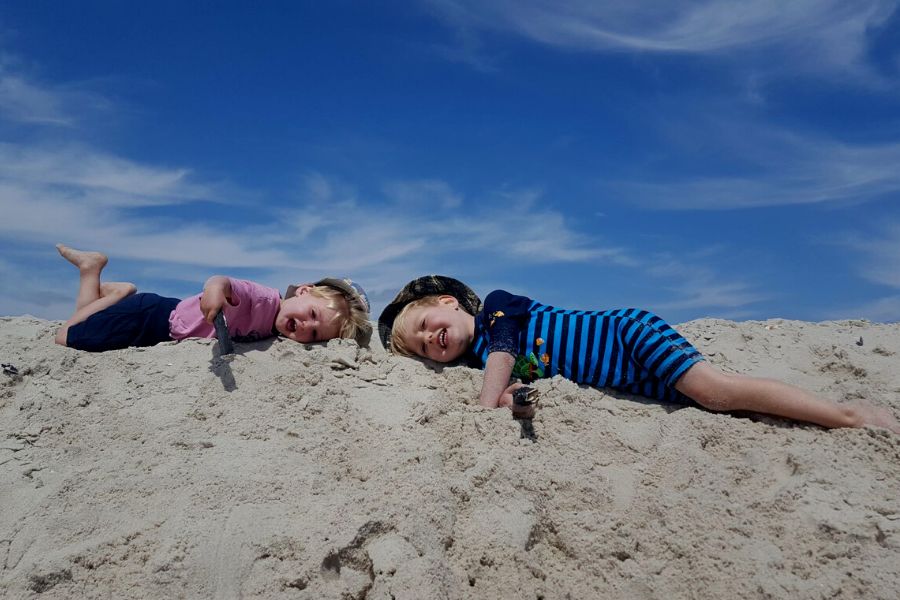 We don't just use them when we travel though and get so much use out of them which is why we really feel they are worth it.
We put a paddling pool up in the garden in the summer and we use these towels all through the summer. I could never provide enough bath towels for the amount of times the kids are in and out of the water.
We even take them to swim lessons at the public pool so that we're not carrying a bulky bag.
I wouldn't go as far as using them as bath towels as I still love that feeling of wrapping up in a fluffy bath sheet but never say never!
They are also great for camping with kids. Take a travel washing line with you and hang them in the sun and they dry in no time.
They are one of our top essentials for vanlife and also make great gifts for van owners ortravel gifts for men.
Other things to know about the Dock and Bay travel towels
they come with an elasticated hook
they come in different sizes – large and extra large. See below for more info.
What are the negatives?
The only drawback to the Dock and Bay towel is that, being so lightweight, it can easily blow away on the beach.
But this is true of any lightweight travel towel and should not deter you from buying it. You just need to weight the corners down if there is any wind.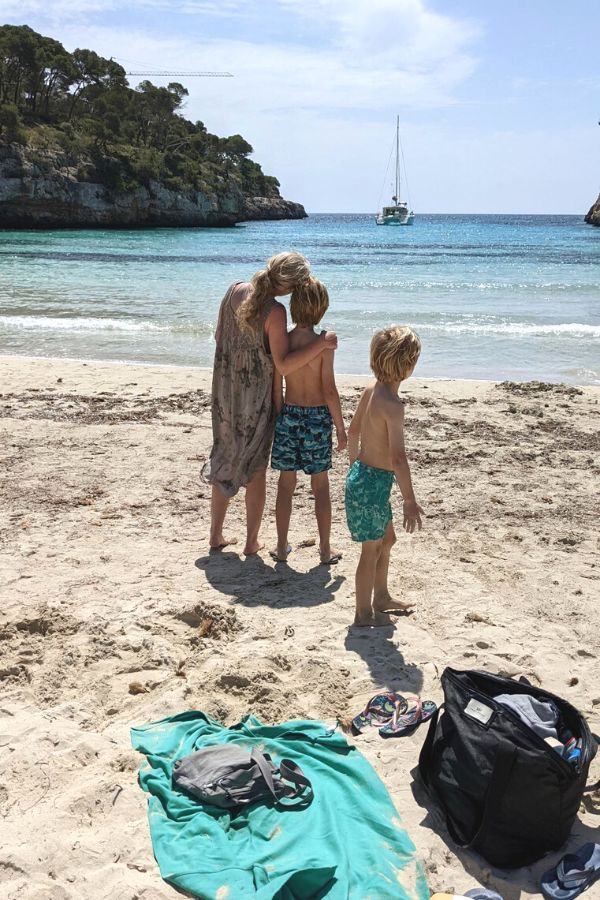 Where can I buy Dock and Bay towels?
If you are looking for the best travel towel for your next adventure, you can't go wrong with Dock and Bay towels.
Amazon Dock and Bay towels
You can find Dock and Bay towels on Amazon. While you're there, you can check all of the positive Dock and Bay towel reviews. It is the bestselling travel towel on Amazon with an average 4.6 rating.
The Dock and Bay towels that we use are the large ones. They are 160cm x 90cm and are perfect for both adults and children.
If you have more space, then you could go for the extra large which are 200cm x 90cm.
They also have beach ponchos, hair towels and quick drying swim shorts but we haven't tried these.
Decathlon Dock and Bay towels
It is also worth checking Decathlon as they sometimes have Dock and Bay towels sales.
You can find Dock and Bay towels on Decathlon here.
Looking for a cheap microfibre towel?
Decathlon do a range of cheaper microfibre towels which get great reviews. You can find their large size here and their extra large size here. flexoffers.
We hope that you found our Dock and Bay towel review helpful. If you have any comments, let us know!