The Best 2 Week South Africa Itinerary (With Or Without Kids)
With it's beautiful beaches, incredible wildlife and world class hospitality, you can't beat South Africa for a family holiday.
It is one of our favourite destinations for a family holiday.
We often get asked 'How many days is enough for South Africa?' or 'is 2 weeks enough in South Africa?'
While you can certainly benefit from spending a bit more time there, this 2 week South Africa itinerary will show you the very best of South Africa.
Although this 2 week South African itinerary is written with families in mind, we have also done this trip pre-kids so really, it is just an all-round awesome 2 week South Africa itinerary for everyone!
It includes beaches, winelands and some of the best safaris in Africa.
South Africa is such a diverse country and there are so many things to do in South Africa with kids. It is one of the few countries we will return to again and again.
If you haven't quite made up your mind on travelling to south Africa with kids yet – make sure you read all about why we think South Africa is such a great country to visit with kids!
This post contains affiliate links. If you click on one and book or buy something, we may earn a small commission but this is at no extra cost to you.
Notes on our epic 2 week South Africa itinerary for families…
Before we get to the day by day breakdown of our two week South African itinerary – we wanted to explain how we've compiled it.
We want you to get as much as you can out of your visit. For each destination, rather than just say what we did, we have given you a number of options so that you can tailor your itinerary.
We have been to South Africa many times and tried all of these itinerary variations and it's all good!
Included in this 2 week South Africa itinerary for families are accommodation and restaurant recommendations. These are all places that we have stayed in or eaten at and loved.
We have written this family-friendly South African itinerary assuming that you will hire a car and drive yourselves. See here for where to find the best rental cars.
We have also included links to tours that will take you to the same places if you don't want to drive.
This 2 week South African itinerary assumes that you will be flying into and out of Cape Town but we have added a variation at the end to fly out of Johannesburg if you want to get up to the Kruger National Park. An alternative would be a family holiday at Sun City Resort. Read our review of The Palace of the Lost City hotel at Sun City.
Tips on Kruger: see here for family accommodation in the Kruger. We have a Thornybush Game Lodge review and a review of Jackalberry Lodge.
A final note before we go into our epic family-friendly 2 week South Africa itinerary. We spend days researching and booking our own trips.
If you don't feel comfortable with this or simply don't have the time, you can contact companies like Original Travel. They specialize in tailor made trips to South Africa for families.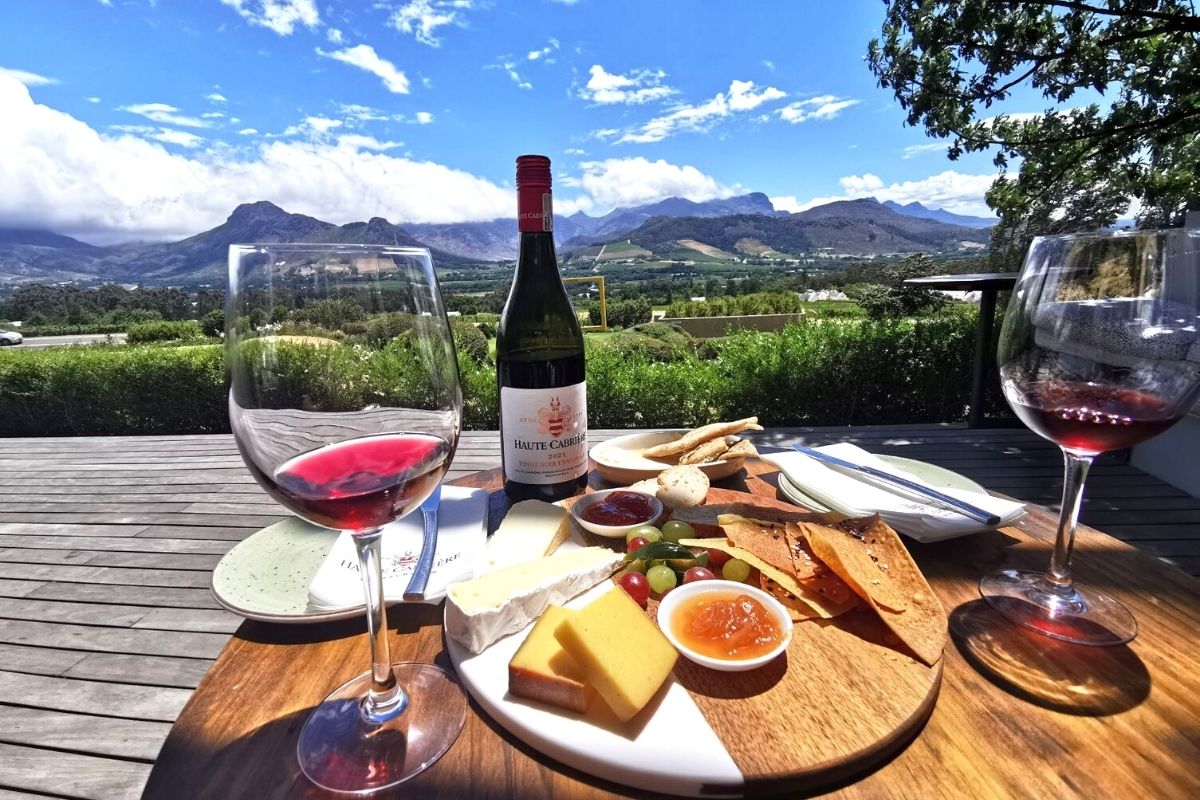 This is our family-friendly 2 week South Africa itinerary..
Day 1 – Arrive into Cape Town
First things first – you will pick up your car at Cape Town airport if you are doing a self-drive holiday (which we recommend doing). We always hire our car through Rentalcars as we find the best deals there.
Depending on what time you arrive, you may or may not have time to do much. If you arrive in the morning, you may not be able to check into your hotel but you could always ask if they will store your bags.
If you are fresh off a long haul flight, you may not feel like doing too much. Two easy options for your first day are:
Take a Hop On / Hop Off Bus tour. We highly recommend doing these when you are visiting a city with kids. It is a good option if you arrive on a morning flight and are tired and a great way to get your bearings in a new city.
If you are staying centrally (around the V&A Waterfront), we would recommend taking a stroll there. There is so much going on – with play areas for the kids, street performers and lots of family-friendly restaurants.
Before you book anything though – check out the Cape Town City Pass. Over 80 tours and attractions are included in this pass and it may end up saving you a lot of money.
You can read all about our recommended things to do with kids in Cape Town and the best places to stay in Cape Town with kids.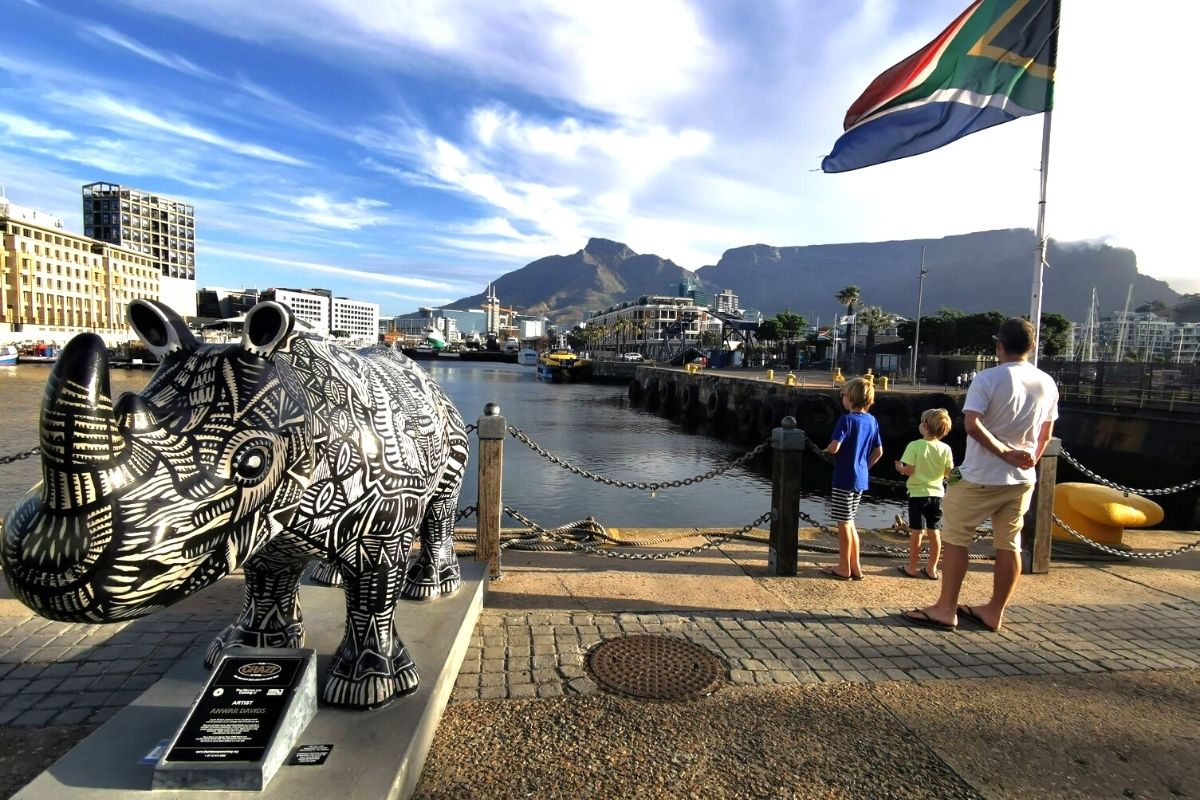 Cape Town accommodation
The Table Bay Hotel – great sized family rooms right in the heart of the V&A Waterfront with pool and activities for kids.
401 Apartment – huge 2 bedroom self catering waterfront apartment in a secure, luxury residential complex. Excellent location for paddle boarding and visiting the Silo area and the V&A Waterfront.
The Bay Hotel – if you want a hotel with direct beach access at Camps Bay.
Clifton YOLO Spaces – Private villa with pool at Clifton Beach.
Day 2 – Explore Cape Point
On your way down to Cape Point, you will pass Boulders Beach which is famous for it's colony of Cape Penguins. It is well worth popping in there for a quick visit.
There is a fee to enter Cape Point Nature Reserve. It is currently R 180 per adult (foreign nationals) and R 90 per child.
The drive down to the Point is almost like a safari – although you are unlikely to spot many large animals. Keep an eye out for smaller animals such as tortoises, baboons and lizards.
This 2 week South Africa itinerary does allow time for a proper safari though so don't feel like you have to spend hours searching for an elusive zebra (although we did see one in the distance).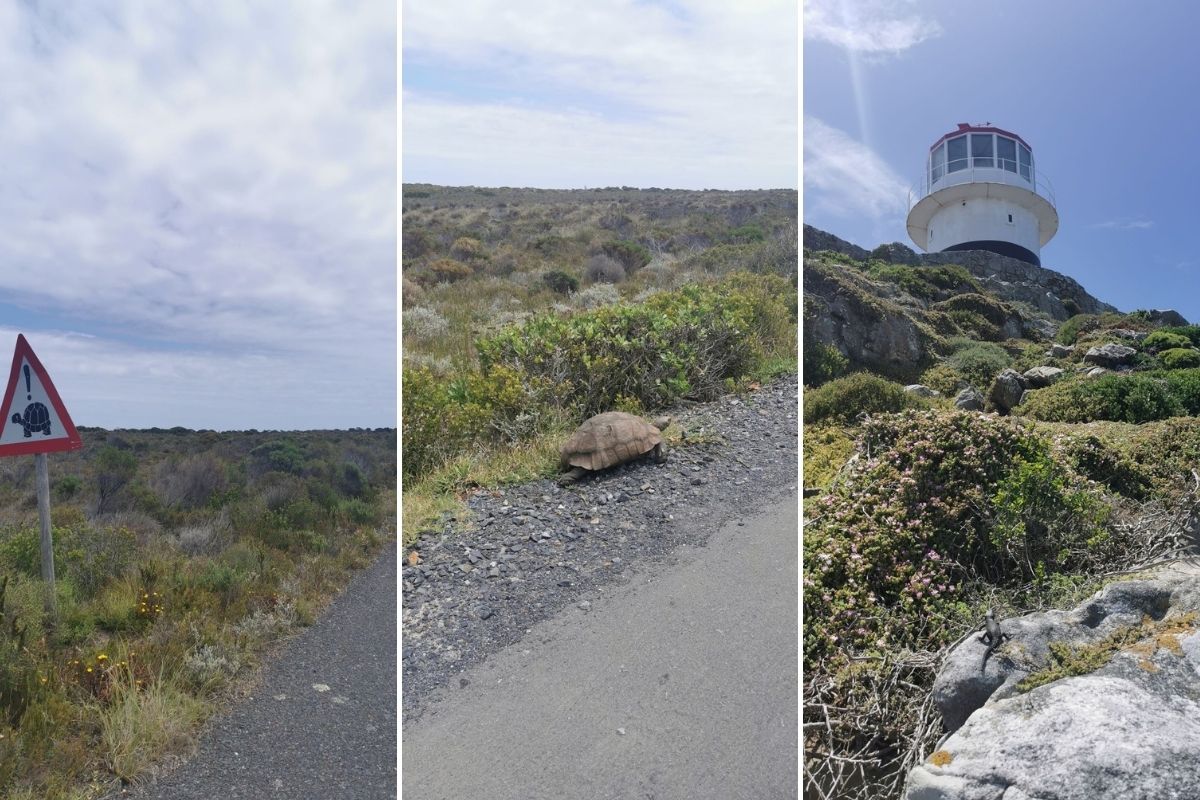 I'm going to say this and sound really ignorant but I'll say it anyway. I had always thought that Cape Point was the tip of Africa and where the Atlantic Ocean meets the Indian Ocean. It isn't – in case you didn't know!
Cape Agulhas is the southern most point of Africa and where the two oceans meet. You can pop in there on your 2 week South Africa itinerary if you like!
Tip for visiting Cape Point with kids: Bring snacks because there is only one restaurant at Cape Point – Two Oceans. You might want to consider making a reservation there if you are going to be there over lunch.
On the way back up to Cape Town from Cape Point, you could pop in to the Ostrich Farm – but there aren't that many ostriches there these days. I would recommend waiting and visiting an ostrich farm in Oudtshoorn.
Also if you have time, you could check out Muizenberg Beach. We called in at the Muizenberg Water Slides before hitting the beach and discovering the beautiful (but derelict) beach huts.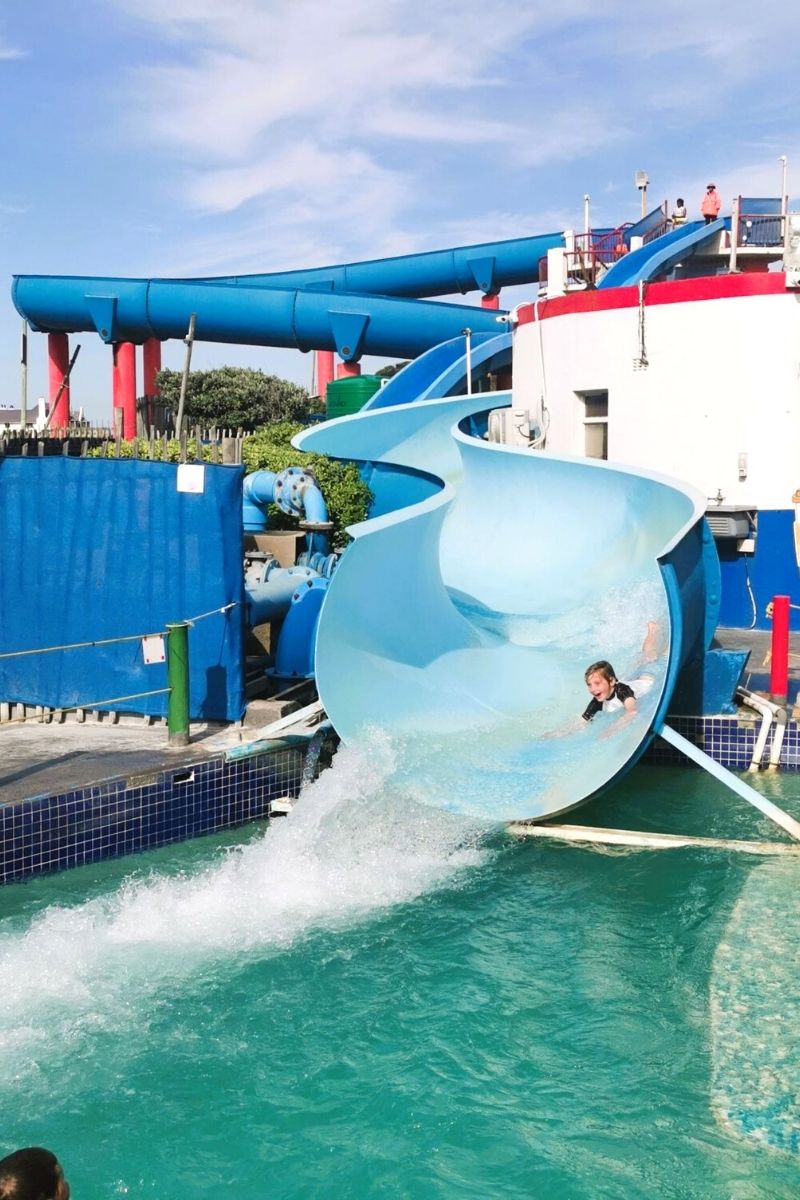 Cape Point tour
If you don't want to drive, you should check out this full day tour to Cape Point and Boulders Beach here.
Cape Town accommodation
See above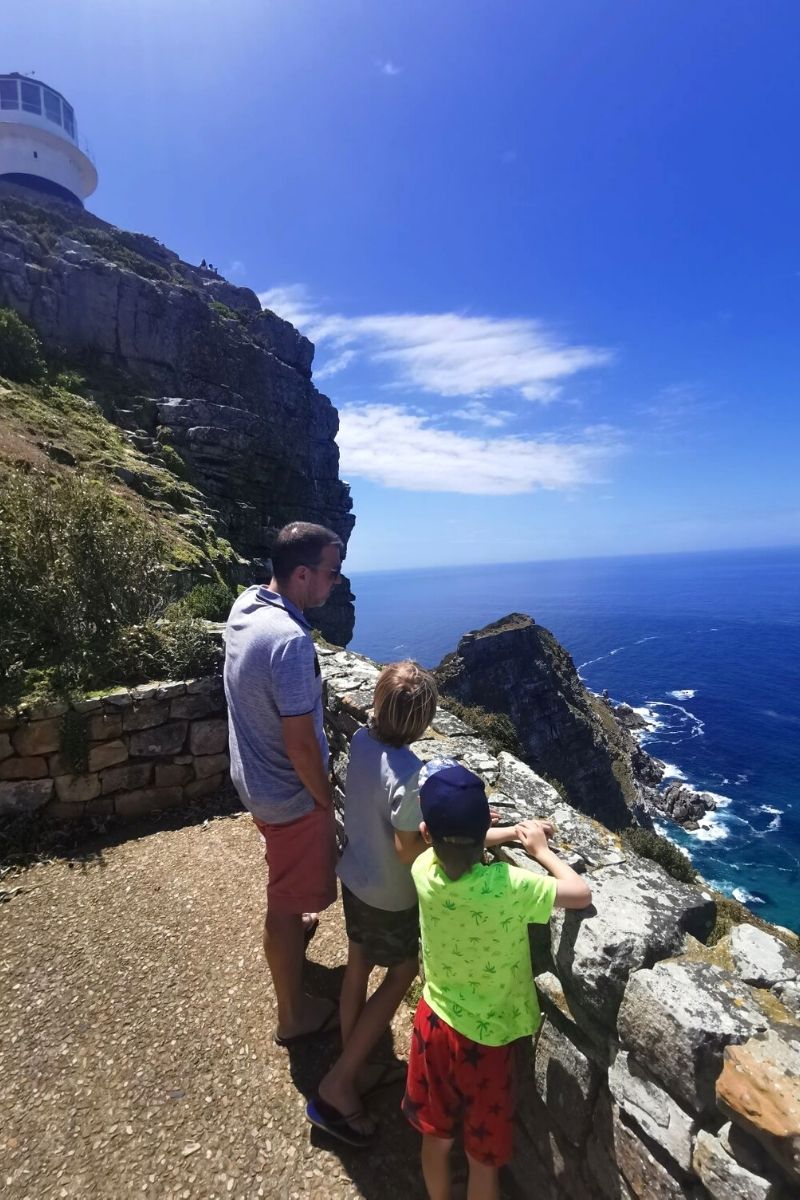 Day 3 – Highlights of Cape Town
Of course, you can tailor your days in Cape Town as you wish but you really should make sure to visit Table Mountain.
Table Mountain is the most iconic landmark in South Africa and that feeling the first time you see it is just amazing.
Beach lovers can take a look at our recommendations on which Cape Town beaches to visit.
Some of the highlights of Cape Town that really shouldn't be missed are:
We love ending a day in Cape Town with a sundowner and dinner and one of the best places to do this is Camps Bay. There are lots of restaurants to choose from.
Alternatively, for something a little more lively, we enjoyed Grand Africa Café & Bar. The pizzas there were huge and the kids loved playing in the sand while we enjoyed a cocktail. It had very much an Ibiza vibe to it.
A must do is also a cocktail at The Silo Rooftop bar. They have some great mocktails for the kids and the views are incredible. You need to book in advance and pay a deposit but this can be redeemed against your drinks.
Cape Town accommodation
See above.
Day 4 – Cape Winelands
You may or may not be into wine but that doesn't matter. The Winelands in the Western Cape are home to arguably the most beautiful scenery in South Africa and you should visit.
If you only have a couple of days in the Winelands, we recommend basing yourself in or near Franschhoek as there is so much going on there and it is a beautiful little town.
The number one activity in the Winelands is, of course, visiting the wine estates and trying some wine tasting. But it doesn't have to all be about the wine.
See here for a list of some fun things to do in the Cape Winelands with kids.
We've enjoyed several South African wine farms visits with the kids because there is so much for them to do besides wine tasting.
Some wine farms host fabulous events. Some have amazing play areas for the kids. Some even have wine tasting for kids (with grape juice) so they can really get involved.
One of the kids' favourite wine farms was Pigcasso. It's all about a pig that can paint…. The wine is secondary. You can check him out here!
One of our favourite things to do with kids in South Africa, however, is to have a wine estate picnic. You can't beat eating fresh local produce outdoors under the huge African skies.
If you don't want to drive (and we recommend you don't drive while wine tasting), you can take a tuk tuk tour or the Franschhoek Wine Tram. Either option is a fun way to get around and adds a bit more excitement for the kids.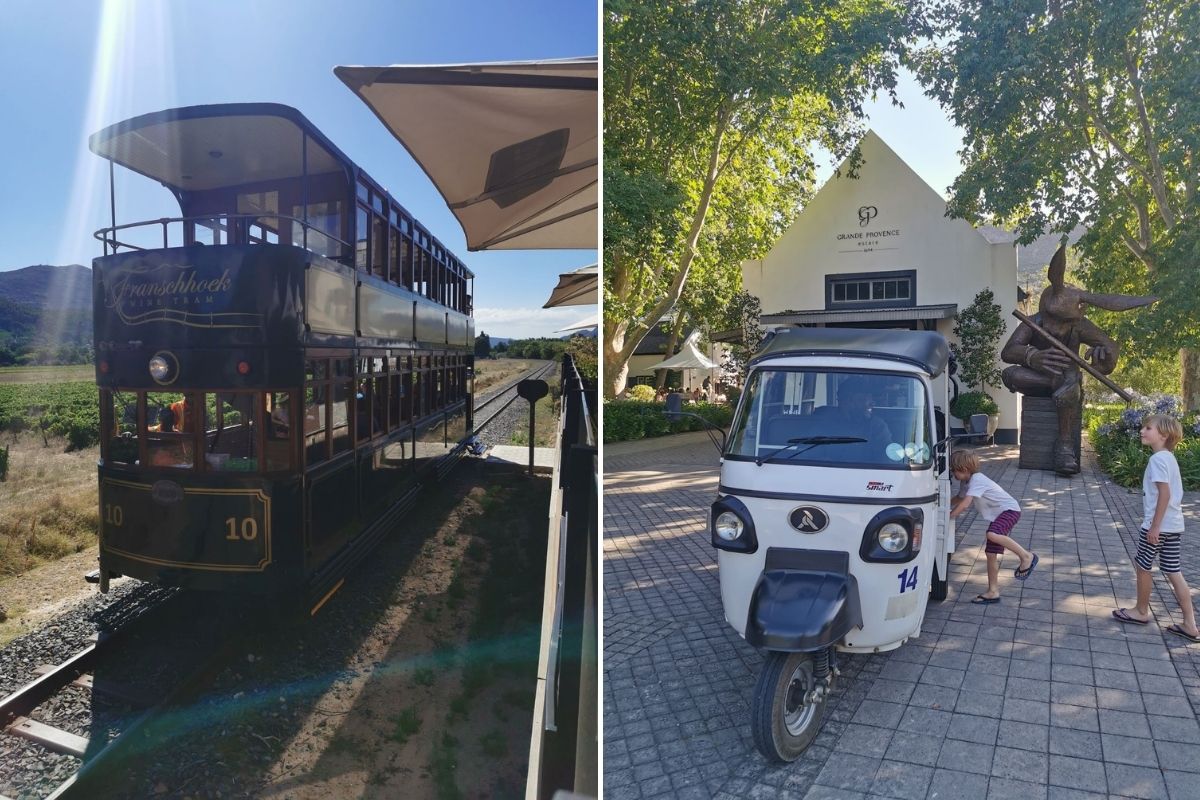 Our favourite South African wine estates in the Franschhoek area are:
Haute Cabriere – for the views and delicious cheese boards.
Boschendal – for their picnic and all-round family-friendliness.
Babylonstoren – for the all-round sense of wellbeing you will feel visiting this beautiful place.
Winelands accommodation
One of the most family-friendly places to stay in the whole of the Cape Winelands area has to be Boschendal Farm Estate. Families are at the forefront of their thoughts with beautiful accommodation, a fabulous (and educational) kids' club and child-friendly restaurants.
We have also stayed in a quirky little 2 bedroom cottage right in the centre of Franschhoek with it's own pool which we loved.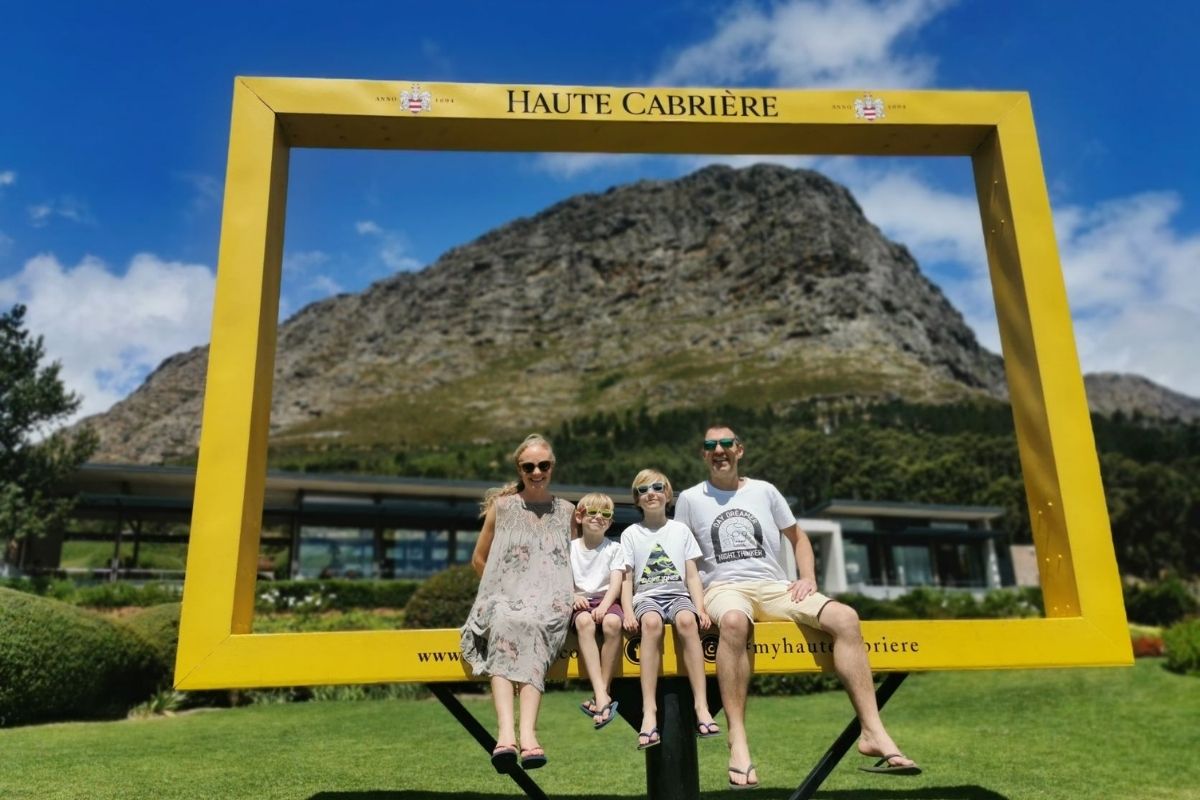 Day 5 – Cape Winelands
Because one day in the winelands is just not enough!
Although you can do a day trip from Cape Town to the winelands, we highly recommend staying at least one night to give you 2 days there.
A day trip would be a very long day out for kids – but you would be the best judge of what your kids may or may not tolerate.
We find it best to spread the wine estate visits out and try other things in between.
Here are some ideas of things to do with kids in and around Franschhoek:
Winelands accommodation
See above.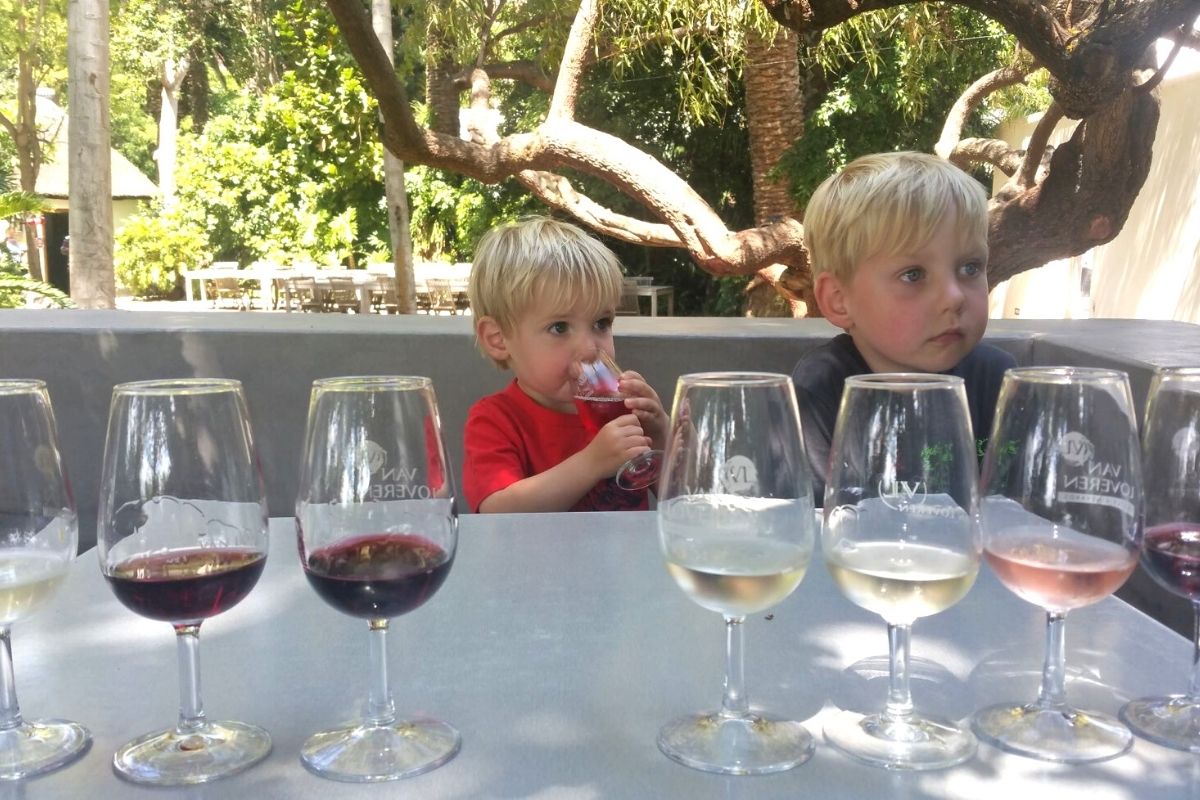 Day 6 – Cape Winelands to Hermanus
If you leave the Cape Winelands in the morning, you will reach Hermanus before lunch.
Most people head to Hermanus to see whales. It is one of the best places in Africa to see whales but what you may not know is that you can also see whales from the land here.
This is good news if you have anyone in the family who suffers from sea sickness (like we do). Sometimes boat trips are not great for little ones.
Whale season runs from July to December so if you are there during the right season and want to take a boat trip, you can book a 2 hour whale and dolphin watching tour here.
Again – you can do a day trip from Cape Town to Hermanus but it is a stretch. If you want to base yourself in Cape Town and explore from there, you can find a full day tour to Hermanus here.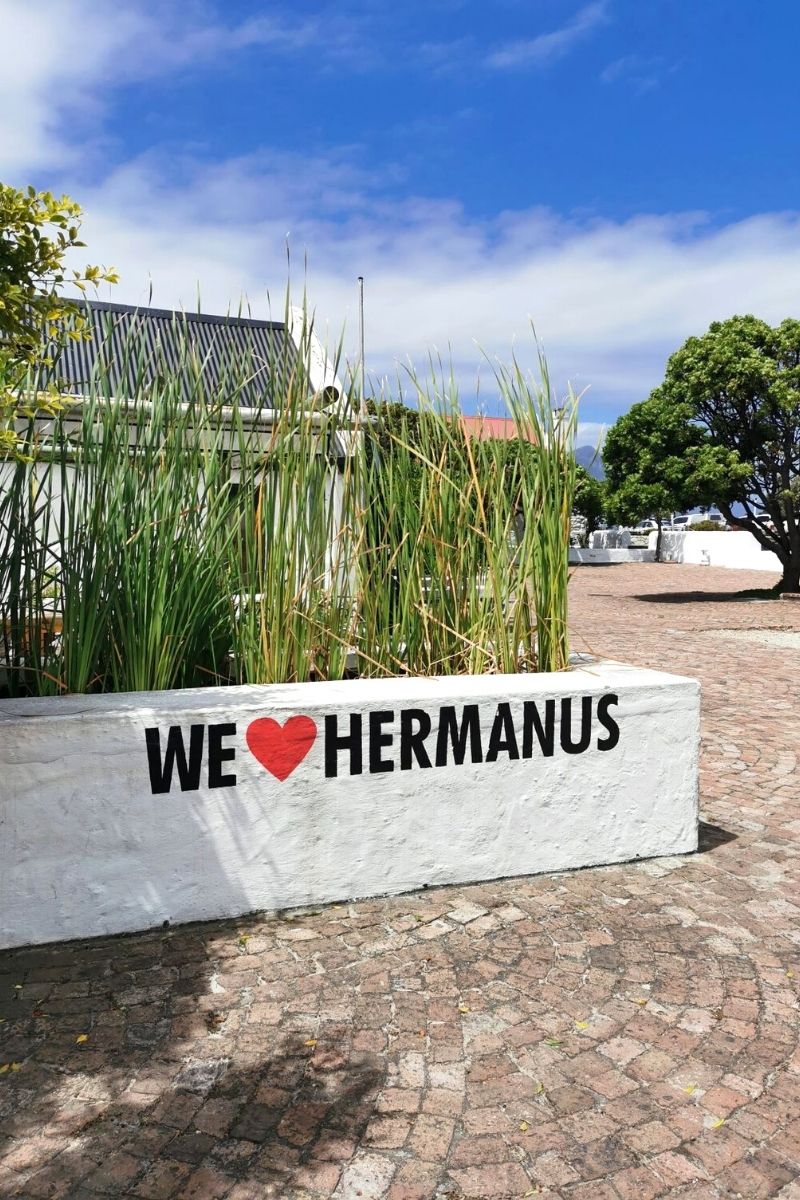 Hermanus accommodation
We stayed a little way out of Hermanus at Onrus River. We had a gorgeous 2 bedroom cottage which backed out onto the local playground. We could sit on our terrace with a glass of wine watching the kids play.
It was also a short drive from Onrus River beach which is fantastic for families. The Milkwood serves great food with even better views!
We had also looked at Geheim Luxury Seafront villa because we wanted sea views but it was unavailable. It is in a fabulous location though.
If you want to stay closer to town, Bamboo @ Le Paradis is right in the centre of Hermanus with sea views. You may even spot whales from your terrace!
We have also stayed at Birkenhead House (pre kids) which is a super luxury hotel owned by the same chain that owns The Silo in Cape Town. It is an all-inclusive property but only accepts children over 10. We were lucky enough to spot whales from the pool!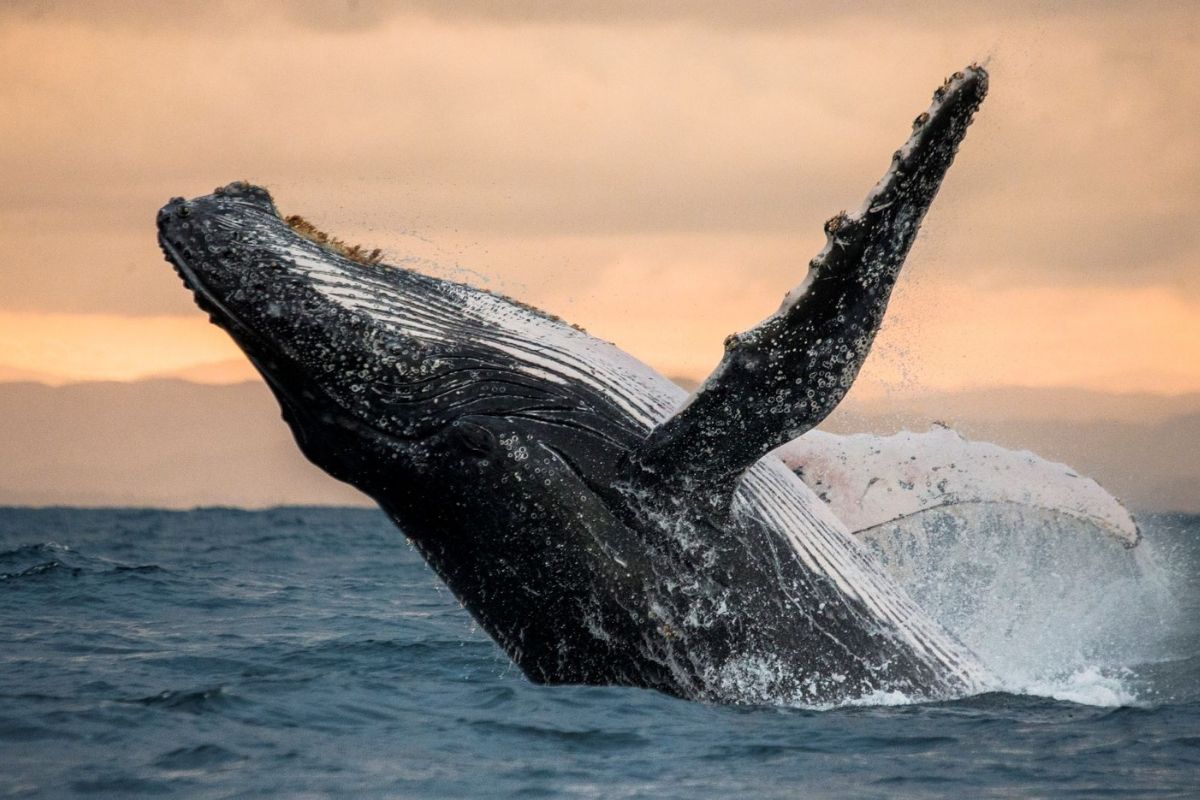 Day 7 – Hermanus to Knysna
Although most people come to Hermanus for the whales, there is lots to do in Hermanus besides whale watching.
Check out our blog post on other family-friendly things to do in Hermanus – including a stunning hike in the Fernkloof Nature Reserve which was the highlight for us.
We would recommend staying 2 nights in Hermanus if you have the time, but we know that this is hard if you are doing a 2 week South Africa trip.
If you do just stay one night, you could do the hike in the morning or have some beach time or visit some wineries and then head up to the N2 and on towards George and ultimately Knysna.
The drive will take around 3 – 3.5 hours so we would recommend grabbing lunch in Hermanus before you head off. Check out Bientang's Cave for lunch with the most EPIC views.
Knysna is a great place to base yourself because it is very centrally located along the famous Garden Route. There is so much to do in the area so you will need at least 2 nights here, particularly if you are arriving late in the day from Hermanus.
Knysna Accommodation
Under Milkwood Resort in Knysna – treehouse like chalets on the shores of Knysna Lagoon.
Africamps at Plettenberg Bay is always a fun option. It is like glamping in a safari tent (some with hot tub) and amazing views. It is a little further up the coast from Knysna but is closer to some of the attractions.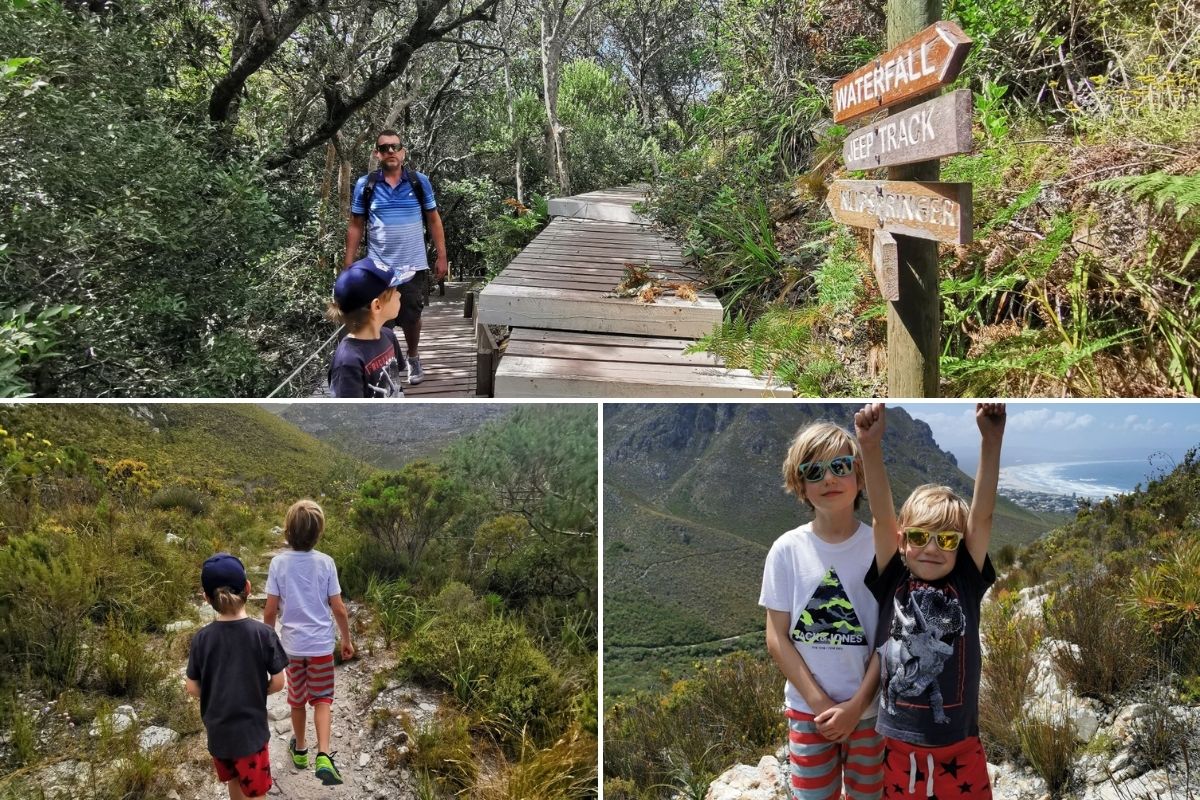 Day 8 – Knysna
Here are some of our recommendations of things to do in and around Knysna:
Head up to the view point at The Heads for incredible views. This is where two enormous sandstone cliffs separate Knysna Lagoon from the ocean.
Take a 75 minute Knysna Lagoon cruise.
Check out Stormsriver Suspension Bridge if you dare.
Try some hiking in amongst the huge Yellowwoods in Tsitsikamma National Park.
We loved our tour around Jukani Big Cat sanctury and Monkeyland.
Wilderness Nature Reserve – head to the beach for secluded and safe swimming.
Knysna Accommodation
See above.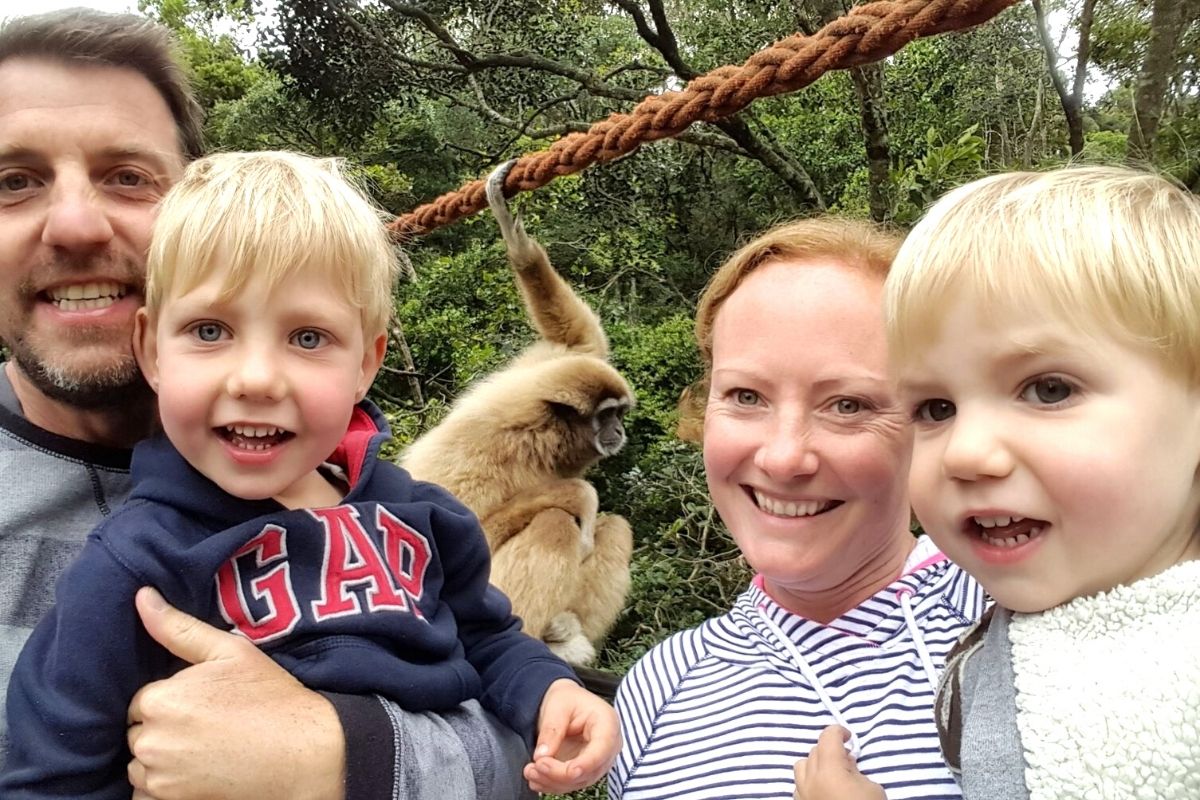 Day 9 – Beach Day
You may need the morning to finish up some of the things to do in the Knysna area because there is so much going on.
For lunch, check out East Head Café right by the Under Milkwood Resort and a bit of a local institution for something simple but delicious
After lunch, head up towards Jeffreys Bay if you are into surfing. It is a fun surf town to hang out in. If that's not your thing, head for the calmer vibes of St Francis Bay or Cape St Francis.
Either way – you may feel you need some beach time at this point in your trip and either location is good for this.
If you want to skip the beach, you can head straight up to one of the safari lodges we recommend (see Day 10).
If you do want to hang out on the beach for a day, here are a few accommodation recommendations.
Accommodation
Jeffreys Bay – Main Beach Penthouse with sea views.
Cape St Francis – 4 bedroom home right on the beach.
St Francis Bay – 2 bedroom luxury home with stunning views (and fairly reasonable).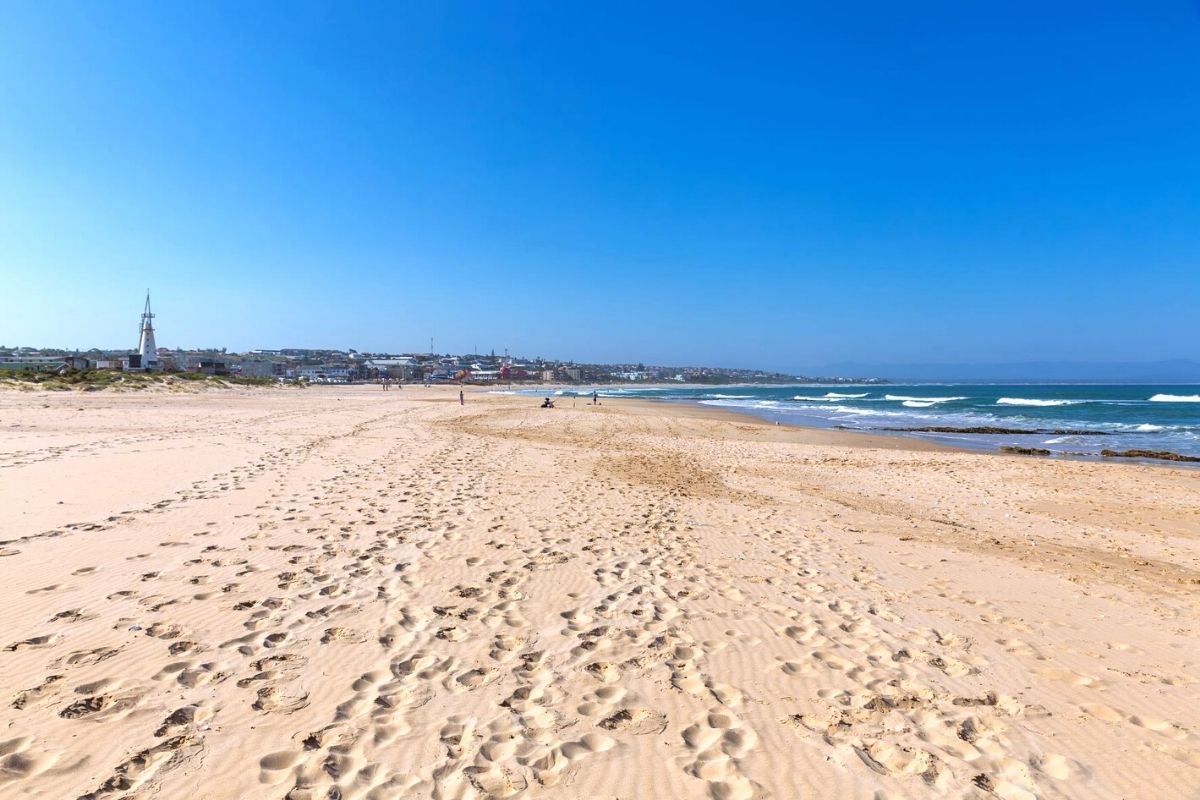 Day 10 – Safari
At this point in your itinerary,  you might want to consider whether you want to visit the Kruger National Park for an incredible safari experience. You could drop your car at Port Elizabeth airport and fly up to Johannesburg.
If you do want to do this, consider booking your flight into Cape Town and out of Johannesburg.
If you know you don't have time or you can save the Kruger for another visit, you can still have an amazing safari in the Eastern Cape. The benefit of a safari in the Eastern Cape is that the safaris are malaria free.
See where else you can have a malaria-free safari in South Africa.
There are a few options for a family-friendly South African safari in the Eastern Cape.
Luxury – head to Kariega Game Reserve (we loved it here) or Shamwari Game Reserve or Lalibela Game Reserve or Amakhala Game Reserve.
Budget – head to Addo Elephant National Park for a self-drive safari. You can book accommodation inside the park through SanParks or there are lots of choices just outside of the park.
Whichever one you choose, the best time to go on safari is usually at sunrise or sunset. You could do your evening game drive after check in and then a morning game drive the next day.
Safari accommodation
Hlosi Game Lodge – Amakhala Game Reserve
Elephant's Footprint Lodge (under 2 miles from the park)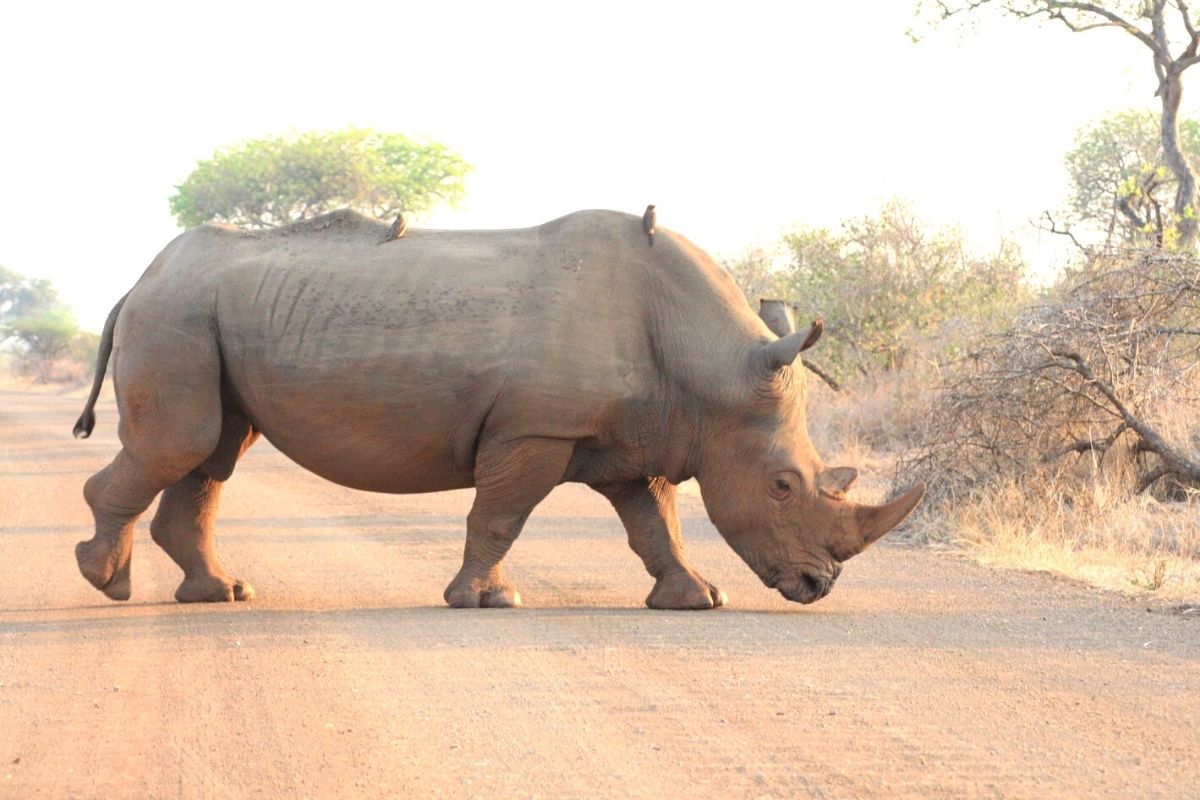 Day 11 – Safari
You will probably want to take a morning game drive. And when we say morning – we mean before sunrise!
If you are driving back to Cape Town, you will need to start heading back at this point. The alternative is to drop your car at Port Elizabeth airport and fly back to Cape Town or fly up to Johannesburg.
If you are driving back to Cape Town, you can head back to George and either take a detour to Oudtshoorn or not.
We do recommend checking it out. There are ostrich farms, crocodile farms, incredible 20 million year old caves. The landscape is so different to anywhere else you will visit on the trip as it is in the Klein Karoo desert.
Oudtshoorn accommodation
If you feel you haven't quite had enough safari experience, you can stay at Buffelsdrift Game Lodge just outside of Oudtshoorn. They have lovely safari tents surrounding a huge lake.
You will encounter Nyala wandering through the grounds, hippos in the lake the Big 5 waiting to be sighted. We loved it!
AfriCamps Klein Karoo offers a similar experience without being on a game reserve.
If you've had enough of this kind of and prefer to stay in a traditional farmhouse – De Denne Country Guest House on a working ostrich farm is just stunning.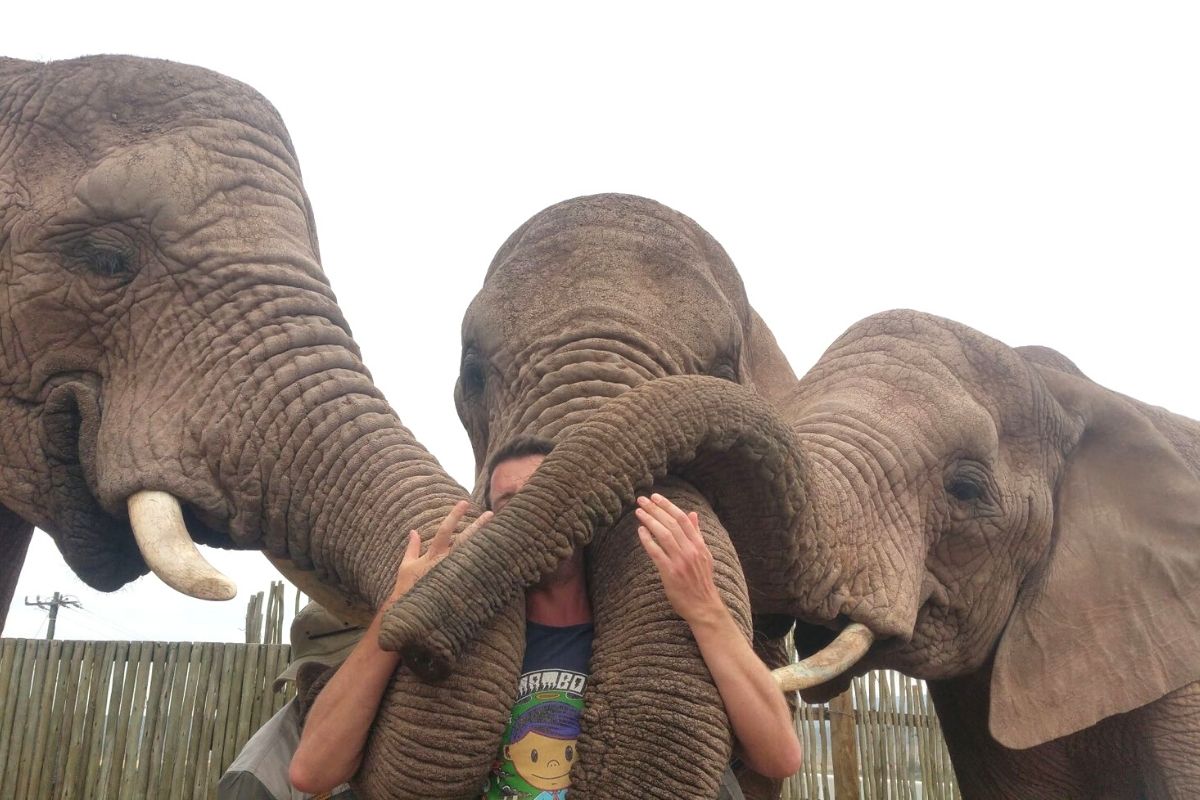 Day 12 – Oudtshoorn to Riebeek Kasteel
Explore Oudtshoorn some more during the morning and then set off on a fairly long drive to the winelands.
After such a long road trip, we like to have a little downtime before we fly home so we usually end up back in the winelands for a night or two.
We recommend Riebeek Kasteel which is about a 4.5 hour drive.
The Riebeek Valley is a much smaller wine producing region than Franschhoek, Stellenbosch and the like but it has a lot to offer. The small town of Riebeek Kasteel itself is one of the oldest towns in South Africa. Much of the architecture has been preserved and you will feel like you are in a time warp.
If you make there it in time for lunch, head to Eight Feet Village for unobstructed views of the valley. Alternatively, check out Kloovenburg Olive & Wine Estate. They serve quick bites outdoors or you can buy a pick and mix picnic.
They have the BEST playground for kids to stretch their legs while you enjoy your food in peace.
Take a drink on the veranda at the Royal Hotel (which dates back to 1862) at the end of the day and then head over the road to La Parilla for a delicious dinner.
Accommodation
In Riebeek Kasteel – The Cottage in the Valley was just perfect!
If you didn't want to drive as far as Riebeek-Kasteel, you could head to Paarl instead.
In Paarl – make sure to stay at Denneboom Vineyards and Wildlife. We love their secluded self-catering cottages with private pools, surrounded by vines and wildlife.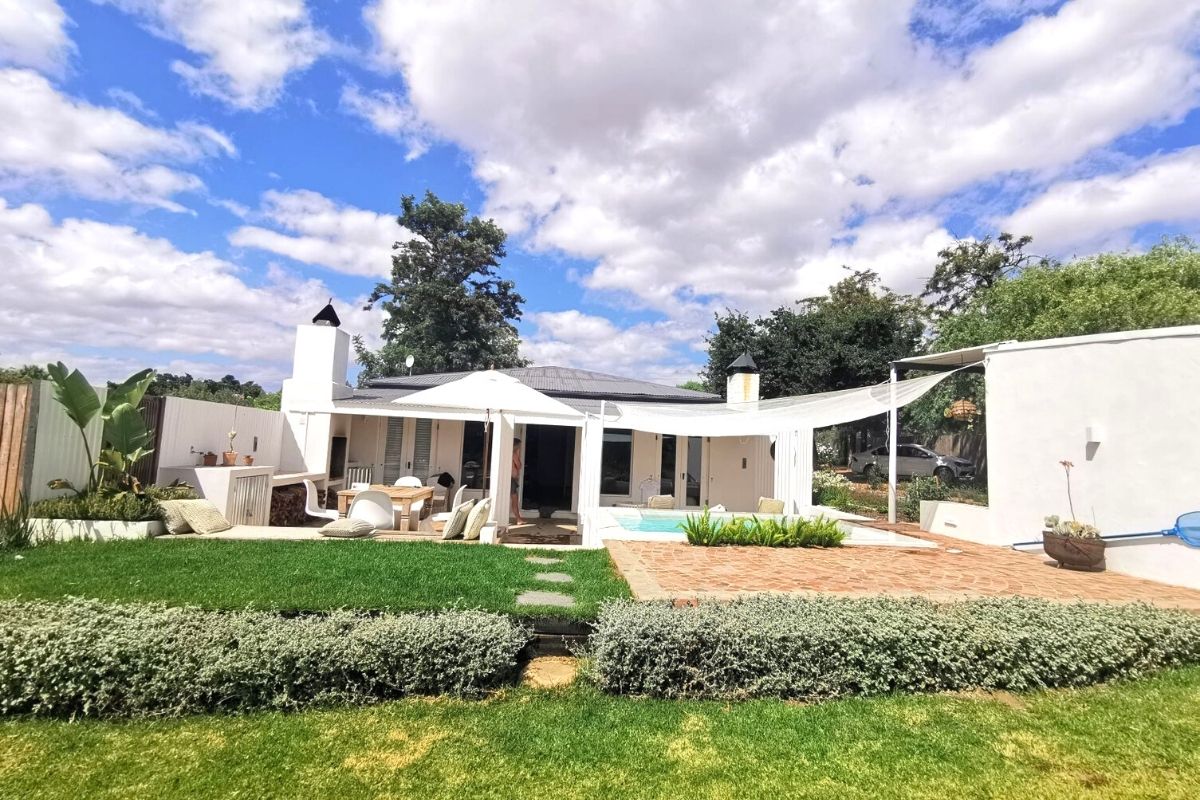 Day 13 – Riebeek Kasteel
If you are staying in the Cottage in the Valley – you will not want to leave the pool, particularly if it is a hot day! Temperatures can soar in this area of South Africa.
If you do feel like an excursion, head across to Tulbagh on the dirt roads. This is an adventure in itself. We loved visiting Montpellier as it was completely off the beaten track and very quirky. You can have lunch here while the kids explore the grounds.
Tulbagh is another quaint little town which is worth a visit before you head back to Riebeek Kasteel. If you have time (and are a Port lover) – take a quick detour to Allesverloren to try some of their award-winning Port. The kids will love spotting the Springbok in the field there and the views are stunning.
Accommodation
As above.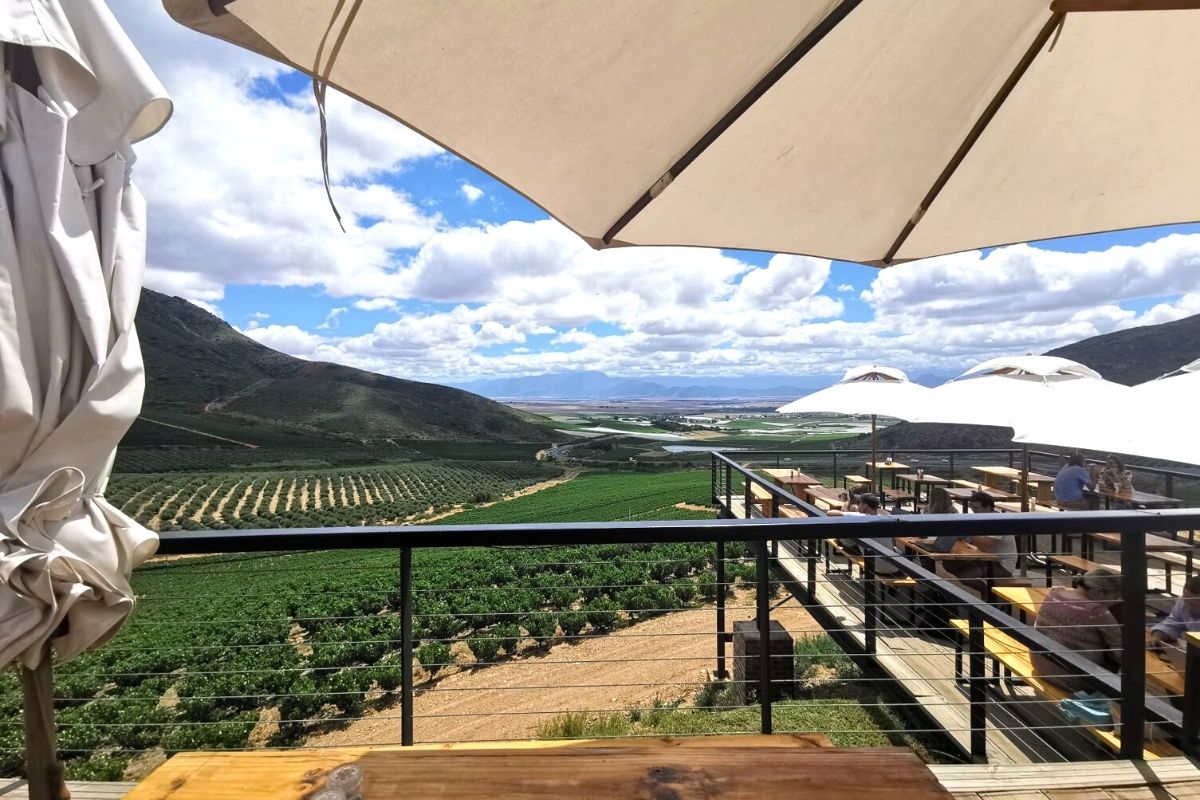 Day 14 – Drive back to Cape Town to finish your 2 week South Africa itinerary
Riebeek Kasteel is only about 80km north of Cape Town airport and will take about 90 minutes to get there.
Although two weeks in South Africa is the perfect amount of time to explore with kids, this 2 week South Africa itinerary can easily be tailored to 10 days or 17 days depending on how long you have.
If you would rather someone else take care of the planning for you, take a look at the South African holiday ideas on Original Travel.