The Best Things To Do In Porto With Kids (+ A Few More Ideas!)
Porto, Portugal's second largest city, is an incredible city. It is vibrant. It is colourful. It has everything you could want from a city break including beautiful architecture and great beaches. There is also incredible food in Porto for foodies.
Did you know though that there are also so many things to do in Porto with kids?
Our kids were aged 9 and 7 when we visited and they absolutely loved the city. They loved winding back streets adorned with street art. They loved the famous Pasteis de Nata and they loved the beaches.
The one thing we should point out is that Porto is very hilly with lots of steps (especially around the Ribeira area) and so it can very quickly become tiring for small kids. But some of the activities we recommend below make visiting Porto with small kids totally doable.
We had three days in Porto with kids and it was not enough to do all of the family-friendly things to do in Porto. We could easily have spent a week there.
Below we have listed the best things to do in Porto with kids (plus a few more ideas if you have more time)!
This post contains affiliate links. If you click on one and book or buy something, we may earn a small commission but this is at no extra cost to you.
These are the best things to do in Porto with kids
Crystal Palace garden
From New York to London to Porto, one of our top tips for visiting cities with kids is to find a park or some green space.
Even if it is a small urban park with a playground – it will be somewhere the kids will feel they can relax and have fun in between the sightseeing.
There are quite a few parks in Porto, but one of the best parks to visit in Porto with kids is Crystal Palace gardens.
Jardim do Palácio de Cristal was built in 1865 to host the 1865 International Exhibition in Porto. They are arguably the most beautiful gardens in Porto and you will find incredible views of the Douro River from the view point.
The Palace was modelled on Crystal Palace in London but fell into disrepair and was replaced by the dome you can see today which is used for events through the year.
Looking for more parks in Porto? Here are a few more suggestions of things to do with kids in Porto.
Jardim do Passeio Alegre is a beautiful tree lined park just before you reach Foz and it's beaches. It has minigolf and a local produce market at the weekends.
Parque de Serralves where you'll find a lovely treetop walk and museum of contemporary art.
Botanic Gardens of Porto (Jardim Botânico do Porto).
Jardim de Morro (small park right by the Gaia cable car).
Small rooftop park by Base Porto. This is a great one because you can sit in the bar and watch the kids play as you enjoy a drink.
Take the Gaia cable car
If you head over to Vila Nova de Gaia to visit some of the Port Houses (or just to take in the views of Porto from the other side of the river), you should take a ride on the cable car.
It is a fun experience for the kids and if you are into skiing, you will be right at home in the cable car.
The cable car goes from close to the top of the fabulous double decker Dom Luís I Bridge down to river level and is an easier alternative to taking the winding back streets.
Tickets cost €6.00 one way for adults (€3.00 one way for children 5 – 12 years old). Return tickets are €9.00 and €4.50 respectively. You can find more information here.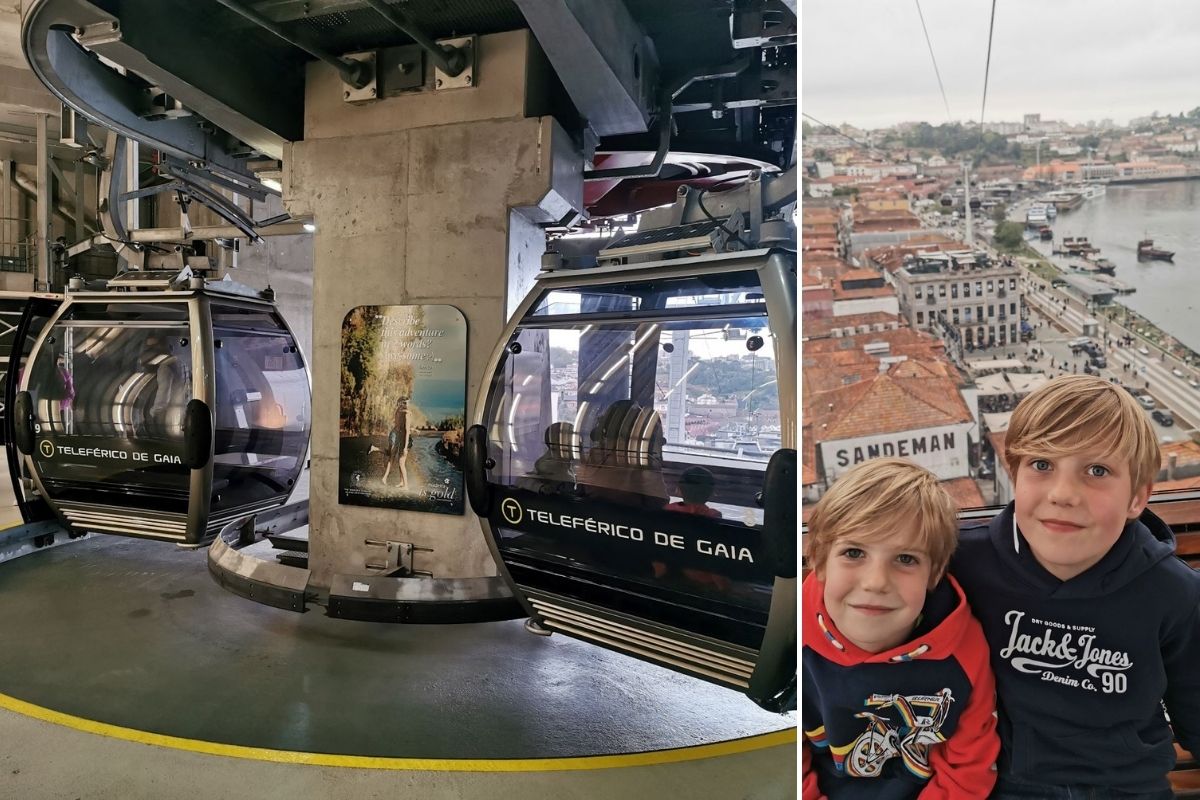 Visit the beaches of Foz
Some of the best beaches in Porto are found in the Foz district of the city.
If you have some lovely weather while visiting Porto, then we highly recommend heading out to Foz to visit the beach.
You can take the Linha 1 tram from Infante which takes about 20 minutes, following the River Douro all the way to Foz. The tram can get very busy and you may have to wait a while. Tickets cost €3 per person (including children) for a single.
If the queue is really long, an alternative is to take an Uber to the beach and take the tram back.
There are a number of beaches to choose from which can be accessed by walking up the boardwalk. We went up to Praia do Molhe as it was a much quieter beach.
There is plenty of sand and also lots of rockpools for kids to explore. You should be aware visiting the beaches in Porto, however, that the water is extremely cold and the waves can be very rough indeed. See our recommendation below for tidal pools as an alternative to swimming in the sea.
If you spending a full day at the beach, we can recommend making a reservation at Praia da Luz (if you are looking for a high end restaurant) or you can try waiting for an available table outside. If you can't get in there, you can try Peebz for amazing burgers.
Tidal pools at Matosinhos
If you are visiting Porto in the summer months and are looking for somewhere to cool off but don't want the kids swimming in the sea, you could check out the tidal pools at Matosinhos.
The beaches at Foz are lovely but the water can be very rough for children to swim (and it is very cold!) so these tidal pools offer a much safer solution.
They are located on Leça da Palmeira beach – just a little further up the coast from Foz and are open from mid June to mid September.
You can reach them by taking the subway or the Hop On / Hop Off bus tour.
You pay around €4 for a half day but note that it can get crowded on weekends.
Open top bus tour
There is no doubt that Porto is a beautiful city but if you are visiting with little ones, they may find the hills tiring on the legs. A great way to visit Porto with kids is to take a hop on / hop off bus tour.
The Yellow Bus tour offers a 48 hour ticket allowing you to explore the city at your own pace. It stops at all of the main sites and even goes up to the tidal pools at Matosinhos (see above).
Another brilliant way to see the city of Porto with kids is to take a private Tuk Tuk tour. We love Tuk Tuks having used them many times in Sri Lanka. They are a fun way to travel with kids and the tours stop at many of the main highlights of Porto.
World of Discoveries
The World of Discoveries is a great museum to try when visiting Porto with children.
It is a fun and interactive museum covering the 'Age of Discoveries' (when Portuguese explorers set off to discover Africa, India, South America and China).
There are lots of original artefacts in the museum but the most fun part has to be the boat ride that takes you through the stages of the voyage from Africa to South America, back to Africa and on to India and China.
This museum is great to have up your sleeve if you are looking for things to do in Porto with kids in the rain.
Tickets cost €15 per adult (€9 for children aged 4 – 12) but you can also check their website for the most up to date information and discounted tickets.
Go hunting Street Art
Just wandering around the streets of Porto on the way to a restaurant or a park can be fun for kids because of the amazing street art.
There is so much colour in Porto and the kids will love discovering all of the fabulous works of art.
We have our favourites but you will also have fun exploring the city and finding your own.
Climb the Porto Cathedral for views
Dating back to the 12th century, Porto Cathedral is one of the city's oldest monuments and sits high up on the banks of the River Douro overlooking the rooftops of Porto.
The cathedral has one of the most beautiful Cloisters I've ever seen which is covered floor to ceiling with Azulejos (blue and white) tiles.
The kids will love climbing the stairs of the tower which open out onto a viewing platform for the most amazing views of Porto.
Entrance costs €3 per person and children are free.
See also the Clerigos Tower (Torre dos Clerigos) for some of the best views in Porto. You can buy your entrance tickets here from just £5.00 per person.
6 bridges river cruise
Porto sits on the River Douro and presently boasts 6 bridges. The most recognisable of them all is Dom Luís I Bridge which is the double decker bridge that spans the river from Ribeira to Vila Nova de Gaia.
One of the best ways to see all of the bridges is to take a river cruise. This is another great way to save little legs from getting tired!
This 50 minute cruise is a relatively inexpensive tour starting from £12.00 per person.
Note – if you don't have time for a river cruise but love the idea of getting out on the water, you can also take a Douro River Taxi.
Tickets cost € 3 per adult and €1 per child (4-10 years) for a single.
Talking of bridges, you should walk across the Dom Luís I Bridge at some point during your visit. The views from it are stunning. Just keep an eye out for the trams which pass by every so often.
Livraria Lello
Billed as the most beautiful bookshop in the world – you'd think I would put this in at no.1 but I've hesitated putting this on here because quite frankly, it was a let down. It was definitely not one of our favourite things to do in Porto with kids.
If you have a Harry Potter fan in your family, you might want to visit, but there are a couple of things you should know before visiting.
Tickets to visit cost €5 per person which can be redeemed against the purchase of a book. One ticket can be used per purchase. You can buy your tickets in advance here. Children under 3 are free.
The books are so overpriced, however, that even though you get your entrance ticket price off the cost of the book, it is still more than you would pay in a normal bookshop.
It is also incredibly busy and you will feel rushed trying to find a book. Forget trying to take a photo of the famous staircase!
One tip we would give is to go around 9am (it opens daily at 9.30am) and start queuing. If you leave it any later, you will be queueing for hours.
If you really want to see the bookstore but don't want to give up precious sightseeing time queueing, you can book a walking tour which includes a skip the line ticket to the bookstore.
By the way, if you have a Harry Potter fan in the family, you might be interested in this Harry Potter tour of Porto – visiting the places that inspired JK Rowling! See also our guide to the best Harry Potter things to do in the UK.
Other things to do in Porto with kids
If you are still looking for things to do in Porto with kids after the ideas above, here are a few more child-friendly things to do in Porto.
Sea Life Porto
We don't tend to visit places where animals are kept captive but Sea Life Porto is meant to be very good.
FC Porto
If you have football fans in the family, you may want to take a tour of FC Porto's stadium.
Eat Pasteis de Nata
Head to Manteigaria for Pasteis de Nata. There are a couple of branches in Porto. One is close to the beautiful Capela das Almas and the other is close to the Clerigos tower. They are freshest and most tasty Pasteis de Nata you will find!
Douro Valley tour
The Douro Valley is one of the most beautiful parts of Portugal and a lovely place to visit if you would like to get out of the city for a day. You can take a full day tour of the Douro Valley which includes a boat trip, a traditional lunch and port wine tasting.
This tour would be more suitable if you are visiting Porto with older kids as it is a long day out.
Not sure about wine tasting with kids? We are big fans! See here for inspiration for wine tasting with kids in South Africa.
If you are visiting the region independently and can choose which wine estate to visit, we absolutely loved Quinta da Pacheca wine estate in Lamego.
Where to stay in Porto with kids
We found a fantastic apartment in Ribeira (with 9.8 score on Booking.com). It was mid range with one bedroom and a separate area with sofa bed for the kids and air con. The best part was the owner (Antonio) who picked us up from the airport, gave us a quick tour of the city on the way to the apartment and was very responsive on Whatsapp.
There was home made cake and jams and a decanter of Port. He also dropped off croissants and fresh oranges for us daily. We've never had a welcome like it anywhere!
Other family-friendly places to stay in Porto are: