Our Complete Review Of Jackalberry Lodge For 2023
If you're wondering about booking Jackalberry Lodge but want an independant opinion from someone who has recently visited, you're in the right place.
We stayed at Jackalberry Lodge in November 2022 and wanted to write a thorough review of Jackalberry Lodge to help you decide whether it is the right game lodge for you.
Picking the right accommodation for a once in a lifetime safari holiday can be daunting. It is not a cheap holiday and you want to get it right.
There are so many game reserves and beautiful safari lodges in South Africa. So what did we think of Jackalberry Lodge?
Our review of Jackalberry Lodge aims to help you get a better understanding of what is on offer whether you on safari with kids or on honeymoon.
If you're thinking of visiting Sun City after your safari, make sure to read our review of Sun City and what we thought of The Palace of the Lost City Hotel.
This post contains affiliate links. If you click on one and book something, we may earn a small commission but this is at no extra cost to you.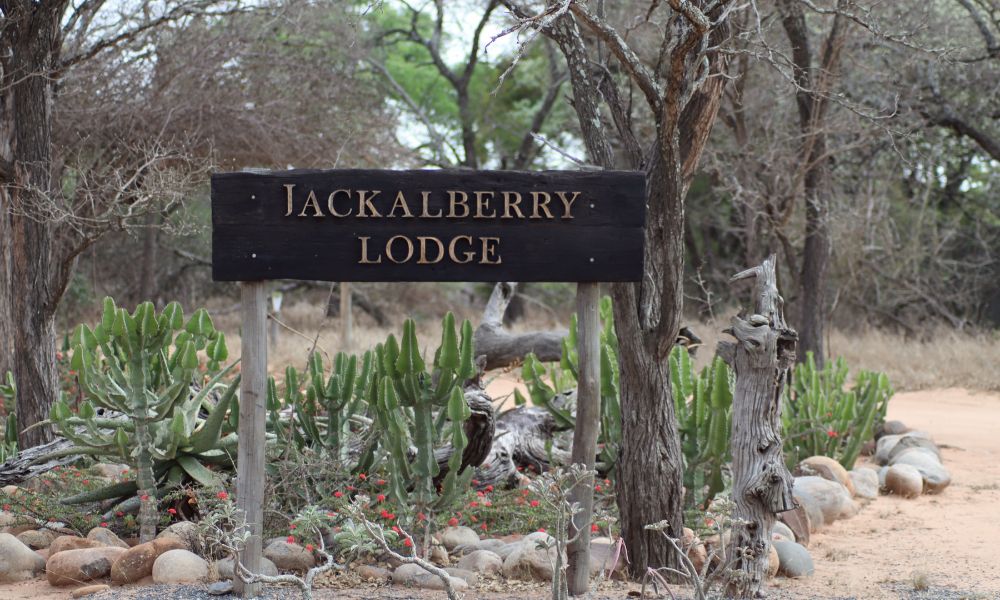 Visiting South Africa with kids? We have lots of information to help you plan your trip.
If you are going on safari with kids, we have a guide explaining the main things you need to know about taking a safari in Africa with kids.
We have visited South Africa with kids many times. There is so much for families to do in South Africa, but what we love most is that there are so many places for a family-friendly safari in South Africa.
See here for a fabulous 2 week itinerary for families visiting South Africa. and if you're staying in Cape Town, don't miss our recommendations on where to stay with kids in Cape Town.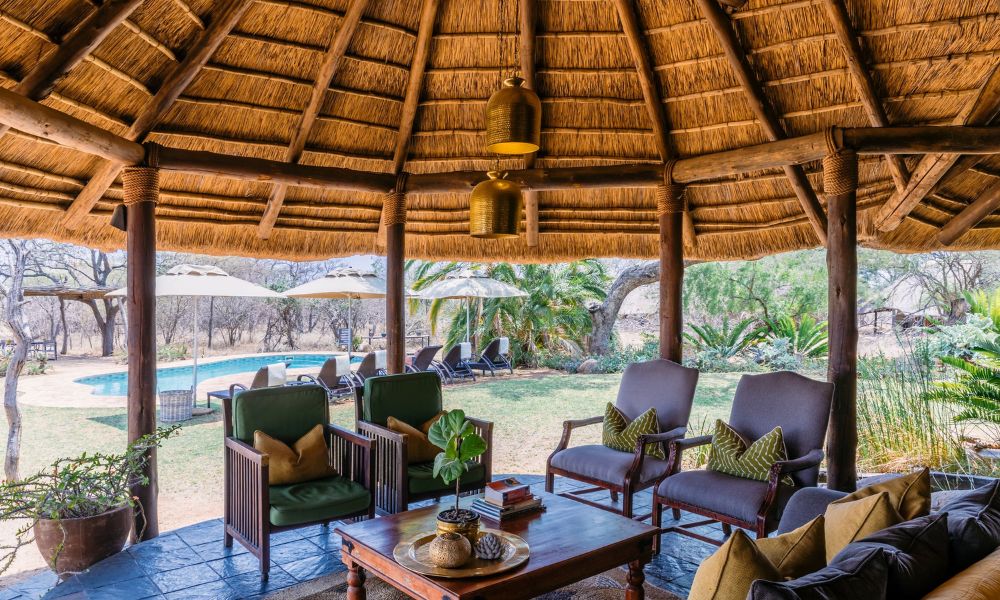 Review of Jackalberry Lodge
Before we start our Jackalberry Lodge review, we just want to let you know that our stay was organised by Go2Africa who are the leading luxury tour operator in Africa.
They are experts in their field and knew which family-friendly lodges would be great for us.
If you book with Go2Africa, you get this lovely branded cap which will come in very handy on safari drives.
If you are travelling independently, you can book on the following sites:
Check prices and book on Expedia.com
Check prices and book on Booking.com
Where is Jackalberry Lodge?
Jackalberry Lodge is located in the Thornybush Game Reserve in the Limpopo Province.
Thornybush Game Reserve is a 15,000 hectare private reserve sharing a 22-kilometer fenceless border with the Kruger National Park. The Kruger offers some of the best safaris in Africa.
See here for the best time to go on safari in the Kruger. Note that Thornybush Game Reserve is in a malarial area – although the malarial risk is lower in the dry season.
Thornybush take preventative measures by spraying their camps at least four times a year and there is mosquito repellant in the rooms.
See here for malaria free South African safaris.
It also shares a fenceless border with Timbavati Game Reserve.
If you're interested in Timbavati, see here for our family-friendly lodges in Timbavati.
There are two entrances to Thornybush Game Reserve off the Guernsey Road (a gravel road).
The best one for Jackalberry Lodge is closer to the southern end of Guernsey Road, close to Klaserie.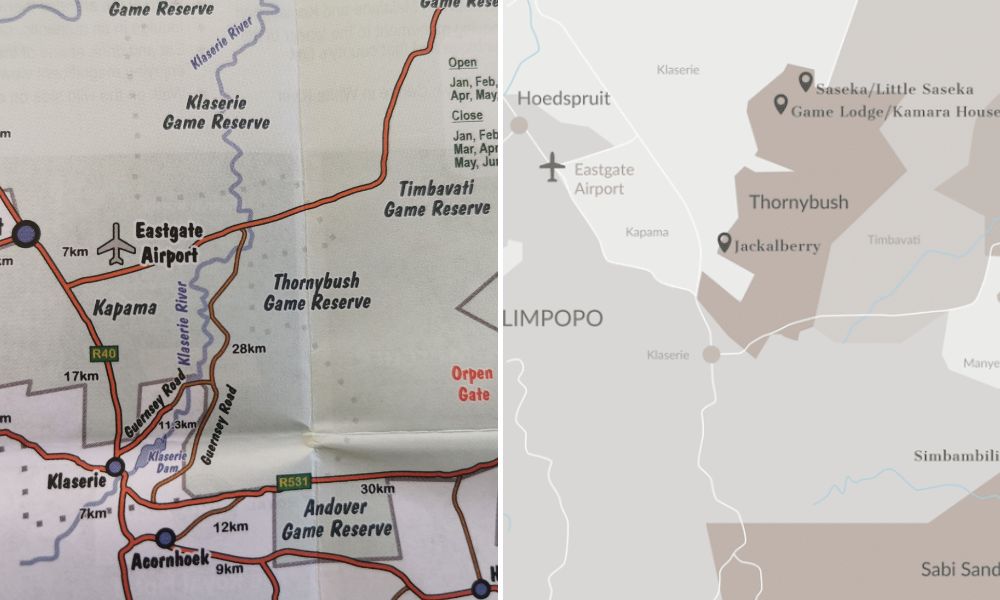 How to get to Jackalberry Lodge
If you are on a self-drive trip, you will need to have your reservation details to hand to give to the security guard on the gate. They will direct you to Jackalberry Lodge.
There are signs along the way to help guide you. You must stick to the speed limit because you are in the Game Reserve and you will come across animals.
Our drive from the gate to the lodge took about 15 minutes along dirt roads. We were driving a 2WD which was fine as the weather had been good.
In rainy season, you might want to check with the lodge ahead of your arrival to make sure that the roads are passable if you're in a 2WD.
Jackalberry Lodge can also arrange transfers for you. You may also have transfers included in your safari package in which case you do not need to worry about getting lost!
When you arrive at the main lodge, you will be greeted with a welcome drink and checked in. Check-in is from 2pm.
Which animals can I see if I stay at Jackalberry Lodge?
For most people, an African safari is all about seeing the Big 5 (Lion, Leopard, Buffalo, Elephant, Rhino).
Whilst sightings cannot be guaranteed, Thornybush Game Reserve is home to the Big 5 so it is possible to see them.
Whilst Sabi Sands Game Reserve to the south of Thornybush is better know for leopards, we did see a leopard at Thornybush.
We were lucky to see a few baby elephants. Some of them were just a few days old.
There are so many more animals to see than the Big 5 though.
As well as the Big 5, we saw a huge array of birdlife and our first ever (and normally very elusive) honey badger.
You can read this post on some of Thornybush's more unique animals.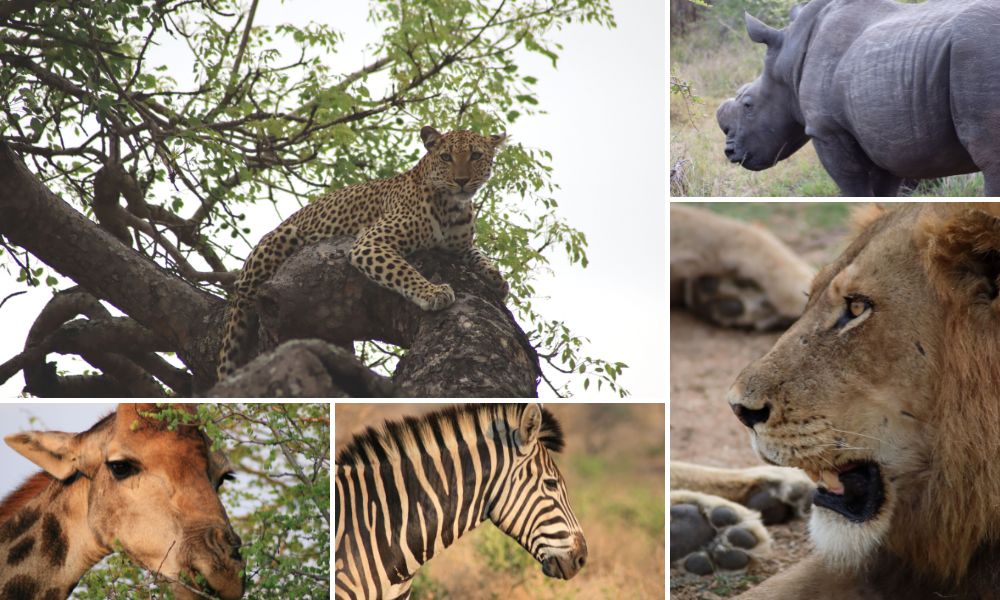 Accommodation at Jackalberry Lodge
The accommodation at Jackalberry Lodge consists of seven thatched suites – each with corner bath and an outdoor shower.
Each suite has a lounge area and an private veranda.
Whilst the suites are not the most luxurious we have stayed in, they do still have a lovely rustic safari charm about them.
The furnishings are all modern but the bathroom is a little dated.
The beds are enormous and one of the most comfortable we have ever slept in!
Note that there is no minibar or tv in the suites.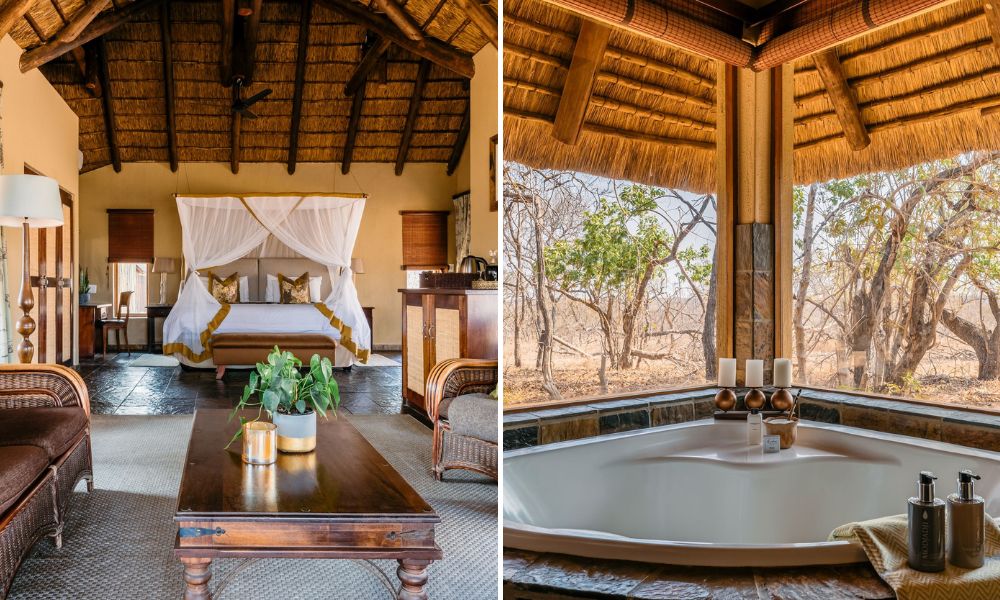 Jackalberry Lodge family accommodation
There is one family suite at Jackalberry Lodge. It is much the same at the other suites except that it has two separate bedrooms and sleeps 4.
The kids loved the resident Hornbill who would come pecking on the windows to say hi.
Actually, they spot their reflection in the windows thinking it is a rival and try to fight it. They aren't the most intelligent birds!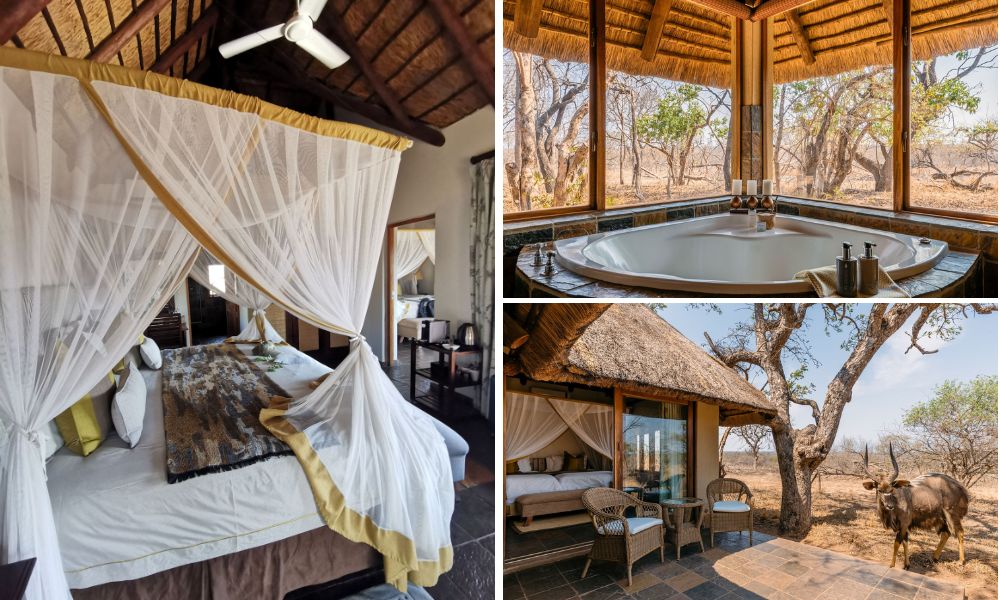 Facilities at Jackalberry Lodge
Jackalberry Lodge is a very small camp, catering for up to 18 guests. The benefit of this is that service is very personal. On the flip side, there aren't many 'extras'.
There is no spa or gym but we didn't mind this.
Here's what you do have at Jackalberry Lodge:
A lovely pool that overlooks a watering hole.
A small, peaceful library.
A small gift shop.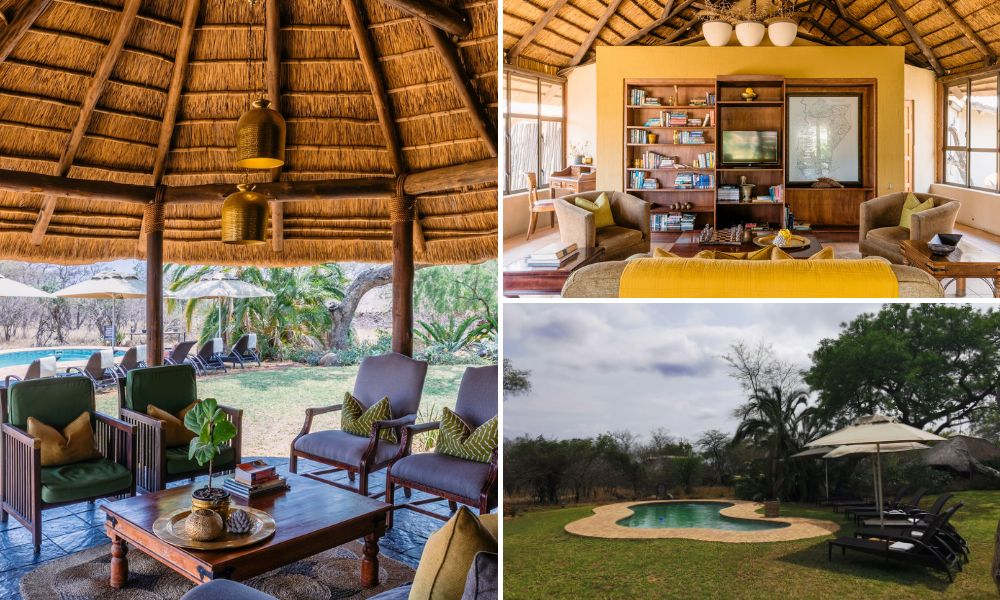 Is Jackalberry Lodge family friendly?
Jackalberry Lodge is one of the most family-friendly game lodges in the Kruger.
We stayed at Jackalberry Lodge with our 8 and 9 year old boys and they loved it.
The camp managers (Nataly and Gerhard) have young kids of their own and are very in tune with what families need.
Unfortunately our eldest son had an allergic reaction to his antimalarials and I was really concerned but Nataly was very calming and reassuring. A doctor was just a phone call away.
We felt very looked after here.
Note that there isn't a Kids' Club here (but they can arrange babysitting).
On arrival, they were thrilled to see a Thornybush 'Ranger in Training' backpack for them on their bed. It was full of safari goodies such as an animal spotting book, a mini microscope and mozzie bands.
You can read more about what is available for families at Thornybush here.
Jackalberry Lodge is surrounded by electric fences and is small so there was no need to be escorted to rooms.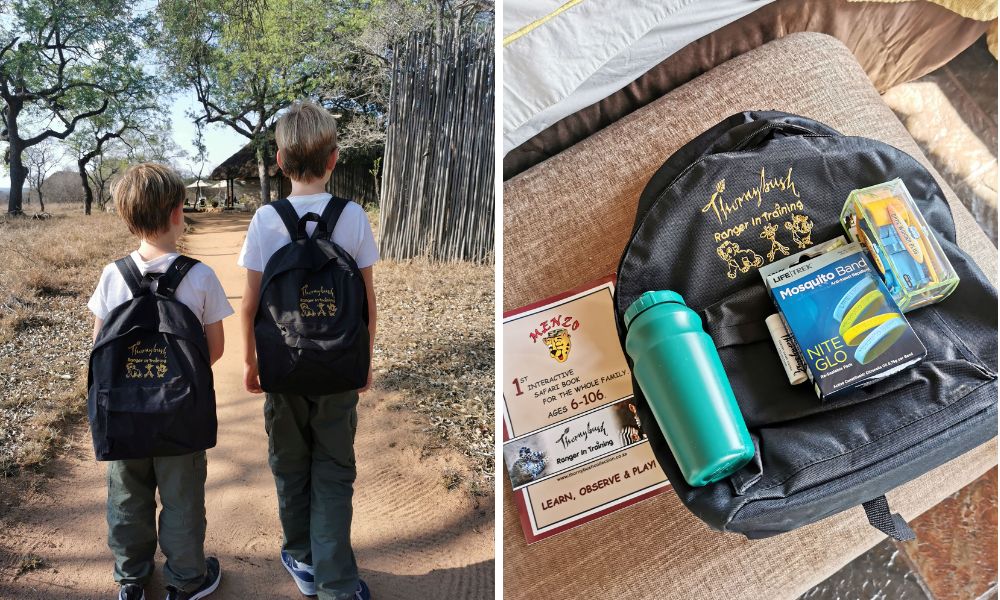 Can children go on game drives at Jackalberry Lodge?
Children of all ages are welcome at Jackalberry Lodge but children under the age of 6 cannot go on game drives.
Thornybush offer bush walks within camp for children under the age of 16.
Please refer to the Thornybush terms & conditions at the time of booking to make sure you have the most current information.
Our children were 8 and 9 when we went on safari at Jackalberry Lodge and they were the perfect age.
Our guide at Thornybush Game Lodge (Gerard) was incredibly knowledgeable. We also loved our spotter (Simon) who would take the kids for a wander during the snack break and point out footprints.
Food at Jackalberry Lodge
The dining at Jackalberry Lodge is all-inclusive. So what is included? The question should probably be – what isn't included?
Before your morning game drive (wake up 'knock' at 4.30am) there is tea and coffee in the lounge.
There are snacks on your morning game drive.
Breakfast is a buffet with additional breakfast items to order from the menu (including full English).
Lunch is a buffet with beautiful home made pies, quiches and salads and one or two desserts.
There are snacks on your evening game drive (with sundowners).
Dinner is a la carte.
Jackalberry Lodge dining was more tailored because it is such a small camp.
During your stay at Jackalberry Lodge you will have your own 'Butler'. We were looked after by Comfort who was so friendly and on hand at every meal time to ensure we had everything we needed.
We also stayed at Thornybush Game Lodge (see our review of Thornybush Game Lodge) and dining was always buffet style.
This is because the camp is so much larger and it isn't possible to offer a la carte dining.
One evening we had a lovely bush dinner. We ate by candlelight and enjoyed a lovely bottle of wine.
We loved that the boma was lit for our return from the night drive and we could enjoy a drink before dinner.
I have to say, the wine at the Thornybush Camps was very reasonable.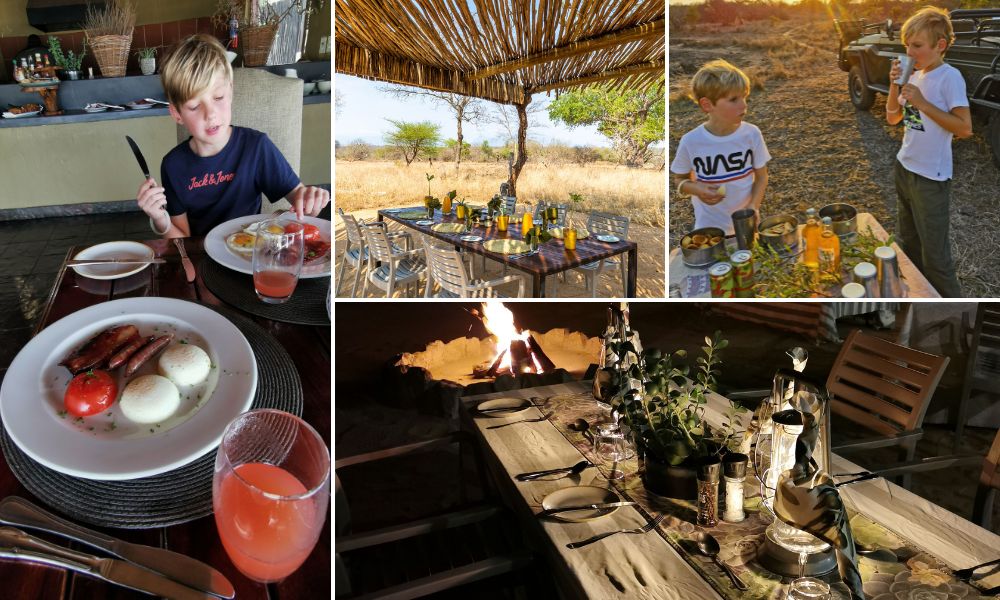 What to wear at Jackalberry Lodge
We get asked a lot what to pack for a luxury safari holiday. It can be confusing. You may think staying in a luxury lodge means getting dressed up for dinner.
There is absolutely no obligation to get dressed up at all.
Jackalberry Lodge is very laid back and there was absolutely no need to dress up.
You may want to get changed out of your safari clothes if you are particularly dusty (or wet)!
Some evenings we would come back from a game drive (at 7pm) and dinner would start at 7.30 so we just washed hands, had a drink in the bar and went straight to dinner.
It is really casual and you will find this is the case at most safari lodges.
If you are going on safari with kids, you might find this guide to things to take on safari with kids helpful.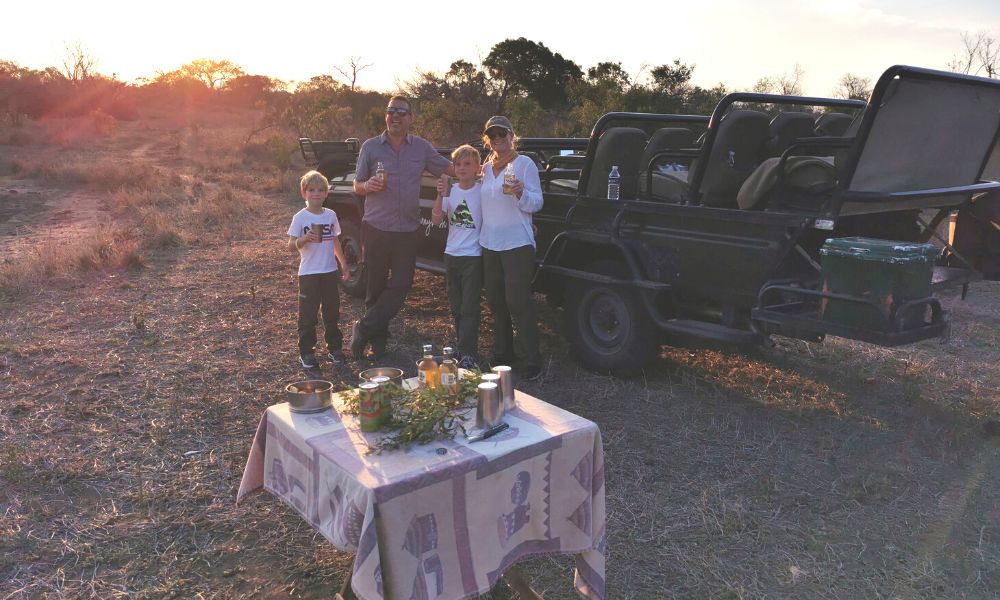 Is Jackalberry Lodge eco-friendly?
The Thornybush Group is doing its bit to be eco-friendly by using solar panels to provide power during the day.
There is also a zero plastic policy.
Activities at Jackalberry Lodge
One of the most common questions we get asked about going on safari is 'What is there to do when not on safari?'
One of our most common answers is – sleep!
When you're getting up at 5am to go on safari, there's no harm in getting a quick nap in after breakfast. This is particularly important when you go on safari with kids.
When you're not napping, here are some other things to do at Jackalberry Lodge.
Enjoy some quiet time and brush up on your safari knowledge in their peaceful library.
Relax by the pool overlooking the water hole.
Go on a walking safari with a skilled ranger (over 16s only).
Swap safari stories with other guests at the boma after dinner.
Most people just spent the time in-between safari reading, swimming or sleeping.
Whenever we travel with kids, we always bring a few little family travel games.
Our kids also spent time going through their animal spotter books and making sure they had ticked off all the animals they saw on the game drives.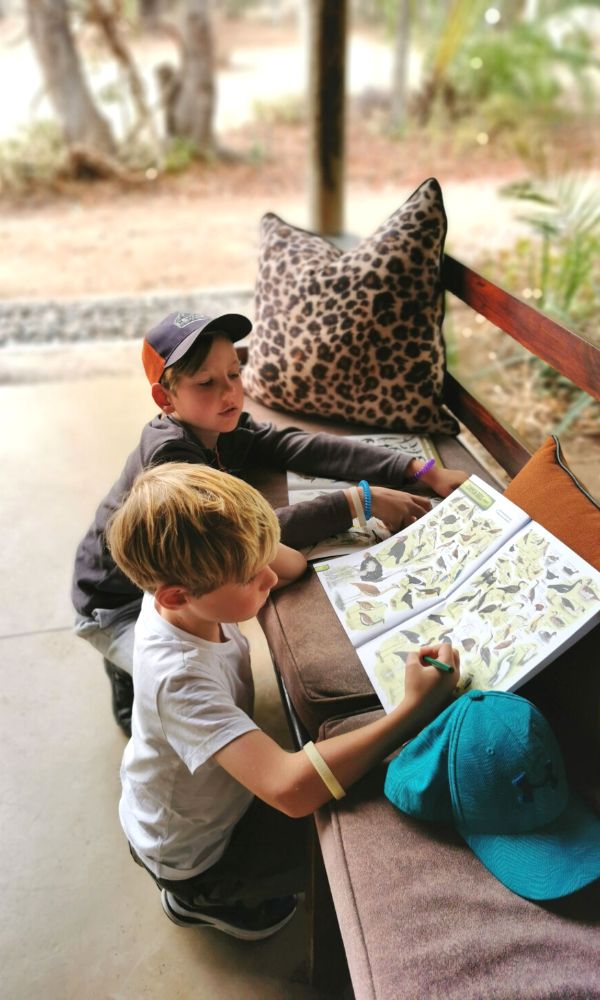 Our final thoughts on Jackalberry Lodge
As a family with young children, we felt very comfortable at Jackalberry Lodge. We would say that the lodge is mid-range and the price reflects this.
Some safari lodges are eye-wateringly expensive which is entirely unnecessary, especially when you are paying for a family.
You see the same animals that you would staying at a higher end lodge and the accommodation is still absolutely gorgeous.
The food was amazing and the service was 5 star. The pool was lovely.
What we loved most about Jackalberry Lodge was the fact that it is a really small camp.
The staff knew the kids names and were friendly and welcoming.
If the kids needed a nap, we could sit by the pool and our room was within sight and just a few steps away.
We hope you found our Jackalberry Lodge review helpful. If you have any questions, please get in touch!
Other accommodation in Thornybush Game Reserve
There are 6 lodges under the Thornybush umbrella. 5 of them are located in the Thornybush Game Reserve.
All of them are family-friendly except Simbabili. Simbabili is located in Sabi Sands Game Reserve and is more aimed at couples and honeymooners.
Other lodges in the Thornybush Game Reserve are: