The Best Places To Go Pumpkin Picking In Somerset In 2023
Summer is drawing to a close and the beautiful purple lavender fields and vibrant sunflower fields are past their prime.
The summer fruits have all been picked so that can only mean one thing. Autumn is on it's way and it's the season for pumpkin picking in Somerset!
Visiting a pumpkin farm has become more and more popular in recent years as it's a fun thing to do with kids.
Some of the farms have lots of other Halloween events on for kids too, making for a really fun and relatively inexpensive day out during half term (unless you decide to pick ALL the heaviest pumpkins)!
Not all of the 2023 Somerset pumpkin picking dates have been released yet so keep an eye open and check back as we will be updating them when they are released.
If you're on the border with Dorset, we also have a post on the best Dorset pumpkin patches.
If you're looking for UK staycations this October half term, take a look at our guide to the best UK Halloween breaks for families.
This post contains affiliate links. If you click on one and buy something, we may earn a small commission but this is at no extra cost to you.
Quick reminder: don't forget to get your pumpkin carving kit.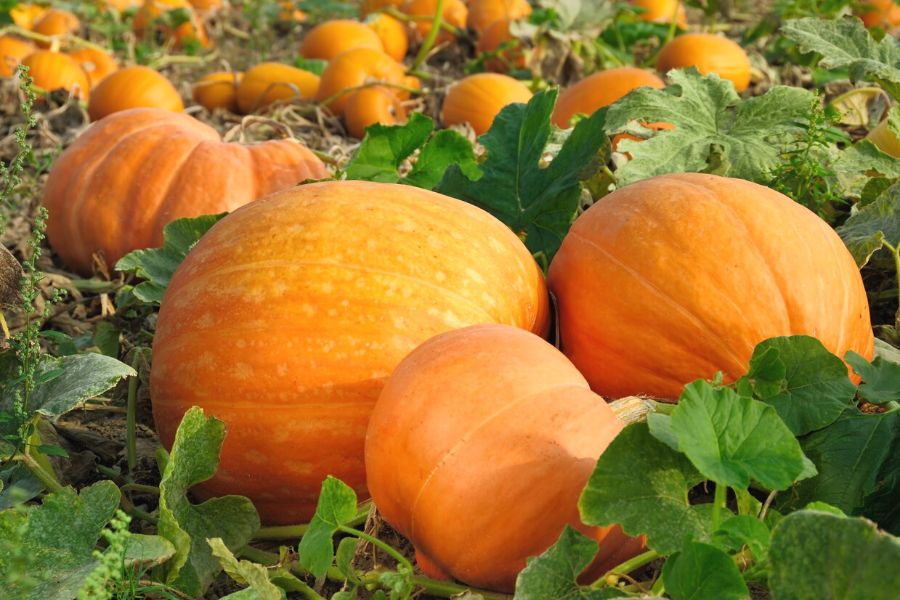 Before we list the best places to go pumpkin picking in Somerset, here are a few tips that may come in handy when visiting a pumpkin patch in Somerset…
The pumpkins are grown (or are laid out) in fields. If you're visiting these Somerset pumpkin fields on a wet day or it has previously been raining, the pumpkin patches will be muddy. It is usually always best to wear wellies or other suitable footwear for this family-friendly day out.
PYO pumpkins come in all shapes and sizes. Some are better for eating than others and the farm should be able to tell you which ones these are. See here for zero waste pumpkin ideas.
The majority of farms will sell pumpkins by weight or size. Check the price per kg before letting the kids choose the largest, heaviest pumpkin as the cost will soon add up!
Avoid pumpkins with soft spots or cuts as this signals a rotting pumpkin. It won't last long at all when carved. Pumpkins should be firm.
Heavier pumpkins mean denser walls which are best for carving.
Many of these pumpkin farms in Somerset have wheelbarrows which you may or may not need to pay a deposit for. If they don't have wheelbarrows, you should consider taking a sturdy bag. Don't carry the pumpkin by the stalk as it may snap off and your pumpkin will get damaged.
Some of these PYO pumpkin farms in Somerset will have carving facilities onsite. If they don't, you might want to look into getting one of these pumpkin carving kits.
See here for more pumpkin picking tips!
Pumpkin picking in Somerset
Frogmary Green Farm
Frogmary Green Farm Pumpkin Picking
Pumpkins available to pick in the field. Small pumpkins are £2, medium are £3 and large pumpkins are £5. There is a café on site and dogs are allowed on leads.
Where: Frogmary Green Farm, West Street, South Petherton, Somerset, TA13 5DJ.
When: 18th to 29th October 2023 from 9am to 4pm.
Tickets: Free to visit and  you don't need to book. Only pay for the pumpkins you pick.
If you're looking for things to do in Somerset this Christmas, they also host a festive light trail. See here for details.
Thurloxton Farm
Thurloxton Farm has 2.5 acres of pumpkin fields so grab your wellies as it can get muddy. Wheelbarrows are available.
In addition to selecting your pumpkins, you can take part in Halloween themed games and carve your pumpkin onsite.
Dogs are not allowed.
Where: Thurloxton Farm, Keirles Farm, Taunton, Somerset, TA2 8RH
When: 14th to 30th October 2023.
Tickets: £12.50 per child which includes one PYO pumpkin and Halloween games.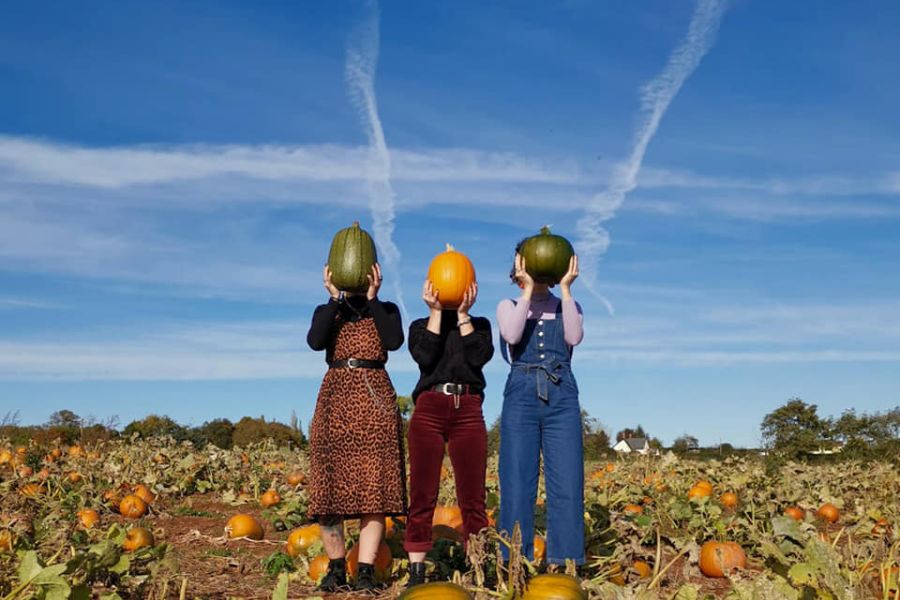 Picking Patch Bath
There are 8 acres of pumpkin patches at Newton Farm in Bath. As well as pumpkin crafts and activities, there is also a maize maze which is always fun!
There is food onsite and wheelbarrows available but dogs are not allowed.
Where: Bath Pumpkin Picking Patch, Newbridge Road, Newton St Loe, Bath, Somerset, BA1 3NB.
When: Through October.
Tickets: Free – although maize maze needs to be booked. Pumpkins start at £1.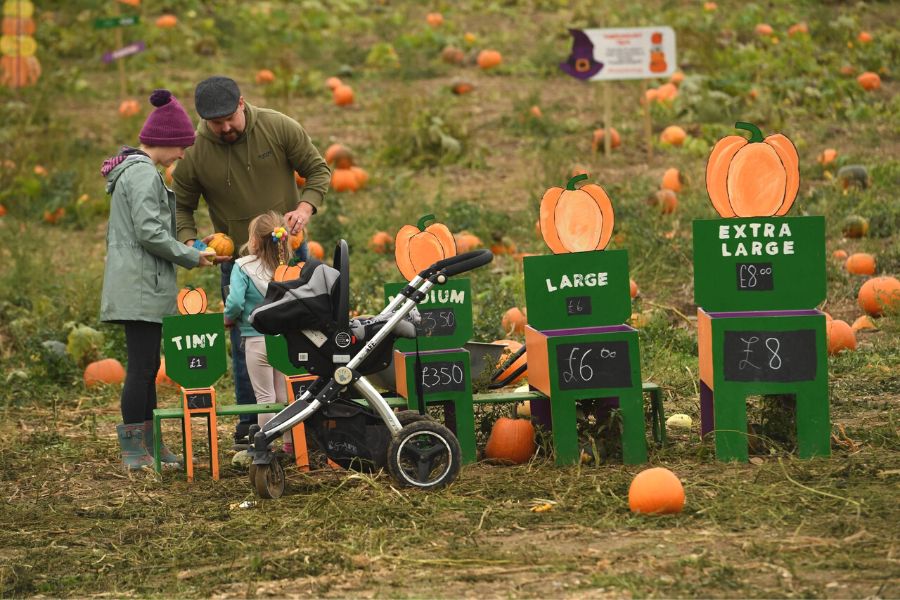 Farrington's Farm
There's so much going on at Farrington's Farm near Bristol!
As well as one of the largest pumpkin fields in Somerset with a huge variety of pumpkins, there are tractor rides, a play barn, a farm park and lots of places to eat.
Through the year they also have tulip fields in the Spring, sunflower fields in the Summer and offer farm tours.
If you are looking for Christmas events in Somerset, you can also check out their Elf Academy! See their Facebook page for details.
Where: Farrington's Farm, Home Farm, Main Street, Farrington Gurney, Bristol, Somerset, BS39 6UB.
When: 6th to 29th October 2023.
Tickets: £2.50 per person. Under 2 – FREE.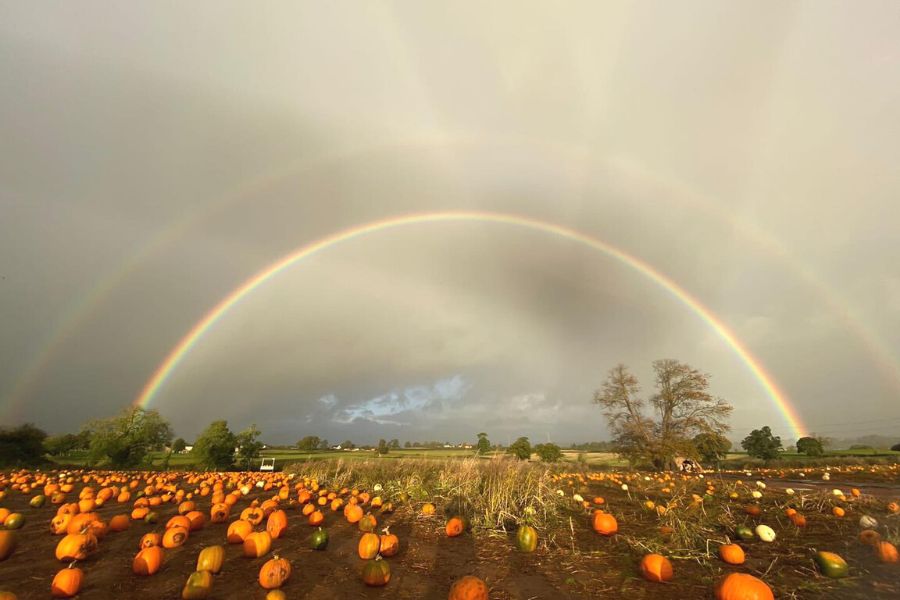 Palette and Pasture
Palette and Pasture run lots of seasonal events through the year including a maize maze, sunflower field, Elf Trail and a Pumpkin Festival. You may or may not feel like it depending on the weather but it is also home to somerset Gelato!
Where: Pyle Farm, Trudoxhill, Near Frome, Somerset. BA11 5DL.
When: Weekends through October and during Half Term.
Tickets: £1.00 per person. Booking required.
Fairfield Pumpkins
Set up during lockdown, Fairfield Pumpkins has a small pumpkin patch on a working farm just 1 mile from Yeovil.
You don't need to pre-book. Just come and grab a wheelbarrow and get picking. There are also activities for the kids. No dogs are allowed.
Where: Fairfield Pumpkins, Fairhouse Rd, Barwick, Yeovil, Somerset, BA22 9TL.
When: 7th to 30th October 2023.
Tickets: Free – and pumpkins start from £2.00.
Other pumpkin patches in Somerset
Some other places to go pumpkin picking in Somerset are:
Puxton Park – Hewish.
The Trough Patch – near Yeovil.
Schmooks Pumpkin Patch – Ilminster.
Thistledown Farm – Babcary.
Avon Valley Pumpkin Patch – Avon Valley Adventure & Wildlife Park.
So these are the best places to go pumpkin picking in Somerset. Do you have any places to go pumpkin picking in Somerset that you would like to recommend? Let us know! we'd love to hear from you.
If Halloween season is nearly over, how about checking out what's on at Christmas in Bath (and beyond)?!
You might also like…
The Best Places To Go Pumpkin Picking In Norfolk
The Best Places To Go Pumpkin Picking In Suffolk
The Best Places To Go Pumpkin Picking In Kent
The Best Places To Go Pumpkin Picking in Bedfordshire
The Best Places To Go Pumpkin Picking in Hertfordshire
The Best Places To Go Pumpkin Picking in Hampshire
The Best Places To Go Pumpkin Picking Near London
The Best Places To Go Pumpkin Picking In Surrey
The Best Halloween Events In Hertfordshire
Halloween events in Bedfordshire