Epic 2-Week Namibia Road Trip: How To Plan Your Namibia Itinerary
We have just come back from the most amazing 2-week Namibia road trip. This was our second time visiting Namibia. The first was in 2010 when we backpacked with our 2-man tent through Eastern and Southern Africa.
It was such a special country that we vowed to come back. When we felt that the kids were old enough to appreciate the magnificence of Namibia, we started planning our epic 2-week Namibia road trip.
Our self-drive Namibia itinerary included self-drive and guided safaris in Etosha and tracking elusive desert elephants in the Hoanib Valley.
We met a lovely Himba family and learned about their way of life. We discovered rock carvings in Damaraland and enjoyed incredible sunsets and breathtaking scenery.
We experienced two very unique wildlife tours in Swakopmund and finished with some time in the sand dunes. Throughout our 2 weeks in Namibia, we met the friendliest people.
If you are considering a Namibian self-drive itinerary with kids (or without!), our Namibia road trip blog goes into a lot of detail to help you plan your own epic adventure.
This itinerary is a loop starting and ending in Windhoek so you can do it in reverse if that suits you better.
Our self-drive Namibia holiday was the trip of a lifetime but I will caveat that with saying there was a lot of driving. And most of it is on gravel roads. Despite this, this 2-week Namibia itinerary is up there with the most epic road trips ever.
We have also included variations to our own self-drive Namibia vacation in case our route doesn't quite suit your own Namibia road trip with kids.
See our post on the best places to visit in Namibia for more inspiration for your road trip planning.
This post contains affiliate links. If you click on one and book or buy something, we may earn a small commission but this is at no extra cost to you. Thank you for your support.
Namibia is very easy to navigate yourself and this is a 2-week self drive Namibian itinerary, but if you feel that you would like someone to take care of the logistics for you, then we highly recommend Go2Africa.
They are specialists in planning family-friendly itineraries in Africa and will organise the most amazing adventure for you.
First, a few tips on visiting Namibia for the first time.
General tips on a Namibia self-drive itinerary with kids
Here are just a few things you need to know about travelling to Namibia with kids and things that will help you plan your two week Namibian itinerary:
Birth certificates – if you are travelling to Namibia with kids, at the time of our travels in April 2023, long form birth certificates were required for each child.
Malaria – malarial risk is low in Namibia, especially during the dry winter season but there is still a risk. There can be mosquitoes around so we recommend packing mosquito repellant in your family travel first aid kit and covering up during sunrise and sunset. Also speak to your healthcare provider to discuss antimalarials. If you're at all concerned, see here for safaris in non-malarial areas.
Safari with kids – we highly recommend buying a couple of Namibia focused animal spotting books for kids. Our kids loved this mammal one and this bird one. See here for more tips on going on safari with kids.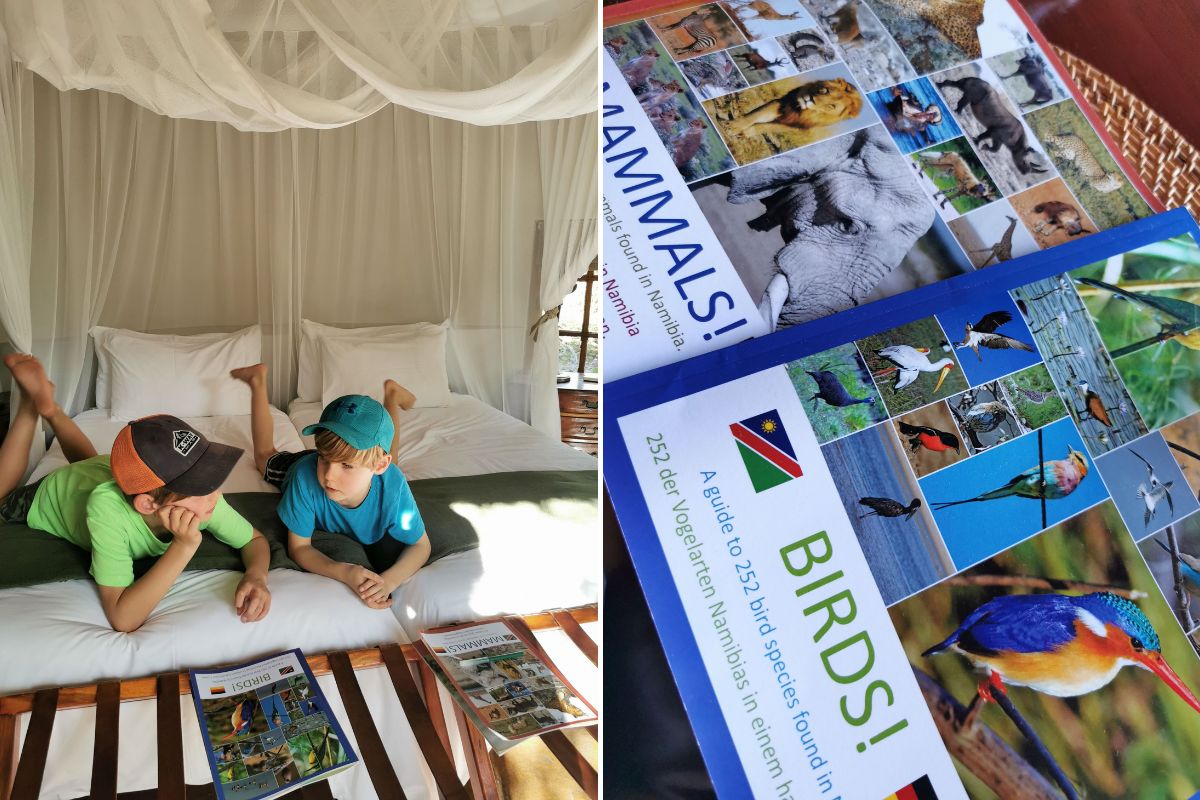 Weather – many parts of Namibia are very hot and dry but there is a wet season. The rainy season runs from October to April when temperatures can soar and roads can become impassable.
Best time to visit Namibia – July to October is the best time to visit Namibia, especially if you are wanting to see wildlife. The temperatures are a bit lower and there is less chance of rain. This is also the busy season and lodges can get booked up months in advance.
What to pack for Namibia – in general, light, long sleeved clothing is recommended for safaris. The temperature rarely drops below 20°C in most of Namibia (and can get up to 50°C). However, if you are visiting Swakopmund or Walvis Bay, you should make sure you have some warm layers as it can get much cooler on the coast.
Driving in Namibia – it is easy to drive in Namibia in the sense that there aren't many other cars on the road. You will encounter gravel roads and some barely gravel roads. The danger mostly lies with other people driving far too fast and encountering sudden dust clouds. Take your time and enjoy the views and try to avoid driving at night. Always fill up with petrol when you see a filling station. You never know when the next one may be. Be prepared for dust to get everywhere!
4×4 or car? – If you are driving in rainy season, it is recommended that you get a 4×4. It doesn't have to be a fully equipped 4×4 with roof tent. We visited at the end of the rainy season and rented a Nissan X-Trail through Avis via RentalCars and it was fine. On a previous trip, we drove from Botswana, down through Namibia to South Africa in a VW Polo. You just need to be sensible and research your route and decide what type of vehicle will be most suitable at the time you are going. If you want a 4×4, Namibia2Go was recommended to us.
Water – in most places it is best to drink bottled water. Also keep a good supply of water in your car. Like petrol, shops can be few and far between when you get out of the larger cities.
Sim card – if you don't want to incur charges using international roaming, it is a good idea to get a Namibian Sim card. You can get one at the airport on arrival. You will need to show your passport.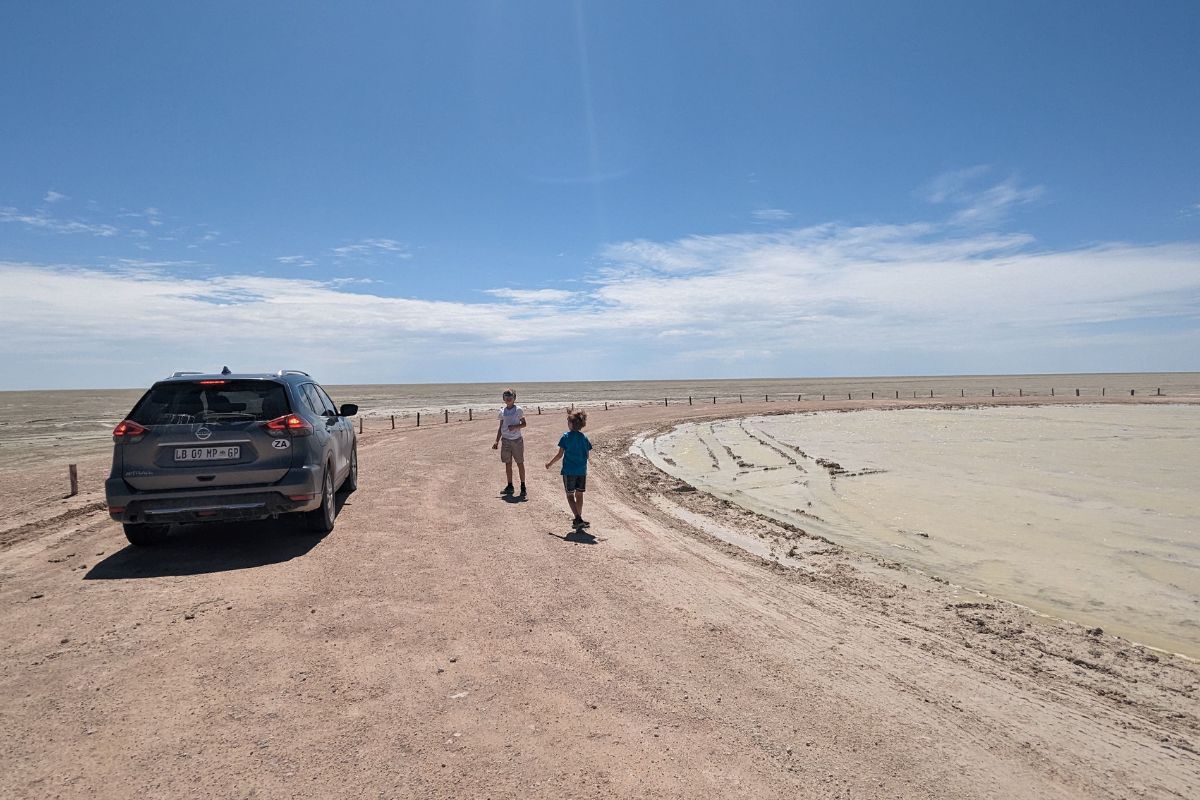 Our epic 2-week Namibia road trip
This 2-week Namibia road trip for families shows a day by day account of where we went, what we did and where we stayed.
Our 14 day Namibia itinerary does include a section which is aimed at more adventurous travellers, but it is easy to subsitute this. We will explain how later.
Map of our 2-week Namibia road trip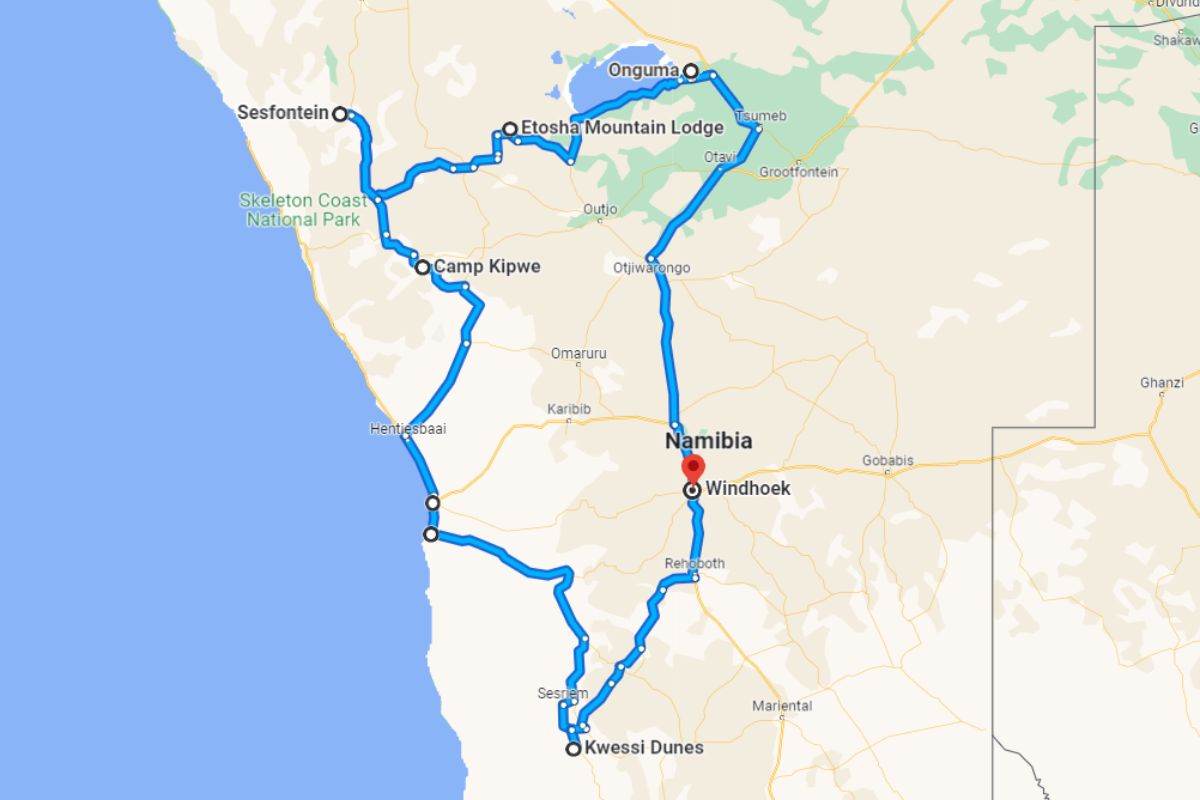 Day 1 – Arrival in Windhoek
Windhoek airport is very small and easy to navigate. If you are picking up your car at the airport, you will find the car rental companies just after baggage reclaim.
If you are picking up a more specialist 4×4, you will most likely find that the offices are closer to the centre of Windhoek – although some of them deliver to the airport.
Assuming you want to spend your first day of your 2-week Namibian itinerary in Windhoek, here are a few suggestions on things to do.
Christuskirche is Windhoek's best-known landmark. It is a church that almost resembles a gingerbread house.
Whilst in Windhoek, take this opportunity to visit the supermarket and stock up on some supplies, especially if you are camping.
Accommodation in Windhoek
We can recommend Chameleon Backpackers as a budget option. They have a lovely pool area and family rooms. It is so friendly and welcoming.
If you want a self-catering option, we have also stayed at Alluring Self-Catering and loved it. They have a shared pool and the 2-bedroom apartment is modern and clean.
If you are looking for a hotel, we recommend The Hilton with large family rooms, outdoor pool and fabulous roof terrace.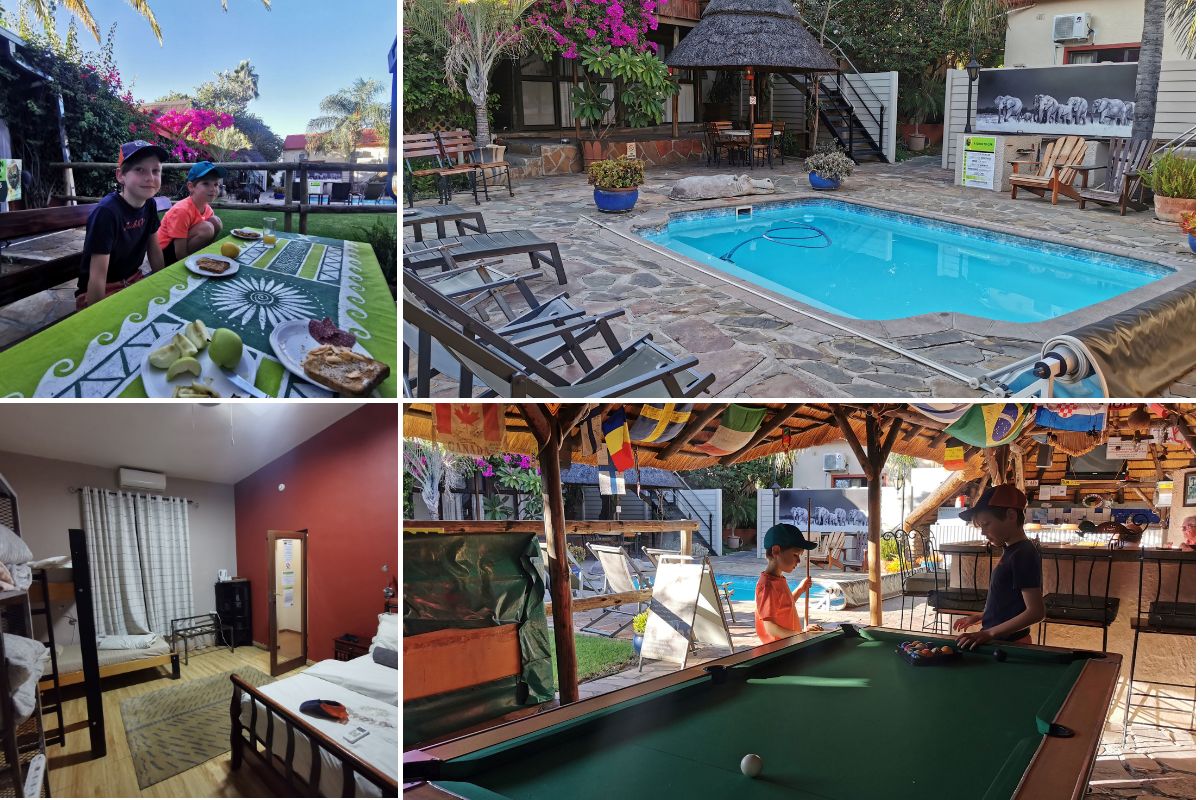 Restaurants in Windhoek
There are lots of restaurants to choose from in Windhoek but first time visitors can't miss trying Joe's Beer House which has been going since 1991 and is an institution.
People come for the eclectic / bizarre collection of artefacts and the chance to try some exotic sounding African meats including Kudu, Zebra, Springbok and Crocodile).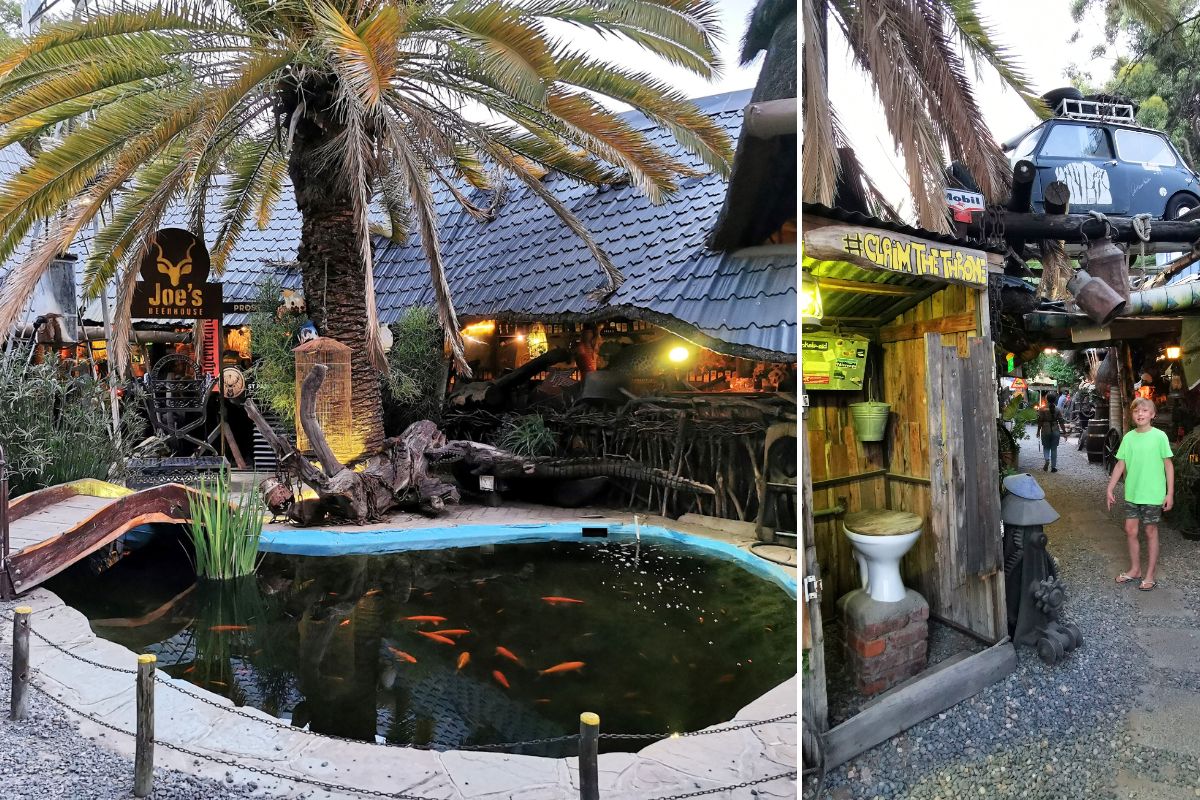 Day 2 – Windhoek to Etosha National Park
The first stage of your two week Namibia itinerary from Windhoek to Etosha National Park is very straightforward and is paved all the way.
Depending on where you are staying, the journey may take around 4 hours (to western Etosha) or 5.5 hours to eastern Etosha.
Variation 1: If you want to make an overnight stop on the way to Etosha to break up the journey, we recommend Okonjima – home to the Africat Foundation. There are lots of activities here including tracking Cheetah. Alternatively, just stop here for lunch and push on.
Variation 2: If you are driving up to western Etosha, you could pop in to the Cheetah Conservation Fund near Outjo.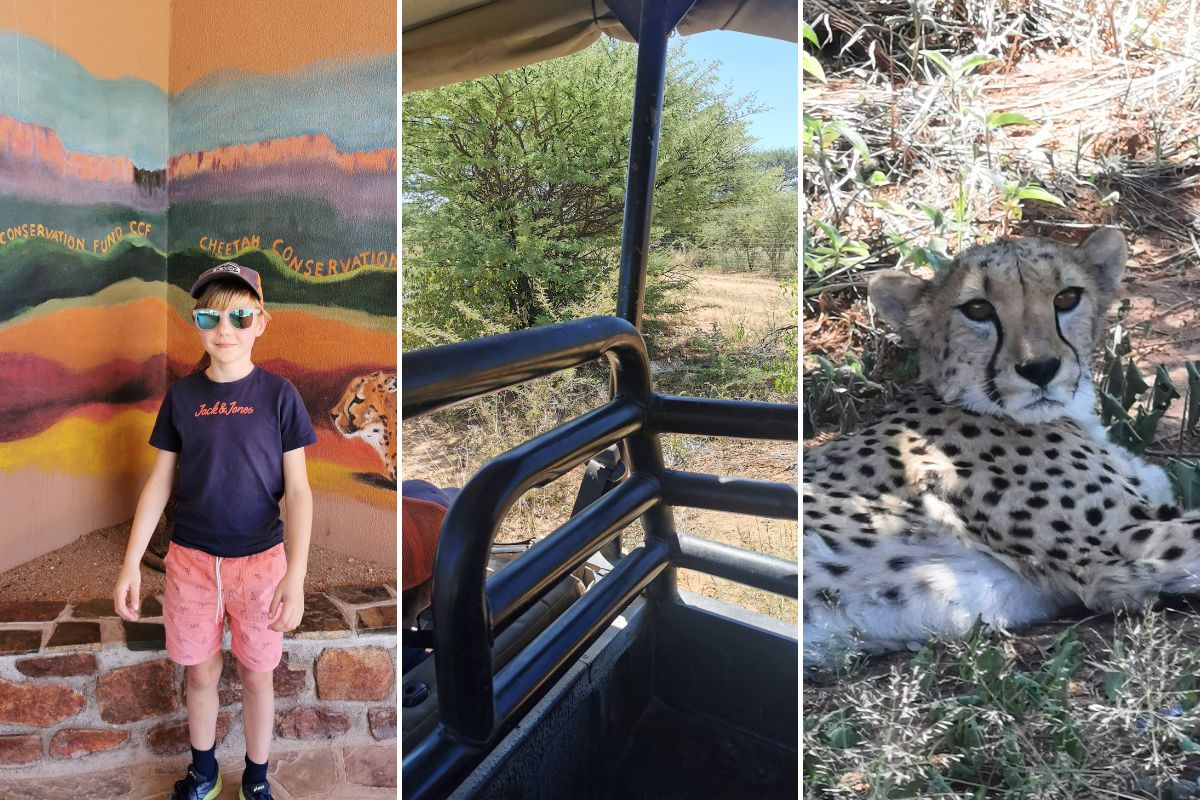 We stayed 2 nights in eastern Etosha at Onguma Forest Camp which was perfect for families with lovely family suites, a lovely pool overlooking a busy waterhole and an excellent nature walk for the kids.
Note that the Forest Camp is not fenced so they prefer children to be over 7 years old.
Onguma has a portfolio of properties to suit all budgets. 13 years before, we stayed at the luxurious Onguma Fort and also the Bush Camp which is fenced and suitable for kids of all ages.
Finally, they have a fabulous campsite with excellent facilities including private bathroom and bbq area and you can use the pool at Bush Camp.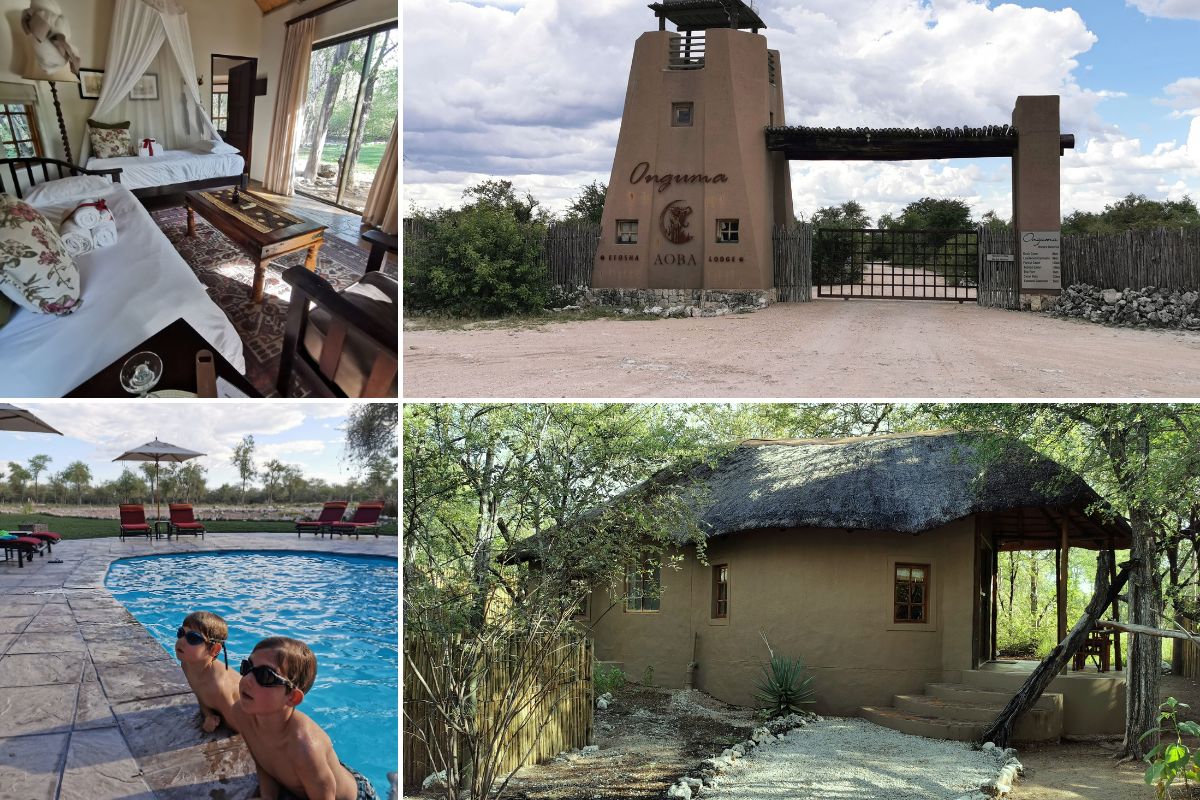 Onguma can arrange game drives for you in their private game reserve. Alternatively, you are right next to Namutoni Gate, one of the main gates into Etosha National Park and can do your own self-drive safari. This is a much more affordable way to go on safari.
We arrived late to our accommodation so we just relaxed and enjoyed the pool. After a long drive, we didn't want to go straight out on a game drive.
In the evening we saw honey badgers running through camp as well as many giraffe coming to drink at the waterhole.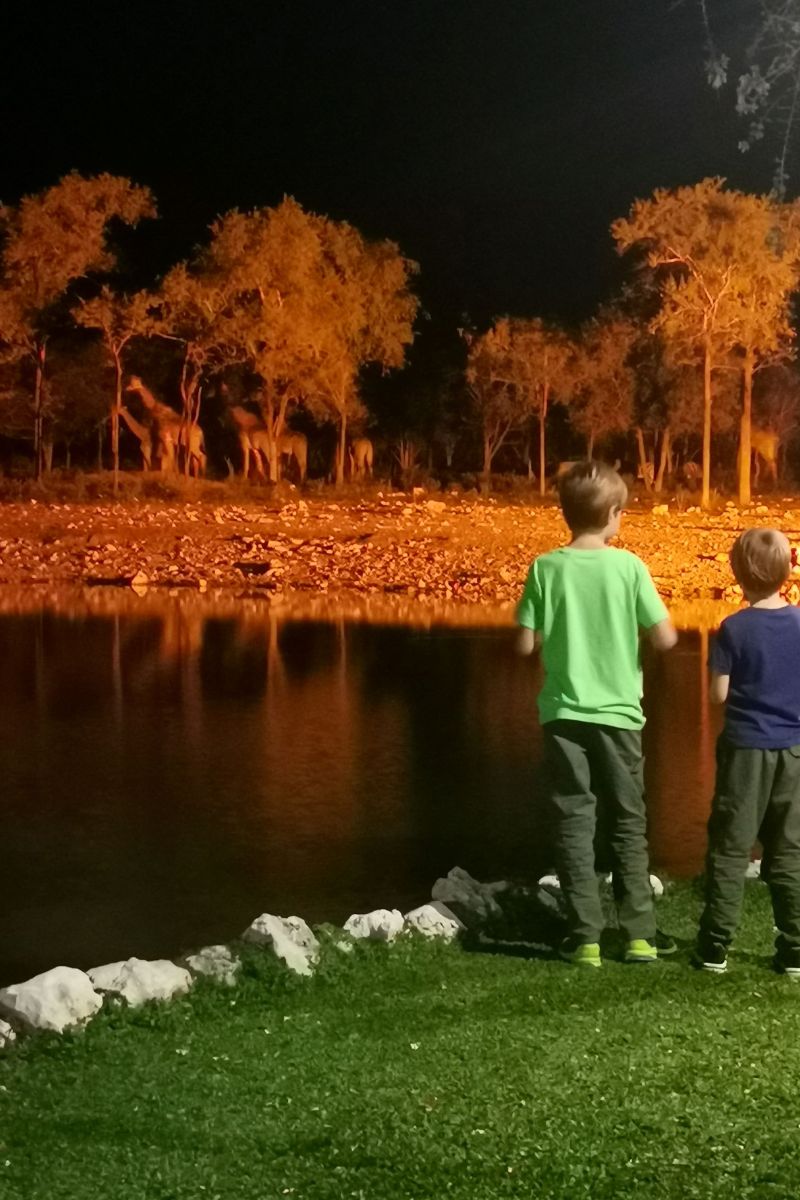 Day 3 – Etosha National Park
We had a kids' bush walk arranged in the morning through Onguma Forest Camp. We accompanied them because it was almost a half day activity, taking place in the neighbouring Bush Camp (which is fenced).
Even though it meant missing a morning game drive, it was so worthwhile doing.
The kids loved it and we found it really informative. As well as learning about the flora and fauna of Etosha, there were activities like sling shot practice, archery and making bead bracelets.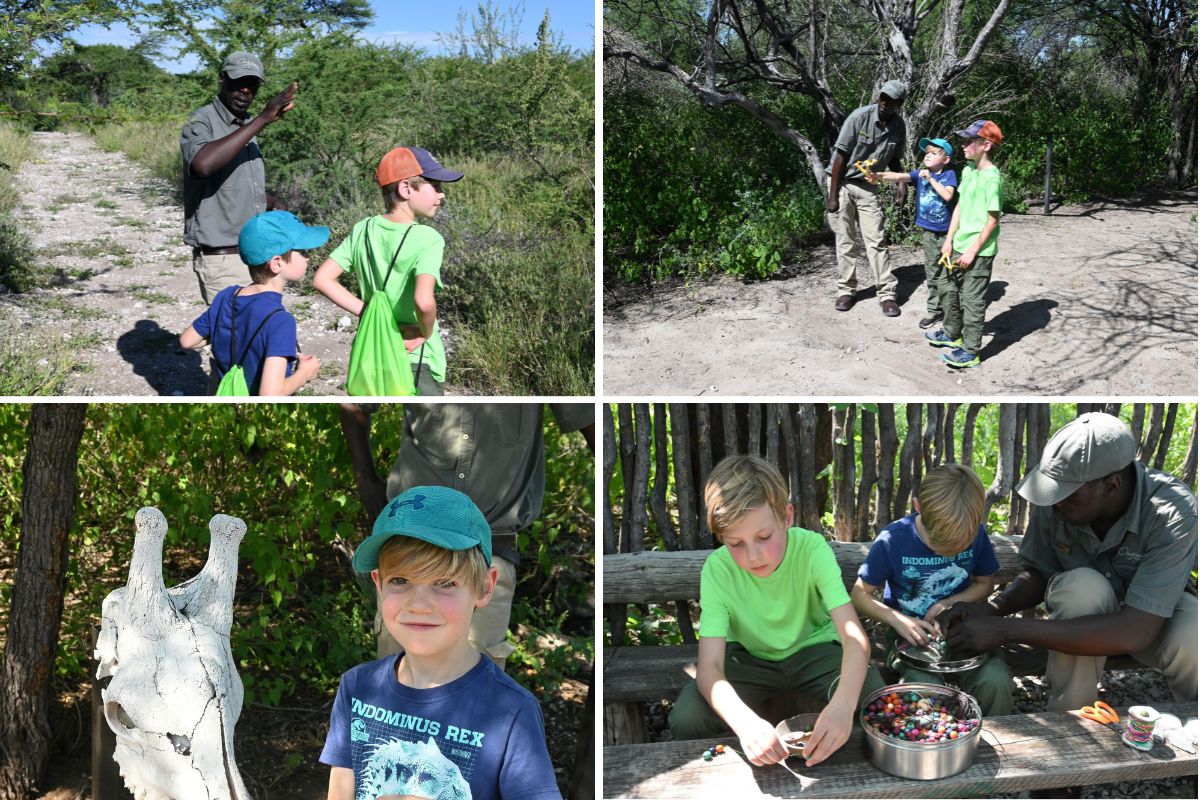 We were back at the lodge for lunch and some afternoon pooltime and then set off on an afternoon game drive in Etosha National Park.
If it is your first time in Etosha National Park, here are a few tips you might find helpful.
Etosha National Park:
Etosha National Park entrance fees are NAD 150 per adult and free for children under 16. Cars with less than 10 seats are NAD 50.
It is open from sunrise to sunset. Check at the gate before you enter what time this is. In April it was 7am to 7pm.
You need a form of ID (Passport or Drivers Licence) to enter the park.
Etosha National Park is 20,000 km² and the roads are all gravel. A high clearance vehicle is preferred but not essential. A 4×4 is not necessary.
The speed limit is 60km/h (although this is even a bit fast for spotting wildlife). Make sure to plan your route so you are not rushing to the gate to get out before the park closes.
You can't see the Big 5 because there are no buffalo and if you are doing a self-drive safari, sightings or lion, cheetah and leopard are rare (but not impossible).
Visiting waterholes at just after sunrise and just before sunset is the best way to see animals during the dry season. In the rainy season, long grass makes it harder to see animals other than plains animals which are plentiful (zebra, giraffe , wildebeest etc). Bird life is also prolific in the rainy season.
There are a few rest stops around the park and 6 rest camps in the park. Accommodation in the camps is fairly basic. You must book these around a year in advance!
There are three petrol stations in Etosha (Okajuejo, Namutoni and Halali).
Here are some of our photos from our game drives in Etosha National Park.
See also our guide to visiting Etosha National Park which explains what you can expect to see during the different seasons.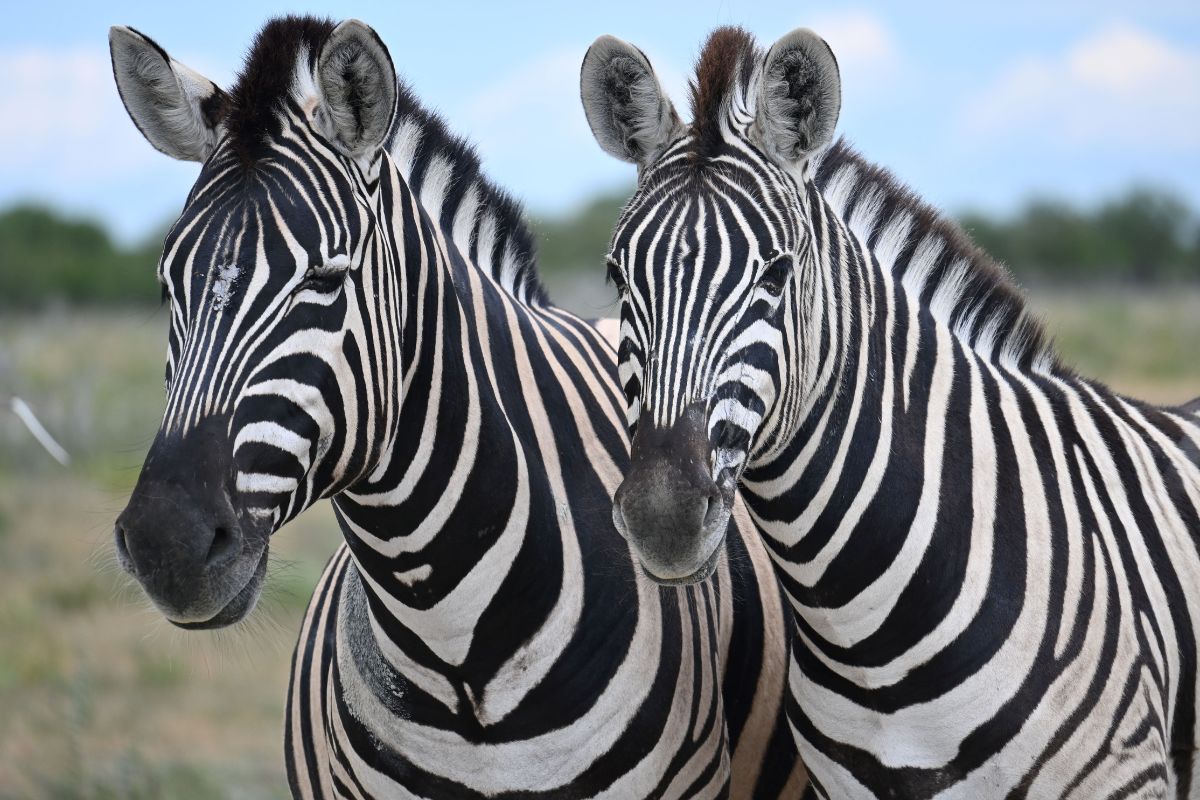 Day 4 – Etosha National Park
We drove through Etosha to get to our next accommodation, Etosha Mountain Lodge.
We entered via Von Lindquist Gate near Namuntoni Camp in the east of Etosha and exited at Anderson's Gate near Okaukuejo Camp in the west – giving us almost a full day in the park.
The drive from Onguma Forest Camp to Etosha Mountain Lodge took 7 hours. 5 of these hours we spent game viewing while crossing Etosha NP so that part didn't seem so long. The final stretch is what nearly broke us!
Etosha Mountain Lodge is part of the Natural Selection group that has properties in Namibia, Botswana and South Africa.
It is located in the Etosha Heights Private Reserve, sharing a (broken) fence with Etosha National Park.
Variation: The drive from Onguma to Etosha Mountain Lodge takes a full day. If you want to break it up, an alternative would be to stay in Okaukuejo (a government camp inside the park with an amazing waterhole).
There is also Ongava Lodge which is close to Etosha and set in a private game reserve. Ideally kids should be 5+ here.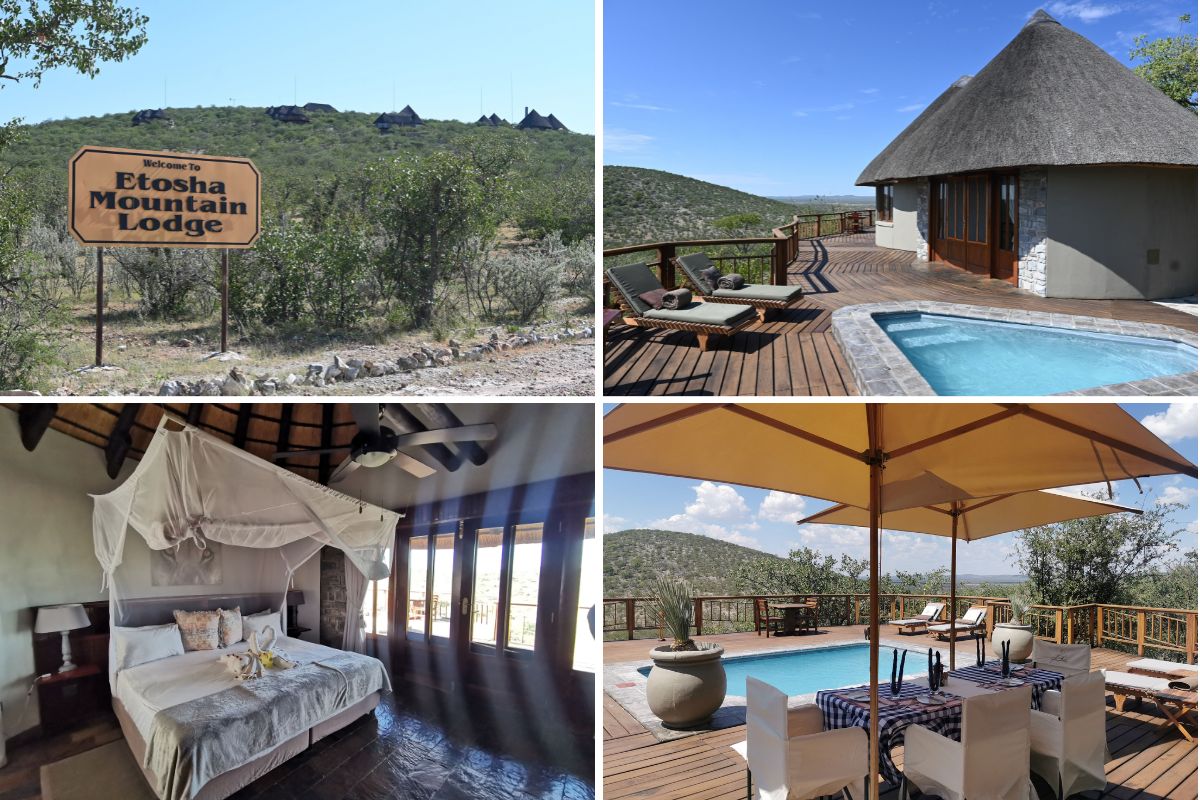 For us it was a long day of driving. However, once we arrived at Etosha Mountain Lodge, we were made to feel like royalty.
One of the main reasons we loved this part of our stay is because of our fabulous guide, Mamsie. She is one of only a handful of female guides in Namibia. She was absolutely amazing with the kids and we had an incredible couple of days on safari with her.
She knew that we were transferring to another Natural Selection property, Hoanib Valley Camp, so she volunteered to go in convoy with us in case we had any issues.
She was then our guide at Hoanib Valley Camp. We were very glad of her company because there were a few hairy moments en route. More of this under Day 6!
We loved the location of Etosha Mountain Lodge. The views from both the main lodge and our suite were incredible, particularly at sunset. However, there are a few issues that we should highlight.
Etosha Heights Private Reserve was a former hunting reserve (until 2016) so the animals were incredibly skittish. This made seeing anything close up quite difficult.
The accommodation was quite dated and because it was the end of the wet season, there were milipedes everywhere, including in the room. On the plus side we had a huge family suite with a private plunge pool on the decking.
We had a brilliant time there. We were the only guests at the time which meant that we had the whole private reserve to ourselves on game drives. There is a more upmarket lodge in the reserve, SafariHoek Lodge, if you prefer a higher quality of accommodation.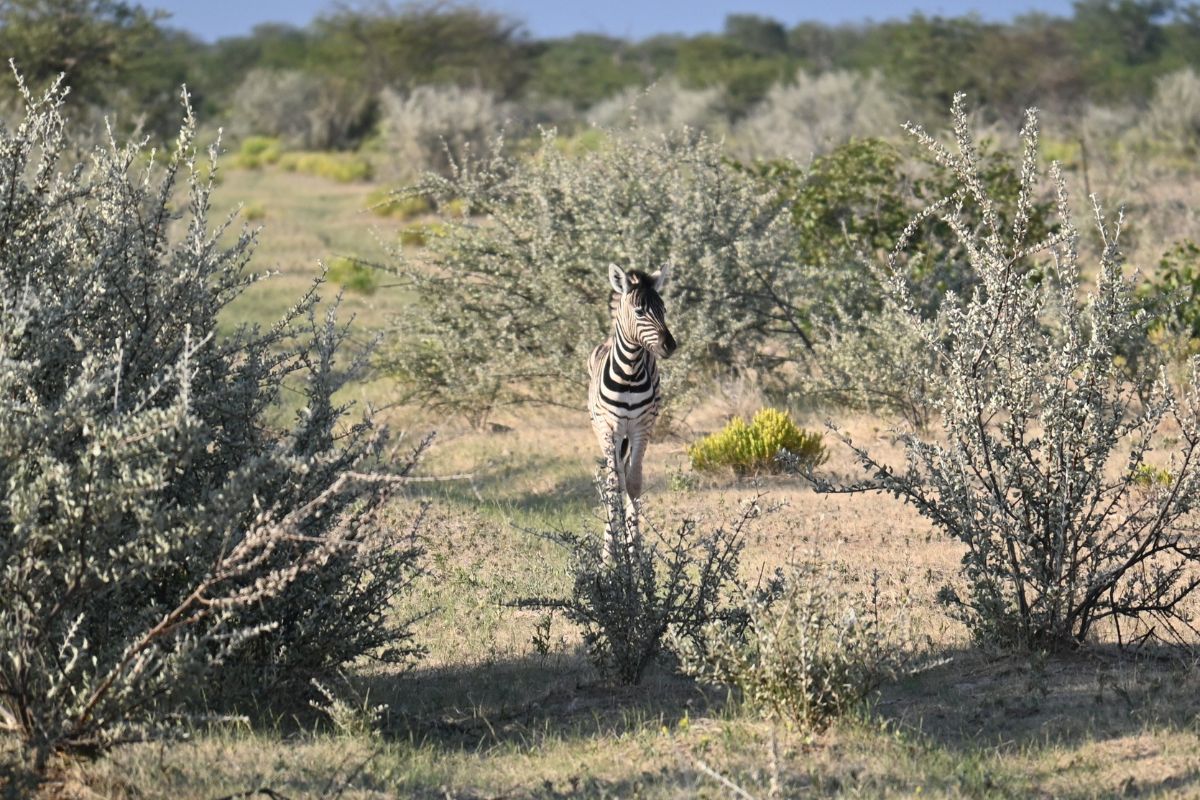 Day 5 – Etosha Mountain Lodge
This day consisted of a morning and and afternoon game drive with some time by the pool. The day ended with a lovely meal by the boma and some farewell songs from the staff.
Day 6 – Etosha to Hoanib Valley
This is where this 14 day Namibian itinerary can be varied to suit your style.
Variation: Instead of Hoanib Valley, you could go down to Damarland and spend an extra day there and then add an extra day in Sossusvlei.
The journey from Etosha Mountain Lodge to Hoanib Valley Camp takes 8 hours. There is a poor gravel road which could have been quicker but it was the end of the rainy season with some flooding around.
We tried for 20 minutes then had to turn back and take the longer route. And if you're wondering whether a 4×4 could do this route – no. Even the safari jeep nearly got stuck. The water in this flooded part of the road would have come over our bonnet and it was very muddy.
Before you leave your lodge, you should check with them what they say about the route you are planning to take in case they have heard anything about flooding.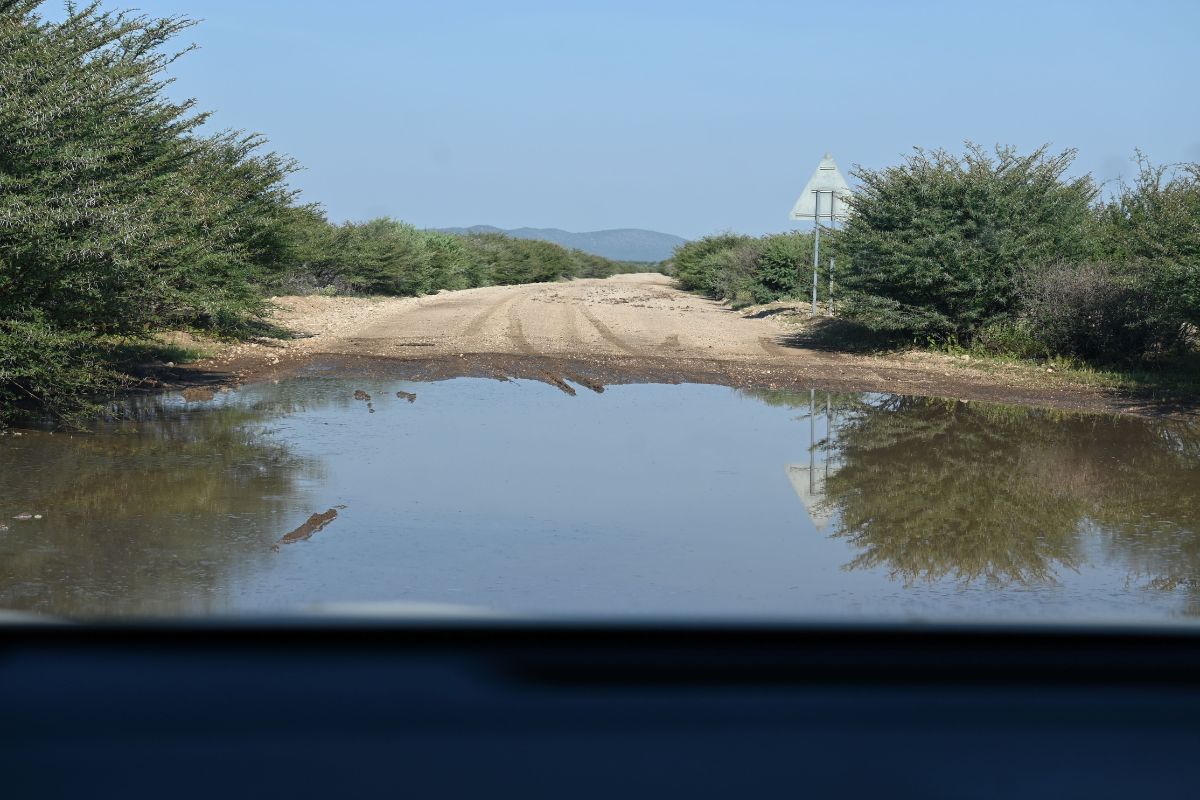 The C40 that goes from just north of Outjo to Kamanjab was tarmac and was an easy drive. We had a quick refuel in Kamanjab and then set off for Sesfontein. The rest of the route was gravel roads.
At Sesfontein we all transferred into our guides jeep and drove the last 2 hours with her. There are no official roads in the Hoanib Valley and the terrain is quite difficult. We would not recommend driving this yourself without a guide.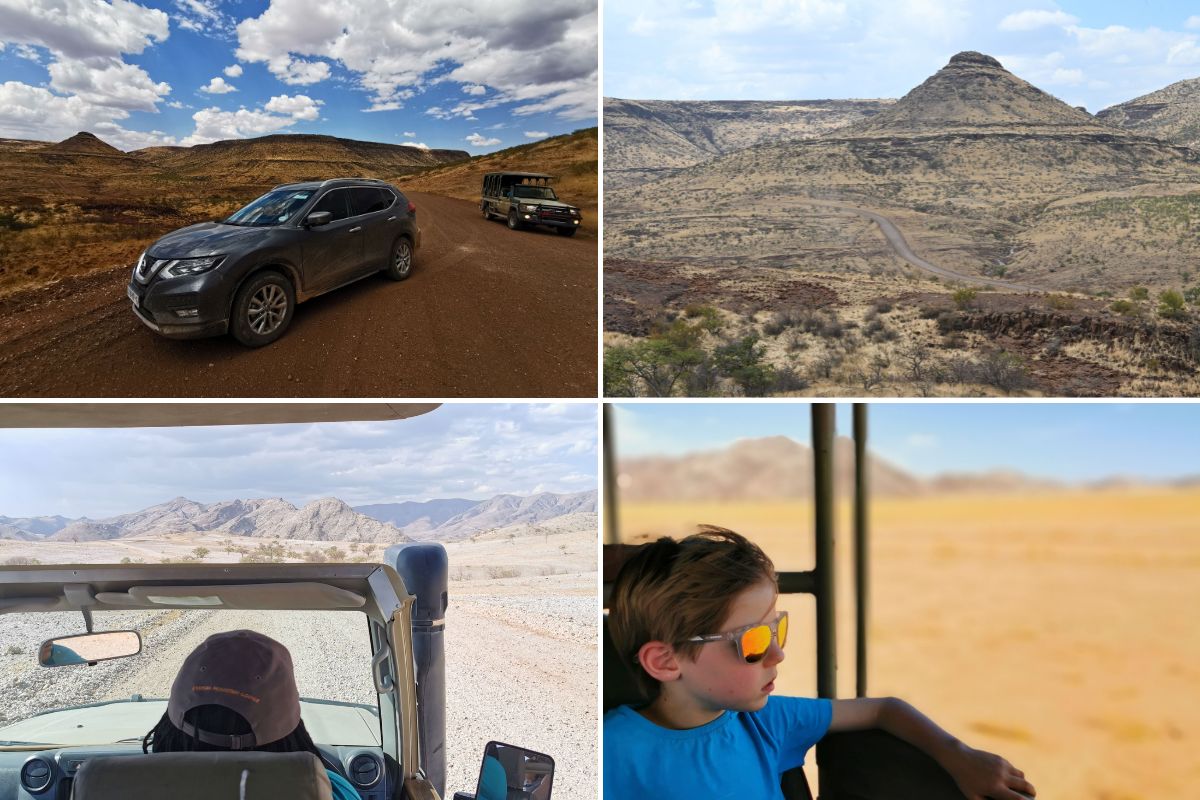 It was another long day but all of the tiredness from driving melted away when we arrived at Hoanib Valley Camp and were greeted by the staff singing us in with a cold welcome drink.
We were just in time for a quick swim and then set out for a sundowner just outside of camp.
The family safari tent at Hoanib Valley Camp was just perfect. One large double bed and two single beds. Even though it had been 42 °C during the day, the tent cooled right down in the evening and was very comfortable.
We all slept well after a lovely dinner drifting off to the sounds of the desert feeling like you are in one of the most remote places on earth.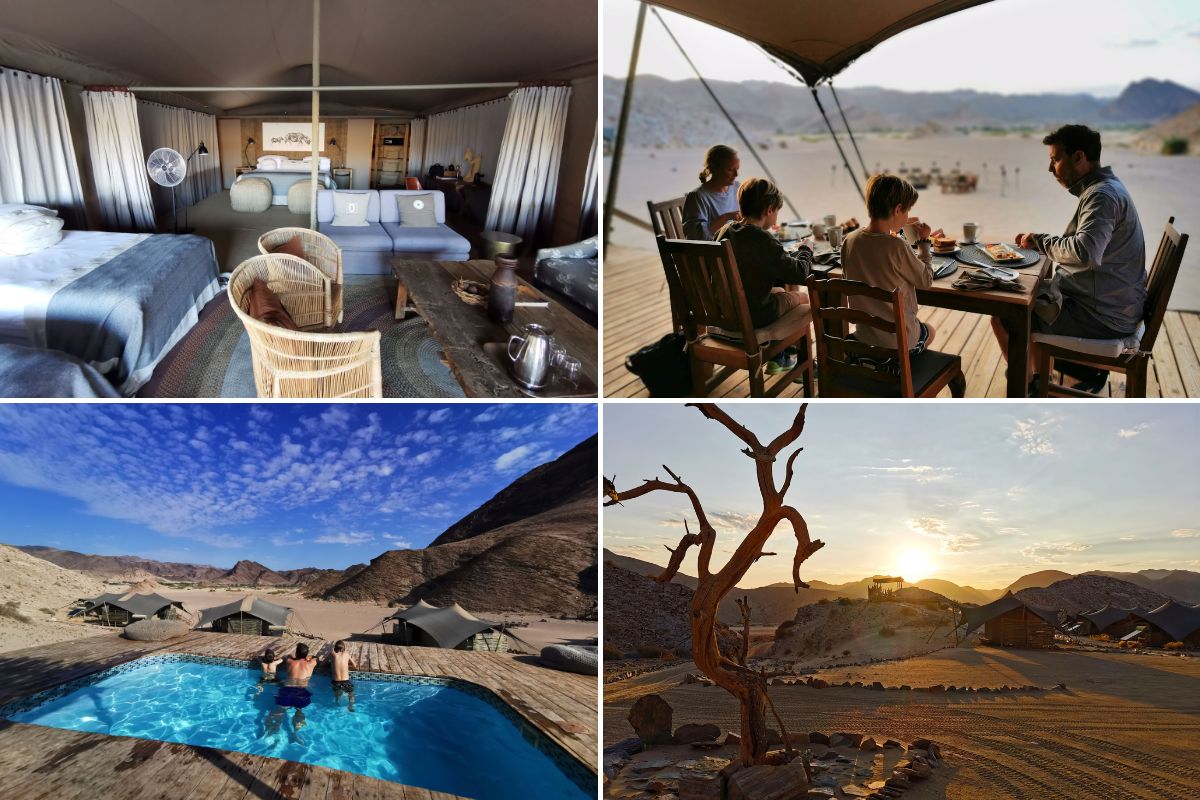 Day 7 – Hoanib Valley
Our main reason to come to Hoanib Valley was to try to see the elusive desert adapted elephant. They are incredible creatures, surviving in a seemingly uninhabitable environment.
After a delicious breakfast, we set off at a reasonable time in search of the elephants.
This morning game drive took us down the dry bed of the Hoanib River. We kept seeing tracks but they can walk on average 35 miles per day so we had to drive for an hour before seeing them.
This makes it sound easy. In fact, we were lucky. This particular family of 13 elephants were on their way to the coast. If we had been out looking the next day, we wouldn't have seen them. They wouldn't have returned for a couple of weeks.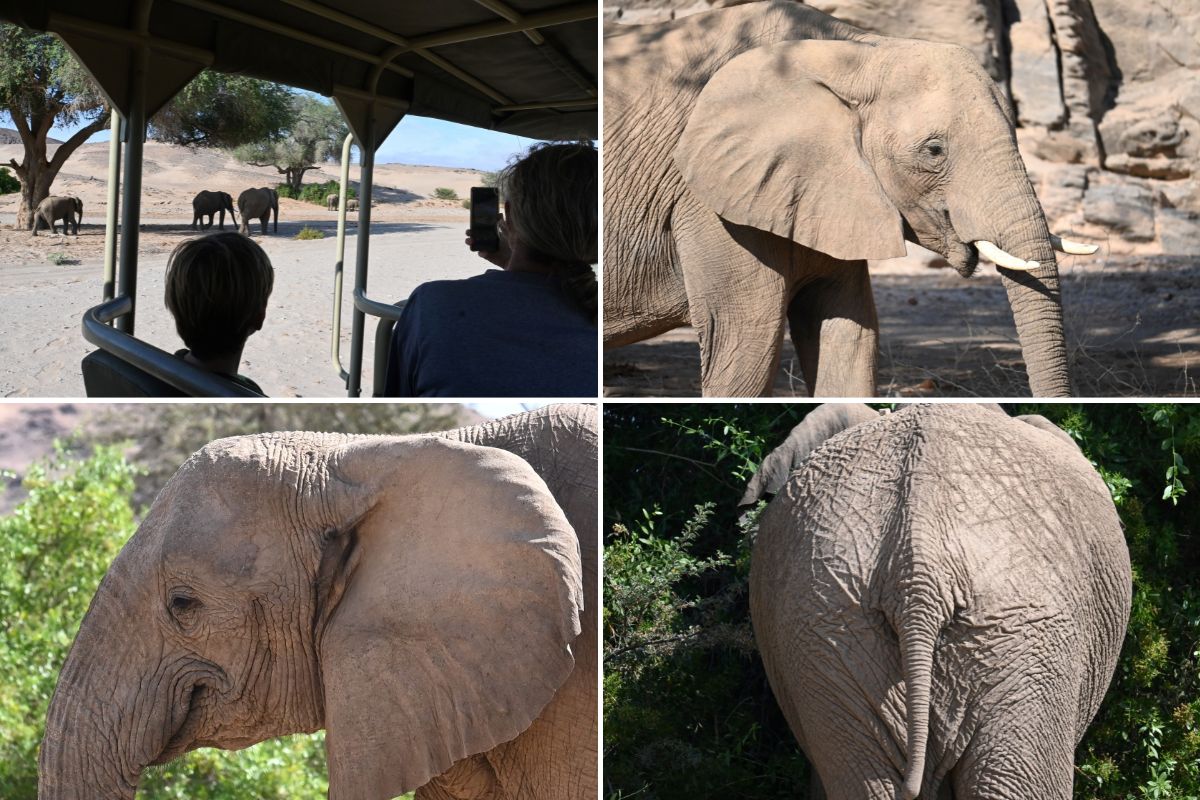 On a high after seeing the elephants, we made our way back to camp and were surprised with a bush lunch. It was just perfect, sitting under a large Ana tree.
The logistics of getting all of the food and drinks to Hoanib Valley Camp are just incredible so to have a bush lunch like this was just so special.
Back in camp we had a swim and a quiet afternoon before going back out for a sunset drive.
Natural Selection offers stays on a fully inclusive basis (even laundry is included). This also means that snacks and drinks on game drives are included. There are also snacks in the main tent so you never go hungry.
If you want to see more of the incredible Hoanib Valley, take a look at this episode of David Attenborough's Africa where two giraffe are fighting.
The Hoanib Valley quickly became my new favourite place on earth.
Day 8 – Hoanib Valley to Damaraland
We had another long drive ahead to reach Damaraland so we set off early with a quick stop to visit a lovely Himba family.
They explained how they lived and we learned all about their clothing and bathing rituals. The kids were a little concerned before visiting that they might be embarrassed seeing ladies with no tops on but when we arrived, they were completely fine with it.
The ladies were very welcoming and friendly and there were lots of kids who loved having their photos taken.
There are lots of people dressed in Himba outfits in certain tourist destinations, but to really learn their way of life and see a true Himba village, you need to get away from the tourist areas.
This family in the Hoanib Valley were very remote and as genuine as you can get.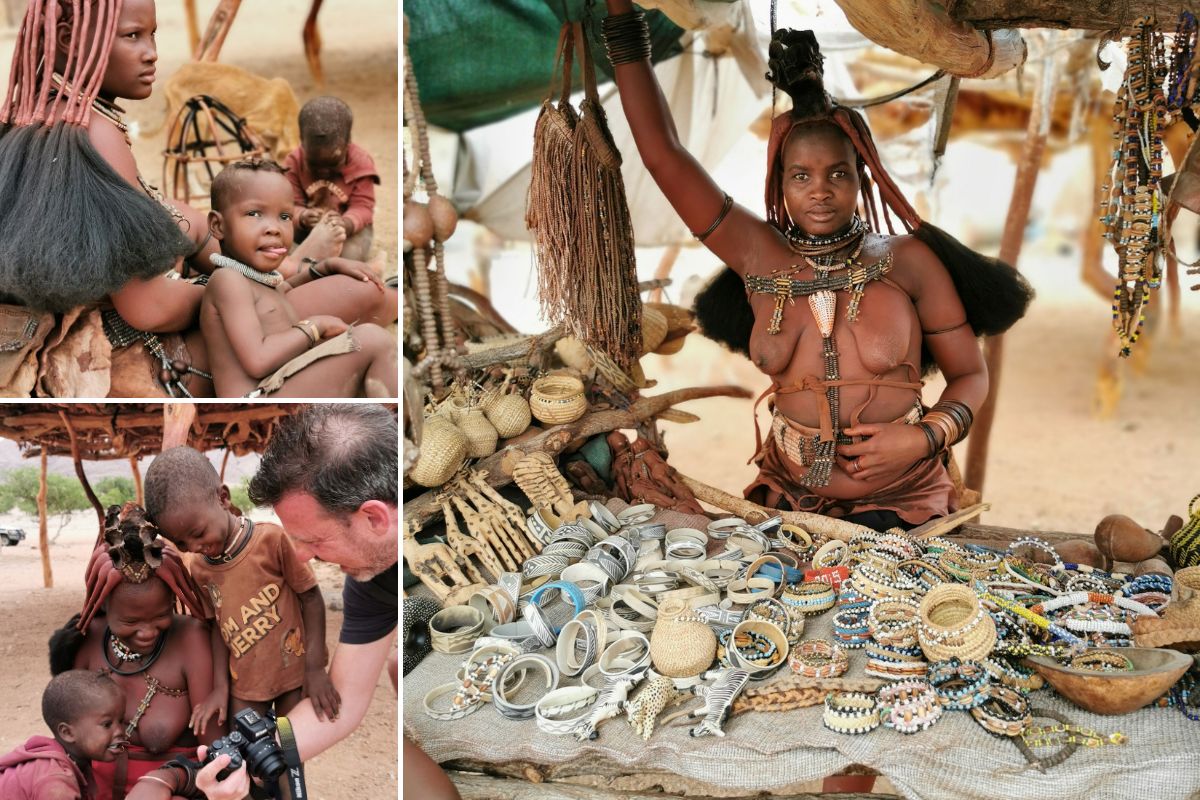 The road from Sesfontein to our next accommodation, Camp Kipwe in Damaraland, was mostly gravel and took around 4 hours because there were some roadworks along the way.
The last stretch of road (about 5km!) was tarmac.
Damaraland is known for its large, rocky outcrops and Camp Kipwe is a beautiful hotel built in and around one such outcrop. It is an incredible feat of design and engineering.
We stayed here on our previous trip and loved it so much, we had to come back.
It ended up being the kids' favourite place because they got to climb a lot of rocks and have their own tent and outdoor bathroom.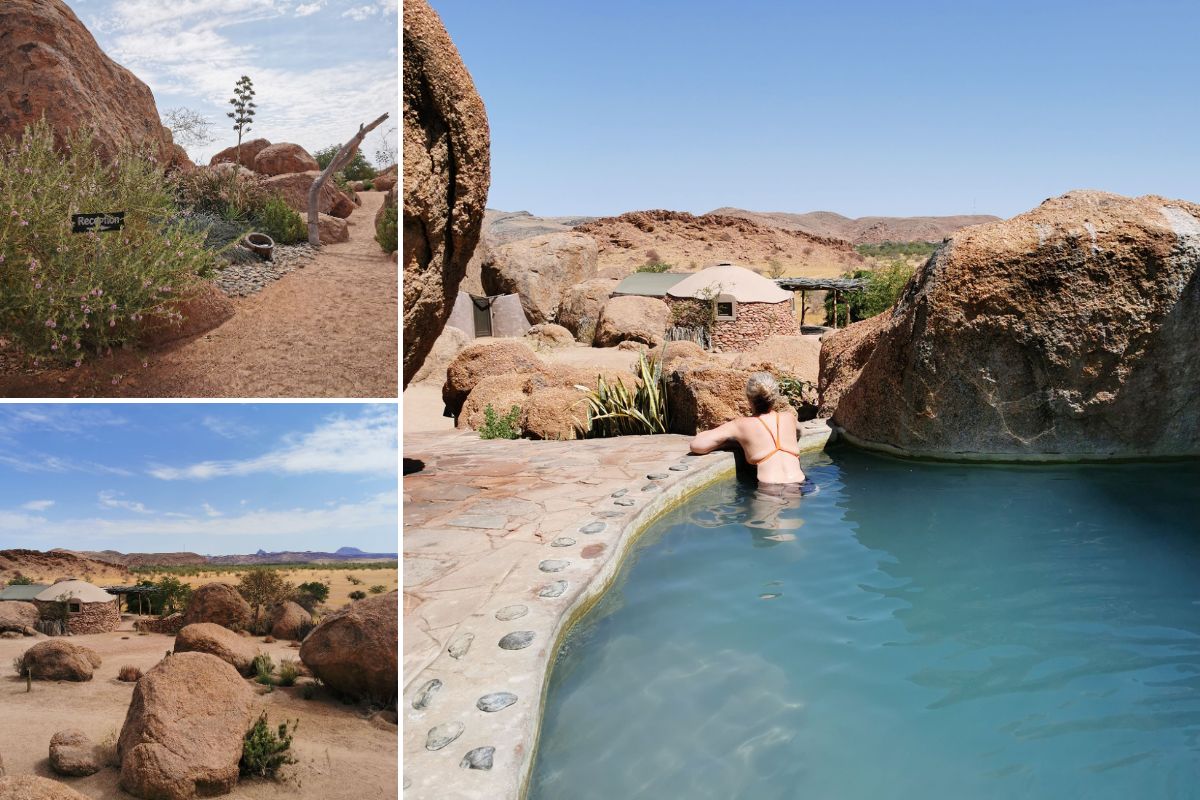 One of the main reasons we love Camp Kipwe is because of the incredible sunset view you get from the top of the rocks above camp, made even better with a freshly made cocktail from their bar up there.
They also have a small but fun pool built into the rocks and a gorgeous main lodge area where the main dining area is lcoated. All of the food was delicious.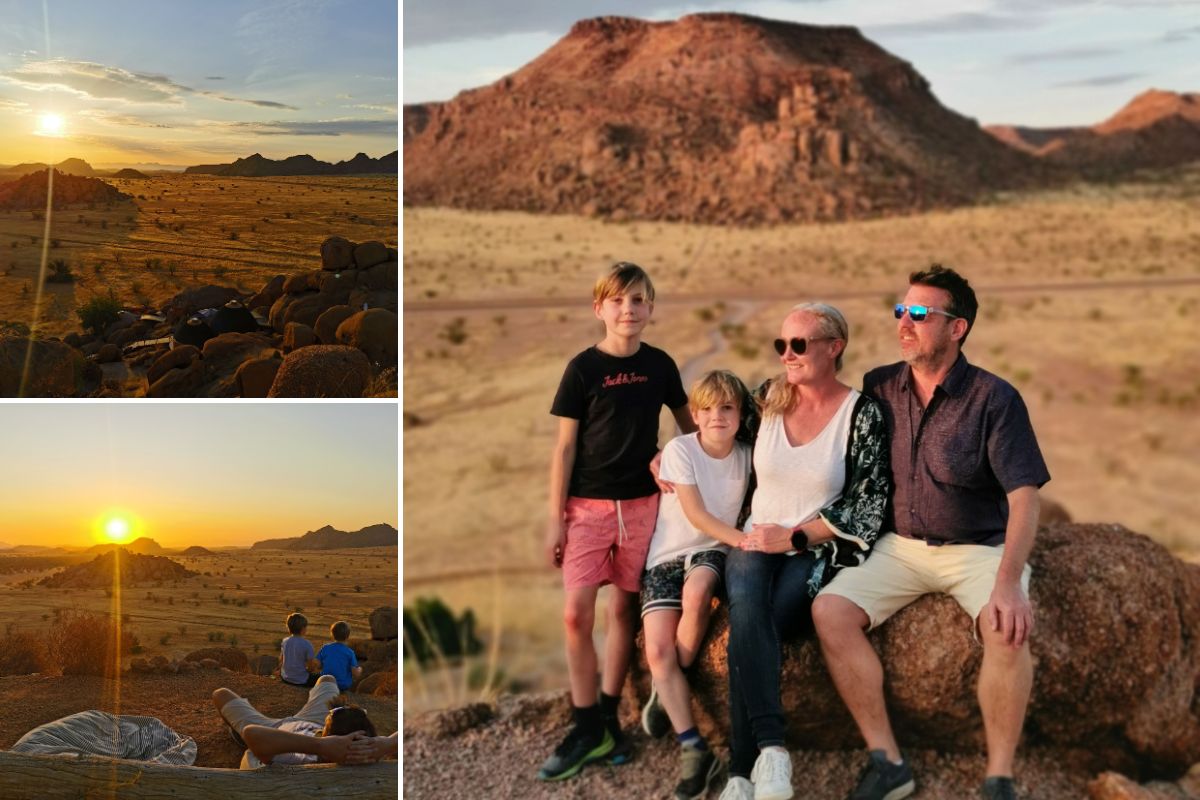 Day 9 – Damaraland
We booked a morning game drive to track desert elephants. The drive set off at sunrise and took us through the beautiful Damaraland scenery.
We drove for about an hour before we saw footprints and then followed them for a way down a dry riverbed until we found a small family group.
Seeing these desert adapted elephants twice in one trip was just epic.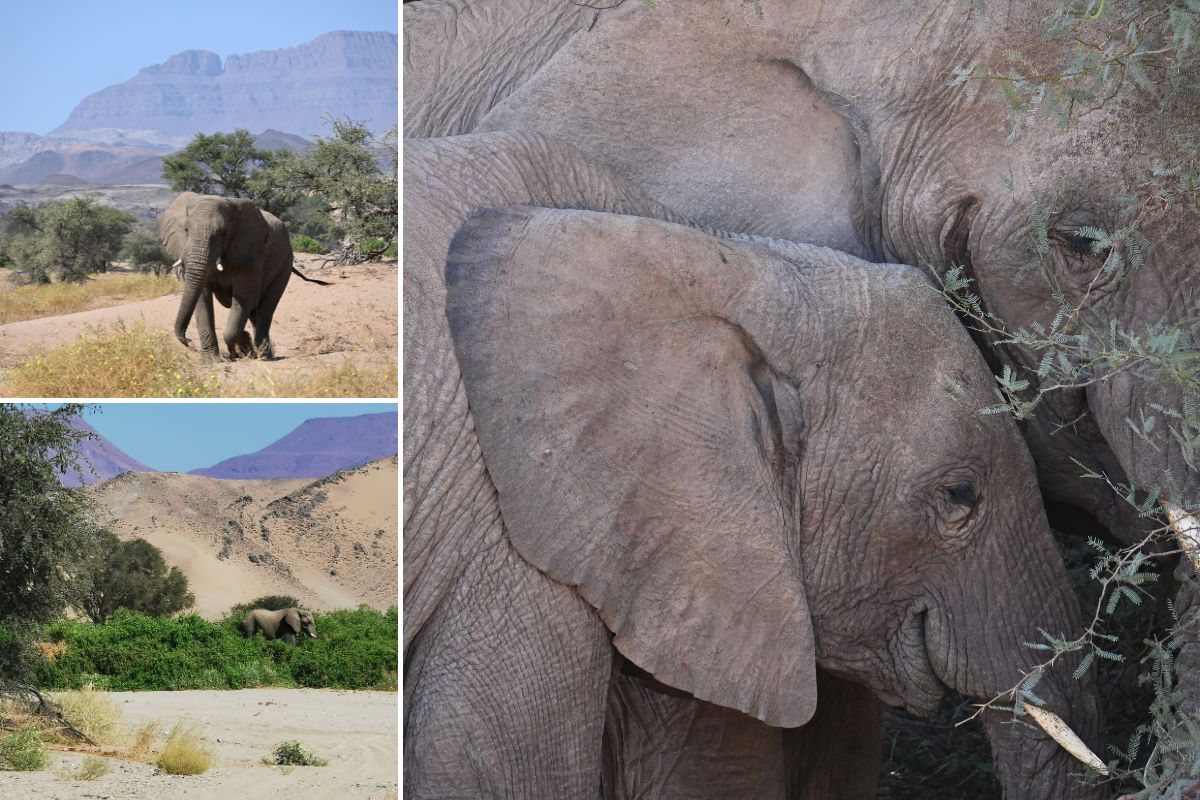 After the game drive, we relaxed by the pool and after lunch we set off to visit the rock carvings at Twyfelfontein.
Twyfelfontein is a UNESCO World Heritage Site and one of the top attractions in Namibia. Rock carvings date back between 1000 and 10,000 years when a group of hunter gatherers inhabited Twyfelfontein Valley.
There is a decent sized covered parking area on arrival. A visit to Twyfelfontein will take around 45 minutes to 1 hour. A guide is included in your entrance fee and you are guided on a 2km loop past the rock carvings.
The entrance fee seemed quite high. It was about £35 / $45 for a family of 4.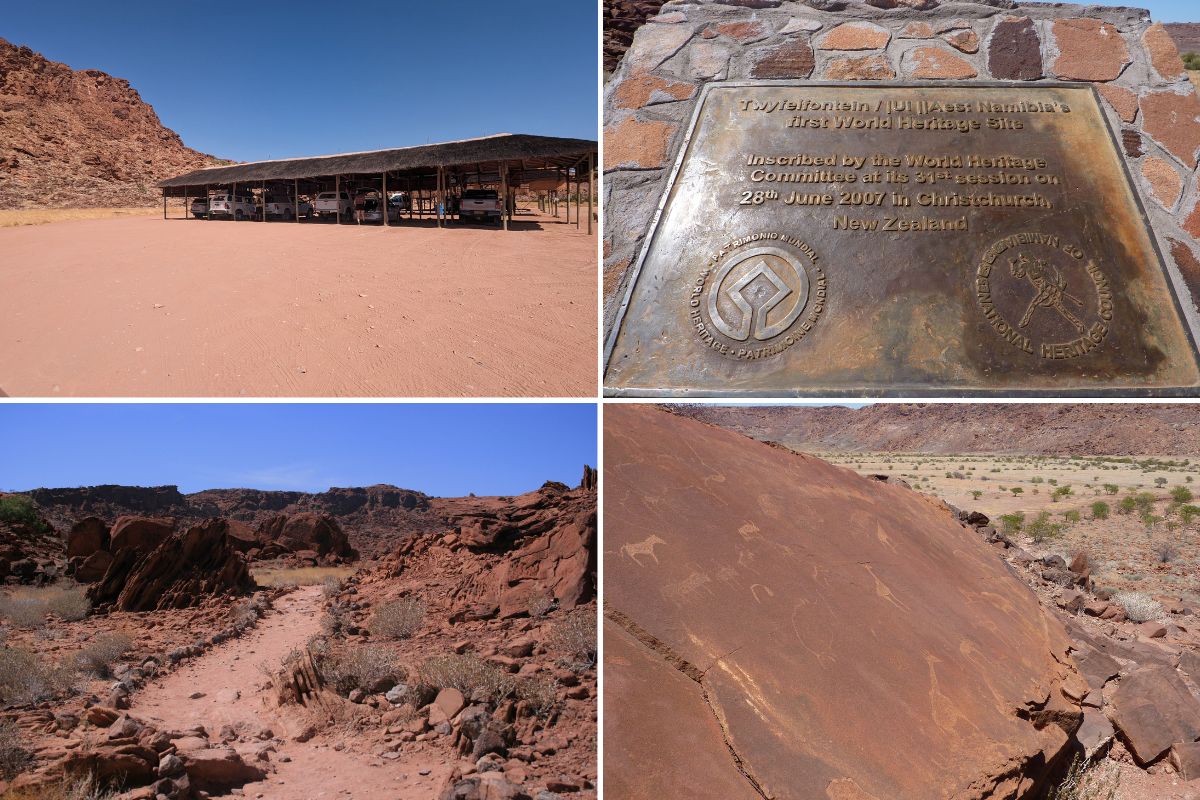 After Twyfelfontein we popped in on Burnt Mountain and The Pipe Organs. The entrance fee for these two sites was the same as Twyfelfontein.
Being totally honest, I wouldn't recommend these last two, particularly when you compare the price to a full day in Etosha National Park (only £15 for a family of 4).
We were back in time for sundowners.
Day 10 – Damaraland to Swakopmund
The drive from Camp Kipwe to Swakopmund should be around 4 hours. In reality, with roadworks, it was more like 5 hours.
We had previously driven the Skeleton Coast so we didn't do it on this trip. If you want to, it will add a couple of hours as you need to head north from Camp Kipwe and then west to Torra Bay.
If you decide to miss out the Skeleton Coast, you can still find a shipwreck just off the C34 between Hentiesbaai and Swakopmund. It is called the Zeila Shipwreck.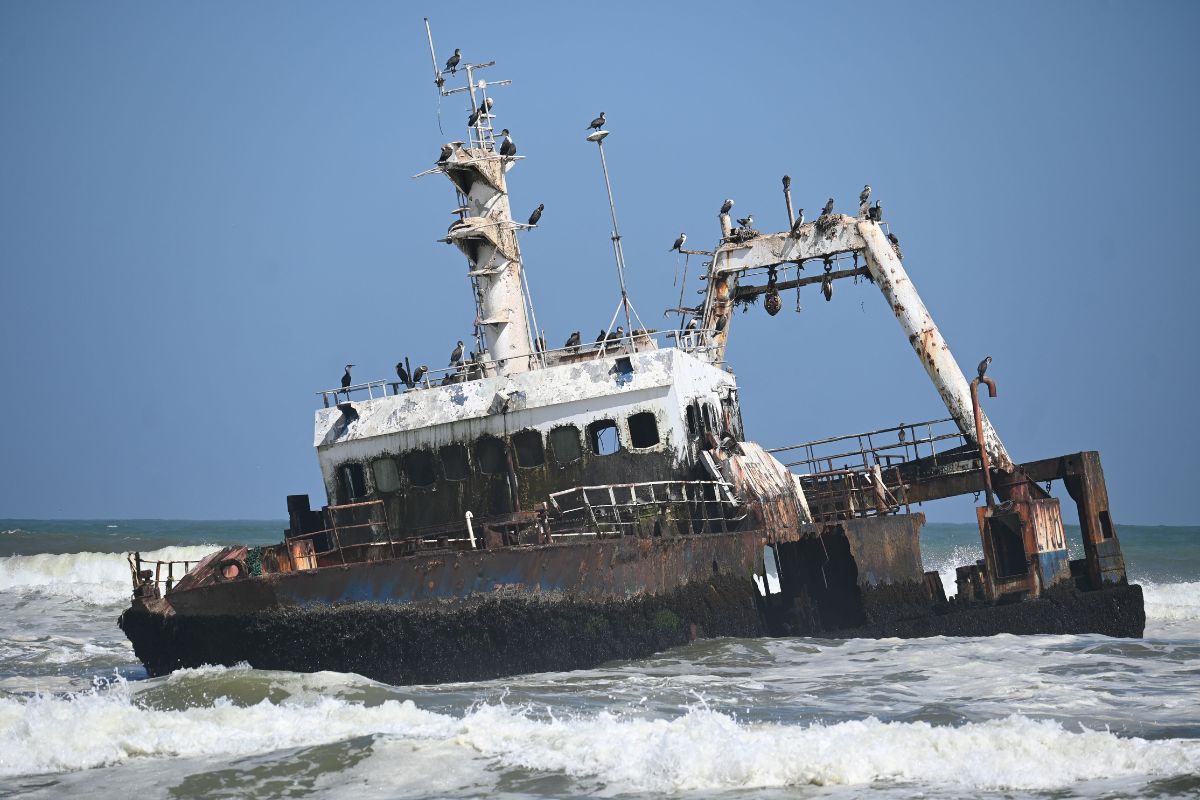 We checked into the Hansa Hotel in Swakopmund. It is the oldest hotel in Namibia and has maintained a lot of its historic features. The rooms could do with a bit of a refresh but overall, it was very comfortable and in an excellent location.
We took a stroll to the beach, passing the lighthouse, a large playground, the museum and a lively waterfront with bars and restaurants. There were also dolphins swimming in the calm waters near the beach.
If you are looking for a more modern hotel, The Strand Hotel is right on the waterfront.
We walked along the beach to Swakopmund Pier and chose The Tug restaurant for dinner. It was a beautiful setting at sunset watching the surfers and the waves crash against the pier.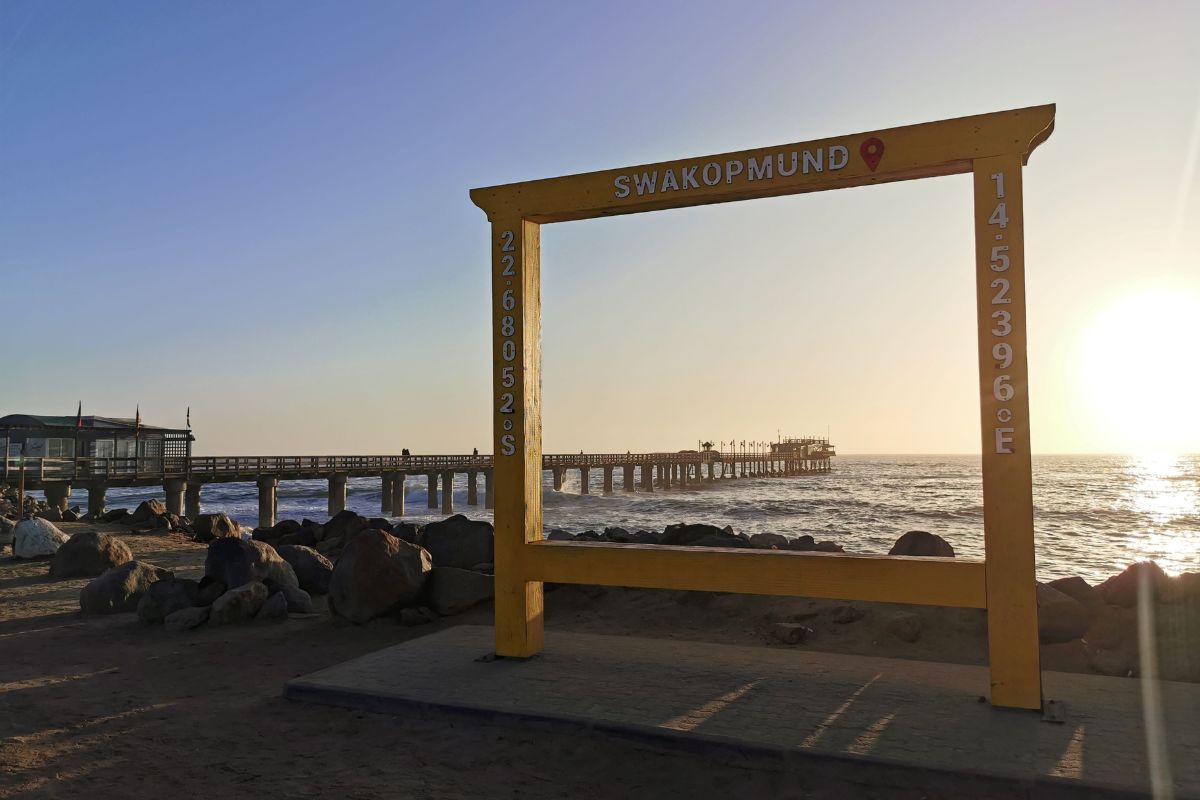 Day 11 – Swakopmund to Walvis Bay
In the morning we had a lovely breakfast in the hotel and went to the meeting point for our Living Desert Tour.
We had been recommended this experience by friends (who went with Charlys Desert Tours) and decided to give it a go as it was completely different to any wildlife experience we have had before.
We set off in a 4×4 jeep into the Dorob National Park, a desert outside of Swakopmund, in search of the Little 5.
The tour lasted around 4 hours and in that time we learned about the flora and fauna of the desert. It is incredible how animals and plants can survive in such a harsh environment.
We found dune geckos, snakes, spiders, chameleon and more. It was such a fun and interative tour with a bit of dune bashing at the end.
I have more information on this tour in a post on our favourite wildlife tours in Swakopmund.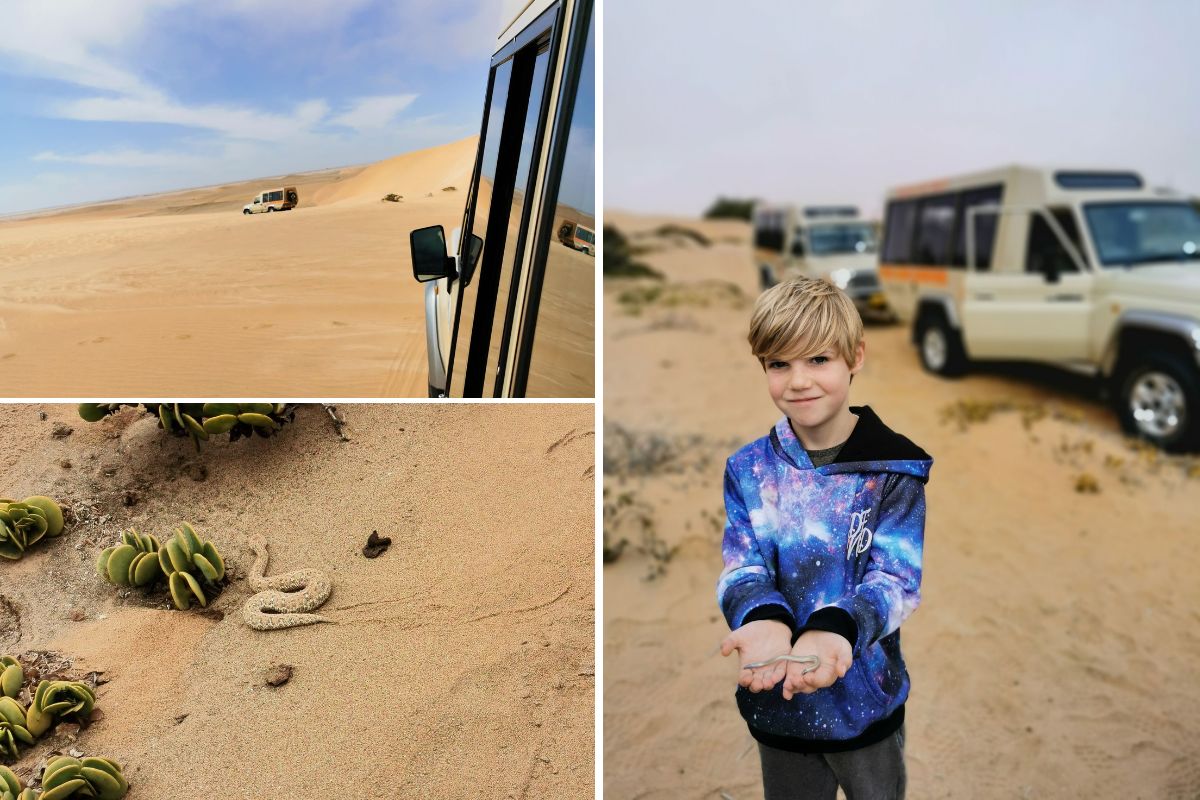 After the tour we visited the Swakopmund Snake park because the kids had got very excited by seeing snakes in the desert. It is small but worth a visit if you are into snakes.
We then set off to Walvis Bay 30-minutes away. We could have spent 2 nights in Swakopmund but our next tour was starting early so we preferred to stay in Walvis Bay.
As it was such a quick stop, we stayed at the budget-friendly Lagoon Chalets in Walvis Bay. They are a little out of town but have a campsite, backpacker rooms and family rooms with self-catering facilities.
We were just in time to catch the sunset. It was magical with a flock of flamingos in front of us.
We went out for dinner at Anchors Waterfront Restaurant and had an amazing meal. You need to have seafood when you're visiting one of the few coastal resorts in Namibia!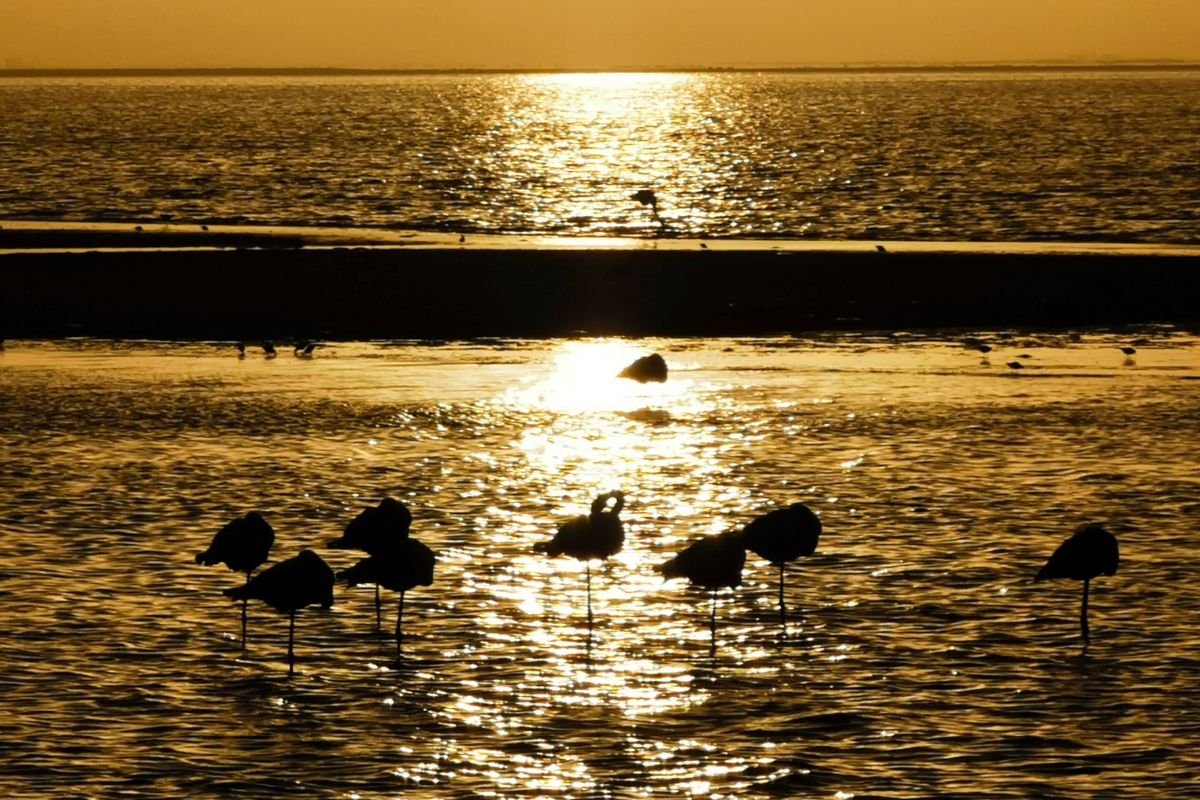 Day 12 – Walvis Bay to Sossusvlei
Walvis Bay has one of the largest seal colonies in the world with a population of over 2 million. With lovely calm waters, it is the perfect place to go kayaking to get close to the seals.
We went with Eco Marine Kayak Tours. They were the company we went with 13 years ago and are still going strong. They are the original seal tour company and just the best.
We met at Dolphins coffee shop at 8.30 having grabbed a quick takeaway breakfast from there. It is right next door to the Protea by Marriott Hotel. This hotel is very convenient if you are doing the kayak tour.
The tour lasts about 5 hours during which time you are taken by jeep to Pelican Point past the salt pans. The guides explain how to interact with the seals and you receive waterproof clothing.
You have about an hour kayaking with the seals. We were there in April which was the perfect time because the seal pups were just old enough to stray from their mum and play with you. They are very inquisitive!
More information on the tour is in our best Swakopmund tours post in case you missed it earlier.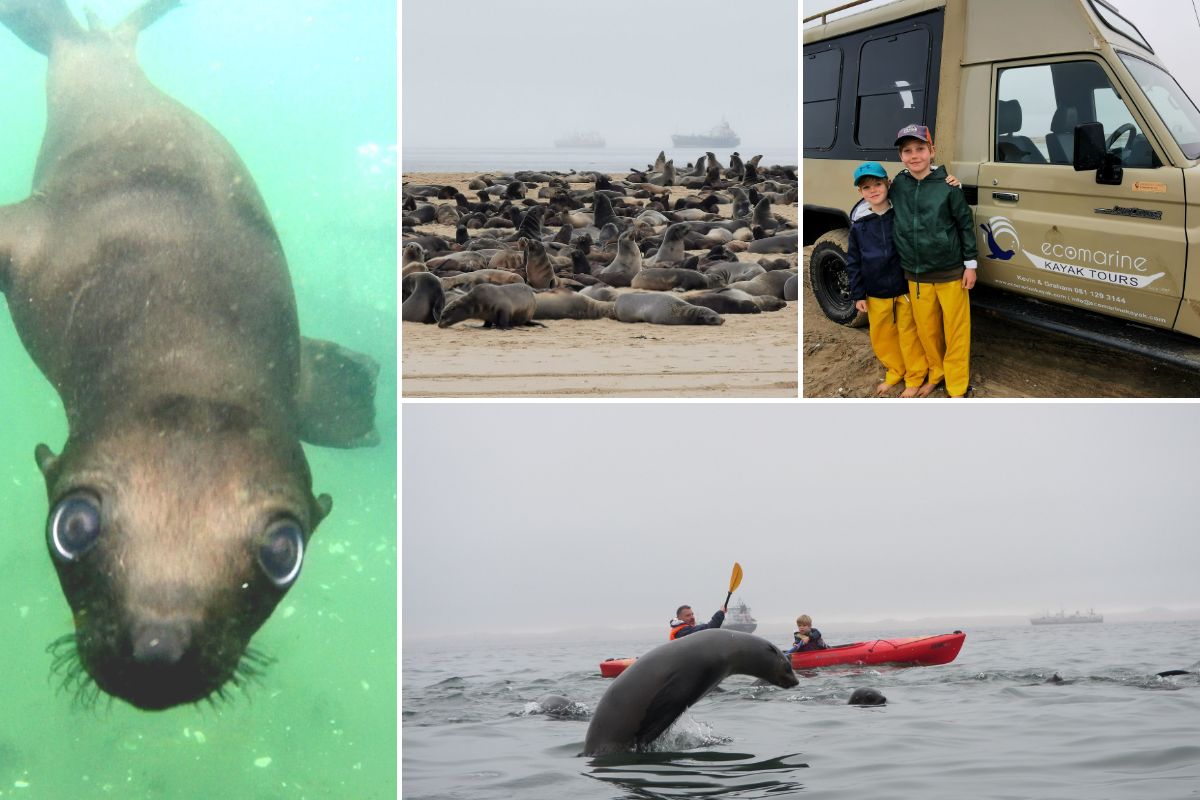 After the tour we set off for Sossusvlei which was a very long 5 hour drive. We wouldn't recommend doing the kayak tour and then heading off to Sossusvlei if you can help it because it means arriving late but it is doable if you are pushed for time with your itinerary.
We arrived at Kwessi Dunes, another Natural Selection camp, around 6.30. We're always conscious of arriving at our destination before dark so we did this journey without stopping. Well, apart from to take a photo at the Tropic of Capricorn sign near Oase on the C14.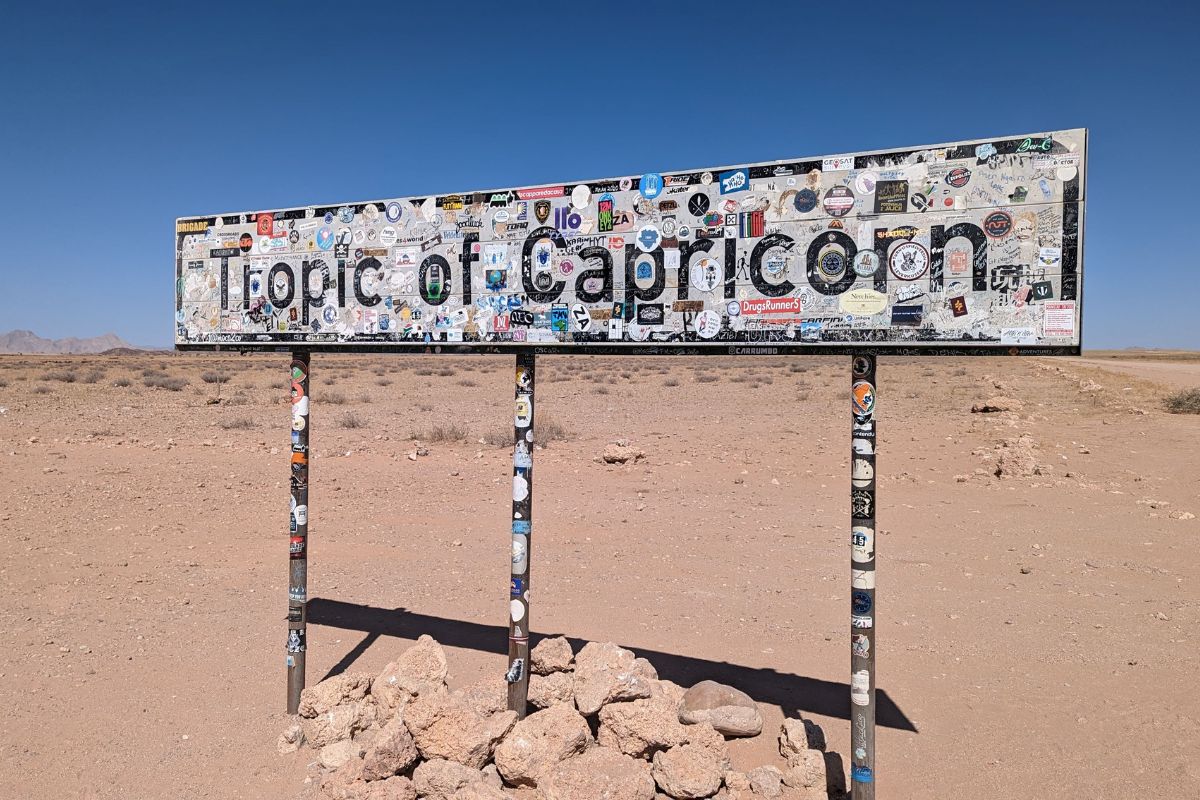 Note: You need a 4×4 to access Kwessi Dunes! Alternatively, you need to go to the visitor centre 15km away and get them to phone Kwessi Dunes to pick you up.
We got cleaned up and headed straight to dinner. Back in our gorgeous tent, we headed to our outdoor bed for some stargazing before crawling into our actual beds exhausted!
We chose to stay at Kwessi Dunes in the because it is located in the Namib Rand Nature Reserve (a dark sky reserve). This is one of the best places in the world for star gazing and we weren't disappointed.
One thing to note here is that Kwessi Dunes is about a 2 hour drive from the dunes at Sossusvlei. If you are wanting to visit the dunes in Sossusvlei and Deadvlei, you may want to choose somewhere in Sesriem to stay.
We can suggest Little Sossus Lodge. If you are camping, Sossus Oasis Campsite is close by.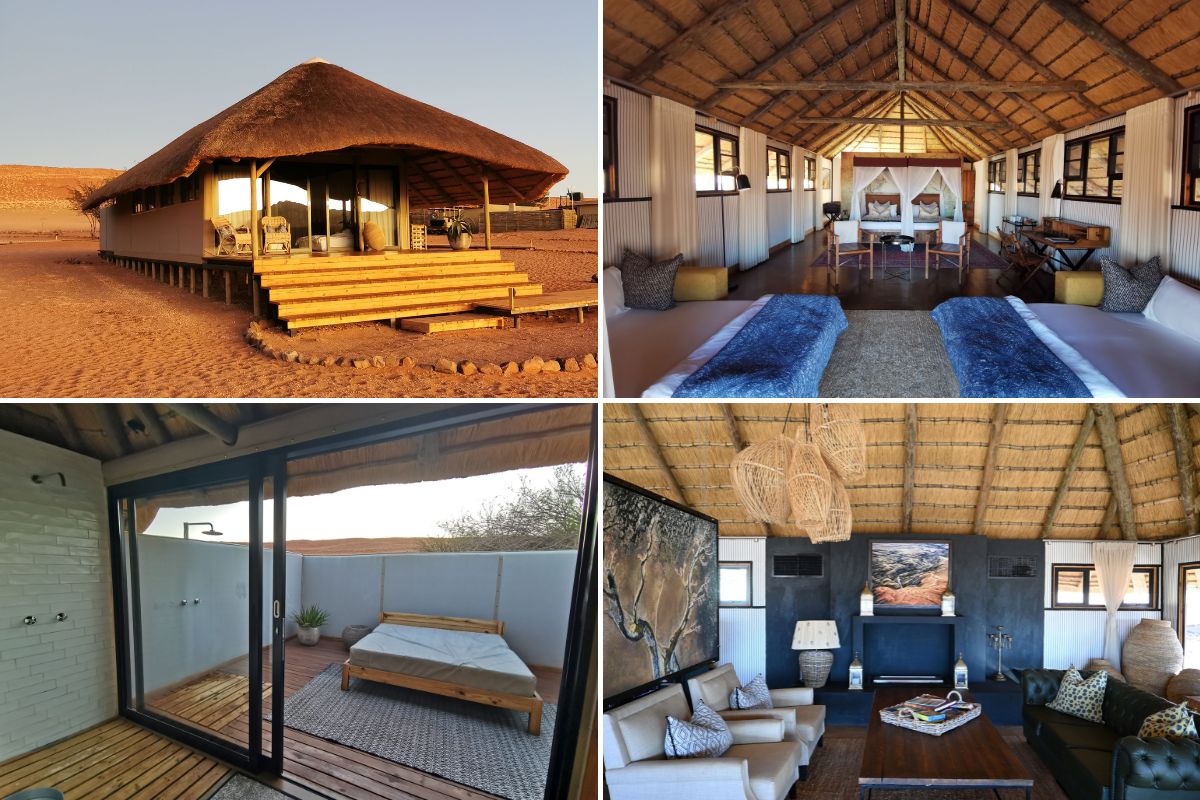 Day 13 – Sossusvlei
We had planned to use this day to visit Sossusvlei but after 2 weeks and nearly 3000km, we decided to take a break. We decided not to visit Sossusvlei.
We have learned over the years that we need to be flexible when travelling with the kids and they were tired of the long days in the car.
We visited Sossusvlei and Deadvlei on our previous trip and so we didn't feel the need to visit on this trip.
We were staying in a beautiful camp so we decided to enjoy Kwessi Dunes and have a relaxing day.
You can book a tour to Sossusvlei through Kwessi Dunes or you can drive yourself.
We started with an early morning walk into the dunes surrounding camp. When we originally planned our trip we thought we would visit Sossusvlei and we had promised the boys big sand dunes. Luckily there is plenty of sand and some decent sized dunes around Kwessi Dunes.
The kids loved the freedom of being able to run up and down the sand dunes that stretch for miles behind the camp. They even found an Oryx horn and used their knowledge from the living desert tour to identify animal tracks.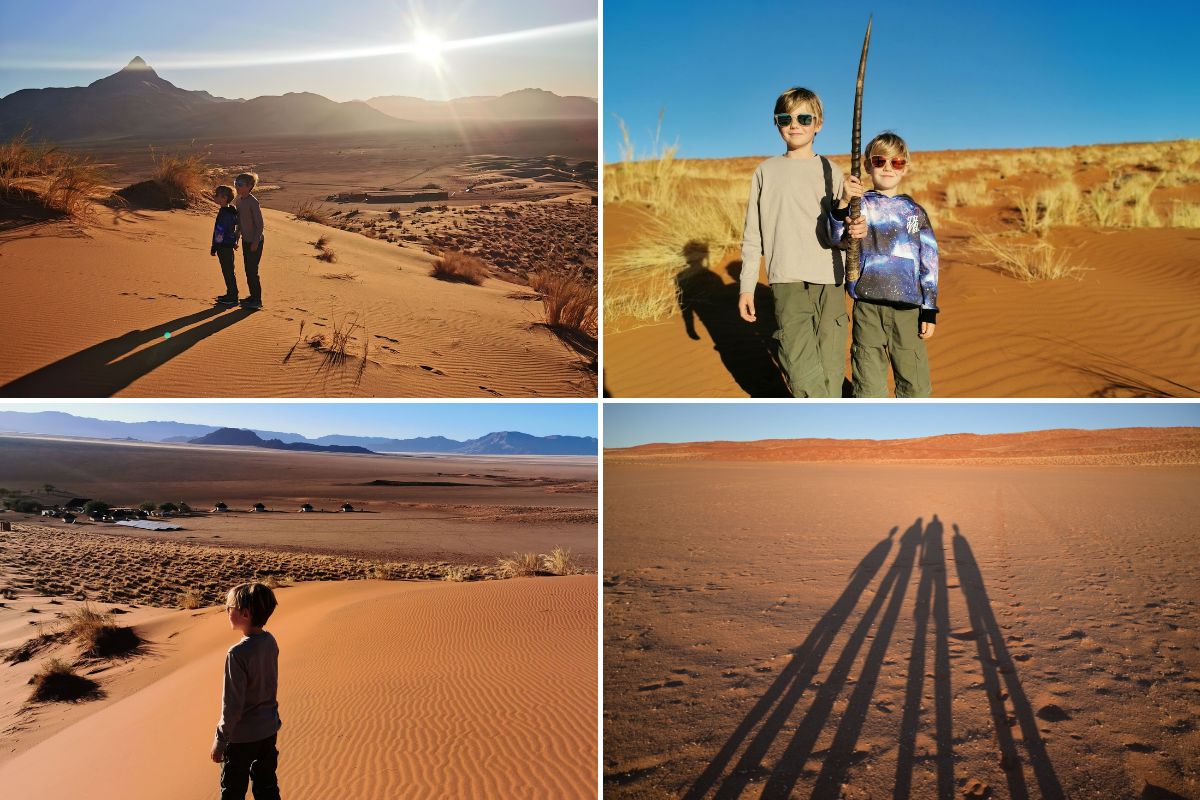 After breakfast we just relaxed by the pool. And I have to say… What a pool! During the day hundreds of Oryx and Zebra visit the waterhole by the camp. Some of them even come to the water butt by the pool.
It is quite an experience to be in the pool just feet away from an Oryx, the beautiful national animal of Namibia.
We also did a bit of quad biking in the dunes and then set off on a sunset drive through the desert before heading home for dinner and more stargazing.
Variation: If you have cut out the Hoanib Valley part of the trip, then you can adapt this 2-week Namibia road trip itinerary to include more days in Sossusvlei so that you aren't so rushed.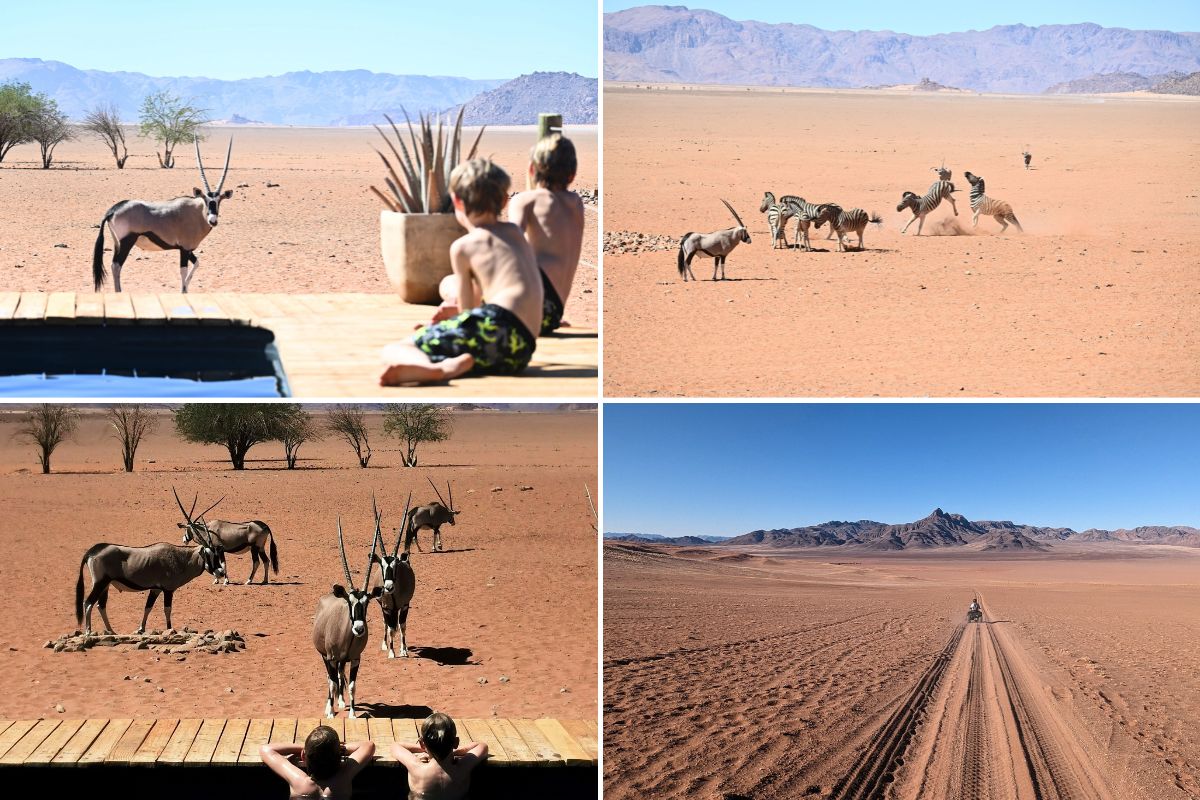 Day 14 – Sossusvlei to Windhoek
We stayed as long as we could at Kwessi Dunes by the pool and then set off around 11 for Windhoek. There were some roadworks along the way but the journey too under 5 hours.
We stayed at Alluring self-catering apartments which was a lovely oasis in the middle of the city with a shared pool and bbq area.
An alternative is the Hilton (with a fantastic roof terrace which is perfect for sunset cocktails) or Chameleon Backpackers for a budget stay.
If you arrive in Windhoek and didn't manage to visit Joe's Beer House before, then we recommend heading there for dinner.
We hope you found this suggested 2-week Namibia road trip helpful. If you have any questions about planning your own Namibian itinerary, please drop us a line.