5 Fun Things To Do In Hermanus With Kids Besides Whale Watching
Is Hermanus worth visiting if you don't want to go whale watching? Absolutely! It is a lovely little coastal town and there are lots of things to do in Hermanus with kids besides whale watching.
We love that you can be sipping wines in the wine region at a family-friendly wine estate with views of the coast in the morning and then head to the beach in the afternoon.
Hermanus is, without a doubt,  one of the best places in South Africa to see whales and is the reason many people visit – but there are plenty of other things to do in Hermanus with kids.
Visiting South Africa with kids? We have lots of helpful posts in our South Africa section on family-friendly things to do in South Africa. Make sure to check them out for more South Africa travel inspiration – including what to do in Cape Town with kids and our epic 2 week South Africa itinerary.
This post contains affiliate links. If you click on one and book or buy something, we may earn a small commission but this is at no extra cost to you.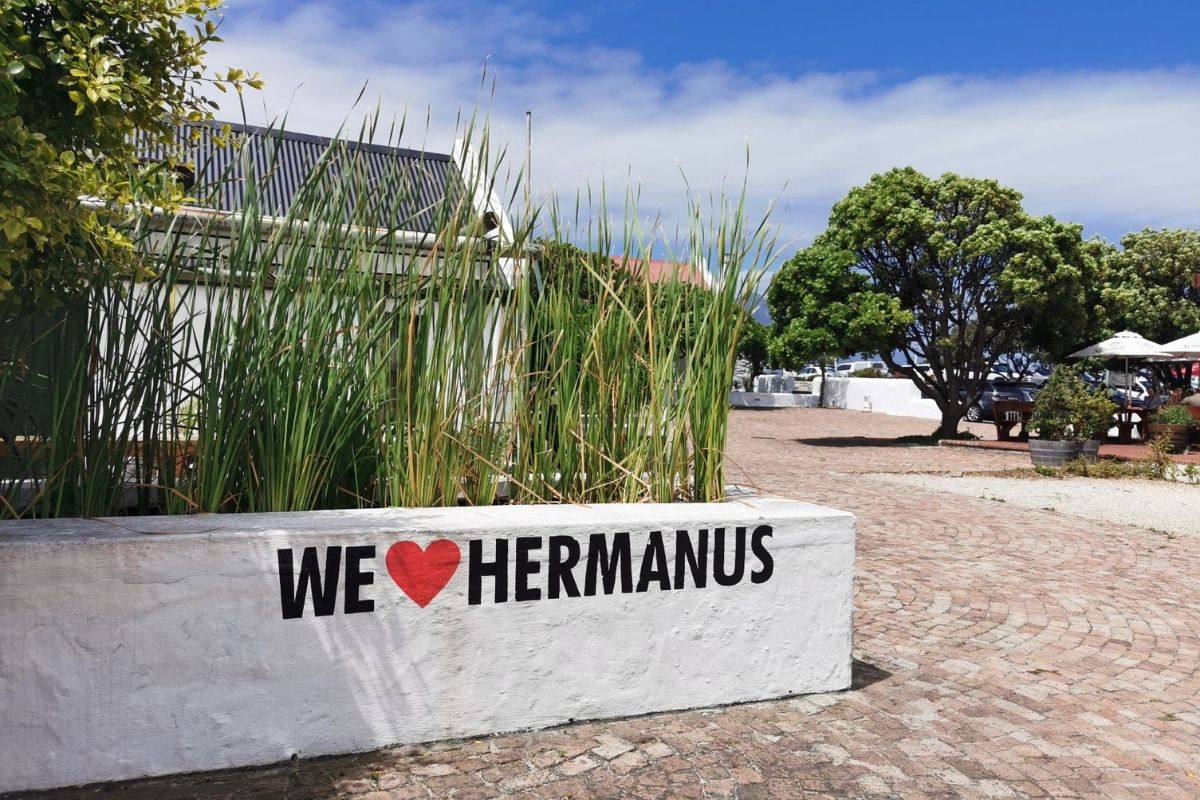 Where is Hermanus?
Hermanus lies about 120km south east along the coast from Cape Town and is almost the most southern point of South Africa.
You can reach Hermanus on a day trip from Cape Town (and indeed many people take a day trip from Cape Town to see the whales) but we would recommend spending at least a weekend here as it is a beautiful area of South Africa.
These are the best things to do in Hermanus with kids..
1. Go wine tasting in the Hemel-en-Aarde valley
On previous trips to South Africa we have visited the more well-known wine regions of Stellenbosch and Franschhoek.
We absolutely love visiting the wineries in South Africa with the kids. They are usually always based in a stunning location and the food and wine are outstanding and there's always something for the kids to do.
On a more recently trip, we discovered that Hermanus has it's own wine region, the Hemel-en-Aarde Valley, so this had to be top of our things to do in Hermanus!
Hemel-en-Aarde translates as Heaven and Earth and is known as the Pinot Noir capital of South Africa.
The Hemel-en-Aarde Valley is small compared to the older wine regions in South Africa with just a handful of wineries. They are all roughly within 20 km of each other but this makes it easier to visit more of them.
These Hermanus vineyards are the ones we recommend visiting:
Creation – their accolade list is enormous. Just go and try their wines! They are known for their food and wine pairings and also have a special kids menu with matching cordials, making it one of the more family friendly wine estates in South Africa.
They have a beautiful terrace area with interesting sculptures where you can sit and enjoy the view during your wine tasting.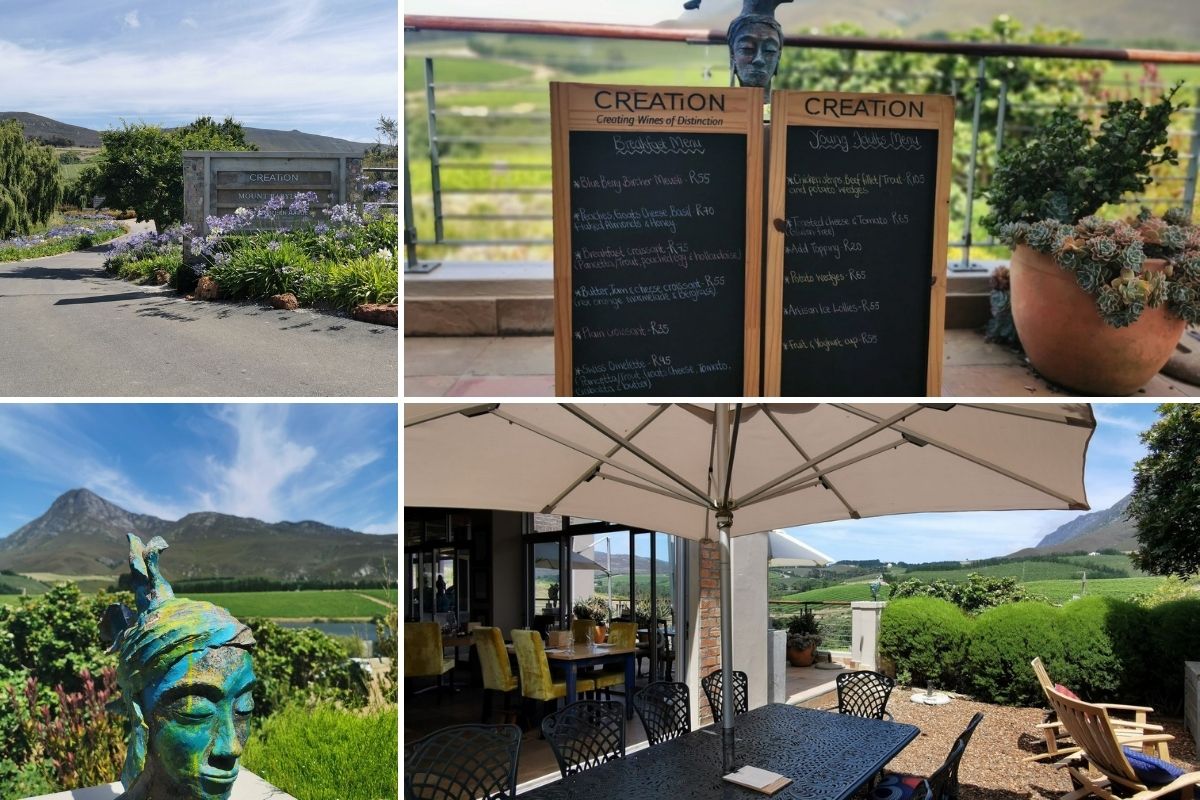 Restless River – was established in 2004 with the wines being launched in 2012. They grow Cabernet Sauvignon, Chardonnay and Pinot Noir vines with their Cab Sav and Chardonnay vines being some of the oldest in the region.
Make sure to check their website before you go because the tasting room was closed when we were there.
La Vierge – has the best story behind their name. Make sure to ask the server to explain it.
They also have the best views of the Hemel-en-Aarde Valley (including from their toilets!) and they have some fabulous cheese and meat platters to accompany the wines.
There is a boules pitch on the terrace (over 12s only).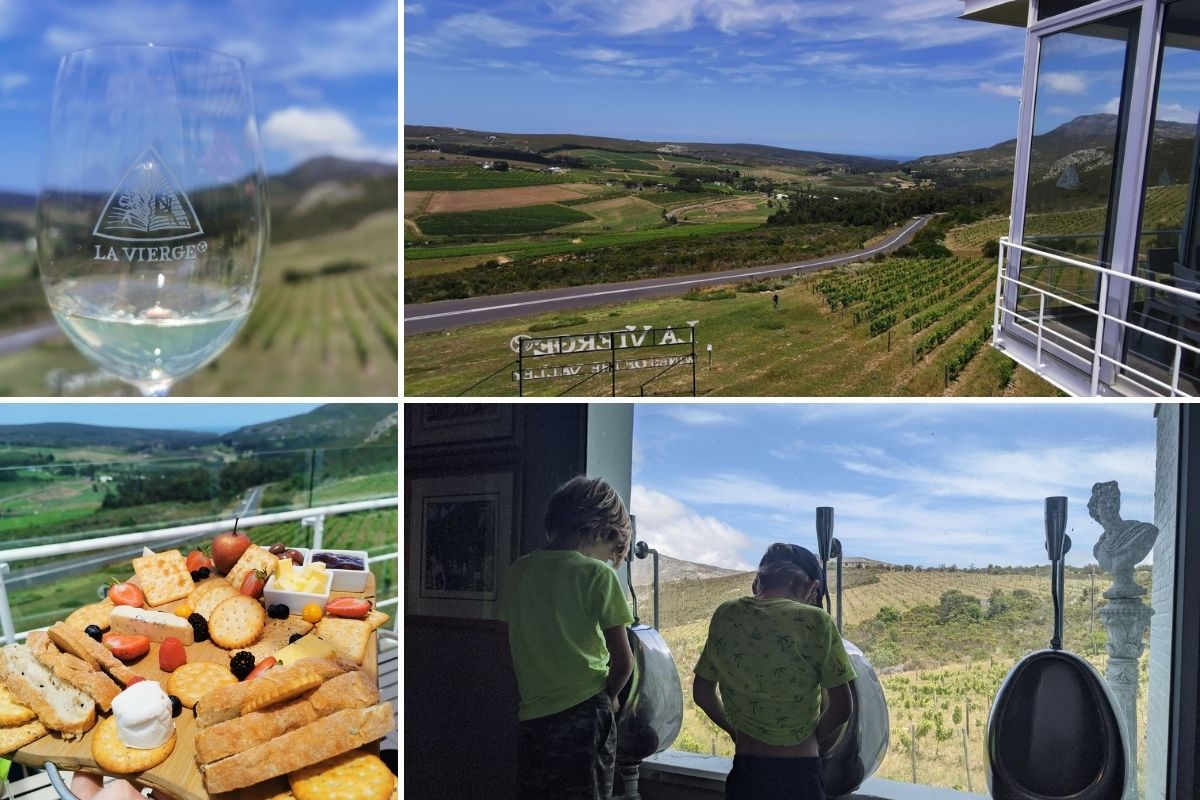 Bouchard Finlayson – established in 1989 and produces some of the best Pinot Noir in South Africa. They offer delicious deli platters and there is a fee for wine tasting but this is waived if you then purchase wines.
You can also take a guided tour of the cellars by arrangement or take a hike on the property and discover the beautiful fynbos native to the region.
Hamilton Russell Vineyards – one of the most southerly wine estates in South Africa, they are known for their classically styled Pinot Noir and Chardonnay.
Make sure to read our guide on the best places to have a wine estate picnic in South Africa.
2. Go hiking in the Fernkloof Nature Reserve
The Fernkloof Nature Reserve is located just on the western edges of Hermanus. There are easy walks there for families and this was one of our favourite things to do in Hermanus.
There is a lot of wildlife in the area and if you aren't hiking with kids, you may see some! We did actually see a lot of lizards and birds.
The paths are well maintained but some are a bit more challenging than others so we would recommend good walking shoes. Overall, they were all easily manageable with kids.
There is a visitors centre with maps.
We took the red circular route to the waterfall which should take around 90 mins but we extended it by taking the green (Lemoenkop) route and Adder Ladder. When you reach the top of the Adder's Ladder, you will have stunning views of the coast and Grotto Beach.
3. Take a Cliff Path walk
If you are feeling up for a stroll, you could try The Cliff Path (also part of the Fernkloof Nature Reserve) which runs for almost 12km along the Hermanus coast. It starts from Grotto beach and stretches to the New Harbour.
You can do as little or as much of it as you want. It is a level walking surface and mostly wheel-chair friendly.
If you are lucky, you may spot whales in whale watching in season!
4. Enjoy a beach day
The beaches in South Africa are varied and stunning. A day at the beach in Hermanus should definitely be on your list of family-friendly things to do in Hermanus.
The beaches in the centre of Hermanus are actually rocky so you need to get away from the centre to find a lovely, sandy beach.
The beaches we loved in Hermanus are:
Grotto Beach – is a stunning (and enormous) stretch of sand. It is a blue flag beach which  means it has high standards in safety, water cleanliness and amenities.
It stretches from the outskirts of town to the Klein River Lagoon where kids can go searching for crabs. The tide and currents can be strong here, but the beach is very shallow so it is still a great place for families.
Onrus Beach – a little further out of Hermanus is a small village called Onrus River. Here you will find a lovely beach with everything you need.
There are lifeguards and a lovely restaurant (Milkwood) overlooking the beach and the river.
The waves can get quite rough here so you really need to be careful. If you feel that the waves are too big, the Onrus Rivier joins the sea here and is the perfect place for little ones to play. Don't be put off by the brown water!
It's also a great spot to watch the surfers catch some waves or to watch a beautiful sunset. Take Atlantic Drive west away from Onrus Beach and round the corner for the best sunset. The rocks along Atlantic Drive are also the perfect place for rockpooling.
Also worth visiting (although a little further away still from Hermanus) is Hawston Beach.
If you are in Hermanus, you can head down to the Old Harbour for a paddle. The water is calm and clear and there is a tiny stretch of sand. You'll also find the Old Harbour Museum here.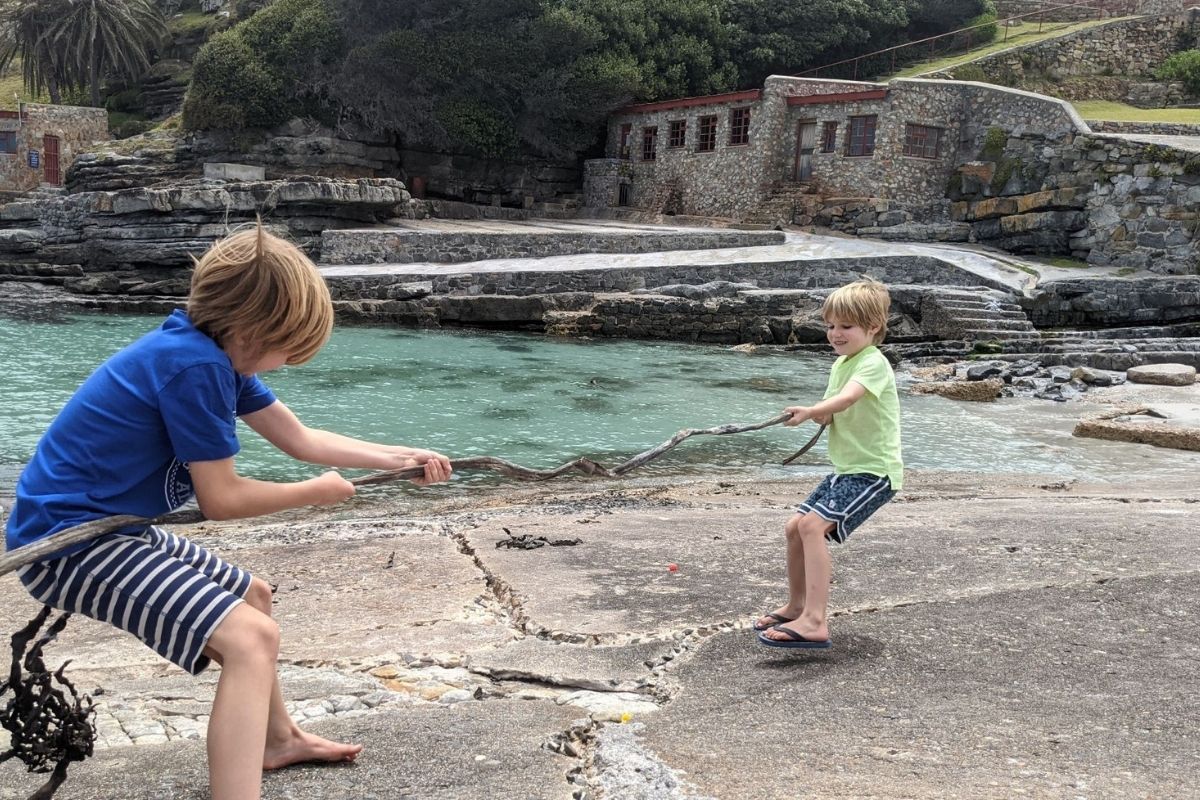 5. Enjoy sundowners at Ficks
Ficks is located in a truly stunning location, overlooking Ficks Pool in Hermanus.
They serve delicious cocktails and pinchos which are perfect to enjoy as the sun goes down. They are open Monday to Sunday from 11am to 9pm.
Ficks do not take reservations. It is a first come, first served affair. If you can't get into Ficks then you can also try Bientangs Cave for a similar experience.
Whale watching
We can't really write a guide to the things to do in Hermanus without mentioning whales so here goes.
Whale season runs from early June to late November in Hermanus. The Southern Right Whales arrive in their hundreds to breed and give birth in the waters surrounding Hermanus.
The Hermanus Whale Festival is usually held annually during the Spring (late September to early October).
The best way to see the whales is to take a boat trip. See here for recommended Whale Watching trips. If you are taking a boat trip, you might also expect to see dolphins, African penguins and Cape Fur seals.
If you don't want to take a boat trip, you can actually spot whales from the shore.  Head to Gearing Point for the best chance of seeing them.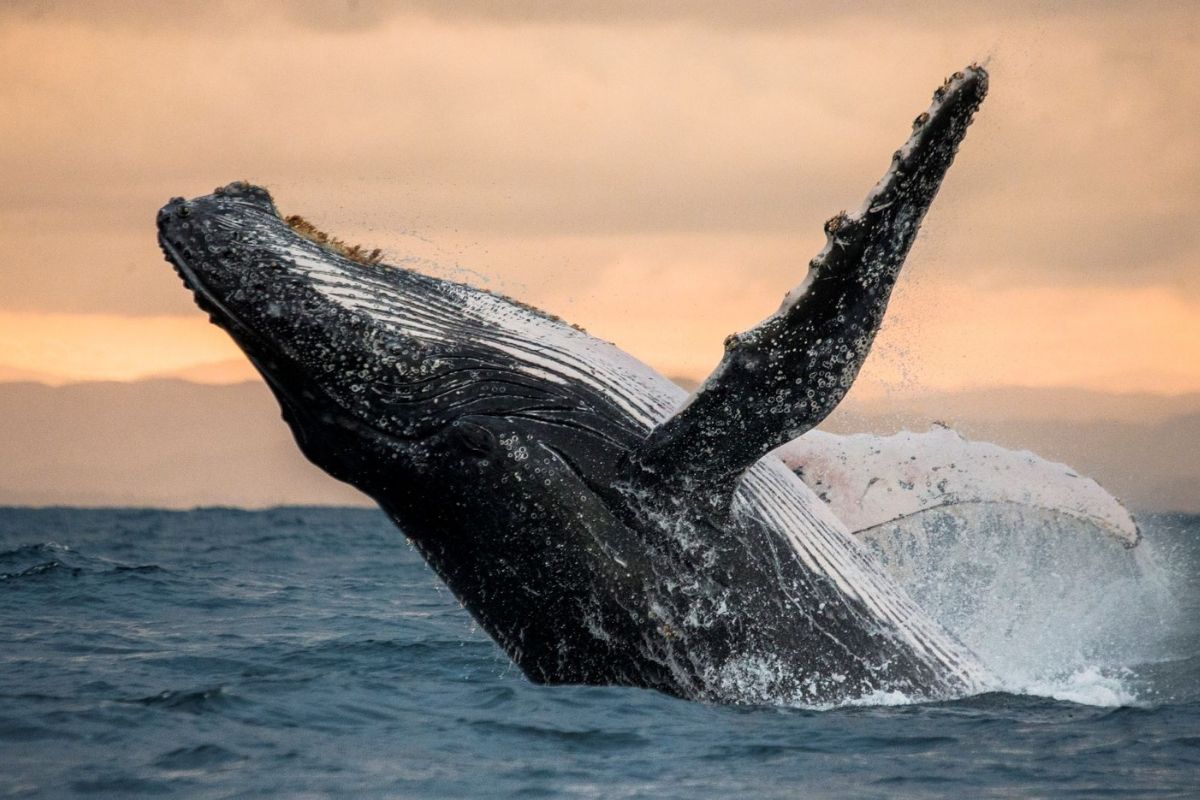 Are there any other things to do in Hermanus with kids that you would like to recommend? Drop us a line and let us know!