The 10 Most Impressive Castles in Kent You Need To Visit
With Kent being in such close proximity to France, it is only natural that many castles have been built there over the centuries. Nowadays there are 30 castles in Kent, many of which are in a fantastic state of repair and are open to visitors.
The Kent castles started appearing soon after the Norman Conquest in 1066.  After landing in Pevensey in Sussex in 1066, the Normans, led by The Duke of Normandy (aka William the Conqueror), made their way to Kent and successfully beat the English at the Battle of Hastings.
Almost as soon as the battle was over, they set about building defensive castles. Prior to their arrival, castles were relatively unheard of in England but by the end of the 11th century, almost 1000 castles had been built.
The Normans brought their French castle building expertise with them and firmly stamped their authority over England.
Kent is very close to London and many towns are easily accessible by train so visiting some of the best castles in Kent will make for a great day out from London.
Kent is also a lovely place for a UK staycation as it has so much to offer besides its fabulous castles.
Read more: The 12 Best Places To Visit In Kent
This post contains affiliate links. If you book something using the links, we may earn a small commission but at no extra cost to you.
Some of these castles in Kent are managed by English Heritage. We highly recommend an English Heritage annual membership. Just a couple of visits will cover the cost of the pass.
Leeds Castle
Leeds Castle has been called the 'loveliest castle in the world'. It is the perfect example of a moated castle and is the most impressive castle in Kent and certainly one of the most impressive castles in England.
The castle dates back to 1119, although much of what you see today is thanks to significant refurbishments made by its most famous owner, King Henry VIII. A tour of the castle is a must, but make sure to save time for strolling around the significant grounds.
There are beautiful gardens to explore as well as a maze and grotto. For the kids, there are a couple of playgrounds. Our boys thoroughly enjoyed the Knight's Stronghold Playground complete with an enormous wooden fort.
There's so much going on there so you can easily spend a whole day, particularly in the school holidays when they put extra events on. At Christmas there is usually a fabulous Christmas market as well as other festive events for the whole family.
During February half term this year (12th to 20th February), you can become a wildlife explorer and follow an activity trail where you will learn all about the wildlife at Leeds Castle.
It's best to get wrapped up warm for this one (wellies advised) and make your way from the Princess Alexandra Gardens to the Culpeper Garden and finish by the Maze and the Knight's Playground.
Leeds Castle is one of the best castles to visit in Kent on a day trip from London. There is a direct train from London Victoria station to Bearsted station and from there you can take a shuttle bus which takes about 5 minutes (April to September only).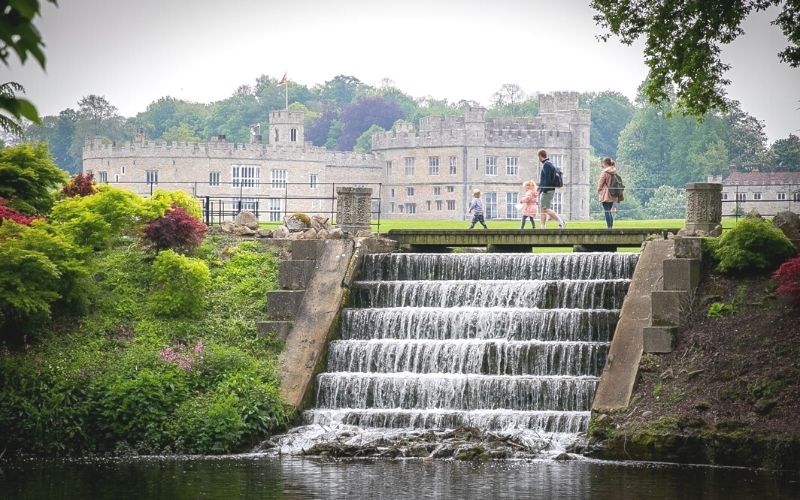 If you are looking to stay at Leeds Castle, there are some great accommodation options, including glamping in a knight's tent during the summer months.
Weir Cottage – 1 bedroom cottage
The Oast – 2 bedroom cottage
Keeper's House – 5 bedroom holiday home
Battel Hall – 5 bedroom holiday home
Guard's House – 3 bedroom cottage
Knight's Cottage – 3 bedroom cottage
Bed & Breakfast
Stable Courtyard – various rooms sleeping from 1 – 4 people.
Address: Leeds Castle, Broomfield, Maidstone, Kent, ME17 1PL.
Entry: Adult – £28.00, Child (4-15) – £19.50, Family – £90.00 (Under 4 – FREE). You can buy your Leeds Castle tickets here.
You can take a tour from London if you wish, including Leeds Castle, Canterbury Castle, Dover and Greenwich. See here for tickets.
Visiting Kent during the October Half Term? We have a post on where to go pumpkin picking in Kent and Halloween events in Kent. Leeds Castle is also perfect if you are looking for Halloween breaks with kids.
If you're visiting Kent over the festive period, we have a post on things to do in Kent at Christmas.
Rochester Castle
Rochester Castle is one of the oldest castles in England, dating back to the 1080s and has a very long and interesting history. It is not as well preserved or as impressive as many of the Kent castles, but this is because Rochester Castle has seen a lot of action over the centuries.
Rochester Castle was built in the 11th century in a strategic position at an important river crossing. It is one of the three royal castles in Kent with Dover Castle and Canterbury Castle being the other two.
It has survived three major attacks but its war wounds can be seen in the form of the one corner of the keep was badly damaged during the seige by King John in 1215. Nevertheless, the keep is the tallest medieval structure in Europe, standing at an impressive 34 metres and there are very impressive views to be admired from the top.
The outer walls were not destroyed as a result of battles. They were gradually dismantled during the reign of Queen Elizabeth I and the stone was used to build nearby Upnor Castle.
Address: Rochester Castle, Castle Hill, Rochester, Kent, ME1 1SW
Entry: Adult – £7.00, Child (5-17) – £3.50, Family – £17.50
Dover Castle
Dover Castle is one of the most magnificent Norman castles in Kent and a stunning example of a concentric castle design. Set atop the icnonic White Cliffs of Dover, it started out life as a simple Roman hillfort and when the Normans arrived in 1066, they used this same site to build a more formidable structure.
It is one of the oldest castles in England and being the closest point in the UK to France, it has played a key role in the defence of the country over its 900 years.
The lighthouse is the oldest part of the whole structure dating back to Roman times and is the most complete Roman structure in England.
The castle has had many uses over the years. It played an important part during the World Wars. The tunnels were used as an underground hospital and it was here that the evacuation of British troops from the beaches of Dunkirk was masterminded.
Dover Castle is just along the coast from the beautiful town of Rye where you'll find Camber Castle if you are looking for more things to do in the area.
Dover Castle is easily doable on a day trip from London by train.
Address: Dover Castle, Castle Hill, Dover, Kent, CT16 1HU
Entry: Adult – £17.00, Child (5-17) – £10.20, Family – £44.20. See here for Dover Castle entry tickets (with flexible 24 hour in advance cancellation).
Hever Castle
Built in 1270, Hever Castle is another of the castles in Kent with a moat and is most famous for being the childhood home of Anne Boleyn, King Henry VIII's second wife. It is said that her ghost haunts the castle today after her rather untimely death in 1536 after being found guilty of high treason.
In 1903, William Waldorf Astor purchased the castle and set about rennovating it and resculpting the gardens with the help of Frank Loughborough Pearson, a prominent architect of the time.
The grounds are spectacular. There is an Italian garden with long, sweeping lawns and pergolas. There is a beautiful English rose garden and a Tudor garden with intricately clipped hedges next door to an even more intricate yew maze.
There are lots of events throughout the year and Hever Castle is particularly lovely at Christmas with all the decorations up and a Santa's Grotto. It is one of the best things to do at Christmas in Kent.
You can also stay in the castle (if you're not afraid of ghosts) or stay in a cottage in the grounds.
Address: Hever Castle, Hever Road, Hever, Edenbridge, Kent, TN8 7NG
Entry: Adult – £15.55, Child (5-17) – £9.75, Family – £42.75 (Garden only. Tickets for the castle may be purchased for an additional charge at the castle entrance)
Deal Castle
Built by King Henry VIII in 1539 as an artillery fort, Deal Castle is one of the finest tudor castles in Kent.
During the Second World War, Deal Castle was brought back into service to defend the Kent coast from a German invasion.
You can visit the interesting circular shaped rooms of the castle and pop below to explore the tunnels.
There is a 1 mile cycle path along the beach front that links Deal Castle and Walmer Castle if you feel like a cycle or a stroll. The lovely Victorian seaside town of deal is also worth exploring.
If you are looking for somewhere to stay on the Kent coast, we highly recommend nearby Broadstairs. Read our guide on visiting Broadstairs.
Address: Deal Castle, Marine Road, Deal, Kent, CT14 7BA
Entry: Adult – £7.90, Child (5-17) – £4.70, Family – £20.50
Walmer Castle (and Gardens)
Like Deal Castle, Walmer Castle was built as a Tudor artillery fortress by King Henry VIII in 1539. It sits right on the Kent coast and was key in defending England from French invasion.
In the 18th century, it became a stately home and official residence of the Lord Warden of the Cinque Ports, with the Duke of Wellington, William Pitt the Younger and the Queen Mother to name a few.
The Cinque Ports were a series of coastal towns in Kent, Sussex and Essex which were formed for military and trade purposes: Hastings, New Romney (which later became Rye), Dover, Hythe and Sandwich.
The gardens at Walmer Castle are particularly stunning with a mix of formal and informal gardens and an impressive kitchen garden.
Address: Walmer Castle, Kingsdown Road, Deal, Kent, CT14 7LJ.
Entry: Adult – £12.60, Child (5-17) – £7.60, Family – £32.80.
Scotney Castle
Scotney Castle is one of the national trust castles in Kent and although it is called a castle, it is more like a fairytale castle / stately home. Like Leeds Castle and Hever Castle, Scotney Castle also has a moat.
It is an interesting building of two halves. One half (Scotney Old Castle) is a medieval manor house while the other half (Scotney New Castle) is a Victorian mansion.
The gardens, classed as a Site of Specific Scientific Interest, are very impressive with formal gardens and over 700 acres of parkland and woodland to explore.
Address: Scotney Castle, Lamberhurst, Tonbridge Wells, Kent, TN3 8JB.
Entry: Adult – £8.00, Child – £4.00, Family – £20.00 and parking £4.00 per car.
YOu can buy your National Trust membership here.
Upnor Castle
Upnor Castle, located on the banks of the River Medway almost opposite the Historic Dockyard Chatham, is an Elizabethan fort that was built in 1559 by Queen Elizabeth I to protect warships docked at Chatham Dockyard.
Stone was taken from the nearby Rochester Castle that had suffered decline following damage from several sieges.
It was not very effective at defending the naval fleet, however, because in 1667 the Dutch sailed up the Medway and attacked and captured a number of the Royal Naval ships at Chatham.  It remained in military use until 1945 being used as a naval ammmunition depot.
Address: Upnor Castle, Upnor Road, Upper Upnor, Rochester, Kent, ME2 4XG.
Entry: Adult – £7.00, Child (5-17) – £3.50, Family – £17.50.
Sissinghurst Castle Garden
Sissinghurst Castle is not a castle in the traditional sense and is a castle in name only. It was built in the 1530s as a house but in the 1700's it was used as a prison for French sailors who were captured during the Seven Years War. They nicknamed it 'Le Chateau' which translates as 'the castle'.
It was also used as a poorhouse in the 19th century before being purchased by Vita Sackville West, a famous British poet, who,. along with her husband Harold, transformed the house and gardens into what you see today.
Address: Sissinghurst Castle Garden, Biddenden Road, Near Cranbrokk, Kent, TN17 2AB.
Entry: Adult – £8.00, Child – £4.00, Family – £20.00.
Other castles in Kent
Other castles in Kent that you may like to visit are:
Canterbury Castle
Tonbridge Castle
Chiddingstone Castle
Chilham Castle
Eynsford Castle
Lullingstone Castle
Sissinghurst Castle
St Leonard's Tower
Sutton Valence Castle
English Heritage castles in Kent
If you're an English Heritage member, here are the English Heritage castles in Kent. Buy your English Heritage membership here.
Dover Castle
Rochester Castle
Upnor Castle
Battle Abbey
Walmer Castle
Deal Castle
Eynsford Castle
Other castles in England
We're gradually working our way around castles in the UK. If you happen to find yourself in Suffolk, you should definitely check out Framlingham Castle!
Map of the castles in Kent