Discover The Best Things To Do In Broadstairs In 2023
Looking for things to do in Broadstairs?
If you are looking for a weekend break to escape London or a place to base yourself for a family holiday in the UK by the sea, you cannot go wrong with Broadstairs.
Winter or summer, Broadstairs is the epitome of quintessential British seaside towns. It hasn't lost its charm to slot machines and this is why we love it.
Broadstairs is the most gorgeous little Victorian seaside town on the Kent coast close to the more well-known Botany Bay. The small, protected bay means that the water is lovely and calm which is great for families.
We are often asked whether Broadstairs is worth visiting. Our answer every time is – yes!  Whilst Broadstairs town itself is quite small, there are lots of things to do in Broadstairs.
Broadstairs is a great place to base yourself on the Kent coast because, after doing everything you want to do in Broadstairs, there are lots of other things to do in Kent.
This guide includes all of the very best things to do in Broadstairs as well as some ideas for exploring the wider area if you have time.
This post contains affiliate links. If you click on one and book or buy something, we may earn a small commission but this is at no extra cost to you.
How to get to Broadstairs
Broadstairs is located on the Kent coast between Margate and Ramsgate on the Isle of Thanet. It is known as the Jewel in Thanet's Crown.
It is easily reached from London by train making it an ideal destination for a day trip from London. See our bumper guide to family days out from London for more ideas for day trips from London with kids.
There is a direct service from London St Pancras that takes around 1 hour 20 minutes. Another direct service is available from London Victoria but this one takes 1 hour 50 minutes. You can find train services here.
You can also reach Broadstairs from central London easily by car in around 2 hours.
If you want to do an organised trip from London, take a look at this tour of Broadstairs and Margate from London.
These are the best things to do in Broadstairs
Visit the beaches in Broadstairs
The beaches around Broadstairs are some of the best beaches in Kent. There is plenty of sand but what we love is that the water is very safe for little ones.
Viking Bay
Broadstairs beach is called Viking Bay and is the main beach located right in the centre of Broadstairs. There is a huge expanse of sand that curves around the bay, backed with colourful beach huts. It is one of our recommended best beaches near London.
Make sure to check out the tidal pool at low tide.
If you walk along the coast towards Margate, you will come across the following beaches. Each of them are backed with white chalk cliffs and offer wide expanses of sand.
Stone Bay
Joss Bay
Kingsgate Bay
Botany Bay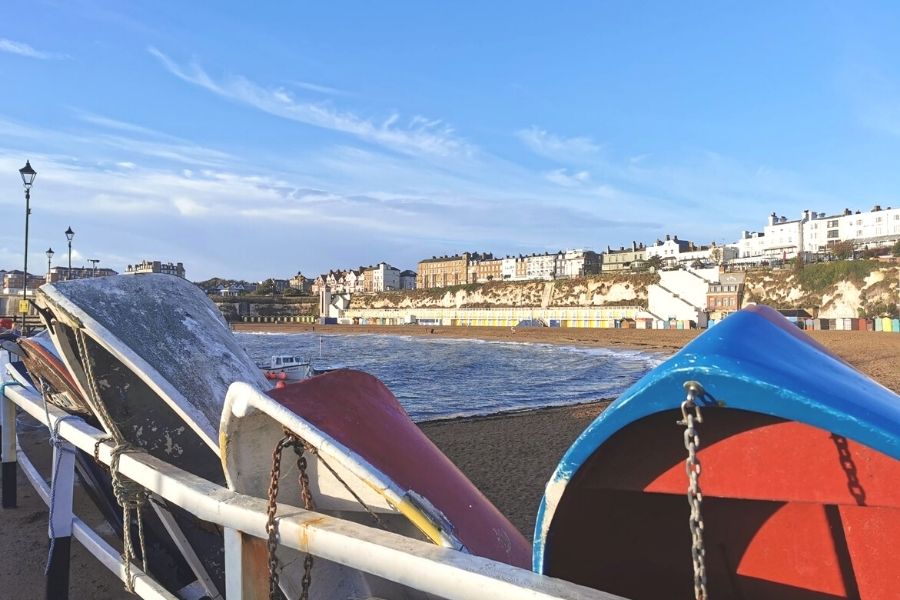 Visit the Dickens House Museum
Dickens had a long connection with Broadstairs – first visiting in 1837 and subsequently returning many times until 1851. He was so delighted by Broadstairs that he called it "Our English Watering Place".
The Dickens House Museum is located in the cottage that was Dickens' inspiration for the home of Betsey Trotwood in his novel, David Copperfield.
In the museum you will find a wide selection of Dickens memorabilia. This is a good one if you're wondering what to do in Broadstairs in the rain.
Entry costs £3.50 for adults, £1.50 for children and £8.50 for a family of 4.
Address: Dickens House Museum, 2 Victoria Parade, Broadstairs, Kent, CT10 1QS.
Another place in Broadstairs that is associated with Charles Dickens is Bleak House. Bleak House, (formerly Fort House), was where Charles Dickens wrote David Copperfield. It sits on the cliff top overlooking Viking Bay.
We visited Broadstairs during the winter and it certainly was bleak!
Turner and Dickens walk
The Turner and Dickens walk is a 4 mile walk between Broadstairs and Margate. It starts in Broadstairs at the Dickens House Museum. It  follows an ancient footpath and ends in Margate at the Turner Contemporary Gallery.
The route is signposted but you can also download a copy of the map here.
Viking Coastal Trail
There is an 32 mile walk (or cycle route) that hugs the coastline of the Isle of Thanet called the Viking Coastal Trail.
You can break this walk up into sections if you can't do all of it. The 8 mile walk along the clifftops from Ramsgate via Broadstairs to Margate is a good section to tackle.
You can see a map of the Viking Coastal Trail here along with details of shorter walks you can do along the route.
Broadstairs Dickens  Festival
The Broadstairs Dickens Festival was first set up in 1937 to mark the centenary of Charles Dickens' first visit to Broadstairs.
It is held during the third week of June. Details of the event can be found here.
Broadstairs Town Trail
Looking for free things to do in Broadstairs?
The Broadstairs Town Trail is a self-guided walk that directs you through the town past 10 information boards. You will learn about the town's history, its buildings and its inhabitants.
You can pick up the map from the Broadstairs Information Kiosk which is open from April to the end of October. You can also download a copy of the Broadstairs Town Trail map here.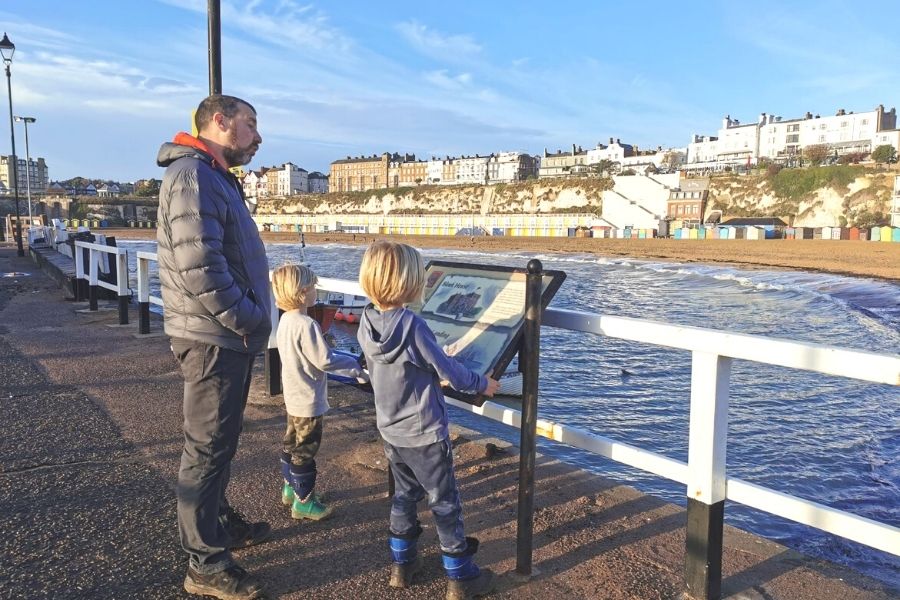 Get an ice cream
A visit to a British seaside town would not be complete without an ice cream. Head to Morelli's Gelato on the seafront which has been an institution since 1907.
Morelli's is located on Victoria Parade with views over Viking Bay. It's really one of the best places to visit in Kent when it's hot and one of the best family things to do in Broadstairs according to our kids!
Eat Fish & Chips
Another thing you have to do in Broadstairs is to grab some fish and chips!
One of the best restaurants in Broadstairs is Wyatt & Jones who also run Flotsam & Jetsam where you can find the best fish & chips in Broadstairs.
If you would like to eat your fish & chips on the beach, beware of the greedy seagulls who will swoop down to steal your lunch at any opportunity.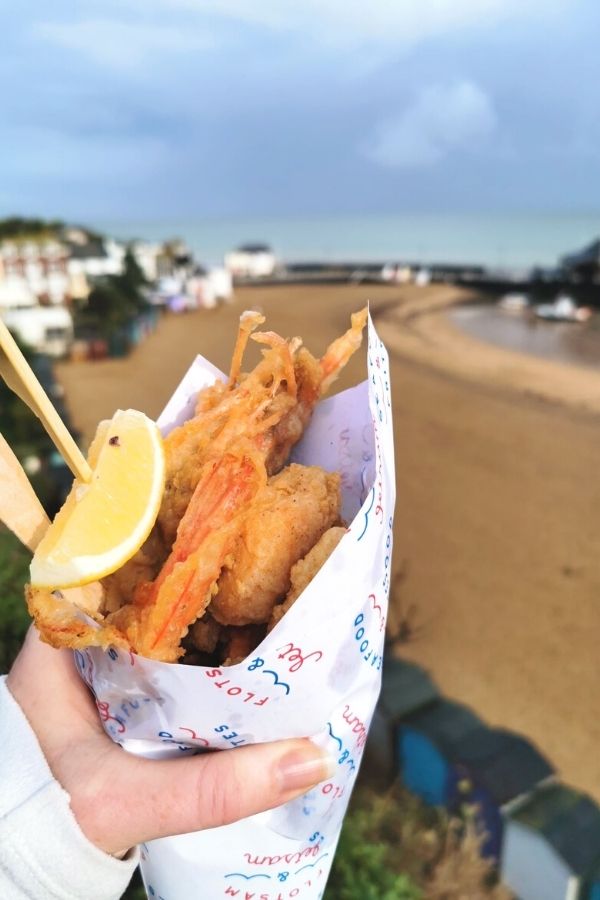 Visit the art galleries in Broadstairs
There are several small art galleries hidden down the backstreets of Broadstairs.
The Broadstairs Gallery – original oils, watercolour and mixed media with a collection from both local and international artists.  Also offers a bespoke framing service. 10 Charlotte Street, Broadstairs, Kent, CT10 1LR.
The Little Art Gallery – over 300 original paintings in the gallery and if you don't find something you like, they take commissions. 1 Eldon Place off Harbour Street, Broadstairs, Kent, CT10 1NA.
New Kent Art Gallery & Studio –Fine Art Gallery specialising in work from local artists. Paintings, sculptures, crafts, ceramics, gifts. 49a Albion Street, Broadstairs, Kent, CT10 1NE.
Kent Coast Gallery – Fine Art photography gallery. Absolutely stunning photographs taken by Broadstairs based photographer James Davies of Broadstairs, the Kent Coast and the US National Parks. Top Floor 15 Grosvenor Road, Broadstairs, Kent, CT10 2BT.
Broadstairs Bandstand
Located on Victoria Parade is the Broadstairs Bandstand. Several free live music events are held here throughout the year. More details on their calendar of events can be found here.
Play minigolf in Broadstairs
If you are visiting Broadstairs with kids then you might like to have a game of minigolf at Lillyputt minigolf.
They have a championship-designed, heritage mini golf course located on Victoria Parade that is fun for all the family. Open from 10 am every day in the summer months. Adults are £6.00 and children are £4.80 per round.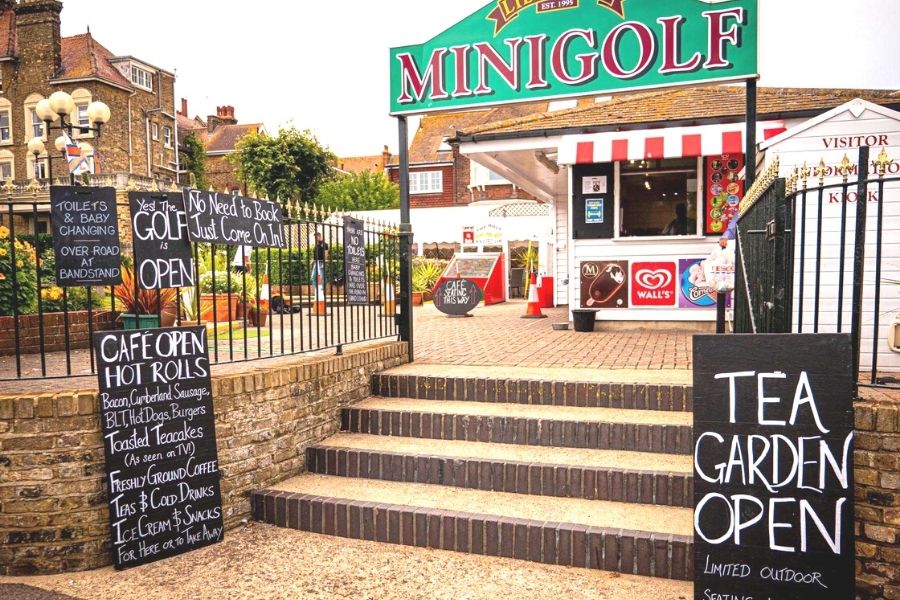 Learn to surf
If you have always fancied giving surfing a go but haven't got round to it, why not try surfing in Broadstairs?
Kent Surf School is an award-winning surf school based at Viking Bay in Broadstairs. They offer a range of surf lessons from private 1 to 1 to family sessions.
They also offer paddle boarding and body boarding lessons.
Take a day trip to Margate
Although not technically something to do in Broadstairs, we would highly recommend taking a trip to Margate.
Is Broadstairs better than Margate? Well, it's a personal choice but we would choose Broadstairs every time.
Margate is very different to Broadstairs but still worth visiting and in recent years has undergone a big regeneration.
You can easily get from Broadstairs to Margate for a day out. It would be 10 minutes in a car or 5 minutes on the train. See here to check for trains between Broadstairs and Margate.
For a full day out, you could do the Turner and Dickens walk.
Some of the things we enjoyed in Margate are:
Other things to do near Broadstairs
Where to stay in Broadstairs
There are a number of hotels in Broadstairs but during the summer months, accommodation can get very booked up. You will need to book well in advance if you are visiting Broadstairs in the summer.
If you are looking for centrally located Broadstairs hotels, you can't beat The Royal Albion which is located right on the seafront in the centre of town. They also have family rooms.
There are also some fabulous holiday apartments in Broadstairs. We stayed in this gorgeous two bedroom apartment on Victoria Parade with stunning views of Viking Bay.
Another option is this fabulous 2 bedroom home on Victoria Parade with a cute little courtyard garden where you can enjoy an al-fresco meal in the summer.
Where to eat in Broadstairs
Although we had a self-catering apartment, we also ate out a bit because there are some lovely restaurants in Broadstairs that we didn't want to miss.
Our favourite Broadstairs restaurants were:
Popsillipo Pizzeria for fabulous Italian food.
Flotsam & Jetsam for take away fish and chips
So these are the best things to do in Broadstairs. Do you have any that you would like to add to our list? Drop a comment below!