The Best Places To Go Pumpkin Picking in Kent 2023
There are some excellent places to go pumpkin picking in Kent which is just as well because pumpkin picking has become one of the most popular things to do at Halloween!
Many of these pumpkin patches in Kent have been getting bigger and better each year to keep up with demand. This is good news for those looking for Halloween days out in Kent.
Looking for UK staycations this October half term? Take a look at our guide to the best UK Halloween breaks for families.
Before we list the best places to go pumpkin picking in Kent this year, here are a few tips and FAQs about picking your own pumpkins.
This post contains affiliate links. If you click on one and buy something, we may earn a small commission but this is at no extra cost to you.
All your pumpkin picking in Kent FAQs answered….
The pumpkins are grown (or are laid out) in fields. If you're visiting these pumpkin fields on a wet day or it has previously been raining, the pumpkin patches will be muddy. It is best to wear wellies for this family-friendly day out.
PYO pumpkins come in all shapes and sizes. Some are better for eating than others. You can check this with the farm.
The majority of farms will sell pumpkins by weight. Check the price per kg before letting the kids choose the largest, heaviest pumpkin!
Avoid pumpkins with soft spots or cuts as this signals a rotting pumpkin. It won't last long at all when carved. Pumpkins should be firm.
Heavier pumpkins mean denser walls which are best for carving.
Many pumpkin farms have wheelbarrows. If they don't, you might want to consider taking a sturdy bag. Don't carry the pumpkin by the stalk as it may snap off and your pumpkin will get damaged.
Some of the Kent pumpkin patches will have pumpkin carving facilities onsite but if not, you might want to look at buying one of these pumpkin carving kits.
See here for more pumpkin picking tips!
Not all of the Kent pumpkin patch 2023 dates have been released so check back here for updates on Kent's best pumpkin patches…
Here's where to pick your own pumpkin in Kent this year…
Four Winds Farm
The pumpkin patch is located on a working farm. Grab a wheelbarrow and go and choose your pumpkin. Pumpkins range in price from £2.00 to £10.00 depending on size. In addition to the pumpkin picking, there's a scarecrow hunt and tea and cakes and face painting.
It's located near some of the best castles in Kent if you are looking for something else to do in the area. See also our favourite places to visit in Kent.
Where: Pumpkin Field, Poundsbridge Hill, Fordcombe, Kent, TN3 0RL.
When: October half term 2023.
Tickets: £1 per vehicle (plus £0.75 booking fee). You can buy tickets here.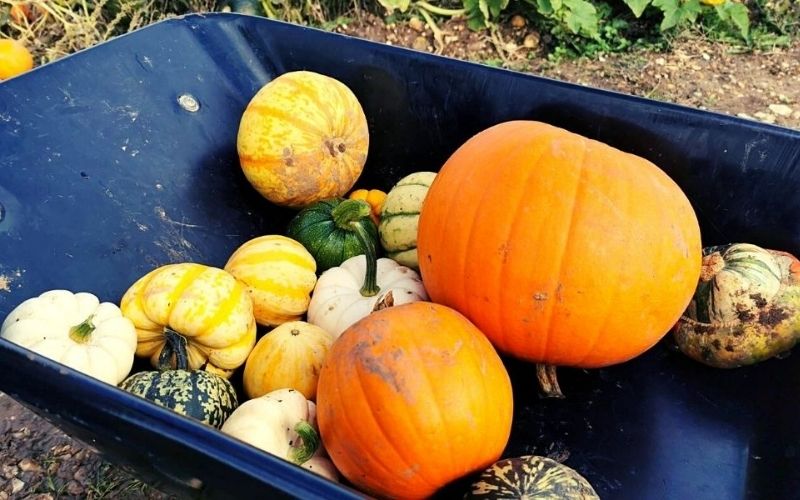 Stanhill Farm
Grab a wheelbarrow and head to the field to pick your pumpkin. There will be plenty of photo opportunities with a sea of orange for a background. They also have a great maize maze during the summer months. This is one of the closest pumpkin patches to London.
Pumpkin prices start at £1.00 per pumpkin or grab a wheelbarrow and fill it with as many as you can fit in for £35.00! No dogs allowed on the farm.
Where: Stanhill Farm, Birchwood Road, Dartford, Kent, DA2 7HD.
When: Opens October 2023.
Tickets: Free – but must be pre-booked, Admits one car with a max of 6 people.
Pumpkin Moon
There are over 100 varieties of pumpkins, gourds and squashes to choose from, including some enormous white ones. Don't forget to check out the pumpkin shaped maize maze near the Rainham location – one of the best maize mazes in the country.
Fancy dress is encouraged!
Where: There are three locations to choose from (Maidstone, Rainham or Bapchild).
When: October 2023.
Tickets: £2.00 per person (Under 3 FREE).
Pick Your Own Pumpkin
Pumpkin prices range from £1.00 to £10.00. There is a golden pumpkin hidden each day and whoever finds it wins their wheelbarrow of pumpkins for free.
Where: Pick Your Own Pumpkin, Cheesemans Green Lane, Sevington, Ashford, Kent, TN25 7HX.
When: 14th & 15th, 21st – 23rd and 27th – 29th October 2023.
Tickets: £5.50 per car (plus £0.98 booking fee).
PYO Pumpkins
Pumpkins will have been cut off the stalks so no cutting tools are required. Wheelbarrows are available. No dogs allowed on the farm or in the field.
Where: PYO Pumpkins, Beluncle Farm, Stoke Road, Hoo, Kent, ME3 9LU.
When: October 2023.
Tickets: £7.00 per car (7 seats and under). £10.00 per minivan. Book tickets here.
Milebush Farm
Pick your own pumpkins and corn on the cob. Dogs welcome on a lead.
Where: Milebush Farm, Shingle Barn Lane, West Farleigh, Kent, ME15 0PN.
When: From 1st October.
Tickets: No booking required & free entry.
Saffery Farm
Pumpkin prices start at £1.00 with lots of varieties of pumpkin and squash to choose from. This is a working farm so no dogs allowed and children must be supervised..
Where: Saffery Farm, Owens Court Road, Faversham, Kent, ME13 9QN.
When: October half term.
Tickets: No booking required & free entry.
Is October drawing to a close? If so, you might want to start thinking about things to do at Christmas with the kids. We have a whole section on Christmas events going on this year, including where to find Santa!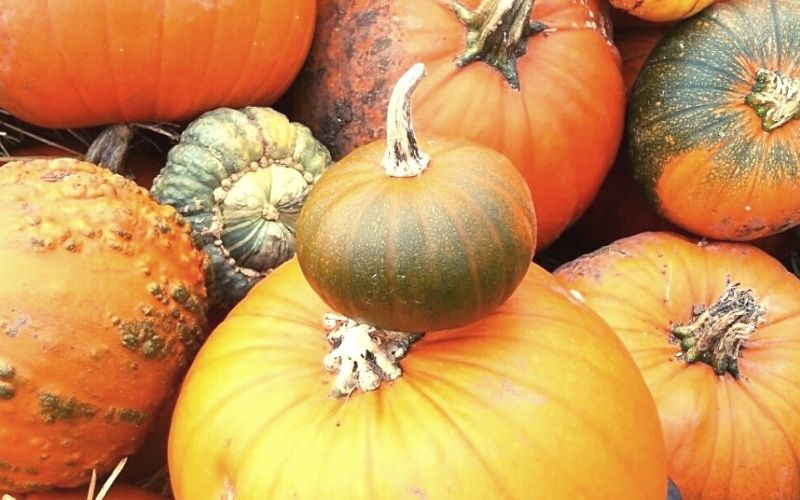 Felderland Pick Your Own
A huge pumpkin patch with straw bale obstacles and family photo opportunities at the pumpkin pyramid photo station.
Where: Felderland Farm Shop, 20 Deal Road, Kent, CT14 0B.
When: From mid-October 2023.
Tickets: Adult – £2.00, Child – £1.00.
If Halloween is nearly over and you are starting to think about Christmas…. we have a post on the most festive things to do at Christmas in Kent which is bound to get you into the festive spirit!
You might also like…
Pumpkin picking in Hertfordshire
Pumpkin picking in Cambridgeshire
Pumpkin picking in Bedfordshire
The Best Halloween Events In Hertfordshire
Halloween events in Bedfordshire