Our Complete Sandy Balls Holiday Village Review For 2023
We were invited by Away Resorts to stay in a Zen lodge for a weekend in return for writing a thorough Sandy Balls Holiday Village review. Whilst this was a hosted stay, we paid for all of our activities except the Alpaca Walk and our views are always our own.
We have been wanting to visit Sandy Balls for a while now. We love the New Forest. We love lodges with hot tubs. We love outdoor activities for the whole family.
We knew that Sandy Balls ticked all of these boxes and we wanted to find out whether it could live up to the hype.
Whether you have heard of Sandy Balls or not, our review of Sandy Balls Holiday Village aims to help you decided whether it can tick all of the boxes for you too.
We try to answer all the questions you might have about it as well as others that you may not have considered. Starting with our favourite question….Why is Sandy Balls called Sandy Balls?!?!
We will cover what to expect from a stay at Sandy Balls, what is included in a stay at Sandy Balls and our overall impression of this much loved UK holiday park. Find out what it was we didn't love about Sandy Balls.
We will also give you some tips for what to take to Sandy Balls and suggest some fun things to do in the local area. If you happen to be looking for an October half term getaway – it is one of our recommendations for UK Halloween breaks for families as they have do many fun Halloween activities.
But first, here are a few quick FAQs about Sandy Balls New Forest holiday Park that we wanted to know before we went.
This post contains affiliate links. If you click on one and book or buy something, we may earn a small commission but this is at no extra cost to you.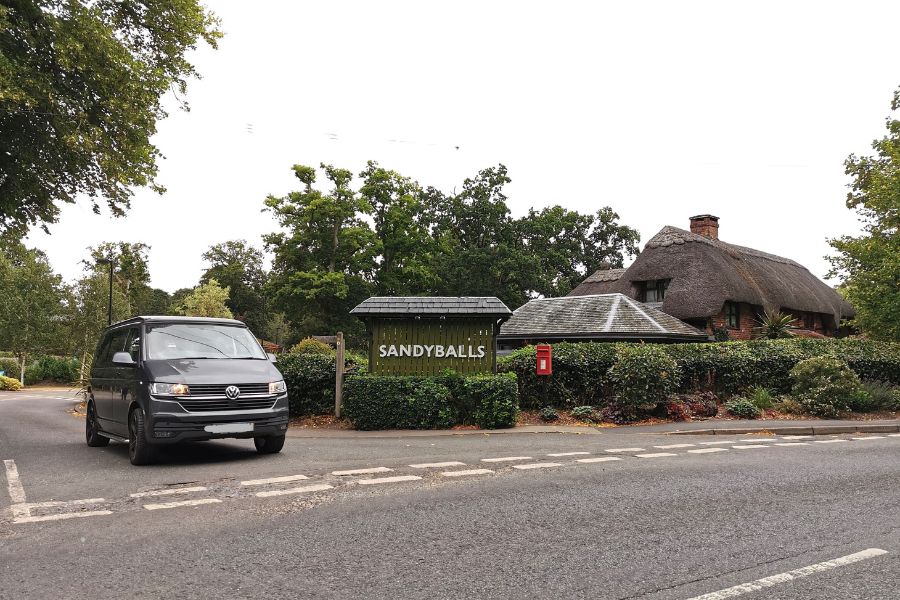 Review of Sandy Balls Holiday Village – FAQs
Why is Sandy Balls called Sandy Balls?
When we told the boys we were going to stay at SandyBalls, they found it hilarious. This seems to be the reaction of most people we speak to about our Sandy Balls stay.
We posted this question on our Instagram stories and everyone wanted to know the answer so we thought we would put it in here too.
Actually, the history of Sandy Balls is both fascinating and lovely.
Sandy Ball's name has been traced as far back as the reign of Henry VII. It appeared on maps and other documents at the time as "Sandyballas". Sandyballas is the name given to the dome-shaped sand and gravel outcrops on the western boundary of the site.
Many of these outcrops remain, including ones called Good Friday Hill and Giant's Grave.
Ernest Westlake loved the work of Ernest Thompson Seton who set up Boy Scouts of America and bought the land in 1919. He created a site for his newly formed youth movement – the Order of Woodcraft Chivalry.
After the death of Ernest his son Aubrey Westlake carried on his ideas and created Forest School Camps.
In 1934, 12 simply furnished camping huts were built amongst the trees and next year the first brochure was produced, entitled "Sandy Balls for the Beauty Spot Holiday".
As the original aim of Aubrey Westlake was to use the location to provide a simple, low cost holidays for families.
The holiday resort business continued to grow and in 2017, the business was sold by the Westlake family to Away Resorts.
We love the background story.
Where is Sandy Balls?
Sandy Balls is located between the village of Godshill and the town of Fordingbridge in the north west of the New Forest.
The surrounding area is beautiful. The estate itself comprises of 120 acres and sits up on a ridge above the River Avon. At certain points in the park, most notably Good Friday Hill, you get stunning views across 3 counties (Hampshire, Dorset and Wiltshire).
Who owns Sandy Balls?
Sandy Balls is owned by Away Resorts. Away Resorts own 23 holiday parks across the UK where you can hire caravans and luxury lodges and even buy holiday homes.
Do you get towels at Sandy Balls?
You do get towels at Sandy Balls – but in the exclusive accommodation only. See more on this below in our accommodation section.
You can use them in your accommodation only so it is useful to bring your own towels if you are using the pool.
We brought our Dock & Bay towels with us as they are easy to pack and dry quickly.
You can buy them on Amazon or at Decathlon.
Does Sandy Balls have a pool?
Yes – there is an indoor and an outdoor pool at Sandy Balls. See 'facilities' below for more information.
Does Sandy Balls have a gym?
There is a great gym at Sandy Balls. You need to be 16+ to use it.
What is included in your stay at Sandy Balls?
The use of the pool at Sandy Balls is free of charge. Evening entertainment and soft play is also included in the cost of your stay. All other activities carry an additional cost.
You can also take your bikes and go for bike rides or walks. We highly recommend taking the walking track down to the river.
Here are some more FAQs about Sandy Balls.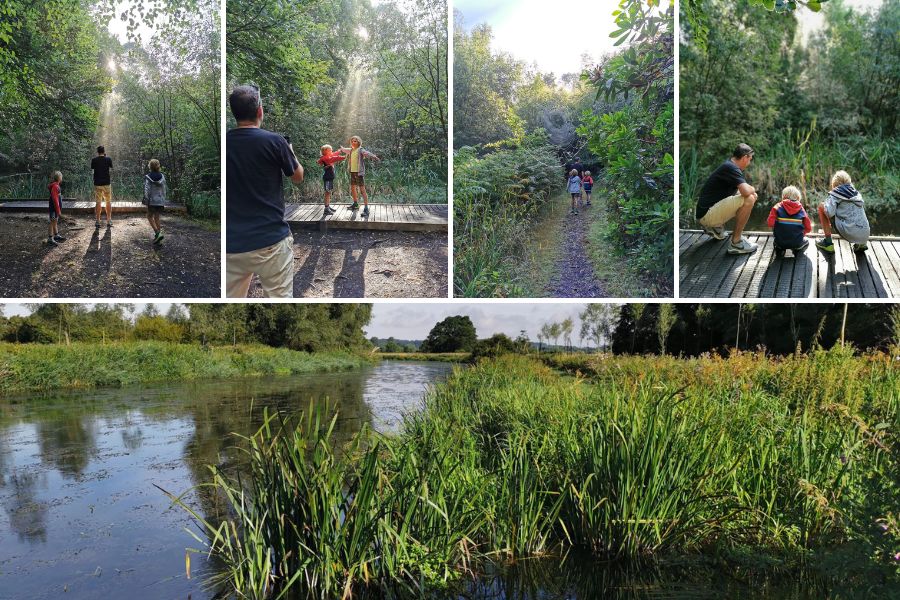 Is Sandy Balls like Center Parcs?
Center Parcs has become so popular but at the same time, many people complain about how expensive it is.
We found Sandy Balls to be very similar to Center Parcs in many ways. It is a great Center Parcs alternative if you cannot justify the price of a Center Parcs holiday.
We have also stayed at Landal Sandybrook in the Peak District before which is another lodge style holiday park and whilst it is lovely, it doesn't have anywhere near the same number of activities as Sandy Balls.
Sandy Balls Holiday Village Review – Accommodation
Exclusive Away Resorts accommodation at Sandy Balls
All exclusive accommodation at Sandy Balls include towels, welcome goodies and early check in (from 2.30).
The Esme – see more here. 2 bedrooms – sleeps 4.
The Knightwood – see more here. 2 bedrooms – sleeps up to 8.
The Zen – see more here. 2 bedrooms – sleeps 7. See more below.
The Heartwood – see more here. 2 bedrooms – sleeps 7.
Classic Away Resorts accommodation at Sandy Balls
Caravans – see more here.
The lodges are fairly close to each other but because of the trees, most of them won't seem overlooked.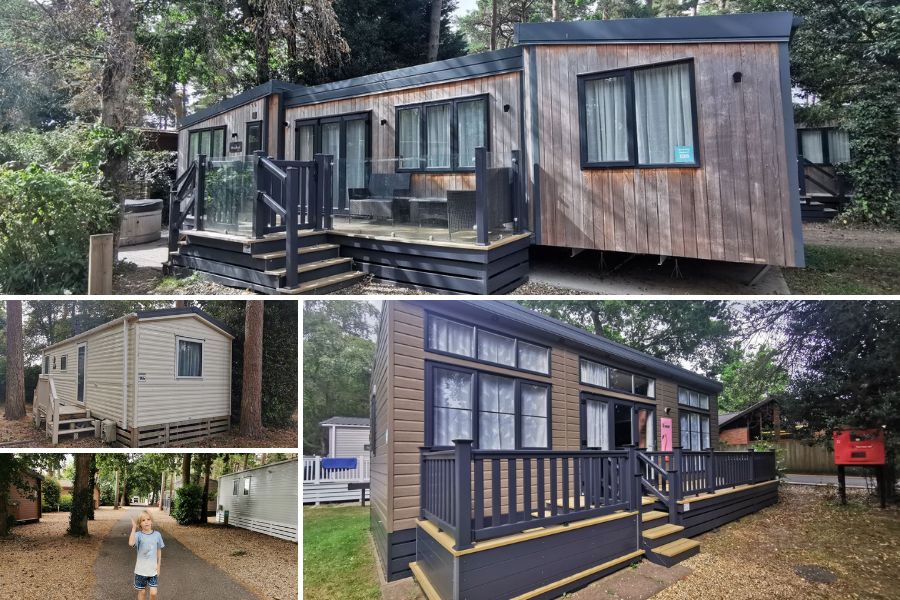 The Zen at Sandy Balls Holiday Village
We opted for a Zen lodge with hot tub. This is the perfect place to stay if you are looking for lodges with hot tubs in the New Forest.
There was a double bedroom with enormous bathroom and double shower. The second bedroom has 3 single beds and is ideal for 3 children or the bottom beds can join together to make another double.
There is a smaller bathroom next to the second bedroom.
The kitchen is fully equipped and there is a dishwasher. They leave a small kitchen cleaning kit for you with dishwasher tablets, sponge, cloth and a tea towel.
We cooked a couple of meals in the lodge and the only thing we missed in our Zen lodge was a chopping board and most importantly, an ice cube tray.
The Zen lodge we had (22) lived up to its name. We had the most peaceful stay. The hot tub was not completely secluded but it was sheltered enough not to feel overlooked at any point. We were surrounded by trees and our whole stay felt incredibly relaxed.
There is no WiFi in the lodges but you can head to the Village Square to pick up a WiFi connection. Our lodge had bluetooth speakers.
Sandy Balls Holiday Village Review – Activities
There are so many activities at Sandy Balls for ages 1+. Looking at our schedule, the arts and crafts were more aimed at younger children (under 5s).
Leisure activities are more aimed at slightly older children (6+) and then there are activities for teenagers (Segway and Zumba). The family activities are for all ages (Alpaca walks, Forest caching.
You can book your Sandy Balls activities up to 21 days in advance. Even though we managed to book some of our activities the night before, we would recommend booking the activities you want to do.
Download the Away Resorts app and you can easily book activities. You can also pop into the Guest Services area onsite to book your activities after arrival, especially if it is not peak season.
The early evening entertainment started at 6.15pm for younger children (Play Tots) and then the evening entertainment started at 8.30 pm.
We really enjoyed the magic show by Matricks Illusion who was on Britain's Got Talent.
An important thing to note is that some of the activities at Sandy Balls are much cheaper than the activities at Center Parcs.
Looking at Center Parcs Longleat as an example, they have Target Archery starting at £19.50 for under 12s and £23.00 for over 12s. At Sandy Balls it costs £12.50 per person.
It does last 25 minutes longer than Target Archery at Sandy Balls, but we think the shorter sessions are better anyway as you can do more of them during your stay.
We couldn't try every activitiy on offer but below is a little information on the Sandy Balls activities that we picked.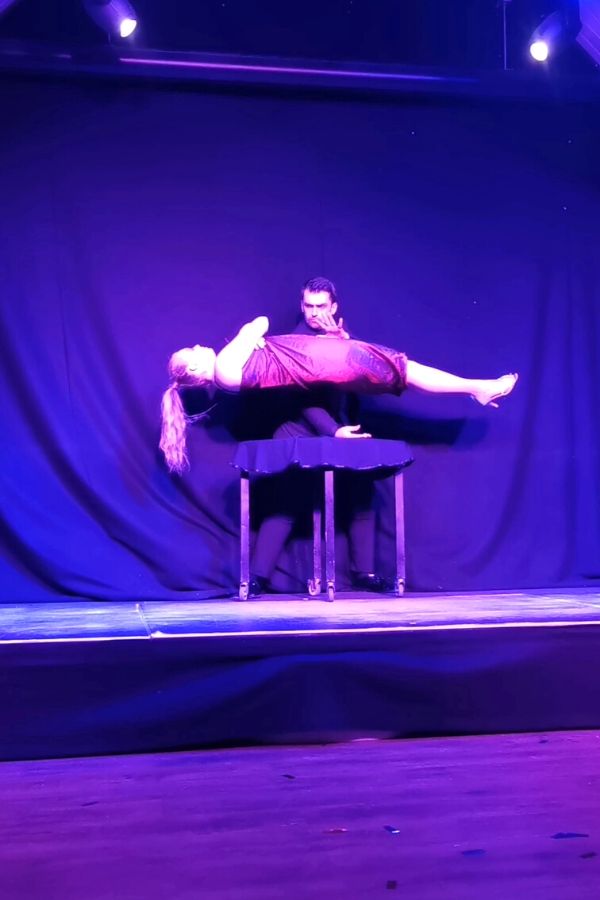 Alpaca walking
Alpaca walking has become a popular activity in the UK and Alpaca walking at Sandy Balls was one of our favourite activities.
The session lasts around 30 minutes and costs £20 per alpaca. Four people can walk one alpaca.
You get a quick talk from the Alpaca handler before setting off to a beautiful viewpoint.
The alpacas are young and can easily be guided by small children – unless they want to stop to nibble a bush!
We recommend that young children wear suitable footwear just in case the alpacas tread on their toes.
We were smitten. They are absolutely gorgeous and if you haven't tried it, we highly recommend it.
You can read more about the Sandy Balls alpacas here.
Archery
The boys had previously tried a taster archery session at Leeds Castle, one of our favourite castles in Kent. See also things to do in Kent if you are heading that way.
They loved it so we knew they would enjoy a proper session.
They received some safety and technique training before having some shooting practice and finishing with some games.
The archery session is for children 8+ and costs £12.50 per person for 30 minutes. There is also family archery (6+) and mini archery (3-5 yrs) if you have younger children.
There is also a viewing gallery if you are not participating.
Forest Laser Tag
We just booked the boys into this session and once they were all set up, Ed and I took a walk down by the river. The boys were put into teams and they had 30 minutes of laser gun battles.
It all takes place in the wooded area down near the river (Greenwood) which is perfect for dodging your opponent's lasers.
There is also a nerf version of this and a laser clay pigeon shooting type activity.
The session lasts 30 minutes and costs £10.00 per person.
Disc golf
This was perhaps our least favourite activity because there wasn't much to it but Martine still managed to make it fun.
It involves throwing a frisbee into 6 different baskets around a circuit. It is harder than it looks.
The session lasts 30 minutes and costs £8.50 per person.
Sandy Balls Holiday Village Review – Facilities
Overall, we were really impressed with the facilities at Sandy Balls. It seemed as if the whole complex has been recently renovated. The supermarket and restaurant in particular were really modern.
There was just one area that didn't seem to have been touched for a while…the indoor pool.
Restaurants at Sandy Balls
There is one main restaurant at Sandy Balls – Aubrey's. You can also get food in the Woodside Inn and there are private dining pods that you can book.
There is a standard kids menu at Aubrey's and the food is good quality. We really enjoyed our starters and mains but the desserts were a bit of a let down as the ones we chose seem to be pre-made (brownies, Eton Mess and pancakes).
They were doing a promotion whereby you buy 6 cocktails and get one free. It doesn't have to all be in one sitting as we initially thought! You can spread it over the duration of your stay and it includes mocktails.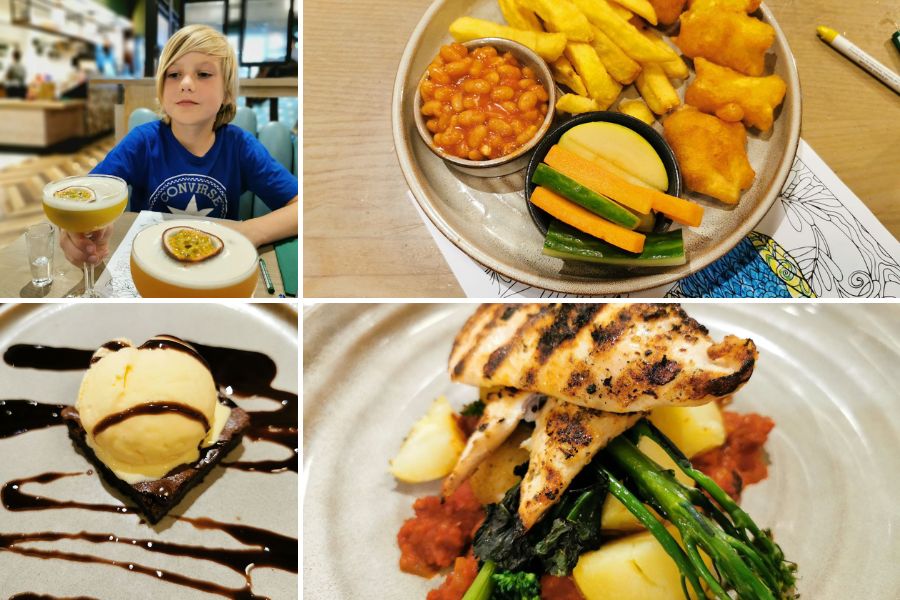 Sandy Balls swimming pool
There is an indoor and an outdoor pool at Sandy Balls. You need to book swim sessions at the moment. There are no water slides at Sandy Balls.
We felt like the indoor pool could do with a bit of an update. It seemed quite tired and dated compared to the rest of the park facilities.
The sauna and jacuzzi areas were also small and crowded.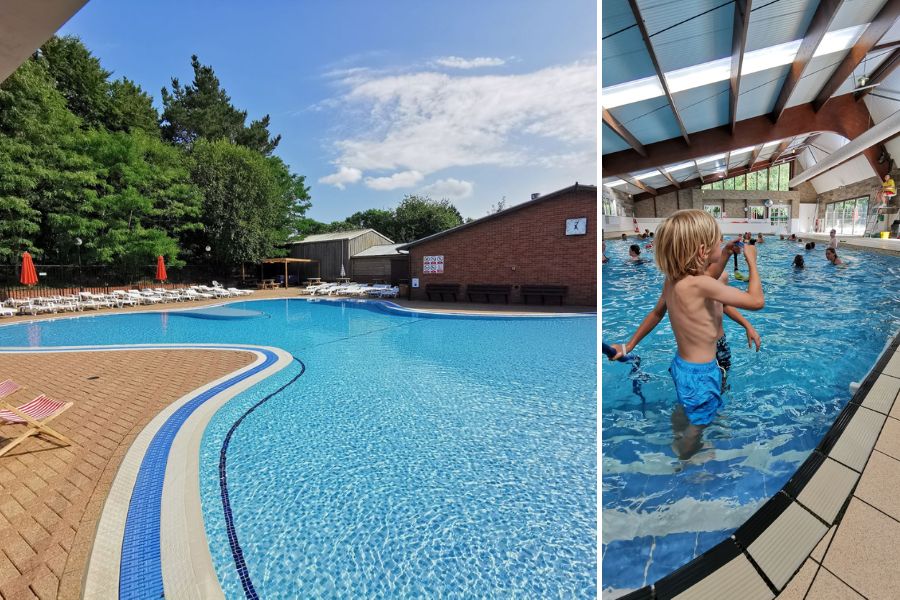 Laundrette
We didn't need to use the laundrette because we were there for 3 days but it is located in the main square area.
Supermarket
The supermarket was lovely and neat and really well stocked. Prices were reasonable.
Bike Hire
If you haven't brought your bikes with you, you can hire them at Sandy Balls. You can find more information about the Cycle Centre at Sandy Balls here.
Prices start at £7.50 for a balance bike, £12 for a kids' bike and £21 for an adult bike per day.
Soft play
The Den is where you will find the soft play. It is suitable for children up to 6 years old.
Sandy Balls Spa
If you feel like a treat while on your break, The Retreat offers what seem to be a good selection of fairly averagely priced treatments. They also offer kids polish for children aged 5 to 10 years old for £10. We didn't have time to try any treatments so cannot vouch for the quality.
Games
The kids are usually drawn to the flashing lights of an amusement arcade but they were just too busy to be distracted by them at Sandy Balls so we just popped our heads in quickly. It is a fairly large area and it looked like they had plenty of machines.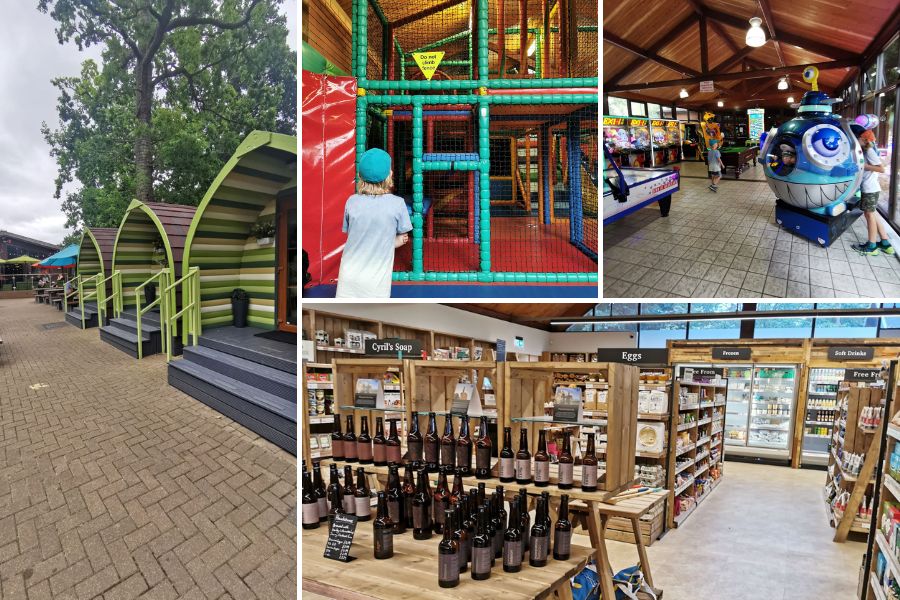 Any negatives in our Sandy Balls Holiday Village review?
We promised to report the good, the bad and the ugly in our Sandy Balls review. I think you can gather that we were really pleasantly surprised by our stay at Sandy Balls.
This is not your average UK holiday park that's for sure.
There was just one thing that let Sandy Balls down for us and that is the pool area as we mentioned above.
We love a swim on holiday and were left feeling a bit disappointed by the pool area. It is perfectly adequate but it is quite small and doesn't come close to the pools at Center Parcs.
There is an outdoor pool though so in good weather, this is the better option.
What to take to Sandy Balls
If you're staying in one of the exclusive lodges then you're pretty much covered. But here are a couple of things you might want to bring with you.
2 swim suits, especially if you have a hot tub.
Separate towels for the pool.
Sturdy footwear so that you can explore the local area.
Ice cube tray.
If you're staying in classic accommodation, remember to bring pool towels and bath towels.
Sandy Balls map
Here is a map of Sandy Balls Holiday Village to help you get a sense of where everything is around the park.
Things to do near Sandy Balls
The New Forest is such a beautiful area of the UK and is the perfect destination for a UK staycation with kids. If you can tear yourself away and have done all of the activities you want to do, here are some great things to do in the area.
So this is our review of the accommodation, facilities and activities at Sandy Balls Holiday Village. But our Sandy Balls Holiday Village review wouldn't be complete without a special mention of the staff.
Every member of staff we interacted with from check in to the activity leaders to the restaurant staff were amazing.
We joked that they reminded us of Hi-de-Hi holiday reps and this was a good thing. They made us smile and helped make our stay special.
We hope you found this review of Sandy Balls helpful. Let us know if we missed anything or if you have any questions.