The Best Places To Go Pumpkin Picking in Suffolk 2022
As you would expect with Suffolk being an agricultural county, there are quite a few places to go pumpkin picking in Suffolk which is great because pumpkin picking has become hugely popular in the last few years!
The pumpkin patches in Suffolk have been getting bigger and bigger each year to keep up with demand.
Before we list the best places to go pumpkin picking in Suffolk, here are a few tips and FAQs about picking your own pumpkins.
This post contains affiliate links. If you click on one and buy something, we may earn a small commission but this is at no extra cost to you.
All your pumpkin picking in Suffolk FAQs answered….
The pumpkins are grown (or are laid out) in fields. If you're visiting these pumpkin fields on a wet day or it has previously been raining, the pumpkin patches will be muddy. It is best to wear wellies for this family-friendly day out.
PYO pumpkins come in all shapes and sizes. Some are better for eating than others. You can check this with the farm.
The majority of farms will sell pumpkins by weight. Check the price per kg before letting the kids choose the largest, heaviest pumpkin!
Avoid pumpkins with soft spots or cuts as this signals a rotting pumpkin. It won't last long at all when carved. Pumpkins should be firm.
Heavier pumpkins mean denser walls which are best for carving.
Many Suffolk pumpkin farms have wheelbarrows. If they don't, you might want to consider taking a sturdy bag. Don't carry the pumpkin by the stalk as it may snap off and your pumpkin will get damaged.
Some of the Suffolk pumpkin patches will have pumpkin carving facilities onsite but if not, you might want to look at buying one of these pumpkin carving kits.
See here for more pumpkin picking tips!
Here's where to go pumpkin picking in Suffolk…
Undley Farm
Undley Pumpkin Patch and Maize Maze
Undley Farm offers the largest pumpkin patch in Suffolk with over 75 acres to explore and is one of the best places to go pumpkin picking in East Anglia.
There is an enormous field with proper PYO pumpkins from the vine. Additional activities are on offer such as donkey rides, a spooky Halloween maize maze. face painting, a straw bale climbing area, a pumpkin bouncy castle and pumpkin carving. With so much going on, it's a great place to visit at Halloween with kids.
Wheelbarrows are available in case you go overboard with the pumpkin picking!
Where: Undley Farm, Undley Road, Beck Row, Lakenheath, P28 8BX.
When: Every weekend during October and throughout Half Term from 10 am to 5 pm.
Tickets: Free – but you must book in advance.
Siam Hall
Siam Hall Spooky Pumpkins is located near Sudbury just on the fringes of the beautiful Dedham Vale Area of Outstanding Natural Beauty.
They also have a PYO Sunflower field.
Where: Siam Hall, Siam Hall Lane, Boxford, Sudbury, Suffolk, CO10 5LA.
When: Usually during Half Term week.
Tickets: Free – and no booking required.
Friday Street Farm
Friday Street, located close to the popular Suffolk seaside towns of Aldeburgh and Southwold, is well known in Suffolk for its fruit picking, but it also has a PYO pumpkin patch.
You can go and choose the perfect pumpkin for carving from the field and pick up a tasty treat from the fabulous Farm Shop, Kitchen or Deli where you'll find only the best fresh, local produce.
Where: Friday Street, Saxmundham, Suffolk, IP17 1JX.
When: TBC
Tickets: Free – and no booking required.
Southwold Maize Maze
Southwold Maize Maze near Southwold is best known for its fabulous maize mazes but around Halloween, they open up their pumpkin patch. There is loads to do here with the kids including some fun children's play areas, bouncy pillows and go-karts.
A visit here is one of our highly recommended things to do in Suffolk with kids. With all of the extra activities going on here, it's a really fun thing to do at Halloween in Suffolk.
Where: Southwold Maize Maze, Old Hall Farm, Halesworth Road, Reydon, Suffolk, IP18 6SG.
When: TBC
Tickets: TBC
Goslings Farm
Goslings Farm is known for its fruit picking but also has a large number of seasonal vegetables including pumpkins! They are available from October onwards and can be picked straight from the vine.
There is a play area for kids and an on-site children's farm as well as a farm shop and café.
Where: Goslings Farm, High Road, Trimley St Martin, Felixstowe, Suffolk, IP11 0SG.
When: TBC
Tickets: Free
If you are close to the Essex border, you might want to check out these places to go pumpkin picking in Essex, Halloween events in Essex or these pumpkin farms near London.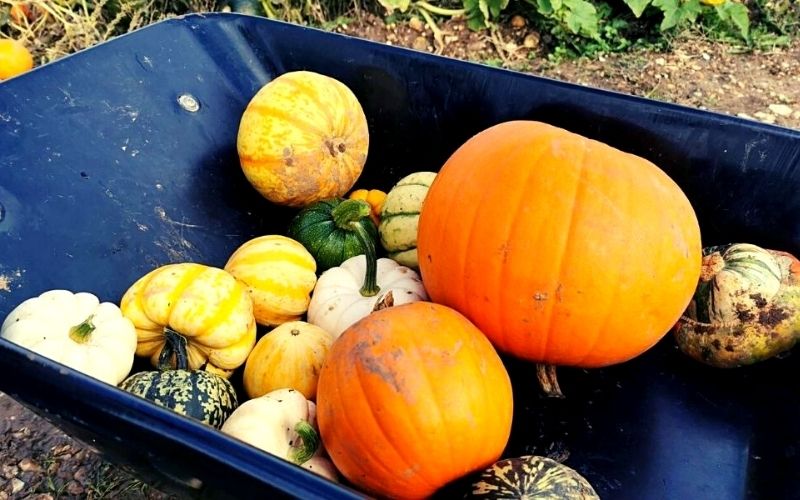 Wrentham Pumpkins
Pick your own pumpkins in Suffolk at Wrentham Pumpkins near the Suffolk coast and our favourite beach in Suffolk, Covehithe. There are two pumpkin patches growing over 4000 pumpkins of all shapes and sizes and various games to keep kids entertained.
You can also come and visit at Christmas to pick your own Christmas tree.
Where: Field Farm, Cuckolds Green, Wrentham, Suffolk, NR34 7NB.
When: TBC
Tickets: Free – no booking required.
Windolphs Farm Pumpkin Fest
Windolphs Farm Pumpkin Fest is located between Bury St Edmunds and Lavenham and offers a large selection of pumpkins and gourds. There is also a maize maze.
Where: Windolphs Farm, Stansfield, Suffolk, CO10 8LU.
When: TBC
Tickets: Free – booking required.
Other pumpkin events in Suffolk
Pumpkin Fest at Brandon Country Park
Brandon Country Park is close to Thetford and offers a fun, Halloween day out for the family. There is a pumpkin carving competition, a spooky trail, Halloween Theatre and face painting. Fancy dress is encouraged.
Where: Brandon Country Park, Bury Rd, Brandon, Suffolk, IP27 0SU.
When: TBC
Tickets: Free to attend but there is a cost for some of the activities.
Urban Jungle Children's Pumpkin Event
Their pumpkins are sourced from Algy's Farm Shop which is just over the border in Norfolk. They provide pumpkins and pumpkin carving kits.
Where: London Road, Weston, Beccles, Suffolk, NR34 8TT.
When: TBC
Tickets: Free – and no booking required.
Beccles Pumpkin Festival
Come and try your hand at pumpkin carving at the Beccles Pumpkin Fest or turn up with your own pumpkin and enter it into the competition (£1). Fancy dress is encouraged and you can enter the fancy dress competition.
Where: Westwood Way, Beccles Suffolk, NR3 49.
When: TBC
Tickets: £1 per adult and accompanying children are free.
You might also like to read…
The Best Places To Go Pumpkin Picking Near London
The Best Places To Go Pumpkin Picking In Hertfordshire
The Best Places To To Pumpkin Picking in Cambridgeshire
The Best Places To Go Pumpkin Picking in Kent
The Best Places To Go Pumpkin Picking in Bedfordshire
The Best Halloween Events in Hertfordshire
The Best Christmas Events In Suffolk
A Guide To Visiting Framlingham Castle