The Best Places To Go Pumpkin Picking in Cambridgeshire 2023
There are some excellent places to go pumpkin picking in Cambridgeshire which is just as well because pumpkin picking has become one of the most popular things to do at Halloween!
Many of these pumpkin patches in Cambridgeshire have been getting bigger and better each year to keep up with demand. This is good news for those looking for Halloween days out with the kids.
Looking for UK staycations this October half term? Take a look at our guide to the best Halloween getaways for families.
Before we list the best places to go pumpkin picking in Cambridgeshire this year, here are a few tips and FAQs about picking your own pumpkins.
This post contains affiliate links. If you click on one and buy something, we may earn a small commission but this is at no extra cost to you.
All your pumpkin picking in Cambridgeshire FAQs answered….
The pumpkins are grown (or are laid out) in fields. If you're visiting these pumpkin fields on a wet day or it has previously been raining, the pumpkin patches will be muddy. It is best to wear wellies for this family-friendly day out.
PYO pumpkins come in all shapes and sizes. Some are better for eating than others. You can check this with the farm.
The majority of farms will sell pumpkins by weight. Check the price per kg before letting the kids choose the largest, heaviest pumpkin!
Avoid pumpkins with soft spots or cuts as this signals a rotting pumpkin. It won't last long at all when carved. Pumpkins should be firm.
Heavier pumpkins mean denser walls which are best for carving.
Many pumpkin farms have wheelbarrows. If they don't, you might want to consider taking a sturdy bag. Don't carry the pumpkin by the stalk as it may snap off and your pumpkin will get damaged.
Some of the Cambridgeshire pumpkin patches will have pumpkin carving facilities onsite but if not, you might want to look at buying one of these pumpkin carving kits.
See here for more pumpkin picking tips!
Not all of the Cambridgeshire pumpkin patch 2023 dates have been released yet so please check back here later for updates.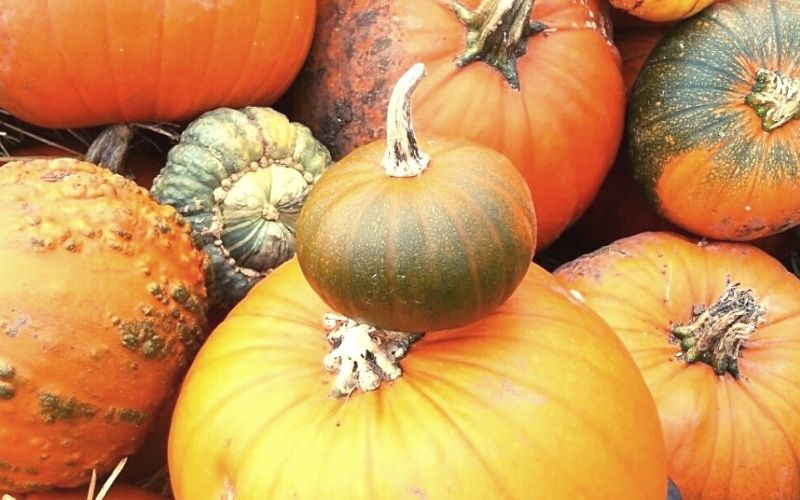 Here's where to go pumpkin picking in Cambridgeshire this year…
Skylark Maze & Fun Yard
As well as pumpkin picking (and some fabulous maize mazes) there is a comedy show, scarecrow smashing and more.
Where: Skylark Garden Centre, Manea Road, Wimblington, March, Cambridgeshire, PE15 0PE.
When: 22nd – 31st October 2022.
Tickets: Adult – £11.00, Child – £13.00. Under 3 – FREE. Pumpkins – £2.00.
Pumpkin Jim's
A Pumpkin House decorated with over 1000 pumpkins and a miniature pumpkin house, a haybale maze and pumpkin totem poles.
Where: Pumpkin Jim's Ickleton, Saffron Walden, Cambridgeshire, CB10 1TA.
When: From 22nd October 2022.
Tickets: £1.00 per person.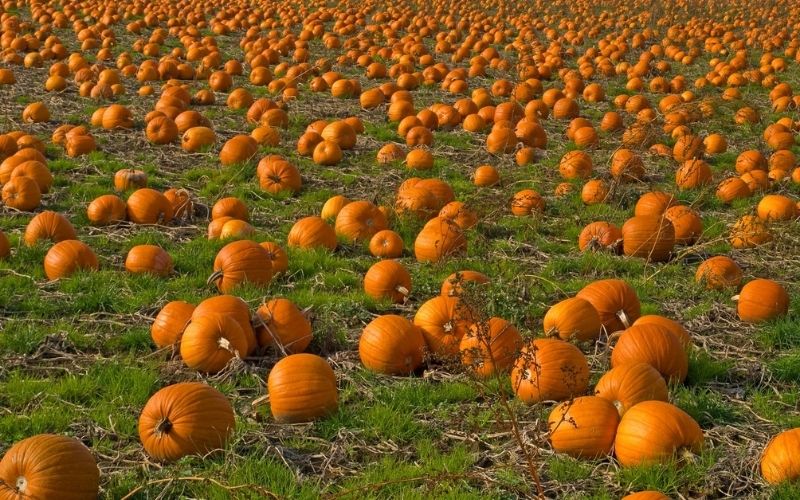 Milton Maize Maze
Milton Maize Maze Pumpkin Patch
A huge pumpkin patch with over 60,000 pumpkins of varying colours and sizes. There's also a Field of Fun with various activities for kids including go karts, crazy golf and skittles.
Where: Milton Maize Maze, Rectory Farm, A10 Milton Bypass, Milton, Cambridge, CB24 6AE.
When: 8th & 9th, 15th & 16th, 22nd – 30th October 2022.
Tickets: £8.00 per person. Under 3 – FREE. Does not include pumpkins.
Freshfields Farm
Where: Freshfields Farm, Benwick Road, Ramsey, Cambridgeshire, PE26 2XU.
When: 8th & 9th, 15th & 16th, 21st – 31st October 2022.
Tickets: Free entry and no booking required. Cash only site.
Sacrewell Farm
There is loads going on at Scarewell at Sacrewell! – including an outdoor play area, a playbarn, a spooky trail and, of course, the pumpkin patch. Come dressed in your Halloween best!
Where: Sacrewell Farm, Thornhaugh, Peterborough, PE8 6HJ.
When: 22nd – 30th October 2022.
Tickets: Adult – £6.43, Child – £12.27. Under 2 – FREE.
Hill Farm
Hill Farm is a traditional farm where you can pick your own pumpkin from the vine. There are over 25 varieties to choose from.
Where: Hill Farm PYO, Oundle Road, Chesterton, Peterborough, Cambridgeshire, PE7 3UA.
When: Early October to end of October.
Tickets: Entrance is free. Pumpkin prices range from £1.00 – £12.00.
Is October drawing to a close? If so, you might want to start thinking about what to do in Cambridgeshire this Christmas. We have a guide with all the best Christmas events in Cambridgeshire this year.
Hatter's Farm
Hatter's Farm is close to the Cambridgeshire border and is a family run Pumpkin Patch in Essex with over 50 varieties of home-grown pumpkins which can be picked from the field.
As well as pumpkins there is also a Pumpkin Cannon, Maize Maze, a free hay bale maze and this year they will also be opening their spooky Pumpkin Nights event!
Where: Hatter's Farm, Takeley, Bishop's Stortford, Essex, CM22 6NP.
When: Daytime Pumpkin Picking open on the 2nd, 8th, 9th, 15th, 16th, 19th, 20th and 22nd-30th October. Pumpkin Nights are open on the 22nd – 24th and 27th – 30th of October 2022.
Tickets: Tickets cost £1 per person.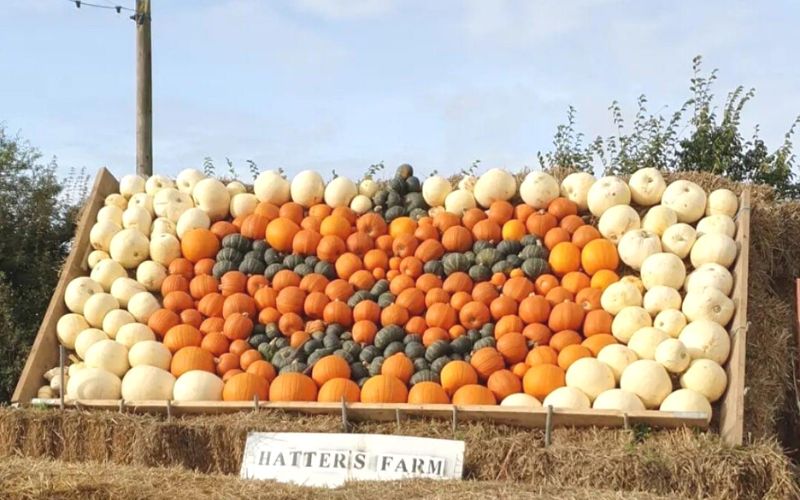 You might also like…
The Best Halloween Events In Hertfordshire
Halloween events in Bedfordshire
Pumpkin picking in Hertfordshire