The 18 Best Places To Go Pumpkin Picking in the East of England 2021
The concept of pumpkin picking is relatively new to the UK. Pick Your Own farms themselves have been around since the 1960s but there definitely wasn't any pumpkin picking near me when I was a kid growing up in Suffolk.
I grew up on a farm and spent the university summer holidays working on a nearby PYO farm to help pay my way through university so PYO farms hold fond memories for me.
I love that pick your own farms are growing in popularity again and my kids really love that they can go and pick their own pumpkins from a muddy field.
Going pumpkin picking with the kids is a really fun thing to do which is why we decided to do a round up of the main pumpkin farms in the East of England in case you're wondering where to go.
Looking for more Halloween ideas for Half Term? We have a bumper post with over 80 Halloween Events across the UK.
History of the Halloween pumpkin
It is said that the practice of carving jack-o'-lanterns at Halloween dates back hundreds of years to Ireland. In those days they used potatoes and turnips but when Irish immigrants took this tradition with them to the US, they discovered pumpkins.
Ghoulish faces carved on the pumpkins that were lit up with a flickering candle inside were thought to both ward off evil spirits and represent evil spirits. Today, they're more of a sign to indicate to trick or treaters that you are open for business!
Our own carvings are quite traditional (and leave a lot to be desired!), but there are some incredibly elaborate carvings out that you could try to copy.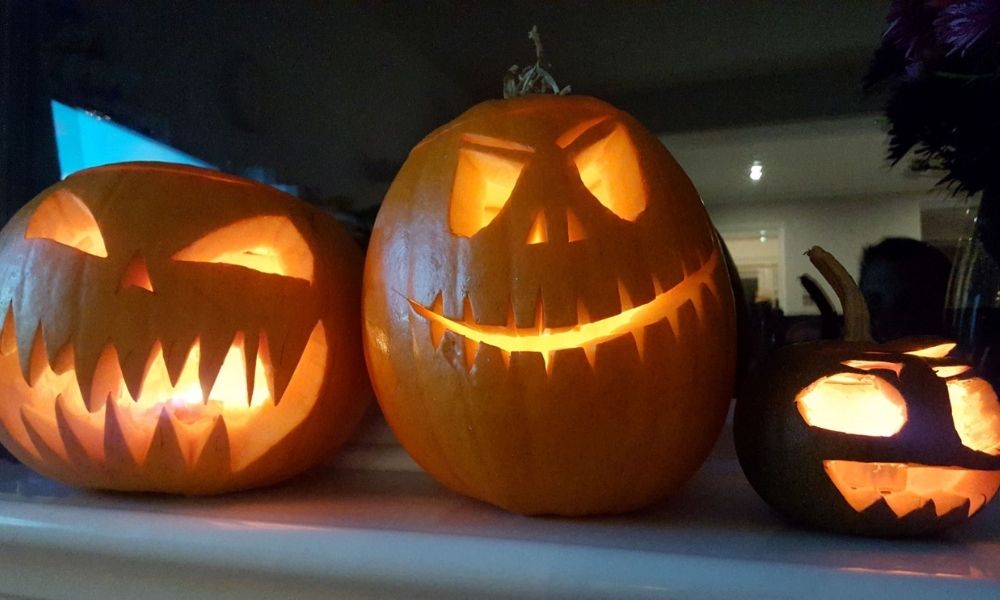 Tips for successful pumpkin picking
The pumpkins are grown (or are laid out) in fields. If you're visiting these pumpkin fields on a wet day or it has previously been raining, the pumpkin patches will be muddy. It is best to wear wellies for this family-friendly day out.
PYO pumpkins come in all shapes and sizes. Some are better for eating than others (see below for zero waste pumpkin recipes if you plan to eat them). You can check this with the farm.
The majority of farms will sell pumpkins by weight. Check the price per kg before letting the kids choose the largest, heaviest pumpkin!
Avoid pumpkins with soft spots or cuts as this signals a rotting pumpkin. It won't last long at all when carved. Pumpkins should be firm.
Heavier pumpkins mean denser walls which are best for carving.
Many pumpkin farms have wheelbarrows. If they don't, you might want to consider taking a sturdy bag. Don't carry the pumpkin by the stalk as it may snap off and your pumpkin will get damaged.
Pumpkin patches in the UK
Halloween grew into a huge holiday in the US long before it caught on here. Whilst we have been carving pumpkins for years, it has never been as commercial as in the US. We are catching up though and the Halloween holiday pumpkin picking phenomenon is sweeping the country. These days there are pick your own pumpkin farms popping up all over the place.
Some pumpkin patches allow you to go and pick your own pumpkins whilst other pumpkin farms harvest them for you and lay them out in a field. Most of them have other family-friendly activities on offer too which makes for a great family day out.
As with the oh-so photogenic lavender fields, the pumpkin fields also provide a great opportunity for some lovely family photos.
Here are the best pick your own pumpkin patches in the East of England.
Pumpkin picking in Hertfordshire
The Pop Up Farm
Pumpkins are grown in a large field and you pick them from the vine. There's a hay bale maze for the kids to play on before or after choosing your pumpkins and a snack van selling hot drinks and snacks. Wheelbarrows are available. It's one of the closest pumpkin farms to London.
Where: M1, Junction 9, St Albans, AL3 8HT
When: 10th & 11th, 17th & 18th, 19th – 30th October 2020
Tickets: £2.95 per person (under 2 free) + £0.25 booking fee
Willows Activity Farm
Where: Willows Farm, Coursers Road, London Colney, Hertfordshire, AL4 0PF
When: 16th October – 31st October 2021
Tickets: £22.00 per person (Under 2 free) – this includes entrance to Willows Farm (excluding soft play)
Hitchin Lavender
Hitchin Lavender is best known for its lavender fields (in case you are there in the summer months), but from mid-October they have a pumpkin patch. They are ready picked pumpkins and are scattered through the rows of lavender. There are a couple of kids playgrounds and a gift shop selling lavender products.
Where: Cadwell Farm, Ickleford, Hitchin, Hertfordshire, SG5 3UA
When: From mid-October 2020
Tickets: £2.50 per person (with £0.19 booking fee). Under 2 – FREE
Rumblers Farm
Where: Rumblers Farm, Potten End Hill, Hemel Hempstead, HP1 3BN
When: From 10th October. (Opening delayed due to wet weather)
Tickets: No ticket required
Pumpkin picking in Essex
Marsh Farm
Where: Marsh Farm, Marsh Farm Road, South Woodham Ferrers, Chelmsford, CM3 5WP
When: From 5th – 31st October 2020
Tickets: £3.00 per person (Under 2 free)
Cammas Hall Farm
Ready picked pumpkin patch with Halloween decorations. Extra Halloween activities available as well as 2 maize mazes.
It is also one of the best places to go fruit picking near London.
Where: Cammas Hall Farm, Needham Green, Hatfield Broad Oak, Near Bishop's Stortford, CM22 7JT
When: From 1st – 31st October 2020 (except 5th, 12th and 19th)
Tickets: £2.25 per person (Under 1 free). £2.00 will be credited against the purchase of your pumpkin.
Foxes Farm Produce
Ready cut pumpkins in the field. 15 different varieties of PYO pumpkins available. Wheelbarrows available.
Where: The Pumpkin Patch, Watch House Farm, Wash Road, Basildon, SS15 4ER – and – The Pumpkin Patch, Green Lane, Aldham, Colchester, CO6 3PR
When: 10th to 28th October 2020
Tickets: £5 for a family ticket for 4 people. Must pre-book tickets.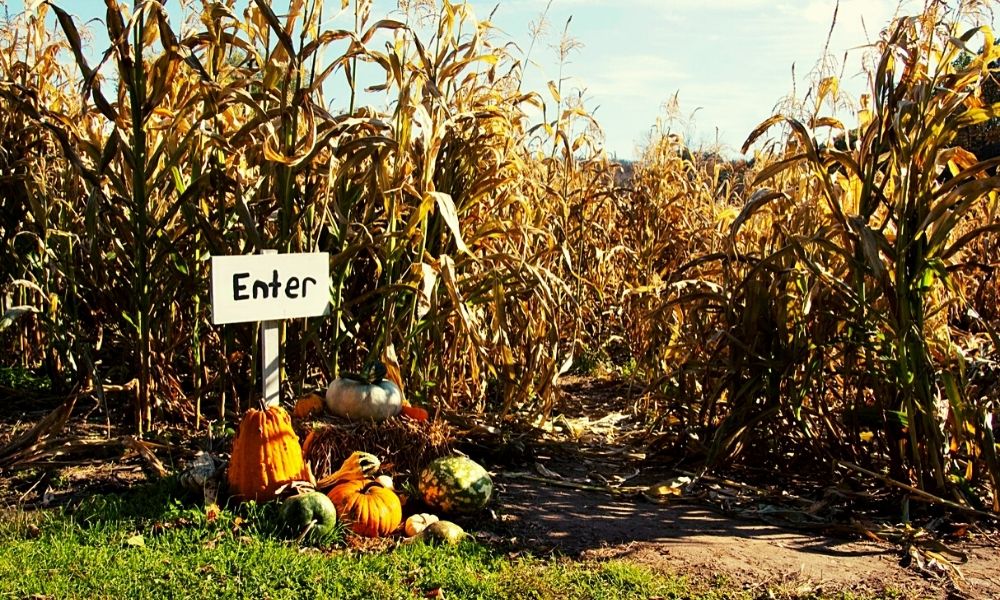 Pumpkin picking in Suffolk
Undley Farm
An enormous field with proper PYO pumpkins from the vine. Additional activities on offer such as donkey rides, maize maze. straw bale climbing area and pumpkin carving. Wheelbarrows available.
Where: Undley Farm, Undley Road, Beck Row, Lakenheath, P28 8BX
When: From 3rd – 31st October 2020
Tickets: Free – but you must book in advance
Siam Hall
Where: Siam Hall, Siam Hall Lane, Boxford, Sudbury, Suffolk, CO10 5LA
When: From 3rd – 31st October 2020
Tickets: Free – and no booking required
Pumpkin picking in Norfolk
The Tacons
Where: The Tacons Farm Shop, The Grange, Rollesby, Great yarmouth, Norfolk, NR29 5AJ
When: Weekends through October and daily through Half Term
Tickets: Not required
The Pumpkin House
A Pumpkin House decorated with over 1000 pumpkins and a miniature pumpkin house, a haybale maze and pumpkin totem poles.
Where: Brookhill Farm, Fakenham Road, Thursford, NR21 0BD
When: 21st – 31st October 2020
Tickets: Free – No need to book
The White House Farm
Where: The White House Farm, Wroxham Road, Norwich, NR7 8RN
When: From 2nd – 31st October 2020
Tickets: No booking required
Wroxham Barns
Wroxham Barns Pumpkin Festival
Where: Wroxham Barns, Tunstead Road, Hoveton, Norfolk, NR12 8QU
When: 22nd – 31st October 2020
Tickets: Adults £10.95 (excluding pumpkin), Children |£11.95 (including pumpkin)
Algy's Farm Shop
Where: Algy's Farm Shop, Bintree, Dereham, Norfolk, NR20 5PW
When: From 1st – 31st October 2020
Tickets: No tickets required
Pumpkin picking in Cambridgeshire
Hill Farm
Where: Hill Farm, Oundle Road, Chesterton, Peterborough, PE7 3UA
When: From 1st – 31st October 2020
Tickets: No booking required
Pumpkin Jim's
Pick your own pumpkin from their large selection of pumpkins for carving or squashes for eating and then let the kids have a ride on the pedal tractors and sample local food from on-site food trucks (waffles and pizzas). Wheelbarrows available.
Where: Ickleton, Saffron Walden, Cambridgeshire, CB10 1TA
When: From 23rd – 31st October 2020
Tickets: Free – but booking required
Skylark Garden Centre
Pick your pumpkins (£2 each) and carve on-site. Magic and comedy show, tractor ride, pig racing, den building, haunted maize maze and more.
Where: Skylark Garden Centre, Manea Road, Wimblington, PE15 0PE
When: 24th October to 1st November 2020
Tickets: Adult – £11.00, Child – £13.00 and under 3 (free)
Pumpkin picking in Bedfordshire
Woodside Animal Farm
Find the hidden golden pumpkin to win a prize. Meet the animals. tractor rides and pumpkin picking.
Where: Woodside Animal Farm, Mancroft Road, Aley Green, Luton, LU1 4DG
When: October half term
Tickets: Adult –  £9.00, Child – £8.00 and under 2 free.
Tips for zero pumpkin waste
It is estimated that 10 million pumpkins are grown in the UK and that 95% of them will end up in food waste landfill after being carved and discarded. If you're of the belief that #pumpkinsarentjustforcarving, here are some ideas of what you can do to make the most of your PYO pumpkin.
Put your pumpkin flesh out for birds to eat
Wash and dry the pumpkin seeds then roast them. They're great snacks or you can put them in granola bars
Make pumpkin pie (or one of the many pumpkin recipes here)
Make pumpkin curry. We have a delicious Sri Lankan curry recipe that you can use pumpkins in.
Happy Pumpkin Picking!
Halloween nearly over?
Some people say that when Halloween is over, it's officially ok to start thinking about Christmas. If you haven't already started planning your Christmas festivities, make sure to take a look at our 100+ Santa's Grottos and Santa Experiences in the UK or Our 35 Seriously Festive Santa Train Rides. Maybe you're thinking about taking a family Christmas break?