The Best Places To Go Pumpkin Picking in Norfolk
With Norfolk being mainly flat and fertile, it is ideal for growing crops and pumpkins are no exception. There are some excellent places to go pumpkin picking in Norfolk which is great because pumpkin picking has become one of the most popular things to do at Halloween!
Many of these pumpkin patches in Norfolk have been getting bigger and better each year to keep up with demand which is good news for those looking for Halloween days out with the kids.
Before we list the best places to go pumpkin picking in Norfolk this year, here are a few tips and FAQs about picking your own pumpkins.
All your pumpkin picking in Norfolk FAQs answered….
The pumpkins are grown (or are laid out) in fields. If you're visiting these pumpkin fields on a wet day or it has previously been raining, the pumpkin patches will be muddy. It is best to wear wellies for this family-friendly day out.
PYO pumpkins come in all shapes and sizes. Some are better for eating than others. You can check this with the farm.
The majority of farms will sell pumpkins by weight. Check the price per kg before letting the kids choose the largest, heaviest pumpkin!
Avoid pumpkins with soft spots or cuts as this signals a rotting pumpkin. It won't last long at all when carved. Pumpkins should be firm.
Heavier pumpkins mean denser walls which are best for carving.
Many pumpkin farms have wheelbarrows. If they don't, you might want to consider taking a sturdy bag. Don't carry the pumpkin by the stalk as it may snap off and your pumpkin will get damaged.
Not all of the Norwich pumpkin patch 2021 dates have been released yet so we will continue to update this post as and when they are.
Here's where to go pumpkin picking in Norfolk this year…
The Pumpkin House
A Pumpkin House decorated with over 1000 pumpkins and a miniature pumpkin house, a haybale maze and pumpkin totem poles.
Where: Brookhill Farm, Fakenham Road, Thursford, NR21 0BD.
When: 22nd – 31st October 2021.
Tickets: Free – No need to book. Parking is also free.
Near Thursford this Christmas? You must check out their Enchanted Journey of Light – one of the best Christmas light trails in the UK.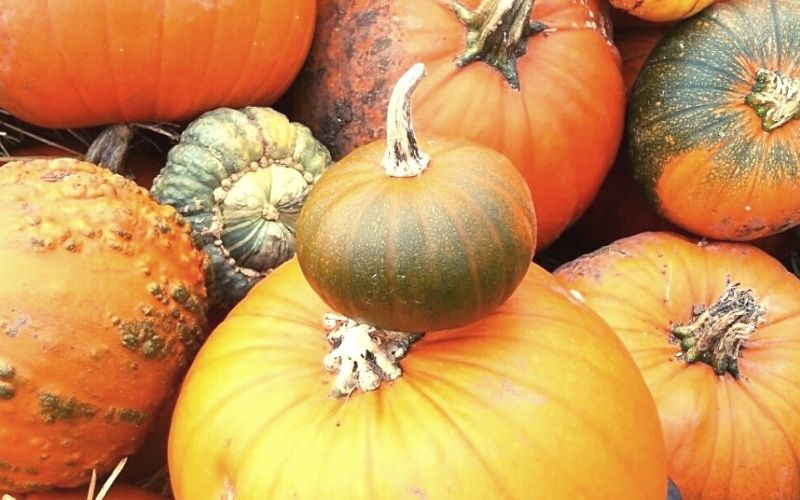 Wroxham Barns
Wroxham Barns Pumpkin Festival
There is so much to do at Wroxham Barns including the Junior Farm and Fun Park. Tickets give you access to all of this. There is also a pumpkin Festival by night – giving you access to the pumpkin field after dark to make it even more spooky!
Wroxham Barns is also a great place to visit at Christmas in Norfolk. It has a brilliant Santa's Grotto.
Where: Wroxham Barns, Tunstead Road, Hoveton, Norfolk, NR12 8QU.
When: 23rd – 31st October 2021.
Tickets: Adults £12.99 (excluding pumpkin), Children (2 yrs +) |£13.99 (including pumpkin).
The Tacons
Where: The Tacons Farm Shop, The Grange, Rollesby, Great Yarmouth, Norfolk, NR29 5AJ
When: Weekends through October and daily through Half Term.
Tickets: Not required
White House Farm
Where: The White House Farm, Wroxham Road, Norwich, Norfolk, NR7 8RN.
When: TBC.
Tickets: No booking required.
Hirsty's Family Fun Park
Come along and pick your own pumpkin and carve it on-site. There is face painting and other play equipment to keep the kids entertained.
As well as their pumpkin patch, they also have drive in Halloween movies.
If you are reading this towards the end of the summer holidays, you may just catch their fabulous maize maze.
Where: Hirsty's Family Fun Park, Yarmouth Rd, Hemsby, Norfolk, NR29 4NL.
When: 16th & 17th and 22nd – 31st October 2021.
Tickets: Adults – £7.50, Child (2 – 16 yrs +) – £12.50. Under 2 – FREE.
Algy's Farm Shop
As well as a large PYO pumpkin patch, there are lots of other seasonal fruit and vegetables available here.
If you are in the area near Christmas, you are not far from the Polar Express train ride at the Mid Norfolk Railway. It's one of the best Santa train rides in the country.
Where: Algy's Farm Shop, Bintree, Dereham, Norfolk, NR20 5PW.
When: From 1st October 2021 onwards.
Tickets: No tickets required.
Hill Farm
A huge pumpkin patch. Check their Facebook updates as there is sometimes a Halloween photographer on site for a fabulous Halloween photoshoot.
Where: Hill Farm Farm Shop, Norwich Road, Horstead, Norfolk, NR12 7BA.
When: Open through October.
Tickets: No tickets required.
Old Hall Farm
Where: Old Hall Farm, Bungay, Norwich Road, Norfolk, NR35 2LP.
When: Through October.
Tickets: No tickets required.
Pettitts Animal Adventure Park
Where: Pettitts Animal Adventure Park, Church Road, Reedham, Norwich, Norfolk, NR13 3UA.
When: 23rd to 31st October 2021.
Tickets: Free (all pumpkin picking is included in the entry price for the park). Adult: £16.50 / Child: (2-15) £15.50.
Wrentham
Wrentham Pumpkins is just on the border with Suffolk so we're putting it in here.
Pick your own pumpkins in Suffolk at Wrentham Pumpkins. There are two pumpkin patches growing over 4000 pumpkins of all shapes and sizes and various games to keep kids entertained.
Where: Field Farm, Cuckolds Green, Wrentham, Suffolk, NR34 7NB.
When: TBC
Tickets: Free – no booking required.
Is October drawing to a close? If so, you might want to start thinking about what to do in Norfolk this Christmas. We have a guide with over 40 Christmas events in Norfolk this year.
You might also like…
The Best Halloween Events In Hertfordshire
Halloween events in Bedfordshire
Pumpkin picking in Cambridgeshire