8 Fun and Easy Hertfordshire Walks For Families
Hertfordshire is a lovely part of the UK with the Chiltern Hills, an Area of Outstanding Natural Beauty, running along the western fringes of county. This stunning chalk escarpment together with ancient woodlands and meandering rivers provide the perfect setting for fabulous Hertfordshire walks for families.
We're big fans of getting the kids outside as we believe it is so important for their physical and mental health so we're always looking for Hertfordshire walks nearby, especially when travel further afield is restricted.
We have got to know our local area pretty well over the last year, trying out new family-friendly walks in Hertfordshire, and have discovered some real gems.
Our family walks in Hertfordshire often take us through woodland areas because there's a lot of fun to be had on woodland walks with kids. Our boys enjoy all sorts of outdoor activities for kids like making dens, crafting tools and climbing trees.
There's no better place than nature's playground for the kids to burn off energy and learn about nature. We love this very fitting short quote – "Not all classrooms have four walls".
Whether you are local to Hertfordshire or considering visiting Hertfordshire on a UK staycation, here are some of our favourite Hertfordshire walks for families to get you out and exploring the best that the county has to offer.
These family walks in Hertfordshire are all free. If there is a cost for parking, we have mentioned this. For each walk we have given ideas of family-friendly things to do nearby in case you are looking for family days out in Hertfordshire. We have also added a few ideas for Hertfordshire river walks and disused railway track walks at the end.
This post contains affiliate links. If you click on one and buy something, we may earn a small commission but this is at no extra cost to you.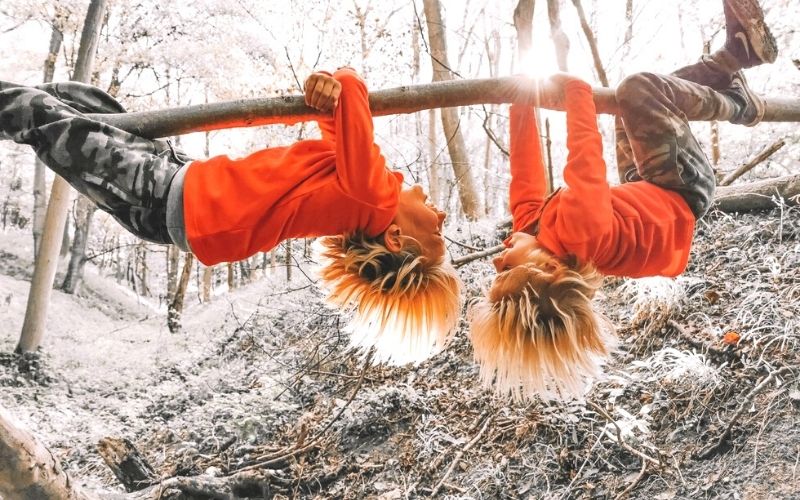 1. Heartwood Forest
Sandridge, St Albans, AL4 9DQ
Heartwood Forest is one of the best places for Hertfordshire walks for families. It is run by the Woodland Trust and at over 850 acres it is the largest uninterrupted woodland area in England making it one of the best Hertfordshire forest walks.
It is made up of mostly newly planted forest but also has ancient woodland and meadowland areas. It is really popular with dog walkers in case you're looking for dog friendly walks in Hertfordshire.
Most of the paths are well maintained which means they are wheelchair accessible. Heartwood Forest is also great if you're looking for buggy friendly walks in Hertfordshire.
There is a lovely storyboard telling the story of Heartwood Forest which you should try to read before you start out on your walk if you can.
There are three main walks you can take, although we tend to make up our own walks as there are so many criss-crossing paths. Wherever you go, make sure to visit the Magical Wood complete with wood carvings of the woodland animals and a picnic area. If you are there in the Spring, there are some beautiful bluebell woods to wander through.
Up early with the kids and wondering what to do? Heartwood Forest is a beautiful spot to catch a sunrise. Looking for nice walks near St Albans? Heartwood Forest is just on the outskirts of St Albans.
The are no facilities at Heartwood Forest, but if you are feeling peckish, there is a gorgeous little tearoom in Sandridge serving delicious, home cooked food and the BEST cakes.
Parking at Heartwood Forest
The Heartwood Forest car park is free and a decent size but can still get really busy at weekends. Sometimes, the overflow section in a field is opened up but not always.
Things to do near Heartwood Forest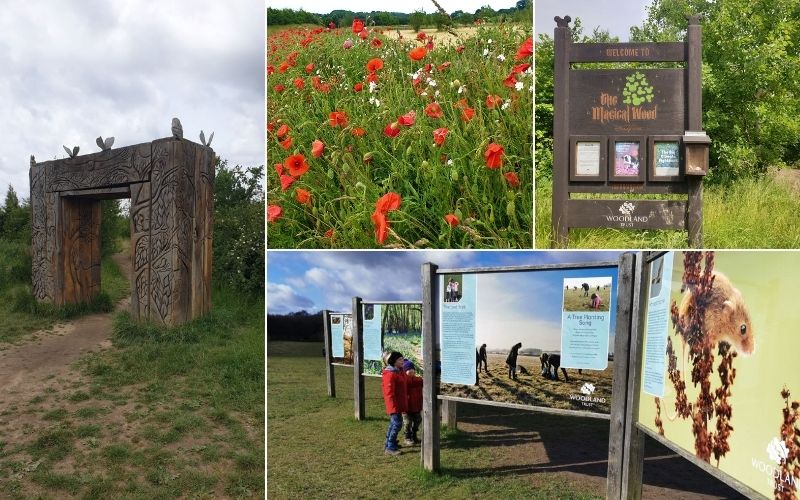 2. Nomansland Common
Ferrers Lane, St Albans, AL4 8EJ
Nomansland Common is right next door (and actually connected) to Heartwood Forest and is made up of mainly heathland with a small woodland area. The large open heathland is great for kite flying or frisbee throwing and if you are looking for winter walks in Hertfordshire with a spot of sledging, Nomansland Common is great because of the large slope.
The woodland is perfect for the kids to explore as there are lots of den building opportunities, rope swings and the best climbing tree we have ever come across.
There are no facilities at Nomansland Common.
Parking at Nomansland Common
There is a small (free) car park on Ferrers Lane and a few small lay-bys along the road if the car park is full. If you're looking for circular pub walks in Hertfordshire, park at the Wicked Lady and have a circular walk around Nomansland Common before or after a lovely lunch.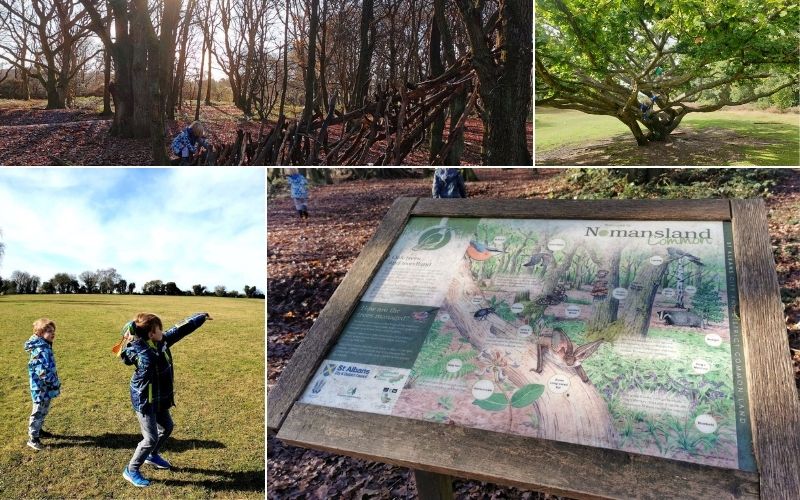 3. Pegsdon Hills and Hoo Bit Nature Reserve
Pegsdon, Hitchin, SG5 3LS
This 79 hectare nature reserve actually straddles the Hertfordshire/Bedfordshire border but I'm claiming it in our list of best walks in Hertfordshire for families because it is so lovely, especially in the summer months.
It is characterised by steep chalk hills which offer fantastic views of the surrounding countryside and a great spot to observe Red Kites when you reach the top. This steep circular walk of about 2 miles has uneven tracks and paths which means it is not suitable for buggies or wheelchairs. It is best for slightly older children (our 5 and 6 year olds were fine).
We haven't been after dark but apparently you can see the eerie glow of glow worms which must be quite a sight! In the summer time, there is a field just opposite with the most incredible poppies.
There are no facilities at Pegsdon Hills and Hoo Bit Nature Reserve.
Parking at Pegsdon Hills and Hoo Bit Nature Reserve
There is no dedicated car park at Pegsdon Hills but if you take the Apsley End Road off the B655, there is a left turn after about 50 metres into a dead end road. You can park on the side of the road here or try the Hexton Road car park (SG5 3BP) which has space for about 4 cars.
Things to do near Pegsdon Hills and Hoo Bit Nature Reserve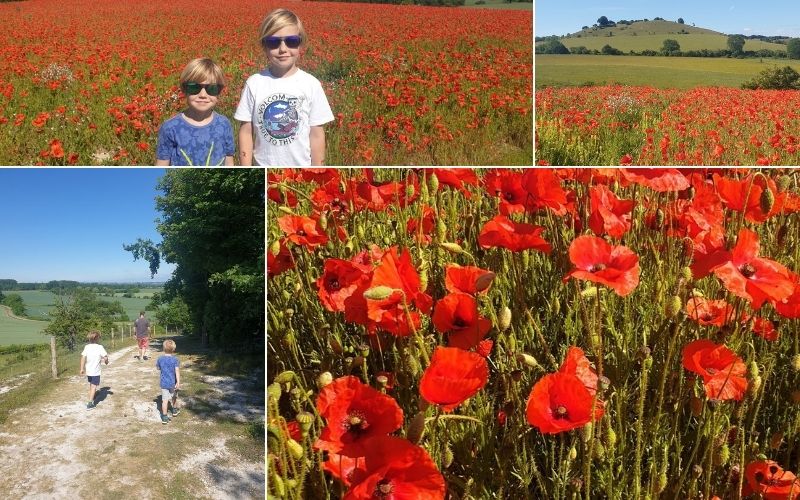 4. Ashridge Estate
Moneybury Hill, Ringshall, HP4 1LT
Ashridge Estate is a beautiful estate run by the National Trust in an area of outstanding natural beauty. It is characterised by rolling hills, open meadows and ancient woodland.
Ashridge Estate is one of the best places for Spring walks in Hertfordshire, mainly because of its beautiful bluebell woods. The woods are the most beautiful bluebell woods in Hertfordshire and provide some of the best woodland walks in Hertfordshire.
There are over 80 miles of footpaths to explore on the 5000 acre estate which are used by dog walkers, cyclists and horse riders. A lot of the paths are well managed, but during rainy spells, they can become very muddy.
There are facilities at Ashridge Estate including a café and toilets.
Ashridge Estate is ideal if you are looking for family days out from London ideas.
Parking at Ashridge Estate
There is a main (free) car park close to the visitor centre at Ashridge Estate and in good weather you can park along the entrance road that leads to the visitor centre. In wet weather, parking on the side of the road is not possible because the verges are easily damaged and then spaces become very limited.
Things to do near Ashridge Estate
You might also like to check out these Halloween events in Hertfordshire as Ashridge Estate usually has something going on during October half term.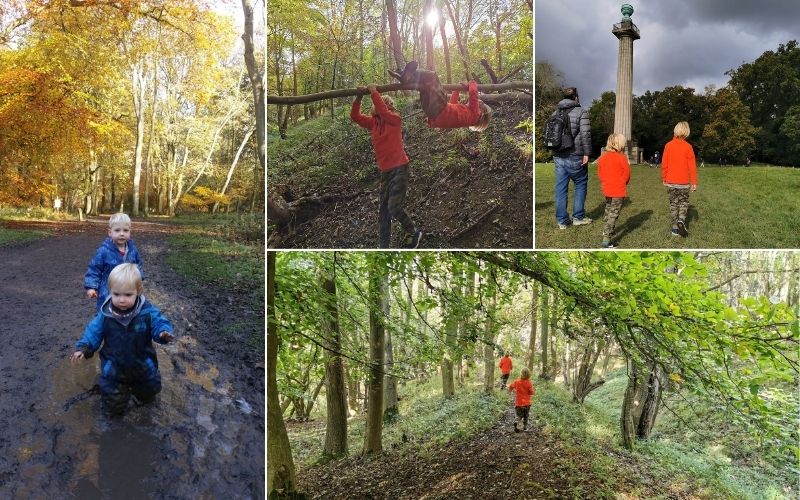 5. Broxbourne Woods
Pembridge Ln, Broxbourne EN10 7QP
Broxbourne Woods is a 240 hectare National Nature Reserve and Site of Special Scientific Interest comprised of Broxbourne Wood and Bencroft Wood. It is located just north of London in southern Hertfordshire.
The woodland area is well managed by the Countryside Management Service and walking routes are all clearly signposted. Most the the trails are flat and where there is uneven ground, there is usually some form of small bridge to level it out.
It is one of the loveliest woodland walks in Hertfordshire with so much variety. One minute you are walking through quite dense forest, the next you are out in open pastureland.
Families will enjoy the Broxbourne Woods Sculpture Trail most. It is one of the best, short circular walks in Hertfordshire. The 1 km trail starts and finishes at the car park and takes you on a loop passing 9 sculptures by local artist, Daniel Cordell. It is also good for push chairs.
Parking at Broxbourne Woods
There are a couple of free car parks at Broxbourne Woods.  If you want to see the sculpture trail, then you need to park in the Broxbourne Wood East Car Park, Pembridge Ln, Broxbourne EN10 7QP. There is also Bencroft Wood East Car Park, White Stubbs Ln, Broxbourne EN10 7QP
Things to do near Broxbourne Woods
If you have dinosaur fans in the family, you might be interested to know that Paradise Wildlife Park, one of the best dinosaur parks in the country, is right next door. If you like discovering these wooden sculptures, you might also like to check out some Gruffalo Trails. The closest Gruffalo trail to Hertfordshire is the Wendover Woods Gruffalo Trail in Buckinghamshire.
Also in the area is the Lee Valley Boat Centre where you can hire boats for the day or longer, Lee Valley Country Park and the Lee Valley White Water Centre.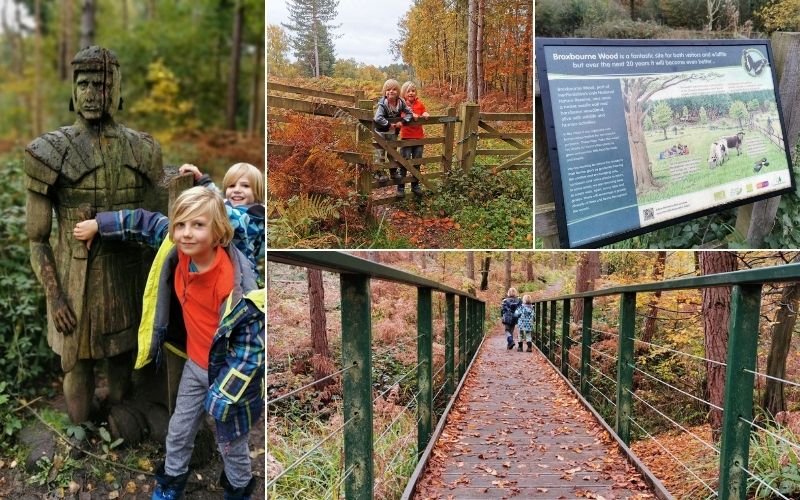 6. Panshanger Park
Thieves Lane, Hertford, SG14 2WN
Panshanger Park is a 1000 acre Grade II listed park and garden (designed by Humphry Repton and Lancelot 'Capability' Brown) made up of woodland, grassland and wetland areas. If you are visiting in the Spring, you will see bluebells in the ancient woodlands.
You can loop around fields in the estate and encounter lots of wildlife making it one of the best country walks in Hertfordshire. The highlight for the kids was being able to walk through the large field of Longhorn cattle (watch out for the many cowpats!).
There are no facilities at Panshanger Park.
Parking at Panshanger Park
There is a small free car park just off Thieves Lane (with a 2m height barrier). This can get very busy and at times it is difficult to get in and out due to the narrow road leading into the car park where passing is tricky.
Things to do near Panshanger Park
7. Verulamium Park
St. Michael's Street, St Albans, AL1 3JE
If you are looking for a Hertfordshire park walk where there are also lots of other activities for kids, Verulamium Park in St Albans is well worth a visit.
Verulamium Park is located on the site of the third largest Roman settlement in the country. You can visit the Roman Museum, the Hypocast (Roman indoor heating system) and remains of the original Roman city walls. A must-visit if you have children studying the Romans at school.
The park has lovely, wide open spaces which are great if you want to bring along some sporting equipment. There is also a newly installed children's play area, an outdoor gym area and beach volleyball courts. In the summer there is a fantastic splash park and usually an ice cream truck hanging around.
There is a large lake fed by the River Ver which is abundant in bird life. Visitors are urged not to feed the ducks though. Verulamium is a great option if you are looking for Hertfordshire walks for families as there is so much to do here.
There is a café (Inn on the Park) and toilets at the far end of the lake from the car park.
Parking at Verulamium
There is a reasonably sized car park at Verulamium but this can get really busy at the weekend. It is a pay and display and costs £1.70 for up to 3 hours. If this is full, you can also park at Westminster Lodge on the other side of the park with the first 2 hours being free.
Things to do near Verulamium
8. Nickey Line
Hollybush Lane, Harpenden, AL5 4BB
The Nickey Line from Harpenden to Hemel Hempstead (not that we have managed to walk that far with the kids yet) is one of the best footpath walks in Hertfordshire. It is a 7 mile disused train line (Harpenden to Hemel Hempstead Railway) that has been converted into a public footpath. It is also a popular cycle track and great for kids on bikes as there is no traffic.
The track is paved for around the first 1km from Harpenden and then it turns into a countryside track that can get very muddy in wet weather.
If you are looking for safe cycle routes for kids in Hertfordshire, this is an excellent choice. You can start in Harpenden at the top of Hollybush Lane right by the bridge over the railway tracks and head to Redbourn, have lunch at The Cricketers (who usually have a bouncy castle at the weekend in the summer) and then head back. This would be about 6 miles in total.
There are also walking loops off the Nickey Line that take you to Rothampsted Park and Rothampsted Estate if you prefer more of a circular walk. Note that there are lots of steps at the beginning of the line in Harpenden but if you head to the entrance of the Highfield Oval, there is a step free entrance.
There are no facilities along the Nickey Line but you can pop in to Highfield Oval for a café and toilets.
Nickey Line parking
There is no parking available for the Nickey Line. You would need to park in one of the nearby residential streets.
Things to do near the Nickey Line
Looking for more disused railway lines in Hertfordshire?
Disused railway lines are perfect for family walks in Hertfordshire because they are usually very flat, even surfaces and easy to navigate. Here are a few more places to find easy Hertfordshire walks for families:
The Ayot Greenway is a 3 mile track (former Welwyn Garden City Railway) running from Ayot St Peter to Wheathampstead which is great for walks or cycling too.
The Alban Way – stretches around 6 miles from St Albans to Hatfield on the former Great Northern Railway line
The Ebury Way – is a 3 mile route from Rickmansworth to Oxhey Park in Watford
Upper Lea Valley walk – starts near the Luton Airport Parkway by the A1081 and stretches for about 5 miles to Wheathampstead. If you walk to the Wheathampstead end on a weekend morning, you must make time for a truly delicious breakfast or brunch at the Willow Trees Café at Croft Farm.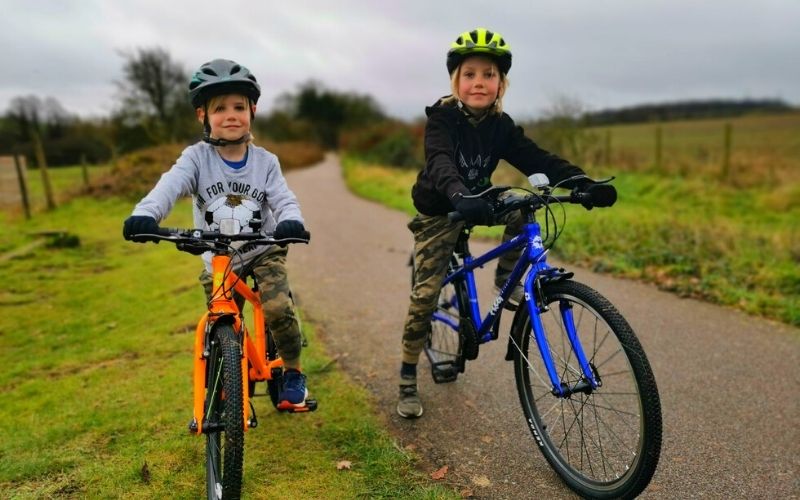 Other Hertfordshire walks for families
Here are some more places for fun and easy Hertfordshire walks with kids:
River walks in Hertfordshire
River Walks are fun in the spring and summer months if you feel like doing something a bit different. There is so much wildlife to see, including our favourites – kingfishers and dragonflies. Also see if you can spot frog spawn.
If you are looking for Hertfordshire river walks, here are a couple of ideas for you:
The River Lea
The best river in Hertfordshire for river walks is The River Lea. It flows for nearly 50 miles through Hertfordshire to London. You can walk along long lengths of it and in some areas it gets really shallow and is great for paddling on hot summer days.
The best spots for padding are in Harpenden at the Batfords Springs Nature Reserve and in Wheathampstead at the River Park.
The River Ver
The River Ver trail is a 17 mile trail that runs from Markyate to Bricket Wood through Verulamium Park and right by Ye Olde Fighting Cocks (reportedly the oldest pub in the UK). You can walk along stretches of it. See here for more details on River Ver walks.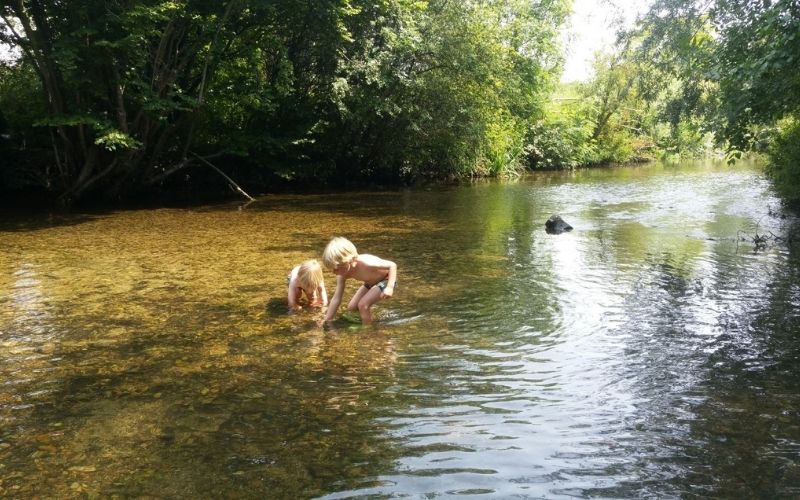 Canal Walks in Hertfordshire
We love Hartham Common in Hertford. There is a lovely woodland area but the big draw for the kids is watching the canal boats pass by. If you help out with opening and closing the lock, you may even get invited aboard!
Grand Union Canal stretches from London to Birmingham and passes through Hertfordshire. You can walk along sections of it in Cassiobury Park in Watford, the towpath in Berkhamstead and Tring Park.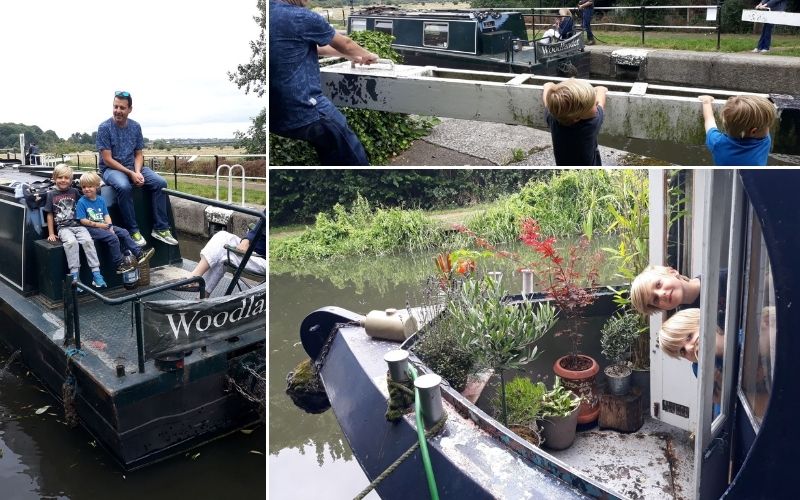 You might also like…
Things to do in Hertfordshire with kids that we recommend…