The 7 Best Norfolk Beaches According to a Local
Take a trip to the north Norfolk coast and you will be rewarded with some of the best beaches in the United Kingdom. No less than six north Norfolk beaches have won a Blue Flag status.
In case you're new to the Blue Flag term, it means that they have won an award to show that they are among the cleanest and safest beaches in the country.
The six Blue Flag beaches in Norfolk are: Cromer, Sheringham, Sea Palling, Mundesley, West Runton and East Runton.
Visiting the best beaches in Norfolk, you'll easily spot how clean they are, but what really struck us is the beauty and variety of these beaches along the north Norfolk coast.
And the sand. There's so much sand (which is in huge contrast to the neighbouring Suffolk beaches, in particular the ever popular Aldeburgh beach).
Each beach is quite unique and we were keen to see any may as we could in our short weekend break in January.
You might not think that January is a good time to be visiting beaches in the UK but these beaches are just as spectacular in the winter and can be appreciated if you wrap up warm.
At a push, you can visit the north Norfolk beaches on a day trip from London, but if you don't feel like driving that far, here are some of the best beaches near London.
This post contains affiliate links. If you book something through one, we may earn a small commission but this is at no extra cost to you.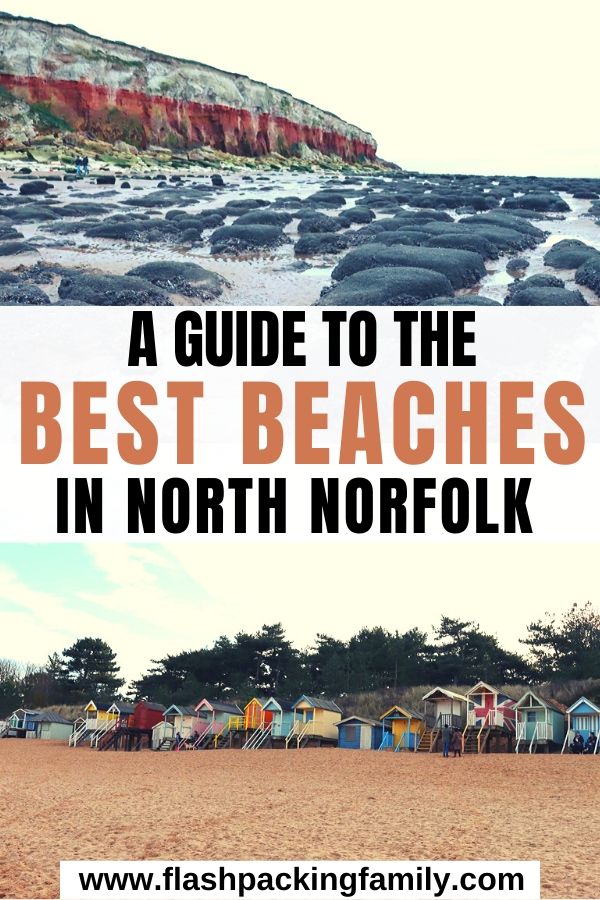 Where is Norfolk?
Norfolk is located in the East of England just above the county of Suffolk which is the most easterly point in the UK.
Norwich is the county town of Norfolk and well worth a visit. It is located about 120 miles northeast of London (2 hours on the train) and is really charming with a castle dating back to 1066 and a thriving market dating back to the 11th century.
Don't forget to visit the Norwich Lanes where you'll find independent boutiques and cool cafés There are also a huge number of churches in Norwich.
In medieval times, it had as many as 57 churches within the city walls. Today, there are only 31 but this is still more than any other town in the UK and indeed in most of Europe.
The best beaches in Norfolk are located a little way from Norwich. You can take day trips by train from Norwich to Cromer, West Runton or Sheringham if you don't have a car.
But if you want to explore a few of the beaches, it is best to have your own car.
Better still, base yourself on the coast to really make the most of this beautiful area. Explore the quaint villages, take seal tours and enjoy long beach walks.
The best Norfolk beaches
Everyone has their own taste when it comes to beaches. Some like long stretches of sand. Others like wild and windswept beaches.
Families with small kids may like beaches with rockpools. If you have a dog, there are some great dog friendly beaches in Norfolk.
Whatever you look for in a beach, you'll find some fantastic options here to suit your taste. The beaches we have picked as the best are all located pretty close to each other on the north Norfolk coast.
If you base yourself up there, you can pootle along the coast and see a few or all of them.
We stayed at the Caley Hall Hotel in Old Hunstanton and we can highly recommend it for families. The room is a pretty standard size with one double, one single and a camp-bed.
The buffet breakfast has a good selection of hot and cold food and the on-site restaurant also had a great choice of food and perfect if you want something easy after a long day out.
Location-wise, you are in a great spot. You're 2 minutes from Hunstanton beach by car and all of the beaches and places of interest we have mentioned are within an hour of you.
Right next door you have one of the best restaurants in North Norfolk, The Neptune (although we didn't go because it wasn't particularly child-friendly).
1. Holkham Beach
Best for:  Sand
Dog-friendly: Yes – all year-round
Parking: access to the car park is down a long track opposite the Victoria Inn on the Holkham Hall Estate. Parking costs £2 for 1 hour or £8 for all-day parking.
Holkham beach is part of the Holkham Hall & Estate on the Holkham National Nature Reserve with a huge variety of flora and fauna. When the tide is out, there is mile upon mile of sand stretching out as far as you can see.
It is lined with pines which are great in the summer for escaping the sun.  In a survey by travel writers it was recently voted best beach in the UK and it's very easy to see why.
This is one of the best Norfolk beaches for dog walking.
If you are visiting Holkham at Christmas, make sure to pop into Holkham Hall. It is one of the best places to visit in Norfolk at Christmas.
See also our guide to Norfolk Christmas light displays for more festive fun in Norfolk.
2. Brancaster Beach
Best for:  Wild and windswept
Dog-friendly: Yes but there are restrictions in the summer
Parking: Large pay and display car park. £4 all-day.
Brancaster beach is wild and windswept during the winter months and perfect for blowing away the cobwebs.
During the summer months it's a little less busy than some of the other beaches and there will be plenty of space for little ones to run around kicking up sand.
It was great for the kids as they loved playing hide and seek in the sand dunes and then they found a couple of old war bunkers which kept them entertained for a while and provided some shelter from the wind.
3. Blakeney Point
Best for:  Seal spotting
Dog-friendly: Yes but there are dog restrictions at certain times of the year
Parking: there's a National Trust run car park (free if you're a member) or £3.50 for all-day parking. If you get there early enough, there is free parking just as you round the corner to the quay.
Home to the largest population of common grey seals in the UK, Blakeney Point is one of the best Norfolk beaches for seal spotting. The pups are born in the winter and in 2019 there were over 3000 seal pups born.
The best way to see the seals is to take a seal boat trip but you should book in advance.
You can take a walk to see them, but it is quite a long walk for little ones (7 miles) and you can't get as good a view of them because you must keep your distance behind a fence.
4. Cromer Beach
Best for:  British seaside town experience
Dog-friendly: Dog restrictions in the summer months
Parking: lots of places to park around the seafront. Charges are £1.50 per hour up to £7 for all-day parking.
Cromer is a Victorian seaside resort with an iconic pier. The beach is a mix of sand and shingle and the town itself is not as commercial as many of the other British seaside resorts, maintaining much of its original charm.
5. Hunstanton Beach
Best for:  Interesting cliff and rock formations and fossil hunting
Dog-friendly: Some restrictions apply in the summer months
Parking:  the largest car park is South Prom near the pier on Beath Terrace Road. £2 for 1 hour or £6 all day (£7 in peak season from 1st July to 31st August)
Hunstanton is famous for its striking red and white stripey cliffs. It's a geological site of specific scientific interest where many fossils such as ammonites and sharks teeth are regularly found in the chalky layers of the cliffs.
Stay away from the base of the cliffs in case of rockfall. There are plenty of rocks that have fallen away from the cliffs for you to check. There's also a shipwreck. You'll need to time your visit to avoid high tide as the water comes very close to the cliff, covering much of the beach.
If you're looking for something else to do near Hunstanton in the summer, we highly recommend visiting Norfolk Lavender, one of the best lavender fields in the UK.
6. Old Hunstanton Beach
Best for: Kite surfing
Dog-friendly: Yes
Parking:  a large pay and display car park with 1500 spaces. £2 for 1 hour or £6 all day (£7 in peak season from 1st July to 31st August)
Old Hunstanton is almost the same beach as Hunstanton but very different to Hunstanton. The cliffs drop away and give way to sand dunes and wide stretches of sand.
It's a great place for learning to kitesurf because it has lots of sandbars and shallow water.
7. Wells-next-the-Sea Beach
Best for:  Colourful beach huts
Dog-friendly: Yes, to the west, not to the east.
Parking: Wells Beach Car park. Parking is £2 for 1 hour, £3.50 for 2 hours or £9 for all-day parking. It is a large car park but can reach capacity in the summer and holidays.
Right next door to Holkham beach, Wells-next-the-Sea has a little more of a holiday beach feel to it.
There is also a lot of lovely sand here but it is one of the best Norfolk beaches for colourful beach huts which line the edge of the beach next to the pines and are so pretty.
As with all these beaches, please leave them as you find them for others to enjoy.
Places of interest around the north Norfolk coast
There are so many things to see and do in North Norfolk asides from the beautiful beaches. We could spend days just driving around the impossibly quaint villages. Even the names of them make you want to visit like Little Snoring
Castle Rising – one of the largest and best-preserved keeps in England
Burnham Market – a beautifully quaint village with antique shops and galleries and The lovely Hoste Hotel .
Sandringham Estate – much-loved country estate of Her Majesty, The Queen. You can buy tickets to explore the royal house and gardens. There is a cafe and gift shop.
Holkham Hall Estate – Holkham Hall is a member of a group of 10 of the most magnificent palaces or castles in England. It is quite simply stunning. Spend some time visiting the house and grounds and get a bite to eat or stay at the Victoria Inn.
Blickling Estate – there's always so much going on at this beautiful National Trust property.  Blickling Estate is particularly worth visiting close to Christmas to see the Christmas lights. It's also home to Classic Ibiza. This is an absolutely brilliant night, bringing classic Ibiza tunes to life with an orchestra and light show.
Tower Windmill Bunkhouse – ever fancy staying in a windmill? You can book the entire windmill for your party of up to 19 people. Situated between Burnham Market and Brancaster beach.
The Norfolk Broads – not technically the north Norfolk coast but so good, it's worth a mention! If you have time, why not look into hiring a boat and exploring the Norfolk Broads? One of our favourite things to do is to hire a boat for a day or two and meander slowly along the waterways in search of the perfect Norfolk Broads pub lunch. Such a relaxing way to spend a day or two.
If you're visiting Norfolk with little ones, you should check out one of the best family attractions in the UK, BeWILDerwood!
 Accommodation in Norfolk
If the recommendations above don't pique your interest, try looking on which has a large selection of accommodation in Norfolk, ranging from hotels to guesthouses.
Loved Norfolk? How about trying Suffolk next?  Suffolk is about as quaint as you can get as it hasn't changed much over the decades. It's wonderfully sleepy and unspoiled.
There are lots of lovely things to do in Suffolk for families, including more lovely beaches along the Suffolk heritage coast and some of the best family-friendly gastropubs in the country.
The Suffolk beaches are quite different to the Norfolk beaches as they are mostly all shingle beaches but they are much quieter and more rustic than neighbouring Norfolk.
We have a complete guide to visiting Suffolk and the best Suffolk campsites for families.
If you liked this post, why not share it with friends or pin it?