The Best Time To Visit Etosha National Park Guide For 2023
Planning your trip to Namibia and trying to find out when is the best time to visit Etosha National Park?
We have been to Namibia twice now and each time was a very different experience.
We have experienced Namibia in October (in the dry season) and in March (the wet season).
Having experienced these two very different seasons in Etosha, we are ideally placed to give advice on the best time of year to visit Etosha.
Our guide covers what to expect from Etosha on a month by month basis. We also explain the pros and cons of visiting in each season to help you decide when to visit Etosha National Park.
By the way, if you're considering a safari in South Africa, take alook at our guide to when to visit the Kruger.
You might also find our guide to spotting animals on safari a helpful read.
And if you think you would like some advice on booking your Namibia trip, we can recommend contacting Go2Africa who can plan a tailor-made itinerary for you. We have used them several times for African trips and they are amazing.
This post contains affiliate links. If you click on one and book or buy something, we may earn a small commission but this is at no extra cost to you.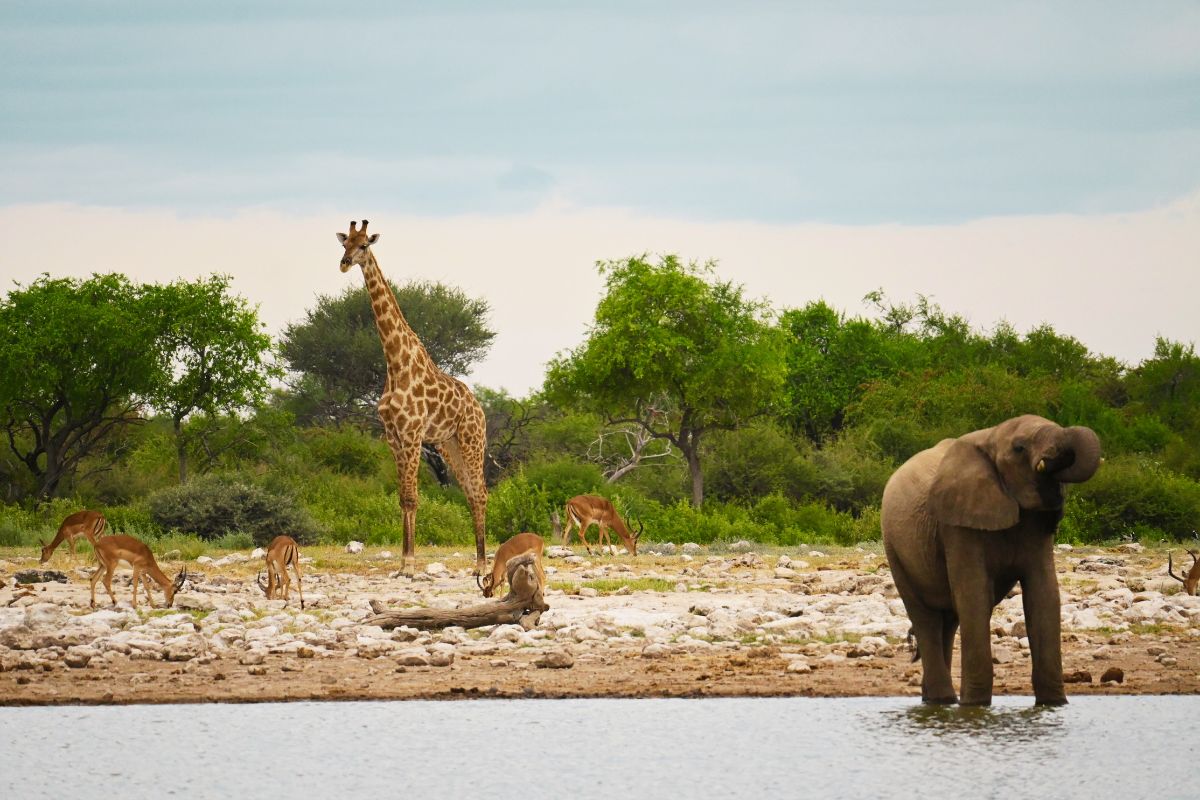 Why visit Etosha National Park?
Haven't quite decided on whether to fit a visit to Etosha National Park into your Namibian itinerary?
Maybe you are visiting Namibia with kids and are not sure whether a safari with kids is possible?
If this is the case, make sure to take a look at our guide to family safaris in Africa.
Maybe you're wondering is Etosha worth visiting? Etosha is around 4 hours from Windhoek by car which is not an insignificant distance.
What we can say to this is that we have been on lots of safaris in Africa. We have visited Uganda, Rwanda, Tanzania, Kenya, Malawi, Botswana and South Africa.
We rarely go back to the same place twice but Namibia is the one country that we said we absolutely had to revisit.
Etosha National Park, one of Africa's premier wildlife destinations, stretches over 22,270 square kilometers in north-central Namibia.
It is a truly unique destination for a safari in Africa due to its topography. Right at the centre of the park is a salt pan that is so large, it can be seen from space.
We fell in love with the dramatic landscapes. We fell in love with Etosha National Park.
In our opinion, you would be missing out if you didn't take a safari in Etosha National Park.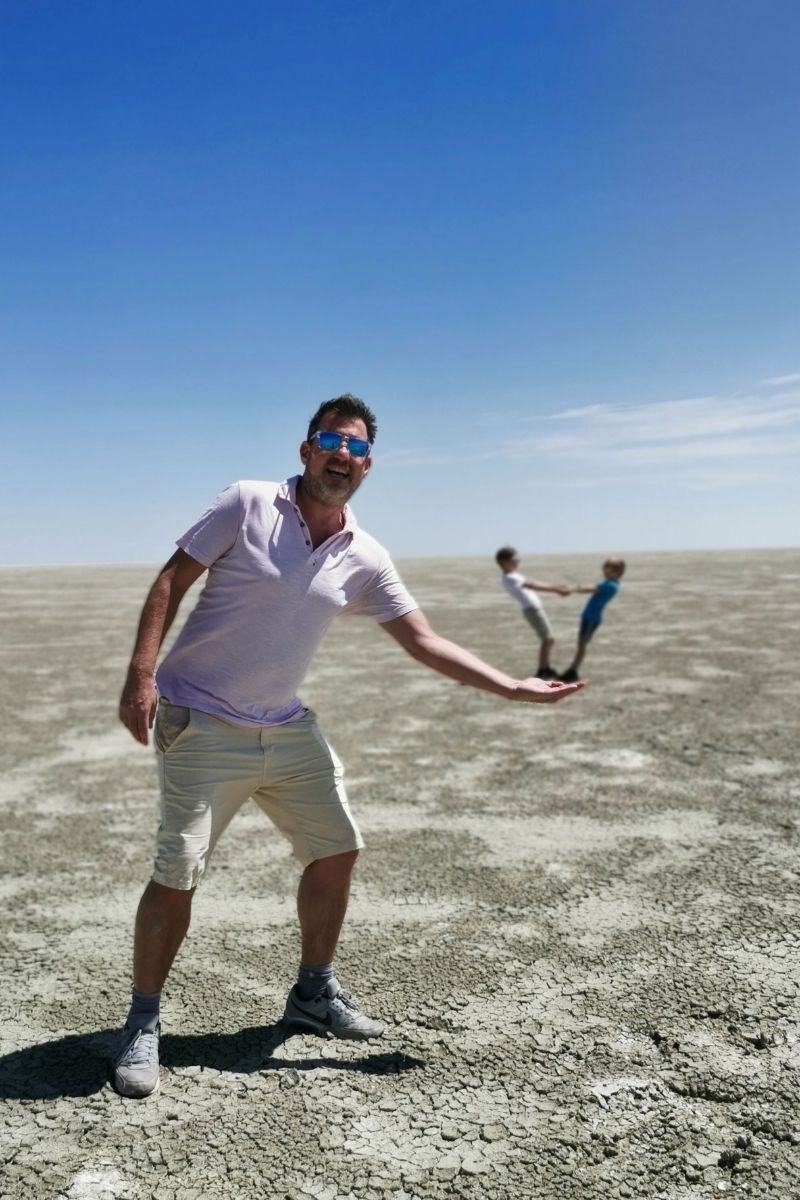 Best time to visit Etosha National Park
Etosha is home to a rich diversity of animals and birdlife. It is a wildlife haven and this animal life is sustained because of underground springs that form waterholes on the outskirts of the salt pan.
Having these waterholes means that there are huge numbers of animals to see year round. This means that you can go on safari in Etosha at any time of the year.
However, determining the best time to visit Etosha National Park can be a bit challenging as different seasons offer varied experiences.
This guide seeks to make your decision easier by highlighting the pros and cons of visiting Etosha during different times of the year.
We even go as far as explaining which animals are more prevalent at certain times of the year.
To get a better understanding of when you personally should visit Etosha, we need to first explain the climate at different times of the year and how the different seasons can affect your safari experience.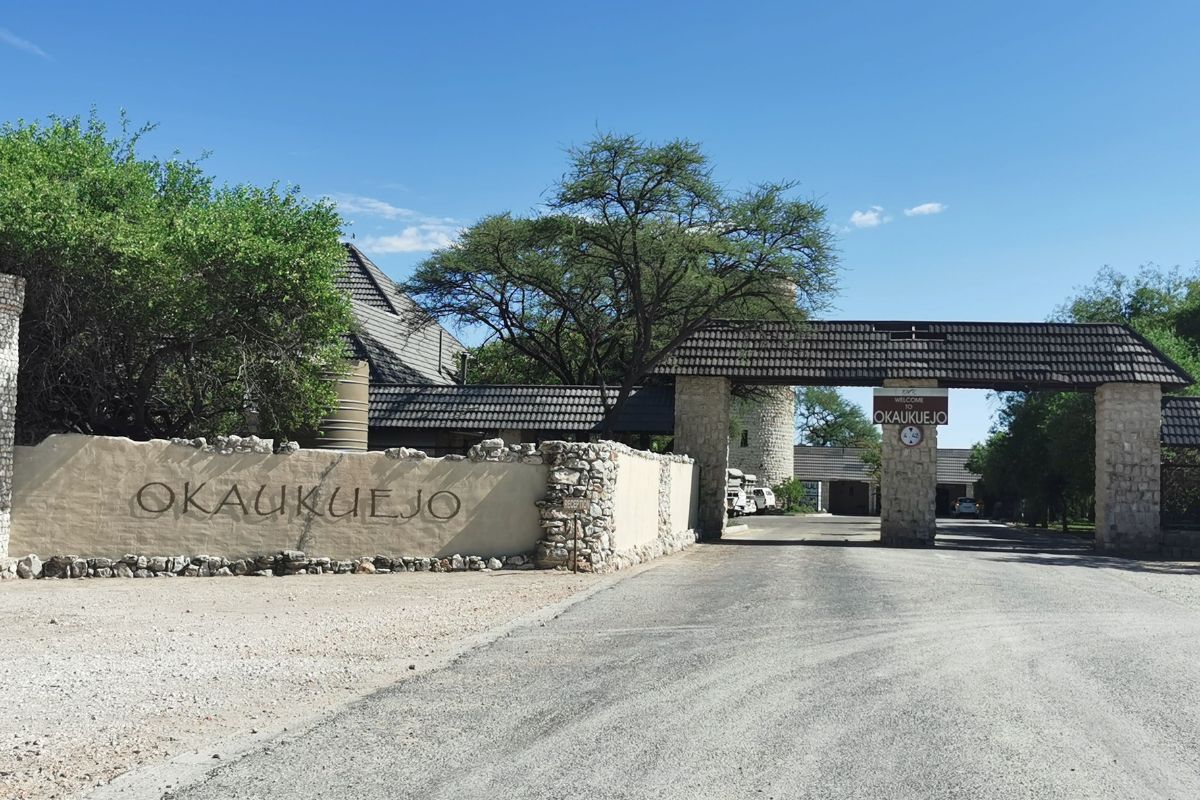 Understanding Etosha's climate
Etosha experiences two main seasons: the dry season, which runs from May to October, and the wet season, which spans November to April.
Each season comes with its own set of attractions, challenges, and experiences.
Dry Season in Etosha National Park (May to October) – Pros
First we will list the pros of visiting Etosha in the dry season.
1. Better wildlife viewing
If you are visiting Etosha during the dry season, you will be in with a better chance of seeing animals.
As the water sources dry up, they congregate around the few waterholes that remain. This makes it easier to spot a variety of species in one location.
The water holes are particularly busy around dawn and dusk.
One of our fondest memories of visiting Etosha in the dry season was spotting the Etosha ghosts.
They are elephants that cover themselves in the mineral rich mud around the waterholes. The mud dries white due to the high salt content. It is an incredible sight.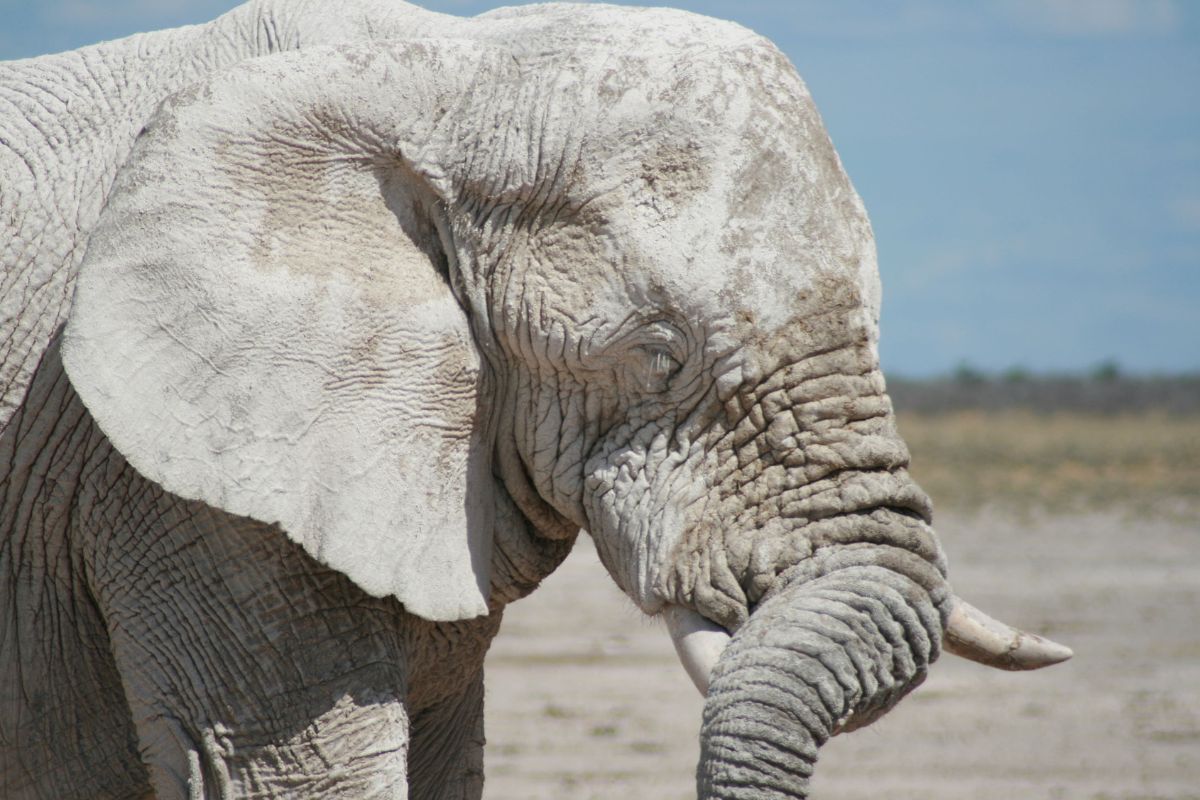 2. Fewer Mosquitoes
Although Etosha is a low risk malarial area, there is still a risk, particularly in the rainy season.
The dry climate means fewer mosquitos, which lowers the risk of malaria.
However, it's always wise to take necessary precautions and seek medical advice before traveling. See here for other malaria free safari destinations if you are concerned.
3. Temperature
The temperatures during the dry season are generally lower than during the wet season. This makes for a more comfortable safari experience.
Animals also tend to hide in the shade when the temperatures soar so there is a better chance of seeing them in cooler weather.
4. Road Conditions
The roads are generally in better condition during the dry season, allowing for smoother travel.
The main roads through the park are graded gravel roads and are passable at any time of the year.
Smaller roads that lead off to water holes, however, are not in as good condition.
I'm mentioning this because Etosha is perfect for a self-drive safari if you are wanting to do a safari on a budget.
In fact, most people will visit Etosha in their own car.
Of course, you can arrange guided safaris in Etosha, but even with a 4×4, some of the roads during the wet season can become tricky.
If you are doing a self-drive safari and want to be able to access as much of the park as possible, you should aim to visit Etosha in the dry season.
The main gravel roads in Etosha National Park look like this.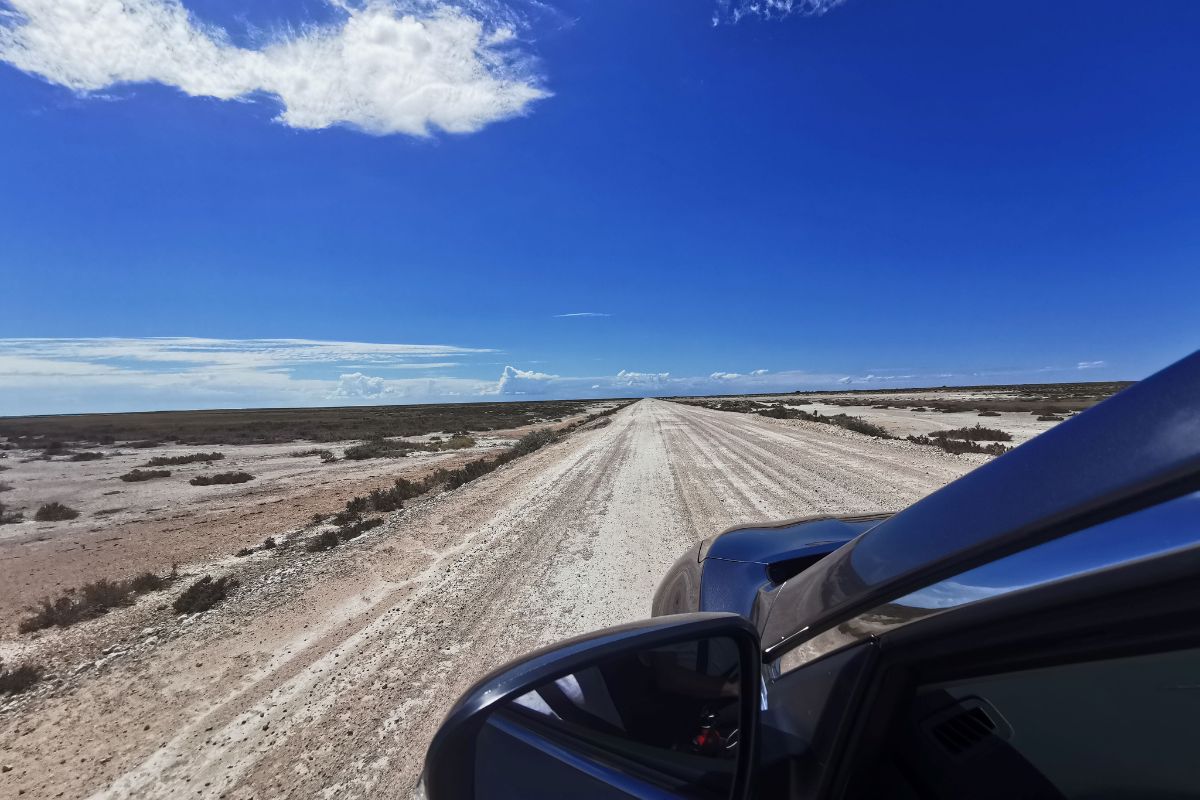 Dry Season in Etosha National Park (May to October) – Cons
Now we will list the cons of visiting Etosha in the dry season:
1. Crowds
The dry season is peak tourist season, so expect more visitors, especially around popular waterholes.
You may find yourself jostling for a position at the waterholes and feel like you're stuck in traffic on the main road through the park.
And being dry season, you don't want to get stuck behind someone going 60km/h because the dust will reduce visibility greatly.
Major camps will also be very busy. On this note, make sure you book the Etosha camps well in advance if you are wanting to stay in the park.
We have more information on accommodation in and near Etosha at the end of the post.
2. Temperature
October leading into November can get particularly hot, with temperatures soaring above 35°C (95°F).
You'll need to make sure you have plenty of water in the car with you.
See here for the average temperature by month in Etosha National Park.
Wet Season in Etosha National Park (November to April) – Pros
First we will list the pros of visiting Etosha in the wet season:
1. Bird Watching
The wet season in Etosha is a bird-lover's paradise. Migratory birds from the cold Northern Hemisphere visit the park, resulting in over 340 bird species being present.
Many wetland birds and flamingos arrive in Etosha to visit the pan that fills with water.
When we started out on our safari journey, it was all about the Big 5. Over the years we have really come to appreciate the smaller animals, including the bird life.
In terms of other wildlife, although many say that wildlife watching is better in the dry season, you will find a lot more herd animals grazing on the long grass.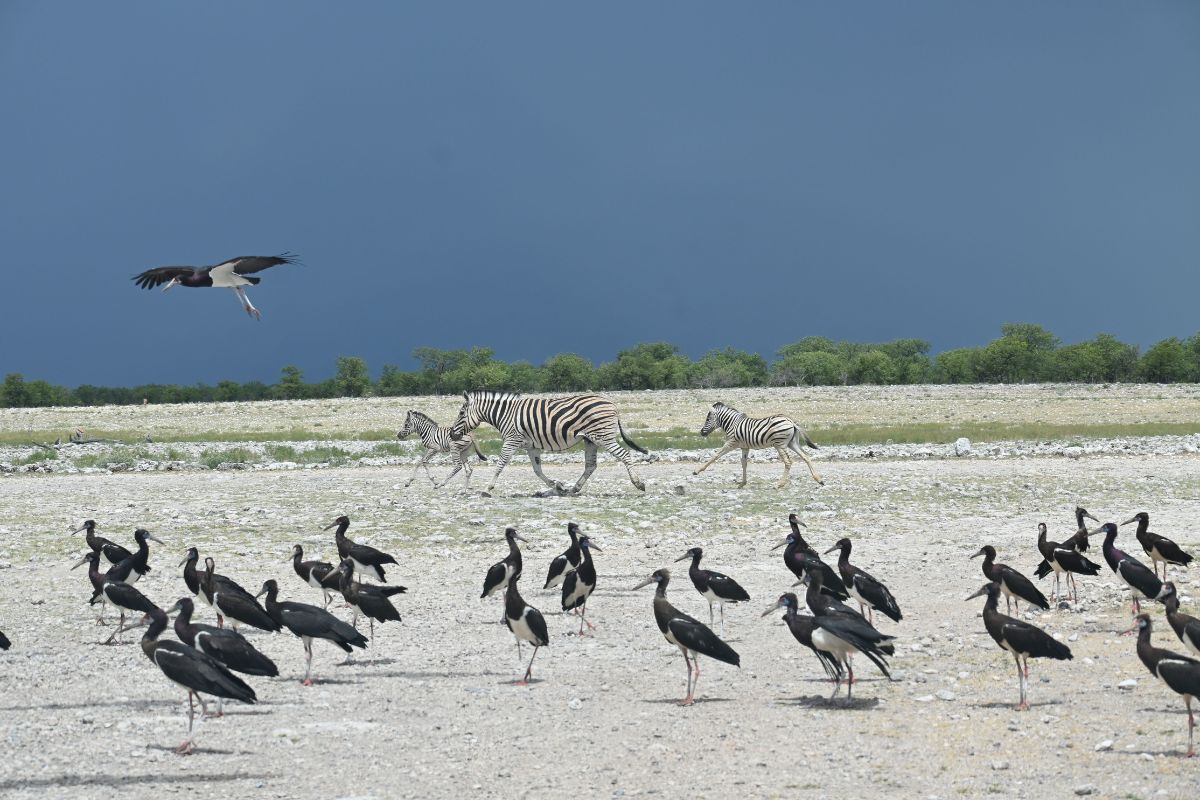 2. Landscape
The rains transform Etosha's landscape from a dry, barren scrubland into a green haven. This is a picturesque time to capture the park's beauty.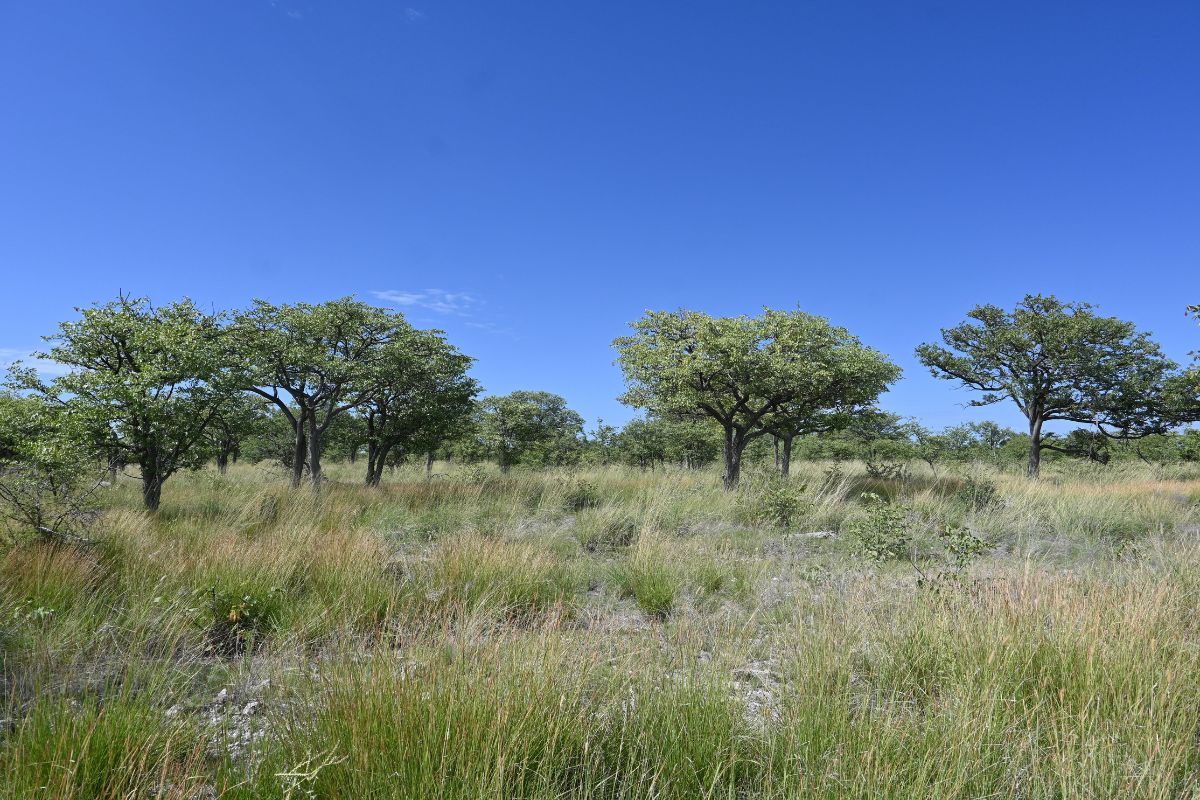 3. Fewer Tourists
If you prefer solitude and a quieter experience, the wet season is the best time to go to Etosha.
Not only will there be fewer vehicles in the park disturbing the wildlife, there will be less people trying to get into the park.
To get into Etosha National Park, you first have to get a permit at the gate you are entering. You then need to proceed to the nearest camp to pay for the permit.
During peak season, you can be queueing a long time before you even get into the park.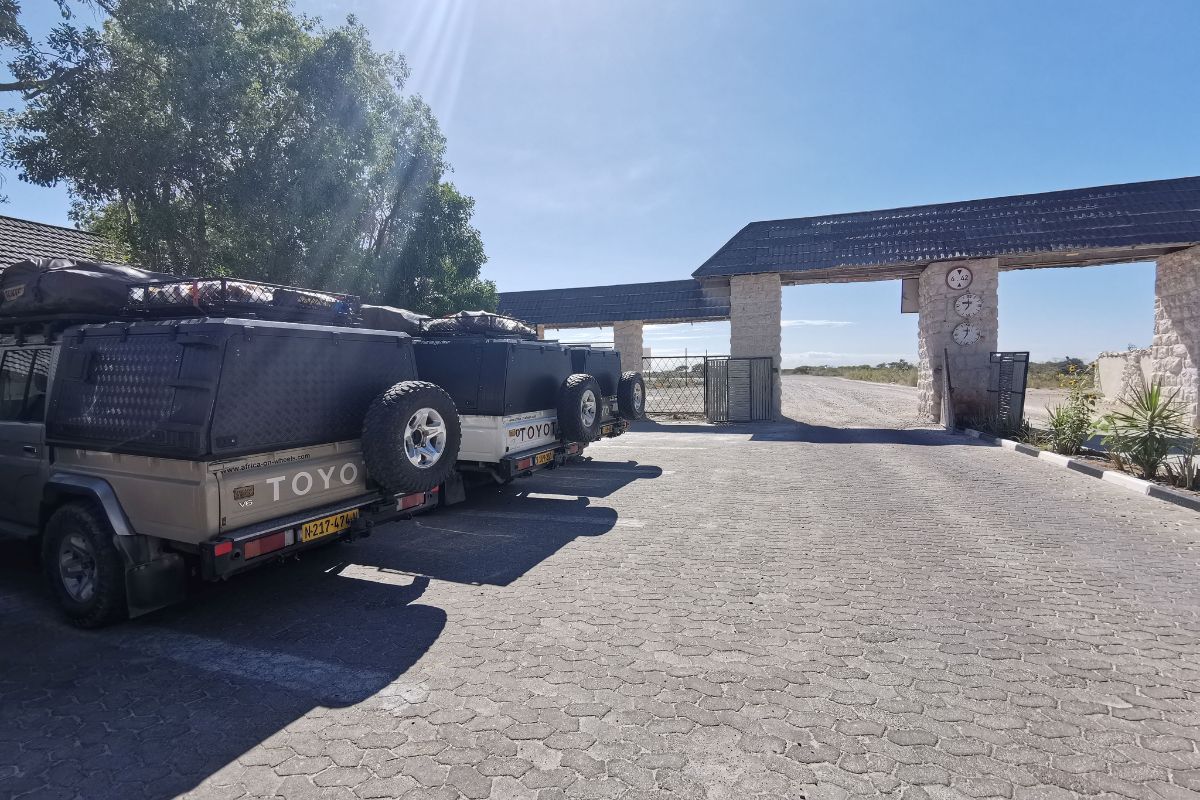 4. Epic weather
Let's just be clear about the weather in Etosha National Park in the wet season.
Visiting Etosha in the wet season does not mean you will have rain all day every day.
In between heavy downpours there will be sunny spells.
Watching thunderstorms roll across the salt pan can be spectacular!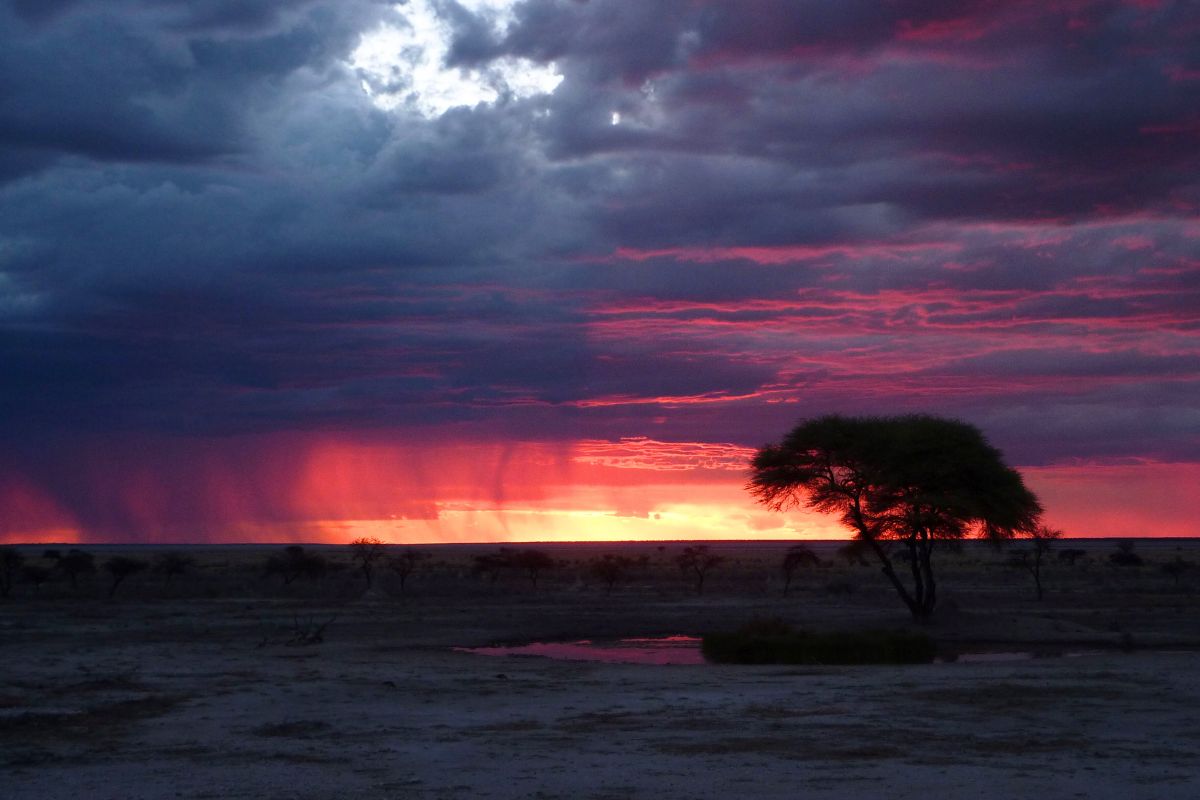 Wet Season in Etosha National Park (November to April) – Cons
Now we will list the cons of visiting Etosha in the wet season:
1. Wildlife Viewing
While animals give birth during this period, offering a chance to see super cute baby animals, the abundance of water means animals scatter.
The abundance of greenery and long grasses makes spotting animals incredibly hard.
You can be just a few metres away from a rhino and never spot it if it is hiding behind a lush green bush.
You can even have trouble spotting giraffe, the tallest animal in the world!
Also note that elephants are harder to spot because they migrate north to the Angolan border in the wet season. We did see some around the Klein Naumtoni waterhole at dusk one day though.
On the flip side, with so much grass around, herd animals such as zebra and wildebeest are plentiful.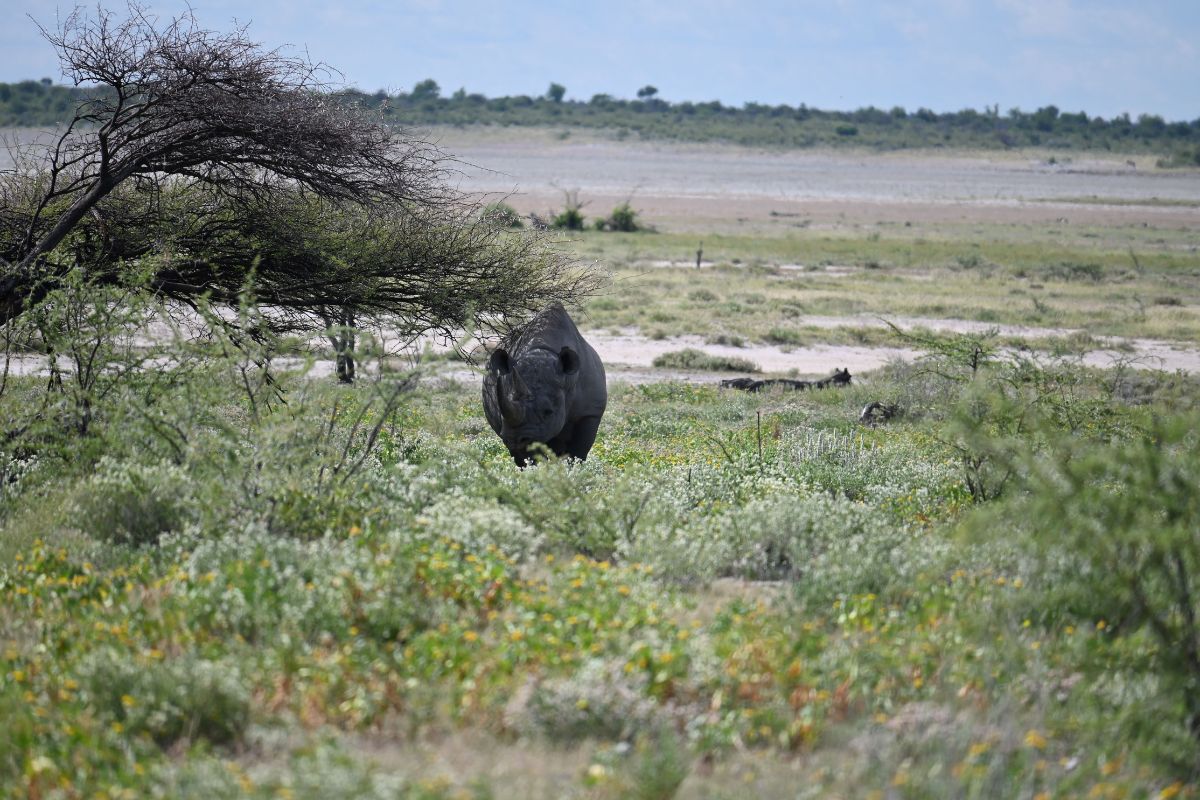 2. Road Conditions
Some roads may become impassable due to flooding, limiting accessibility to certain areas of the park.
You can check at the information desks in the camps to see if they have any advice on which roads to avoid.
Even the safari jeep ahead of us struggled to get through this flood so we didn't attempt it.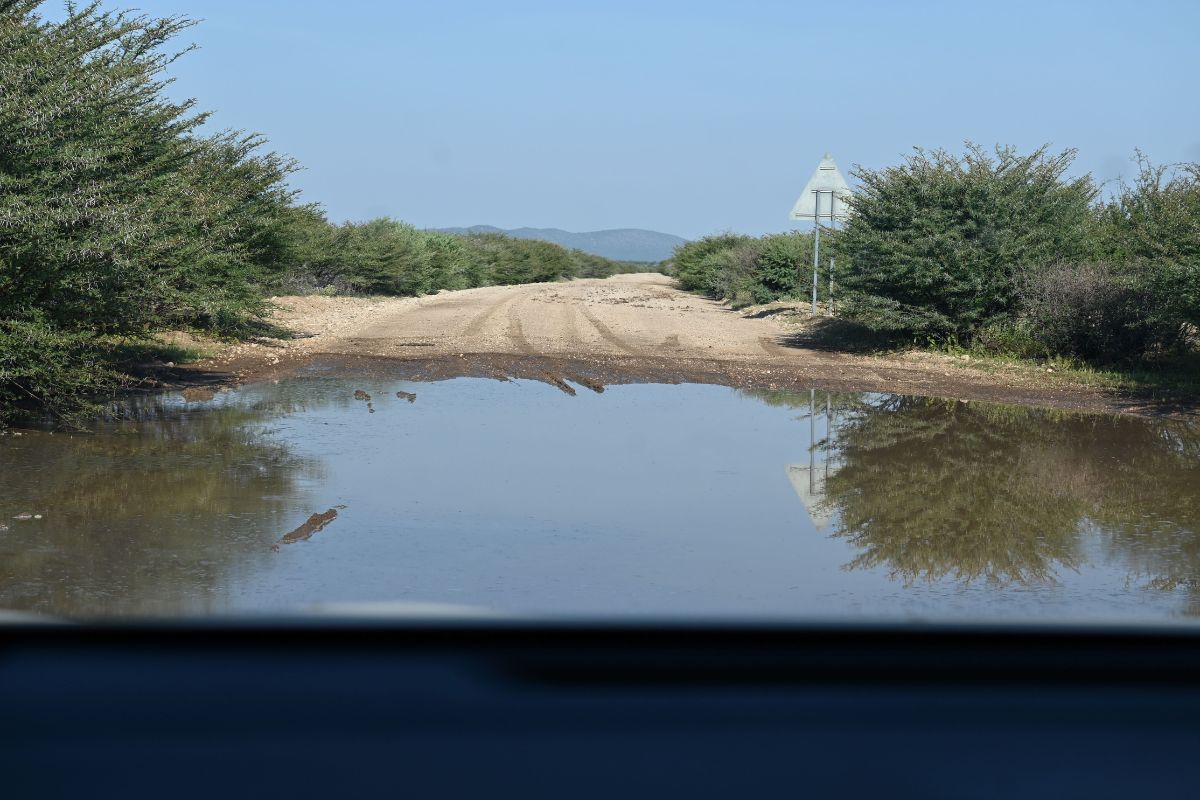 Visiting Etosha: A month-by-month breakdown
May: The start of the dry season. Temperatures are moderate, and the landscapes retain some green from the preceding rains.
June to August: These are cooler months. Nighttime can get chilly, so pack accordingly. Wildlife viewing is excellent.
September to October: The peak of the dry season. The best time for wildlife viewing, but also the hottest and most crowded.
November: Transitional month. Occasional rain showers can be expected, bringing with them the promise of a transformed landscape.
December to February: Peak of the wet season. Lush landscapes, excellent bird watching, but less ideal for spotting larger mammals.
March to April: Rains begin to subside. Temperatures start cooling, and the landscape remains green and vibrant.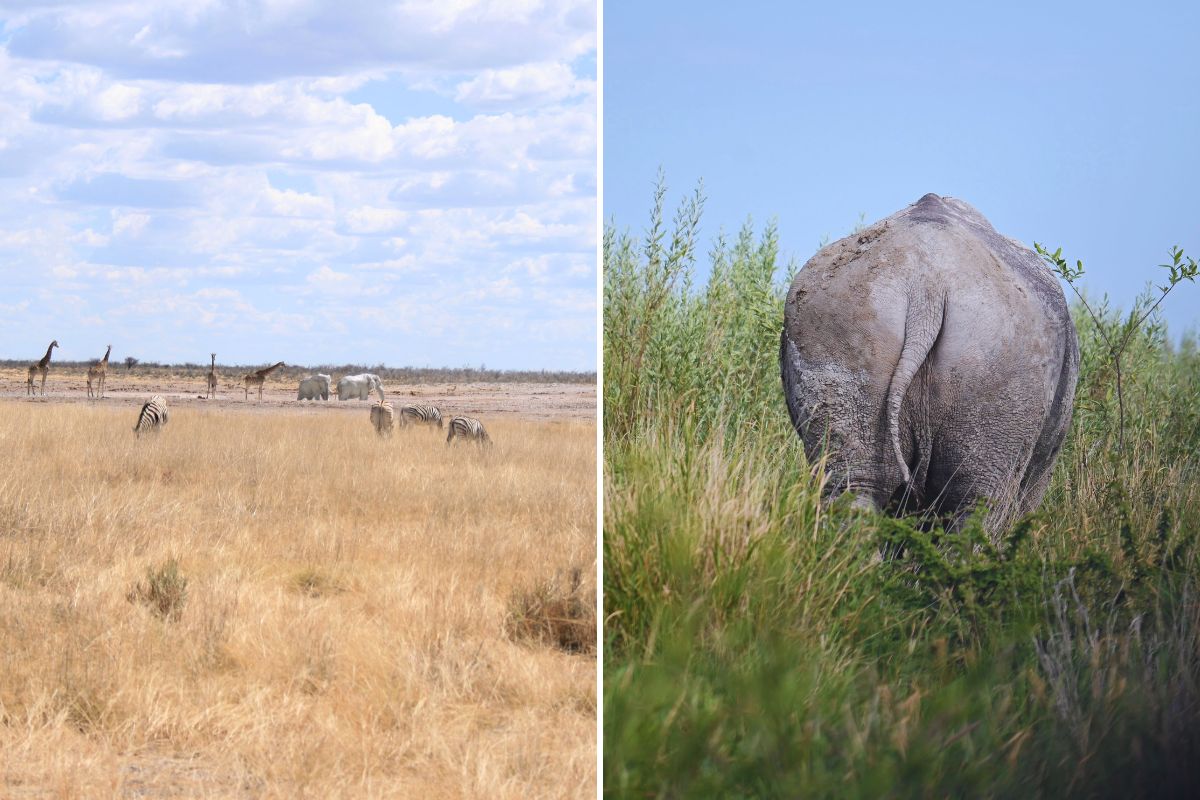 Best time of year to visit Etosha: Other considerations
Accommodation in Etosha
Since the dry season is peak season, it's advisable to book accommodations well in advance. Some people advised us to book a year in advance!
During the wet season, however, you might snag some off-season discounts.
Here is a list of all lodges inside Etosha National Park.
If you want to stay inside the park, just note that accommodation can be quite basic and yet still fairly pricey.
We stayed at Okaukuejo Camp and loved spotting the giraffe and black rhino drinking from the waterhole at night.
They have a load of accommodation options, including camping and a pool.
And these are the lodges we recommend outside Etosha National Park.
They both have private reserves where you can take guided game drives but they are also ideally placed for you to access Etosha on a self-drive safari.
The Ongava Collection is located on the west side of the park and is 8km from Anderson Gate.
Ongava Lodge – luxury accommodation in 14 rock-and-thatch en-suite chalets with views over a water hole and a pool.
Little Ongava – exclusive camp with only three spacious suites each with its own plunge pool and private guides.
Ongava Tented Camp – eight large Meru-style tents with en-suite facilities. Family unit sleeps 4.
The Onguma Collection is located on the east side of the park, right next to Von Lindequist Gate.
We have stayed at Onguma Fort, Onguma Tented Camp, Onguma Tamboti campsite and Onguma Forest Camp. All of them have been oustanding and offer something different.
Onguma Fort – an incredible fortress structure overlooking Etosha National Park. It is unfenced and so no children under 7 can stay here.
Onguma Forest Camp – mid-range accommodation surrounding an amazing water hole. Unfenced so no children under 7 allowed.
Onguma Tamobti Campsite – each camping spot has its own bathroom facilities and BBQ area. You also have use of the pool and restaurant at the neighbouring Onguma Bush Camp. It's the most luxurious campsite we have ever stayed at!
Onguma Bush Camp – fenced camp with mid-range accommodation and suitable for families with young children. They also run a fantastic young explorer's walk.
Onguma Tented Camp – luxury tented accommodation around a water hole. Unfenced and no children under 12.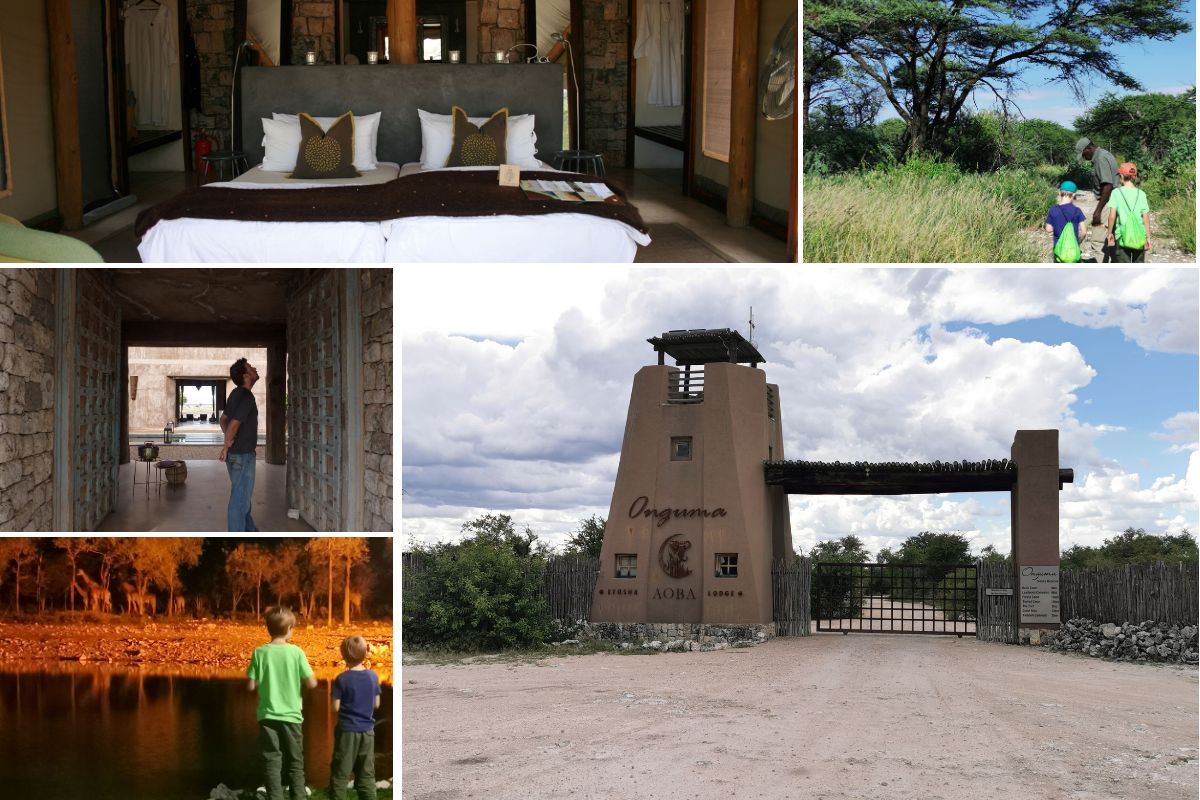 Photography
If you are a keen photographer, the dry season offers excellent wildlife shots, especially around waterholes.
The wet season, on the other hand, offers stunning landscapes and bird photography opportunities.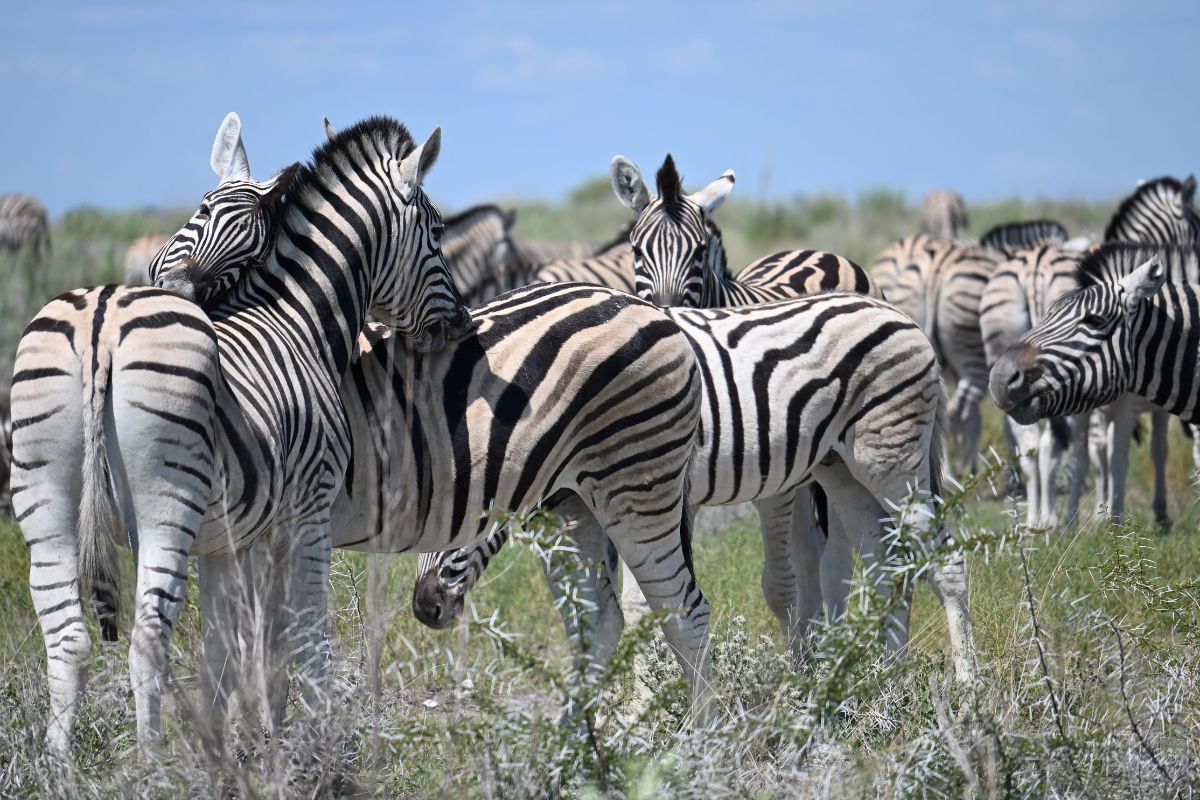 Other places to visit in Namibia
When deciding on the best time to visit Etosha, you may want to take into consideration the other stops you will make on your trip.
For example, if you are wanting to head to the Hoanib Valley, it is best not to visit in the rainy season.
June is the best time to visit Swakopmund.
Make sure to read our guide on the best places to visit in Namibia to help you plan your itinerary.
So, when is the best time to visit Etosha National Park?
The best time to visit Etosha National Park truly depends on what you are looking for from your safari.
If unparalleled wildlife viewing is your priority, then the dry season, particularly between June and October, is optimal.
For birdwatching and breathtaking landscapes, consider visiting during the wet months.
Remember, every month offers a unique experience in Etosha.
No matter when you choose to go, the magic of the park, with its ethereal salt pans and abundance of wildlife, will undoubtedly create life long memories.