The Perfect 14-Day Sri Lanka Family Friendly Itinerary
If you've been looking at Sri Lanka holidays but aren't sure whether Sri Lanka is suitable for families, our 14-day Sri Lanka family friendly itinerary travelling with a 3 and a 5 year old will give you a good idea of what to expect.
We love Sri Lanka and think it's perfect for families as there are so many things for kids to do in Sri Lanka.
It was voted best country in the world to visit in 2019 by Lonely Planet which which we think it thoroughly deserved but see what you think….
Why choose Sri Lanka?
The endless white sandy beaches, the lush green hills, the history, culture, food and most importantly the people all make Sri Lanka the perfect holiday destination.
There are so many sides to Sri Lanka despite it being a relatively small island. In fact, due to its size, you can easily get from place to place and see and do so much on your holidays to Sri Lanka which is part of the appeal.
You could choose to stay at one of the many large resorts and enjoy the facilities and not much else, or you could take an adventure and explore the island. We opted for the latter and we highly recommend you do the same.
It's also very close to the Maldives so if you feel like indulging in the ultimate, luxury family holiday, you could combine a visit to Sri Lanka with a stay in a family-friendly resort in the Maldives likes we did!
This post contains affiliate links. If you click on them, we may earn a small commission at no extra cost to you.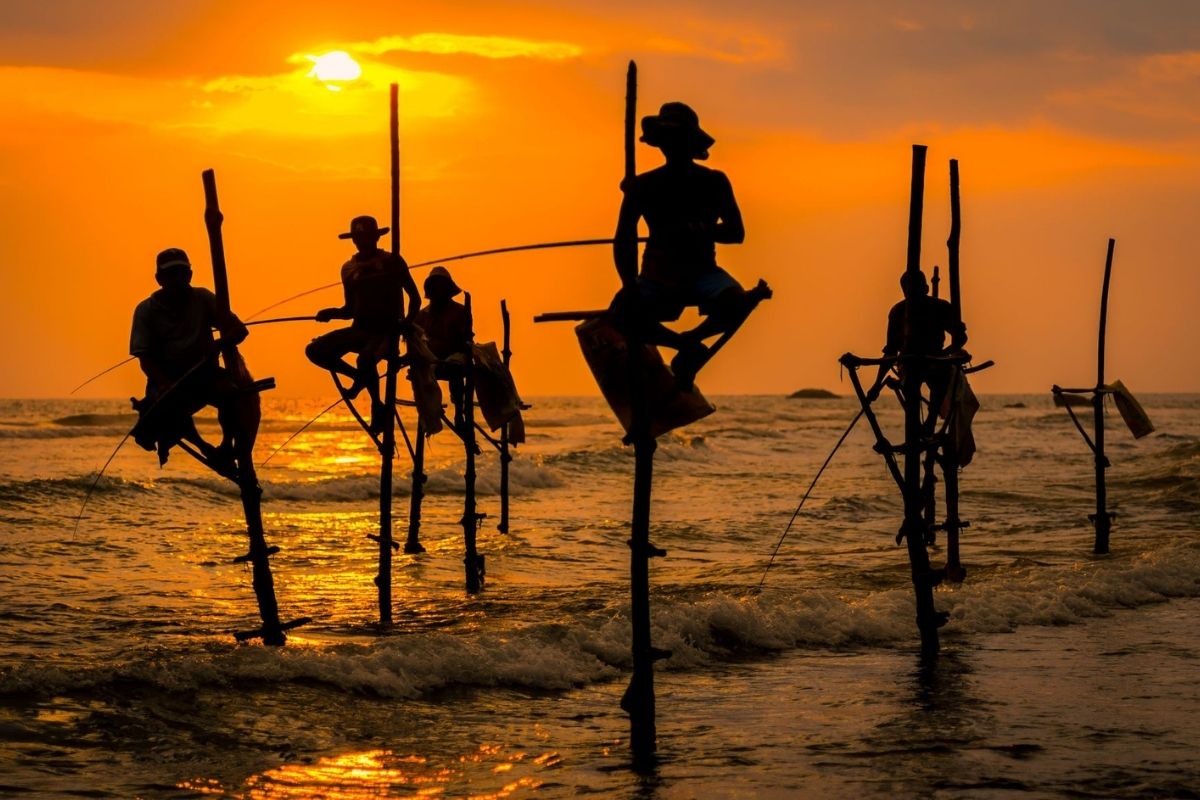 The highlights of Sri Lanka
You could start your trip with a relaxing few days on one of Sri Lanka's many family-friendly beaches to get over the jet lag, before setting off to spot wildlife in one of the many national parks.
See our posts on doing a safari in Udawalawe and visiting Yala national park for more info.
After that, head inland to learn about the history of the Ceylon tea making industry on a tea factory tour and take in the beautiful scenery in the hill country.
Wander around the streets of Galle and take in the beautiful colonial architecture. If you have time, visit the ancient cities of Anuradhapura or Polonnaruwa before heading back to the beach to relax for a couple of days or take in the cultural sights of Colombo.
When is the best time to visit Sri Lanka?
The time of year you are going will, to some extent, determine where you go in Sri Lanka because there are different rainy seasons for the North and South.
While the South and West is having its dry season, the North and East has its wet season and vice versa (although it is not an exact science!).
In general, the dry seasons are:
South and West : Nov – May
North and East : May – Oct
Our 14-day Sri Lanka family friendly itinerary
We chose to visit Sri Lanka in December and therefore picked a southern loop to experience the better weather. Here is our 14-day Sri Lanka itinerary.
Day 1 –   Airport > Bentota
Day 2 –  Bentota
Day 3 –  Bentota > Unawatuna
Day 4 –  Unawatuna
Day 5 –  Unawatuna
Day 6 –  Unawatuna
Day 7 –  Unawatuna > Udawalawe
Day 8 –   Udawalawe > Ella
Day 9 –  Ella
Day 10 – Ella > Matale
Day 11 – Matale
Day 12 – Matale > Colombo
Day 13 – Colombo
Day 14 –  Colombo – Airport
Day 1: Airport – Bentota
Considering the time of year (over Christmas and New Year), we managed to find quite cheap flights to Sri Lanka with Emirates and incorporated a stop in the Maldives.
We arrived in the early evening into Bandaraniyke (Colombo) airport and arranged a car through Kings Tours (run by an old friend, Sujeewa) to take us down to Bentota.
He met us in arrivals and whisked us off in a very new and comfortable 7 seater van. It was the equivalent of 2am for us so rather than attempt to get on a train or organise a taxi on arrival, we booked this in advance knowing it would be a little more expensive (around $80).
For us it was worth it to avoid any delays when the kids would inevitably be exhausted.
If you are keen to take the train (something we highly recommend doing while in Sri Lanka), then make sure to read this helpful guide on taking the Colombo to Galle train.
We decided to stay in Bentota because it's en-route down to Galle and gets that first leg out of the way in the evening when traffic is lighter.
You will be tired and probably won't be doing much on the night you arrive, so why not spend a little longer getting to your first destination and have a little nap in the van?
This seems a better option to wasting a night in an average location close to the airport and then having to transfer the next day when you could be relaxing on the beach.
We booked the Centara Bentota with the idea being that we would let the boys acclimatise gently in an all-inclusive hotel and get over the jetlag before starting our real adventure.
It is tucked in between the Indian Ocean and the Bentota River, and reception is accessed by taking a short hotel ferry ride over the river, which the boys loved.
We had a family room on half board plus basis (breakfast and dinner which included drinks with dinner). We thought this was better than all-inclusive as we could still venture out for lunch. Our room even had a cute elephant waiting for us.
The room was great. It had bunk beds in the 'living room' and black-out blinds. We changed and showered and went for dinner. We were in and out in 30 mins.
One of the benefits of an all-inclusive/half board buffet is no hanging around for food when you have overtired kids.
Day 2: Bentota beach
The next morning we woke late due to jetlag and had missed breakfast but at least woke up feeling refreshed after a long sleep.
There is a fantastic pool complex with a child-friendly pool (about 0.5m deep) which is perfect for smaller children.
The Centara is located right on the beach and it is a gorgeous stretch of sand. The waves are a little big so it is not ideal for swimming, but when you have a great pool, it's not the end of the world.
At lunch we took a walk south along the beach for about 1km to the point where there were a few rocks for rock pooling and calmer water. We visited lots of beaches in Sri Lanka, and Bentota each was definitely up there with the best, if a little on the windy side!
We had lunch at a little restaurant just set back from the beach called Rana's Seafood which is a quick hop over the train tracks (watch our for trains when crossing!).
It was a fun place to watch the trains go by and they had a decent selection of western food if your kids haven't quite acclimatised yet!
We spent the afternoon back by the pool and enjoyed a delicious Sri Lankan buffet for dinner. We were pretty wiped out so it was an early night for us.
Just a quick note on The Centara – they also have a kids club with lovely staff. If you are going to stay there for longer and appreciate a little down time to have a beach stroll or enjoy a cocktail by the pool, we would highly recommend them.
We didn't use it apart from to borrow their football goals and football so that the boys could get their daily fix, but the ladies were very sweet and the kids who were there look thoroughly entertained.
Day 3: Train from Bentota to Unawatuna
We stayed at the Centara until check out then took a tuk-tuk to the Bentota train station for LKR 200 (90p).
The journey to Unawatuna from Bentota by train costs around LKR 200 per person (half price for children under 12 and free under 3) in 2nd class and takes about 90 minutes.
We just bought a ticket at the station and hopped on the train. It was busy but people were very friendly and helpful and let the kids have seats which was great, particularly as our youngest, George, wasn't feeling great that day.
You can stay on the train until Unawatuna but as the station there is so small, it can be a little tricky to get a tuk-tuk, so you can also hop off in Galle and get a tuk-tuk to Unawatuna (20 mins and LKR 500).
Train travel in Sri Lanka can be hit and miss. Sometimes it is so busy that it is a real stress to get the family on or off with all the bags. Timing is key. The usual rush hour times apply in Sri Lanka too.
Whilst Galle is a beautiful place to stay, we preferred to stay in Unawatuna so that we had the beach to come back to after exploring Galle.
We stayed at Bedspace which is set back from the main part of town and a little quieter. The room was great with air con, fan, mosquito nets over 2 large double beds and a spacious bathroom.
One of the main reasons we love travel so much is that we get to try so many delicious foods. Dinner at Bedspace didn't disappoint – some of the best food we had in Sri Lanka. Bonus points for not having to get the kids to walk too far to eat after a travel day, which is usually when they are at their most tired/grumpy!!
The only issue is that my FOMO kicked in and I had a hard time choosing what to eat. It all looked and sounded so delicious. Luckily my herb crusted seer filet was amazing as was the black pork curry that Ed chose. Have a look at the menu and see what you think…
We all had a really comfortable night sleep in our new room.
Day 4: Dalawella Beach & Galle
Breakfast lived up to expectations too – coconut rotis and super spicy sambal with coconut water to cool off with.
Do mention if you don't think your kids will eat this as they will be able to make something else for them. Since we were right next to the most family-friendly beach in Sri Lanka (Dalawella), we hopped in a tuk-tuk to spend the day there.
It is just under 3km south of Unawatuna and the tuk-tuk cost around LKR300. It is a small beach with less people there than in Unawatuna and the reef provides a great natural barrier to the large surf you find on most other Sri Lankan beaches which makes it very child-friendly.
At around 12pm you may also get the chance to swim with turtles – although we didn't see any that day so it's not a guaranteed experience.
Look carefully though as they can glide silently past without you noticing. As we missed out on the turtles we had a go on the super-fun Dalawella rope swing instead, which the boys loved!
After our morning on the beach, we headed back to the hotel for a little down time and then in the afternoon we took a tuk-tuk to Galle where there's lots of things for the kids to do. It was a 20 min journey and we paid around LKR500.
We visited the beautiful Amangalla Hotel where you can have high tea, walked along the fort walls, dipped in and out of some of the boutiques and had dinner at Galle Fort Hotel.
If you're lucky, you may catch a game of cricket at the cricket ground just outside the fort walls.
Day 5: Exploring Unawatuna
We were given the option of having breakfast at their beach restaurant Bedspace Kitchen on the second morning where they had even more choice.
Great cappuccino with hoppers, french toast, stacked pancakes and fresh juices. It was a lovely leisurely breakfast and we even squeezed in a game of monopoly that we borrowed from the hotel.
After breakfast at the beach we explored Unawatuna. We had been there in 2010 when it was relatively small with a few restaurants along the beach.
This time we found the restaurants crammed in and there were so many people. We didn't spend much time there and decided to head to our next hotel, the Good Vibes Villa.
We took a tuk-tuk which was about 30mins @ LKR 600. It was a little inland from Unawatuna so we stayed there for the rest of the day and chilled by their amazing pool.
There were games for the kids (giant chess, little chess, ping pong, swings, board games) and an honour bar for big kids!
In the main house there were 4 rooms but we had a separate villa with 2 bedrooms and a lovely outdoor bathroom.
It was a little bit away from the main house so the boys could do their thing without us worrying they would disturb other guests. It was set in incredible grounds and the kids were given a nature quiz so they could go and explore the flora and fauna.
The meals were absolutely delicious. We stayed for dinner that evening and were treated to a Sri Lankan feast.
Although the kids enjoy a good curry, they were given the choice of pasta with fried chicken and ice cream (which they jumped at after a few days of rice and curry!).
The staff are so friendly and always on hand if you need them but are also good at being inconspicuous and you get the feeling of absolute privacy.
Day 6: Dalawella beach & a turtle hatchery visit
We had an amazing night sleep in very comfortable beds and peaceful surroundings. The breakfast was sumptuous and set us up for a day at Wijaya Beach at Dalawella.
This time we ate lunch at Wijaya beach restaurant. Delicious wood-fired pizza, super cool smoothies with a beautiful view.
We would have loved to have stayed here but as we were there in peak season it was all booked up way in advance (and had a minimum 7-night stay).
If you are looking for a base on the best family-friendly beach in Sri Lanka, then this is a great choice.
After lunch, we headed back to our hotel to chill for the afternoon. Just before sunset we went down to the turtle hatchery at Koggala Beach.  I have to admit that we were a little undecided on this one.
We love wildlife and don't visit zoos or endorse animal rides but the hatchery claims to rescue injured turtles and set them free when they're better.
Others aren't so lucky and will never be released due to their injuries. In those cases, I do wonder if it wouldn't be better to let nature take its course rather than keep a large turtle in a small tank for the next 60 years.
The entrance fee is LKR 500 and is supposed to go towards turtle conservation. Each year they buy 300,000 eggs from local fisherman who collect them from the beach to ensure they're not taken by poachers.  Apparently some locals eat them.
I was not very comfortable with the handling of the turtles. Being a diver, I respect leaving wildlife alone, but try telling that to the kids when the guide has already handed them a turtle. In hindsight, we would not recommend handling them.
This is such a tricky area. If they are genuinely using the tourist dollar for conservation, then we would encourage going. It is worth doing some research on unethical animal tourism so you can make informed decisions about some of these places.
Day 7: Unawatuna to Udawalawe
We enjoyed some pool time at the villa after breakfast. There are so many things to see and do and it is tempting to push through and do as much as you can.
In reality, the kids will be well behaved until they're tired,hungry or bored and then they get a bit cranky. We need some downtime when travelling with the kids, and we all love pool time.
We booked a car to drive us to Udawalawe as it was not so easy to reach by train or bus. It was about a 3-hour trip and cost LKR 10,000.
We decided to go for cheap and cheerful accommodation in Udawalawe because we were only stopping briefly, literally just to sleep.
Peacock Riverside was really like a homestay. There were 2 family-sized rooms and meals are shared with the guests from the other room.
There is a hammock on the patio where you can chill and watch the enormous fruit bats flying around at dusk with the sound of the nearby river.
At the time we stayed there was a very inquisitive little 2 year old who was in and out of our room wanting to play with the boys.
The owner, Sujee, was saving hard to build their own separate accommodation to give the guests a little more peace. When you have your own kids, you don't mind a little playmate for them but this may not be to everyone's liking.
The food was cooked by Sujee's wife and was up there with the most delicious food we had on our trip. So authentic and tasty.
The boys could not get enough of the spicy chicken curry. The reviews on booking.com about the food are pretty accurate.
This is budget accommodation ($20 a night) – but when you're arriving at 4pm and getting up at 5am, there's really no need to go high end.
If you're staying for a couple of nights then there are other places we considered with a pool which also looked lovely, like Kalu's Hideaway which gets great recommendations.
Day 8: Udawalawe National Park safari
So to get the best from your safari it is recommended you get up early and head out at (5.30).
Sujee arranged the jeep for us the day before and considering it was peak season and a Sri Lankan holiday (Poya), you should be fine to do the same but if you have booked your accommodation in advance, they should be able to book a private jeep for you.
All the information regarding costs is in our Udawalawe national park safari post.
We saw elephants, crocodile, spotted deer, peacock, monitor lizard and much more. We were done by 10 am and headed back to the guest house for breakfast.
We stopped briefly to look at the enormous colony of fruit bats at the request of the boys as we had seen them flying at dusk the previous night.
Your guest house will no doubt be able to point you in the right direction if you want to visit it.
The road to Ella was quite long and windy and took 4 hours. We went by car again, arranged by our accommodation, and paid LKR 12000.
One the way we passed Ravanna Falls, one of the widest waterfalls in Sri Lanka. If you feel like cooling down, you can have a quick dip there, however, it was incredibly busy when we went.
We stayed at the Chillout Ella in Ella. It was a simple but lovely room with bunk beds for the kids and a hammock on the veranda with beautiful views.
The hotel was located at the start of the hike up to Little Adam's Peak (one of the best things to do in Ella with kids) and since the sun was shining and the boys had been in a car since 5.30am, we decided to stretch their legs and head off on a hike.
It was a pretty easy walk, paved most of the way with only a little scramble at the very top. The views from the top are really beautiful and it is well worth that little effort.
As a reward for climbing to the top with no complaints, we stopped off at the beautiful 98 Acres Resort on the way back down for a drink with a view.
As we have previously found with Ella, the mornings are usually sunny with clouds creeping in in the afternoon. True to form, the clouds rolled in as we were sitting having our drinks and completely obscured the view.
We ended up running back to our hotel in the torrential rain as the heavens opened.
One thing to remember about Sri Lanka and especially the hill country is the humidity and the rain!
By this point in our trip we had a few items for laundry. I tried washing them myself (which is something I usually do when we're away – always packing a travel washing line and detergent) and hanging them out, but they just would not dry so we resorted to a local laundry service (LKR 400 per kg).
That evening we went out for dinner at Cafe Chill which is hugely popular and caters for everyone.
Surprisingly the western food was pretty good while the Sri Lankan fare was pretty average.
The rain continued and with the rain in Sri Lanka come leeches! Remember to check yourself before going to bed for those little bloodsuckers – they're easy to pick up when you're wearing flip flops and it's quite a shock seeing your first one!
Day 9: Exploring Ella
We were up early and greeted by a beautiful sunny morning so we set off at 7.30am on a walk before breakfast to 9 Arch Bridge which was a 60 min round trip (with little people).
There were very few people at this time of day so we had unobstructed views from the viewpoints, but on our way back the crowds were beginning to start.
We came back to a delicious breakfast and then relaxed for a bit reading books on our veranda. Just before midday, we took a tuk-tuk to Matey Hut for lunch.
We weren't particularly hungry because of our large breakfast, but we'd read that it was a very small place with fantastic authentic food that gets busy.
We got there at 12 and had a short wait for a table but it was worth the wait and as we saw plate after plate coming out, we found our appetite!
The parathas were delicious and the chicken curry for the kids was not too spicy. It was so simple but so good. Highly recommend.
In the afternoon we did a quick tour of Halpewatte Tea Factory which is a 10 min ride by tuk-tuk.
You can see the tea production process from beginning to end with their factory tour. Very interesting if you are a tea lover. Even if you are not a tea lover, it is a pretty good way to spend an hour.
If you are looking for an organised tea factory tour, click here.
At this point I would recommend looking into taking the train between Ella and Nuwara Eliya as it is one of the most stunning stretches of train travel in the world.
We didn't because we had done it on a previous trip and on this trip it was out of our way… plus there were no tickets available for the coming days.
However, this train ride is a must do if you haven't done it before, so be sure to book it well ahead of time.
If you are not sure about organising the train tickets yourself, you can organise a tour which incorporates a train journey on the Kandy to Ella line.
Day 10: Hill Country luxury
After breakfast we took a car to our hotel next guest house –  Strathisla Tea Estate – a colonial tea estate near Matale.
It was another 4 hour trip and LKR 14000 in a lovely spacious 7 seater. We stayed from 24th – 26th Dec.
We were given the option of an English Christmas roast but in the end we opted for the Sri Lankan feast. The food is out of this world and there is plenty of it.
The guest house is a little in the middle of nowhere which is part of the charm. It is peaceful and when we were there, it was just families staying so the kids had plenty of new friends to hang out with.
There was lots of pool time, lots of reading, lots of board game time and lots of eating. The photos just do not do the place justice.
Day 11: Christmas in Sri Lanka (Hill Country)
Christmas Day! After the kids had opened their stocking presents (Father Christmas knew we had limited space so he only brought a couple of small gifts for the boys!), we had another huge breakfast with plates and plates of fresh fruit, eggs, bacon – the works.
There are a few activities you can choose to do such as a spice walk around the local area, a tea factory visit, ayurvedic massage and cooking lessons.
We enjoyed the spice walk on Christmas Day. It took about 2 hours and we were greeted along the way by local people wishing us a Happy Christmas.
One of the things the kids found fascinating (apart from the baby leeches everywhere) – were the tickle plants that close up like a venus fly trap if you tickle them! It was one of the most interesting things to do in Sri Lanka with kids.
We worked up quite a sweat and came back to spend a lovely leisurely day by the pool with the other families. We finished the day with drinks in the drawing room before a lovely Christmas meal.
Day 12: Wellawatte beach, Colombo
In the morning we relaxed by the pool while the kids played with their friends and then took a car to Colombo.
Because of traffic this took 6 hours instead of the usual 4. It was still LKR 12,000. We stopped en route at a local buffet style restaurant.
One thing we have learned on our travels is to make sure it is a busy restaurant, preferably with lots of locals and this way you know the food is bound to be good and fresh.
We arrived into Colombo late afternoon and checked into our Ocean Breeze apartment in Wellawatte.
It was a large 2 bedroom, 2 bathroom apartment with WASHING MACHINE – joy of joys!
With the combination of the sun and fierce air con I managed to get our entire travel wardrobe washed and dried over the 2 days we were there, which was ideal because our next stop was the Maldives where it cost $5 per t shirt to wash (!!!).
Be aware that the photos on Booking.com don't necessarily correspond with the apartment you get as they have a few apartments.
We just caught the sunset on Wallawatte beach and had a little stroll before we headed out to a very local restaurant at the end of our road called the Plaza Hotel & Bakery.
It wasn't fancy but the food was delicious and so so cheap. The boys finished with a donut they had been eyeing up all through the meal.
Day 13: Sightseeing in Colombo
We had a lovely breakfast delivered up to our apartment by the owner. She was concerned that she hadn't made enough, but it was a feast of string hoppers, curry, toast, omelette, fresh fruit, cake and chai. Something for everyone.
We took the train from Wellewatta to Colombo Fort which was quick and easy. It is so much easier taking the train when you don't have to get 2 kids and large bags onto a packed train.
The train was virtually empty and runs right by the sea so we could get seats by the window for a great view.
Our first stop was Pettah market.  It was all good wandering through the fruit and veg section until we hit the dried fish section and boys weren't impressed with the smell!
We visited the Old City Hall with a selection of former municipal service vehicles, including fire engines which the boys enjoyed and were guided around the rooms upstairs which included intriguing waxworks of the former councilors from 1906.
From there we went to the Dutch Hospital for lunch. They have a great selection of restaurants and shops in the converted hospital.
We had a delicious lunch at the Ministry of Crab and then headed back to the train station and back to the apartment for a snooze.
Wandering around Colombo in the heat is tiring for little people and combined with the chaos of the market experience, they were shattered!
We woke up in time to get down to Mount Lavinia for a sundowner on the beach and a lovely dinner with the sand … It is a bit hairy as you have to walk along the train tracks in the dark to get back to the station and the last train is 7 pm.
Day 14: Sightseeing in Colombo
We had done so much travelling around in our two weeks and we didn't fancy another day of walking in the heat before getting our onward flight so we did something completely different.
Not far from our apartment was a cinema showing movies in English so we went to watch Mary Poppins which the kids loved and we enjoyed the air-con!
From there we took a tuk-tuk to the Cinnamon Gardens area for a wander around the leafy colonial streets to see some beautiful and huge residences, and then to Arcade Independence Mall for lunch.
And then it was time to grab our bags and head to the airport. There are a few different ways to get to the airport, but we would not advise jumping on a train from Wellawatte!
We thought it would be an hour but the trip ended up taking 2 hours on a packed commuter train. We grabbed a tuk-tuk from the station to the airport and had to ask him to floor it!
Tuk-tuks aren't allowed into the airport so he had to drop us at the entrance and we made a mad dash to check in with 5 mins to spare before our gate closed.
It was only 50p for all of us but was so not worth the stress of watching the little blue dot crawl along the train line on Google Maps! Next time we'll spend $20 and get a taxi.
Farewell Sri Lanka, for now. There are so many amazing places in this world to visit but Sri Lanka holds a special place in our hearts, so we will be back.
Sri Lanka Family Travel Tips
We recommend tuk-tuks for shorter journeys. They are fun, cheap, and zip in and out of traffic. For longer journeys between accommodation, consider taking a taxi or train. It is quite uncomfortable for a family of 4 plus luggage to fit into a tuk-tuk and the bus drivers can be a little crazy, especially on the road up to Ella. It is much safer in a car.
You can arrange a private driver independently or arrange one through your hotel. If you arrange through your hotel make sure to confirm the price in advance.
Take a car seat or booster seat for your little ones as there are no car seats if you are booking cars as you go.  A great one we love to travel with is Bubble Bum.
We were there peak season (14th – 28th December) and so some of the property prices were inflated. They are much more affordable outside of this period which is something you may want to consider if you have the flexibility and have your eye on something a little special. There are so many beautiful and reasonably priced accommodation options in Sri Lanka!
Find Accommodation in Sri Lanka
Read our guide on our top picks for the best family accommodation around Sri Lanka, or check out Booking.com for more options.
If you found this post helpful, why not bookmark it, share it with friends or pin it for later?