Half-day safari in Udawalawe National Park
Udawalawe National Park is backed by the dramatic highlands to the north and made up of 119 square miles of open grassland, with wetlands and dense jungle. It lies about 160km southeast of Colombo (around a four-hour drive) and 120km northeast of Galle (around two hours 45 mins) by car – so a relatively easy hop from Sri Lanka's stunning southern beaches.
The park was created in 1972 to provide a habitat for animals displaced by the construction of the Uda Walawe dam. The damming of the Walawe river created a reservoir and wetlands which attracted many aquatic birds and animals. The park is now famed for its elephants and has the largest population of Asian elephants of all of the national parks in Sri Lanka. With around 500 resident elephants, if you want to do some elephant-spotting Udawalawe would be a good choice, with elephant sightings all but guaranteed on a jeep safari.
The best time to go on a safari in Udawalawe is between December and March and May to September – during dry season when there will be less scrub, and it's easier to see elephants. Access can also be an issue out of these months, with roads and tracks getting flooded.
We chose to visit Udawalawe with the kids in December because we knew they would love the elephant spotting and it was conveniently on our loop of southern Sri Lanka.
We left our accommodation near Unawatuna on Sri Lanka's south coast at around 1pm after having an early lunch (there's nothing worse than going on a long car journey with the kids when they demand to stop for food as soon as you set off!). We find with our boys that if we give them a run around in the morning followed by lunch, they're more likely to fall asleep in the afternoon in the car, and then there is less 'Are we nearly there yet?'. Our eldest, Ernie, also suffers from travel sickness so we like him to have a sleep when we're driving. We've found that the best way to combat car sickness is to put him in the front seat (which he loves as he feels very grown up) and he wears travel sickness bands.
The guest house we were going to in Udawalawe organised our transport for us because we didn't have our own driver for our trip – something that seems quite common in Sri Lanka. Although they knew we were a family of 4 with 2 large bags, they sent a tiny car. Maybe there was some element of miscommunication but lesson learned – when booking a car and driver always clarifying in advance what type of car you'll have.  We all squeezed in – it was still a little bit more roomy than a tuk-tuk – and set off.
According to Google Maps Udawalawe should be around 2 hours 45 mins from Galle but there's no accounting for what the traffic will be like. The journey ended up taking us around 3 hours 30 mins because traffic was quite heavy, on single lane roads. We were also travelling on a Poya day.  Every full moon is a public holiday in Sri Lanka, meaning more Sri Lankans travelling on the roads. This is something you can check in advance when planning your itinerary.
As a side note, some people arrange day trips to visit Usawalawe National Park. However, unless you want to get up in the middle of the night to get to the park for the best wildlife spotting opportunities and have a very long day travelling, we'd recommend staying locally the night before. There are dozens of small accommodations of varying sizes and budgets within 10 minutes drive of the main park entrance.
We decided to stay in budget accommodation for this part of our trip because we just needed a bed for the night – arriving late afternoon and up at 5.30am for our safari. We stayed at Peacock Riverside which was basic (had hot water, ceiling fans and mosquito nets) but the owner and his wife (and their inquisitive 2 year old) were very friendly and accommodating. The highlight was the food. It was some of the most delicious food we had in Sri Lanka. Very simple homemade cooking but the flavours were exquisite, and never-ending portions. We find it hard to capture how delicious it was with a photo but the fact that the boys allowed us to pile their plates with it is a giveaway!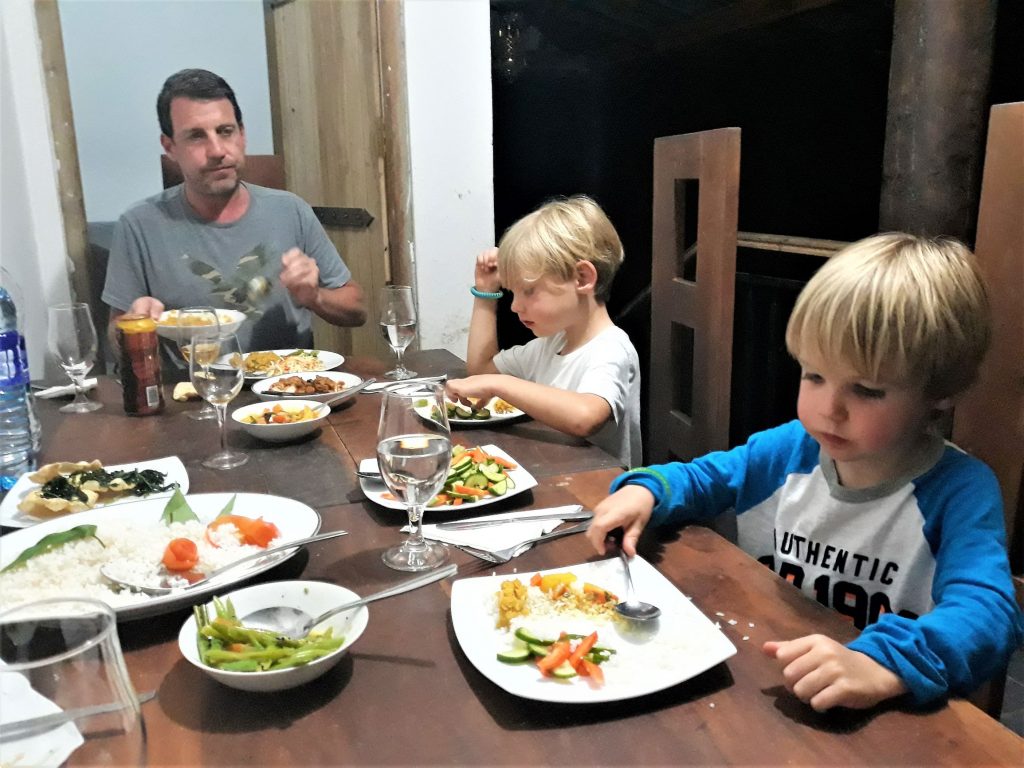 We had an early night and set the alarm for 5am. Our host had arranged for the jeep to pick us up at 5.30am so that we could get to the park, get our tickets (expect to queue or for your driver to queue for up to 15 minutes at the ticket office) and get in for 6am when it opened. An early start (or dusk safari) gives the best opportunity of seeing wildlife as the animals are most active then (read our guide to wildlife spotting).
After getting our tickets, we drove straight into the park. The first thing we heard (after getting away from the many other jeeps at the entrance) was the call of peacocks, and very quickly noticed the abundance of bird life to start with. Within five minutes we saw eagles, peacocks, bee-eaters and many other birds we weren't familiar with. Neither did Udawalawe disappoint on the elephant front. We saw several individual elephants up close and in the distance, and a couple of family groups – including babies and adolescents – hanging around and feeding.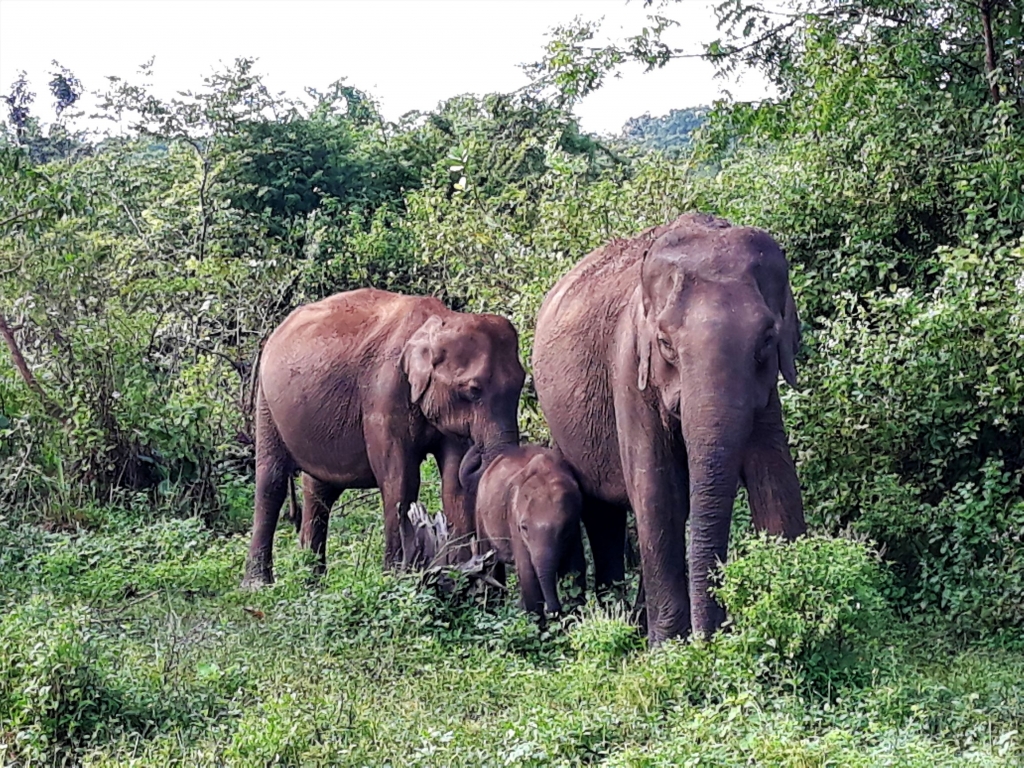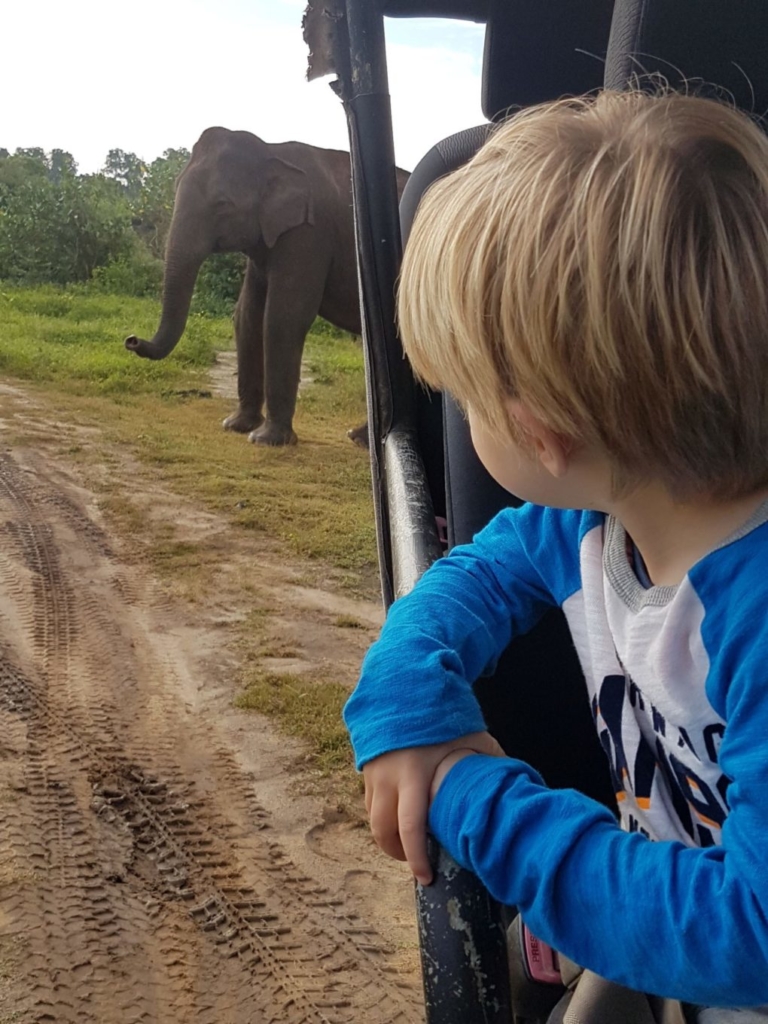 We then headed to the wetland section of the park, surrounding a huge lake and populated with many types of aquatic birds (egrets, cormorants, stork, heron, and no doubt others we couldn't distinguish!). On the far side of the lake we were told there was a crocodile sunbathing on the shore. Although we had binoculars we still weren't sure we could make it out. It looked like a log! If it was our crocodile it most certainly wasn't our best sighting of one 🙂 Some guides have amazing eyesight and will spot things that you may be completely oblivious to. Kids are also great spotters, as long as they're not thinking about what snack they can have! (Tip – bring plenty!).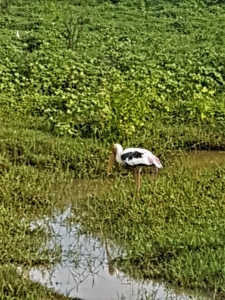 Half day safaris are probably enough if you have young children. They last about 3 hours. Any longer and we find the kids start to get restless. Our guide had no problem cutting ours a little short when the kids started getting hangry!  If you are staying a couple of days, you could do a morning and an afternoon safarito see the park at different times of day.
If you arrange a jeep through a tour company, please do check the reviews. Some offer a poor experience with inexperienced drivers/spotters. We had to flag one driver to slow down as he was about to run over a monitor lizard that he hadn't spotted. We also spent a little while helping out a family whose driver had got them stuck in a large mud rut and broke their axle trying to get out. Our driver was not impressed and explained that there are a few cowboy operators out there. It added to the excitement for the boys though, and we'd seen so much wildlife already that we weren't bothered by it. Sadly we didn't spot the elusive leopard, but we knew that this would be unlikely. For better chances of seeing leopard, you may want to consider heading to Yala National Park, which supposedly has the highest density of leopards of any national park worldwide. We did indeed see a leapord there, though sadly it was dead and being eaten by a crocodile… but that's another story.
Happy spotting!
Udawalawe Safari Costs
Our costs for arranging a safari at Udawalae were:
Private jeep with dirver/guide – around LKR 3500 (£15) for half day (3-4 hours)
Park entrance fees of $15 / £11.50 per adult and $8 / £6 per child (under 6 are free) plus a LKR 250 (£1) jeep charge, all plus 15% tax
You can check here for the most up to date park fees.
Top Udawale National Park Safari Tips
Go to the bathroom before setting off as there are no facilities in the park!
To keep the kids interested and engaged, why not print off our family-friendly animal spotting list. Take a pen.
Interesting animal fact – Sri Lanka has the highest number of deaths from snake bites each year – but don't worry, unless you are wandering around in the rice paddies or in rural areas at night you are highly unlikely to ever see a snake – much to my boys' disappointment!
Find accommodation around Udawalae National Park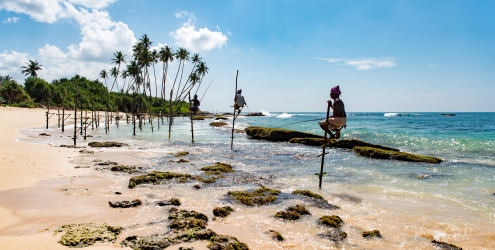 https://flashpackingfamily.com/wp-content/uploads/2019/04/daniel-klein-573630-unsplash.jpg
4912
7360
Jacs
https://flashpackingfamily.com/wp-content/uploads/2019/02/white-logo-300x150.png
Jacs
2019-03-21 05:15:29
2019-11-16 22:30:32
The perfect 14-day family-friendly Sri Lanka itinerary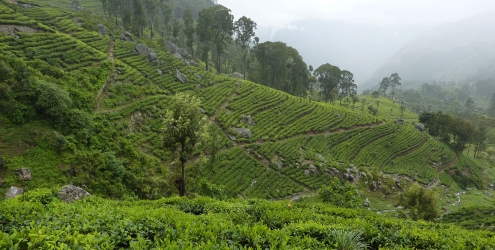 https://flashpackingfamily.com/wp-content/uploads/2019/02/tea-plantations.jpg
1732
2309
Jacs
https://flashpackingfamily.com/wp-content/uploads/2019/02/white-logo-300x150.png
Jacs
2019-03-14 05:58:07
2019-11-09 20:46:03
Tea tasting & tea estates in Sri Lanka's Hill Country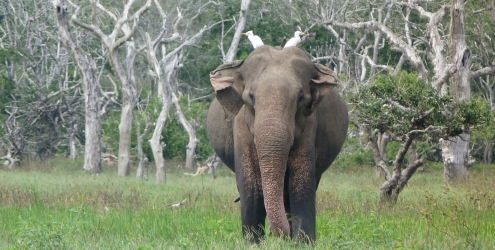 https://flashpackingfamily.com/wp-content/uploads/2019/02/egret-on-elephant.jpg
1732
2309
Jacs
https://flashpackingfamily.com/wp-content/uploads/2019/02/white-logo-300x150.png
Jacs
2019-03-11 19:58:03
2019-09-29 13:35:28
Yala National Park - where crocodiles eat leopards!
https://flashpackingfamily.com/wp-content/uploads/2019/02/Bentota.jpg
1732
2309
Jacs
https://flashpackingfamily.com/wp-content/uploads/2019/02/white-logo-300x150.png
Jacs
2019-03-07 13:38:35
2019-10-15 15:03:43
Best family friendly beaches of southern Sri Lanka