The Best Places To Go Pumpkin Picking In Florida In 2023
Wondering whether you can go pumpkin picking in Florida?
With its year-round sunshine, you may not realize that you can visit pumpkin patches in Florida.
If you can tear yourself away from Florida's beautiful beaches (which are best beaches you will find in the US) or the theme parks (and all the other fun things to do in Florida with kids), there are actually many excellent places to go pumpkin picking in Florida.
Most of these pumpkin farms in Florida have lots of Fall activities to enjoy for the whole family like corn mazes and hay rides too so you could spend the whole day there.
Whether you are a Florida resident or heading to Florida for Halloween, we've listed the places to go pumpkin picking in Florida. Our picks are based on their pumpkin patches AND extra Fall activities.
If Fall is coming to a close and you are thinking about Christmas, we highly recommend checking out the Polar Express train rides!
This post contains affiliate links. If you click on one and buy something, we may earn a small commission but this is at no extra cost to you.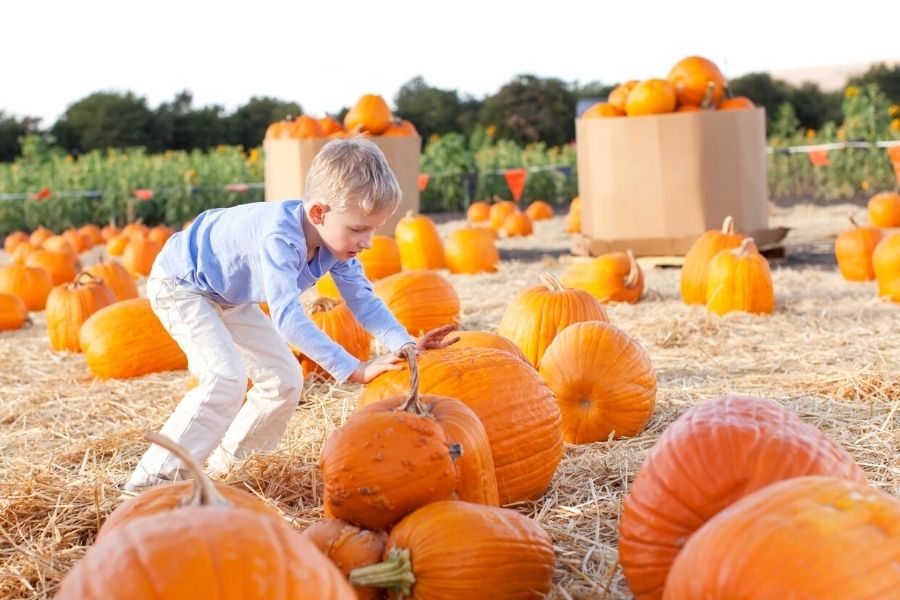 These are the best places to go pumpkin picking in Florida this year..
Wait… before you go, make sure to check out our tips for pumpkin picking in Florida and grab your pumpkin carving kit. Just a simple kit will give you great results.
Hunsader Farms
Just south of Tampa and close to the beautiful Anna Maria Island is Hunsader Farms.
It holds one of Florida's most popular pumpkin patches and Fall events.
They have one of the biggest pumpkin patches in Florida where you can choose your own pumpkins for an extra cost depending on size.
Hayrides, a petting zoo, live music and entertainment and a craft show are included with admission.
You can also pay extra for a corn maze, food, train rides, and more.
Where: 5500 Co Rd 675, Bradenton, FL 34211.
When: 15th & 16th, 22nd & 23rd and 29th & 30th October 2022.
Tickets: $12 admission & $5 parking, Children 10 and under FREE (Cash only – some vendors accept cards).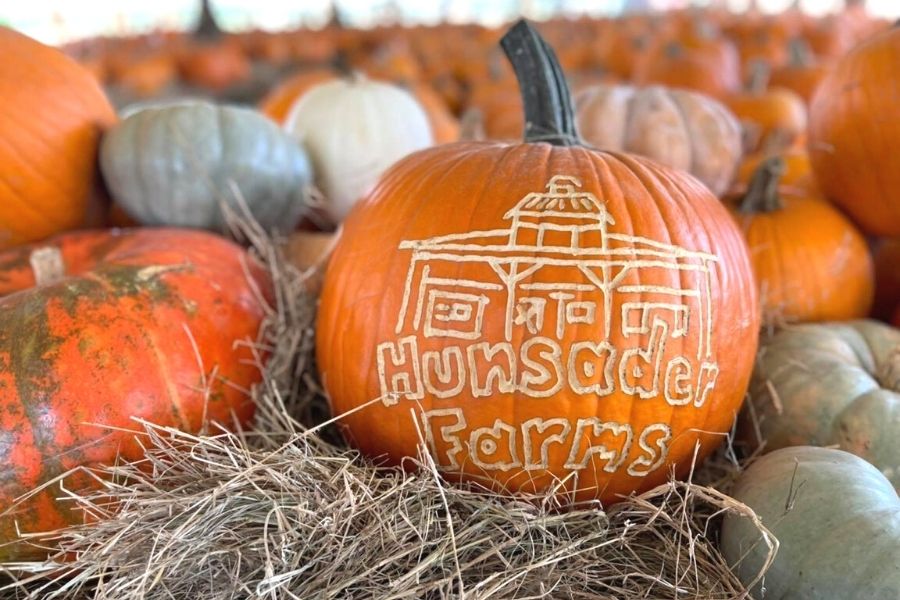 Coon Hollo Farm
Coon Hollo Farm, a 5th-generation family farm, is just south of Gainesville. The pre-picked pumpkin patch is fun and easy for kids to choose a pumpkin from.
They have lots of other Fall activities included in the price of admission, including hayrides, pony rides, a maze, mini-golf, and visits with farm animals.
In May, you can also visit them for their Spring Festival, which features sunflowers and some activities like in the Fall.
Where: 22480 US-441, Micanopy, FL 32667.
When: Weekends from 7th October to 6th November 2022.
Tickets: $12.50 per person; 3 years and under are free.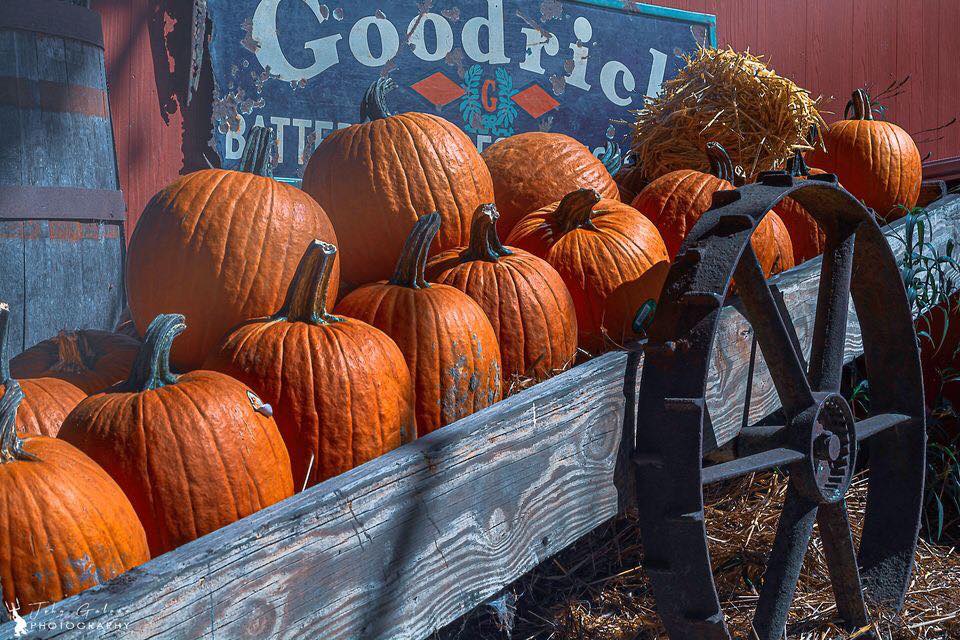 Southern Hill Farms
Southern Hill Farms is one of the closest pumpkin patches to Orlando.
It has a huge selection of pumpkins, although they are not grown on the farm. Here are the six varieties of pumpkins they have:
Gorgeous Whites
Heirlooms
Jumbo Jacks
Minis (orange and white)
Stem Pies
Tiger Stripes
There are a lot of other family events during the Fall Festival, like a corn maze and a petting zoo.
And, in the spring, they have U-Pick fruit days where you can get fresh blueberries, peaches, vegetables, and beautiful flowers.
If you're in the Orlando area and want to visit a beach – check out these closest beaches to Orlando. See also these recommendations for the best hotels near Universal Studios Orlando for families.
Where: 16651 Schofield Rd, Clermont, FL 34714.
When: Sept 24th – 13th Nov 13th.
Tickets: $20.00 per person. Under 2 – FREE.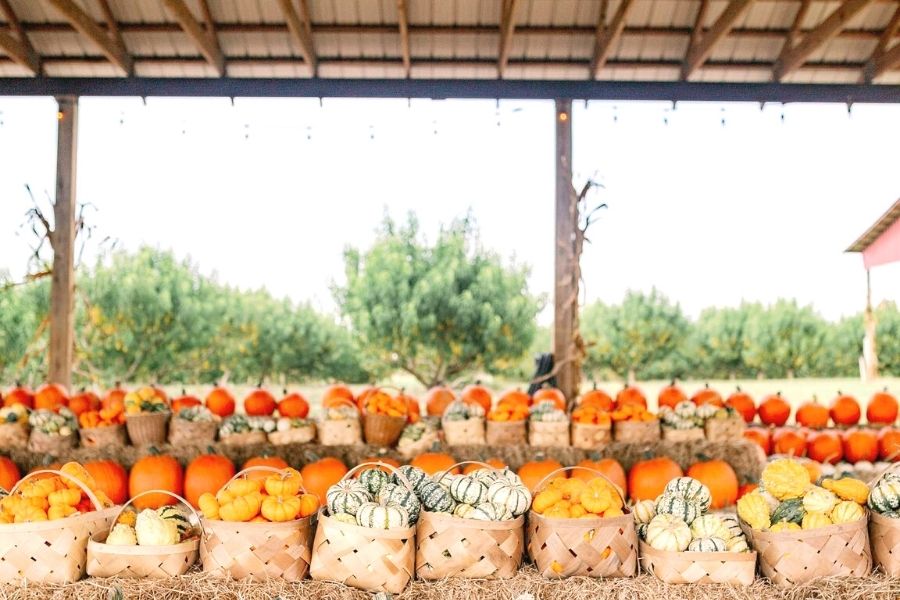 The Pickin' Patch
Previously recognized by Better Homes & Gardens as the best pumpkin patch in Florida. The Pickin' Patch is located just north of Dunnellon in Marion County.
They have a huge pumpkin field full of U-Pick pumpkins.
Other activities available are a hay maze, hay fort with slides, corn maze and live music.
Where: 11000 Rolling Hills Rd, Dunnellon, FL 34431.
When: There will no NO PUMPKIN PATCH in 2022.
Tickets: $5 per person. Under 3 – FREE. Pumpkins are an additional cost. Most major credit cards accepted.
Partin Ranch Corn Maze
Partin Ranch Corn Maze, 13 miles south of St Cloud and perfect if you're looking for pumpkin patches in central Florida.
It is so much more than just a pumpkin patch. They have lots of Fall activities like hay rides, combine harvester rides, zip lines, ranch animals and more.
Don't forget your camera as they have some gorgeous Fall photo props.
The most up to date information can be found on their Facebook page.
Where: 5601 N Canoe Creek Rd, Kenansville, FL 34739.
When: Opens October 8th.
Tickets: $10 per person. Under 2 – FREE. Pumpkins are an additional cost. Food and craft vendors only accept cash.
Sweetfields Farm
Sweetfields Farm is north of Tampa and west of Orlando. They have a pumpkin patch available on the farm during their Fall event.
Picking pumpkins costs extra, but admission to the event includes a corn maze, hayrides, visits with farm animals, crafts, and more!
You can visit Sweetfields for sunflower picking and a sunflower maze in the spring.
Where: 17250 Benes Roush Rd, Brooksville, FL 34604.
When: September 24th to October 30th 2022.
Tickets: 3 years and older $9.75 + tax and online ticket fees; 2 years and under are free.
The Little Farm
Looking for a pumpkin patch in south Florida? The Little Farm is one of the most southern places to go pumpkin picking in Florida. If you're looking for pumpkin patches in the Florida Keys, this is about as close as you'll get.
At the farm in the Fall, they have a large pumpkin patch where you and your family can pick your own pumpkins.
Plus, there are pony rides, a petting zoo, a market and more during the Fall season.
You can also visit the farm on most weekends for a petting zoo, butterfly garden, a barn presentation and more.
Where: 13401 SW 224th St, Miami, FL 33170.
When: Weekends starting 10/8 through 10/30.
Tickets: TBC for Fall events; $10 outside of October.
Bedner's Farm Fresh Market
Bedner's Farm Fresh Market is between Palm Beach and Boca Raton, and they have a large pumpkin patch every year during their Fall Festival.
Also included at the festival are an animal park, tractor rides, and entrance to the corn maze and sunflower field.
Outside of the Fall Festival, you can visit the farm or one of their other markets for fresh produce and U-pick fruit which varies by season.
Where: 10066 Lee Rd, Boynton Beach, FL 33473
When: Beginning September 24th, 2022, closed on Tuesdays.
Tickets: $22 per person. Children under 2 are free.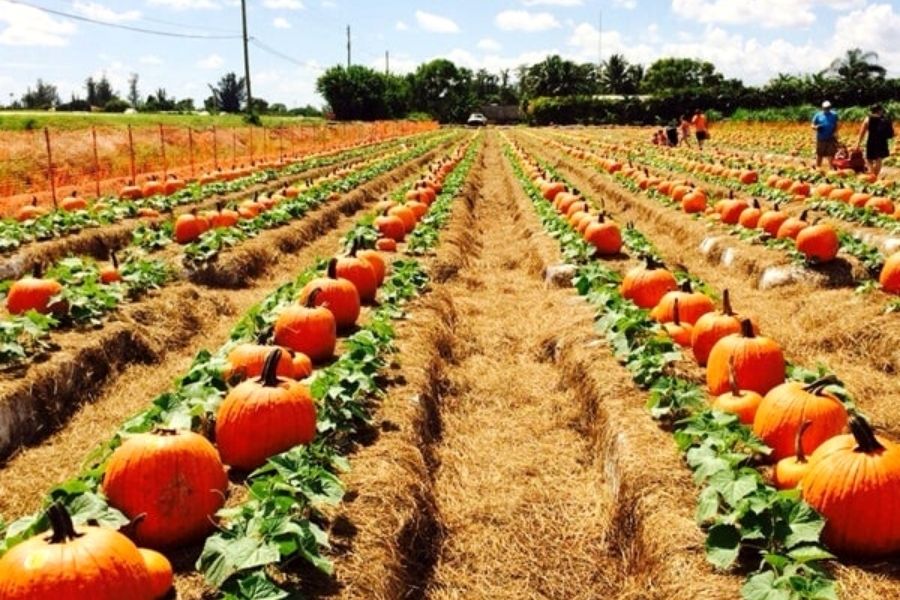 Holland Farms
Holland Farms is an excellent place for pumpkin picking in the Florida Panhandle.
They have a huge pumpkin patch and there is a ticket option that comes with one pumpkin and many other Fall activities that are great for people of all ages.
There is a train ride, huge slides and sunflower fields to enjoy during your visit.
The family farm primarily produces a variety of peanuts, which you can also buy when you visit the farm.
Where: 2055 Homer Holland Rd, Milton, FL 32570.
When: Late September to early November.
Tickets: $14 wristband per person for pumpkin patch (includes one pumpkin), hayride, and all other activities; $7 for single pumpkin; $12.00 per person for general admission – includes admission to the playground, hayride, and maze; Kids 2 and under are free.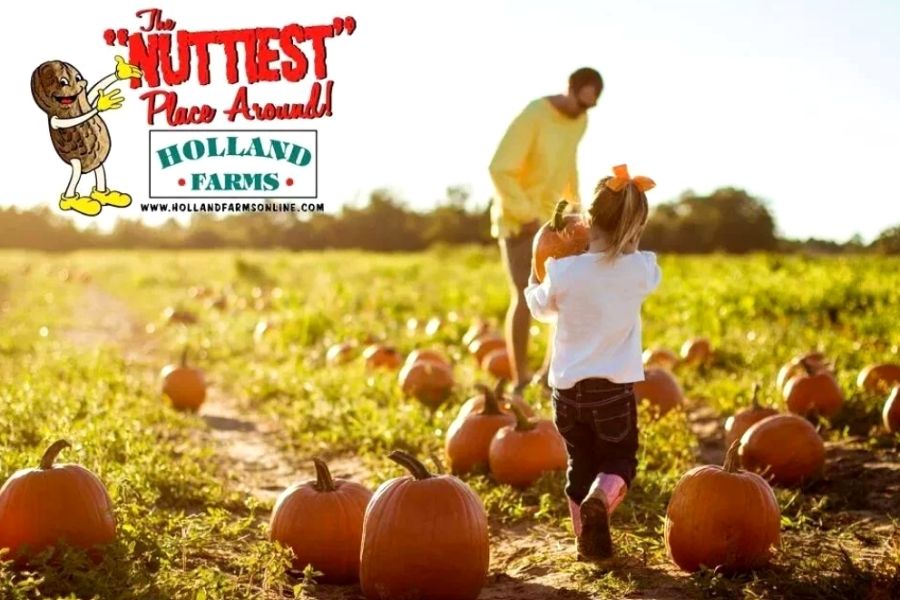 Sykes Family Farms
Sykes Family Farms is a fun place for pumpkin picking near St. Augustine, Florida, since it has a lot of other fun Fall activities.
They have a nine-acre corn maze, which is great for exploring before picking out your pumpkin.
There's also live music, animals, cow milking, hayrides and more which are included in your ticket price.
Where: 5995 Brough Rd, Elkton, FL 32033.
When: October 1st – 30th 2022.
Tickets: (Pumpkins sold separately) -Children 2 and under: FREE, General Admission (ages 3 to 64): $15, Senior Citizens (65+): $13, Military (w/ID): $13.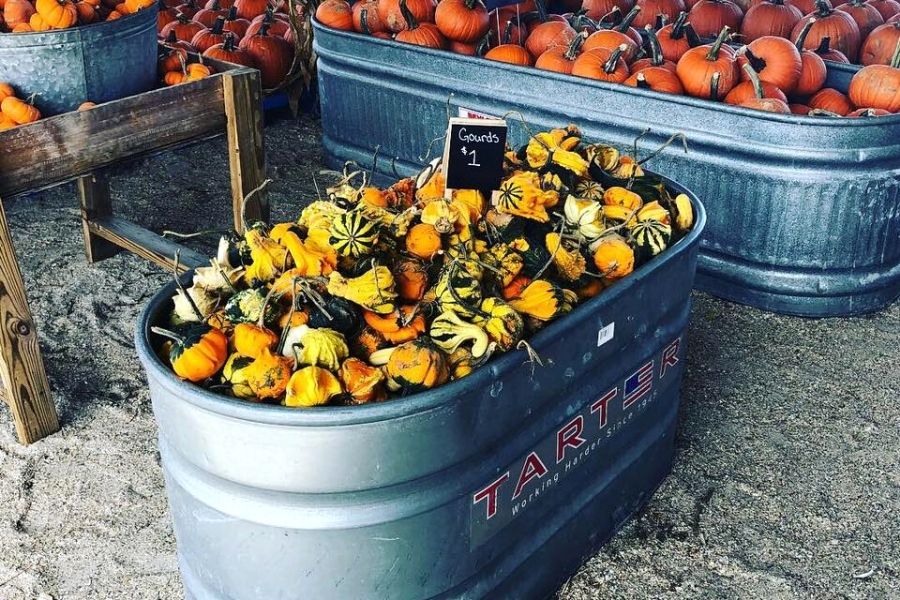 Conner's A-Maize-Ing Acres Farm
Conner's A-Maize-Ing Acres Farm is a family-owned farm northwest of Jacksonville – billed as Jacksonville's best pumpkin patch.
They sell pumpkins which you can pick out from the patch.
Other Fall activities and events include a corn maze, wagon rides, and horseback rides, some of which require additional costs.
Where: 19856 Co Rd 121, Hilliard, FL 32046.
When: October 1st thru October 29th. Fridays 4 pm to 10 pm and Saturdays 10 am to 10 pm.
Tickets: Online Tickets – 2yrs & up $17.99 + tax & online fees; At the farm – 2yrs & up $19.99 + tax. 23 months and under are Free.
Other places to go pumpkin picking in Florida
Dave's Pumpkin Patch – in Brandon near Tampa.
The Berry Farms – Miami.
Taking a vacation this Fall?
Planning on visiting New York in the Fall? Here's where to find the best pumpkin patches in New York.
If you are visiting California, check out one of these pumpkin patches in California.
If you want to check out what is happening in the UK this Fall, we have a guide to the best family-friendly Halloween events in the UK.