Exploring Heartwood Forest in Hertfordshire
Heartwood Forest is a lovely 858 acre site in Hertfordshire, most of which was previously agricultural land that has been redeveloped by The Woodland Trust. Undertaking an enormous replantation project, The Woodland Trust has created the largest (new) native forest in England.
As well as the new parts of the forest, Heartwood Forest is made up of four ancient woods: Round Wood, Langley Wood, Well and Pudler's Wood and Pismire Spring.
There are also open grasslands where you'll find beautiful wild flowers in the summer months. These fields are teeming with insect life. If you're looking for Hertfordshire walks for families, Heartwood Forest is a fantastic choice. It's also a great dog friendly walk in Hertfordshire.
Where is Heartwood Forest?
Heartwood Forest is located next to the small village of Sandridge and close to Saint Albans. It is easily reached from London by train. You can take a Thameslink direct train from Kings Cross St Pancras to Saint Albans or Harpenden which takes under 30 minutes and then take a taxi.
If you are driving from central London, head north out of London on the A1M. Take exit 3 for Saint Albans and then head north west of Saint Albans to Sandridge. The postcode is AL5 4DQ.
Heartwood Forest Parking
The car park at Heartwood Forest is a reasonable size and there is an overflow car park in the summer months. It is free to park here.
The car park is open between 8 am and 5 pm during the winter months and between 8 am and 7 pm in the summer months.
Heartwood Forest map
This map of Heartwood Forest shows the ancient woodlands and the newly planted areas. You can clearly see from this map how much as been planted recently.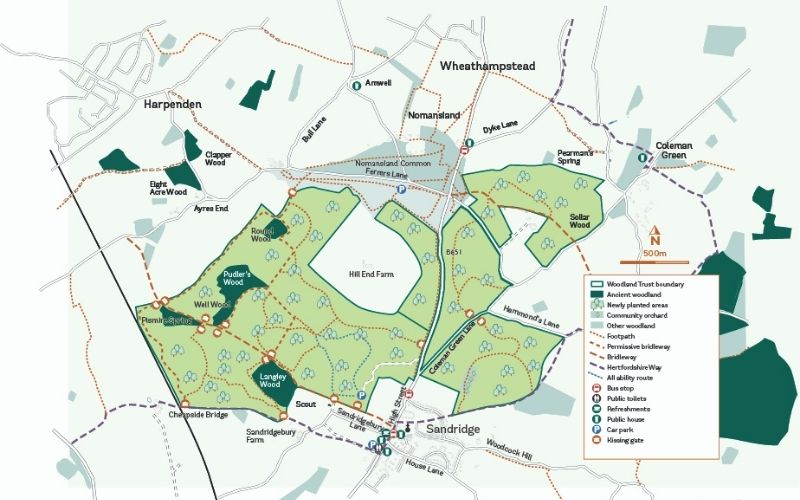 Best time to visit Heartwood Forest
Heartwood is a lovely place to visit all year round. We have been taking the kids since they were tiny and have been on cold winter days, during the spring to see the bluebells and during the summer to see the wild flowers. Around the beginning of June, there is a burst of crimson when the poppies flower.
Heartwood Forest bluebells
Heartwood Forest is one of the best places in Hertfordshire to visit bluebells and a beautiful place if you are looking for outdoor activities in the spring (usually between mid-April and mid-May). Bluebells are protected under the Wildlife and Countryside Act and every care is taken to make sure that the bluebells in the bluebell woods are not trampled.
Please stay to the paths when visiting the bluebells. Even after the bluebells have seemingly finished, they remain fragile.
If you are wanting to do a bluebell photoshoot, you can still get a lovely shot by sticking to the paths. It's all about finding the right angle. Here are some tips from the National Trust on photographing bluebells.
Heartwood Forest walking trails
There are three main walking trails at Heartwood Forest: Magical Meander, Wildlife Wander and Heartwood Hike. They are all easy walks.
Magical Meander
This walk is perfect for families. Our kids love the wooden sculptures along the way.
1.5 miles (2.4km)
Wildlife Wander
This walk takes you through the various animal habitats where you will see various birds, butterflies and wild flowers
2.5 miles (4km)
Heartwood Hike
This walk takes you on the Wildlife Wander and then off through the ancient woodlands.
2.75 miles (4.3km)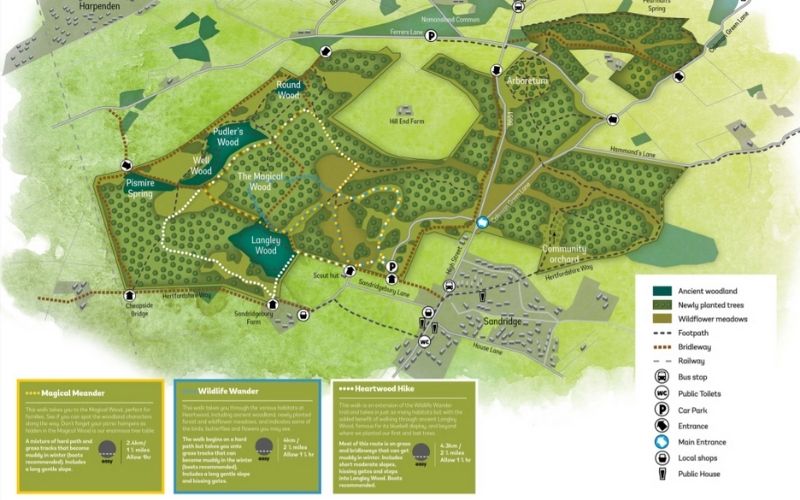 Heartwood Forest walking trails
Heartwood Forest Magical Wood
Our favourite walk is The Magical Wood. It is a lovely trail for younger kids with wooden scultpures to spot along the way. Make sure you don't miss the beautiful wooden arch with all of the carved woodland creatures on.
There are picnic tables in this area and it's a lovely spot to enjoy a picnic lunch on a warm day. The boys particularly loved the bamboo tunnel next to the picnic tables.
Facilities at Heartwood Forest
Bear in mind when visiting that there are no facilities at Heartwood Forest. There are no toilets on site (although you can normally use the public toilets in the nearby Sandridge Village Hall when it is open). There is also nowhere to eat on-site but it is a great place to enjoy a picnic.
If you are looking for somewhere to eat, we can highly recommend the following nearby places:
Heartwood Tea Rooms for lovely cakes and light bites
Things to do near Heartwood Forest
Alpacas
How about an Alpaca experience at the neighbouring Meadow Field Alpacas
St Albans
Take a wander around the historic town, visiting the cathedral and the Museum and Roman ruins at Verulamium.
Hatfield House
As well as visiting the house and gardens, there are always events going on at Hatfield House.
Knebworth House
Visit the house and gardens of Knebworth House with its challenging maze, dinosaur trail and amazing playground and giant slides.
Other woodland walks in Hertfordshire
https://flashpackingfamily.com/wp-content/uploads/2021/05/Walberswick-village-in-Suffolk.jpg
500
800
Jacs
https://flashpackingfamily.com/wp-content/uploads/2021/02/logo-grad-300x136.png
Jacs
2021-05-05 08:41:25
2021-05-05 08:41:25
Walberswick: A Complete Guide To This Idyllic Coastal Village
https://flashpackingfamily.com/wp-content/uploads/2021/04/Dunwich-Heath-walks.jpg
500
800
Jacs
https://flashpackingfamily.com/wp-content/uploads/2021/02/logo-grad-300x136.png
Jacs
2021-04-26 19:14:22
2021-05-05 08:43:15
5 Truly Stunning Dunwich Walks In The Suffolk AONB
https://flashpackingfamily.com/wp-content/uploads/2021/04/Views-from-Dunstable-Downs-over-the-surrounding-counties.jpg
500
800
Jacs
https://flashpackingfamily.com/wp-content/uploads/2021/02/logo-grad-300x136.png
Jacs
2021-04-13 11:15:29
2021-04-13 11:15:59
Exploring The Stunning NT Dunstable Downs in Bedfordshire
https://flashpackingfamily.com/wp-content/uploads/2021/03/Woolacombe-beach-in-North-Devon.jpg
500
800
Jacs
https://flashpackingfamily.com/wp-content/uploads/2021/02/logo-grad-300x136.png
Jacs
2021-03-29 13:29:35
2021-04-26 19:20:23
55+ Stunning UK Coastal Campsites You Don't Want To Miss
https://flashpackingfamily.com/wp-content/uploads/2021/03/Hertfordshire-walks-for-families.jpg
500
800
Jacs
https://flashpackingfamily.com/wp-content/uploads/2021/02/logo-grad-300x136.png
Jacs
2021-03-23 19:41:20
2021-04-13 11:19:35
8 Fun and Easy Hertfordshire Walks For Families
https://flashpackingfamily.com/wp-content/uploads/2021/03/Blenheim-Palace-Christmas-lights.jpg
500
800
Jacs
https://flashpackingfamily.com/wp-content/uploads/2021/02/logo-grad-300x136.png
Jacs
2021-03-16 17:44:56
2021-03-18 19:12:04
The Magical Blenheim Palace Christmas Lights 2021
https://flashpackingfamily.com/wp-content/uploads/2021/03/Southwold-Beach-backed-by-colourful-beach-huts.jpg
500
800
Jacs
https://flashpackingfamily.com/wp-content/uploads/2021/02/logo-grad-300x136.png
Jacs
2021-03-11 11:14:48
2021-05-05 08:46:13
30+ Charming Things To Do In Southwold And The Local Area