The Lowdown on Tea Plantations in Sri Lanka
In this post we'll discuss everything you need to know about tea plantations in Sri Lanka. No trip to Sri Lanka would be complete without spending a little time visiting a Sri Lankan tea plantation in the Hill Country.
On a tea plantation visit you can learn all about tea picking and tea processing and also enjoy some fine Sri Lankan tea tasting.  It's probably a much more exciting prospect if you're a tea lover, but even if you're not, the Hill Country (or Tea Country, as it's sometimes called) is arguably the most scenic part of the island and worth a visit.
You'll find rolling hills clad with row upon row of luscious, green tea plants. It's often shrouded in a fine mist, and is the perfect escape from the heat of Sri Lanka's wonderful beaches (if you need an escape!).
The tea plantations of Sri Lanka offer such a beautiful contrast to the rest of Sri Lanka, and Hill Country is well worth including in your Sri Lankan itinerary along with some wildlife spotting on a safari in Udawalawe National Park or Yala National Park.
Before we go into all the information you need about visiting the tea plantations in Sri Lanka, you should bear in mind that you may need a Sri Lanka visa to enter the country. The visa can be applied for online.
This post contains affiliate links. If you click on one and buy something, we may earn a small commission but at no extra cost to you.
Jump to section: Sri Lank tea plantation areas | Tea history | What to expect from a tea estate visit | Best tea plantations to visit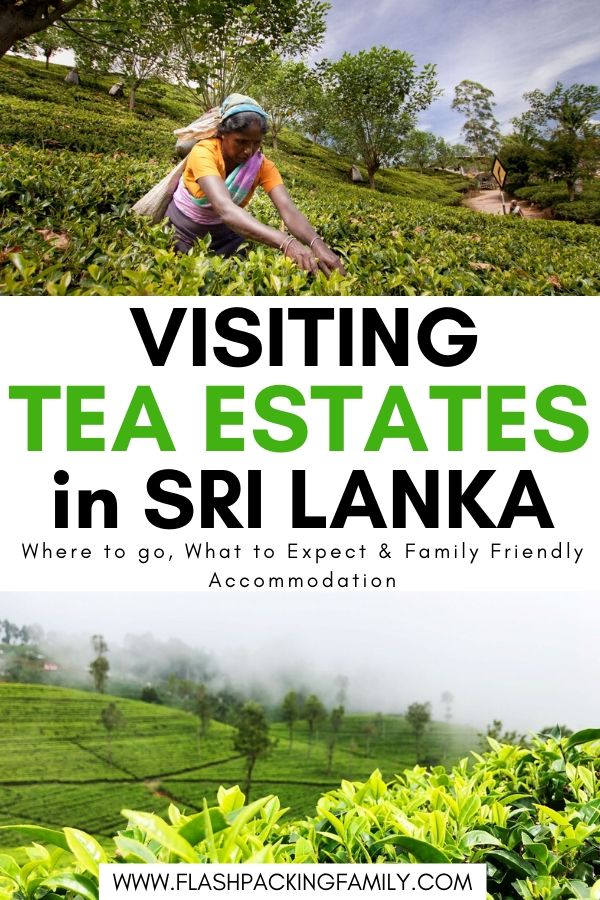 Where are the Tea Plantations in Sri Lanka?
Sri Lanka's tea country is located mainly in the central highlands, although some of the tea growing areas spread as far as the coast. The reason that tea grows well here is because of the topography and the climate. The fertile soil, humidity and higher rainfall provide excellent tea growing conditions and tea plants thrive. It's also quite a bit cooler in the highlands than the coastal areas due to its elevation.
One thing to bear in mind is that the Tea Country climate is changeable, and can be quite damp and rainy, so pack a fleece and a lightweight waterproof if you plan to visit a Sri Lanka tea plantation, just in case!
Sri Lanka's Tea Growing Areas
There are a number of Sri Lankan tea plantations covering large areas of the Hill Country, so the chances are you won't be too far from one wherever you are in Sri Lanka.  The main tea growing areas in Sri Lanka are :
Kandy
Nuwara Eliya
Uda Pussellawa (between Nuwara Eliya and Ella)
Uva (area around Ella and Badulla)
Sabaragamuwa (sweeping from west of Kandy down past Horton plains and to Udawalawe)
Dimbulla (between Hatton and Nuwara Eliya)
Ruhuna (southern province of Sri Lanka encompassing Yala)
The tea produced varies depending on where it's grown. The higher the elevation, the lighter and subtler the tea. Higher elevation tea plantations are found around Haputale and Nuwara Eliya.
The lower the elevation, the stronger and less subtle the tea. Lower elevation tea plantations are found near the coast in the area around Galle, where you'll find plenty of things to do and also in Matara.
Sri Lanka's Tea History
Sri Lanka, or Ceylon, as it was known when it was a British colony, is one of the largest tea producers in the world.
It's said that the first tea plant was brought back (i.e. smuggled!) from China by the British in 1824. It was planted in the Royal Botanical Gardens in Peradeniya, Kandy.
In 1867, a Scottish man and a huge name in tea, James Taylor, started growing the first commercial crop of tea on the Loolecondera Estate in Kandy. Although the first tea factory in Sri Lanka is no longer in operation, you can take a historic tour.
After a blight of the coffee crops, tea began to take over as the main crop of Sri Lanka, and now around 350 million kg of tea per year are exported by Sri Lanka.
Sri Lanka makes some of the best tea in the world, and it's ranked just behind Chinese tea, Indian tea and Kenyan tea.
It's not just the large tea estates producing tea, there are thousands of smallholders all contributing to the Sri Lankan tea industry.
How many tea plantations are there in Sri Lanka? That's pretty hard to answer as there are lots (and lots) of tiny smallholdings.
Tea production in Sri Lanka is huge which is just as well because according to Google, tea is the most popular beverage in the world.
What To Expect From A Tea Plantation Tour in Sri Lanka
If you love your tea and would like to learn more about the history and production process, it's well worth enjoying a tea plantation tour in Sri Lanka, where there are dozens of working factories you can tour for free, or at a small cost.
A typical tea plantation tour will take you through the fields to see the tea leaves being picked. You'll then follow the leaves as they make their way around the factory.
They're washed, dried, and shredded, and then the final loose leaf tea product is packed into tea chests.
It's fascinating to see a tea factory in action; from processing freshly picked leaves through to packing the finished product.
At the end of the tour, you'll learn how to make tea. Don't expect to find any Typhoo teabags here. What you will see is a cup of tea being made properly, with loose leaf tea in teapots and tea strainers. And then for the tasting.
As already mentioned, the tea industry in Sri Lanka is huge and employs many people, but we learned during our trip from one of our drivers that tea picking is extremely hard work, and the workers are not paid very much.
We had huge respect for the tea pickers when we observed them busy at work during our tour of the Sri Lankan tea estates.
The Most Popular Tea Plantation Tours in Sri Lanka
The most popular places to visit tea plantations in Sri Lanka are Kandy, Ella, Haputale, and Nuwara Eliya. This list of tea estates in Sri Lanka covers the main tea factories in these areas that you can visit to learn more about the tea industry in Sri Lanka.
Kandy Tea Plantations
Kandy (also known as the 'Hill Capital') is usually on most people's itineraries. It's the second-largest city in Sri Lanka and a UNESCO World Heritage site, particularly famous for the Temple of the Sacred Tooth Relic.
If you don't have time to venture further from Colombo into the Hill Country, then make sure you visit Kandy for a tea factory tour.
You can also get away from the main tourist spots on this tour of the lesser know Matale area.
Kadugannawa Tea Estate
Kadugannawa is about 20km west of Kandy. It's a great factory to visit because the lady giving the tours speaks great English and is very detailed in her explanation.
You will get the full explanation about black and green tea production from picking the leaves to the final product.
The tours are relatively quick which is good for the kids and are also free, with tea tasting at the end and a boutique with beautifully packaged tea gift sets.
Hanthana Tea Estate Factory
While in Kandy, make sure to pay a visit to the Ceylon Tea Museum located in a former tea factory.
You can learn a lot about tea production, view machinery and there's a shop and cafe with beautiful views over the region.
Ella Tea Plantations
The rolling green hills of Ella with views of Little Adam's Peak make it a beautiful place to stop over and visit a tea factory. The hill station has grown hugely in popularity and there is so much for families in Ella now.
See also our guide for things to do in Sri Lanka with kids.
See here for Little Adam's Peak and Nine Arch Bridge tour (with free 24 hour cancellation).
Halpewatte Tea Factory
If you want to visit a tea factory in Ella, Halpewatte is a good option. It's the largest tea factory in the Uva region and only about 3km out of Ella on the road north.
Entrance is LKR 525 / £2. It can be a bit hit and miss with non-production days, but it seems it is mostly not operational on Mondays. Tours last between 45 mins – 1 hour with tea tasting at the end and a shop for gifts and souvenirs.
If you're really pushed for time and won't have a chance to visit Halpewatte, you could visit the Newburgh Tea Factory which is on the way to Little Adam's Peak on the Passara Road. It produces green tea only and offers a quick insight into tea making.
Haputale Tea Plantations
Haputale is about an hour on a very scenic train ride southwest of Ella. The landscape is undulating, luscious emerald hills.
On a fine day, it's said you can see down to the south coast. Unfortunately, we visited on a cloudy and rainy day – but don't let that put you off! The scenery was still stunning and very dramatic.
If you're based on Haputale, here is a tour from Haputale taking in Ella, Nine Arch Bridge and Little Adam's Peak.
Dambatenne Tea Factory
The main factory in this area is Dambatenne. It was built by Sir Thomas Lipton in 1890 and is one of the best tours you can do in the hill country.
Realistically you will probably only do one tour on your trip (we did two but it was probably a bit much for the kids!). We chose Dambatenne because we could take a quick and very scenic train ride over from Ella and we wanted to check out Haputale and the view from Lipton's seat.
The tour fee is LKR 250. It is best to get there early on in the day, partly for the weather but also processing is more likely to take place in the morning. The factory is huge and the tour we had was very comprehensive although have heard that some people had a very rushed tour.
We were the only ones there (probably because of the weather!) so maybe that had something to do with it. We watched the production process from beginning to end and enjoyed a lovely tasting at the end. There is no production on Sunday or Monday.
It is quite a hike up from town to Dambatenne so with little ones we recommend a tuk-tuk.
You can take a tour from Ella of Dambatenne and Liptons Seat. See here for details.
Nuwara Eliya Tea Plantations
The Kandy to Ella train journey is one of the most scenic in the world, but at seven hours it can be quite long for little ones. What you can do is take a trip on a shorter section, like Ella to Nuwara Eliya.
Nuwara Eliya is beautifully scenic with a few other things to do, but mostly it's about the scenery (along with the 19th-century colonial vibes and architecture).
If you are stopping in Nuwara Eliya and want to visit a tea factory, you can try Mackwoods.
Mackwoods Tea Centre
Mackwoods is quite a short tour (good for the kids) so you get a rough overview rather than an in-depth explanation.
The tour is free with tea tasting included. You can also buy cake in the tea room to go with your tea. There is a gift shop but it's quite expensive.
Pedro Tea Estate
Pedro Tea Estate is the probably the most famous tea factory in Nuwara Eliya but as it produces a light tea, most of the production takes place at night.
You also cannot take photographs here. If you still want to go, it is about 3.5km East of Nuwara Eliya. Entrance is LKR 250 with tea tasting.
Interesting fact – a good old mug of tea, or builders tea as we call it, is made up of the dregs of the crop called 'dust'!
We hope that you will manage to work a couple of days in the Hill Country into your itinerary. Even if you're not a tea enthusiast and are not tempted by the tea plantations in Sri Lanka, then it's still worth going for the views and train rides!
Top Tip when Visiting Tea Factories in Sri Lanka
When doing any kind of tour, try to use the toilet facilities in your (or a nearby) hotel when possible, as the facilities in some of the factories are the hole-in-the-ground squat toilets that can get a little messy!
Final thoughts on Sri Lanka tea
Is Sri Lanka tea good? We get asked this a lot. We say yes, but we also say go see for yourselves. It's about a whole lot more than just the tea.
Find Accommodation in Sri Lanka's Tea Country
There are a lot of accommodation options in the Hill Country, but we feel that it's the ideal place to stay in colonial style, plantation accommodation for a more authentic stay.
We've highlighted our favourite Sri Lankan tea estate accommodation for each budget. If you don't find what you're looking for, you can find more on Booking.com.
Luxury
Thotalagala Plantation House Hotel – if you're staying in the Hill Country and want to feel like you're being transported back to the colonial days of British Ceylon, this is the place to stay.
Winner of various Condé Nast awards, it's a beautiful tea planter's bungalow on the Dambetenne Tea Estate in Haputale. The views from the pool and the grounds in general are just outstanding.  It is family-friendly, although no children under 6.
Goatfell –  former tea plantation bungalow perched high up on a hill near Nuwara Eliya. It has been beautifully restored and allows total relaxation, whether on the covered veranda or by the infinity pool overlooking the tea plantations.
They offer interconnecting rooms for families, or large rooms that can fit extra beds.
Mid-range
Craig Appin by Jetwing – a small, 4-bedroom colonial bungalow on the slopes of the Dickoya Tea Estate in Nuwara Eliya. They have a large family room and beautiful gardens.
The Plantation Villa Resort in Kalutara, offering yoga, cooking, a wonderful pool area, a children's playground and huge grounds with mini waterfalls.
Heritance Tea Factory – lovingly restored former tea factory with some of the original machinery still in place. It's perched on the top of a hill in Nuwara Eliya with 360 scenic views (if you're not shrouded in mist). Outdoor play area for kids, childcare services and spa facilities are available.
Budget
Tea Hills Bungalow – not entirely a budget option, but one of the best value options in Hatton. They have large, family rooms and beautiful views.
The Castlereagh Resort – a lovely, simple but clean guesthouse in Hatton with a large family room with a balcony overlooking the lake.
If you found this post useful, why not bookmark it, share it with friends or pin it for later?