Level8 Luggage Review: Textured Luggage Set 20″ & 28″ (2023)
This article is sponsored by LEVEL8 who sent us the Level8 Textured Luggage Set 20″ & 28″ to try out for the purpose of writing a Level8 luggage review. All opinions expressed in our Level8 luggage review are our own.
When Level8 approached me and asked me to write a review of a Level8 Luggage set I was intrigued because I hadn't heard of them before.
Level8 is a New York based premium suitcase brand, producing well-made cases. They have only recently started shipping to the UK – which is why you may not have heard of them either.
We have used many of the more well known suitcase brands over the years so we were interested to compare the performance.
I'll be honest and say I didn't expect a whole lot from Level8 luggage. But in the year that we have now owned this Level8 luggage set, these cases have become our go-to travel cases for family travel.
My husband also does a lot of independent travel from London to Cape Town for work and takes his Level 8 carry-on case each time.
Our Level8 luggage review aims to help you if you are starting to think about your next luggage set.
This post contains affiliate links. If you click on one and purchase something, we may earn a small commission but this is at no extra cost to you.
Level8 are currently offering free shipping and freebies on all orders – see here for LEVEL8 Deal – and code FIVEOFF gets you 5% off your first order.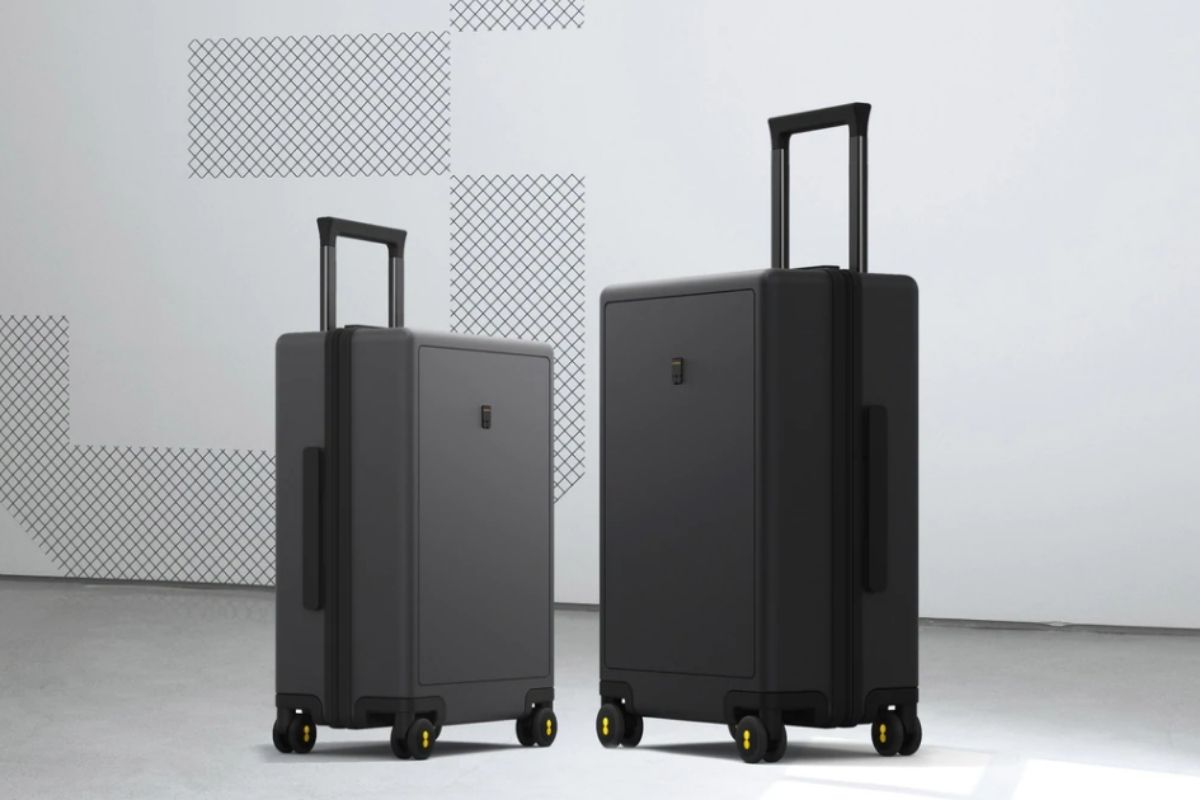 Level8 luggage review of the Textured Luggage Set 20″ & 28″
In this Level8 luggage review we'll cover the pros and the cons and give you all of the specs and our opinion on the 20″ & 28″ set.
Our first impressions of these Level8 bags?
We liked how the Level8 cases arrived nicely boxed and with a dust bag. We felt that this showed attention to detail.
We chose the textured case because we felt that it was less likely to show scratches. This is one of the features we'll go into in a bit more detail below under the 'pros' section.
They look sleek and stylish – but do they do the job? Find out below…
Level8 Textured Luggage Set 20″ & 28″ specs
The Level 8 website predominantly caters to the US market using lbs and inches, so we have given the specs for you in imperial and metric.
Specs for the 20″ carry on case
Capacity: 40 L.
Weight: 7.7 lbs (3.5kg).
Dimensions: 14.6"L x 9.3"W x 21.5"H (37cm x 23.6cm x 54.6cm).
Note: whilst the 20″ carry on luggage sits well within the size requirements for most airlines, you should always check the hand luggage allowance – particularly on some of the budget airlines.
Also note that some airlines go by weight as well as size with 5kg or 10kg being their upper limit.
This airline luggage size limit guide by Skyscanner is a good place to start – but we always recommend checking with the airline you are flying with.
Specs for the 28″ Level8 suitcase
Capacity: 99 L.
Weight: 11.44 lbs (5.2kg).
Dimensions: 16.6"L x 13.3"W x 29.1"H (42.2cm x 33.8cm x 74cm).
Apart from the size, the only differences between these two cases are:
The check-in luggage has internal straps to further secure your belongings.
The position of the TSA combination lock.
The Level 8 textured luggage sets come in a range of colours. At the time of writing, it was black, grey and navy – but you can check their latest availability here.
Remember – you save 10% when you buy the luggage set as opposed to each item individually.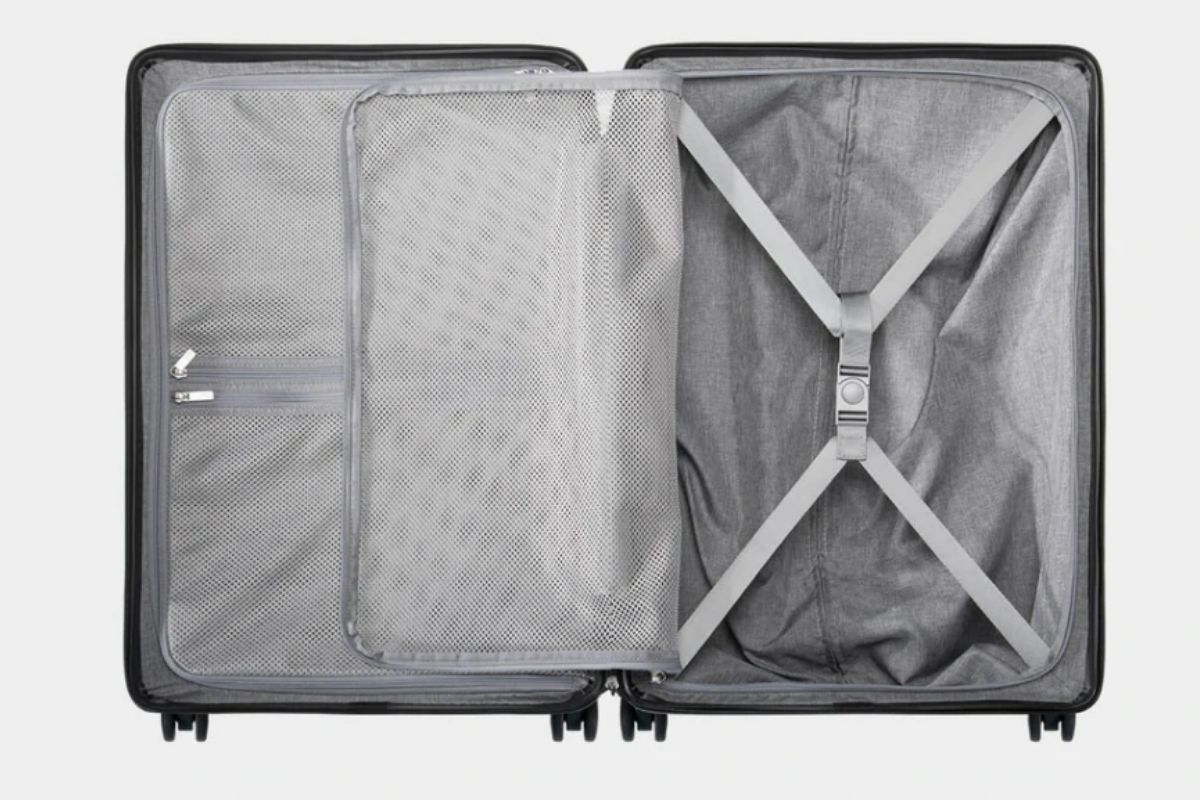 Pros of the Level8 Textured Luggage Set 20″ & 28″
These are the features of the Level8 Textured Luggage Set that we loved:
Telescopic handle
The telescopic handle which is made from a lightweight aluminum alloy adjusts to different levels which means that our young kids can wheel them through the airport.
By the way – these cases are also very robust so we even managed to sit little ones on them and glide them through the airport when their legs were tired.
We're big fans of the kids carrying their own luggage (within reason!) which is why we recommend taking a look at these travel backpacks for kids if you are looking for backpacks.
The telescopic handle is the same feature across the range. Below is the 20″ & 28″ set showing the adjustable height.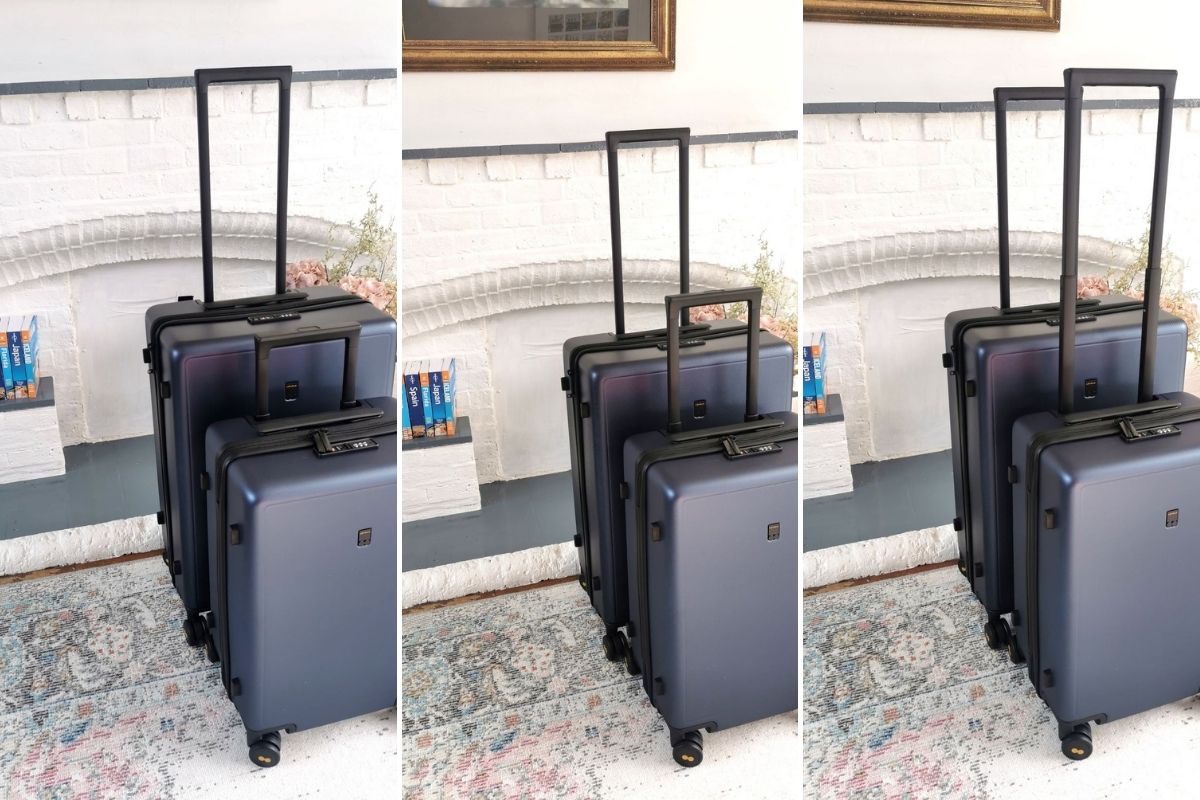 TSA-approved combination lock
The TSA-approved combination lock is easy to use but the instructions that are included with the case could be clearer. Here is my step-by-step guide to setting your new passcode.
Find a ball point pen and push it into the little dot to the right of the combination pad until you hear a click.
Set the combination to the code you want.
Slide the switch with TSA007 on to the right towards the combination pad until you hear a click.
The new code is now set.
The instructions for setting the code are also on their website under FAQs and are much clearer there for some reason.
What we love about this lock is that it isn't physically difficult to lock. This may sound strange but I really struggle with another case we have from another company and need 2 people to lock it!
The quality YKK zippers are smooth to open, both on the outside of the case and the inside compartments. The interior is lined with fabric and there is a mesh divider and a couple of pockets with zips to help you tidy away the smaller items.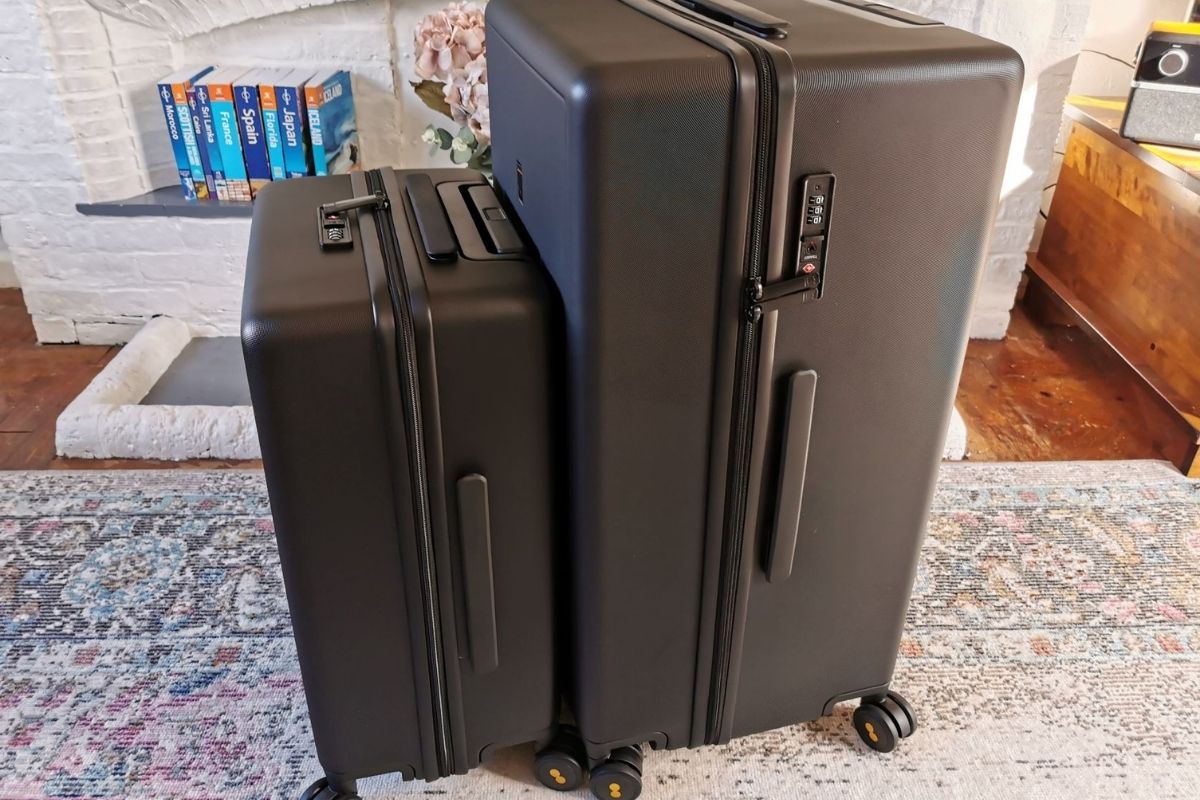 Waterproof exterior
The exterior of the case is waterproof which is such an underrated feature. We were once caught in a downpour trying to walk from the metro station to our hotel in Paris and our clothes got really damp. Not a great way to start the holiday.
We've also had our hand luggage get soaked in the overhead compartment on the plane as someone's water bottle leaked.
Super quiet spinner wheels
The cases glide really smoothly and the 360° spinner wheels are super quiet, even when trundling them along pavements.
Anti-scratch
This textured Level8 luggage set appealed to us because they are made from Makrolon® polycarbonate with anti scratch surface technology.
We wrote this Level8 suitcase review a few months ago and have since traveled with our carry-on cases and we have checked in the larger case.
So far, so good. There is very little sign of wear and tear.
Cons of the Level8 Textured Luggage Set 20″ & 28″
To be honest, there aren't really any features of the Level 8 Textured Luggage Set that we weren't so keen on.
If this were our only piece of hand luggage, we would find it a bit limiting because it is just too big for the very basic hand luggage allowance of the budget airlines.
If we are traveling on a weekend break with absolute minimal luggage, we would need a smaller case (ideally a tote bag). This is just a personal preference though – not a fault of Level8 luggage.
They are also heavier than a tote bag so if you are limited by weight (note that if you are taking a seaplane to your beautiful family-friendly resort in the Maldives, you are only allowed 5kg!).
Having said this, they do compare to other hard shell luggage of the same size made by Antler or Samsonite.
Is the Level8 20″ & 28″ textured luggage set good for a family of 4?
People ask us what size luggage they need for a family of 4.
Obviously, every family's needs are different and the type of family vacation you are taking will also come into play.
We recently travelled to Luxor with the kids and we only took one carry on case each for 7 days.
The Level8 carry-on size is ideal for a citybreak. It coped well with the cobbled streets on our family weekend in Porto as well as the cobbled streets in Banska Stiavnica (which, by the way, is the most beautiful town in Slovakia).
The textured luggage set containing the 28″ case and the 20″ case was more than enough for our family of 4 to go away for a week on a typical family beach holiday.
Packing for Lapland was a different matter entirely. We would have needed two of the luggage sets between us to fit all of the winter gear in.
As a family, we travel fairly light. You can read our holiday packing tips post for some ideas on packing light if you need them! Our top tip? Microfiber towels!
Other Level 8 luggage options
You may have seen the Level8 cases on Amazon. If you are an Amazon Prime customer, you can get next day delivery on many of the Level8 suitcases.
Level8 Textured Carry-On 20″
If you liked the sound of the family luggage set that we reviewed but only wanted to buy the Level8 Textured Carry-On 20″ separately, you might be pleased to know that there are a lot more colors to choose from.
grey
black
olive drab
light blue
pink
floral white
navy
Level8 Pro Carry-On
If you're looking for a great carry-on for work travel, the Level8 Pro Carry-On is a good choice. It has won a Red Dot Award (a German international design prize).
It has the same durable design as other carry-ons made by Level8 but with the addition of a laptop pocket for easy storage and access of your laptop.
Level8 Aluminium Luggage
If you want something more robust-looking, you should take a look at the Level8 Aluminium cases.
Level8 4 piece packing cube set
The Level8 4 piece internal organization cube set is essentially a packing cubes set.
Don't know about the benefits of packing cubes? Read all about how packing cubes changed the way we pack for the better!
Level8 Luggage Review final thoughts
Is the Level8 Luggage set worth it?
In summary, we think the price point for the Level8 luggage set is good compared to other well-known brands.
The quality is also comparable. So we would say, yes, we think the Level8 cases are a good buy.
Hopefully this Level8 luggage review has helped you to make your choice. If you still have questions, please feel free to drop us an email or leave a comment.