The Coppa Club Tower Bridge: All Your Igloo FAQs Answered
Igloo dining in London is a lovely, festive thing with most of the London igloos opening over the Christmas period.  The Coppa Club Tower Bridge is the exception. The Coppa Club igloos are open year round except for a few days between 'seasons' when they change the décor.
The Coppa Club igloos are probably the most famous and most photographed igloos in London. With a central location in the heart of the City of London and exceptional views of Tower Bridge and The Shard, you can understand why.
Here are a few things you might like to know about the Coppa Club, including information on how to get a much sought after booking.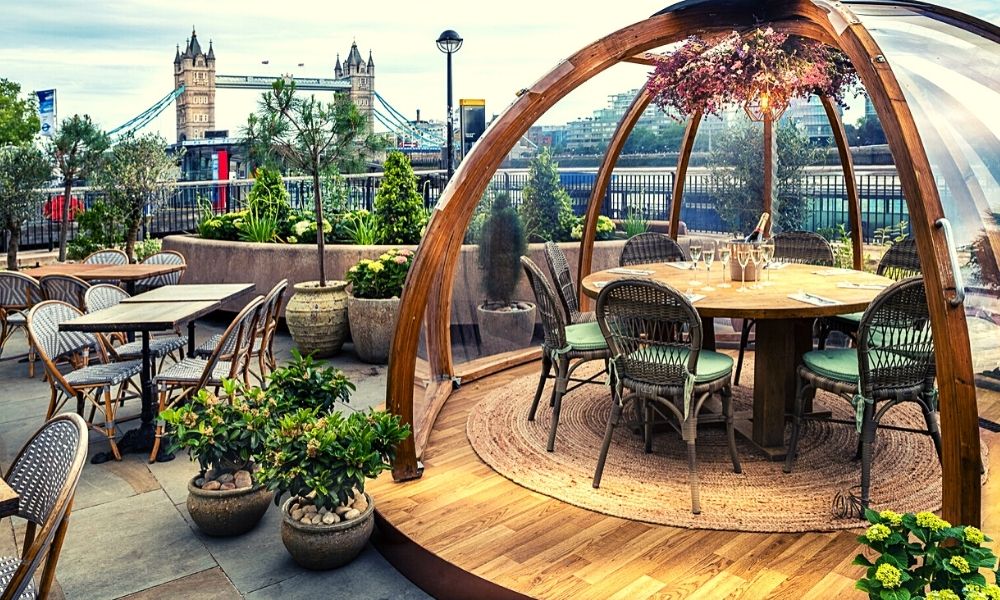 Where is the Coppa Club Tower Bridge?
The Coppa Club Tower Bridge is not actually next to Tower Bridge, despite its name. It's a good 500m walk from Tower Bridge along the River Thames and past the Tower of London.
The Coppa Club
3 Three Quays Walk
Lower Thames Street
London
EC3R 6AH
The nearest tube station is Tower Hill which is about an 8 minute walk.
How do I book a Coppa Club igloo?
There are two ways to book an igloo at the Coppa Club Tower Bridge. You can make a reservation in advance or you can try to nab a walk-in booking with no reservation.
Making a reservation at the Coppa Club
To make a successful Coppa Club igloo booking, you need to know when the booking windows open because the igloos book up FAST – like trying to get hold of Glastonbury tickets.
They are currently working on the Spring season and re-open on 12th April. Tickets are almost all sold out.
Eating at the Coppa Club with no reservation
The Coppa Club igloos are incredibly popular and often booked up well in advance. If you have missed out on booking for the day you require, there is a chance you can still grab an igloo.  Our advice is to go just before opening time and during the week if possible. The Coppa Club keeps one igloo free for walk-ins.
What time does the Coppa Club Tower Bridge open?
Monday to Friday: 11.30 am to 10 pm
Saturday: 10.30 am to 10 pm
Sunday: 10.30 am to 8 pm
How much does it cost to book a Coppa Club igloo?
Off Peak: Monday to Friday until 5pm is £30.00 per person for up to 3 people. There is no minimum spend for groups of 4 to 6 people.
Peak: Monday to Friday after 5pm and all weekend there is a minimum spend of £180.00 per igloo
Is the Coppa Club expensive?
In a word – no. The Coppa Club has a very reasonably priced menu. They serve breakfast, brunch, lunch and dinner. Starters range from £6.00, pizzas from £9.00 and mains from £13.50.
Can kids eat at the Coppa Club?
Kids are welcome at the Coppa Club and there's a pretty good and very reasonably priced kids' menu. It's a great option if you've spent the day visiting London with kids and want something a little different, particularly if you're visiting London at Christmas. It's one of the most child friendly restaurants in London.
Are the Coppa Club igloos heated?
If you are visiting London in the winter, you will be pleased to know that the igloos at the Coppa Club are heated. They are surprisingly cosy even on the coldest winter days. That said, when the servers come in and out with your order, you will get a blast of cold air. You will also need to pop into the main restaurant if you need to go to the toilet so it is wise to wrap up warm with layers.
Which Coppa Club has the igloos?
The Coppa Club Tower Bridge may be the most well-known of all of the Coppa Clubs but it was not the first. The first Coppa Club was opened in 2015 in Sonning-on-Thames. They also have igloos if you do not want to come into central London. See here for details of the the Coppa Club Sonning.
The Coppa Club Brighton is the third location to have igloos.
Remember to mark the 21st October at 11 am and 25th November at 11 am in your diaries!!