Château de Chanteloup: The Most Idyllic Campsite Near Le Mans
If you're looking for a campsite near the Loire valley or as a stopover on the way down to the south of France, you'd be hard pressed to find a better French campsite than Château de Chanteloup. It is just beautiful. The only problem is that your expectations will be set very high and you might find it hard to find another campsite as perfect at this one.
It is hard to describe just how beautiful this place is. This 5 star French campsite is set in the grounds of a magnificent house with beautiful gardens and facilities. It is family run and you will receive a warm welcome from every member of staff. These are the reasons it features highly on our list of top 10 campsites in France for families.
We had only just bought our first campervan when we decided to set off on a family campervanning trip to France. We were blown away by the standard of Château de Chanteloup and wanted to let you know all about this little gem!
It is part of the Les Castels Campings which is a collection of exceptional campsites set in the grounds of châteaux or castles in France. If you prefer smaller campsites without blaring entertainment, you should definitely look at what Les Castels sites have to offer.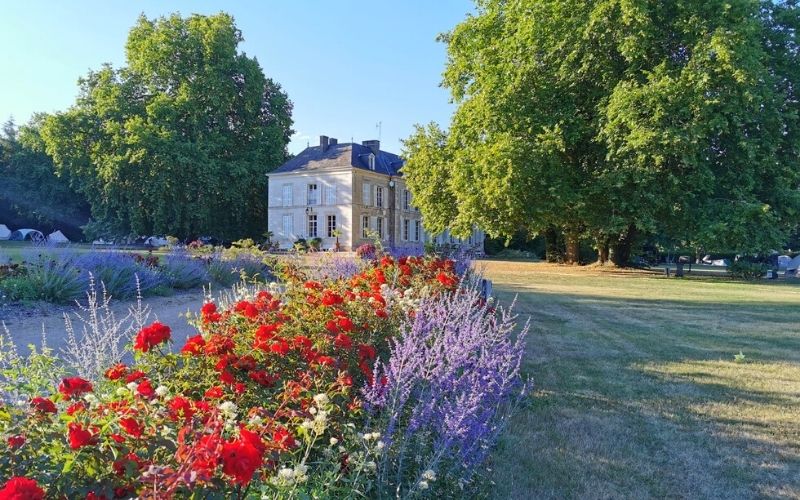 Where is Château de Chanteloup?
Château de Chanteloup is located about 2 hours south west of Paris near Le Mans. If you are driving down to the south west of France from Dover, it is one of the best campsites in Northern France and makes a great place for your first overnight stop.
72460 Sille-le-Philippe
Sarthe
Pays-de-la-Loire
Accommodation at Château de Chanteloup
Grass pitches
There are 134 pitches spread over 6 hectares for tents, caravans, campervans and motorhomes with electric hookup. Rest assured, the pitches are all spaced well apart.
Cabins in the wood
The cabins in the woods are a new addition to Château de Chanteloup. Situated in a quiet woodland area away from the main campsite. They accommodate 5 – 7 people and have their own bathroom and kitchen.
Pre-erected bell tents
The Château de Chanteloup bell tents are situated down by the lake and are equipped with the kitchen basics. If you are visiting as a family, the large tent comes with a separate smaller tent for the children. This campsite is perfect if you are looking for glamping near Le Mans.
Self-catering gites
There are 5 separate, fully equipped holiday cottages to choose from if you are not looking to camp, some located in the former orangery down by the lake.
Facilities at Château de Chanteloup
Swimming Pool
The swimming pool is just behind the main house and is broken out into 3 sections. A small semi-circular baby pool at one end, main pool and a deeper pool with waterfall fountain at the other end.
The pool is surrounded by a paved area with a few sun loungers and then a larger grassed area surrounds the paved area where you'll find more sun loungers.
Children's playground
The play area at the campsite is excellent. It is all made from wood (except for the trampoline!) and has something for children of all ages. The zipline will keep older kids entertained as it can go quite fast as we discovered!
For smaller children there is a lovely wooden village with lots of little play houses. Our kids loved the playground and without a doubt would say it is among the best campsites in France for kids.
Games room
The games room gets a special mention. It is worth coming to the campsite for the games room alone. It is located in the main chateau building in a sumptuously decorated room. It is like nothing you have ever seen before on a campsite. Next to it is an equally elegant reading room.
Woodland walks
The campsite is set in 15 hectares of land and you are encouraged to get out and explore the grounds. There are tracks through the woodland feeding goat
Sporting facilities
Asides from the pool, there is an outdoor gym area, football pitch, table tennis tables and a fishing lake.
Onsite restaurants
There is a lovely onsite restaurant as well as a pizza takeaway. You can order fresh bread and croissants from reception and the local bakery deliver them in the morning.
Sanitary and laundry facilities
The sanitary blocks are spotless. The main ones are near reception and there is another smaller block towards the lake near the outdoor sports area. The laundry facilities are located near the main sanitary block and restaurant.
How to book Chateau de Chanteloup
You can book with Château de Chanteloup directly but this is usually more expensive than booking with the Camping and Motorhome Club. If you are a member of the club, you receive a discount on your booking.
As an example, non-members pay from £41.00 per night and members from £32.00 for a pitch for a motorhome with electric hookup for a family of 4.
What is there to do near Château de Chanteloup?
Le Mans is well worth a visit. The old part of the city is characterised with narrow, cobbled streets and the fortified walls are the best preserved outside of Rome.
Le Mans 24 Hour Museum (check here for the dates of the Le Mans 24 hours race).
Visit some of the many beautiful Loire Valley châteaux.
La Nuit des Chimères is a fantastic sound and light show during the months of July and August which uses the historic buildings to Le Mans as a backdrop.
A little further (2 hours) from the campsite are a couple of incredible theme parks with a difference, Puy dy Fou and on the opposite end of the historic scale, Futuroscope.
Final thoughts on Château de Chanteloup
If you are looking for 5 star campsites in France, you really will not be disappointed with this one!