A Fairytale Weekend in Alsace with Kids
Thinking of planning a weekend in Alsace, France with kids? Do it! We visited Alsace with kids aged 4 and 6 years old and they will forever remember it as a real-life Disney experience.
They loved the fairytale towns with their colourful houses and narrow, cobbled streets.
This post gives you our itinerary for a long weekend in Alsace with kids and includes where we stayed, where we visited and where we ate.
This post contains affiliate links. If you click on them, we may earn a small commission at no extra cost to you.
Where is Alsace?
Alsace is situated in the east of France, right on the border with Germany. Strasbourg is the capital city of the 'Grand Est' region (Alsace) and is located about 500 km east of Paris.
You can do a day trip to Alsace from Paris by taking the high speed train (TGV) in under 2 hours.
We recommend staying in the area to really make the most of it, but if you're staying in Paris, you might find this 5 day Paris itinerary, a guide on what to wear in Paris and the top Paris tourist attractions helpful.
Alsace is one of the most beautiful regions of France and many of its towns and villages are picture perfect.
If you like the look of Alsace, here's a great article on some other fairytale towns in Europe.
History of Alsace
The region of Alsace has been passed back and forth between French and German hands over the last couple of hundred years.
Today, you would probably find it hard to tell whether you were in France or Germany. The colorful architecture has a strong German influence, the language is French and the food is a mix of both.
Getting to Alsace from the UK
If you have the time, you can drive to Alsace from the UK, but we were only visiting for the weekend so we flew.
We followed our own advice on finding cheap flights and scoured the web to find some (very!) cheap flights with Easyjet from Luton to Basel. It's just under 90 minutes which is perfect for the kids.
On landing in Basel, once you have cleared immigration, you have the choice of turning left for France or right for Switzerland.
Have you ever landed in an airport and been given the choice of turning left for one country or right for the other?
It was a little surreal – and quite hard to explain to the kids exactly where we were. Half of the airport is located in Switzerland and half in France!
Car hire from Basel airport
Our hire car company was located in Switzerland so we turned right. It was all very well sign-posted.  Although we usually book through Rentalcars and found a great deal.
Once we figured out the directions out of the airport, we set off towards Colmar and headed straight for Eguisheim.
Don't want to hire a car? Here are some tours that will take you around some of our favourite spots in Alsace.
One day tour of Alsace from Colmar.
Alsace villages half day tour from Colmar.
Day 1 of our weekend in Alsace with kids
Eguisheim
Eguisheim has something of a fairy tale nature about it. It's easy to see how Disney was inspired by Eguisheim for its Beauty and the Beast film.
It's one of the Plus Beaux Villages de France (literally translates as the most beautiful villages in France).
We chose to go there first because it's probably the most popular of the towns in the area to visit and we thought it would be quieter on a Friday.
Thankfully, there were only a few tourists around and we managed to get some lovely pictures of the famous little colourful houses and back streets.
I have a feeling this might be quite tricky in peak season. This picture was taken in the Rue du Rempart Sud at Les Muses du Rempart d'Eguisheim. It's probably the most photographed spot in Eguisheim.
The boys could explore the back streets to their hearts content without fear of getting lost in the crowds. After an hour of exploring,  we stopped for lunch.
Eating in Eguisheim
We hadn't booked anywhere because we weren't sure of our timings, but luckily we found a little place called La Taverne du Chateau.
If you are tempted by the reviews of Restaurant Edel in the same square (Place du Chateau Saint Leon), we would just say that we thought the views were much better from La Taverne du Chateau.
If you're ordering the regional speciality 'tarte flambee' which is a little like a very thin based pizza without the tomato base, then you can't go far wrong.
We also had a salad with HUGE slabs of warmed Munster (a cheese from the region). Munster has to be one of the smelliest cheeses we have ever eaten, yet it was delicious in this salad.
The boys sat on the opposite side of the table because they didn't want to be near it :)
If you don't fancy walking or you want a guided tour, there is a train tour which goes around the town and up into the surrounding vineyards – Le Petit Train. 
Adults were EUR 7 and children 6-14 were EUR 5. Under 6 were free. We didn't have time for this tour but we're sure the boys would have loved it. Instead they enjoyed following it around town for a little while.
If Eguisheim is your first stop after arriving in the area, then head to their tourist office which is located at 22A Grand Rue (the main road into town from the car park) as they have a great selection of leaflets and maps.
Getting to Eguisheim was a very easy 35 minutes from Basel airport taking the A35 most of the way, and there was a huge brand new car park just outside of the centre which cost EUR 3 for the whole day.
Colmar
After Eguisheim we headed off to Colmar and our hotel. Colmar is a great place to base yourself for exploring the region and there are actually lots of things to see and do in Colmar too.
Accommodation in Colmar
We stayed at the Pierre et Vacances (La Petit Venise) in Colmar. We chose it because of its proximity (300m) to the popular and very beautiful Little Venice area and it had an indoor pool.
It always feels more like a holiday when you have a pool!
It was a spacious, split level apartment suite with a large bedroom upstairs and a sofa bed in the lounge downstairs. Perfect for a family of 4.
There was also a small kitchen with fridge, hob, microwave, toaster, kettle and dishwasher which we loved because we could prepare our own breakfast before heading out each morning.
They provide a small cleaning pack with dishwasher tablets and tea towels – but no towels so make sure to bring your own!
Note – you're expected to make your beds when you get there, something to bear in mind if you are arriving late – and also strip the beds when you leave. At least they provide bed linens though!
Arguably it didn't have the character that some of the older, central hotels had, but it was practical, comfortable and very reasonable.
There was also a small playground for younger children in the middle of the complex.
If you don't want to prepare your own breakfast, they do offer a basic breakfast downstairs in their 'dining room' for a supplement.
They have parking in their underground car park for EUR 9 a day, but if you can, try to get a space on the road outside the hotel as it is free parking.
After the nap we had a quick swim. There is a baby pool and also a larger pool. George (4) was very happy that he could stand in the big pool. The shallow end of the 'big' pool was 0.6m.
After the swim we took a stroll around town and went for dinner. Top tip – if you head out into town from the back entrance of the hotel, make sure to take a right turn at Boulevard Saint-Pierre and stop at the bridge for a beautiful photo of Little Venice.
You can go down the steps and walk along the canal to the centre.
Eating in Colmar
Even though it was not peak season, it is advisable to book a restaurant for dinner.  We had a quick wander around the town (this part of town is not very large and you can walk around it in about 30 minutes) and ate at the Epicurean restaurant, a lovely traditional French bistro.
It is very cosy inside and the food was delicious. But you must book as it is very small!
Day 2 of our weekend in Alsace
Kayersberg
On Saturday we grabbed some croissants and pain au chocolat from the local bakery and set off early to beat the crowds. We went to Kayersberg first.
It is a beautiful little town with the River Weiss running through it. In 2013 it was voted France's favourite town – and it's easy to see why. It's on Alsace's Route des Vins and is surrounded by green vines.
Everywhere you look you have beautiful artisan bakeries or wine shops or restaurants, all in the famous quaint and colourful Alsatian style.
As well as being famous for its wine, Alsace is also famous for its food. One of the regional specialities is Koug cake which comes in all sorts of flavours such as blueberry, raspberry and chocolate.
You will never be far from a bakery in any of the small towns we visited.
The smells coming from these freshly baked goodies were incredible so even though we had recently had breakfast, we just had to stop and get something.
Go and have a try! You will also see pretzels on your wanderings. Lots of pretzels!
After Kayersberg we set off for Riquewihr – but decided to go off-piste after zooming into google maps and finding a network of tiny roads crisscrossing between the vines.
We came across a few dead ends and turning around on the slopes was a bit of an adventure – but that's what it's all about right?
We can highly recommend it. The views back over Kayersberg were spectacular and well worth a couple of little wrong turns!
Riquewihr
Riquewihr was just as scenic as Kayersberg and Eguisheim. It's officially a Plus Beaux village (most beautiful village in France) and hasn't changed much from the 16th Century.
Luckily is wasn't damaged much in World War II. It is also famous for the production of Riesling wine – which we sampled at lunch and can say they know what they're doing!
We were there around midday which meant it was a little busier. We decided to have lunch first and then wander.
We let the boys choose where they wanted to eat because we hadn't booked anywhere (safe in the knowledge there wasn't a McDonald's in sight!).
They found a little underground cave where they did pancakes for the kids. I guess it was a novelty for them to eat in a cave!
Eating in Riquewihr
Ed went for a traditional Alsace dish of garnished choucroute – which turned out to be an enormous platter of sauerkraut and frankfurter sausages with huge slabs of smoked ham slices. Not for the faint-hearted.
There are many many restaurants to choose from, ranging from touristy to gourmet. It is worth doing some research before you go if you are into your food as there are some amazing places.
Our restaurant was quirky but quite touristy with average food.
We had a little wander after lunch and then headed to the Chateau du Haut-Koenigsbourg.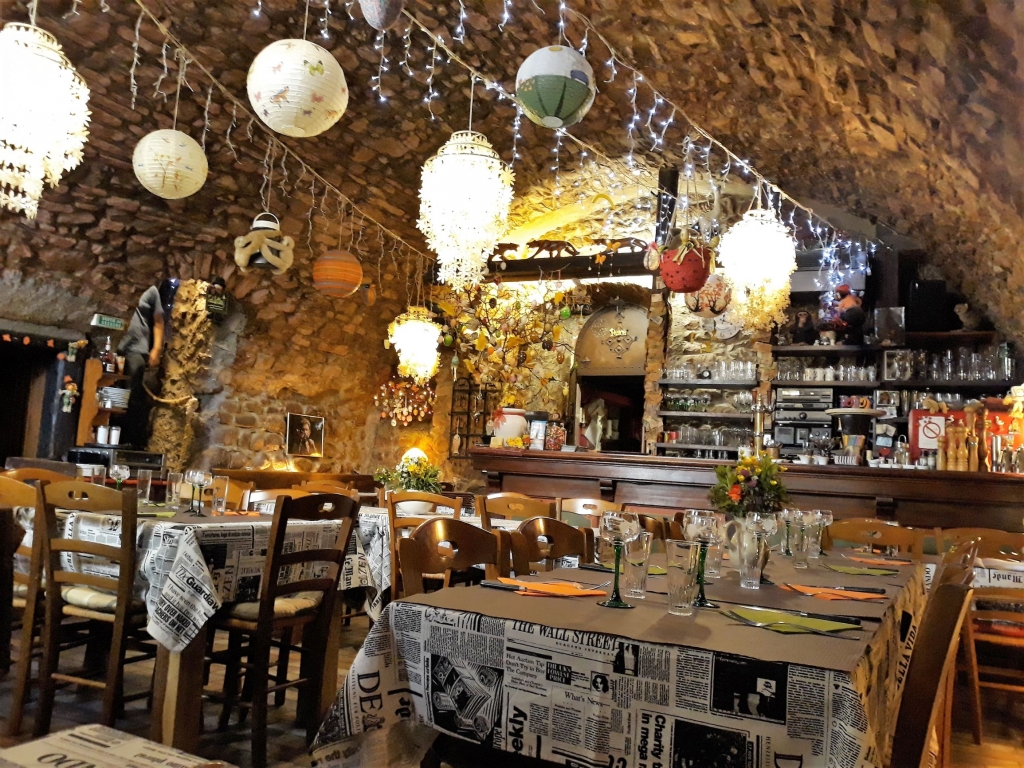 Chateau du Haut-Koenigsbourg
The castle, built in the 12th Century and extensively renovated in 1900 – 1908, is one of the top landmarks in France, and one of the country's most popular tourist attractions with over 600,000 visitors a year.
We had no idea when we happened upon it by chance looking at the wine route map that it was going to be so impressive. But impressive is definitely the word I would use to describe it.
It's perched high up in the Vosges and would have the most beautiful views from the top of the castle – but as we were winding back and forth along the roads to get to it, the clouds descended and it started to rain.
The kids also fell asleep so we parked up and had a little downtime, deleting some photos from our phone to free up space and waiting for the rain to pass. It didn't, but it did ease off so when the kids woke we set off to explore.
It turned out to be a great adventure for the kids. Who would have thought two little boys would love roaming around a medieval castle?!
There were lots of little rooms to explore. The most fascinating for them was the room with all of the weapons and knight's suits of armour.
Guided tours are only in French so we just did our own thing with the boys leading the way. You get to go up to the highest towers where there are some canons and the boys called it the scary tower.
This was not because of the heavy artillery on display but because of the sheer drop you could see from little holes in the floor!!
If you are scared of heights, I recommend you don't look down! If you don't mind heights, have a look out the windows.
On a good day, I imagine the views would be incredible. As it was, cloud covered most of the view for us sadly.
We would love to go back on a clear day just for the view. Entrance is free for children under 6 and EUR 9 for adults.
On the way back to the hotel we stopped off at a supermarket to get breakfast bits and some wine and nibbles to enjoy on our balcony as the weather had cleared but before tucking into those, we had an obligatory swim.
For dinner we went local again and walked into Colmar for a final tarte flambee as the boys were very partial to them.
It had been a long day so we opted for a relatively fast food option at La Krutenau which is mainly a pub but they serve 3 different types of tarte flambee with a few dessert options.
Ed and I had eaten so much at lunch that we just shared one between us with a nice bottle of wine from the region.
It is far from the best restaurant in Colmar but it suited our needs for that night and it had lovely views of the canal.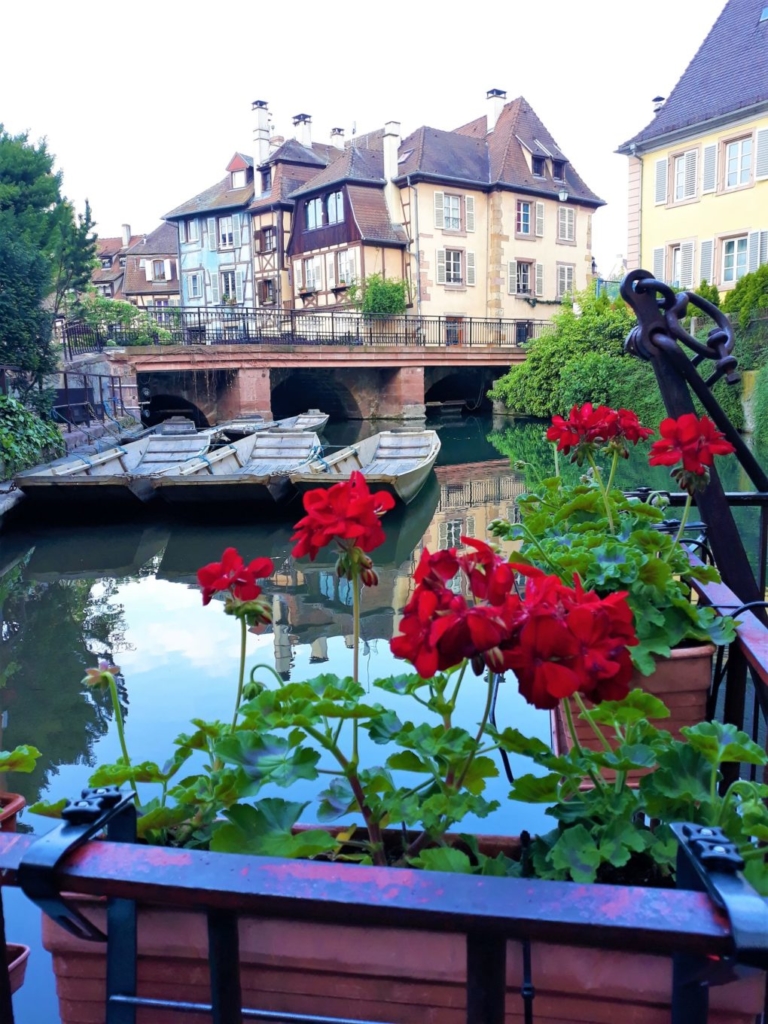 Day 3 of our weekend in Alsace
The next day we had another quick swim followed by breakfast in the apartment – we always try to grab croissants when in France, and also melons, peaches and strawberries. Why is it their fruit tastes so much better??
Neuf Brisach and a German border crossing
We set off in the direction of the airport via a little town called Neuf Brisach which is a Unesco World Heritage site right on the border with France and Germany.
We only went because it was on the way to the airport and we wanted to pop over into Germany so the boys could say they had been to Germany. Do you count that as a visit to Germany or is it cheating?
The town itself was not that impressive, but huge octagonal fort walls that surround the town are very impressive.
We walked outside the walls to burn off a little energy before the flight and took some pictures of a random rhino made out of straw – no idea of the background to that!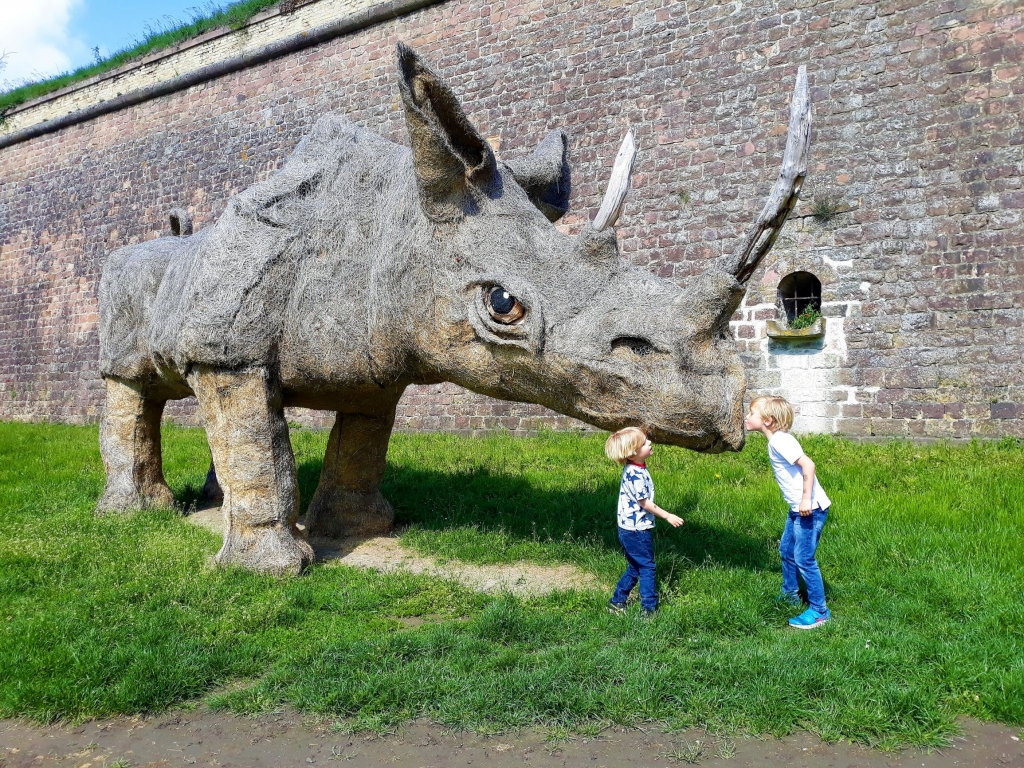 Returning the rental car in Basel airport
We had a return flight at 13.50 so we had to head off to return the car by 12. The directions the car company gave us were pretty easy to follow. We followed their map as opposed to google maps.
Just make sure not to take the exit for the French side of the airport from the A35 if you are coming from France as the car rental place is on the Swiss side. Also, make sure to fill the car up before you return it.
The petrol station at the airport was a lot more expensive and did not take our credit card so we ended up having the car hire company refill it which is the most expensive option! Avoid that if you can.
So that was our whirlwind 3 countries in 3 days. We just scratched the surface but got a great taste for what Alsace has to offer.
One thing we did not manage to do which we normally love to is a wine degustation – but it leaves something for us to do next time we go – and there will be a next time!
Have a look at for the best selection of accommodation in Alsace.
If you enjoyed reading this, don't forget to bookmark it, or better still, pin it!