Things To Do In Walberswick: An Idyllic Coastal Village In Suffolk
Walberswick is, without a doubt, one of England's most idyllic seaside villages. This quaint Georgian holiday village dishes out traditional British seaside charm in bucket loads. And while we're talking of buckets, make sure to pack your bucket and spade because unlike most of the beaches in Suffolk, Walberswick beach has sand!
Walberswick sits on the Suffolk coast in an Area of Outstanding Natural Beauty just south of its more well-known neighbour, Southwold. It is a beautiful place to come and spend a day or while away a week and despite its size, there will be plenty to do.
Walberswick is famous for crabbing and sandy beaches, but there's more to this little village than meets the eye. Dig a little deeper and you will find nature reserves bursting with wildlife, world class eateries and a rich history of arts.
Walberswick really comes alive during the summer months (translate this any way you wish but for us it means it is usually heaving with tourists). We love visiting in the winter months too for bracing nature walks along the coast.
Below we have listed some ideas for things to do in Walberswick but first, a little about the area.
This post contains affiliate links. If you purchase something through one of them, we may earn a small commission but this is at no extra cost to you.
Before visiting Suffolk, you might want to grab a copy of the Rough Guide to Suffolk & Norfolk  which is the most comprehensive and up to date guide out there. We also love this Suffolk pub walks guide.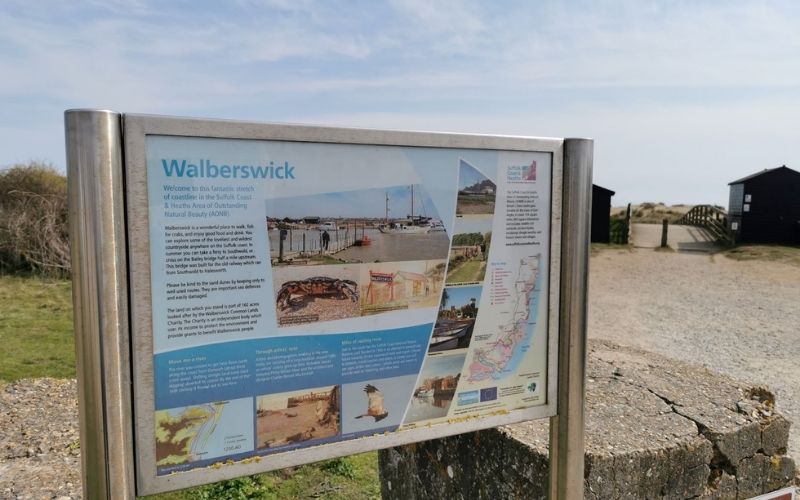 History of Walberswick
In medieval times and right up until the 20th century, Walberswick was a thriving port. Since the Victorian times, it has been more of a thriving holiday village offering a laid back British holiday of yester year. It has also attracted many artists over the years including Phillip Wilson Steer and Charles Rennie Mackintosh.
More recently, celebrities have been buying up real estate here. Walk around the village and you will fall in love with the impossibly cute little cottages just as they have.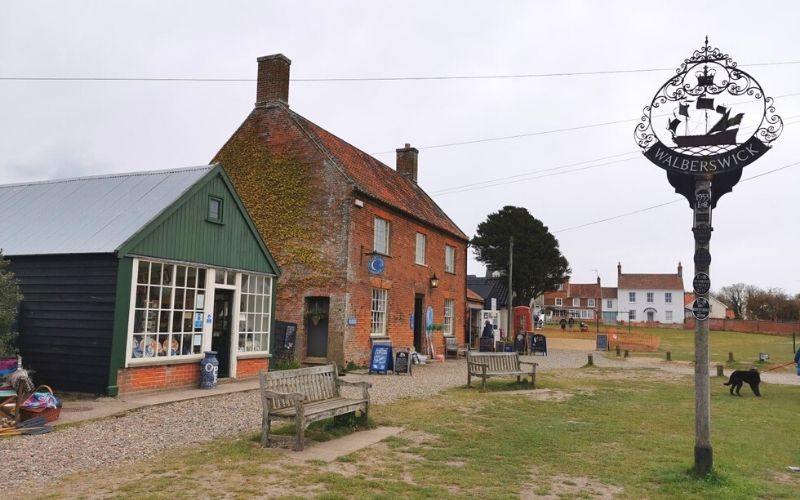 Things to do in Walberswick
Walberswick beach
The beach is a mix of sandy dunes with some shingle. The further you get towards neighbouring Dunwich beach to the south, the more shingle it becomes.
Being in an Area of Outstanding Natural Beauty, Walberswick Beach is rugged and completely and utterly unspoiled. In fact, it is backed by a Nature Reserve and RSPB Dingle Marshes so you are surrounded by nature as far as the eye can see. It is one of the quieter beaches in Suffolk once you get away from the village and walk towards Dunwich.
Walberswick Ferry
There has been a Southwold to Walberswick Ferry running a service across the River Blyth since 1236 and it is one of the 'must-do' things to do in Walberswick.
Usually, the crossing is in a rowing boat but during times of social distancing, the motor boat that is usually used for river trips is being used for the crossing because it is bigger. The journey lasts around 60 seconds in the motorised boat and just a little longer in the rowing boat.
Current prices for 2021 are £3.00 per adult and £1.00 per child for a single journey. Children under 5 are free.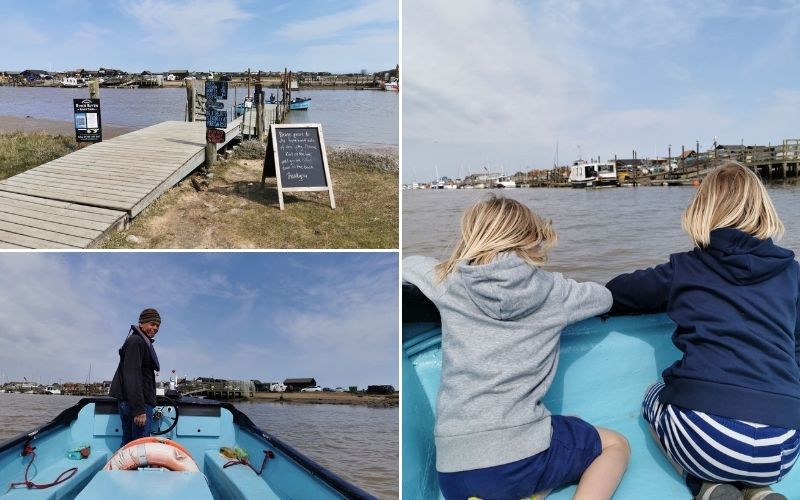 Walberswick river trips
Take a river trip (with the same company that operates the ferry crossing) up the River Blyth from Walberswick to Blythburgh through the Nature Reserve. There will be plenty of wildlife to spot, including rare species of bird and you may even see a seal or two if you are lucky.
The charge to hire the boat for exclusive use for one hour is £100.00 and can carry 12 passengers.
For a slightly faster paced experience, you could book an excursion with Coastal Voyager (although they also offer more leisurely River Blyth cruises too).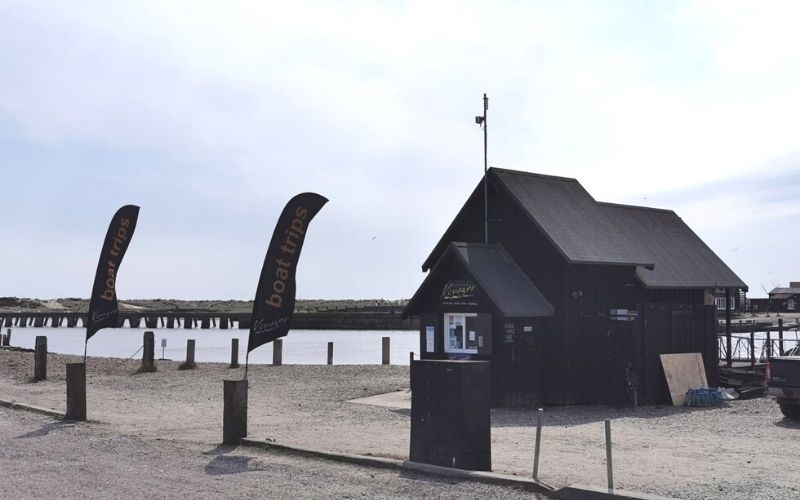 Walberswick crabbing
As we have mentioned before, Walberswick is famous for crabbing. It was once home to the annual British Open Crabbing Championship but this had to be stopped in 2011 because it became so popular that the tiny village couldn't cope with the influx of visitors.
You can still have a go at crabbing yourself though. It is one of our favourite things to do in Suffolk with kids. If you don't have all the gear (mainly a crabbing bucket, crabbing line and / or a crabbing net along with some bait – we use bacon), then you can buy it from the ice cream van that you will find in the car parks.
The crabs here are not for keeping. Once you have had enough, you need to release the crabs back into the water gently.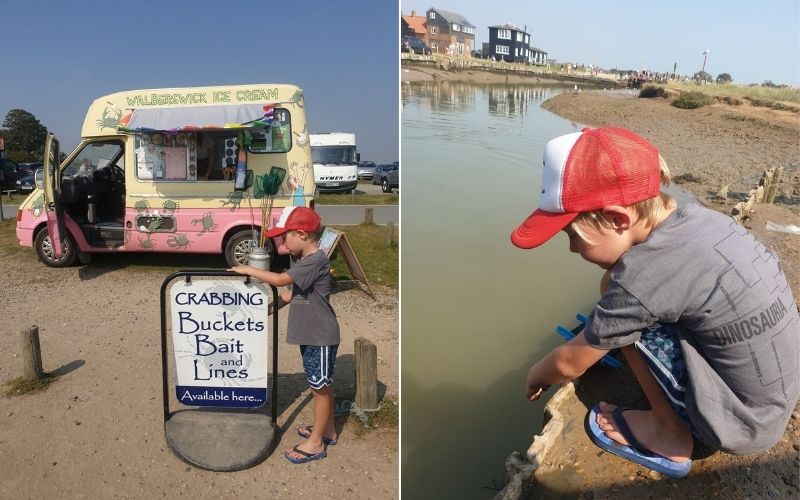 Walberswick walks
There are plenty of walks around Walberswick that will help you to discover the local area and work up an appetite for some local food!
Walberswick Nature Reserve
Our favourite walk in Walberswick takes you through the Walberswick Nature Reserve. You can do a loop starting on the footpath to the left of the Anchor at Walberswick which takes you past the allotment where the Anchor grow their own vegetables and herbs.
Turn right when you hit the path at the end and head along the Suffolk Coastal Path past the reed beds and around the marshes and back along the beach. The path is easy to follow with yellow and blue waymarkers and is a fairly easy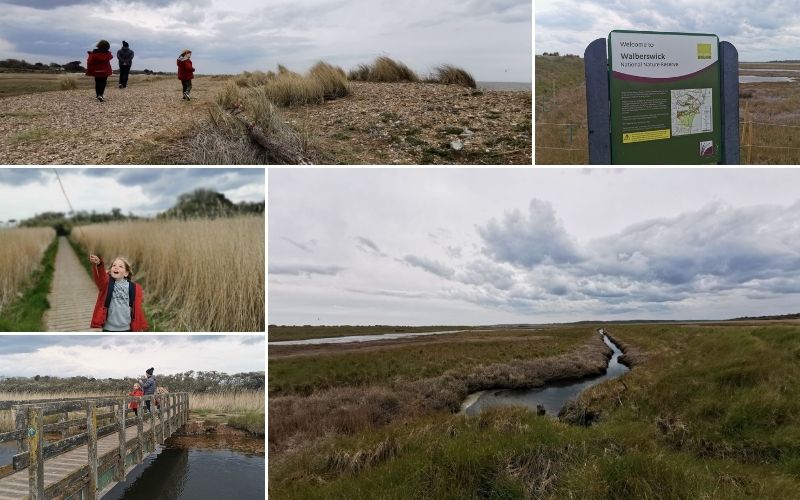 Walberswick to Southwold
You can walk from Walberswick to Southwold by crossing Bailey Bridge (although check local news for bridge repair works scheduled for 2021) or you can take the famous ferry (see above). It is just a short walk from Southwold Harbour to Southwold along the coastal path.
Walberswick to Dunwich
This walk is a little over 7 miles and is best broken up with lunch at The Ship Inn if you need a rest (see our Dunwich walks post for more info). It takes in the marshes and Dunwich Forest and you can then loop back along the beach.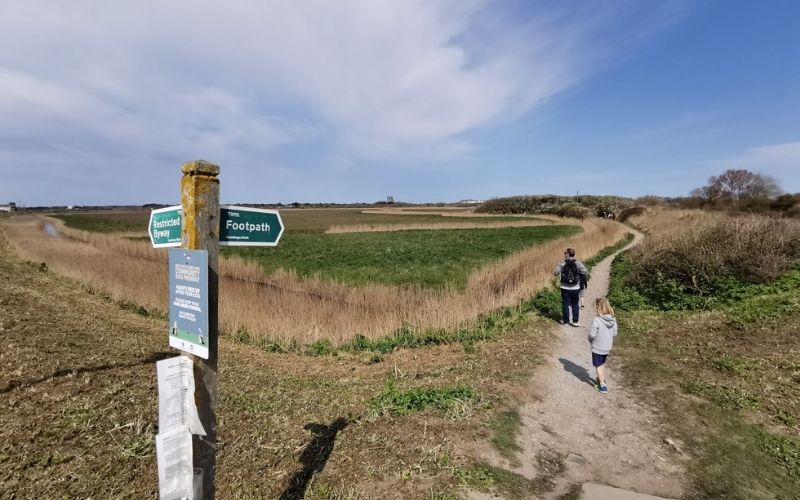 Walberswick Nature Reserve
Walberswick Nature Reserve is one of three National Nature Reserves along the Suffolk Heritage Coast (the others being Westleton Heath and Benacre).
The Reserve is one of the most diverse sites in the UK and an important habitat for wildlife. It is home to rare breeds of birds including March Harrier, Bearded Tit, Water Rail and Bittern.
It is made up of some of the best remaining areas of Sandlings heathland which once stretched almost the entire length of the Suffolk coast. There are also reed beds at Westwood Marshes which provide reeds for the thatched houses of Suffolk, grassland, woodlands, shingle, salt water lagoons and the salt marshes of the Blyth estuary. Steps are being taken by the Foresty Commission to restore this important habitat and encourage more wildlife to the area.
There is a well marked path (watch out for the blue and yellow Suffolk Coast Path way-markers) through the reserve so that you can easily explore the area.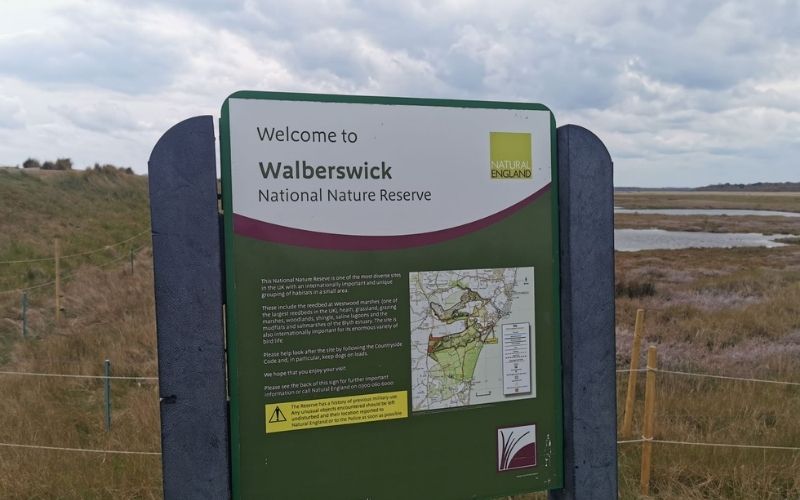 Walberswick pubs
All of this outdoor activity will no doubt leave you thirsty (and hungry) so you'll be pleased to know that there are a couple of great pubs in Walberswick.
The Anchor Walberswick is one of the best pubs on the Suffolk coast, serving some of the best food Suffolk has to offer with an extensive and well-thought-out wine list. They also have rooms (see below).
The Bell Inn is an Adnams run pub with a great pub menu. They also have rooms.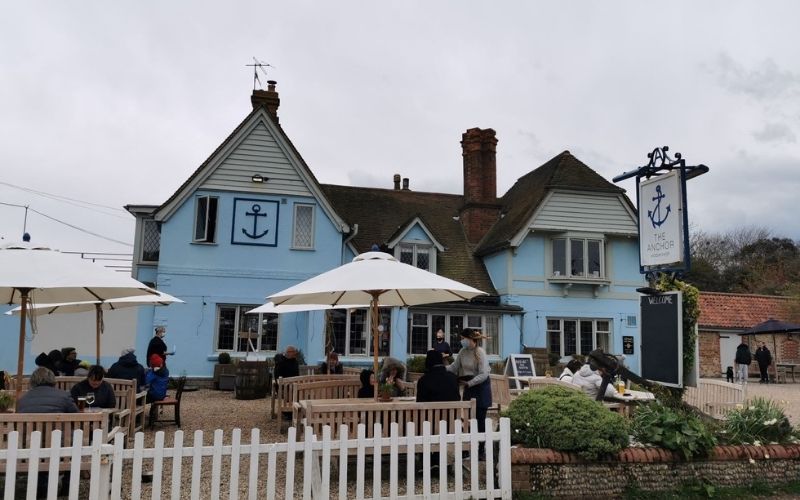 Walberswick accommodation
If you are looking for somewhere to stay on the Suffolk coast, you really can't go far wrong with Walberswick. It is ideally located for exploring the local area, with Southwold an easy walk away and easy access to the A12, the main artery through Suffolk.
Some of the best Suffolk holiday accommodation booking sites with some beautiful Walberswick Cottages on their sites are:
We have also listed some fabulous holiday accommodation on the Suffolk Coast.
You can also try on Booking.com as you may find something similar with a flexible cancellation policy.
For something a little different, you can rent one of the fishermen's huts in Walberswick – one of the more unusual places to stay in Suffolk.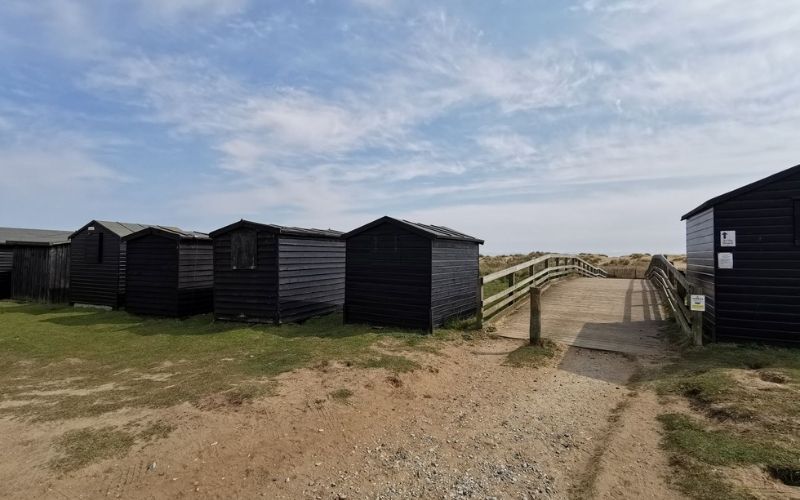 Places to eat in Walberswick
Aside from the pubs above, there are a couple of other places to eat. There are no restaurants as such but there are a couple of tea rooms – the Parish Lantern and the Tea Shed (both of which serve light snacks as well as tea and cakes) and Everyday's Sundae which serves coffee, ice creams and take away picnic baskets.
The Black Dog Deli has a great selection of local treats (the best bacon sarnies and coffee to prepare you for a long beach walk) as well as high class ready meals if you are self-catering. The mobile Fish Hut sometimes makes an appearance but it is not a permanent eatery.
If you can't get a table at one of the pubs or tea rooms, you could try one of the fish shacks on the Southwold side of the River Blyth (by taking the ferry or walking across the footbridge). We highly recommend the Sole Bay Fish Company.
If you really get stuck and can't get a table anywhere (which can happen in peak season), the White Hart in Blythburgh is excellent with a fabulous beer garden overlooking the River Blyth. Dunwich is a short drive away where you have The Ship Inn, the Flora Tea Rooms for fish & chips and Dingle Hill Tea Rooms.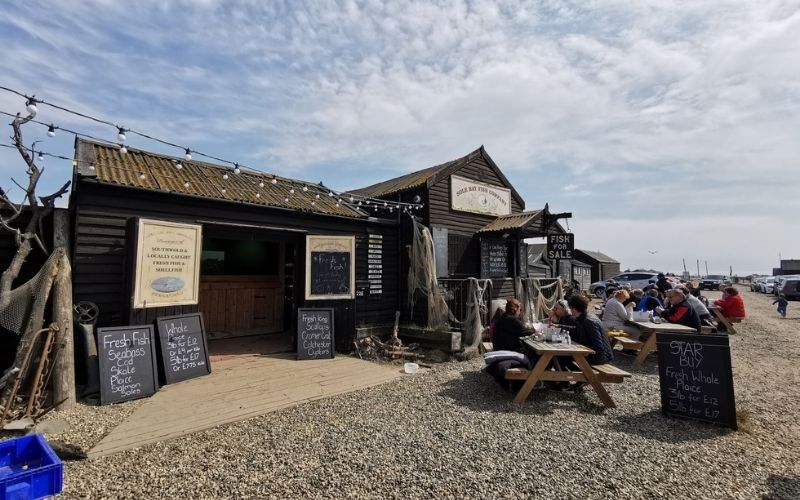 Walberswick shops
There are a few little shops in Walberswick. There is a little village shop (a Co-Op) on the way into Walberswick which sells a small range of supermarket goods as well as some crabbing gear in the summer months.
The Black Dog Deli (as above) sells high end delicatessan goods including freshly baked breads, homemade sausage rolls, cheeses and charcuterie as well as a selection of homemade ready meals.
The Greenhouse is a little gift shop selling local small gifts and crafts.
The Parish Lantern sells a few beach essentials and crafts as well as tea and cake.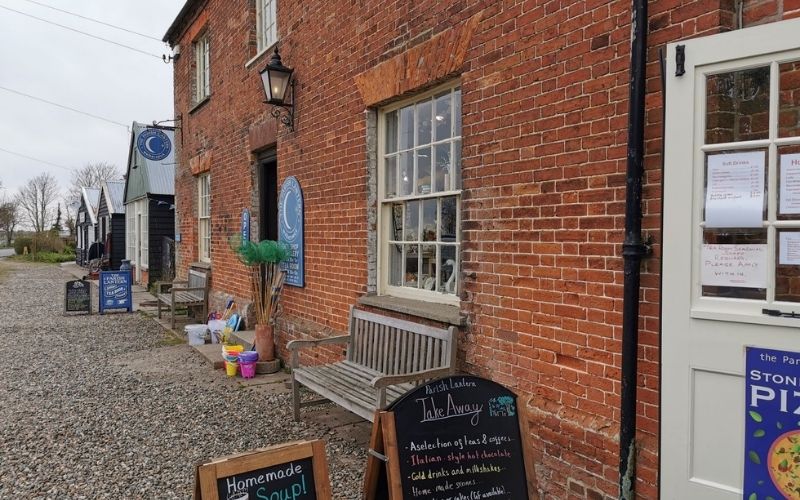 Walberswick parking
For such a small village, there is a significant amount of parking in Walberswick but even so, the car parks can get full in the summer months. The two main Walberswick car parks are :
Cliff Field Car Park
For Walberswick beach parking, Cliff Field Car Park is the best option although you need to cross a narrow bridge to access this one so it is not suitable for motorhomes and long vehicles. Our VW Campervan was just about OK.
Walberswick Common Parking
A larger car park right next to the ferry suitable for all types of vehicle.
The charges for the car parks are £3 for the day (pay and display).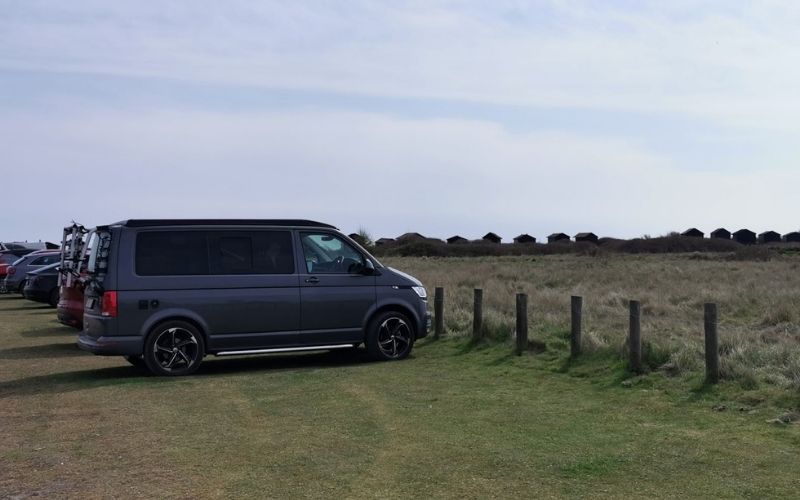 Things to do near Walberswick
If you are staying in the area and looking for more ideas for things to do, we have a bumper guide with over 100 ideas of things to do in Suffolk.
Visiting Walberswick at Christmas? Check out our things to do in Suffolk at Christmas guide.
Visiting Walberswick during the October Half Term? Check out our things to do in Suffolk at Halloween post.
The main things to do near Walberswick are: