Amazing Wildlife Tours In Swakopmund You Need To Try In 2023
In a land that is mostly desert wilderness, the coastal resort of Swakopmund in Namibia really stands out.
Swakopmund is a tranquil seaside town with an average temperature of at least 15 – 20 degrees lower than the rest of Namibia, despite being in the Namib Desert.
Wildlife is abundant in this area and there are some incredible wildlife tours in Swakopmund that we recommend you try.
We have been on many wildlife adventures throughout  South Africa – including lots of family safaris. But these two tours in Namibia are unlike any wildlife spotting we've ever done before.
Whether you want to escape the heat of the desert for a bit or check out some alternative Namibian wildlife, we highly recommend including these Swakopmund tours in your Namibian itinerary.
Sponsored | Our tours were booked for us by Original Travel so that we could review them from the point of view of a family. They organise a huge variety of family-friendly itineraries across the globe and pick the best tours to make your trip unforgettable. Here are some of their Namibian itineraries.
This post contains affiliate links. If you click on one and book or buy something, we may earn a small commission but this is at no extra cost to you.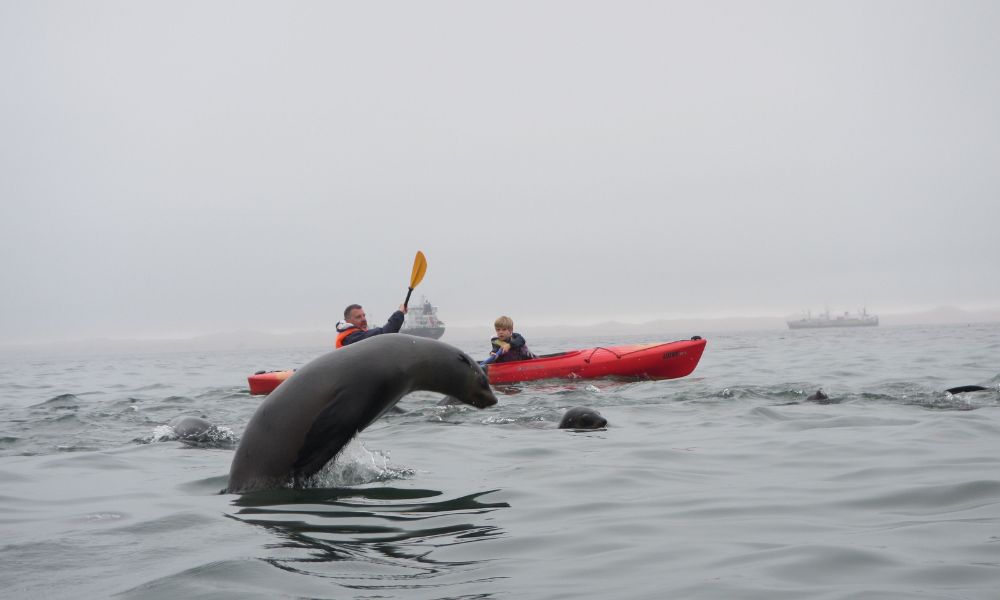 Before we explain all about our favourite tours in Swakopmund, here's a little information on Swakopmund itself, including where we recommend staying and eating.
Swakopmund
Swakopmund is located around 350km west of Windhoek on the Namibian coast. If you are driving from Windhoek, the easiest route to take is the B2 which is a paved road.
If you are looking for somewhere to stay in Swakopmund, we can recommend the Hansa Hotel, the oldest hotel in Namibia. It opened in 1905 and has a certain colonial charm about it. Breakfast is included and is huge.
If you are looking for something more modern, then The Strand Hotel on the seafront is where you need to be.
We ate at The Tug right by the pier in Swakopmund. The views of the pier at sunset from their outside terrace are stunning.
If you want to spend a night in Walvis Bay for the kayak tour, the Protea by Marriott Hotel is very conveniently located. If you are looking for somewhere to eat in Walvis Bay, we highly recommend Anchors Waterfront Restaurant.
Being prepared for the tours in Swakopmund:
The sea mist hangs around the coast most of the time, especially in the mornings. The average temperature in these two towns is around 20 degrees, which can be 20 degrees cooler than 10km inland so bring layers.
The mist does clear on most days so you also need sunblock, sun hats and sunglasses.
When you are not out on a tour, there is lots going on in Swakopmund from buzzing restaurants to lovely architecture, a great beach and a snake park (in case you haven't seen enough reptiles on your Living Desert Tour!)
Tours in Swakopmund you need to try…
Living Desert Adventures
The Namib Desert is the oldest desert in the world and despite appearing quite inhospitable, it is home to an incredible variety of flora and fauna.
We had seen desert adapted elephants in the northern part of the Namib Desert, Giraffe, Oryx and a whole host of other large animals. But we hadn't seen any of the smaller animals, many of which are endemic to the Namib Desert.
When Original Travel suggested that we tried a Living Desert Tour, we were intrigued.
Our living desert tour in Swakopmond was run by Living Desert Adventures who are incredibly knowledgeable in all areas of the Dorob National Park, the area of the Namib Desert just outside of Swakopmund.
The tour starts at 8am and lasts for 4 to 5 hours. After being picked up from your accommodation in Swakopmund, you are driven by 4×4 into the dunes.
The tour starts with an explanation of how the flora and fauna of the Namib Desert survives and even thrives.
During this time, the second guide is out looking for 'Little 5' animal tracks.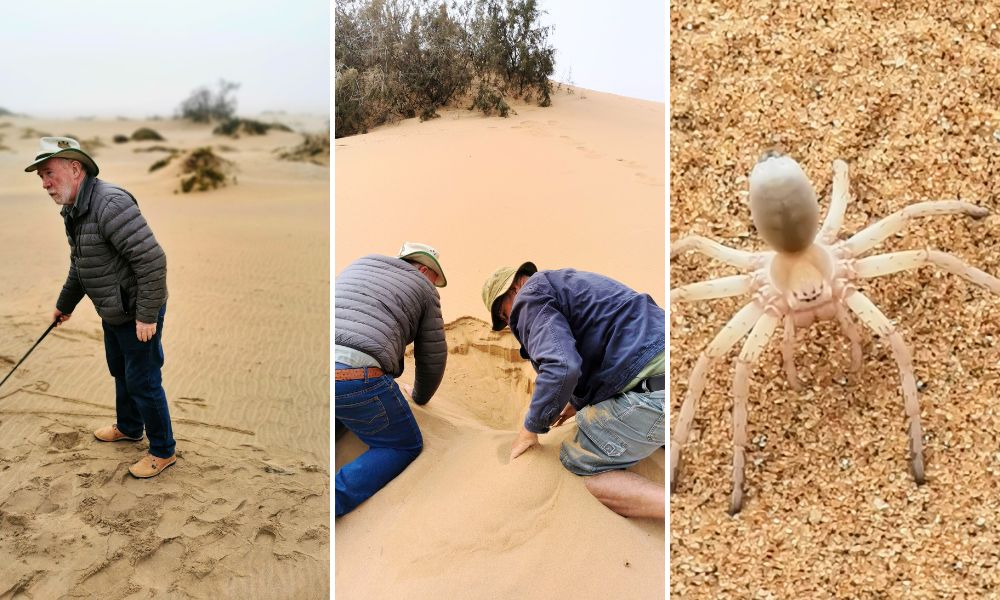 It was really incredible how the tour guides would locate tracks of these very small animals and then dig deep down into the sand to find them. The dancing white lady spider being no bigger than a 10p coin was a particularly impressive find.
The small animals that you can expect to see on this tour are webbed geckos, dune lizards, dancing white lady spiders, chameleons, slow worms and sidewinders.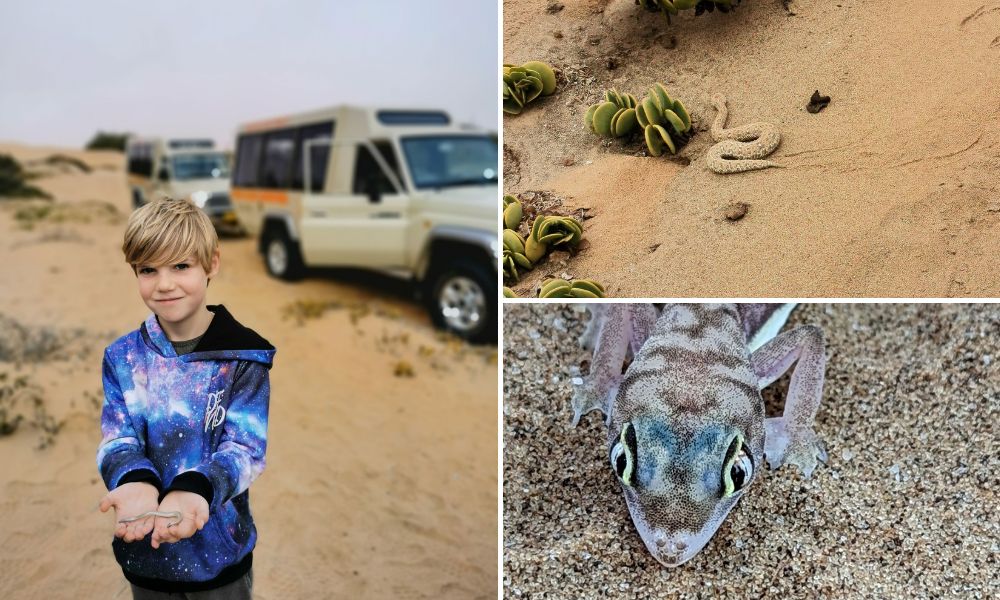 As well as finding the 'Little Five', the guides explained about the minerals in the Dorob National Park and explain how the black deposits on the dunes that may look like pollution is in fact magnetite. The kids get involved in a fun demonstration to separate the magnetite from the sand using a magnet.
Once you have managed to track down the animals, you set off in the jeep deeper into the dunes on quite a thrilling ride.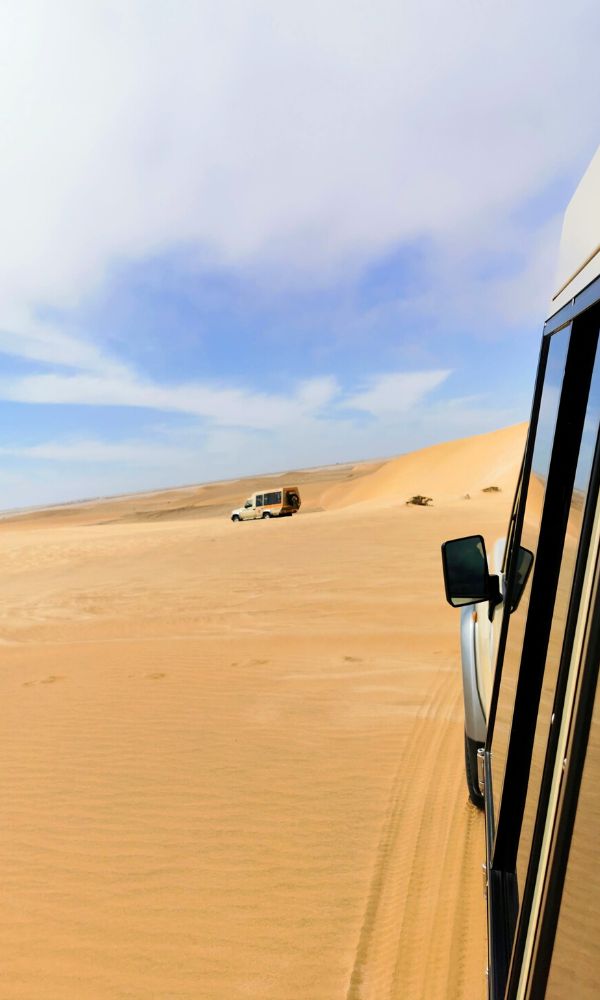 There's even a little time at the end for the kids to run and jump in the dunes if they want to. Sand will go everywhere. We kept finding it in shoes days later.
Tip: wear sturdy shoes and take layers as the early morning in the desert can be quite cold. Drinks are included in the tour but make sure to have a fillling breakfast and bring snacks for the kids.
We really had an excellent time on the tour. We would say that it is suitable for kids age 5+. Interaction is encouraged but the tour is quite long so younger kids may get bored.
Seal Kayaking Tour
The second tour that we recommend actually departs from Walvis Bay but it is easily reached from Swakopmund. Walvis Bay is just 30 minutes down the coast from Swakopmund.
Walvis Bay is known for its incredible bird and sea life and being a bay, is sheltered from the wild coast that is known to have shipwrecked many boats. It is completely safe for kayaking.
It is also one of the best places in Namibia to see seals.
When we visited Namibia 13 years ago we booked a kayak tour with Eco Marine and really enjoyed it. We were so happy to see that they were still going strong all these years later.
There are lots of kayak tours these days trying to cash in on the popularity of kayaking with seals but we strongly recommend only going with Eco Marine Kayak Tour – the original and the best.
The tour departs from Dolphins Coffee Shop near the Marriott Hotel at 8.30. If breakfast isn't included in your accommodation, you can grab a quick bite at the coffee shop.
You are driven out to Pelican Point, passing the salt pans – one of the largest salt evaporation facilities in Africa.
The amount of bird life in this area is astounding. There are large colonies of greater and lesser flamingos and huge flocks of cormorants. We also saw brown hyena and jackals.
You are kitted out with waterproofs and lifejackets. There are smaller sizes for the kids.
Although the weather may be cool in the morning (and foggy), you don't need much more than a swimsuit under your waterproofs. Bear in mind that anything you wear under your waterproofs is still likely to get wet!
Keep your clothes dry for the return journey. Everything, including valuables, can be stored in the jeep.
There is a quick instruction from the guides and then you set off in search of seals.
When I say search for seals, you don't have to search for them because there are millions of them and they will find you!
When we first did this tour, the seal colony was much smaller but still very impressive. Now, the colony has around 2 millions seals.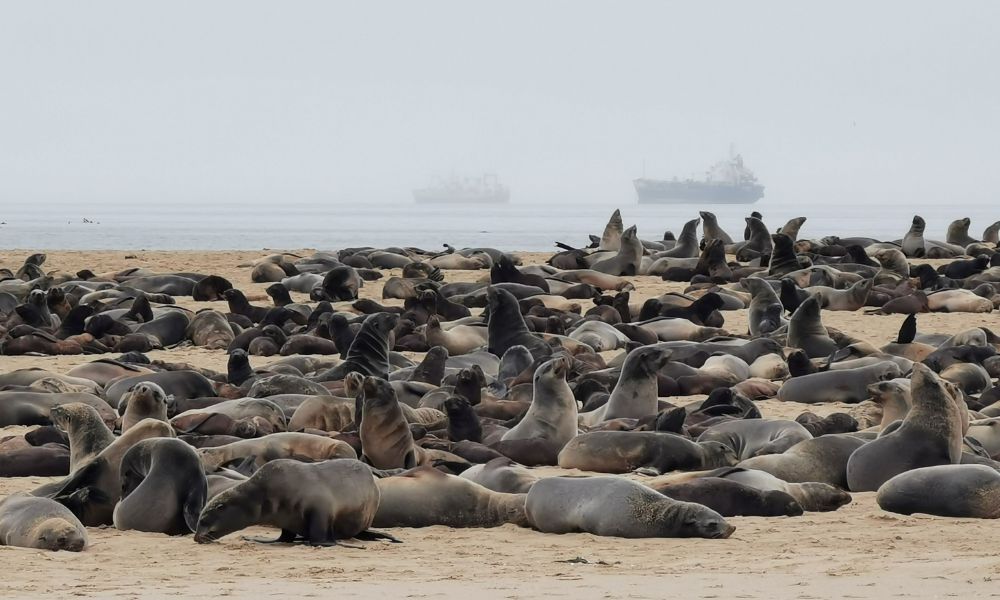 You are given dry sacks for your phone if you want to use it for photos. I used this cheaper GoPro and got some great underwater footage. If you don't want to risk getting any camera gear wet, the guys running the tour will take photos for you. There are then uploaded to their website for you to download.
The seals are very curious and get extremely close. The best time of year to visit the seals is March to September when the pups have weaned and are like inquisitive little puppies. They like to come and play and explore with the kayakers.
They will nibble on your paddles and jump over and maybe even into your kayak!
Make sure to get your best singing voice ready. The more you sing to them, the more they interact! They don't seem to be bothered how out of tune you are. Ironically they quite liked Baby Shark.
The actual kayaking time is around one hour. The transfer there and back is about 45 minutes each way and there is a break after kayaking for some sandwiches, tea, coffee and cake. The tour lasts around 4 hours in total.
We are so glad that we got to experience these two tours in Swakopmund and highly recommend including them in your Namibian itinerary.
And if you love wildlife, we also highly recommend heading up to Etosha National Park for a safari.
We have a guide on the best time to visit Etosha.