10 Top Things To Do In Krakow With Kids You Must Not Miss
Krakow is an incredible city but what is there to do in Krakow with kids?
We often get asked this question.
The architecture is just beautiful but the kids probably won't appreciate this so we've focused on the things to do in Krakow with kids that they are bound to enjoy.
People also ask how many days should you spend in Krakow? We think 2 – 3 days is the perfect amount of time to spend in Krakow.
This will allow you get get to know the city and to see most of these family attractions in Krakow without it feeling rushed.
Any longer than this, then you might want to start looking further afield. We've given you a few ideas at the end of the post for things to do near Krakow in case you want to explore the region.
If you love a city break – you might want to also check out our posts on visiting Porto with kids or London with kids!
This post contains affiliate links. If you click on one and book or buy something, we may earn a small commission but this is at no extra cost to you.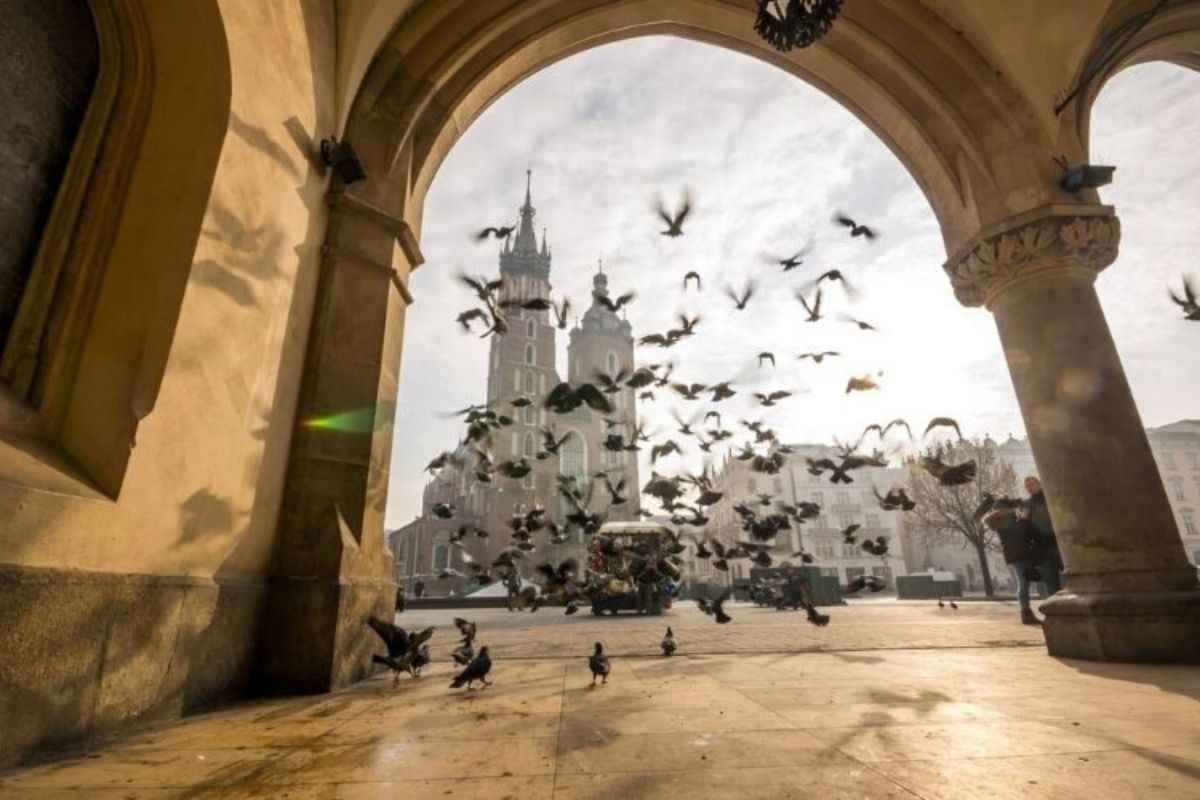 Top tip on visiting Krakow with kids
Before you look at booking any of the family-friendly activities in Krakow – take a look at the Krakow Card.
It entitles you to free travel on the city buses and trams and gives you free entrance to 38 museums which could save you money.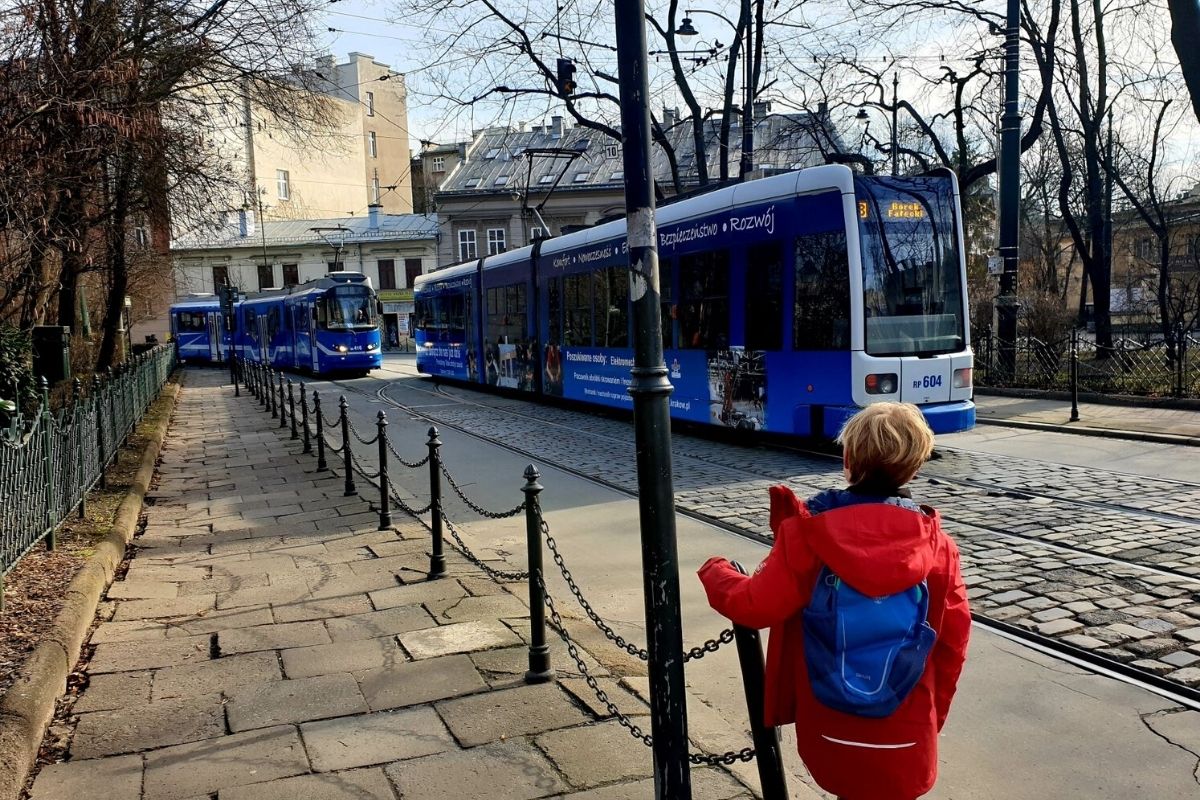 Wawel Royal Castle
Wawel Royal Castle is the most important historical site in Poland and the first UNESCO World Heritage Site in the world.
The historical significance of the castle is enough reason to visit but it may not capture the kids' attention. What is bound to catch the attention, however, is the fire breathing dragon, Smok Wawelski.
The dragon is located above the Dragon's Den (one of the limestone caves dotted around Wawel Hill). The kids will love hearing about the myth associated with the dragon.
Take a guided tour of Wawel Castle.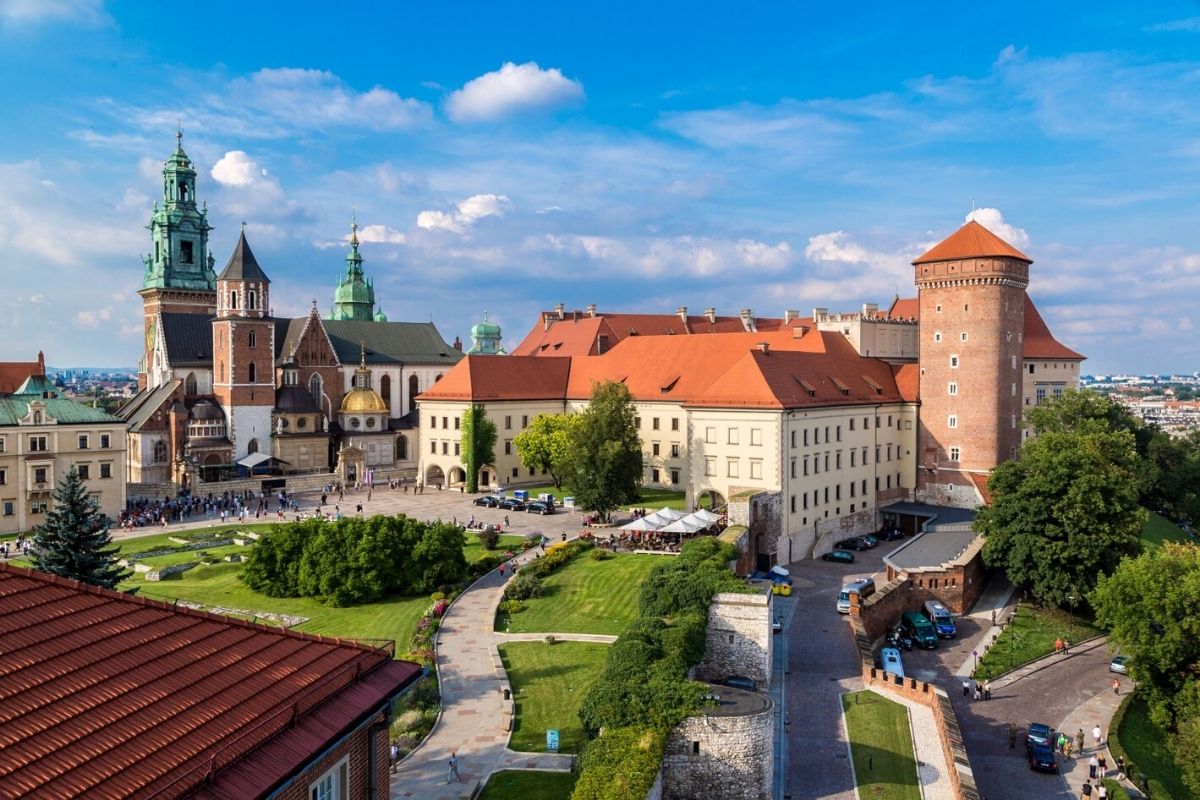 Wieliczka Salt Mine
Visiting the Wieliczka Salt Mine was a highlight of our trip. It is hard to describe just how incredible this place is so you just have to go and see it.
There is quite a bit of walking involved (and a lot of steps down to get into the mine). There are 250km of tunnels so you must take a guided tour.
You can read our review of our visit to the Wieliczka Salt Mine here. It is one of the most interesting things to do in Krakow with kids.
The salt mines are a little way out of the centre of Krakow so you might want to take a look at this guided tour of the mines with hotel pick up.
If you have older kids and want to also visit Auschwitz (see the info below on visiting Auschwitz with kids), this guided tour of the mines and Auschwitz is great value.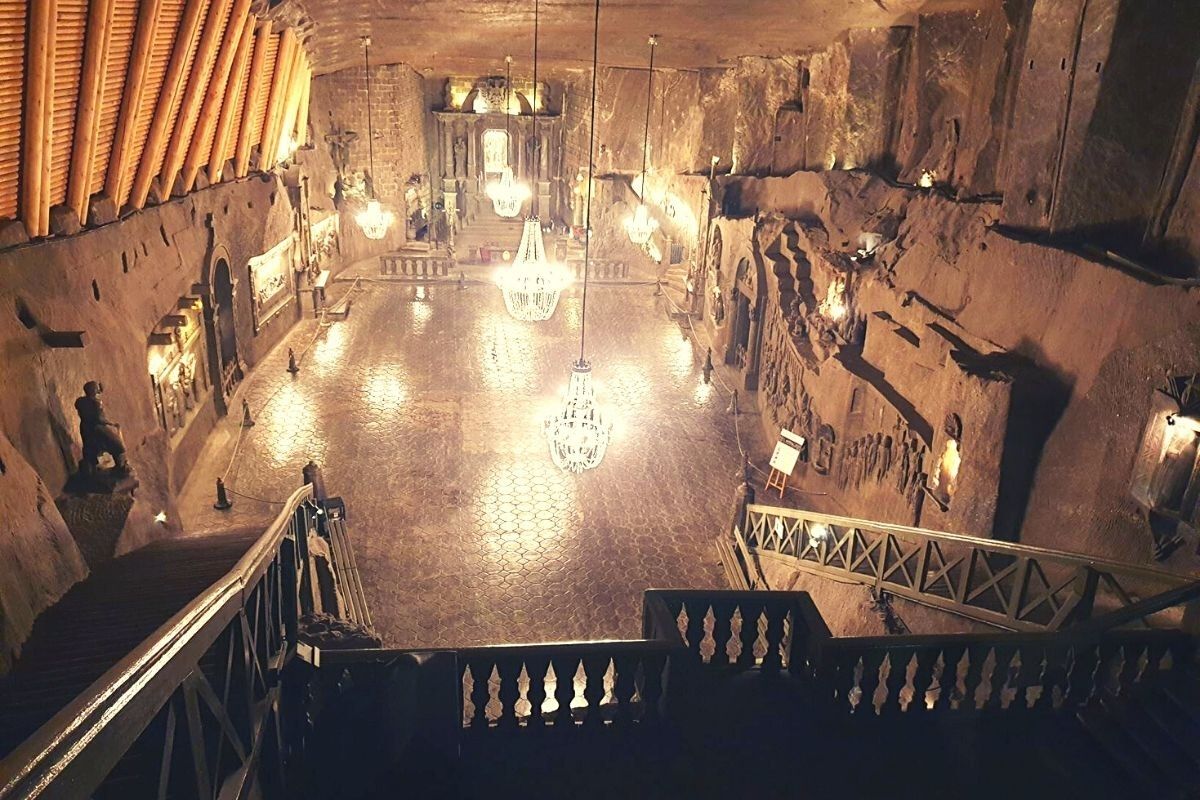 Take a Horse Drawn Carriage
You might not learn much from a ride in a horse drawn carriage as there is no guide or commentary, but it is a fun way to get about Krakow with kids.
You'll find them lined up along the market square by the Cloth Hall and the most popular route will take you from the market square to Wawel Hill. This takes around 30 minutes and will cost between EUR 45 and EUR 65 (depending on the driver).
We cannot vouch for the treatment of the horses so this activity may not be for everyone.
If you are in the market square and don't want to take a carriage ride, you can just hang out. Our kids find cities fascinating and love just people watching. You can also grab a drink in one of the cafés lining the edges of the square.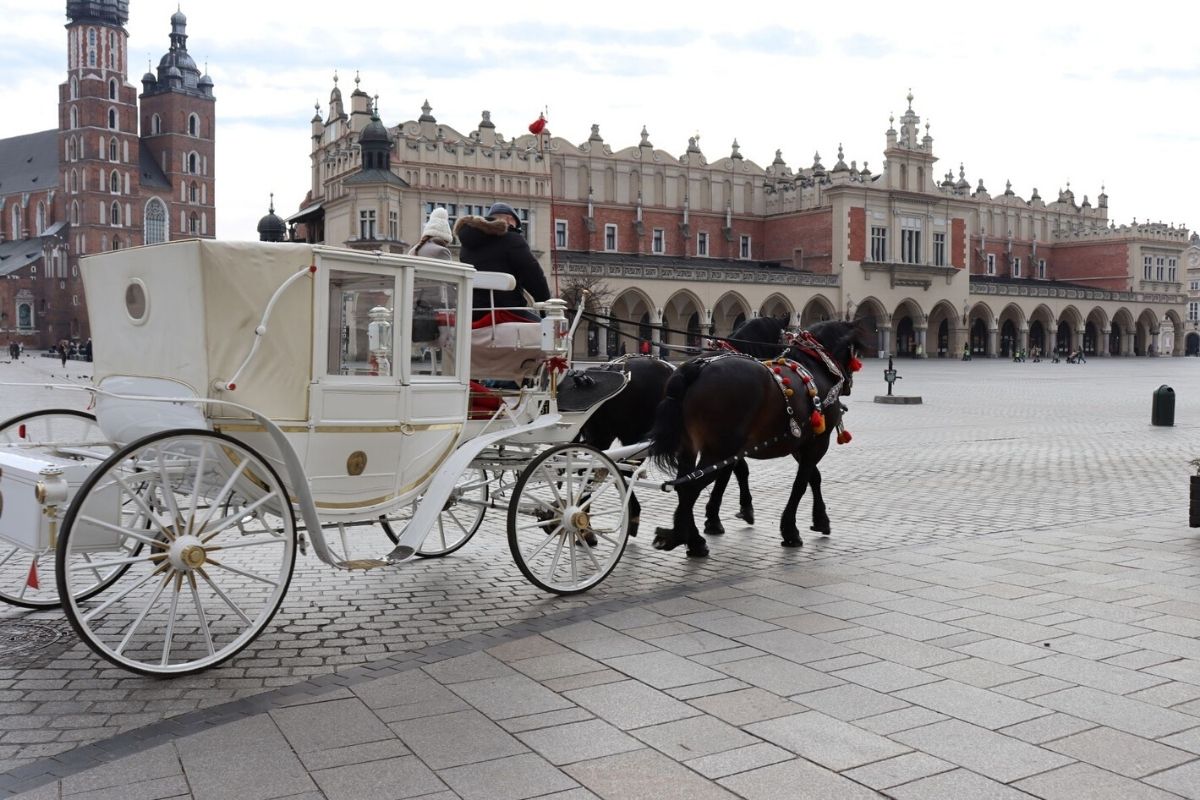 Take a sightseeing cruise
Our kids love to get out on the water so we find that sightseeing cruises are a great option. It saves their legs and keeps them entertained.
The boat departs from down at the river near the Smok Wawelski (fire breathing dragon) and takes a leisurely cruise along the Vistula River. You'll pass sights such as:
• The Skałka Church
• Royal Wawel Castle
• House of the Polish Pope John Paul II
• Norbertine Monastery
• Kościuszko Mound
• The 6 Bridges
• Cricoteka
See here for CracowBoat tours.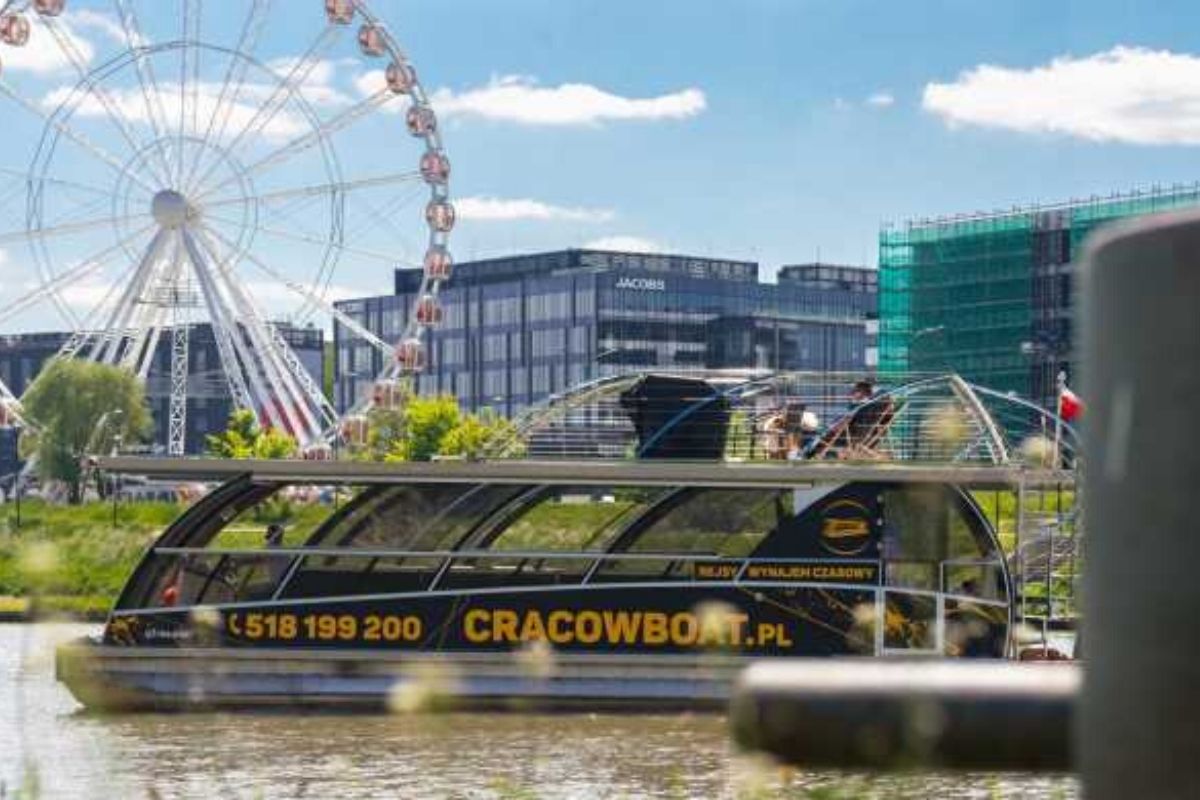 Botanical Gardens of the Jagiellonian University
If you're on a citybreak to Krakow with kids and there's a botanical gardens, we always recommend checking it out – especially if you are visiting somewhere in the summer.
It offers a bit of a respite from trudging the streets and the kids will love to run around in the green open spaces if nothing else.
The Krakow Botanical Gardens date back to 1783, making them the oldest botanical gardens in Poland. They cover 10 hectares and include an impressive 220 year old oak tree that was planted at the opening of the gardens.
There are some lovely greenhouses and a huge variety of plants and trees. Above all, it is tranquil and the perfect escape from the city.
It is located just to the east of the Old Town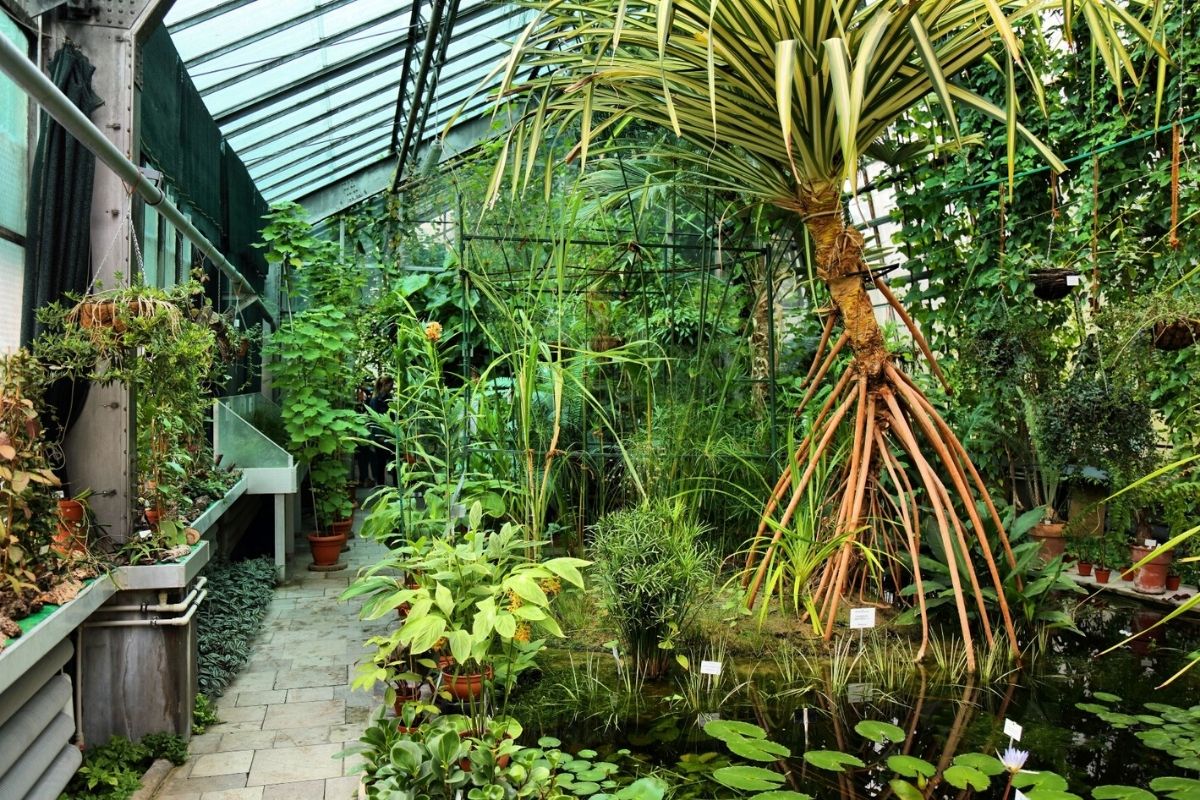 Head to Krakus Mound for a view of the city
On our way to the salt mines, we stopped at Krakus Mound to get lovely a view of the city. It is a little way out (3km south) so it is easier to drive here or take a taxi.
Just below the hill is the Cmentarz Podgórski (cemetary) which is quite a sight as every grave is adorned with colourful (fake) flowers. You pass the cemetery on the way up the hill.
The hill is surrounded by a big open space for the kids to have a run around if you want another escape from the city!
It is thought to be the final resting place of the mythical founder of Krakow, King Krakus.
This is definitely one of the more low key things to do with kids in Krakow.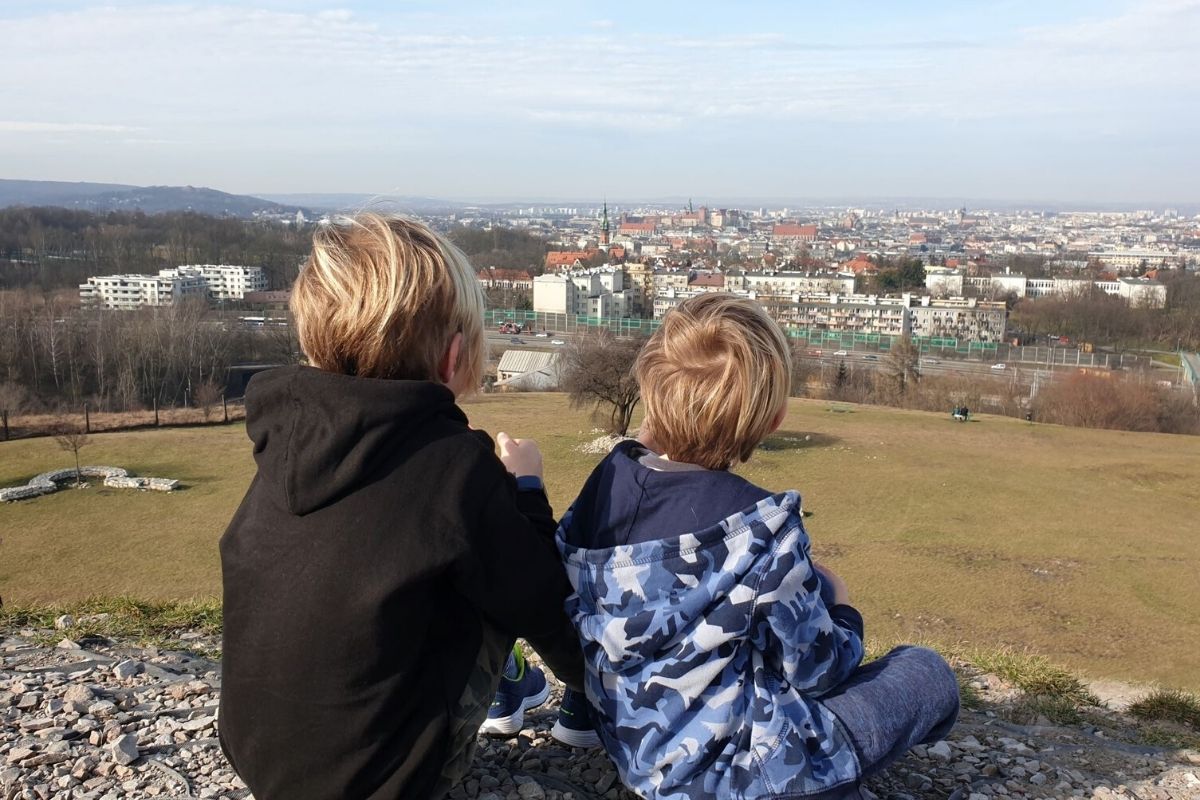 Visit a thermal baths
Whilst there aren't any thermal baths in Krakow, you can take a day trip to one of the thermal baths near Krakow.
There are several hot springs or thermal baths in the Tatra Mountains. They keep a year-round temperature of between 34 – 38 °C. It is said that the geothermal waters contain healing minerals.
We absolutely loved this experience because it is such a family-friendly thing to do in Poland. We visited the thermal baths in Bialka Tatrzanska.
See here for thermal bath guided tour options from Krakow or here for a tour to the famous Chocolow Thermal Baths.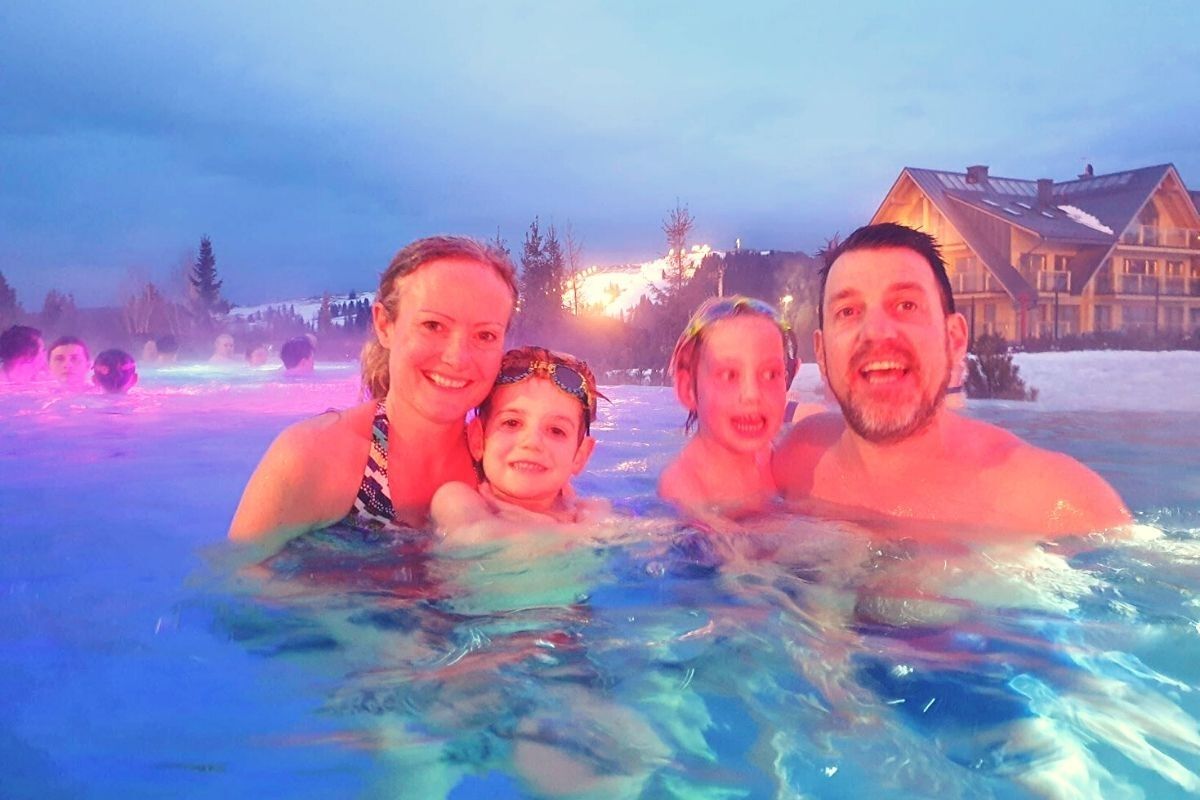 Visiting Auschwitz-Birkenau with kids
Auschwitz was the largest of the German Nazi concentration camps where over 1.1 million men, women and children lost their lives.
We debated whether to take the kids to Auschwitz and decided against it. Our decision was purely based on whether it was appropriate at their age.
We would like to visit because it is important to educate kids on such historical events but we felt that the  message would be lost on them at aged 4 and 6.
As harrowing as the visit can be, if you feel that your kids are old enough to understand and to learn from it, then it is well worth going.
While there are no rules about children visiting, we have heard that it is more suitable for kids 14+. We considered that the kids might be disturbed by it but more that, you need to be very respectful visiting.
I didn't feel that our kids would understand this and that it might spoil or upset other visitors' experiences.
If you do go, you will probably get the most out of your visit if you take a guided tour. These two tours are highly recommended:
Full day small group tour of Auschwitz from Krakow
Full day tour of Auschwitz from Krakow with hotel pick up.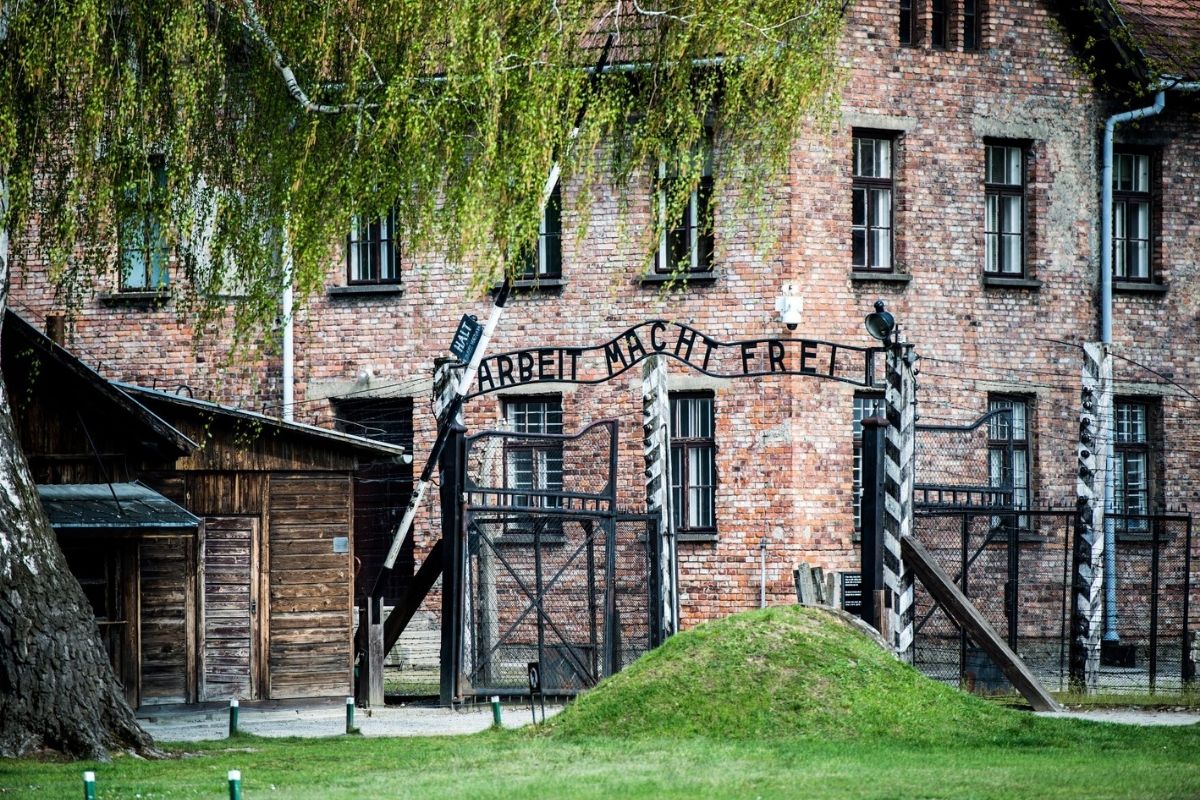 Other things do in Krakow with kids
If you're looking for more family-friendly activities in Krakow, we have a few more suggestions.
There are a couple of museums that we didn't have time to visit but we hear that they are worth it if you are looking for things to do in Krakow with children.
Museums are always handy to have up your sleeve if you need a rainy day activity.
City Engineering Museum – located in a 19th century tram depot there are lots of interactive exhibits for the kids.
Rynek Underground Museum – takes visitors underground below the Cloth Hall to explore medieval merchant stalls that have been recently excavated. There is a great area for the kids with a puppet show.
If you are visiting Krakow with kids in winter, make sure to check out the Christmas Market on the main square. It is absolutely beautiful and one of the best European Christmas markets.
Things to do near Krakow with kids
If you are thinking of visiting Krakow with kids for longer than just a weekend, then we would highly recommend getting out into the country.
We visited Krakow during the February half term and decided to take the kids on their first ski trip to Zakopane. Zakopane is a great ski resort for beginners because it has a large selection of beginner slopes.
We also didn't want to spend a lot of money on our first ski trip in case the kids hated it. Luckily they didn't hate it and we have gone on to enjoy the most fabulous family ski trip in Levi in Lapland recently.
Make sure to read our guide to the things to do in Zakopane in the winter (besides skiiing) if you are visiting in the winter including the fabulous Snowlandia!
If you're visiting Krakow in December, you must check out the Christmas Market. It is one of the best Christmas Markets in Europe.
Places to eat in Krakow with kids
The food in Poland is traditionally hearty and cheap which is what we love. But more and more you will find refined restaurants which have helped Krakow earn the title European Capital of Gastronomic Culture in 2019 .
The choice is huge so where do you start?
Breakfast
If you're looking for somewhere to have breakfast in Krakow, you can't get better than Bistro Charlotte for food or location.
It is located just off the main square and serves delicious, freshly baked viennoiseries, patisseries, omlettes – you name it. There was plenty for the kids to choose from.
Lunch
If you're looking for something simple and central for lunch, you can't go wrong with Pod Wawelem located at the foot of the Royal Castle.
They have cheap Polish staples, but the big draw is the large play area for kids which will keep them entertained while you enjoy a Polish beer to finish your meal.
Dinner
Zablocie 13 bills itself as a family-friendly restaurant in Krakow with traditional kids' menu food on the menu that all kids love and a playground for the kids.
It is across the river from the Old Town near the Schindler's Factory.
Places to stay in Krakow with kids
Most of the things to do in Krakow with kids are located in or close to the Krakow's Old Town so it would make sense to stay centrally.
Luxury
Hotel Copernicus – a fabulously luxurious hotel on the oldest street in Krakow. Their deluxe apartment sleeps 4.
Mid range
Venetian House Aparthotel – gorgeous, modern family suites to sleep up to 5 overlooking the main square with self-catering facilities.
Novotel Krakow Centrum – standard hotel rooms with a sofa bed but they have a swimming pool
Budget
Aparthotel Pergamin – basic quadruple room 300 m from the station in the old town.
Mercure Krakow Stare Miasto – standard rooms with sofa bed.
Getting around Krakow with kids
First of all, here is a little information on getting from the airport to Krakow.
Getting to Krakow from John Paul II International Airport is easy. It is only 15km from the centre of Krakow. There are a few options available to you.
Taxi
There is a taxi rank as you come out of the arrivals hall. A taxi into town should cost you around EUR 20.
Train
From arrivals, follow signs that say 'Train to City'. There are ticket machines in the arrivals hall and on the station platform. A single ticket to Kraków Główny in the Old Town will cost around EUR 2 and should take around 20 minutes.
Bus
The airport bus is the cheapest option for getting into Krakow from the airport at EUR 1 but it is a little complicated. There are instructions here if you would like to get the bus. Reminder – it is included in your Krakow Card.
Private Transfer
Alternatively, you can take a reasonably priced private transfer from the airport to your hotel in Krakow.
Hire a car
If you are planning on taking a longer trip or leaving Krakow and exploring the local area, we would recommend hiring a car. You can pick up a hire car at the airport and all of the main car rental companies operate there. We booked our car through Rentalcars.
Once you are in Krakow, it is not huge so you can do a lot of it on foot but if you need a break from walking, we recommend taking the tram. It is cheap and easy to use. If you buy the 2 day Krakow Card, your travel on the tram is included.
For a fun way to get around town, how about hiring a golf cart for a guided tour?! The kids will love it!
So – is Krakow good for families? What do you think?