13 Father's Day gifts for a travel loving dad
Do you struggle with gift ideas for Father's Day for the father who has (according to him) everything? Well, help is at hand if said father is a travel lover! We spent the first few years of the kids lives getting the foot and handprints, the family tree, personalised mugs and this was all very cute when the kids were little, but as they got older, it didn't seem so appropriate which is when I became a little stuck for ideas. We could have moved on to beer, socks and pants – but as Ed's birthday is 2 weeks before, he's pretty much covered for those each year 😊
After a little lateral thinking, I had a great idea. He loves travel. We always need travel related gadgets and things so why not get him some travel-related gadgets and things? So being organised for once I put a list together.
If you have a travel-obsessed dad in the family, how about considering some of these gifts which have been so useful on our travels?
It doesn't have to be all singing, all-dancing, but we find that the knife, tin opener, bottle opener, scissors and of course the all-important corkscrew are the essentials. We took one away on a 12 month round the world trip and surprisingly didn't lose it. It has come in handy on so many occasions, cutting up fresh fruits from the market, opening bottles of beer, giving our hair a trim! Always remember to put it in your checked luggage though!
If Dad is keen on travel and looking after the planet (who isn't these days?), then this is a great buy! We strongly believe that we need to do our bit to try to offset our carbon footprint and one of the ways we try to do this is to not buy plastic bottled water when we travel. Portable water filters are great for filtering tap water that you otherwise wouldn't drink. We wouldn't use it for scooping water out of a stagnant puddle, but it is pretty effective at filtering the nasties out of most water sources. Sawyer claim it gives you 100,000 L of filtered water and removes 99.99999% of all bacteria, such as salmonella, cholera, and E.coli, as well as removing 99.9999% of all protozoa (such as giardia and cryptosporidium), and 100% of microplastics. I don't know how many bottles of water that equates to but not only are you helping to save the planet, you will save a lot of money in the long run!
We love the Osprey brand for backpacks, using them for both our main luggage and also our day bags. We find that the 20L Daylite Plus is just the right size to fit in a couple of water bottles, snacks for the kids and some lightweight waterproofs for the kids, as well as phones, small cameras, sunscreen and guide book. There is a smaller 13L version if you tend not to need to carry enough snacks for a small army! We also use Deuter backpacks for the kids now which they love. They pretend they are hikers but it is great because it means we don't have to carry their hand luggage now!
We find this essential for keeping all the passports and other travel related documents in and it avoids the last minute panic at check-in, security, immigration, duty-free and boarding to find them! We like this one because it has room for 4 passports, credit cards, cash, and tickets. It is also waterproof.
This is probably on quite a few wishlists of travel enthusiasts, especially if they are into action photography. We bought a cheap version and while the picture quality was ok, it was nothing to shout home about. The GoPro Hero7 has better image stabilisation, waterproof to 10m with a case and voice control. If you get it from GoPro direct at the moment they are doing a £100 trade in if you send in an old digital camera worth $99 or more when you originally bought it.
(Disclaimer – we haven't actually got one of these but we really want one!! We've seen it used by many travel families and it looks great).
We prefer the roll-up washbags because they are compact and also have a hanger to hang up in the bathroom. Most of the travel toiletries seem to end up in my washbag so even though the Osprey washbag is small, it seems to cope well with the small amount of Dad toiletries.
Every traveller should have a favourite pair of flips flops. They are great for the beach or just general wear and are so small and light to pack. For years our favourite brand has been Havaianas as they are so comfortable and they have a huge range to suit any taste.
Maybe weekend trips are few and far between now that the kids are here but on the off-chance that you can sneak away for a weekend, we love our Barbour Waxed Cotton holdall. It is the perfect size for a weekend and is pretty stylish we think – and gets better with age! It's not as expensive as leather and not as cheap as nylon/canvas – something in-between.
Do you ever sometimes sit and try to think how many countries you have actually visited? We found a fun way to keep track of the countries was to get this fun travel map where you scratch the countries off like the numbers on a lotto card. This is also fun to do with the kids and educational for them too!
When you stay in a hotel you generally get given a towel in your room and possibly towels by the pool but more often than not when travelling, although you may be given a towel in your room, you won't be given towels to take to the beach. We find the Dock & Bay microfibre towels great because they are compact and fold away into their own little bag. They are very quick drying which is so important and best of all, they are sand resistant so you won't be bringing half the beach back with you in your towel. You may find sand in every other little nook and cranny, but not on your towel! There are a range of lovely bright colours too.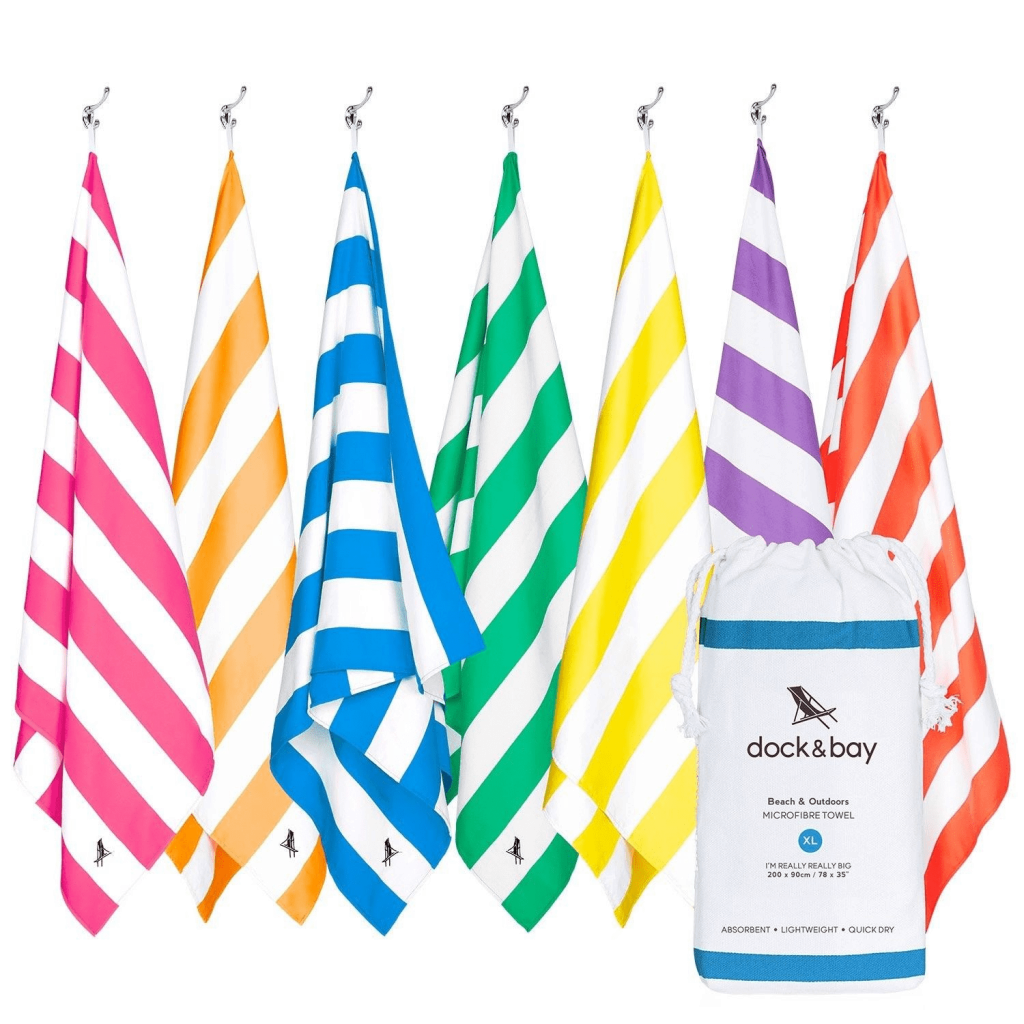 This has come in handy on many occasions. Power cuts in remote places are not uncommon. If you don't need it to get yourself to the toilet block situated miles away, then the kids will probably find a use for it if you are visiting caves or old castles where it's great for making animal shadows. We like it because it has handsfree on/off motion sensor and different light settings – but the best part is that it is rechargeable via USB (see below!). We actually bought the kids their own ones too so there was no fighting and they love using them at home to read books in bed under their covers.
I know this sounds like a really boring gift, but don't underestimate how useful it is and also how grateful dad will be to be able to charge all the gadgets at the same time without having to unplug someone's iPad, tablet, phone or headtorch and therefore causing some kind of family dispute. It means you only need to travel with 4 USB cables and not the associated plugs. Genius! The question is – is 4 ports enough? If you are a gadget-heavy family, you may need to consider more ports!
Sometimes it's hard to find a good cup of coffee when travelling which is why we were happy when someone recommended the Aeropress to us. It is small and lightweight and makes a great cup of coffee and really handy if you tend to stay in homestays/airbnbs or self-catering properties.  When travelling with kids you sometimes just need that extra boost in the morning (or lunchtime or evening)!
So hopefully you have seen something that will fit the bill for Father's Day. If you do go for something on the list, we'd love to know whether it went down well or not!!
Happy travels!
Some of the links to products and services on this website are affiliate, which means we may receive a commission if you click on a link a make a purchase.